Growing up I was fortunate to have a remarkable ski hill in close proximity to me. It truly introduced me to my love and passion for the outdoors, especially winter. Coming into the weekend, I'd always be checking the forecast and looking for the next epic pow day! I loved hitting the slopes and looking for the next fresh, untouched line. We were spoiled and didn't really have to work too hard for it. We would just dip in on the backside, do a cabin run and sled back or drop into one of the many out-of-bounds areas. It always blew my mind that there were so many untouched areas. My thought exactly, "How has no one hit this yet?" and so I dropped in.
It wasn't until I moved to Nelson, BC that I really decided to further my outdoor knowledge and education and really dive deeper into the backcountry. I made the decision that the most obvious start was Avalanche Safety Training (AST), so I completed my AST1 with Kootenay Backcountry Guides.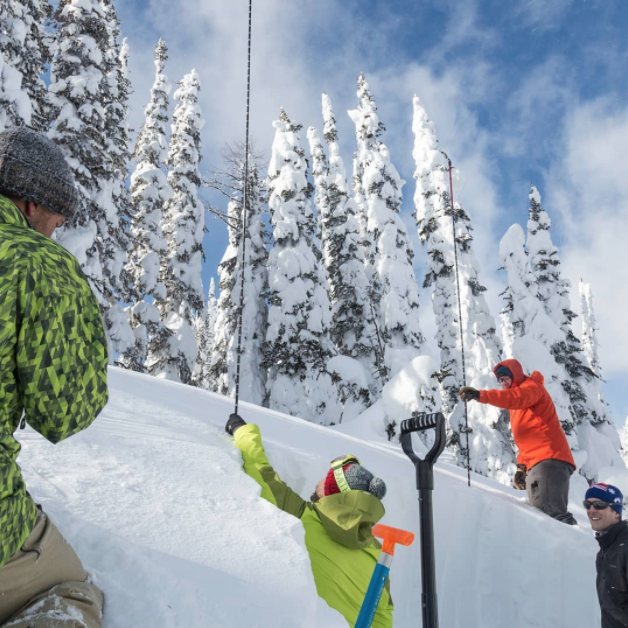 The knowledge and information gained during this two-day course had me captivated the entire time. I remember constantly telling myself to breathe, while watching the learning videos in the classroom on day one, as people were buried in actual life and death situations.  Watching their friends thinking, "Come on! Hurry up! Get your shovel out! You don't have a beacon? Are you kidding me?!" So many thoughts rushed through my mind when watching these videos about how I would respond and why. Was I ever quick to judge.
On day two, it really hit me how many times things could have gone wrong in the past. Touring up with the group and learning about different avalanche patterns, an on-site look at how to read the trees affected by avalanches, learning about different avalanche conditions from regional danger rating, to signs of instability and persistent or slab avalanche problems. Learning about digging a snow pit and about all of the different storm layers, the strength of old snow layers, surface hoar and the impact of recent weather on snow stability. Tying that in with the different terrain characteristics really gets you thinking and looking at the mountain entirely differently with much more caution and wisdom.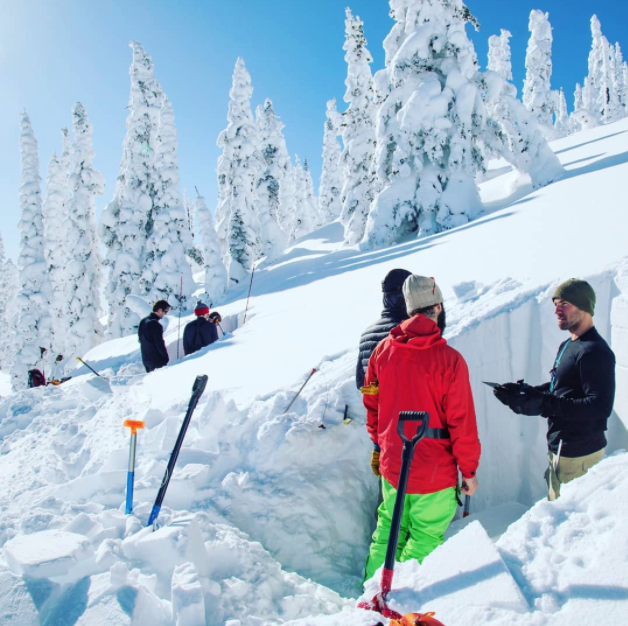 It wasn't until we started doing the companion rescue that it really put things into perspective. In one burial situation, which I was the designated leader, there were four burials. Even though you know that it is just a training scenario, your heart beats, you panic, you don't make logical decisions. Everything doesn't go as straight forward as when watching the video, judging the others for their poor decisions or how long it takes to get your beacons out, shovels put together, locating the body, probing etc. These skills take practice and through AST1, I was able to connect with many other like-minded individuals that take the backcountry and their life seriously. We have organized and, will organize many more companion rescue training days to practice these skills.
I remember coming out of the course feeling so humbled and truly counting my blessings that something previously hadn't gone wrong. Thinking back on many personal situations when I was uncomfortable or had a gut instinct that maybe we shouldn't be there or, as a female out riding with the 'boys', when to trust in myself and to speak up.  That one comment could ultimately be the difference between an avalanche or, even worse, a life and death situation. After learning the skills that I have with AST1, it has given me so much more knowledge and confidence to assess these situations with a larger understanding about this winter wonderland I love so much.  It has pushed me to want to be a better rider and to also to be more mindful of the people I choose to go out riding with.
Coming out of this course, I had one thing on my mind – you now know enough to know you don't know enough. Thus, I signed up for Kootenay Backcountry Guides' Managing Avalanche Terrain (MAT) certification.
The MAT course combined so much of the knowledge gained in AST1 and put it to use immediately touring in the Kootenay Pass. Right from the start I was reading the snow, feeling the snow and constantly checking it along the tour up. The first ascend up Cornice Ridge was an extremely exhilarating one but also a very humbling experience.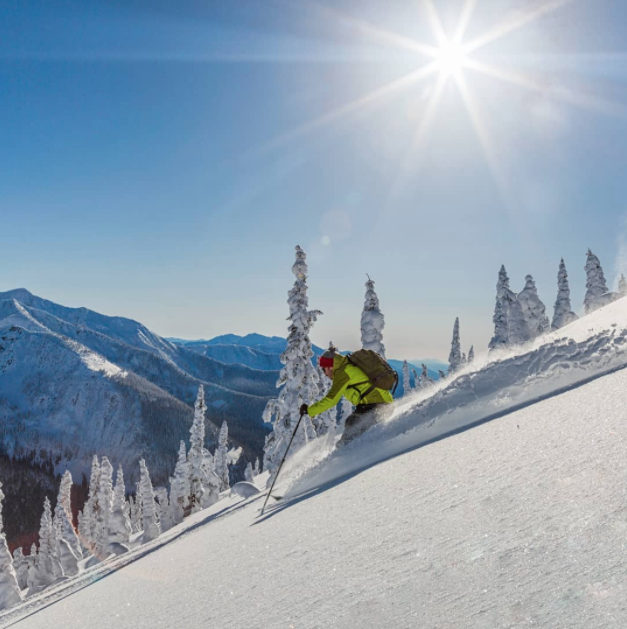 The knowledge gained from owner, Judson Wright, is something I will forever hold onto and has further ignited a passion for the backcountry and to continue down this path of learning. When it comes to the backcountry, snow and just all around planning your trip, you can ultimately never have enough experience. Every day I learn something new and consistently check the forecasts with Avalanche Canada. I plan my trips more accordingly and have safety plans set in place. People know exactly where I'm going, approximately what time I should be back and who they need to contact if, for some reason, we weren't back when planned. All of these safety tips and planning can ultimately save your life. I no longer take a life of outdoor and adventure for granted.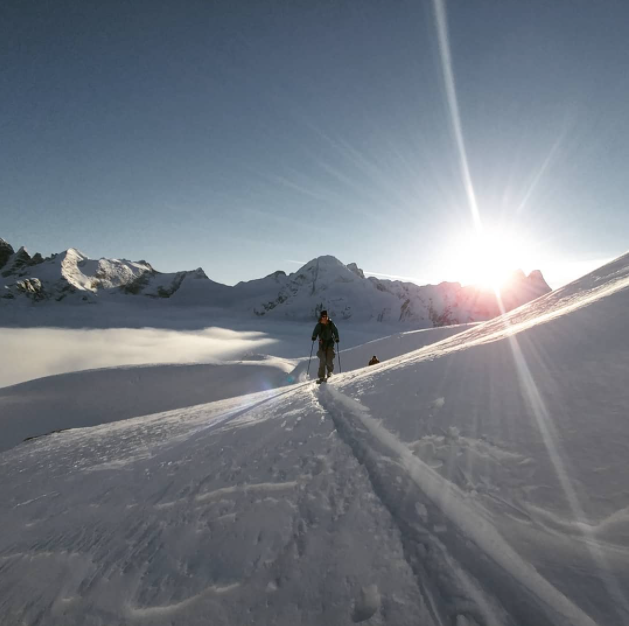 The biggest piece of advice that I can give to anyone getting out touring on your ski's or snowboards — getting your AST1 as an absolute minimum! It truly will change your life and could save your life or the life of one of your friends or companions.
Much love friends, be safe out there!
Know Before You Go – Plan ahead so you can travel safely and responsibly. Familiarize yourself with weather, road conditions, general alerts for travellers and provincial health orders & recommendations.
Related Stories
~ 4 Reasons to Ski-Ride the Powder Highway this Winter
~ 7 Tips To Get you Started: Exploring Powder Highway's Backcountry
~ Funky Finds on the Powder Highway
~ Guiding Services: Powder Highway's Backcountry
~ How BIG is the Powder Highway
~ Powder Highway 101
~ Slackcountry Touring at our Powder Highway Ski Resorts
~ Tips: How to be a Safe & Responsible Traveller
~ Up the Ante: Powder Highway Cat & Heli Day Packages
~ What's NEW on the Powder Highway?
Words by LeRae Vig.  Cover photo by Kootenay Mountain Guides.
Please tag your images with @PowderHighway and @KootRocks on Instagram to be featured in a future social post.  For travel deals and specials – sign up for our Consumer Travellers Newsletter.