This national park that connects Radium Hot Springs to Banff, turned 100 on April 21, 2020.  The park began as eight kilometres (5 mi) of wilderness on either side of the Banff-Windermere Highway (or Highway 93 South).  When the road opened in 1923, more than 4,500 vehicles travelled the highway.  Today, more than 500,000 people visit every year.
Kootenay National Park is a world leader in wildlife and forest conservation. The drive offers opportunities for viewing Rocky Mountain bighorn sheep, mountain goats, elk and mule & whitetail deer. Every twist and turn of the parkway reveals something interesting to explore. You will find everything from alpine tundra in the upper reaches, to stands of Douglas Fir and tiny prickly pear cactus at lower altitudes in the south.
(TIP: Hiking in the alpine in Kootenay & Yoho National Parks is usually snow-free by mid-June to mid-July.  If you have come to hike, please be sure to check the trail report for each national park and the Avalanche Canada report; and come for all conditions. Always be AdventureSmart when out exploring.)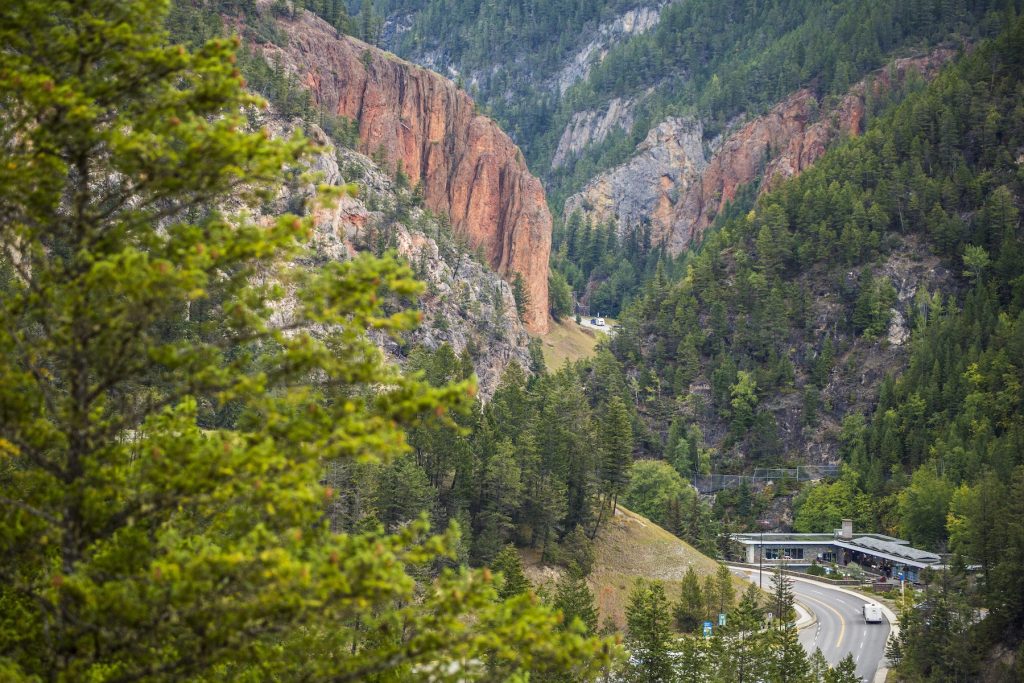 Nipika Mountain Resort
Nipika is an eco-resort that is run completely off the grid using solar power to give you every luxury of home. It is set amid a massive 100 km (62 mi) scenic trail network that starts at your door step. In conjunction with BC Forest Service, Nipika is the doorway to the Cross River Recreation Site.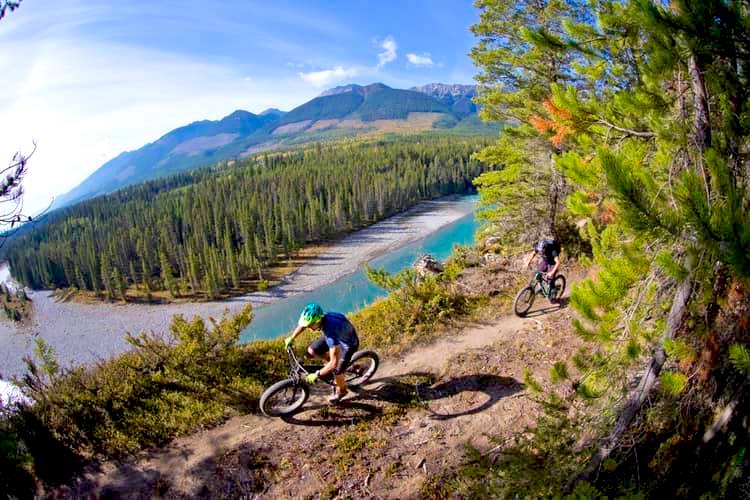 Radium Hot Springs
The Visitor Centre offers a wildlife exhibit which includes a number of educational pieces: a mountain goat, a bighorn sheep, a black bear, cougar and a loon. There is also a Ktunaxa (First Nations) heritage exhibit offering an interpretive centre with artifacts. This area is home to hundreds of kilometres of world-class trails, including the Old Coach, Juniper, Sinclair Canyon and Lake Lillian trails; plus other activities, such as golfing (9, 18-hole championship golf courses), watersports on Windermere Lake and zipline/segway experience in this epic mountain community.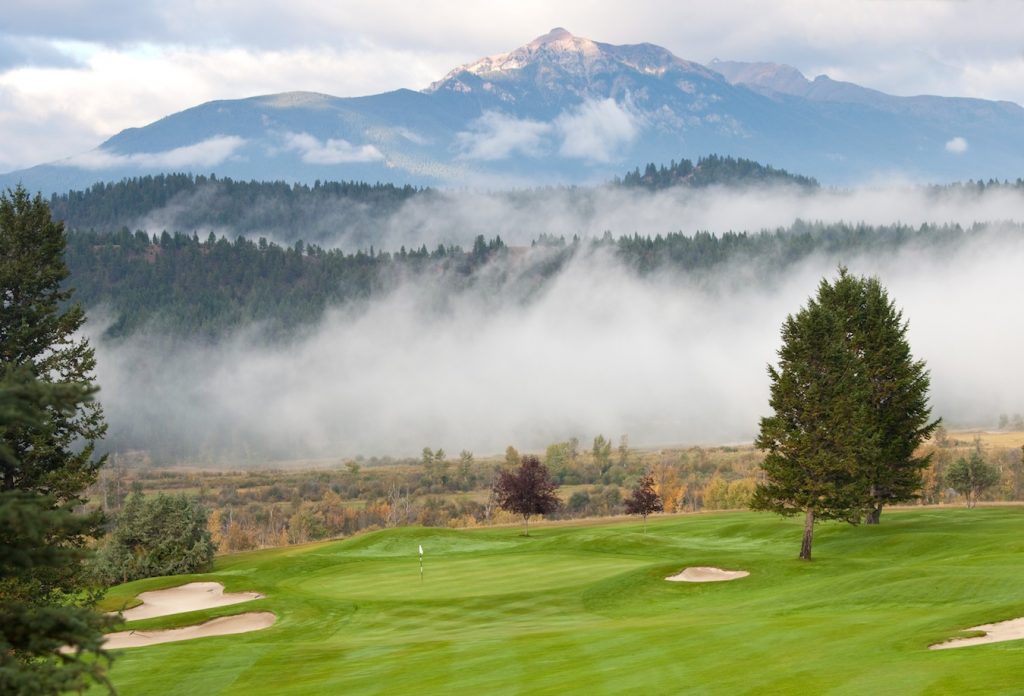 Redstreak Campground
Located within the park but only a short drive to Radium Hot Springs. The 242 site campground is open during the summer until mid-October. Reservations are recommended for all the sites (19 walk-in tent sites, 50 power/water/sewer sites, 38 sites with electricity and 125 unserviced sites).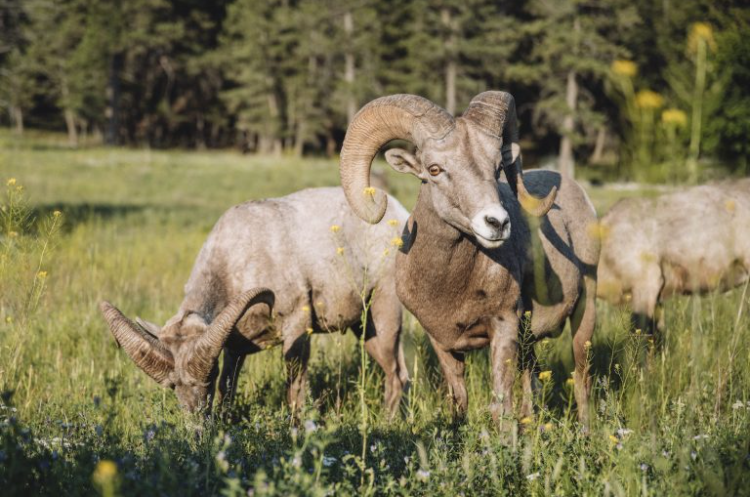 Set in the Canadian Rocky Mountains, be sure to add Kootenay National Park and Radium Hot Springs onto your list of 'must-visits' for this summer – and find out why it is known as the 'Land of Startling Contrasts'.
Know Before You Go – Plan ahead so you can travel safely and responsibly. Familiarize yourself with weather, road conditions, general alerts for travellers and provincial health orders & recommendations.
Related Stories
~ A Golden Triangle Road Trip
~ A Road Trip of a Lifetime: Kootenay Rockies Hot Springs
~ Accessible Trails in the Kootenays
~ Accessible & Adaptive Sports Road Trip
~ Easy Kootenay Hikes: To 360 Degree Vista Views
~ Everything is Local
~ Follow the Trail: Kootenay Hiking Adventures
~ Forest Therapy: Replenish your Spirit & Reawaken your Soul
~ Funky Kootenay Fun Facts
~ Golf Our Mountain Playground
~ Kootenay Ambassadors: Mindful Explorers
~ Outdoor Adventures: Unique to the Kootenays
~ Paddling Adventures in the Kootenays
~ Pit Stops for a Kootenay Road Trip
~ Reward Play: Golfing the Kootenay Rockies 
Cover/top photo by Summit Communications.
Please tag your images with @KootRocks on Instagram to be featured in a future social post.  For travel deals and specials – sign up for our Consumer Travellers Newsletter.