Cody Cave Tours owner Lee Hollis (photo below) has been taking adventurers into Cody Caves near Ainsworth for the past seven years.  Lee and his team are pumped to offer one of the most adventurous Kootenay experiences around: a winter tour of their magical, underground ice-kingdom.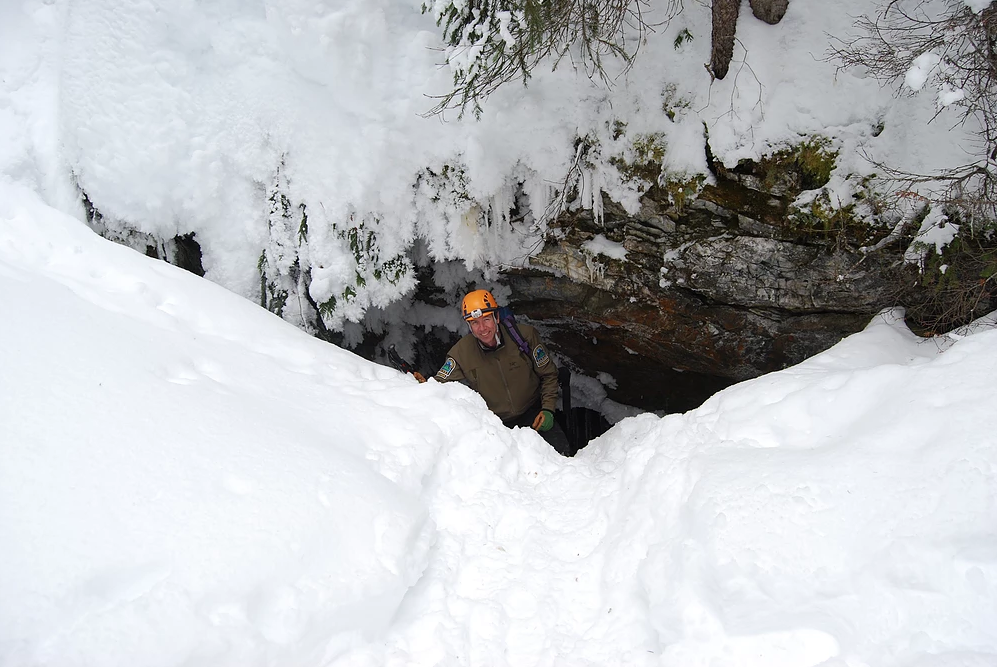 Winter entrance to Cody Caves, photo courtesy of Cody Cave Tours
"In winter the cave entrance sets up a chimney effect," explains Hollis, "with cold winter air sinking into the cave, pushing warmer, moist air back to the surface."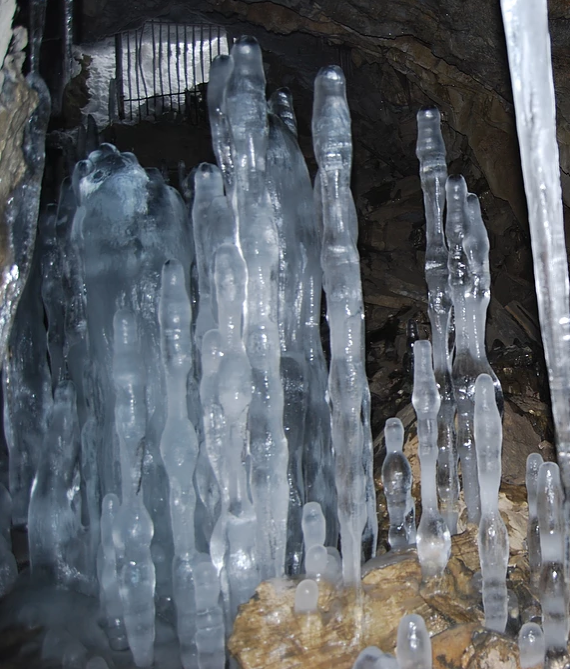 Unique ice-formations in the caves, photo courtesy of Cody Cave Tours
This natural treadmill results in extreme levels of condensation, which translates into ever-growing ice stalagmites on the cave floor below a ceiling sparkling with diamond-like ice crystals. This frozen world is unlike anything you've ever seen, and makes a winter visit to the caves an unforgettable one, on top of the spectacular subterranean features that make Cody Caves special year-round, not to mention the creepy carpet of hibernating Daddy Long-legs covering the ceiling around the cave entrance. From late-November to mid January this year, the cave is closed to allow CBC's Nature Of Things to complete an 8-week time-lapse video project showcasing the formation of the ice crystals for an episode set to air with host David Suzuki in fall, 2020.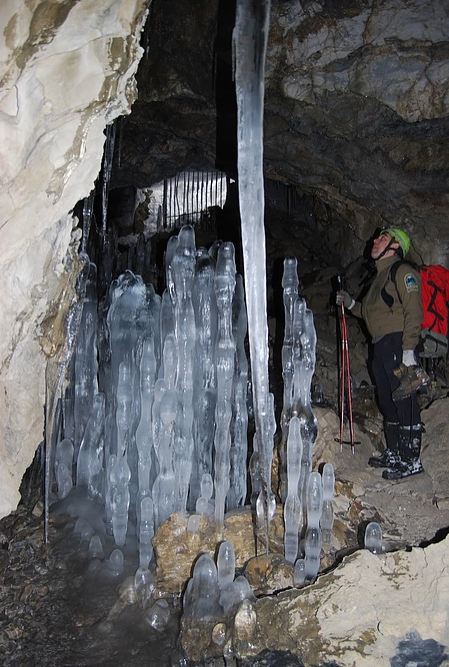 Floor to ceiling ice formations at the entrance of Cody Caves, photo courtesy of Cody Cave Tours
Open again for public tours in mid-January, visitors can access the remote Cody Cave either by an overnight snowshoe or ski up the road, sleeping in a cabin near the cave entrance, or on a day-trip by helicopter from Nelson. Tour costs vary depending on group size and transportation option.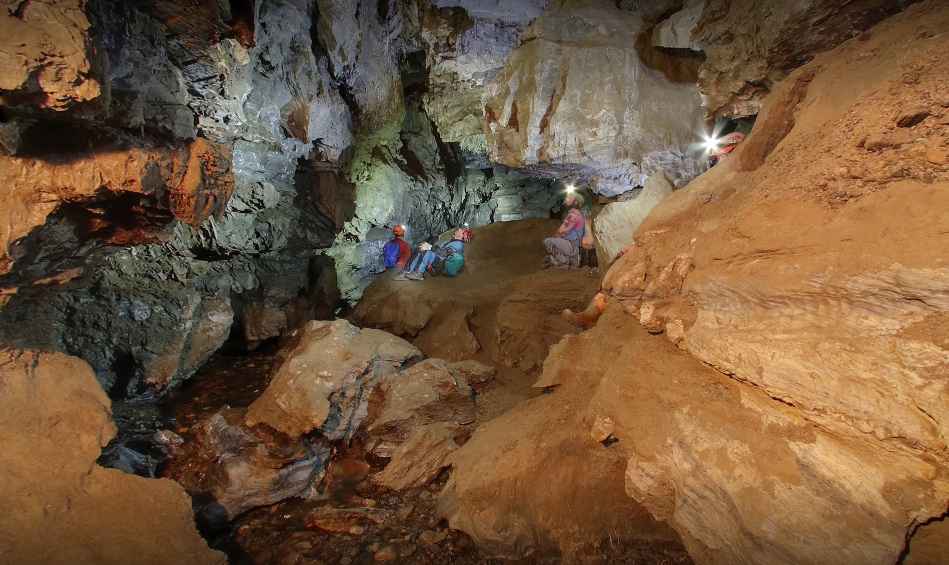 Interior of the caves, photo by Jody Wall (Views4Business)
Spelunkers spend 4-5 hours inside the cave itself on a Cody Cave Adventure Tour, and even with the optional helicopter shuttle up the mountain it is a strenuous tour requiring good physical fitness. Visitors must provide their own winter gear, with Cody Cave Tours providing all spelunking gear, including overalls, helmets with lights, harnesses and ropes. Cave sections known as the "Squeeze" and "John's Crawl" into the recently discovered cave extension hint at some of what visitors might expect on a Cody Caves Adventure Tour.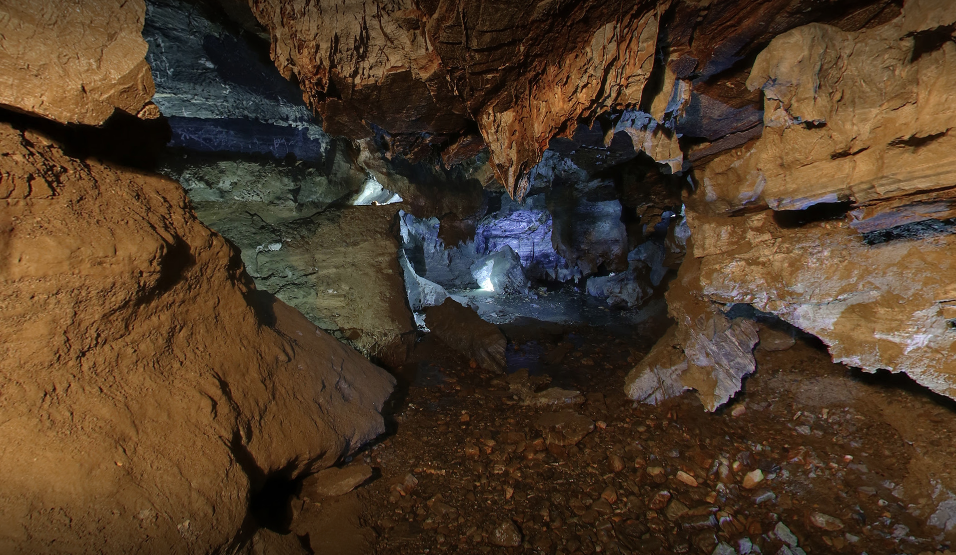 Interior of Cody Caves, photo by Jody Wall (Views4Business)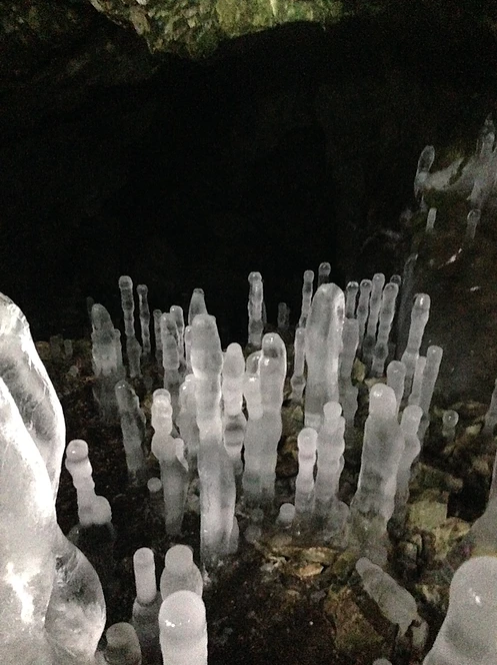 A frozen world within Cody Caves in the winter, photo courtesy of Cody Cave Tours
~ Take extra time to research and plan your trip in advance. Many of our tourism businesses and services have adopted new COVID-19 protocols and changes to their schedules or policies to ensure your safety. You'll want to become familiar with them ahead of time.
~ If you normally travel with extended family or with several friends, consider travelling in a smaller group this summer. Travelling with fewer people makes it easier for you to practise physical distancing in public, and may have less of an impact on the destination.
~ Consider a slower travel pace this winter to help curb the spread. 
Related Stories
~ 4 Quirky Communities Along Kootenay Lake
~ 4 Reasons to Drive BC's Hidden Route: The Slocan Valley
~ Getting into Hot Water: Kootenay Hot Springs
~ Funky Finds on the Powder Highway
~ Powder Highway 101
~ Quirky Attractions Only Found in the Kootenays
Words by Dave Quinn. Top/cover photo courtesy of Cody Cave Tours.
Dave Quinn was born in Cranbrook, BC; Dave is a wildlife biologist, educator, wilderness guide, writer and photographer whose work is driven by his passion for wilderness and wild spaces. His work with endangered mountain caribou and badgers, threatened fisher and grizzly, as well as lynx and other species has helped shape his understanding of the Kootenay backcountry and its wildlife.
Please tag your images with #KootRocks or #PowderHighway on Instagram to be featured in future stories.