The face of Kootenay travel has changed a lot over the years, defined by sudden, 'tipping-point' shifts in how industry and travellers traverse this mountainous zone.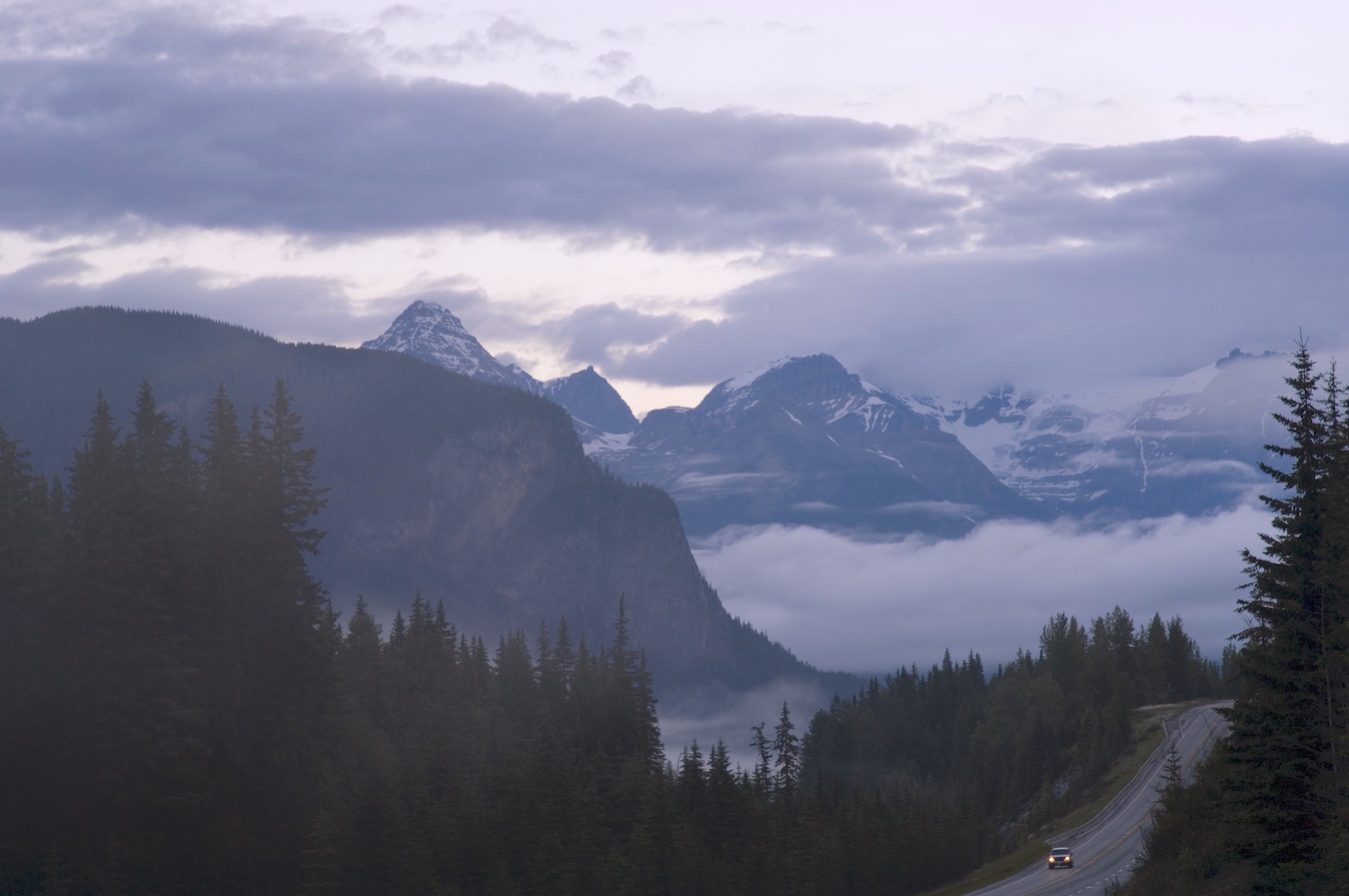 Travelling the Trans-Canada Hwy 1 in Yoho National Park, photo by Albert Normandin
Blessed with an abundance of lakes and rivers, the Ktunaxa people relied on their famous sturgeon canoe, a design unique on the planet. The Ktunaxa were also pioneer horse people, relying on horses to hunt bison on the prairies and to travel throughout their territory.
As developing mines and forestry demanded transport of people and materials, a fleet of paddle-wheelers plied our lakes, connected by a network or horse trails and eventually rail lines across the mountains. Kaslo's SS Moyie National Historic Site of Canada offers a glimpse into this exciting time.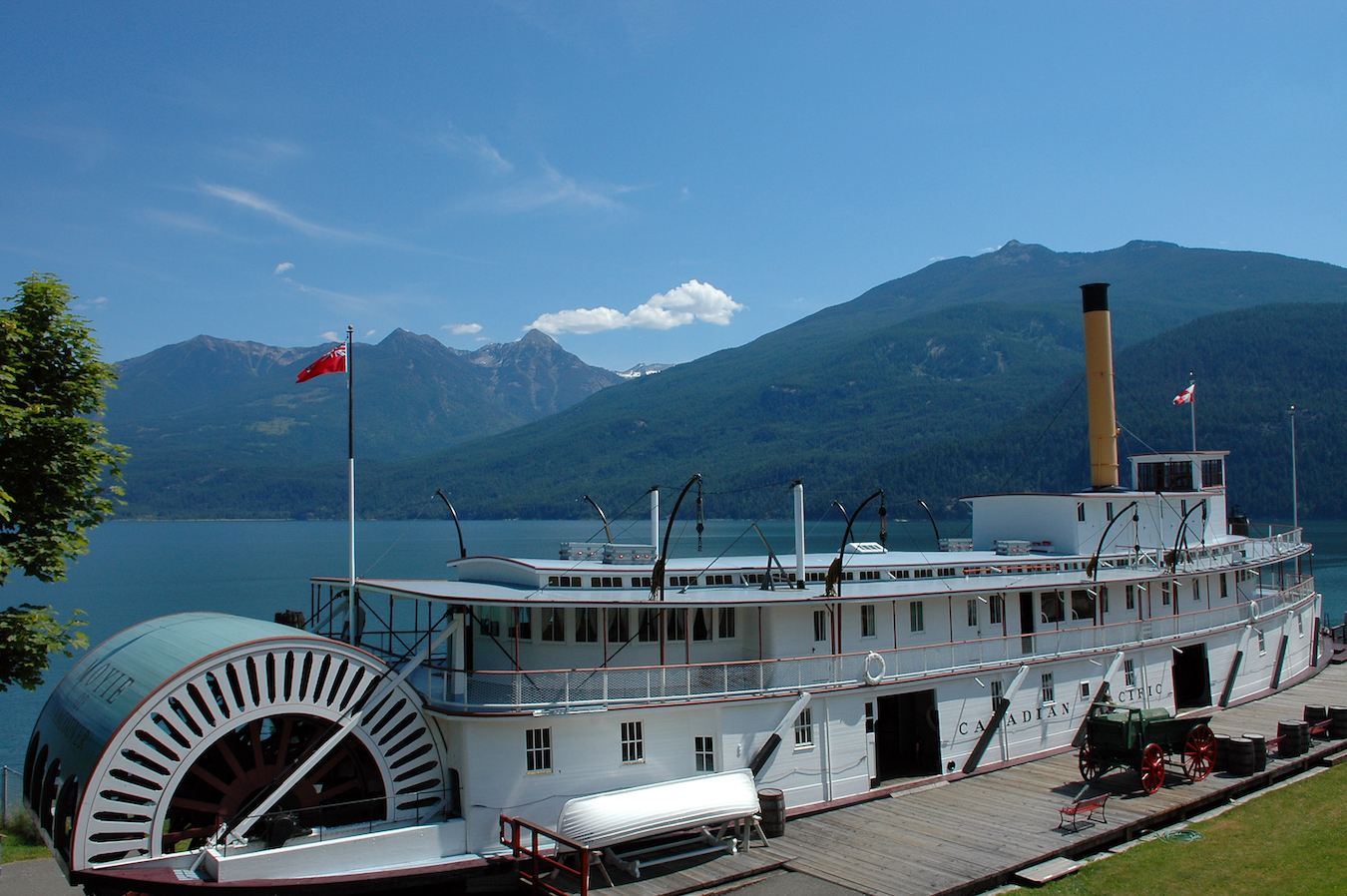 SS Moyie berthed at the shoreline of Kootenay Lake in Kaslo, photo by Phil Best
Eventually highways to the Big Bend, over Rogers and Kootenay Passes and along the shores of Kootenay, Slocan and Arrow Lakes replaced the paddle-wheelers, but five, free ferry routes, including the world's longest free ferry across Kootenay Lake still provide vital connections for Kootenay travellers.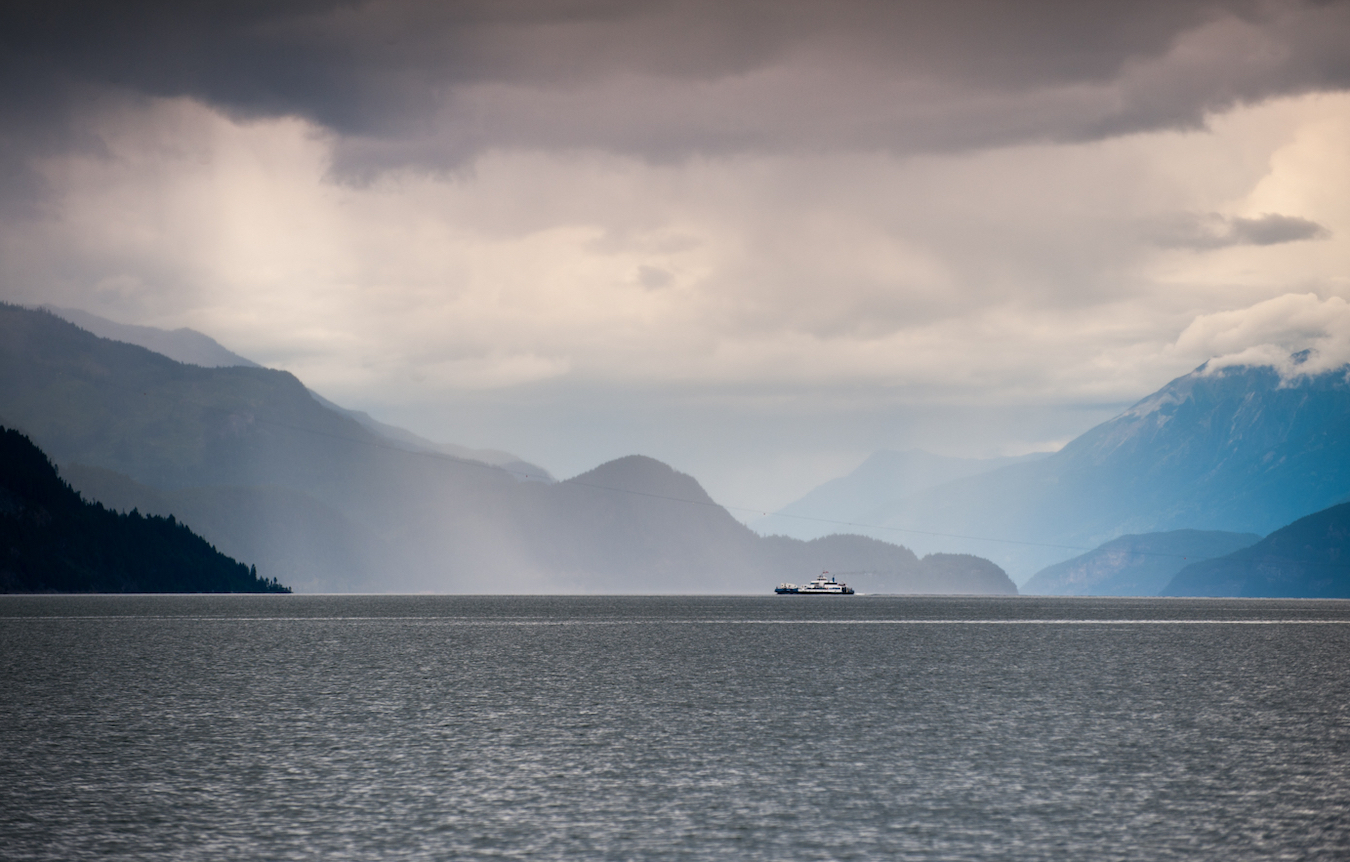 Kootenay Lake – World's Longest Free Ferry, photo by Dave Heath
Today, canoes, kayaks and SUPs allow visitors to get out on the water and many of the old rail lines form part of a growing 'rails to trails' network. The paved Northstar Trail between Kimberley and Cranbrook allows cyclists, roller-bladers and wheelchair travellers enjoy the Rocky Mountain Trench, while the 50-km Slocan Valley Rail Trail is a non-motorized, gravel gem accessed by seven, well-spaced trailheads.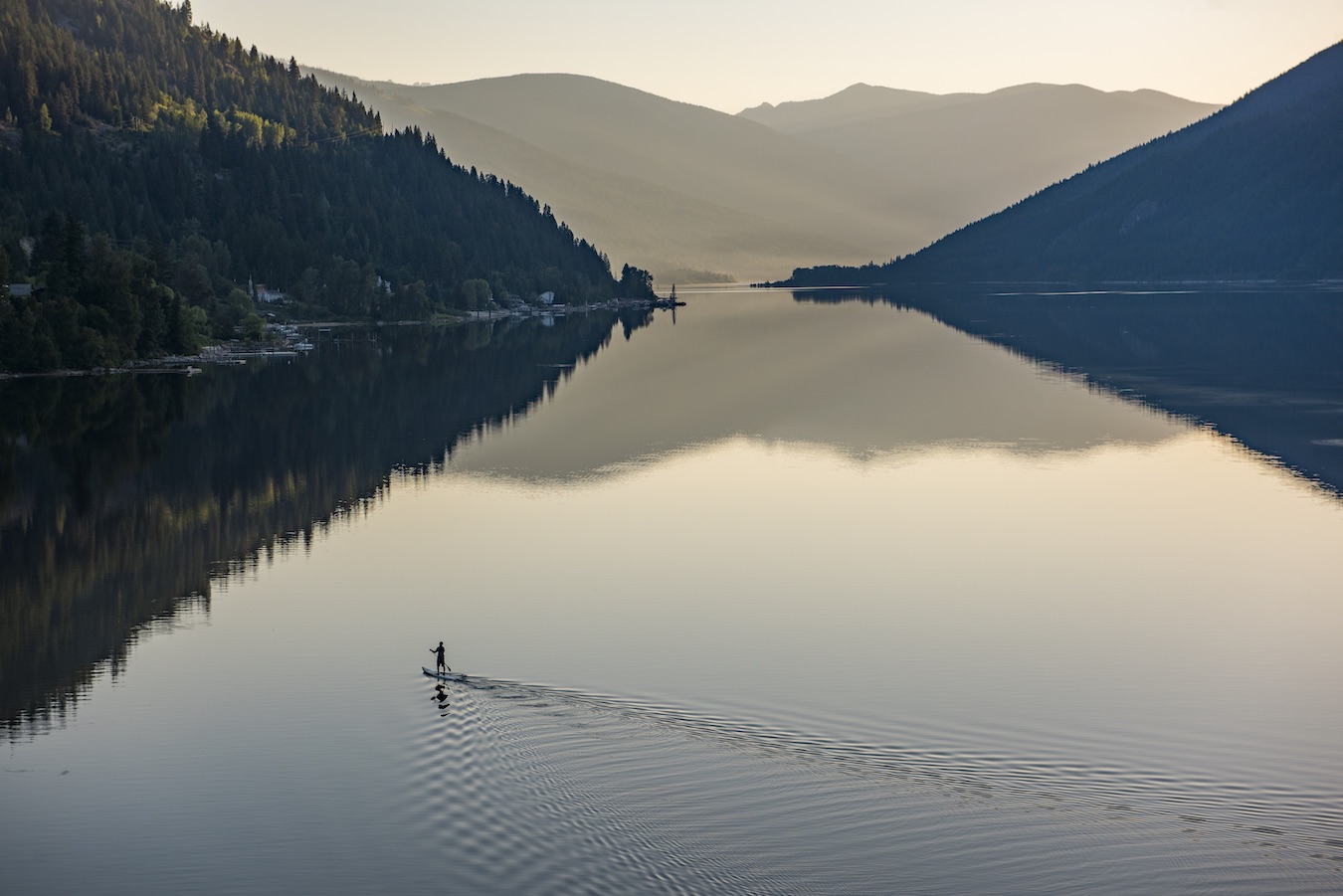 Early morning SUP on Kootenay Lake, photo by Kari Medig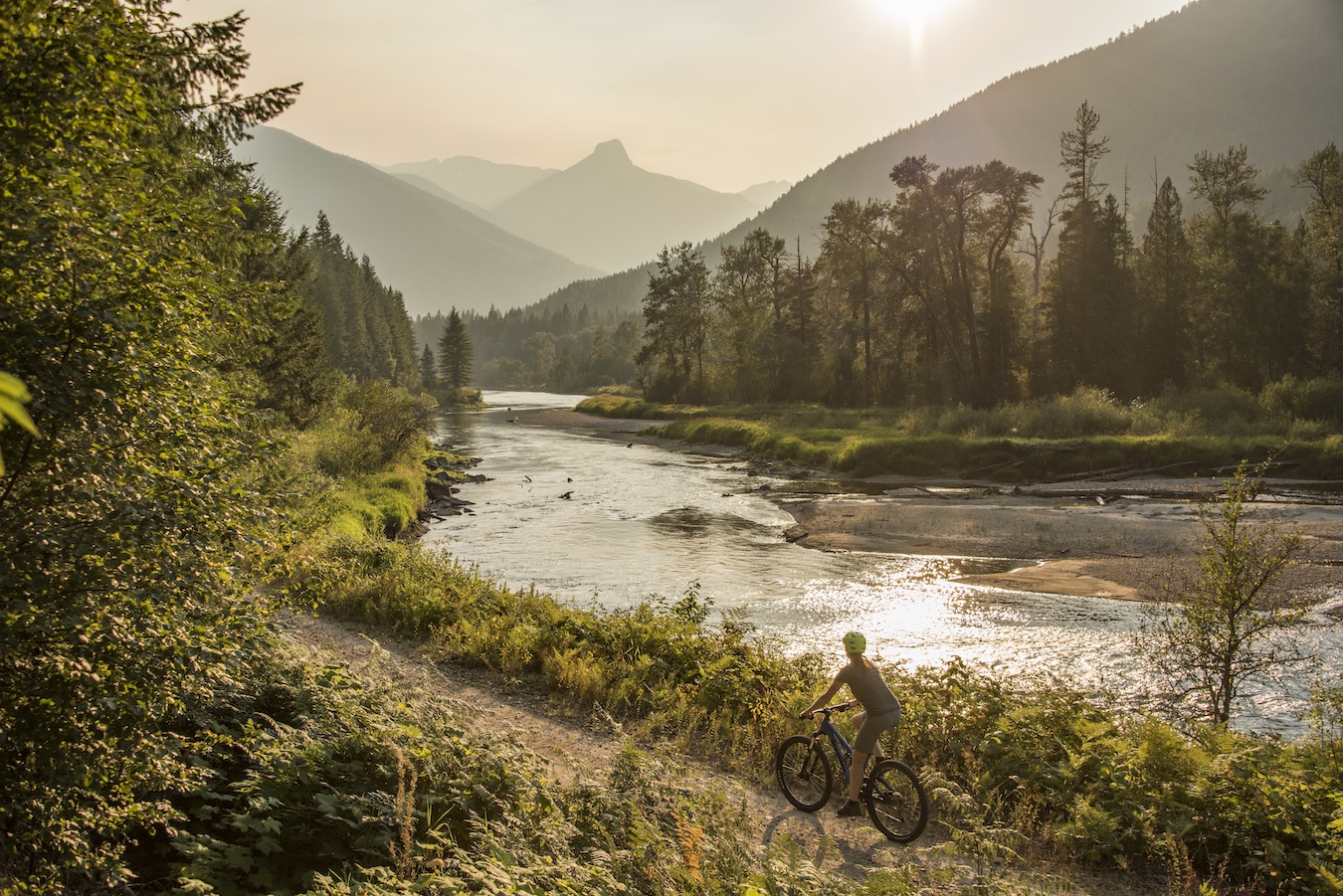 Slocan Valley Rails-to-Trails with Mt. Wilton viewpoint, photo by Kari Medig


Another 'tipping point' is here, with travellers opting more and more for sustainable travel options. Bus service between the Kootenays and the west-coast is now available with Mountain Man Mike's French fry oil-powered bus service. French-fry service to Alberta is also planned.
Companies like Tesla, Hyundai, and Kia now offer plug-in electric vehicles with ranges over 350-km that you can charge at any outlet, suited to the long distances between Kootenay communities. EV quick-charge stations are popping up everywhere, from the summit of Rogers Pass to the solar-powered EV charging stations in Kimberley's Platzl.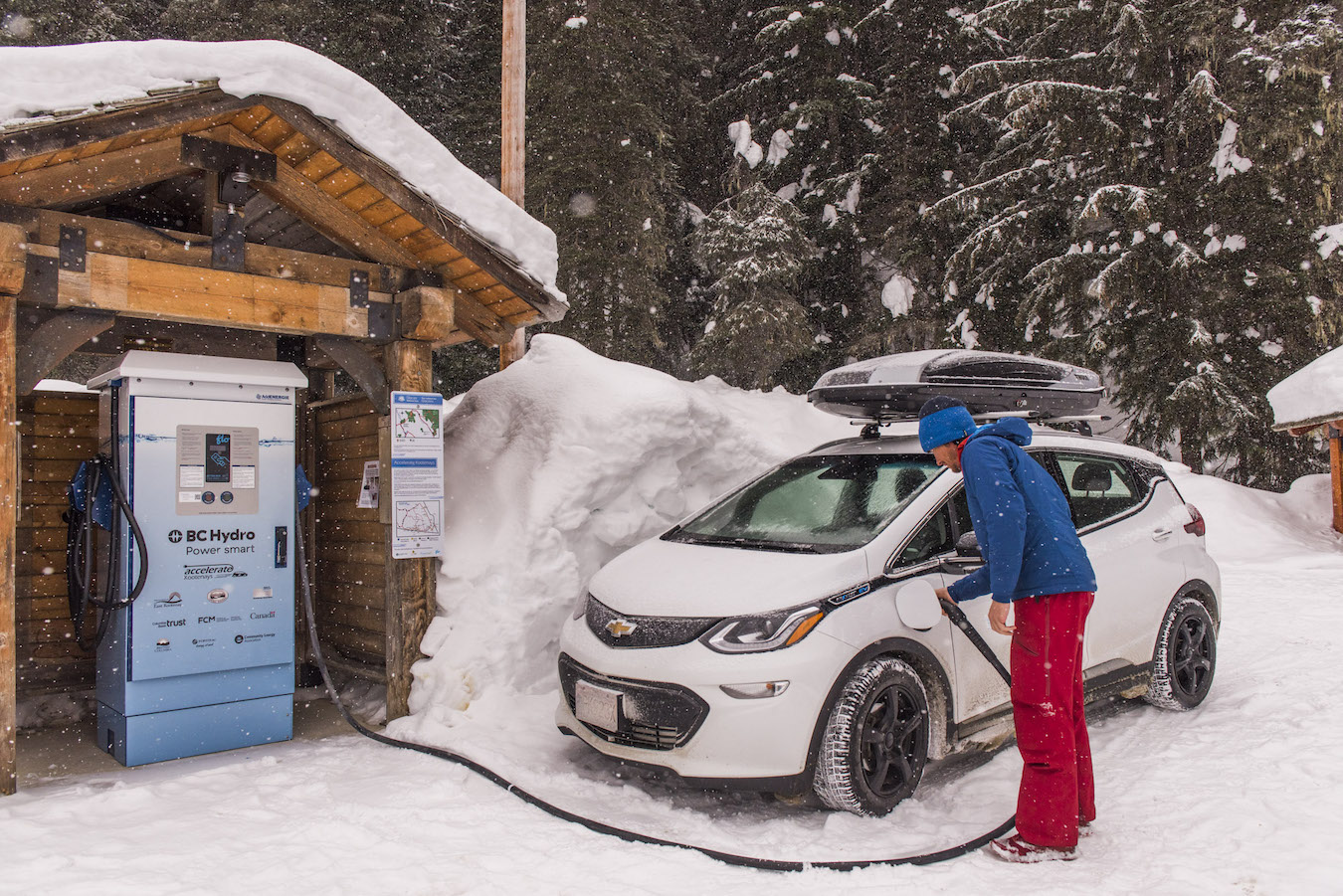 EV Charging at the top of the Rogers Pass on Highway 1, photo by Kari Medig

Whether you are sitting in your EV on a free ferry or watching the world go by from an oil-powered bus or by pedal power on an old rail bed, just getting around the Kootenays is one of the highlights of any visit.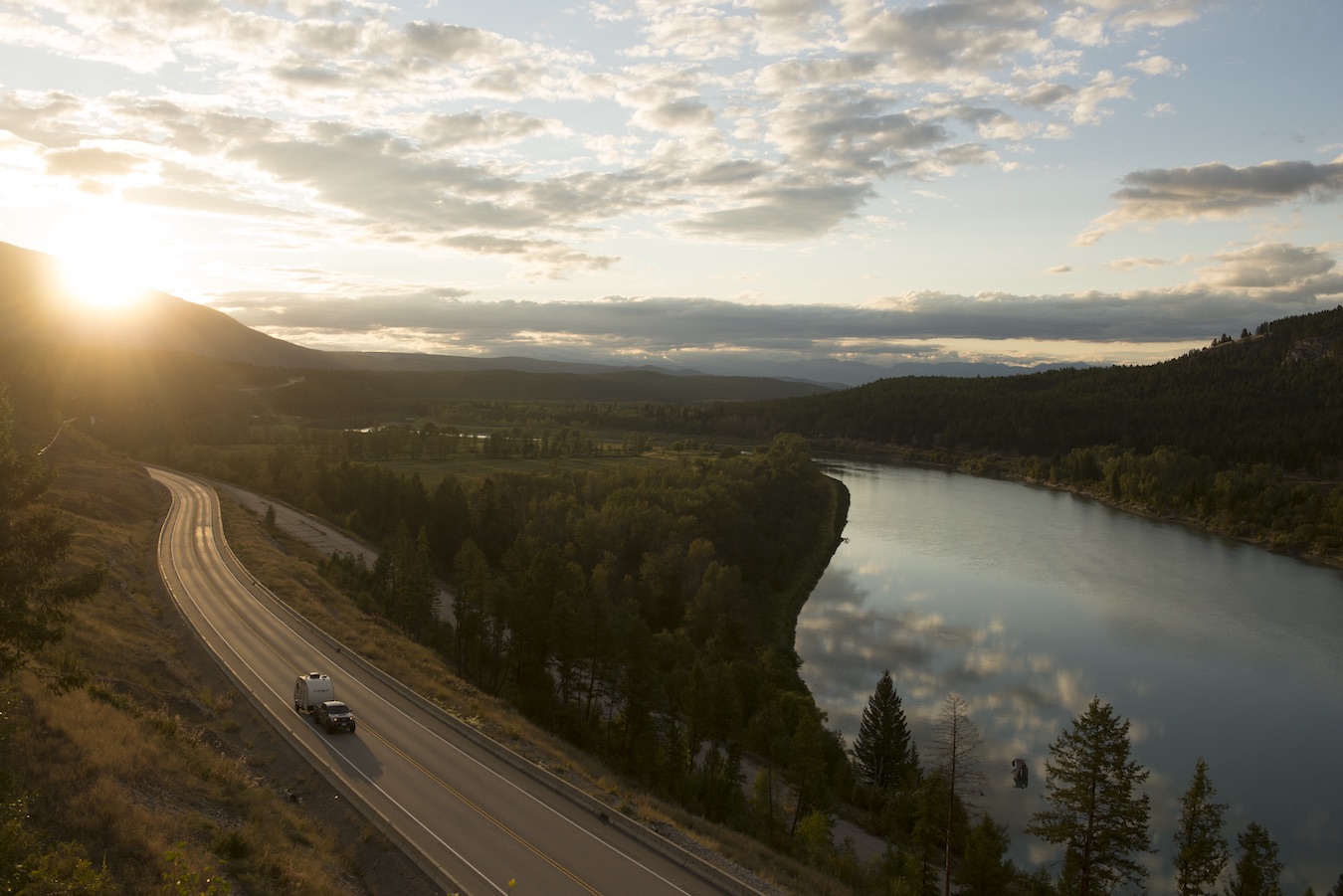 Travelling on Highway #3, photo by Kari Medig
Know Before You Go – If you're traveling in the spring, summer or fall just remember that traveling in the mountains can come with unexpected changes in weather patterns. Even in the warmer months, it is very important to check highway conditions and travel advisories. DriveBC is a great resource with real-time webcams and road statuses. During winter months, winter driving conditions are in effect. It is very important to check highway conditions and travel advisories while traveling throughout the Kootenay region. Winter tires are needed on your vehicle from October to April and Road Safety at Work has some great ideas for items to pack in your car such as windshield scraper & snow brush, shovel, warm blankets, snacks/beverages.  
Related Stories
~ 4 Reasons to Drive BC's Hidden Route: The Slocan Valley
~ Colossal Things to Do & See in the Kootenays
~ Getting into Hot Water: Kootenay Hot Springs
~ Funky Kootenay Fun Facts
~ Funky Finds on the Powder Highway
~ Kootenay Made
~ Pit Stops for a Kootenay Road Trip
~ Quirky Attractions Only Found in the Kootenays
~ Unique Stays on a Kootenay Hot Springs Road Trip
~ Wet your Whistle: Along a Kootenay Road Trip
Words by Dave Quinn. Top/cover photo by Bruno Long on the Trans-Canada Highway in Revelstoke, BC.
Dave Quinn was born in Cranbrook, BC; Dave is a wildlife biologist, educator, wilderness guide, writer and photographer whose work is driven by his passion for wilderness and wild spaces. His work with endangered mountain caribou and badgers, threatened fisher and grizzly, as well as lynx and other species has helped shape his understanding of the Kootenay backcountry and its wildlife.
Please tag your images with #KootRocks on Instagram to be featured in future stories.
(Original story published on Jun 11, 2019.)