Dawn creeps over the Purcell mountains to the east, slowly bringing Creston Valley's songbirds to life.
Between the protection of the range and the Kootenay River below, four wineries and their vineyards await their turn in the sun. Although a relatively new venture for the valley, the wine produced here has already proven itself a strong contender, winning awards not just in British Columbia but well beyond the province's borders.
But back in the vineyards, it's the simple love of producing something of passion that's spurred owners to take on what was, not long ago, a novel industry for Creston, BC.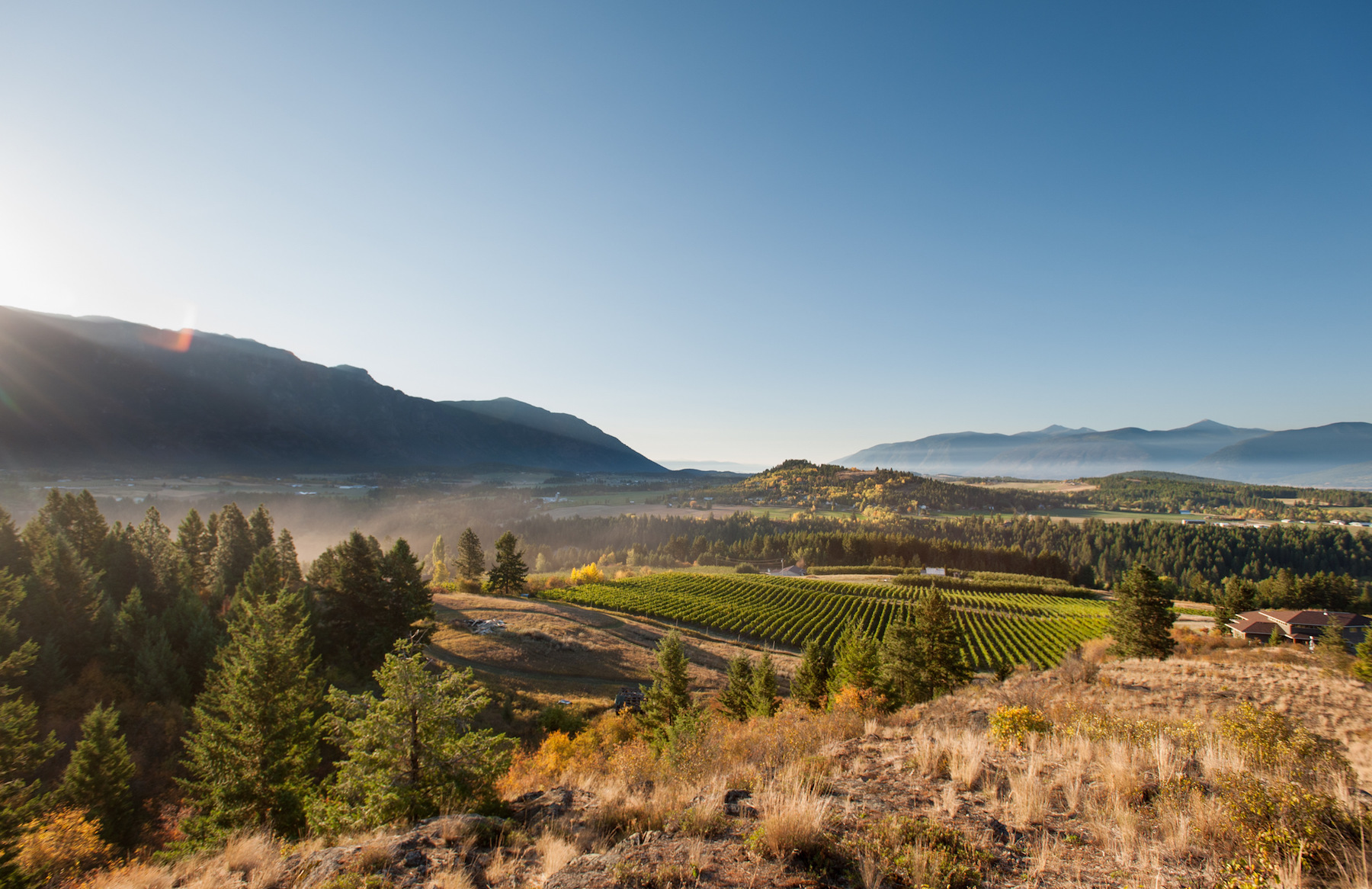 Baillie-Grohman Estate Winery, photo by Dave Heath
"Petra and I are lovers of wine," says Bob Johnson, referencing his wife and co-founder of Baillie-Grohman Estate Winery, "…so an opportunity to become involved in the wine business seemed like a good challenge."
Starting a vineyard is a risky undertaking, especially at a point when the jury is still out on a region's viability. But with neighbouring Skimmerhorn Winery & Vineyard paving the way three years previous, by 2006 the Johnsons felt ready for the career change and made the leap.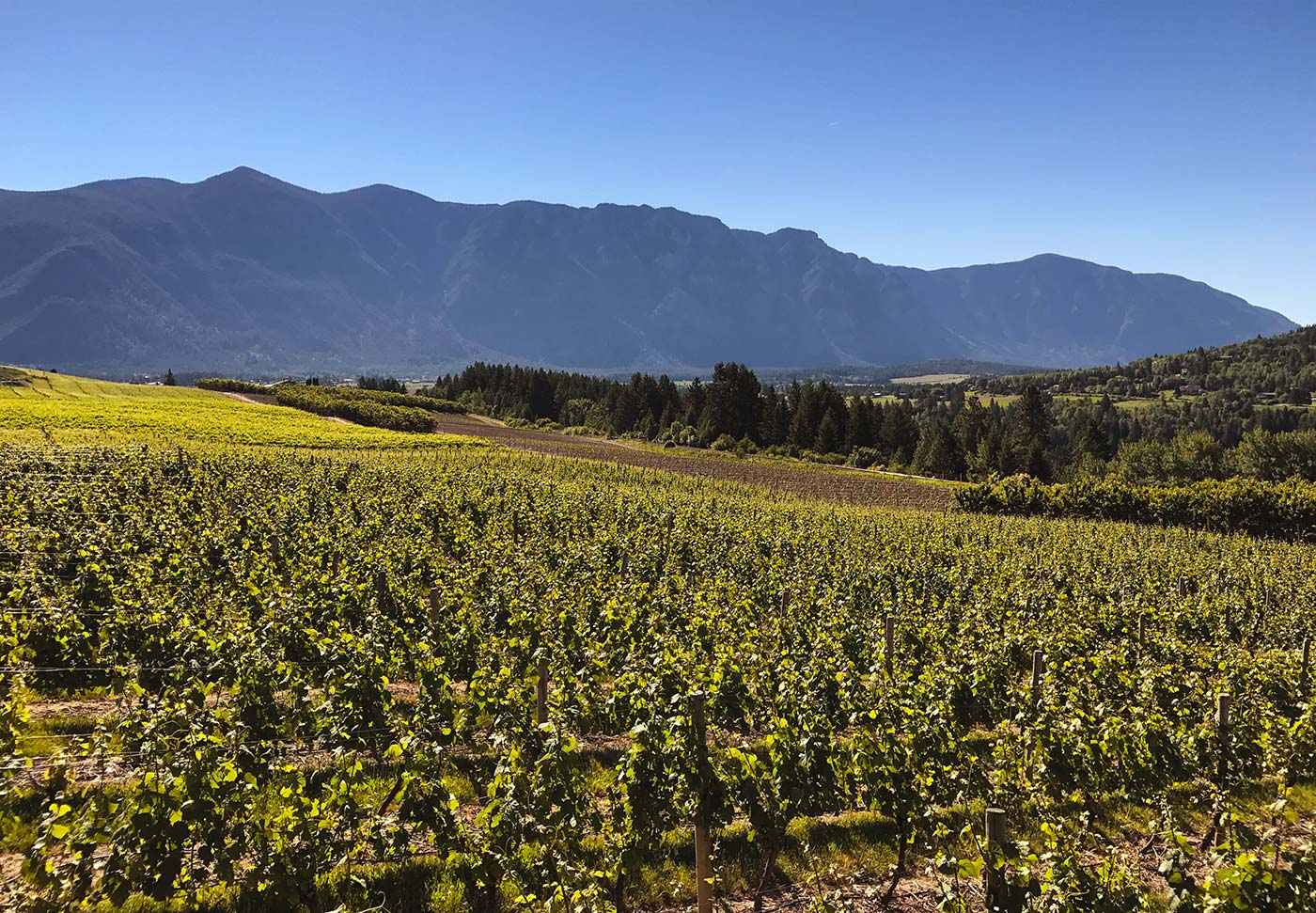 Skimmerhorn Winery & Vineyard, photo by Ryan Burgis
It was a big undertaking, says Johnson, and the relative newness of Kootenay vineyards added its own set of hurdles.
"Making wine in the Kootenays is both a blessing and a curse," says Johnson. "It's a blessing in that it's easy to say that you have something very unique to sell, and people are always looking for something unique.
"But at first, the curse was that it was a little too unique and a tough sell."
Now, twenty years later, the reputation for the valley's product has cemented its staying power. Moving beyond being a darling of Kootenay locals, name recognition for the region's wine is building throughout British Columbia.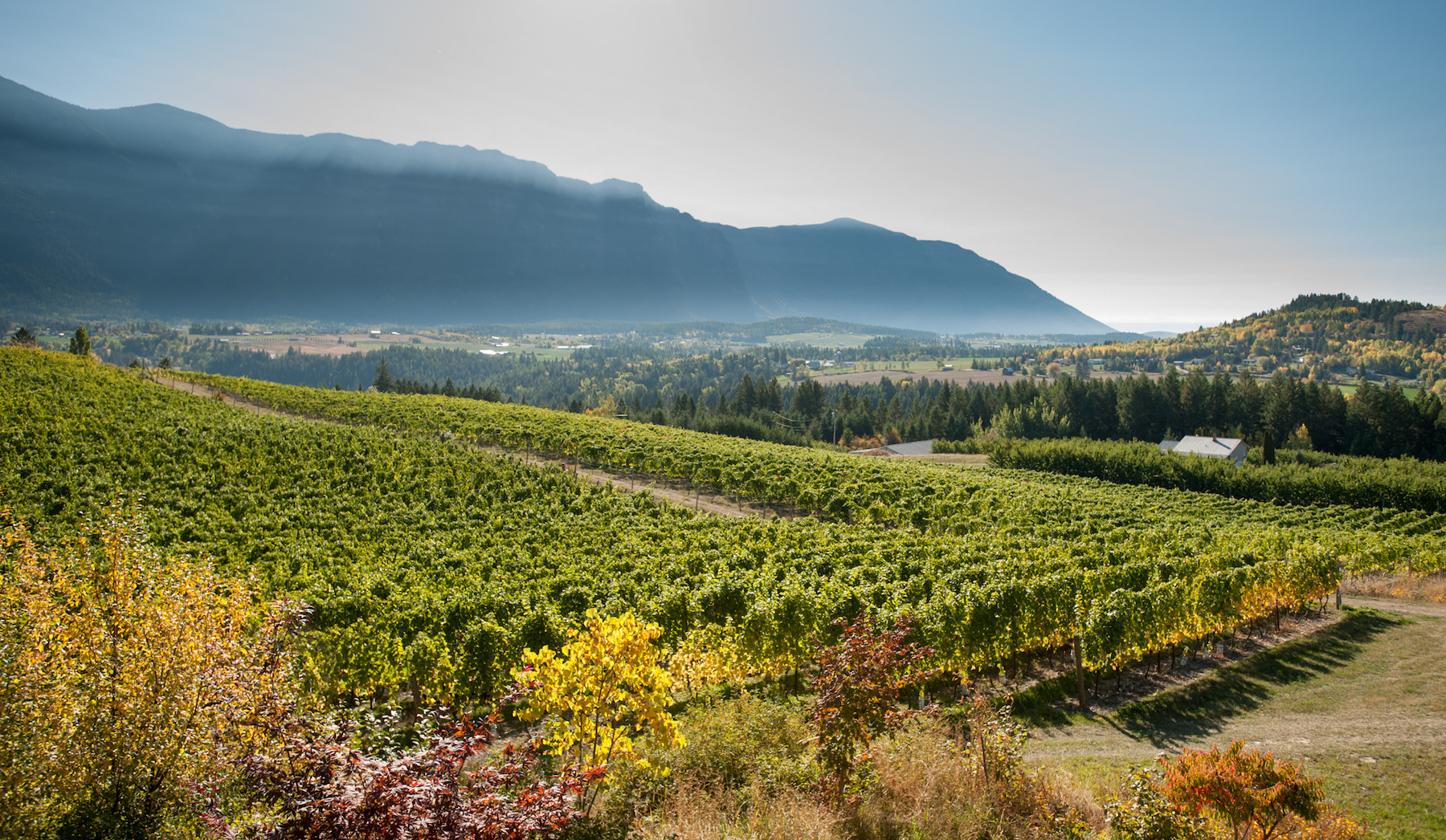 Creston Valley & our Skimmerhorn mountains, photo by Dave Heath
And with Wynnwood Cellars adding their grapes to the Creston Valley landscape in 2007, the trio of wineries are working their way toward being a destination for tourists, including travellers on the famed Selkirk International Loop and Albertans vacationing in BC.
"Stopped in for a tasting of the local wines," writes Ashley L., a Calgary, Alberta resident traveling to West Kootenay during a past Canada Day holiday. Though she hadn't planned the stop on her return home, she made the exception when she came across Skimmerhorn Winery & Vineyard. And she's glad she did. "The wines are delicious…I walked out with 4 bottles."
For that deliciousness, the Kootenay land can be credited, at least in part – for imparting its magic to the grapes.  
"Our wine is unique because of the place it comes from," says Johnson. "Wine from the Kootenays has a different signature than wines from other places, including other places in BC. The Creston Valley has grown quality fruit for a long time and quality grapes are just an extension of what this valley is capable of."
And lastly, Creston's newest winery 'Red Bird Estate Winery' is currently offering a limited 2017 vintage including Gewurztraminer, Meritage and Pino Gris.  One traveller from Regina, SK mentioned on TripAdvisor – "the Meritage was silky, smokey and perfect with the steak we paired it with at home."
Note: We have a two more winery in the Kootenays, one in Trail, BC – Columbia Garden Vineyard and Winery and one in Nakusp, BC  – Valley of the Springs Winery. Be sure to add them to your Sip and Savour Winery Tour.
~ Take extra time to research and plan your trip in advance. Many of our tourism businesses and services have adopted new COVID-19 protocols and changes to their schedules or policies to ensure your safety. You'll want to become familiar with them ahead of time.
~ If you normally travel with extended family or with several friends, consider travelling in a smaller group. Travelling with fewer people makes it easier for you to practise physical distancing in public, and may have less of an impact on the destination.
~ Consider a slower travel pace to help curb the spread. Instead of checking in and out of multiple destinations during one trip, choose one or two destinations and one/two accommodation properties for your entire trip (and explore all the things to do & see nearby).
Words by Gina Begin.  Cover photo by Dave Heath (Baillie-Grohman Estate Winery).
Gina Begin – Although she's a Florida girl, exploration called her away after the final bell of her high school career. On a quest to reach the distant adventures of North America, she lived in her car, traveling to ski the backcountry of Alaska, sleep under the northern lights in the Yukon Territory, ice climb Colorado's frozen canyons, photograph Nova Scotia's coves, backpack in southern US wildernesses and munch on sugared tamarindo in the jungles of Mexico. But after three years living on the road and seeing the many wonders this continent had to offer, she chose the place she knew would fit an explorer looking for a lifetime of wild wonder: British Columbia. Dual citizenship in hand, she settled along the Powder Highway in the Selkirks and is making her home between four walls and deeply wooded mountains.
Please tag your images with #KootRocks on Instagram or Facebook to be featured in future stories.
(Original publish date in June 2017.)