The Kootenays is the perfect place to enjoy an adventure on and off the beaten track. Here's the top 5 unique experiences encompassing the huge variety of attractions the Kootenays has to offer, from nature and hiking to a little humour and history.
Just off highway 3A in Castlegar, make a visit to explore the grounds of an original Doukhobor village. Discover the fascinating story behind the Russian Doukhobor settlers who left their homeland due to persecution in the 18th Century. And there's no need to bring a picnic, one of the last buildings to be built in the area was a market where you can still buy locally produced fruits, cheeses, eggs, meats and nuts, everything you could need for an alfresco Doukhobor dining experience. Take your pick of the grounds and gardens to set down a picnic blanket or choose one of the many picnic tables that are scattered about!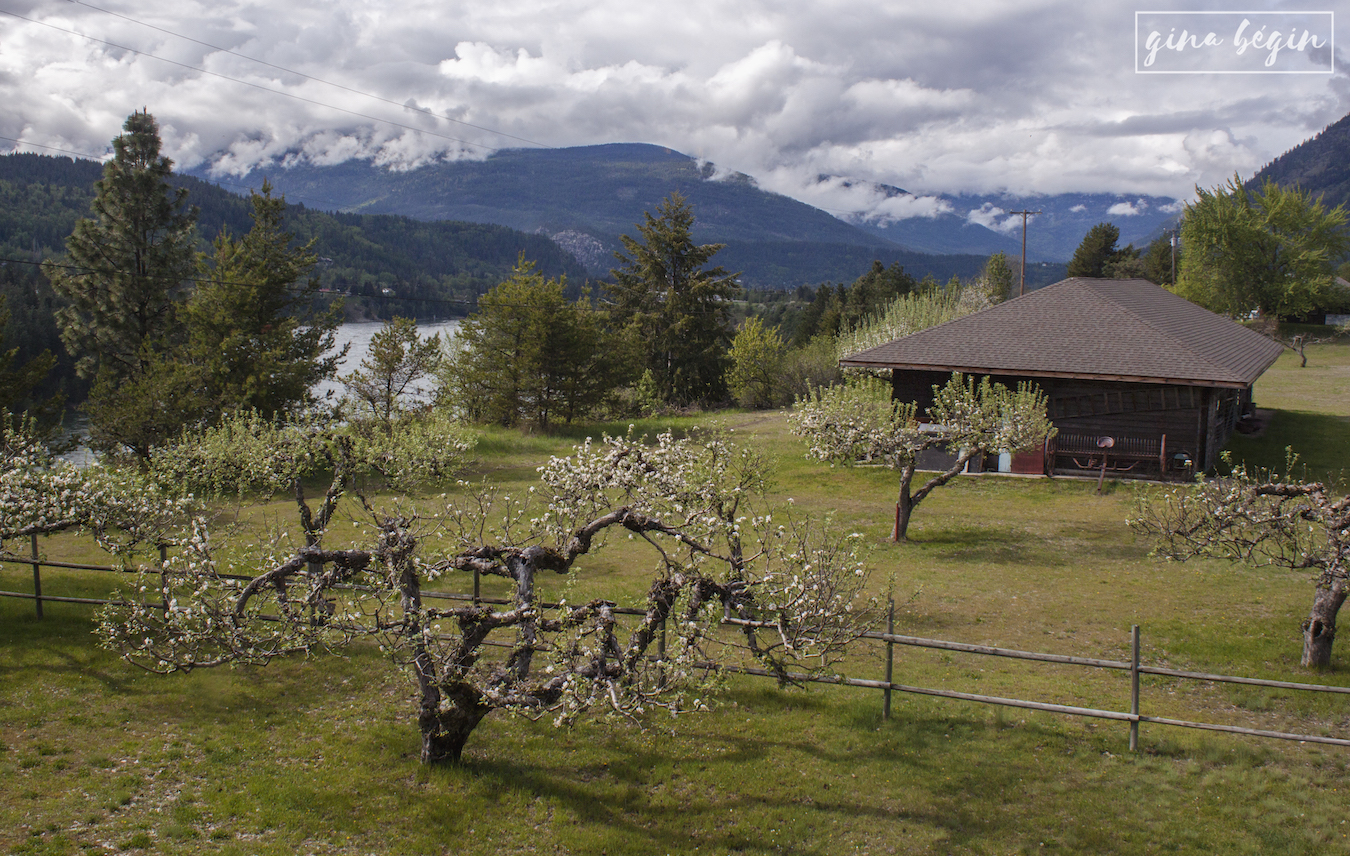 Looking out onto the orchard at the Doukhobor Discovery Centre; photo by Gina Begin
For the adventurous family, this secluded park is well worth the spectacular 2-hour scenic drive north of Sparwood. Prepare for some rough road surfaces on this adventure through some true backcountry. Although easily accessible it is an isolated area, so bring your own water, and other supplies, as there are no amenities in the area, and prepare for sudden weather changes! Plenty of wildlife can be spotted in the park, and along the road, so bring some binoculars to spot squirrels, blue  ays and beavers, as well as elk, moose and bears.
The alpine meadows offer beautiful splashes of colour with berry bushes and plenty of wildflowers. Good fishing can also be expected. Expect to find a variety of trails, some more accessible than others. Campsites are available but please only use the fire-pits already available, and of course, take note of any fire bans that might be in place. Be aware that some hikes require more advanced preparation and hiking skills and watch out for logging trucks and wildlife on the road!
The perfect adventure for your fantasy-loving kidlets! Take them on an interpretive nature walk around Revelstoke's Enchanted Forest. Climb BC's tallest treehouse, play family in fairy homes, pirates in treetop pirate ships and diggers in the sand beneath the trees.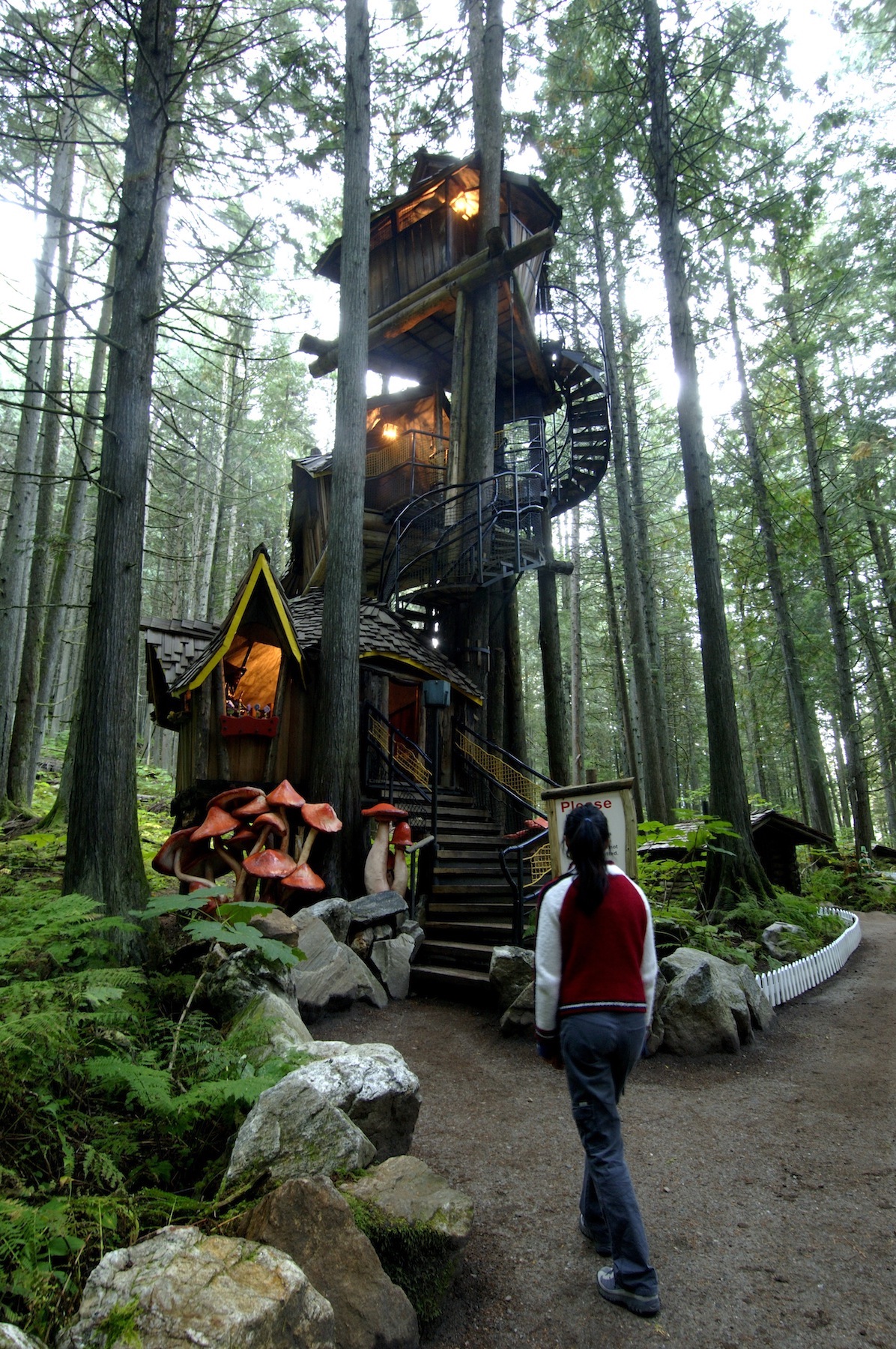 BC's Tallest Treehouse at the Enchanted Forest; photo by David Gluns
For the braver kids choose the Skytrek Adventure Park, or for a more gentle experience take a paddleboat on the lake. If you get your timing right (fall) you can even watch the annual salmon run! Finish it all off with a picnic in their designated picnic area.
Just minutes from the town of Radium Hot Springs, 13-km north and a right turn, Olive Lake is ideal for a quick stop to stretch the legs or a fun nature hike for the kids. The lake can be seen from Highway 93, is accessible for all and has a wheelchair accessible toilet and boardwalk path. This pretty little lake is nestled amongst stunning scenery with crystal clear waters and plenty of wildlife to spot, though do be Bear Aware. You can even jump in if you're up for a refreshing blast of frigid water!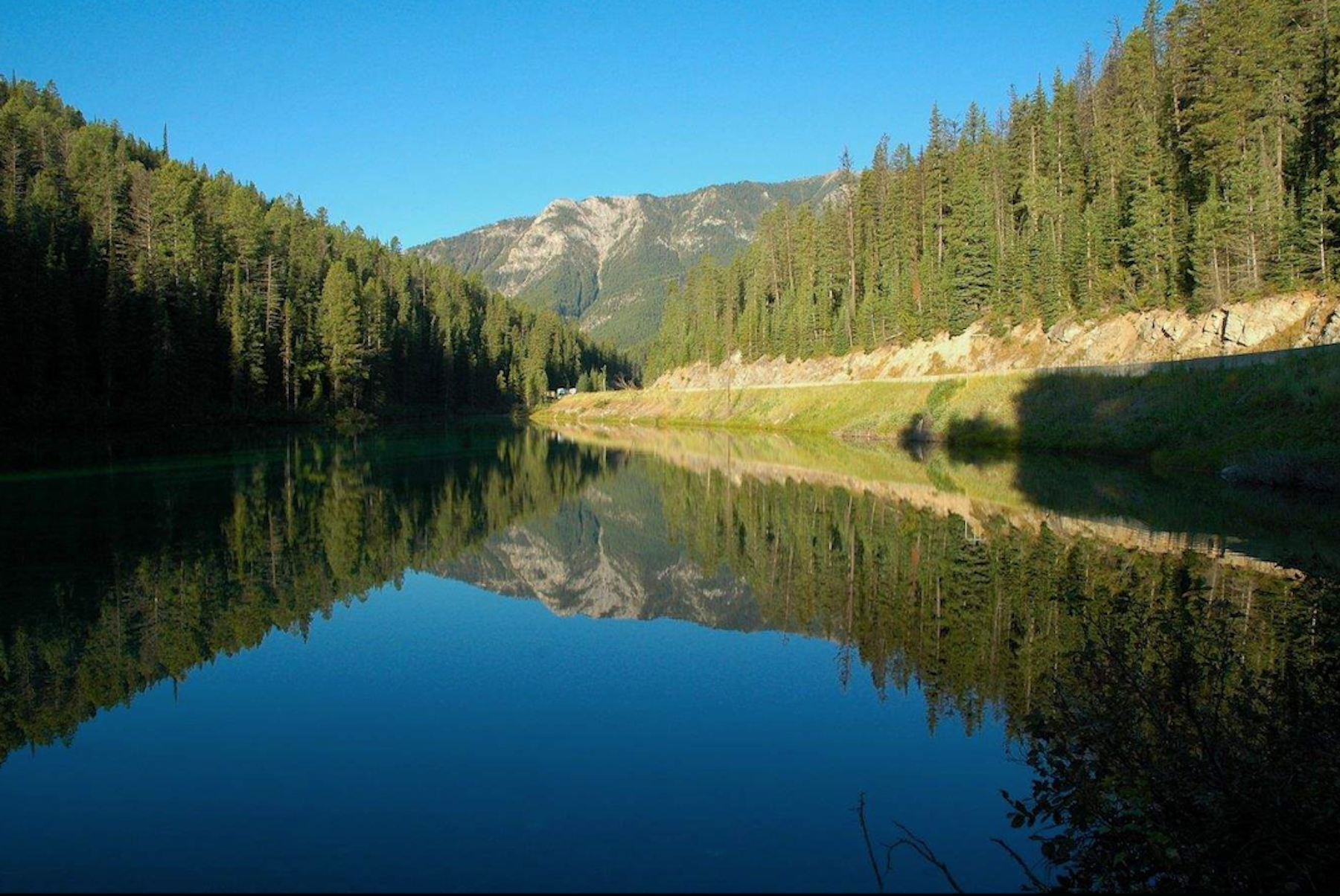 Olive Lake in Kootenay National Park; photo by Chris Dadson
If you fancy a bit of a fun afternoon and a possible adventure trying to find the place, how about heading to Golden's "Worlds Largest Paddle" attraction. Driving south of Golden, just off Highway 95, stop off for a picnic on your way to the village of Parson. The kids and adults alike will love the comedic might of the giant paddle and there's plenty of space to run around and let off steam. It's a pleasant well-kept area and certainly a unique place for a picnic.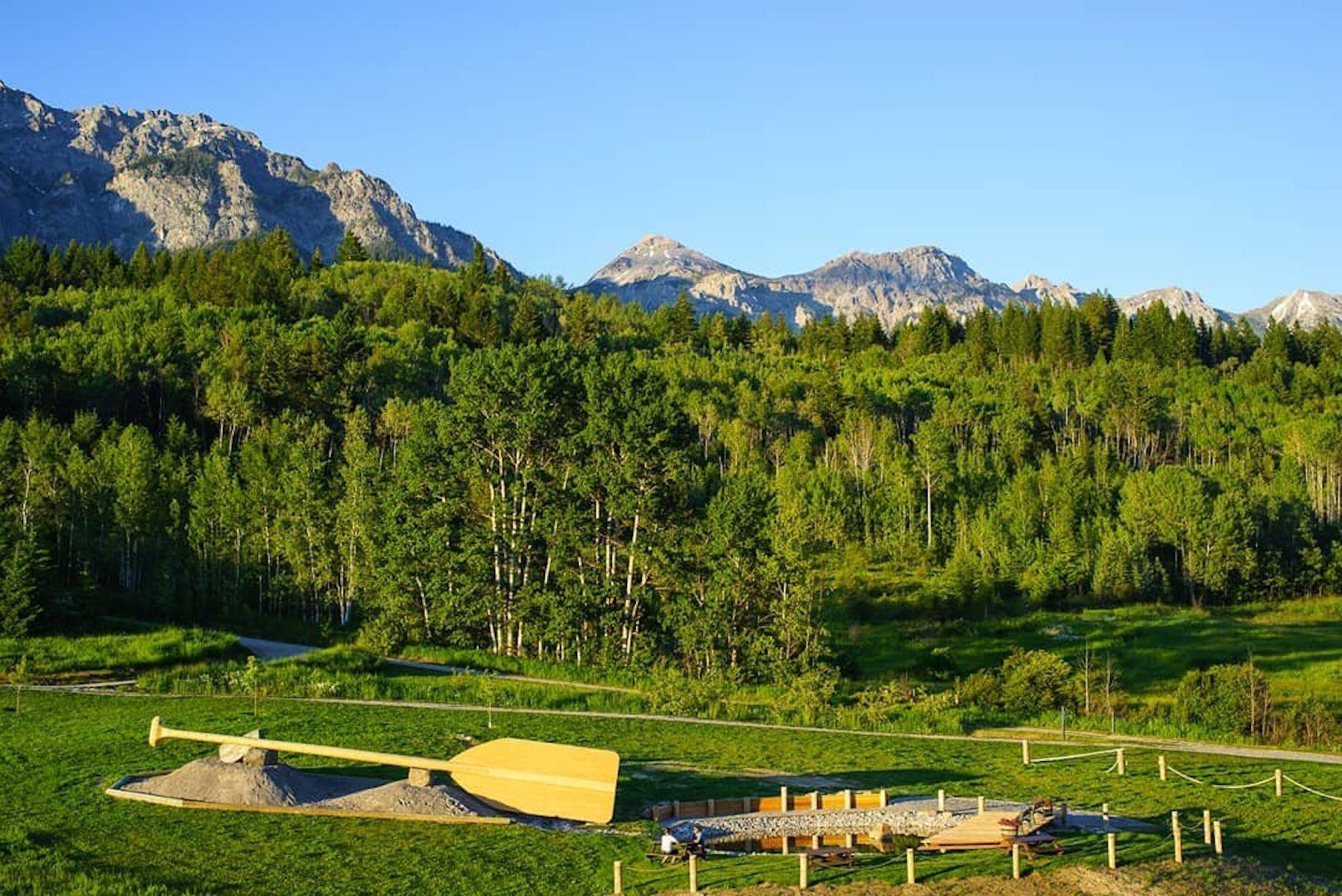 World's Largest Paddle in Parson, BC; photo by Mark Teasdale with Columbia Wetlands Outpost
Know Before You Go – Looking to head out on a weekend adventure? If you're out exploring remember to #tripplan. Follow the three Ts – Trip planning, training, and taking the essentials. Familiarize yourself with the Leave No Trace principles to limit your footprint when in the outdoors. BC Adventure Smart is a great resource to help you get informed before heading outdoors.
Related Stories
~ 6 Secluded Swimming Holes in the Kootenays
~ Easy Kootenay Hikes: To 360 Degree Vista Views
~ Family Fun on the Powder Highway
~ Funky Kootenay Fun Facts
~ Getting into Hot Water: Kootenay Hot Springs
~ Hidden Waterfalls in the Kootenays
~ Out your Back Door: Kootenay Community Treks
~ Pit Stops for a Kootenay Road Trip
~ Quirky Attractions Only Found in the Kootenays
~ Top 5 Family Picnic Spots in the Kootenays
Words by Kyle Hamilton. Top/cover photo by Mark Teasdale with Columbia Wetlands Outpost.  
Kyle is a local Kootenay photographer who ended up settling in Fernie, BC.  He has love for the mountains and it has led him to focus on photography of mountain inspired activities.  You could find him on a side of a mountain in -25C winter conditions with snow blowing around him shooting a heli-skiing event or next to a gentle mountain in the summer with one of his wedding clients… either way you could see him out exploring the areas around Fernie.
Please tag your images with #KootRocks on Instagram to be featured in future stories. 
(Originally published on July 17, 2019.)