Eugene stood waiting as my car pulled into the lot. The day was warmer than expected for early March and a break in a row of snowstorms meant we'd have sun on the lake.
Even though I'd lived on Kootenay Lake for nearly three years, this was my first time fishing it. And, for that matter, my first time fishing in winter.
Eugene was my guide for the day. He'd been guiding on the lake for years with Reel Adventures, a sport fishing charter company based in Balfour and fishing for as long as he could remember.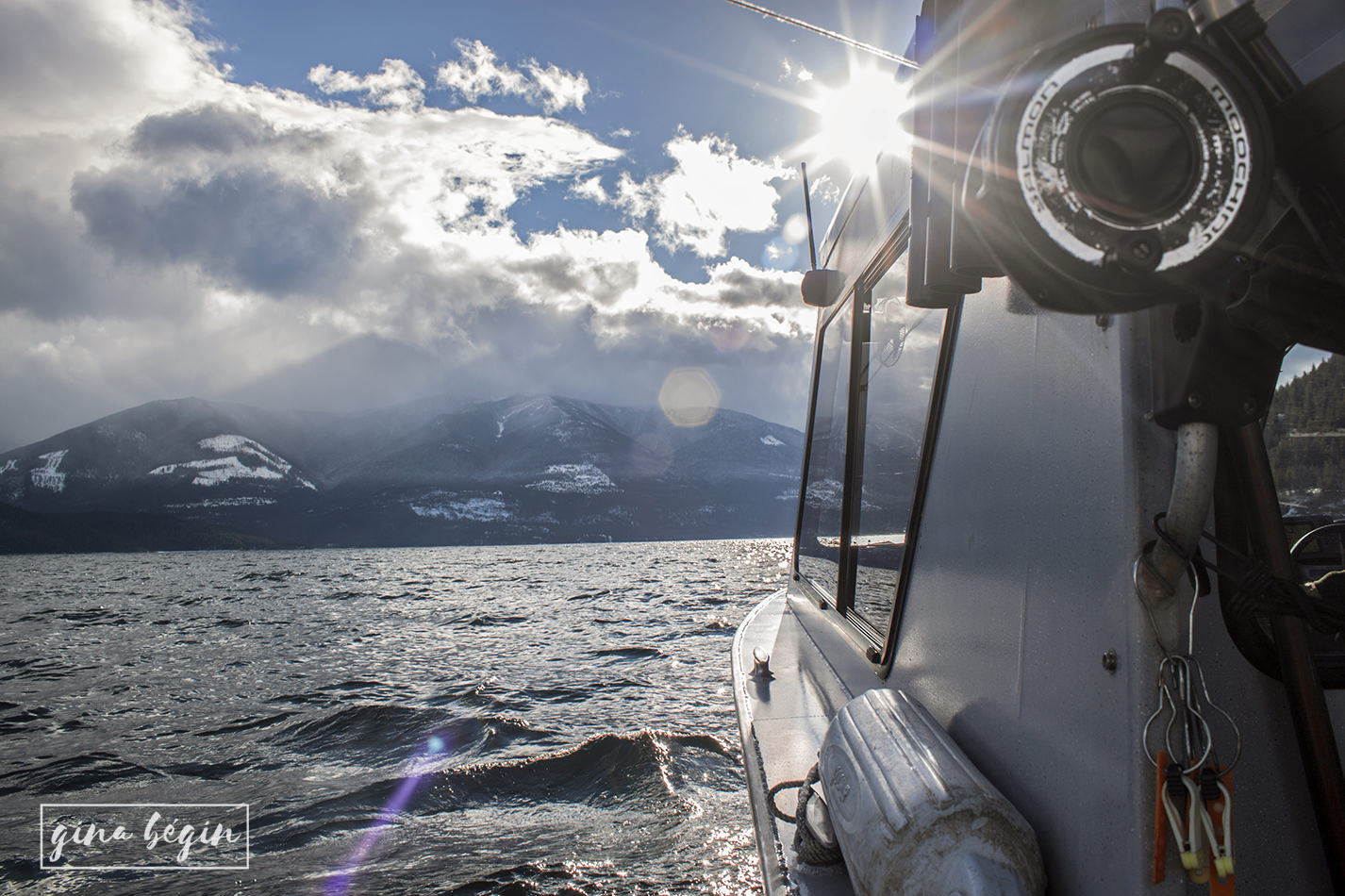 After picking up a license for the day, I followed Eugene down to the wooden docks, displacing a flock of mallards from their sunny spots as I went. Balanced by Eugene's outstretched hand as I stepped into the boat, I smiled at two other passengers. Allison and her boyfriend, Jayden — also a Reel Adventures employee — were watching my amateur entrance onto the deck from their seats inside the boat's cabin.
I took a seat next to Allison. The cabin walls were interrupted by large windows and a little heater was cranked, making me realize I wouldn't need the extra layers I'd brought. I removed my jacket, stuffed it back into my backpack, and began firing questions — that I'm sure revealed I was a newbie to the sport — at Jayden, Allison, and Eugene, the latter who had taken his seat at the wheel.
We pulled away from the dock and headed into open waters. Though I've done it several times by ferry and traced its perimeter by car a hundred times, I don't think I'll ever get over the beauty of crossing Kootenay Lake.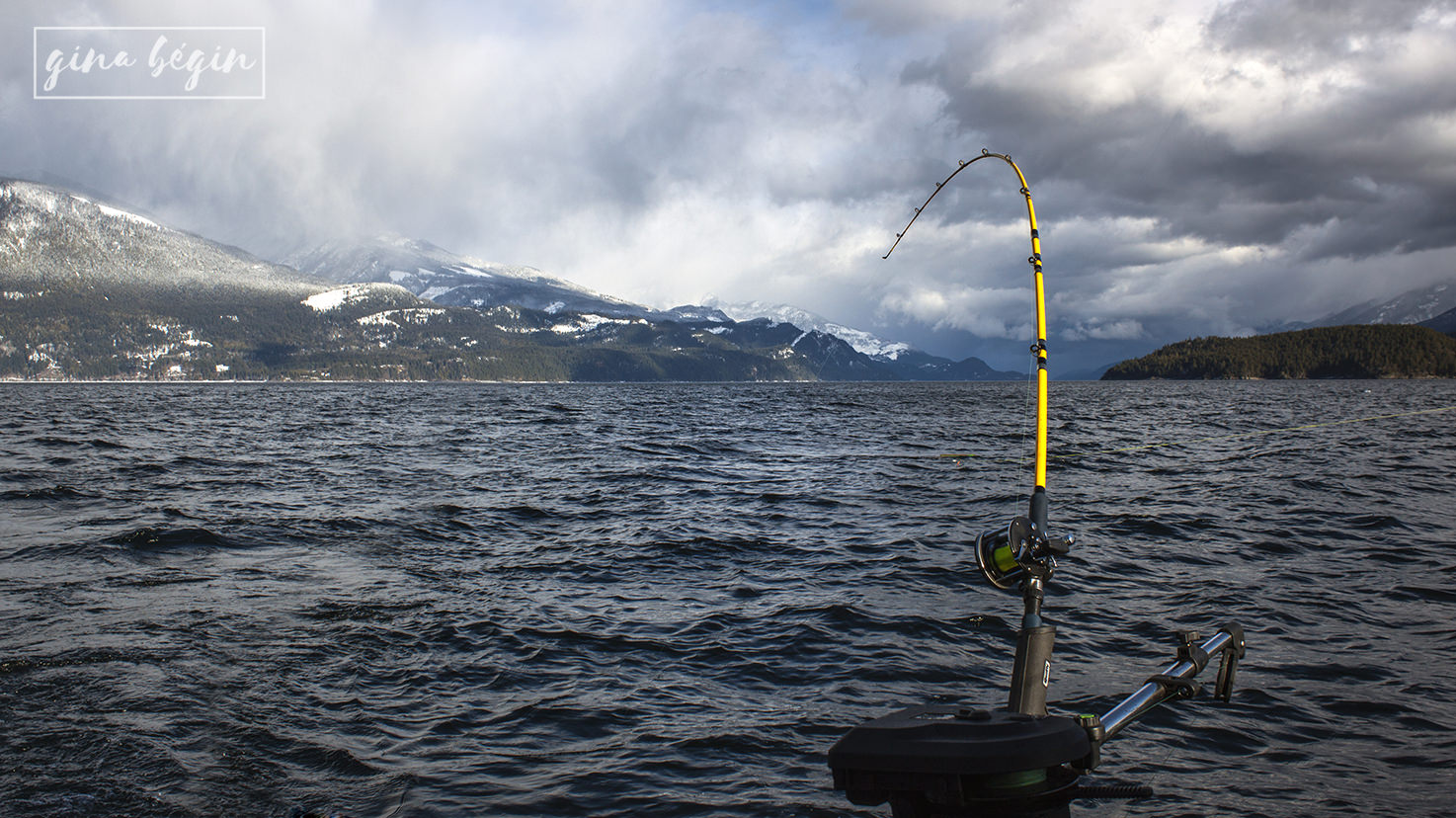 We rounded a bend and moved from the west arm into the main body of the lake. With our boat hugging the shore of the Selkirk Mountains and with the Purcells expanding in front of me, I felt like I was exploring rather than fishing.
And perhaps that's part of the draw of fishing in wild places like these. With a large portion of the land surrounding the lake inaccessible by road, water is the only way to see these places up close. Pictographs, secluded campsites, and private beaches were all here for the taking — complete with locavore's dream dinner of fresh fish from the lake.
While the water rushed under our boat, I stared at a cliff band at the base of Mount Irvine and drifted off into thoughts of hiking to the high-altitude lakes near its summit. These daydreams escaped me. "We are so lucky to have this in our backyard," I said, following up with comments about the views surrounding us.
This naturally flowed into a conversation about Kootenay Lake and then to the fish in it. "We have people from all over come out with us to fish," said Eugene. He remarked that even those who caught a relatively small fish (for Kootenay Lake standards) were overjoyed because they were often larger than anything they had back home.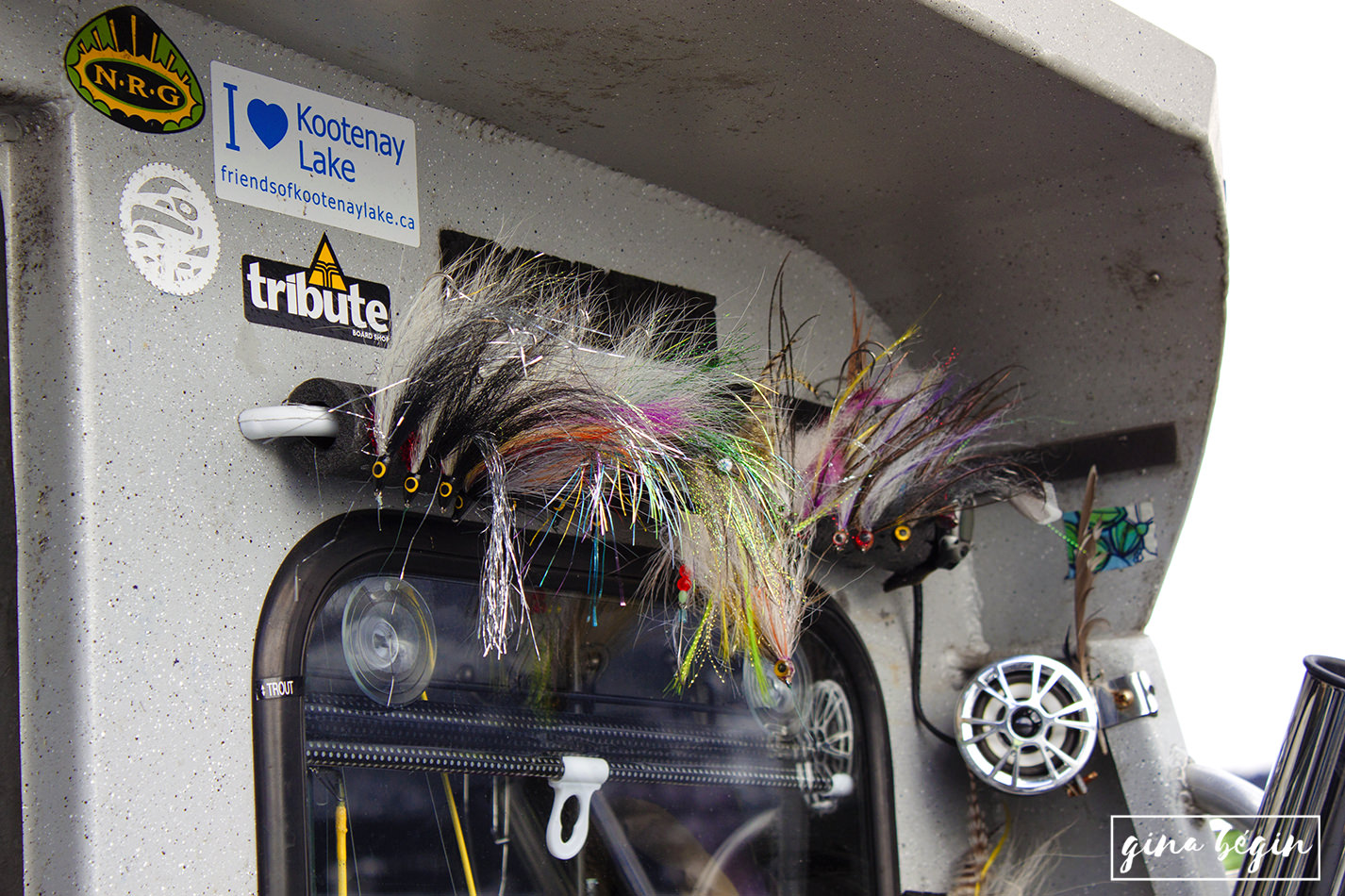 He pointed to a binder full of photos and invited me to take a look. Leafing through, I caught magazine clippings and copies of photos of fish held proudly by clients and locals alike. I noticed how clients' fingers pressed into the flesh of the fish, demonstrating their girth and giving an idea as to their weight.
My eyebrows raised. There were Rainbow Trout — the same fish we had back in my old home of Utah — that were five or six times larger than any I'd seen back there. Further on, photos of Kokanee Salmon, Dollies, and Sturgeon continued to fascinate me, not just for size but also because of the stories that Eugene shared with each photo.
His knowledge was endless, as I suspect any good fisherman's would be. It included insights on locally foraged wild foods, including mushrooms, and how to craft them into dishes along with the catch of the day. Even homemade caviar with fresh lox wasn't beyond his means.
He and Jayden talked about their favourite spots to fish in the region, what the stocks in different areas were like, and about the future of fishing in general. Their conversation hovered between scientific and adoration of the sport and I found myself caught up by their enthusiasm, feeling like an insider as they shared their stories and know-how with me.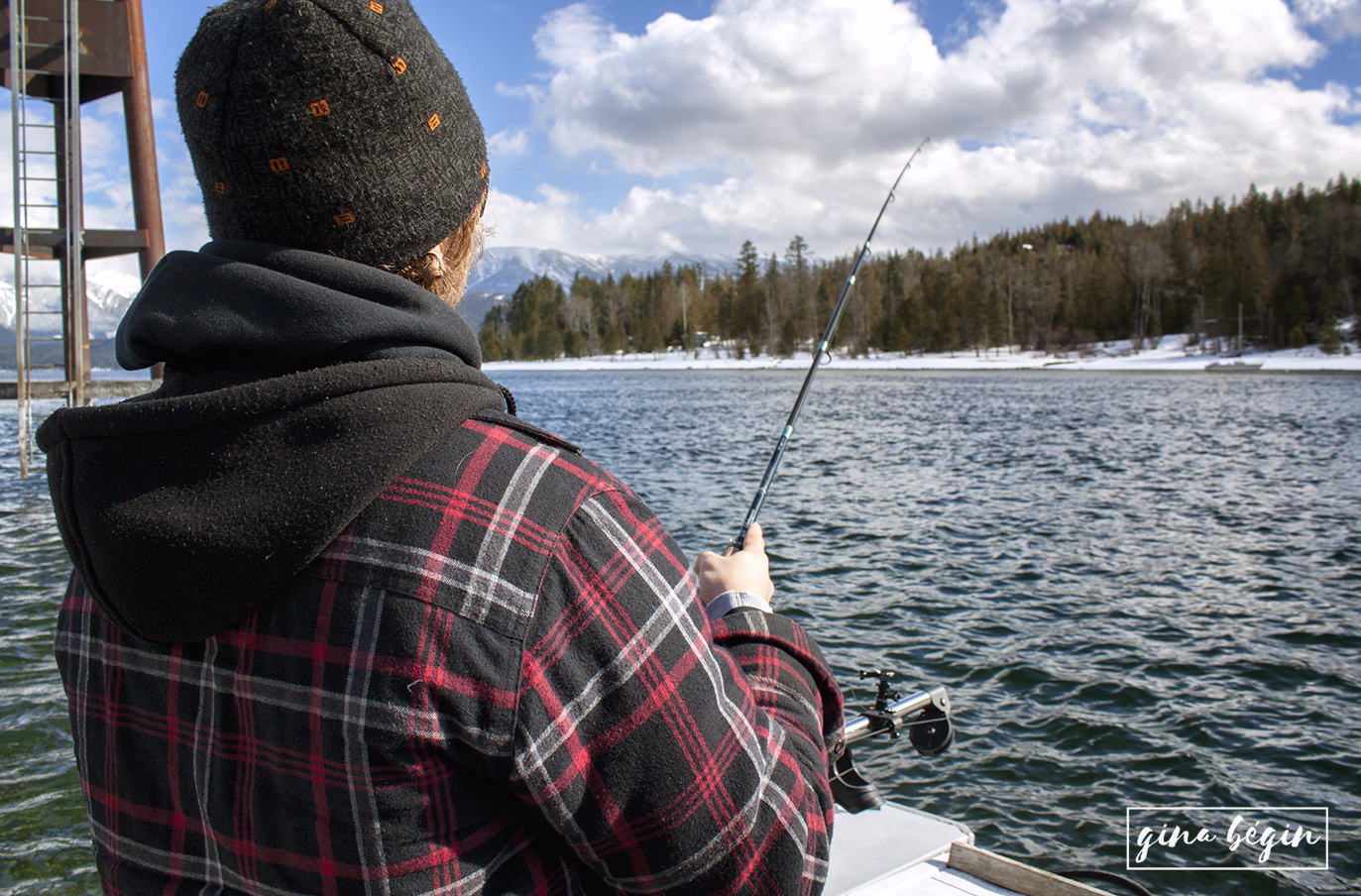 It was on our way back that Eugene alerted me that my line was in use. I hopped out of my seat to take over the duty of reeling in the catch. It'd been a long time since I had done this; my technique was clumsy as I was mostly focused on not losing my balance while the fish fought with me on the other end of the line.
And then, it was over — Eugene swooped up my catch with his net and there she sat in the bottom, colours shimmering from yellow-green to a purple tint. A Rainbow Trout — and far bigger than I'd ever seen back in Utah. I then understood what those other clients had felt with their own catches; she might not have been the biggest in Kootenay history, but it was the biggest in mine.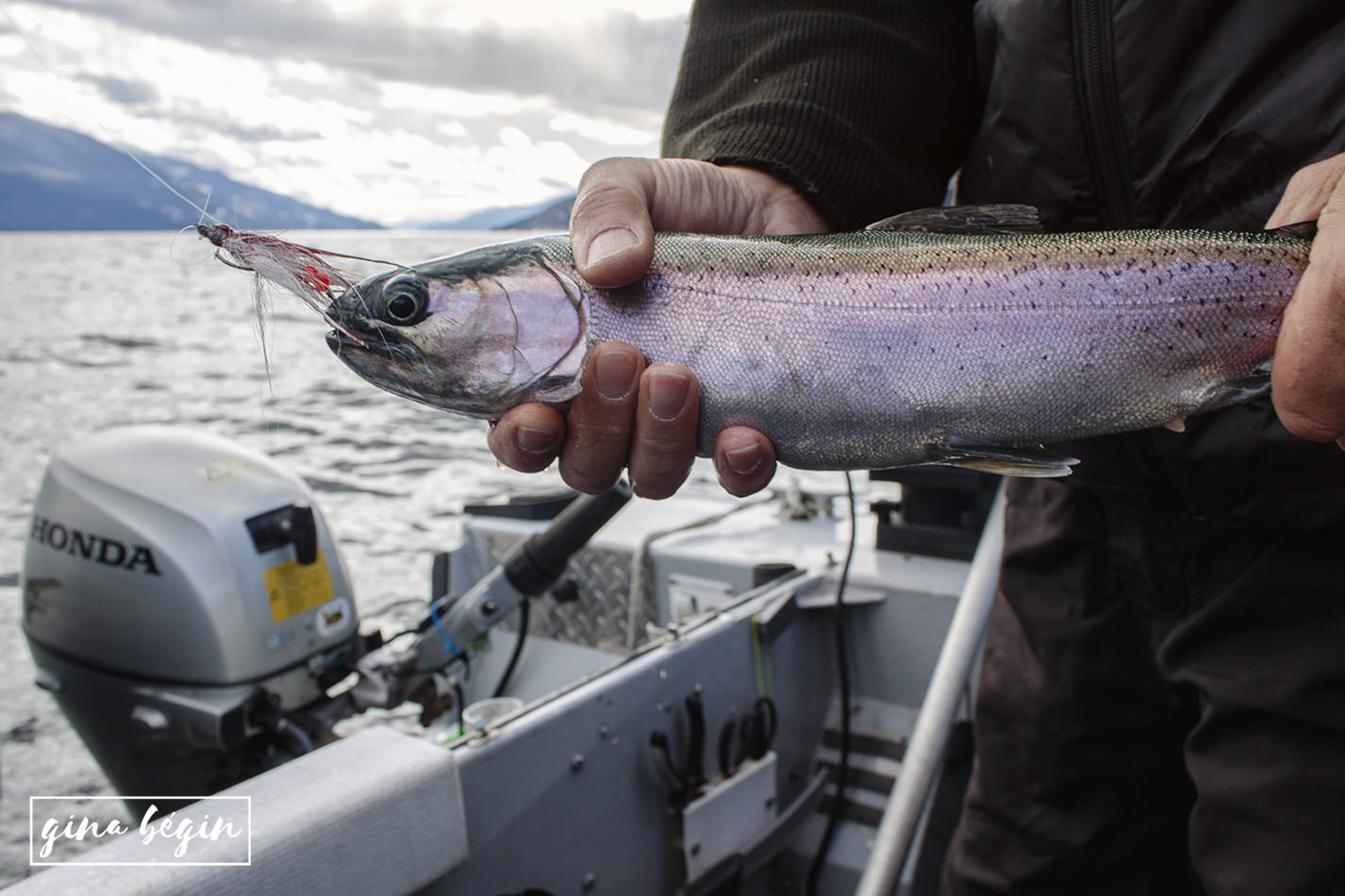 The next evening, my plate was filled with a quarter of the fish, cooked according to Eugene's simple directions: barbeque for five minutes on each side with lemon, salt, and pepper. Inspired by his own dishes, I sautéed mushrooms, rosemary, and garlic into a quinoa side.
Similarly to those who grow their own produce in their summer gardens, catching your own fish locally and eating it so close to the time of its catch spoils you on anything store-bought. But it's not just the flavour that exceeds what you'll find in your grocer's freezer section: it's the story of the catch that makes it that much more delicious.
~ Take extra time to research and plan your trip in advance. Many of our tourism businesses and services have adopted new COVID-19 protocols and changes to their schedules or policies to ensure your safety. You'll want to become familiar with them ahead of time.
~ If you normally travel with extended family or with several friends, consider travelling in a smaller group. Travelling with fewer people makes it easier for you to practise physical distancing in public, and may have less of an impact on the destination.
~ Consider a slower travel pace to help curb the spread. Instead of checking in and out of multiple destinations during one trip, choose one or two destinations and one/two accommodation properties for your entire trip (and explore all the things to do & see nearby).
Related Stories
~ 4 Quirky Communities Along Kootenay Lake
~ Beach Vacations in the Kootenay Rockies
~ Easy Kootenay Hikes: To 360 Degree Vista Views
~ Fly Fishing the Elk River
~ Outdoor Adventures: Unique to the Kootenays
~ Paddling Adventures in the Kootenays
~ Tips: How to be a Safe & Responsible Traveller
~ Unique Stays on a Kootenay Road Trip
Words and images by Gina Begin. 
Gina Begin – Although she's a Florida girl, exploration called her away after the final bell of her high school career. On a quest to reach the distant adventures of North America, she lived in her car, traveling to ski the backcountry of Alaska, sleep under the northern lights in the Yukon Territory, ice climb Colorado's frozen canyons, photograph Nova Scotia's coves, backpack in southern US wildernesses and munch on sugared tamarindo in the jungles of Mexico. But after three years living on the road and seeing the many wonders this continent had to offer, she chose the place she knew would fit an explorer looking for a lifetime of wild wonder: British Columbia. Dual citizenship in hand, she settled along the Powder Highway in the Selkirks and is making her home between four walls and deeply wooded mountains.
Please tag your images with #KootRocks on Instagram or Facebook to be featured in future stories.
(Original story published in March 2017.)