If your idea of a Sunday drive includes scenic highways and the occasional bird-call, it's time to take it to the wilds; Kootenay Rockies-style. Shift into gear with a three pronged excursion that links both Yoho and Kootenay National Parks with neighbouring Banff; dubbed the 'Golden Triangle'.  This well-tread stretch blends natural wonder, soothing hot springs and the unique Canadian Rocky Mountain communities of Golden, Field, Banff and Radium Hot Springs.
(TIP: Hiking in the alpine in Kootenay & Yoho National Parks is usually snow-free by mid-June to mid-July.  If you have come to hike, please be sure to check the trail report for each national park and the Avalanche Canada report; and come for all conditions. Always be AdventureSmart when out exploring.) 
The best part? You can make a day of it with a mere 320-km (199 miles) to conquer. Indeed, your Sunday drive will never be the same, thanks to Yoho's Spiral Tunnels viewpoint off Highway 1; a refreshing trek to Takakkaw Falls – one of Canada's highest waterfalls; a peacefull-stroll around Emerald Lake (and a visit the historic Emerald Lake Lodge, on its own island); followed up with an awe-spiring family hike to Wapta Falls.
And for the more adventurous, Burgess Shale fossils were discovered in the Canadian Rockies (more than 508 million years old) and Parks Canada offers guides hikes at four locations, in Yoho (Mt. Stephan, Paget Fire Lookout & Walcott) and Kootenay (Stanley Glacier) National Parks.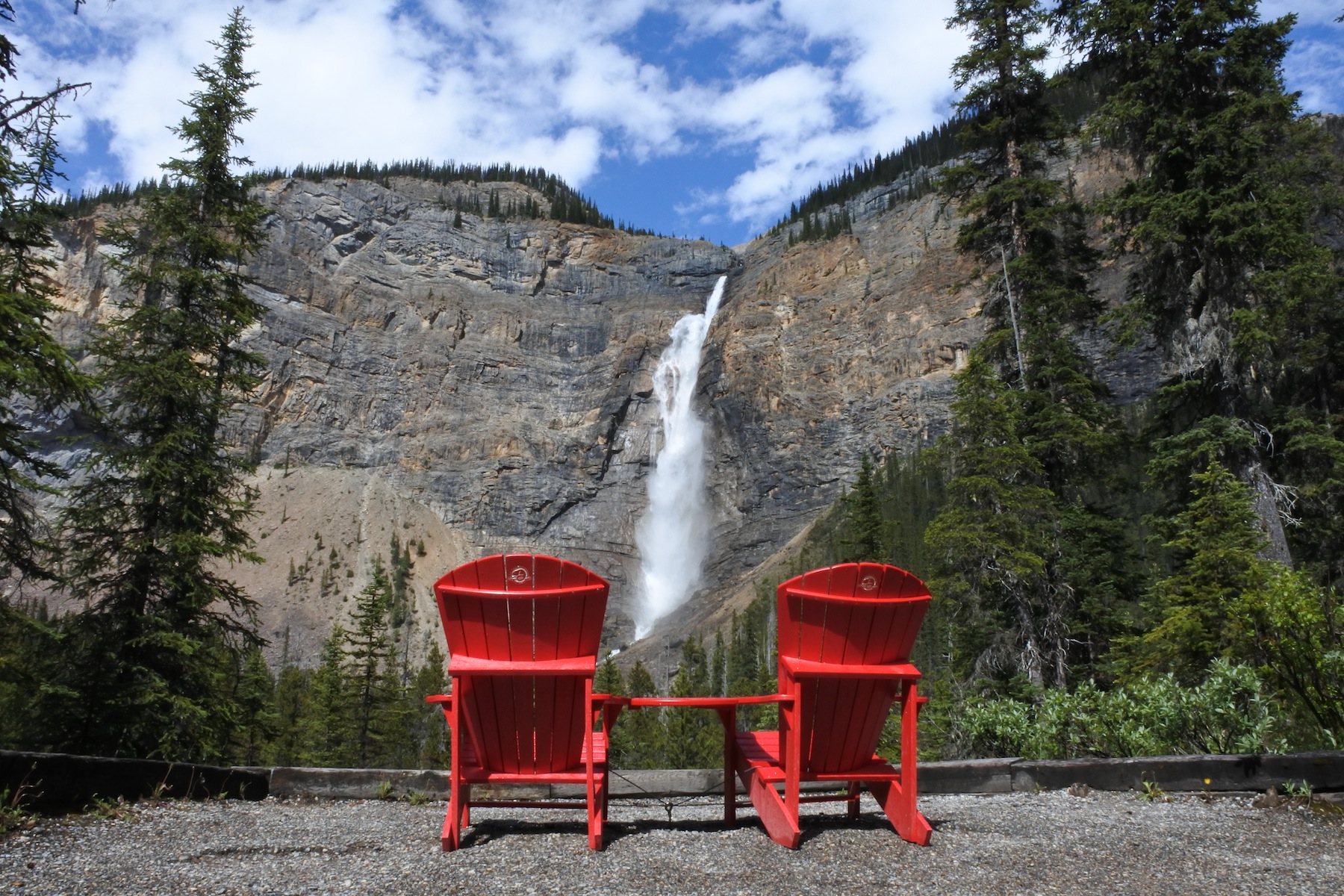 Takakkawa Falls in Yoho National Park; photo by Heidi Korven
Continuing west, is the community of Golden. Be sure to include these "must see & dos" when visiting – a whitewater-rafting excursion down the famous Kicking Horse River; ride the gondola to the top of Kicking Horse Mountain Resort and hike the alpine trails; or visit 'Boo' their resident grizzly bear. And with a bounty of tasty menu options and cozy accommodation at each stop, who knows? You may just be tempted to put it in park!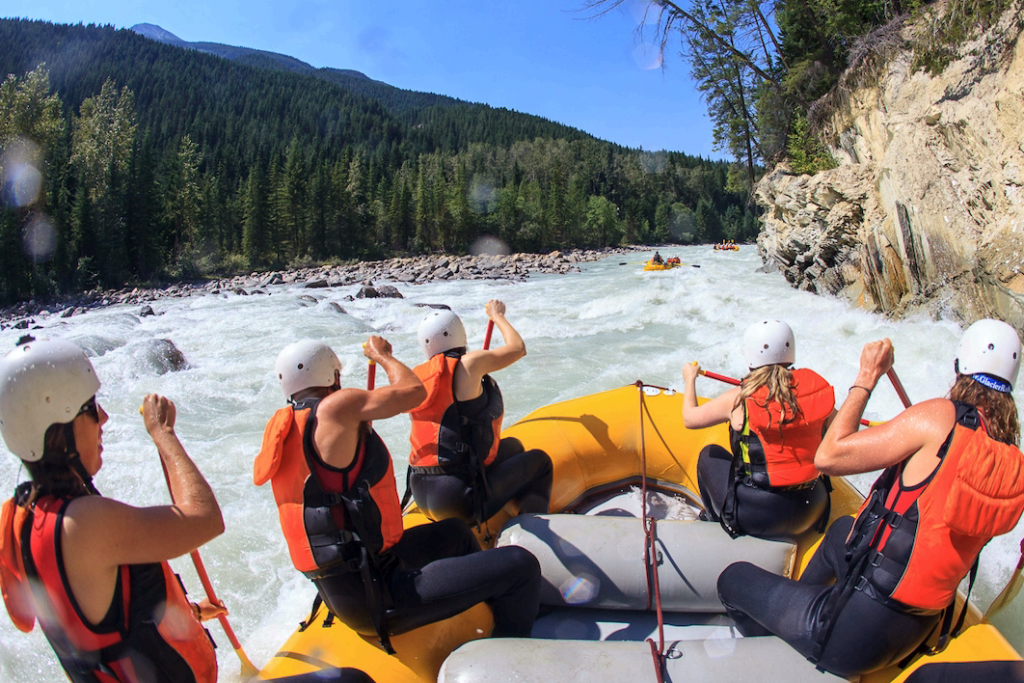 Rafting the Kicking Horse River; photo by Best Impressions (Dave Best)
Neighbouring Kootenay National Park/Radium Hot Springs, provides its own lure, complete with a luxuriating soak in this Rocky Mountain hot spring gem. Have an itch for outdoor adventure? Easily remedied with a roadside hike into Kootenay National Park, such as the Juniper Trail, Marble Canyon or Paint Pots just to name a few. 
A drive south (15-minutes) takes you to Invermere and Lake Windermere.  Why not cool off with a refreshing dip in this recreational hot spot.  Or fly like an eagle with Valley Zip Adventures in Radium Hot Springs.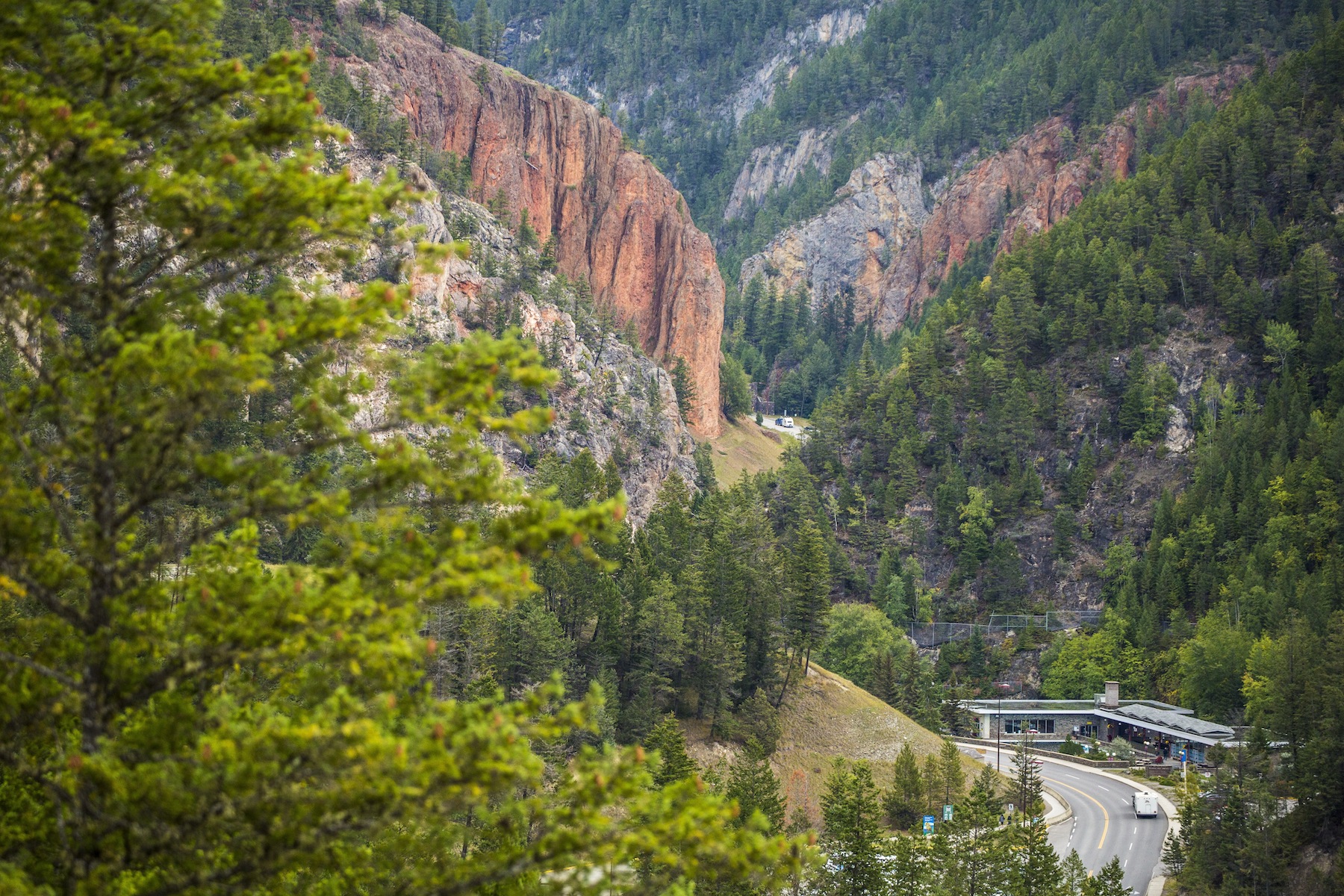 Sinclair Canyon and Radium Hot Springs; photo by Ryan Creary
Know Before You Go – Plan ahead so you can travel safely and responsibly. Familiarize yourself with weather, road conditions, general alerts for travellers and provincial health orders & recommendations.

Related Stories
~ Accessible Trails in the Kootenays
~ A Road Trip of a Lifetime: Kootenay Rockies Hot Springs
~ Celebrating 100+ Years in Kootenay National Park
~ Connect with the Indigenous Culture in the Kootenay Rockies
~ Cruising down a Open Highway: Planning Your Kootenay Road Trip
~ Follow the Trail: Kootenay Hiking Adventures
~ Funky Kootenay Fun Facts
~ Guided Paddle Adventures in the Kootenays
~ Keeping the Kootenays Natural
~ Kootenay Ambassadors: Mindful Explorers
~ Legendary Kootenay Attractions: Not to be Missed this Summer
~ Make the Most of your Kootenay Rockies Getaways
~ Pit Stops for a Kootenay Road Trip
~ Quirky Attractions Only Found in the Kootenays
~ Stewards of the Land: Positive Effects
~ We are All Connected
~ Where to See Wildlife in the Kootenay Rockies
Top/Cover photo of Wapta Falls in Yoho National Park by  Best Impression Photography.
Story by Destination BC. 
Please tag your images with @KootRocks on Instagram to be featured in a future social post.  For travel deals and specials – sign up for our Consumer Travellers Newsletter.