In my past outdoor adventures, I have traversed the Purcell Mountains over the course of a 24-day expedition. I've had single day climbing epics, backpacking trips with my kids and everything in between. No matter what I'm doing or where I'm going, my method of preparation never changes. Equipment lists are a dime a dozen, so here's a few extra tips to help you plan for a trip of any size and enjoy the Kootenays the way they were meant to. Figure out what works for you, have fun and play safe!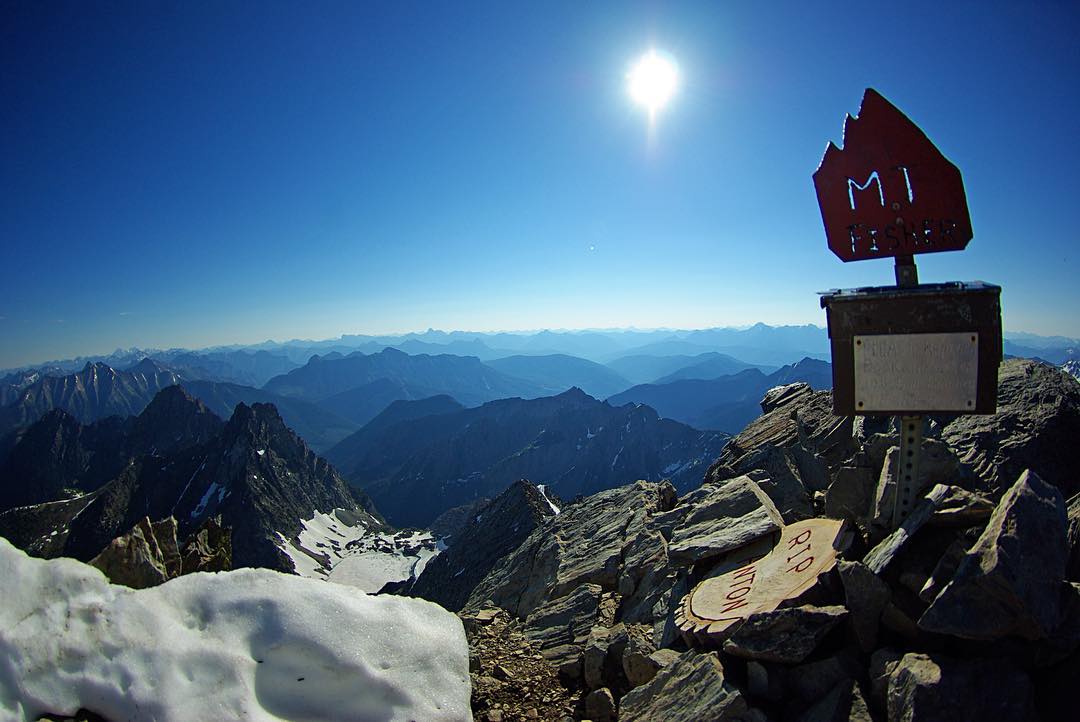 Atop of Fisher Peak in the Canadian Rockies; a day-hike (10-km, elevation gain 1,400 m) near Cranbrook/Kimberley, BC
#1. Research your route.
You can't head into the mountains blindly! If you do, you're going to end up being a Parks Visitor Safety report or a Search and Rescue bulletin. This is always the most important thing that I do. Grab your maps, grab your guidebooks, consult the Google machine and plot out your route. If possible, get first hand beta on where you're headed. Too much information never hurt a person in the mountains.
Figure out your itinerary including how far, how long and how high you are going to travel. Everything that follows will start with route planning. It will determine what gear is required, for how long and under what conditions. When you head out, always leave your plans and an anticipated check in time with a responsible friend or family member, or carry a device that allows you communicate, track or check in with the folks back home.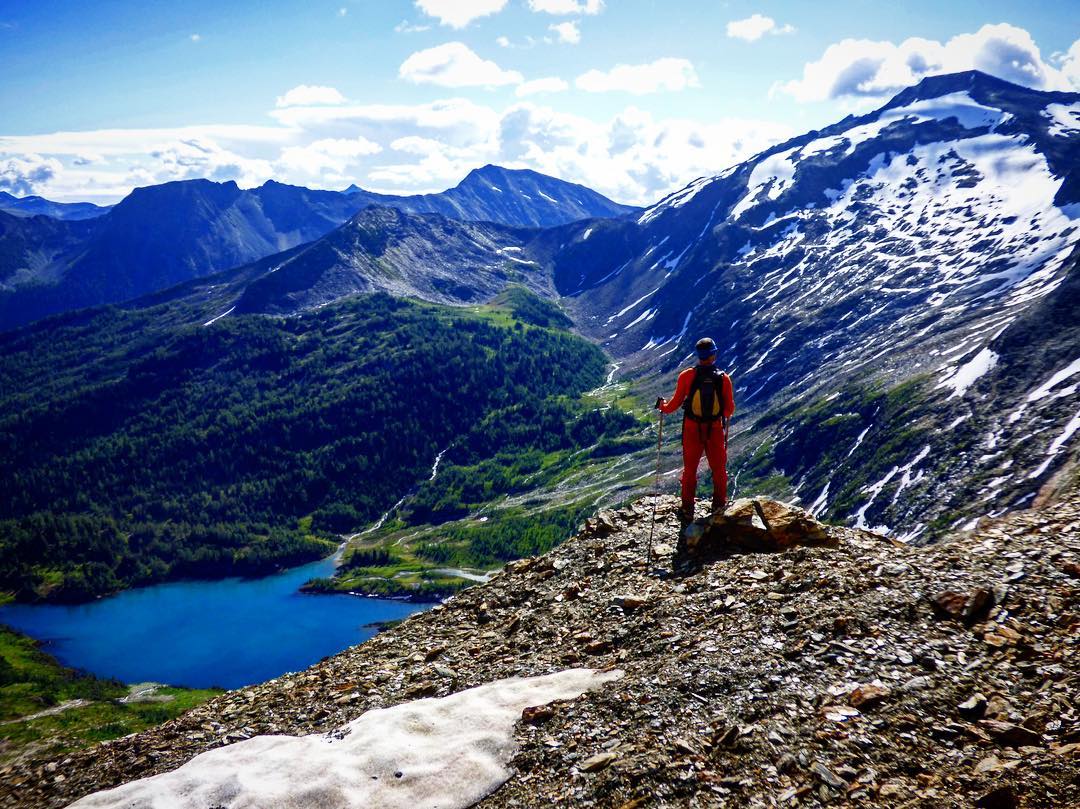 St. Mary's Alpine Provincial Park (northwest of Kimberley), a multi-day adventure
#2. The Right Tool for the Right Job.
Yeah, it's totally cliché. It's also going to take time, trial and error to figure out the right combination of gear, clothing, and supplies. Every time I think I've nailed it, I run in to a situation where I wish I packed the extra piece of gear. A few things that I keep in my pack regardless of what I'm doing or for how long is a headlamp, a pocket knife, hockey tape, an emergency bivy tarp and a small first aid kit. Good (and appropriate) footwear is key for any activity. The rest of the gear is going to depend on the activity for the day. There are lots of places, websites or blogs you can turn to for comprehensive gear lists for various activities including hiking, backpacking, climbing, biking and so on.
Packed all the time — The Go-Bag
Toilet Paper * Spare Socks (wool blend) * Tape (hockey or duct) * Pocket Knife * Communication Device * Headlamp (extra batteries) * Small First Aid Kit* Prescriptions (Epi Pen for me) * Granola Bar * Camera * Bear Spray *Lighter
Gear you'll pretty much need for every activity — The Staples
Footwear (appropriate) * Rain Jacket or Waterproof Shell * Food & Snacks * Clothing (Light layering) * Spare Socks (Wool blend) * Sunscreen * Sunglasses * Hat that covers ears * Navigation * Water bottle and treatment              
Extra gear for overnighting — The Pack-Mule
Sleeping Bag * Air Mattress * Tent * Cookware * Stove, Fuel & Lighter * Vehicle keys * Waterproof pack cover * Camp Footwear * Insulation Layers* More Food * More Snacks * More Socks * Earplugs *Toiletries                       
~ Waterproof stuff sack or bear canister and cord for hanging food… and probably wine
Activity Specific Gear (ie: Paddling, Climbing, Mountaineering…)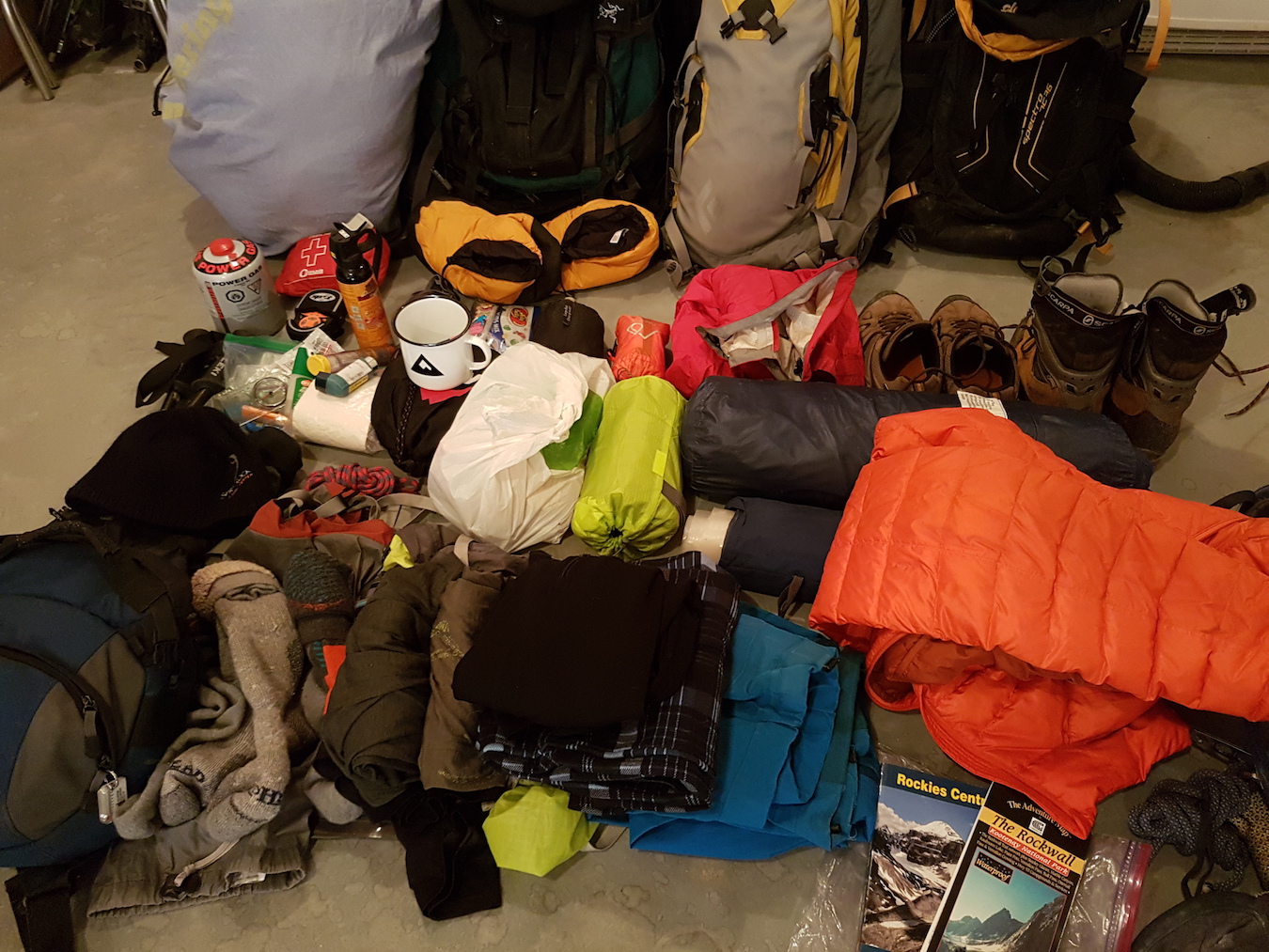 The Gear
#3. Spare snacks and spare socks
Let's face it; sometimes the day just goes longer than expected or, more commonly, you just burnt way more energy than you expected. I'm a super pain in the butt when it comes to food because of allergies so my default snack is granola bars (preferably home-made) and a little baggy of Gatorade powder. Most people will turn to trail mix or a banana. For the little bit of extra weight in your pack, a little bit of extra food is never a bad idea. If you start to fade late in the day, have to wait out some weather, or have an unforced bivy, some extra calories will save the day.
If you're a person who loves their feet then spare socks are a blessing. Imagine running into a creek crossing in the first ten minutes of a hike… spare socks to the rescue. Personally, there's nothing worse to me than wet feet. Spare socks also double as mitts because we all know it can snow any month of the year and sometimes we aren't always thinking about a toque and mitts in July.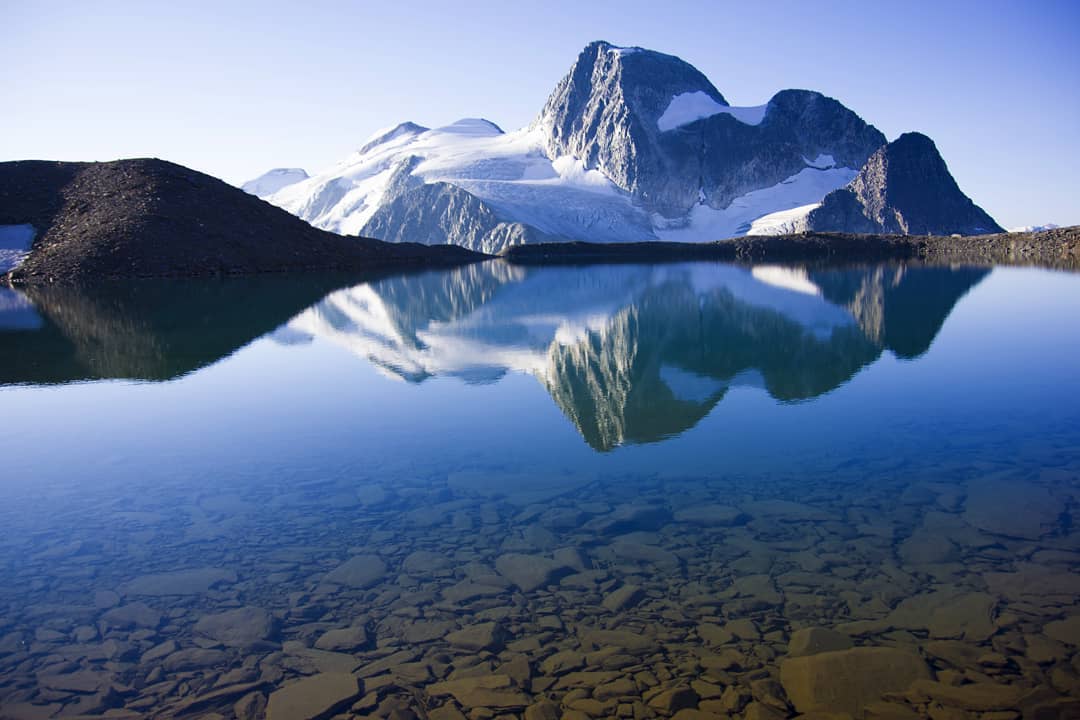 Purcell Traverse (hike between Kimberley and the Rogers Pass)
#4. Physical Conditioning.
There's no worse feeling than sucking wind, well… ever. Train your body specifically for the activity. If you're going to be hiking with a lot of elevation gain well, then paddling or cycling probably isn't going help you a whole lot. Start with smaller objectives and build up throughout the season for the big show. Oh, and don't be disappointed or discouraged at the start of the year if you're not in mid-season form. It happens to the best of us.

#5. Have fun.
…that is all. Remember, there are lots of resources and gear lists for specific activities. It takes a lot of hits and misses to figure out what works for you, especially when it comes to clothing and layering. Don't take this for gospel… just another resource. 
Know Before You Go – The seven principals of Leave No Trace provide an easily understood framework of minimum impact practices for anyone visiting the outdoors. They are easy to follow and are easily implemented. The seven principals are; Plan Ahead & Prepare, Travel & Camp on Durable Surfaces, Dispose of Waste Properly, Leave What You Find, Minimize Campfire Impacts, Respect Wildlife and Be Considerate of Other Visitors. Consider these principals and put them into action on your next adventure! Want to learn more? Leave No Trace Center is an excellent resource for actions in reducing your footprint while being outdoors.
 All words and photos courtesy of Steve Tersmette.

Please tag your images with #KootRocks on Instagram to be featured in future stories.  
(Original published date: July 25, 2018)