Each winter when temperatures drop and conditions are 'just right' – the lakes and ponds across the Kootenays transform into the perfect natural ice-skating surfaces. Depending on weather, these locations may be accessible anywhere from early December, until the end of February. **ALWAYS CHECK CONDITIONS BEFORE GETTING ONTO THE ICE**
In and around Cranbrook offers a few options for a day on the ice, including Jimsmith Lake Provincial Park, the wetlands at Elizabeth Lake and the 3-km long skating loop at Wasa Lake Provincial Park (just a 30-min drive north of Cranbrook and Kimberley).
Within close proximity to Fairmont Hot Springs is Columbia Lake which is frozen for roughly four months of the year. Skating access is available both from Columbia Lake Provincial Park, as well as Tilley Memorial Park to the south (near Canal Flats). Nearby to the lake is the source of the Columbia Pathway, a short walk (1.8-km loop) to see the beginnings of the Columbia River.
Reflection Lake is located along the south edge of Golden and is easily accessible in the winter months for skating adventures.
The world's longest natural skating rink stretches 34-km of groomed surface and it's located on the frozen waters of Lake Windermere. The Whiteway is the ultimate winter location for all activities taking place on ice, you can skate, Nordic ski, ice-fish, fat bike and more. Access points are from Kinsmen beach in Invermere and Windermere beach.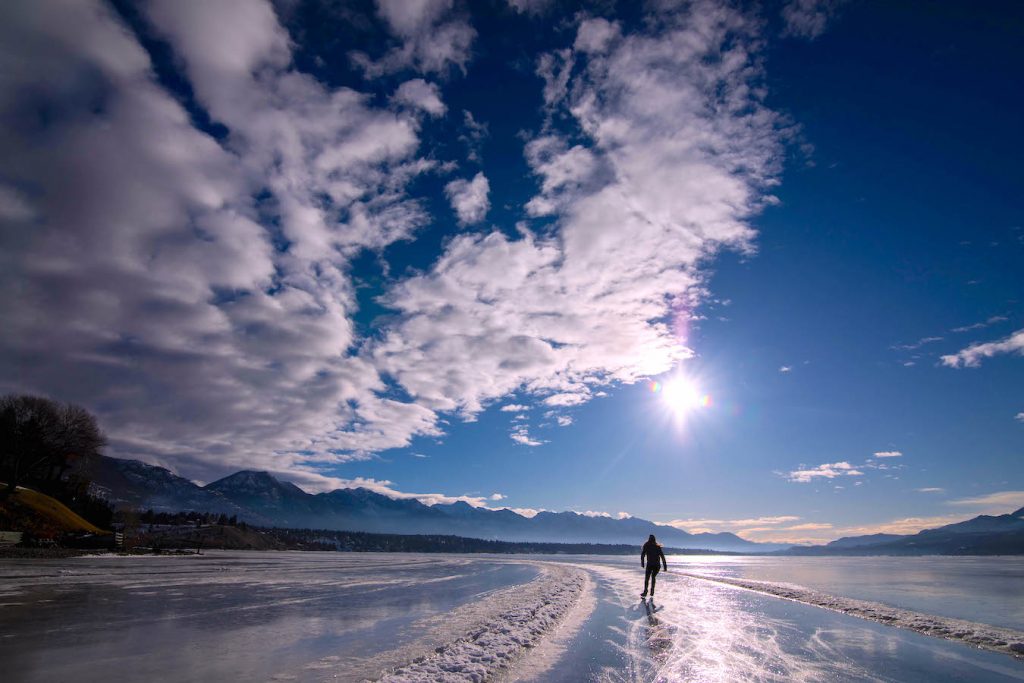 The Whiteway on Lake Windermere; photo by Zoya Lynch
For an off the beaten track adventure, check the conditions at Bear and Fish Lake near Kaslo. These mountain lakes are located between the mountain communities of Kaslo and New Denver, along Highway 31A. (Note: They are only accessible with the right conditions – usually earlier in the winter season before a heavy snowfall.)
Located south of Nelson, along Highway 6 is Cottonwood Lake. This family favourite spot is the perfect place to spend the day skating, playing a game of hockey and warming up with hot-chocolate. This lake freezes at least once per season, with December being a favourable time to explore its surface.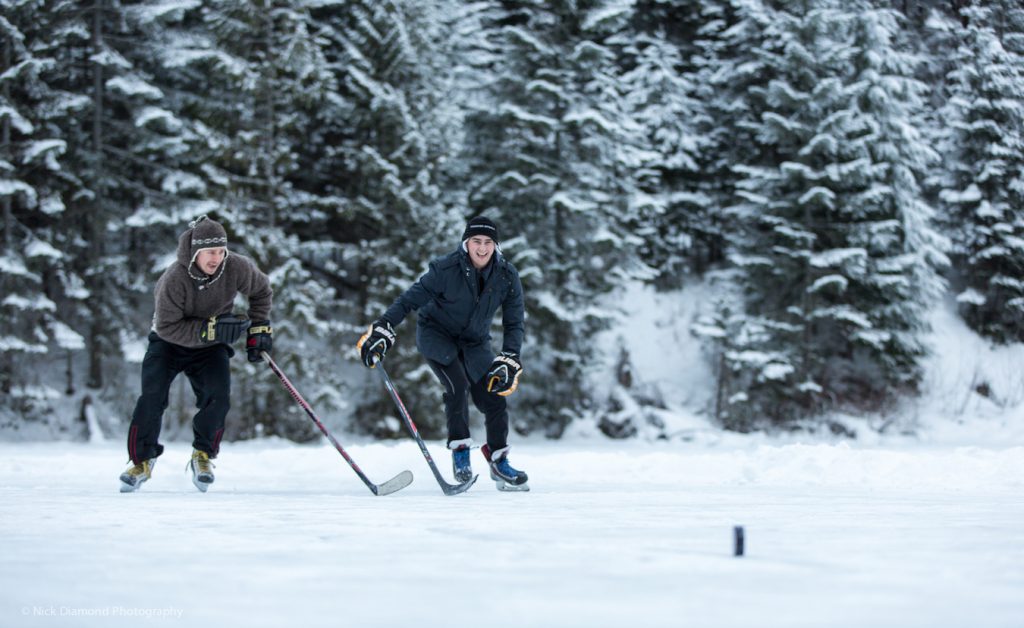 A pick-up game of hockey on Cottonwood Lake; photo by Nick Diamond

RADIUM HOT SPRINGS
Glide over ice in the wetlands at Mill Pond in Radium Hot Springs, located just beyond the Forester's Landing Road rail crossing.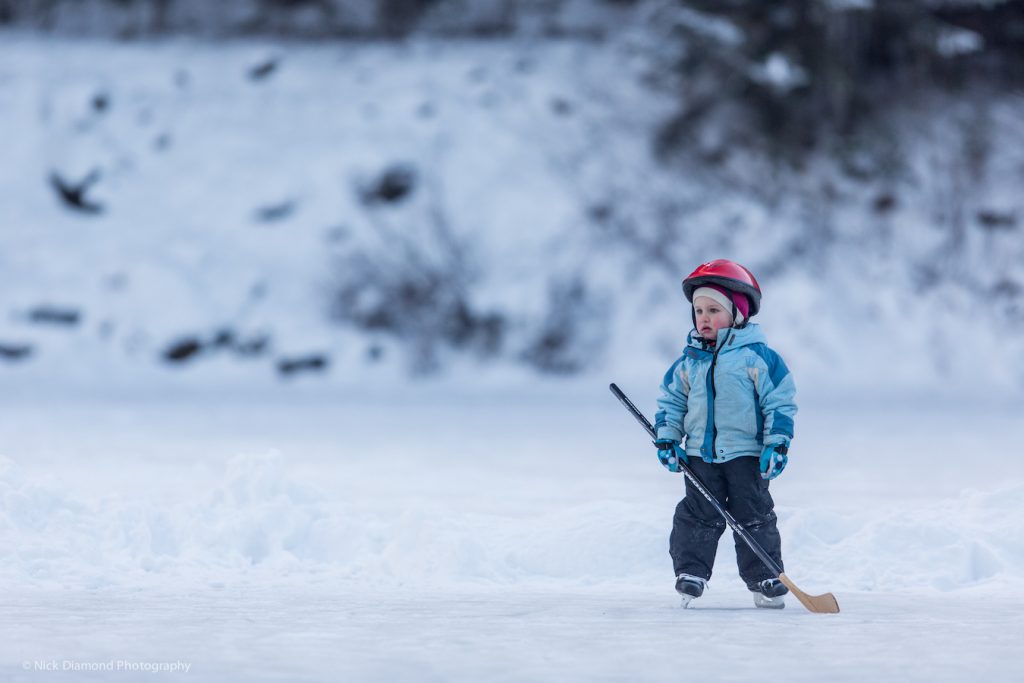 Fun-times for the entire family; photo by Nick Diamond Photography
In addition, most Kootenay mountain communities have outdoor skating rinks available throughout the winter months. And, at many of our ski resort, they also offer ice-skating areas (check their websites for details). 
Know Before You Go – Plan ahead so you can travel safely and responsibly. Familiarize yourself with weather, road conditions, general alerts for travellers and provincial health orders & recommendations.
Related Stories
~ 5 Things to do with the White Stuff in the Kootenays
~ 72 Hours in the Columbia Valley this Winter
~ 72 Hours in Fernie this Winter
~ 72 Hours in Golden this Winter
~ 72 Hours in Kimberley this Winter
~ 72 Hours in Nelson this Winter
~ 72 Hours at Panorama Mountain Resort this Winter
~ 72 Hours in Revelstoke this Winter
~ 72 Hours in Rossland this Winter 
~ Family Fun on the Powder Highway
~ Funky Finds on the Powder Highway
~ Getting into Hot Water: Kootenay Hot Springs
~ Invermere's The Whiteway: And All things Winter

Words by Ashley Voykin.  Cover/top photo by Riptide Studios (The Whiteway on Windermere Lake).
Ashley Voykin is a landscape and outdoor adventure photographer in the West Kootenays. Her work focuses on big mountains, small towns and exploring those spaces. Committed to capturing local landscapes in a new way, she can often be found chasing Northern Lights late into the night and finding new views of endless lakes and mountains around the Kootenays.
Please tag your images with @KootRocks on Instagram and Facebook to be featured in a social post.