"Kootenay winters are the best because the snow is amazing, backcountry options are endless, and the mountains still blow my mind after eight years of living here," says Andy Brown, a Golden, BC local.
It's true: If you need more white-capped peaks in your winter lineup, we've got a sea of them here–and they're one heck of a playground for sledders.
Our mountains have all the terrain you need. High avalanche day? We've got low-angle slopes to cruise around on. Perfect conditions to test gravity? We've got more steeps than the prices at Tiffany's.
Meadows, rolling hills, alpine and treed terrain: if you want it, the Kootenays provide. Here are just a few places to find your perfect sled day:
"Fernie has over 150-km of groomed trails with five distinct staging areas serving as gateways to thousands of acres of riding terrain," says the administrator for the Fernie Snowmobile Association. The association, which manages a healthy portion of the grooming in the area, also provides sledding info on four of the region's most popular areas: Rolling Hills, The Notch, Hartley Lake, and Corbin.
These areas, along with the vastness of terrain Fernie supplies in addition to the hotspots, provide sledding areas for all levels of riders. But, then adds the area is most known for its technical trees and vast meadows–all of which are covered with nine metres of powder each winter.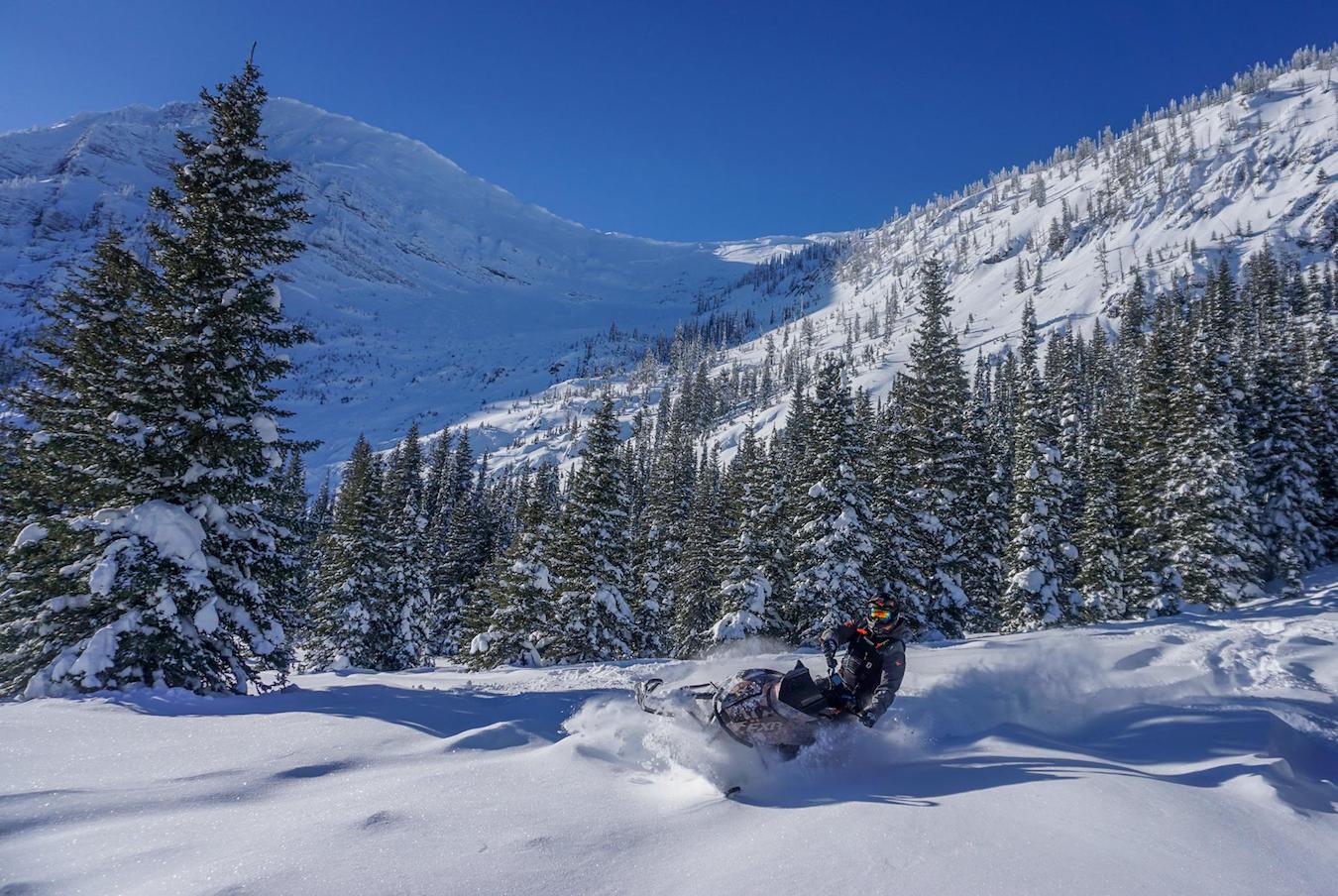 Photo by Nicole Matei
What does the above all add up to? According to Fernie Snowmobile club rep, "…endless secret honey holes and powder stashes for days after a storm cycle rolls through."
With Fernie's immense offering of varied terrain, you're also likely to be the only one around. "The staging area may be full with trailers parked all the way into town, but you will never see another rider out there!"
"Golden, BC is a world-class destination for backcountry snowmobiling … [located at the confluence of two historic rivers and at the foot of the majestic Purcell Mountain Range," says a board member from the Golden Snowmobile Club.
And it seems to be in a perfect blend between sun and snow. "Heading west … you'll find more frequent and heavier snowfall, go east … and you'll find more sunny days, but Golden falls right in the middle with a blend of the two climates," says the President of the Club.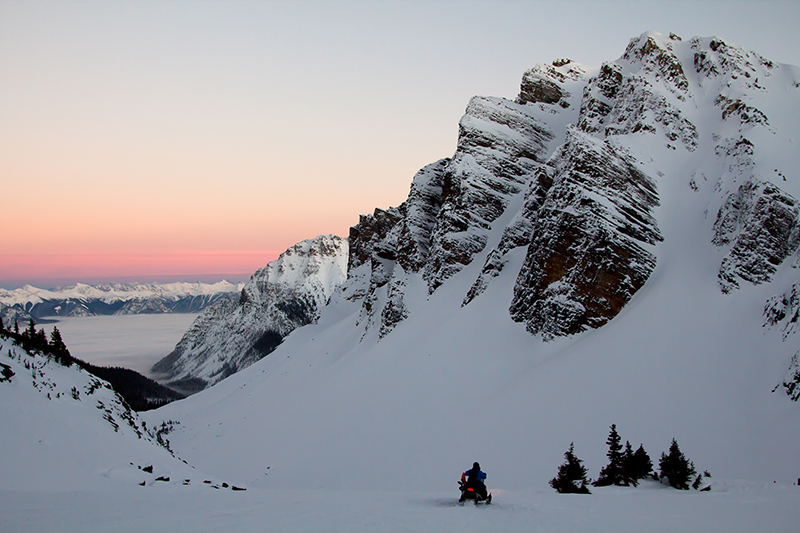 Photo by Dave Best
Gorman Lake — an alpine playground with natural jumps, cliff drops, and steep climbs — and Silent Pass, which offers low traffic days on rolling alpine meadows, tight technical trees and an old burn site. But, Quartz Creek as one of the Golden's most popular snowmobile areas, referencing its variety of terrain that appeals to beginners and those who enjoy technical playtime, too.
"One of the best features of the Quartz area is the technical, boondocking at tree level. This is where some of the deepest and most fluffy snow falls and the trees, while tight, usually have enough space to get through. … There is loads of fun to be had on a deep and low visibility day in this area and several spots where newbies can dip their toes."
With easy access, warm cabins, some of the best grooming in the province, he Golden experience: "Add the aesthetics of spectacular alpine views [including views of Glacier National Park], terrain for all skill levels … and an abundance of restaurants and accommodation, one could say that Golden is the ultimate sledder vacation destination."
"The Nelson Kootenay Lake region is unique because of its steep and deep mountain terrain–with endless beautiful views," says  vice president of the Nelson Sno-Goers Club. The club, which began in 1971, maintains cabins as well as popular trails in the region, covering the areas of Crusader, Giveout Creek, Lemon Creek, Six Mile Lakes, Springer, and Redfish Creek.
"We have anything from family groomed trails up to beautiful mountain cabins — found at Crusader Creek, Meadow Mountain and Snowater — to steep and deep, technical open-tree riding. There's riding for the new and well-experienced."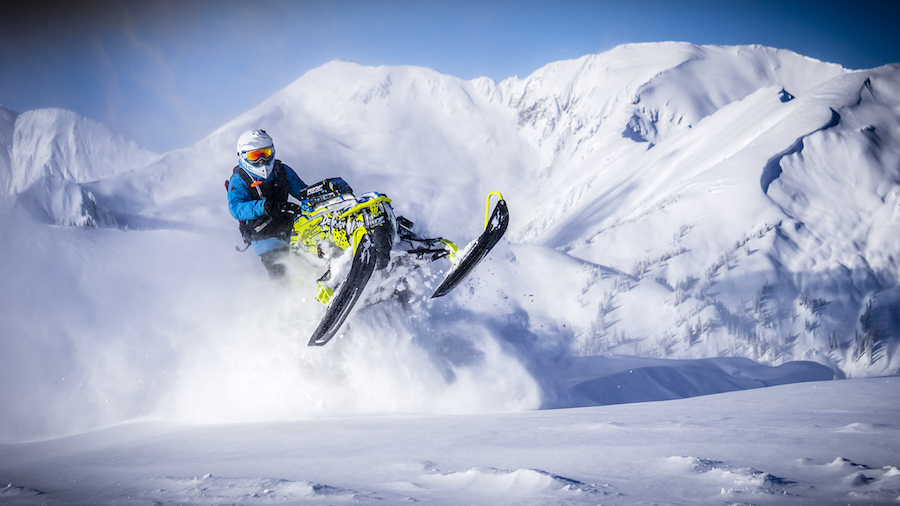 Photo by Billy Stevens
But, according the club rep, one area in the region deserves special attention.
"Every visitor should experience the Meadow Mountain area". Described as having "…safe, high-alpine meadows with an easy groomed trail to access … breathtaking views", the Meadow Mountain is also home to one of the Club's popular cabins. Located at the base of the meadows, this historic backcountry cabin is warmed through its wood stove and can be booked overnight for up to five people–or book it for the day so your crew can warm up while eating a hot lunch.
Revelstoke locals have been celebrating the snowmobiling terrain in their regions for at least fifty years. Half a century ago, the Revelstoke Snowmobile Club began, and Miranda Murphy, a Revelstoke local, chalks up the undying love of riding here to two things: legendary powder and huge area of terrain available for sledders.
"I love riding here because of the variety of terrain," says Murphy. "There is everything from groomed trails, tree riding, meadows, and steeper alpine exposures."
And then there's the snow. "Everyone who rides here has a story about that 'perfect day where the snowflakes were the size of quarters, the snow was over the bars and with every turn the whole sled disappeared into the powder." In Revelstoke, she says, those stories come to life because the snow is falling more often than not.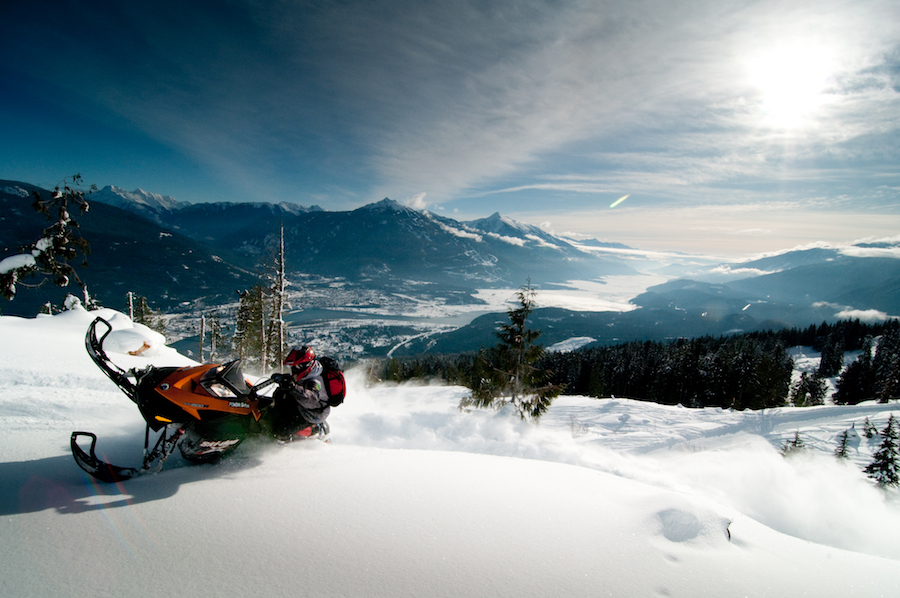 Photo by Dan Stewart  
To experience Revelstoke, Murphy suggests a couple of areas that every visitor should give a try: Boulder Mountain and Frisby Ridge. "While technically two different alpine areas, the trail networks leading up the mountains are connected, which means  re is a huge area to explore over a few days. Both of these trail networks are managed by the Revelstoke Snowmobile Club … which means the trails are groomed and cabins are stocked with wood in the subalpine, making it easy to take a warm lunch break midway through your day."
No matter what the day may bring or what you decide to try, Murphy give a promising thumbs up to the region's riding. "There is really the right terrain to have fun and stay safe in all sorts of weather and avalanche conditions."
Other Notable Snowmobile Areas
~ Castlegar Snowmobile Club
~ Cranbrook Snowmobile Club
~ Elkford Snowmobiling
~ Panorama/Toby Creek Adventures
~ Radium Hot Springs/Windermere Valley Snowmobiling
Know Before You Go – Plan ahead so you can travel safely and responsibly. Familiarize yourself with weather, road conditions, general alerts for travellers and provincial health orders & recommendations.
Related Story
~ Backcountry Ski Touring: Step 1 Avalanche Safety Training
~ Guiding Services: Powder Highway's Backcountry
~ Powder Highway 101
~ Slackcountry Touring at our Powder Highway Ski Resorts
~ Sleding Events and Tours in the Kootenays
~ Tips: How to be a Safe & Responsible Traveller

Top/cover photo by Billy Stevens (near Nelson Kootenay Lake).
Please tag your images with @PowderHighway and @KootRocks on Instagram to be featured in a future social post.  For travel deals and specials – sign up for our Consumer Travellers Newsletter.