There is something magical about spending time outside, connecting with nature, trekking on horseback down dusty sun scorched trails. As the horse picks its way over rocks and splashes through tumbling river water, you catch the sun on your face and breathe in the refreshing summer breeze, rejuvenating your spirit.
The legends and myths of the Wild West come to life when on a horseback journey through the Kootenay Rockies. Riding a horse through mountain meadows, up and down mountain passes and along remote trails, transports you through time, and is a fantastic way to reconnect with nature.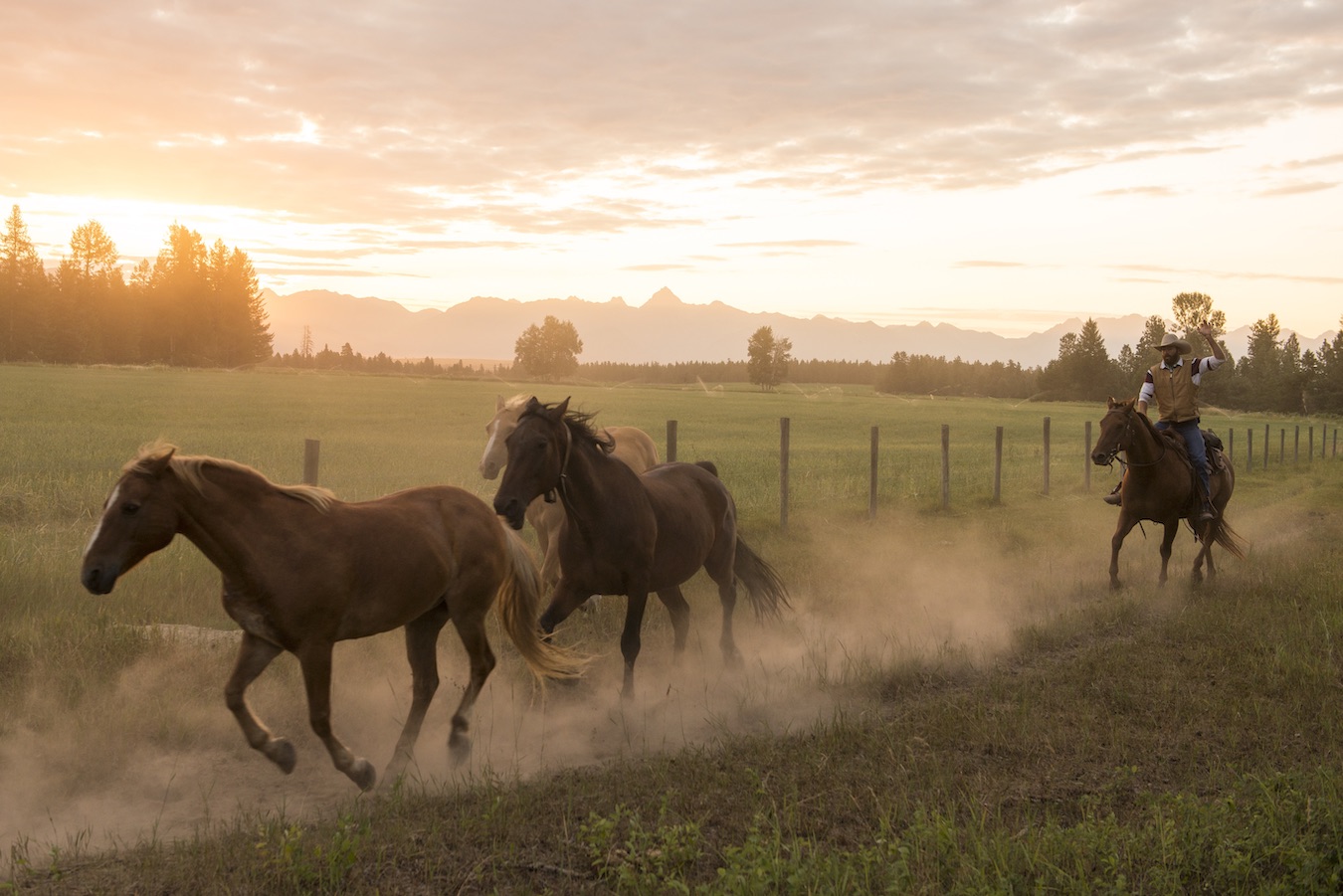 Riding at Three Bars Ranch in Wycliffe; photo by Kari Medig
Horses have been used for many purposes since they were first domesticated, but equine therapy dates back to ancient Greek times where horses were used to help people with incurable diseases. They are non-judgmental, gentle creatures who mirror our emotions, giving us an important indicator of our own mental state and allowing us to build self-awareness and awareness of others. Learning how to care for, groom and give directions to a horse helps to build trust and self-esteem as well as creating a fulfilling sense of achievement that's good for the soul.
Even though it may not feel like it, you use your entire body to sit on a horse, in particular working your core and thigh muscles. Over time, horseback riding builds full-body strength through essentially low impact movement and work, which is why it's the perfect way to get your body and mind back in shape after an injury or a time of illness. Take some well deserved time out of the fast-paces world of pressure and connect with Mother Nature's gentle beast to replenish your heart and soul.
The Kootenays offers some fantastic horseback riding centres throughout (from short rides to week-long stays):
Located on hundreds of private acres surrounded by the Canadian Rockies and the Purcell mountains — Three Bars offers a family-friendly upscale guest ranch. Horseback riding is offered in the mornings and afternoons, plus guided hikes, rafting, fly-fishing and trap & skeet programs.  The Ranch also has it own 'kid program'.
Private cabins are beautifully appointed on the landscaped property. Ranch amenities include an indoor heated pool, tennis courts and home-cooked delicious meals in the main log lodge.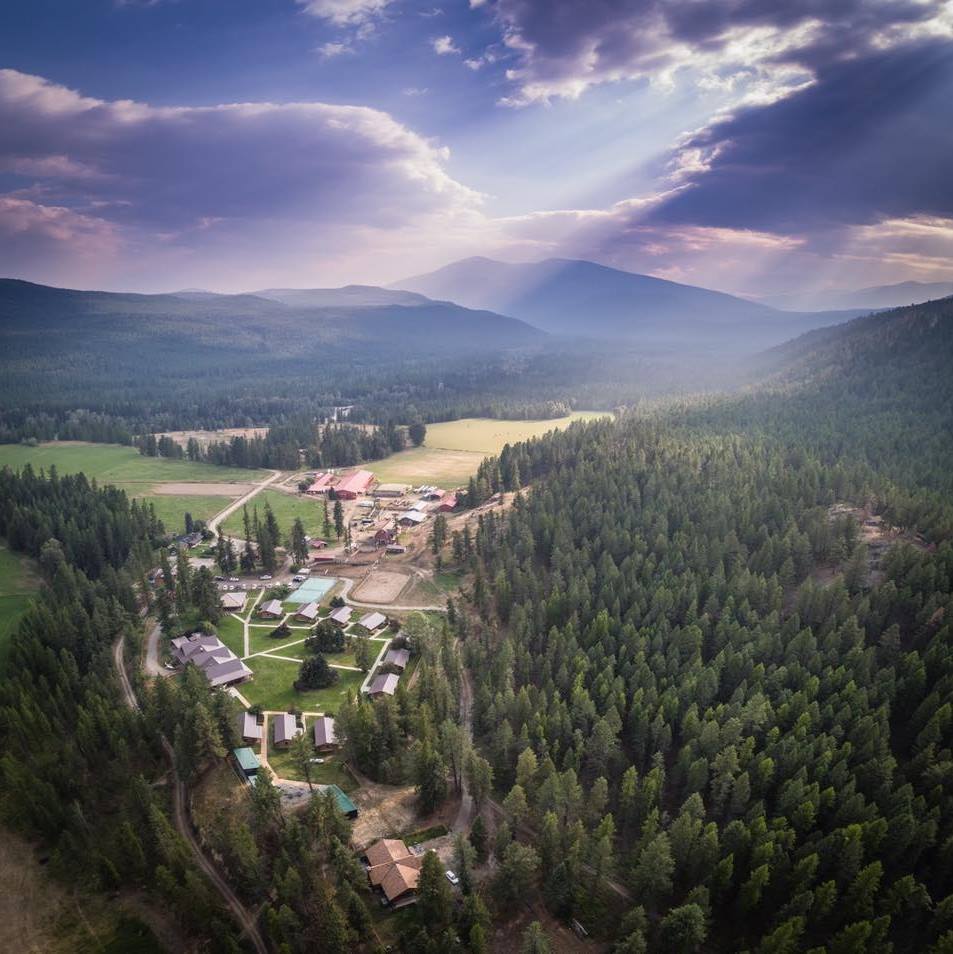 Looking onto 3 Bars Guest Ranch near Cranbrook; photo courtesy of the Three Bars Guest Ranch
Guided trail rides are available at Fairmont Hot Springs Resort. Expect a real slice of pristine wilderness while you explore the lush landscape of the Columbia Valley.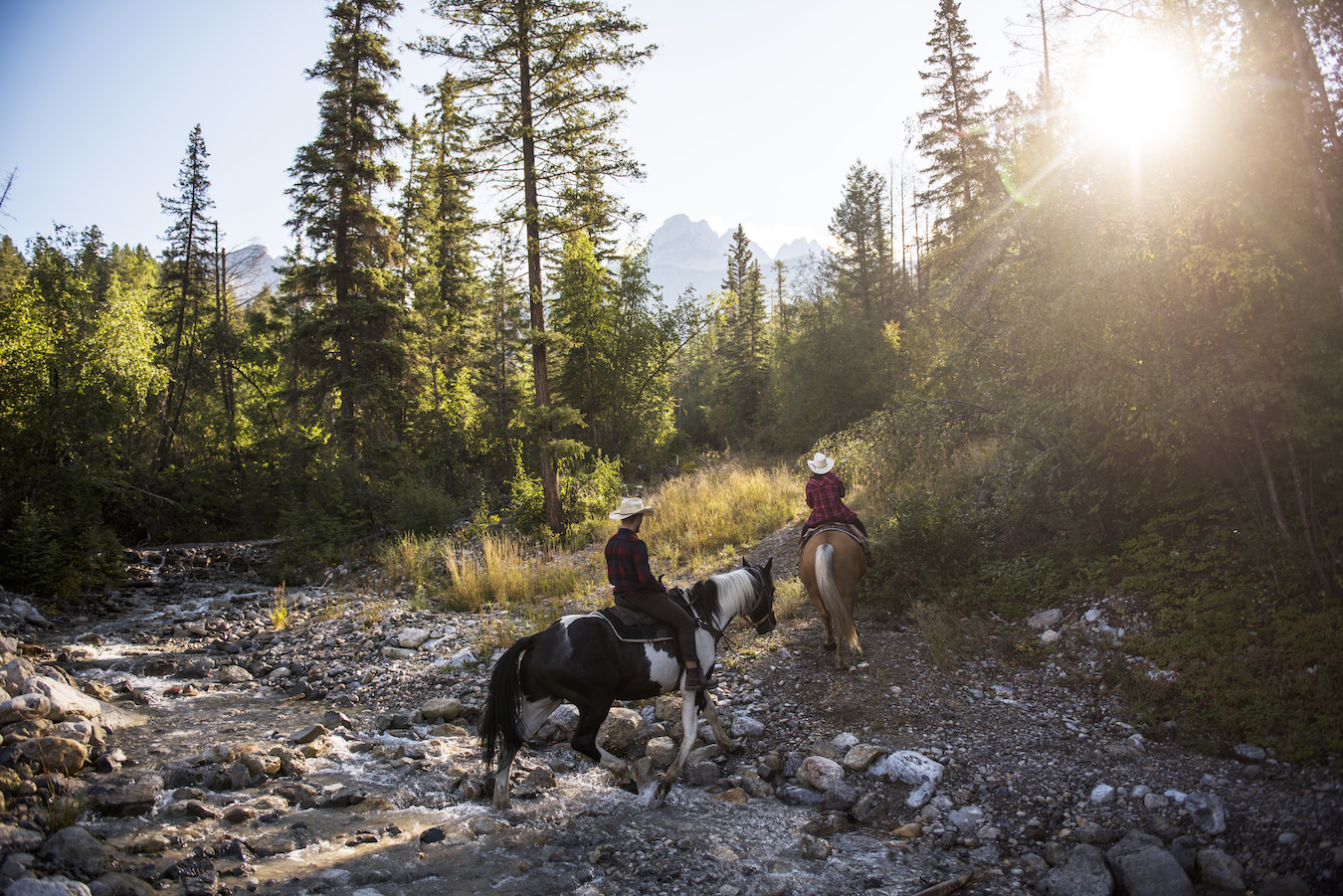 Trail riding in the Columbia Valley; photo by Kari Medig
This equine adventure is a short drive from the beautiful village of Nakusp. Trail rides are offered for all ages and skill levels (advance booking is required). This property has a petting farm with goats, sheep, ducks and rabbits.  Farrier services are also available.
GOT Adventures is located in the East Kootenays, Cranbrook/Kimberley, BC and we have been offering trail rides for 20 years. It is an excellent way to escape whatever it may be; city life, a pandemic, chaos of work or home life, and re-connect with yourself, a horse, and with nature. Our horseback riding operates in mountain ranges, river bottoms, and forest trails. Our trails offer a diversity of landscapes.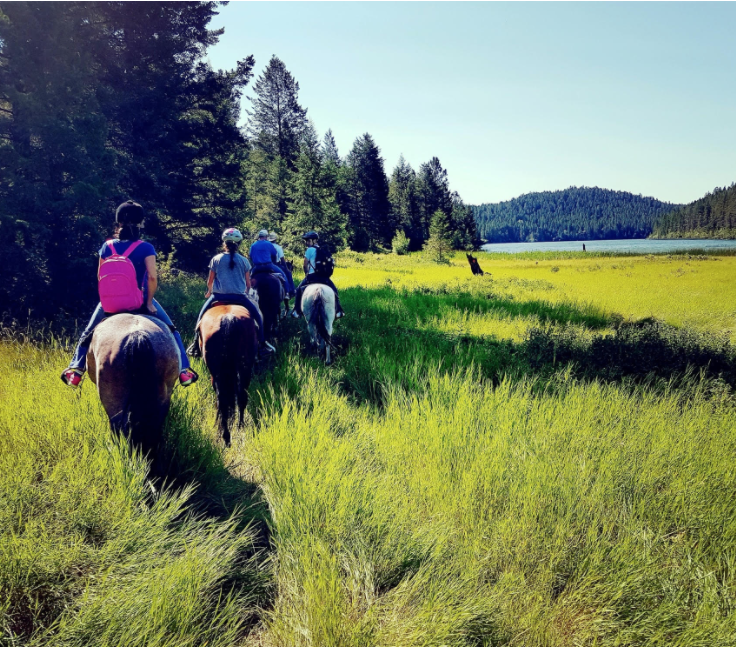 Located on the White River, above Whiteswan Lake Provincial Park, White River Adventures offers guided trail rides in their untouched, natural backyard. From a short trail ride to a 5-hour adventure — explore this dramatic mountain setting.
Other adventures includes whitewater rafting and their cozy, comfortable, timber cabins have great views. Cabins are equipped with BBQs, beds, table and chairs. Cabins are heated with wood stoves. A short walk to the shower house for flush toilets and hot running water for showers.

Know Before You Go – Plan ahead so you can travel safely and responsibly. Familiarize yourself with weather, road conditions, general alerts for travellers and provincial health orders & recommendations.
Related Stories
~ Everything is Local 
~ Keep the Kootenays Natural
~ Kootenay Ambassadors: Mindful Explorers
~ Legendary Kootenay Attractions: Not to be Missed this Summer
~ Stewards of the Land: Positive Benefits
~ We Are All Connected
Top/cover photo by Kari Medig at Three Bars Ranch.
Words by Kyle Hamilton. Kyle is a local Kootenay photographer who ended up settling in Fernie, BC.  He has love for the mountains and it has led him to focus on photography of mountain inspired activities. You could find him on a side of a mountain in -25C winter conditions with snow blowing around him shooting a heli-skiing event or next to a gentle mountain in the summer with one of his wedding clients… either way you could see him out exploring the areas around Fernie.
Please tag your images with @KootRocks on Instagram to be featured in a future social post.  For travel deals and specials – sign up for our Consumer Travellers Newsletter.