We're winter lovers in the Kootenays along the Powder Highway. We look forward with anticipation for the first flakes to fall in autumn, rejoice in days upon days of snow-filled forecasts through winter and come spring — celebrate all the powder our mountains held.
This kind of love spurs traditions: traditions that pay tribute to our snowy skies, nudge the "powers-that-be" to continue blessing us with 'snorkel deep' powder and provide a token of gratefulness in hopes that we can live it all again come next winter. 
And while you may be familiar with a few of these winter traditions in other areas, you've never seen it done like it's done here with our eccentric Kootenay vibe! 
WINTER CELEBRATIONS 
Winter festivities are the norm in our mountain towns–in fact, history records that Canada's longest-running fest started in our own Rossland with the town's Winter Carnival. 
What began as a gathering that Olaus Jeldness, a Norwegian transplant to Rossland, initiated atop a summit in 1898, is now a beloved tradition that the West Kootenay town looks forward to every year.
"Locals love this annual event," says Rossland local, Kristi Calder, adding that non-Kootenay folks who visit during the festivities get sucked into the spirit of the carnival, too. "There are events all day that are family friendly and adults-only options at night, including the Blizzard Music Festival with various bands at different venues."
In true Kootenay style, Rossland's Winter Carnival (January 21-24, 2021) is an 'anything-goes party' structured to share a love of all things snow-from purposefully iced-up streets for the annual bobsled race to spirits served at a bar entirely made of ice.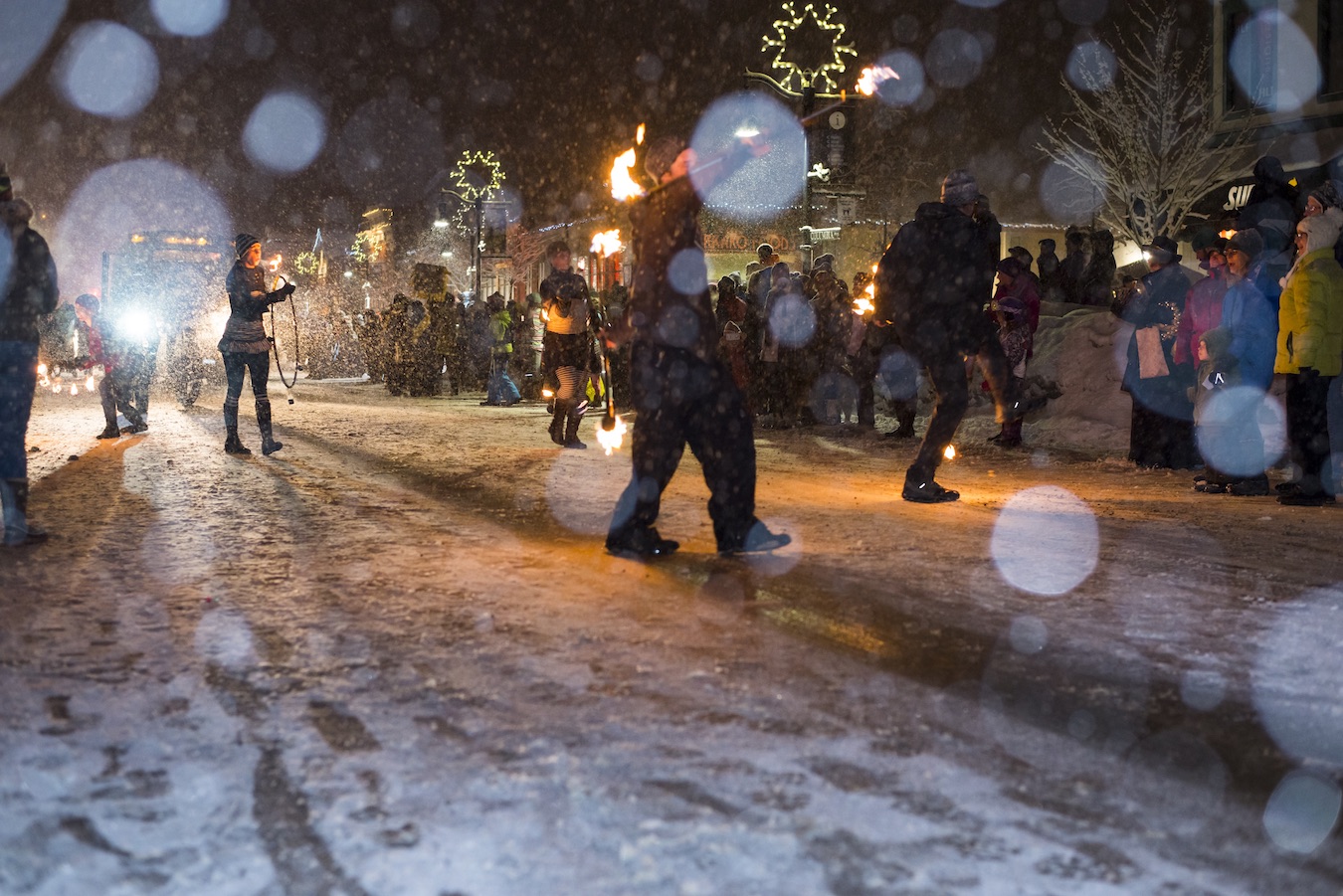 Rossland Winter Carnival – Photo by Steve Ogle
To the north, there's Kaslo's Winter in the Forest Festival (Feb 17, 2020) described by Kaslo local Erika Bird as "…the coolest small festival in the Kootenays."
For over 15 years now, Kaslo (north of Nelson, BC) has celebrated winter and all kinds of traditional winter activities at the annual Winter in the Forest Festival. Held annually on BC's Family Day, the celebration includes street hockey, ski races, snow painting, woodsmen competitions, local music and traditional Canadian edibles. There's even a 'human dog sled' race.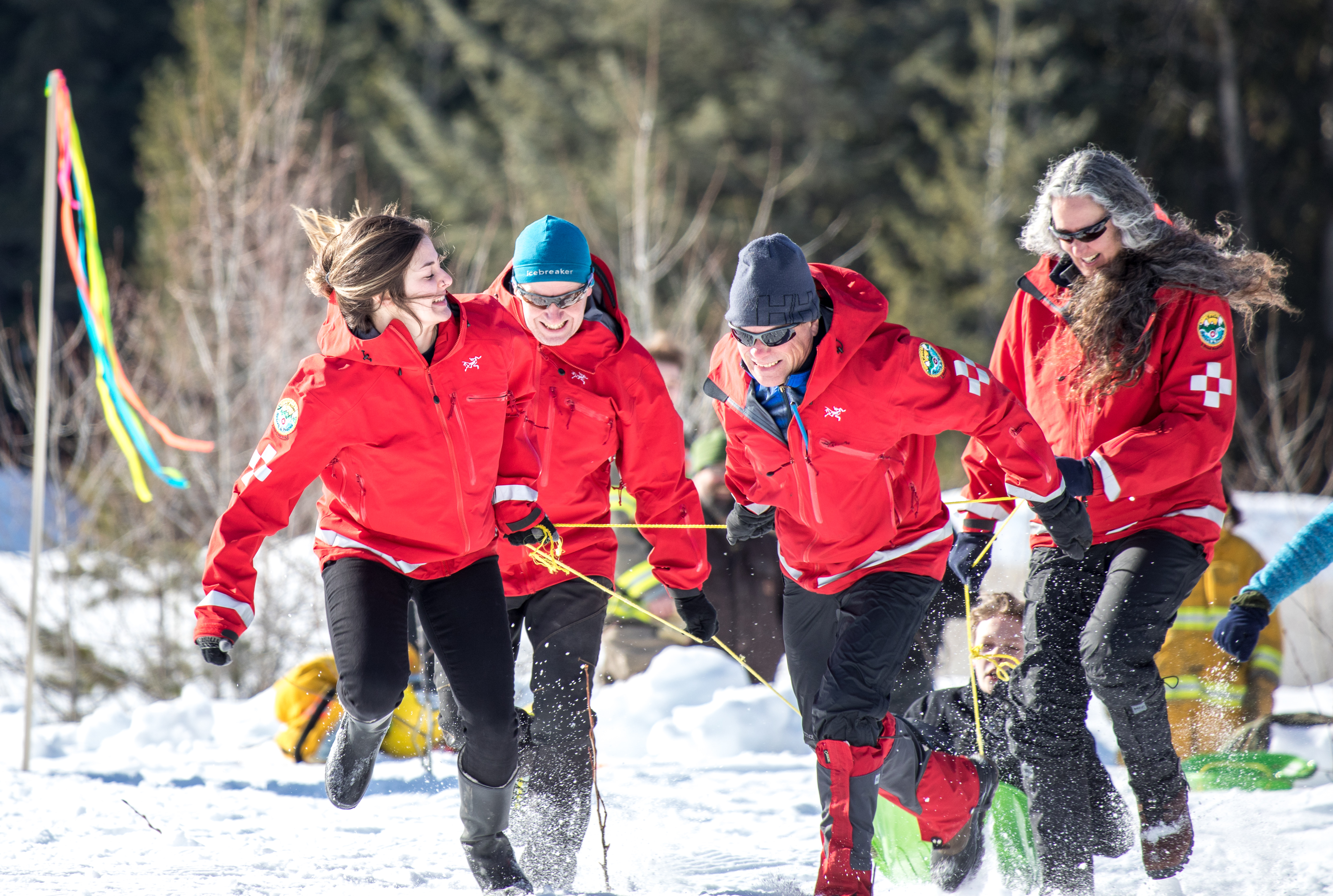 Kaslo Winter in the Forest Festival – The Human Dog Sled Race. Photo by Daphne Hunter
Each Kootenay town has their own special twist on winter festivals; no matter where your travels take you along the Powder Highway, these winter parties are worth your while. 
POLAR BEAR PLUNGE
With all the huge bodies of water in East and West Kootenay, you know our people are taking the plunge.
Call us brave (or call us nuts): Kootenay natives love the cold. So if we have the chance to put ourselves to the test and prove our hardiness, we'll do it. Besides, a cold-water dip preps us for anything our winters might throw at us.
These polar bear swims often come with the added feel-good benefit of charitable giving, too. For example, Nelson's New Year swim benefits stewardship efforts for Kootenay Lake (where the event is held each year) while Invermere's "Rad Plunge Challenge" at Kinsmen Beach along Lake Windermere supports the purchasing of adaptive ski equipment.
But with or without the charitable aspect, these events have a warm side too from hot chocolate to hot tubs. For over 30 years, Trail has been making use of the winter waters Columbia River for their annual event. No matter whether a participant or simply there to provide moral support, event goers are treated to a fire on the beach, prizes, and community camaraderie.
SKI SACRIFICES
Sacrifices have been made to appease the gods for as long as humans have believed in a higher power. It's no different for skiers, snowboarders, and the outfitters that host them.
"Russ, my husband and lead guide, builds a 'Stumpy'," says Courtney, co owner at Ice Creek Lodge a backcountry lodge for skiers and snowboarders in the Valhalla Range of the Selkirks.
Described as a life-size skier built of logs, 'Stumpy' is built for one purpose: as a fire sacrifice to Ullr. Donning skis, it is believed that this effigy, sacrificed in deference to the Norse god of snow, will send a season full of powder to those who observe the tradition.
"Our community does this every November," says Courtney. "We do this at [the lodge] when more snow is needed, or when there is so much snow that we just do it as thanks."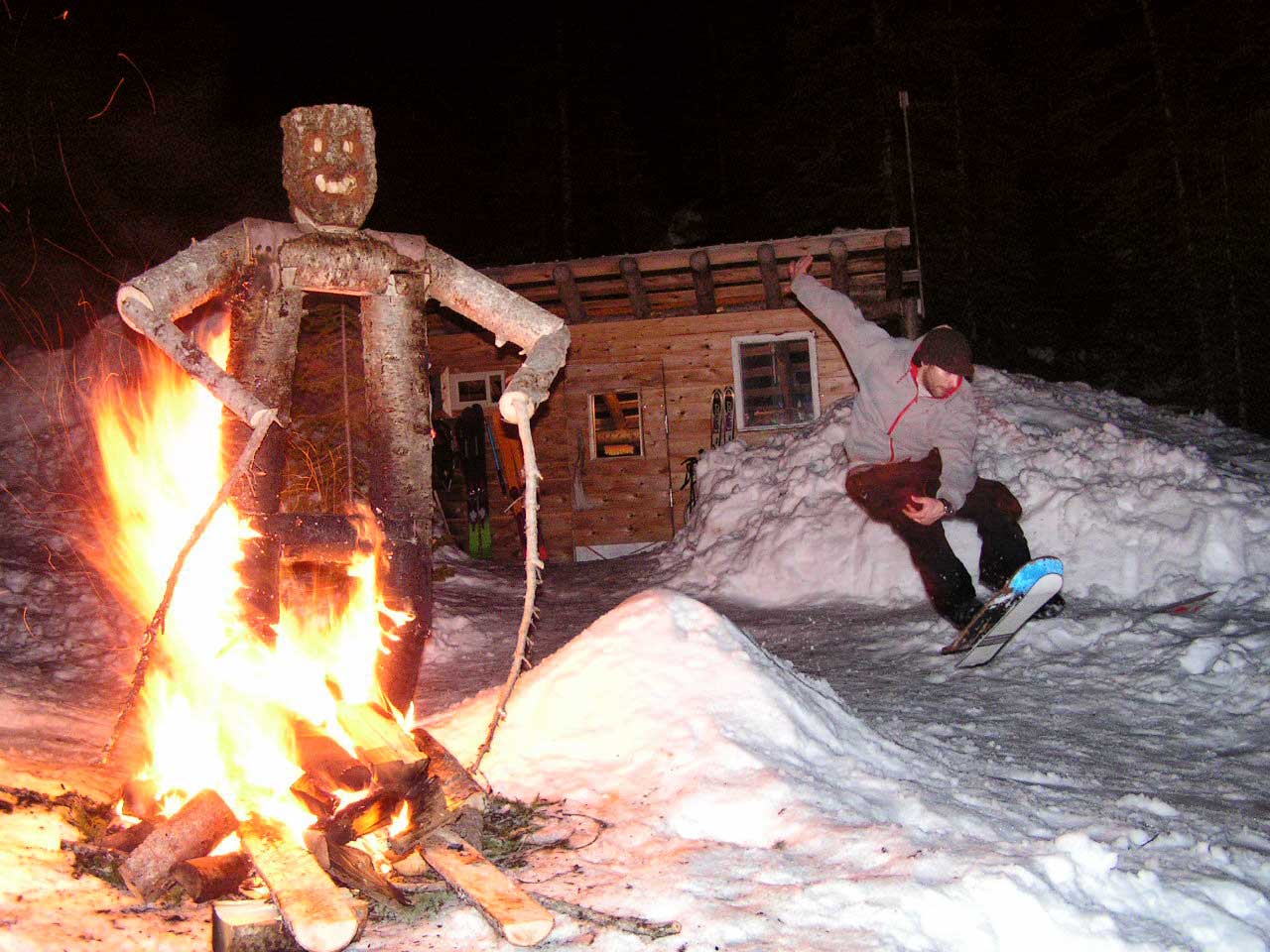 Ski Sacrifice – Photo courtesy of Ice Creek Lodge
POND SKIMMING
All good things must come to an end (even if just for a few months) and here in the Kootenays, we don't let winter go without a last hurrah: pond skimming.
This tradition combines the tools of winter (skis/snowboard, snow–including the melted variety) with sights common to the oncoming season: spring's sunshine, shorts and everyone's best vintage Hawaiian tee. 
Somewhat akin to the Polar Bear plunge, it's likely that participants will end up taking a dip in the snow-chilled waters. But unlike the plunges earlier in the season, the goal with pond skimming isn't to see who's brave enough to take a dunk–it's to successfully make it across, at speed, from one side of the pond to the other using skis and snowboards.
Those that do are rewarded with deafening cheers from the mass of spectators lining the waters. Whitewater Ski Resort includes the tradition as part its season-finale Beach Party Weekend. "…everyone comes to thank the snow gods for another great year and bring in the summer with a big splash-literally," says the resort's Indoor Recreation Manager, Rebeckah Hornung. 
"The entire town comes to the resort to watch those daring enough to make their way across the man-made pond in the base area, typically dressed for their own type of success. Live music–plays in the base area to rock out the final hours of winter."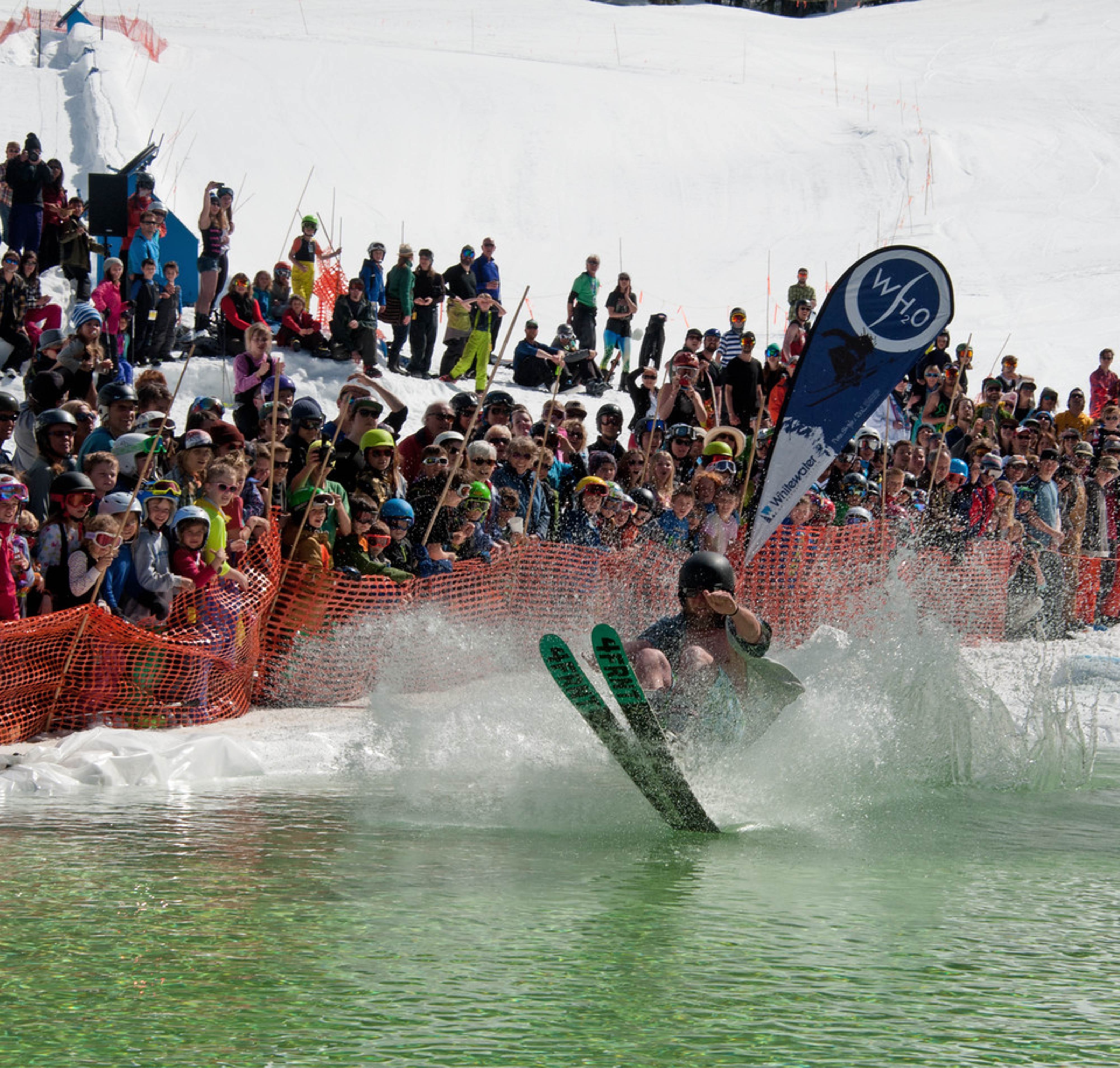 Whitewater Ski Resort Slush Cup – Photo by Phil Best
No matter which Powder Highway resort/lodge you're at, you'll find its own version of pond skimming, but all running with a common theme: a community gathering of snow lovers sending off the season with a warm goodbye for a winter well-spent. 
Know Before You Go – Traveling to one of these communities to join in the festivities? With high levels of snow throughout the region and winter driving conditions in effect, it is very important to check highway conditions and travel advisories. Winter tires are needed on your vehicle from October to April and Road Safety at Work has some great ideas for items to pack in your car such as windshield scraper & snow brush, shovel, warm blankets, snacks/beverages. DriveBC is a great resource with real-time webcams and road statuses.
Related Stories
~ 6 Things to Do with the White Stuff in the Kootenays
~ 9 Things to Aspire 'To Do' on the Powder Highway
~ Family Fun on the Powder Highway
~ Funky Finds on the Powder Highway
~ Kootenay Craft Beer Winter Road Trip
~ Learn to Ski or Snowboard on the Powder Highway
~ Our Kootenay Winter Celebrations: Along the Powder Highway
~ Polar Bear Swims in the Kootenays
~ The Valhallas: Norse God Legend of Ice Creek Lodge 
Words by Gina Bégin.  Top/cover photo by Kari Medig at Panorama Mountain Resort (apres ski).
Gina Bégin – Although she's a Florida girl, exploration called her away after the final bell of her high school career. On a quest to reach the distant adventures of North America, she lived in her car, traveling to ski the backcountry of Alaska, sleep under the northern lights in the Yukon Territory, ice climb Colorado's frozen canyons, photograph Nova Scotia's coves, backpack in southern US wildernesses and munch on sugared tamarindo in the jungles of Mexico. But after three years living on the road and seeing the many wonders this continent had to offer, she chose the place she knew would fit an explorer looking for a lifetime of wild wonder: British Columbia. Dual citizenship in hand, she settled along the Powder Highway in the Selkirks and is making her home between four walls and deeply wooded mountains.
Please tag your images with #KootRocks on Instagram to be featured in future stories.