The Support Local movement began over time and has been building momentum.
It is a movement that encourages locals to spend locally at their community businesses. 
Today, this means so much more with the pandemic as businesses need your support right now, more than ever!
One of the most important results when you buy locally is significantly more money stays within the community. Local business owners also often have this similar incentive to support their business neighbours.
An interesting and positive element to supporting local is you get to know the people behind the product and service. When you know the people & personalities behind the businesses you are connecting with, you gain a personal trust and you often find you want to recommend them to others.
We would like to invite you to 'Meet Our Partners' – some of the incredible small businesses in the Kootenays Rockies!
Body & Soul Soothers | Hunger Managers | Local Storytellers | Retail Therapists | Stay-cationers | Thirst Quenchers | Winter Adventurers
Thirst Quenchers
Backroads Brewing (Nelson)
"Backroads Brewing Co has been providing delicious beer and a lively community taproom in the heart of Baker street since March, 2017.  Since opening, Backroads has become a staple of Baker Street entertainment with locals and tourists alike", says Founder/CEO Brent Malysh.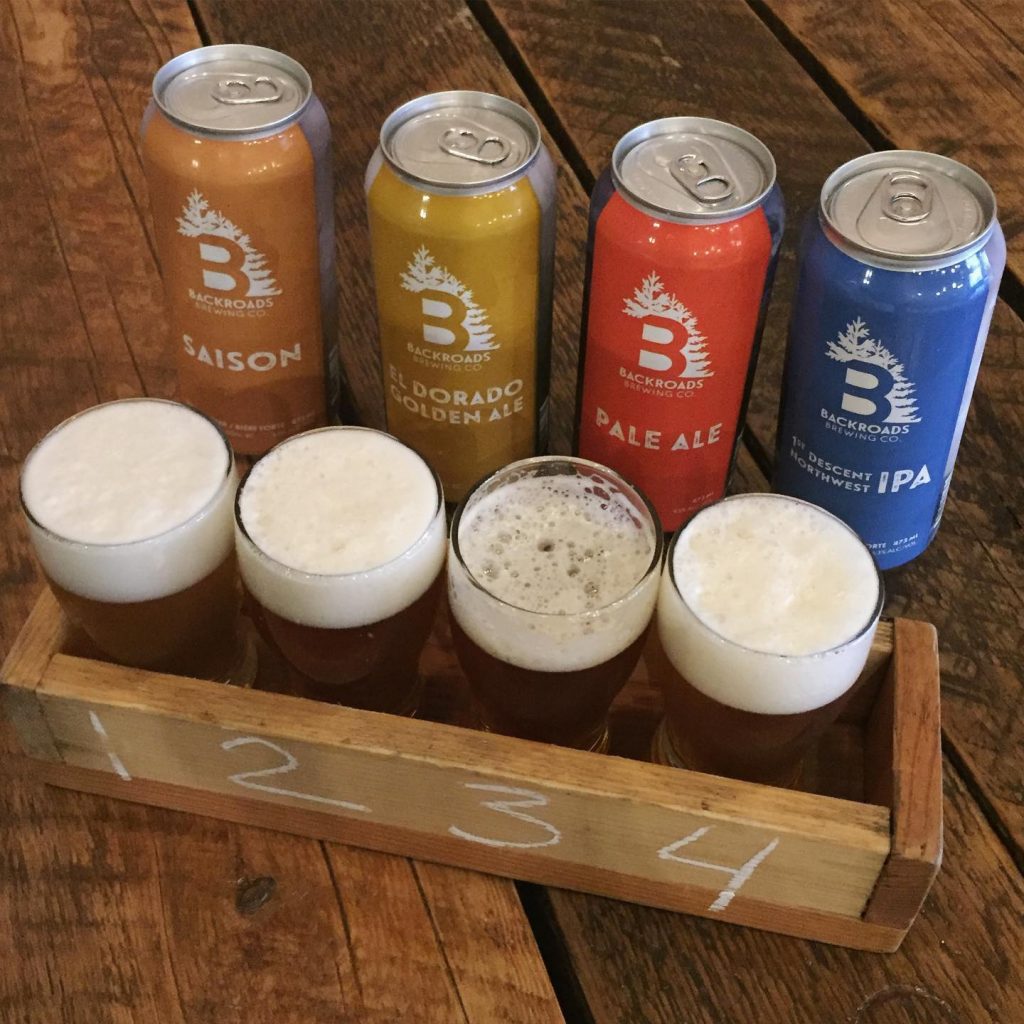 Can't get to Nelson to enjoy their brews due to COVID travel restrictions?  Don't worry, they've got you covered.  Backroads has cans of our award-winning beer available in a variety of liquor stores across the Southern Interior of BC.  Check out the website for a complete list of retail locations.
"It's certainly been a challenging year, but also a year of learning and change. The FBC Tasting Room is open, with limited capacity and COVID restrictions – to ensure the safety of both our staff and visitors. Meanwhile, FBC continues to offer FBC FlyBy – order online, for safe pick-up outside their Tasting Room. Plus, with no flights currently available in their Tasting Room, FBC instead moved their popular 'Cheers to Charity Program' over to a rotating 'Charity Tap' – to ensure they are still raising funds for their current, deserving recipient. More than ever, it's a time to support local business, and the local community," explains marketing manager, Abi Moore.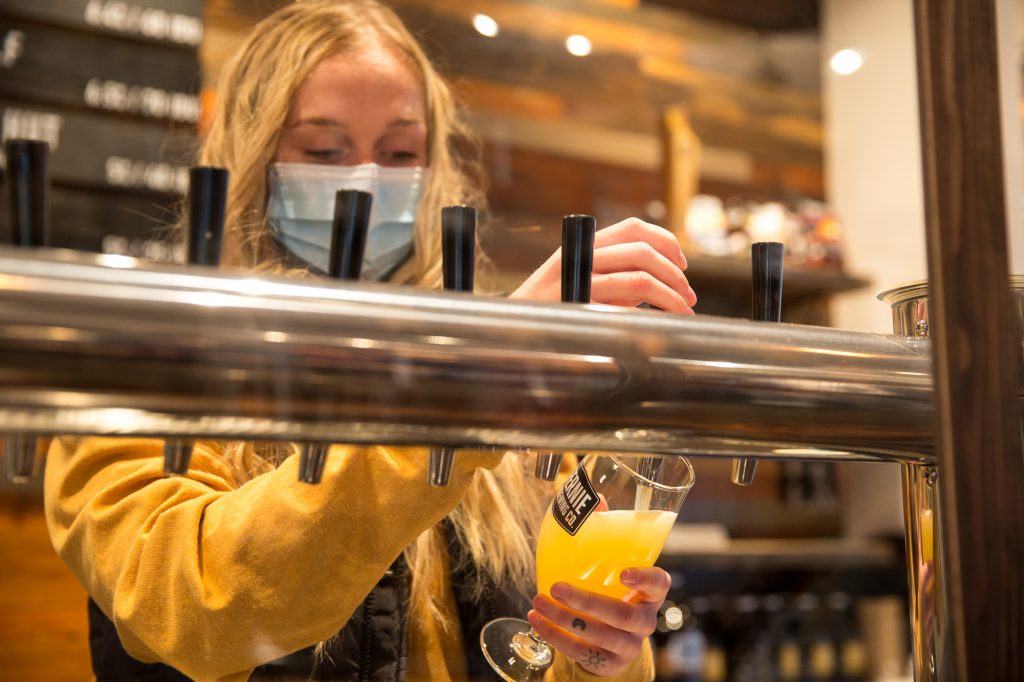 FBC continues to offer FBC FlyBy – order online, for safe pick-up outside their Tasting Room. Plus, check online to see what's currently on tap!
Monashee Spirits Craft Distillery (Revelstoke)
"One of our 'new' services we are offering and have been since last April is supplying hand sanitizer to the public and businesses and free of charge to all non-profits and front-line workers. We were the first distillery in western Canada to get out and start doing this and it has been well received by all. We still supply it to anyone that needs it.
We have installed old windows and frames around the lounge and service areas to aid in separation of groups and to create a really cool atmosphere / vibe still going on inside. Other than that, we haven't had to change many protocols other than health checks with our staff and name taking of parties that visit.
We have tried hard to maintain not changing a lot to keep it feeling normal inside and give the customers the best experience possible." – notes founder/owner, Josh McLafferty.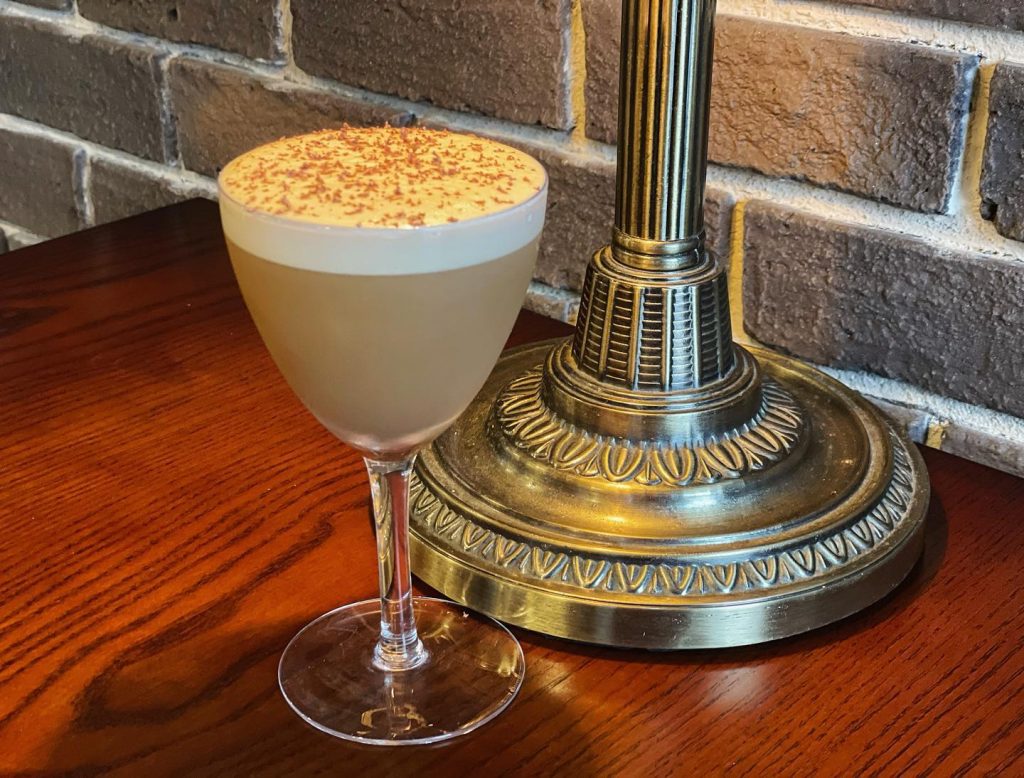 Every year they do multiple fundraisers for non-profits and charities in and around their community and at this time in the lounge they are doing a fundraiser for PADS, Pacific Assistance Dogs, as they have a local one here that works in the school system with kids. They have created a HYPERLOCAL cocktail and donating proceeds from the cocktail to PADS – the drink is called Locals Only!  (The cocktail featuring Monashee Spirit's never released before whisky that has been soaking in fresh Revelstoke cherries from the Revelstoke Bear Aware Gleaning project for 2 years, their own rooftop honey bee apiary, rum from Vancouver's Wood Spirit Co. seasonal Nochino (walnut liqueur), the Okanagans' Neighbourhood Brewing – Horchata Milk Stout Beer, Revelstoke's favourite Terra Firma Farms fresh organic eggs and finished with their house-made dark chocolate infused with the legendary Track Street Growers chocolate habenaro peppers!)
Mt. Begbie Brewing Co. (Revelstoke)
Co-owner/operator, Tracey Larsen explains, "We took the 'COVID opportunity' aka loss of draft sales to focus on our packaged products this past year. In an ongoing effort to reduce our environmental impact, we ditched the plastic neck rings and launched our first group of cardboard packaging- three different tall can 4 packs – with more to come this spring/summer".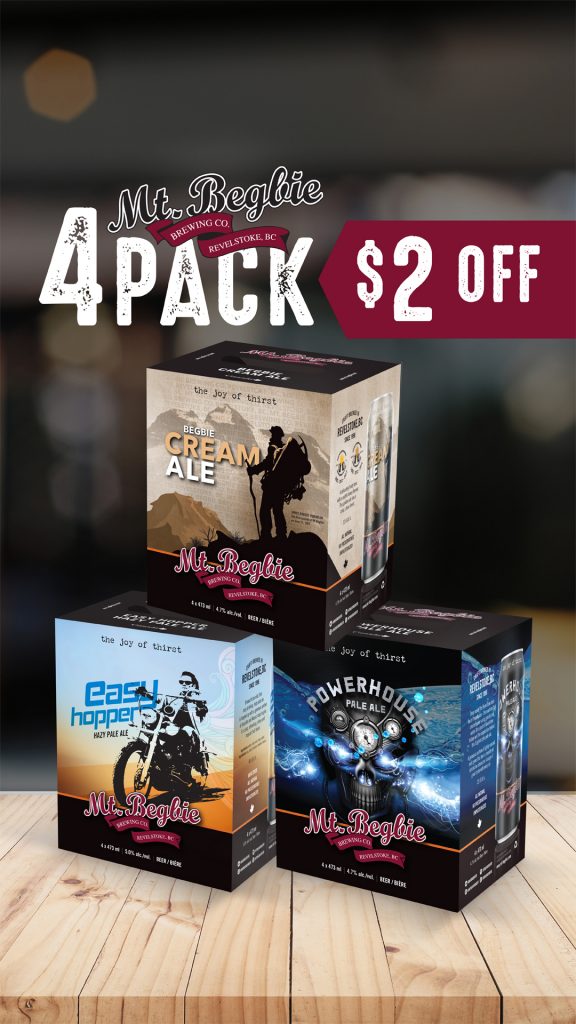 The brewery is offering $2 off 4-packs for the month of February (Jan 31-March 6, 2021) – Begbie Cream Ale, Easy Hopper Hazy Pale Ale and Powerhouse Pale Ale.
 "2021 is a big year for Nelson Brewing Company! It will mark 30 years of brewing exceptional beer for the Kootenays and beyond. The original Nelson Brewing and Ice Company started in 1892 and we are still brewing beer in the same Latimer St. location. Our brewery is steeped in local history and all the quirks that comes with brewing in a 120-year-old building. From the dynamite stick holes that you can see in some of the brewery entrance ways (tanks are big and old doorways are small) to Ward Creek that still runs right through the middle of the brewery today. Step into our taproom to be greeted with a smile and a sample of one of our pilot brews. Stop and look around at the breweries rich history and artifacts that adorn the walls. Leave with an armful of fresh beer and an experience you won't forget! Cheers!" – notes the NBC Team.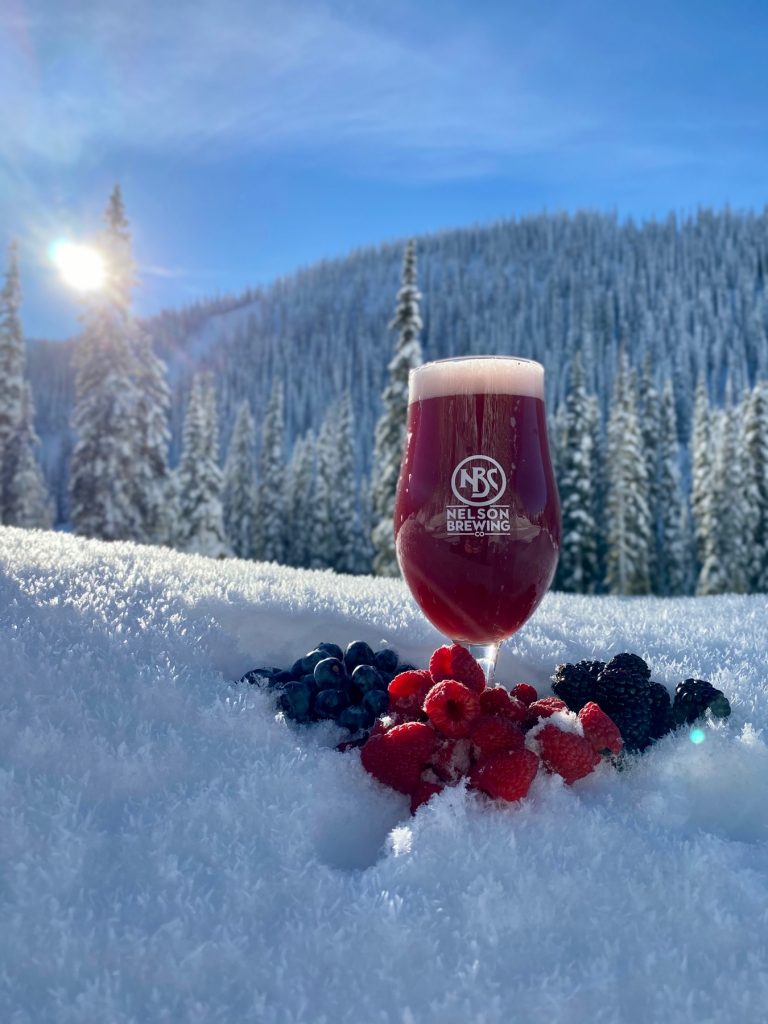 Locals are welcome to 'Après Hour' – 3pm-5pm everyday with $2 off growler fills + $1 off Bent Pole 6-packs + 15% off merchandise. Plus, they have some epic giveaways lined up for those killer 20-cm pow days, so watch for these special on their social channels.
New Moon Tea Co. (Nakusp)
Owner, Christine Riediger explains, "What we create speaks to who we are, so it's only ever made sense for us to give our customers the highest quality, organic herbs and teas hand-blended in small batches and ethically grown right here in Canada and worldwide. Some teas in our Farm + Forage line are made with ingredients grown right here in the Kootenays".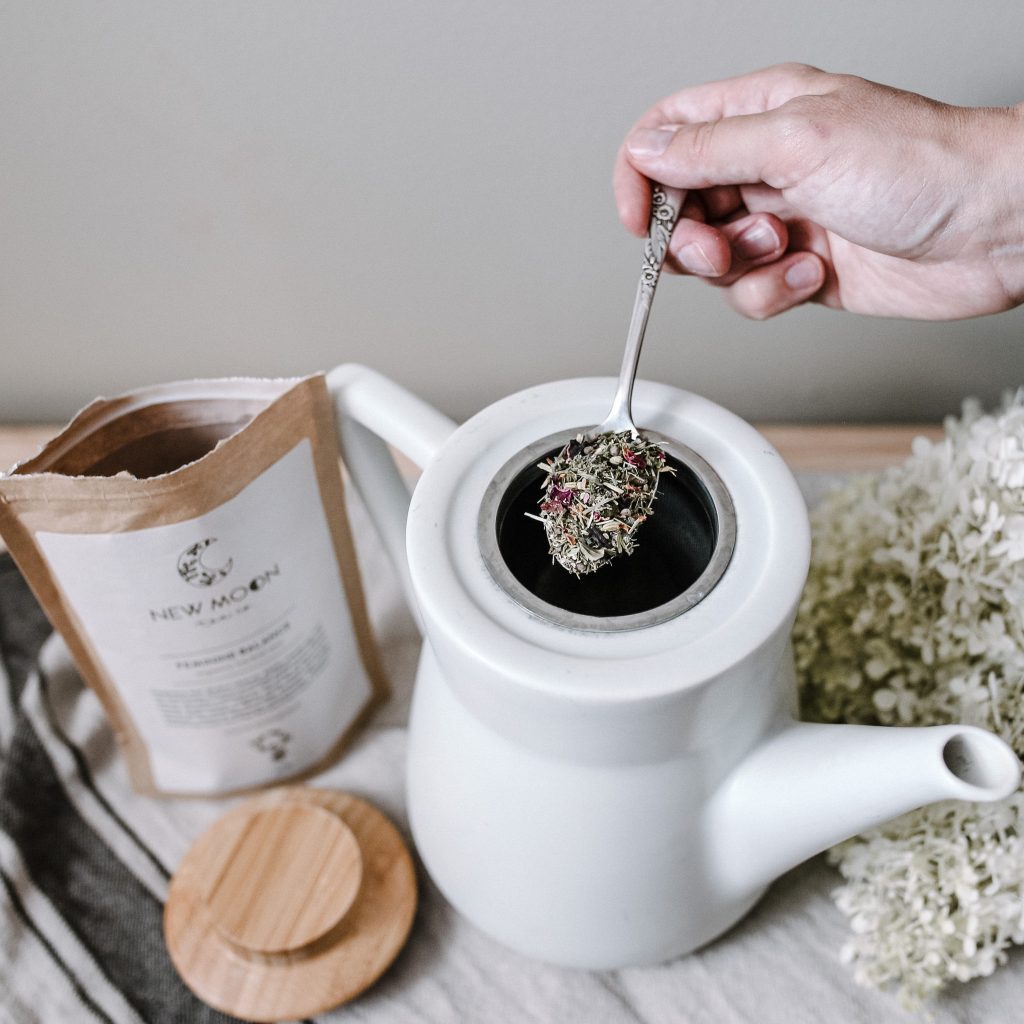 New Moon Tea Co. is currently offering local curb-side pickup via their website.  You can also find their products at Kootenay Coop in Nelson and Homegrown Market in Nakusp. If you want a hot cup while enjoying a stroll, you can grab a cup at the Dominion Café in Nelson or Mountain Top Coffee in Nakusp.
"We want to supply people with a product that is made with local love and when they visit we want them to feel safe and not think about some of the stresses in life. We are proud of our locals on how they have supported local while being safe…..we are crazy lucky ", explains CEO, Petri Raito.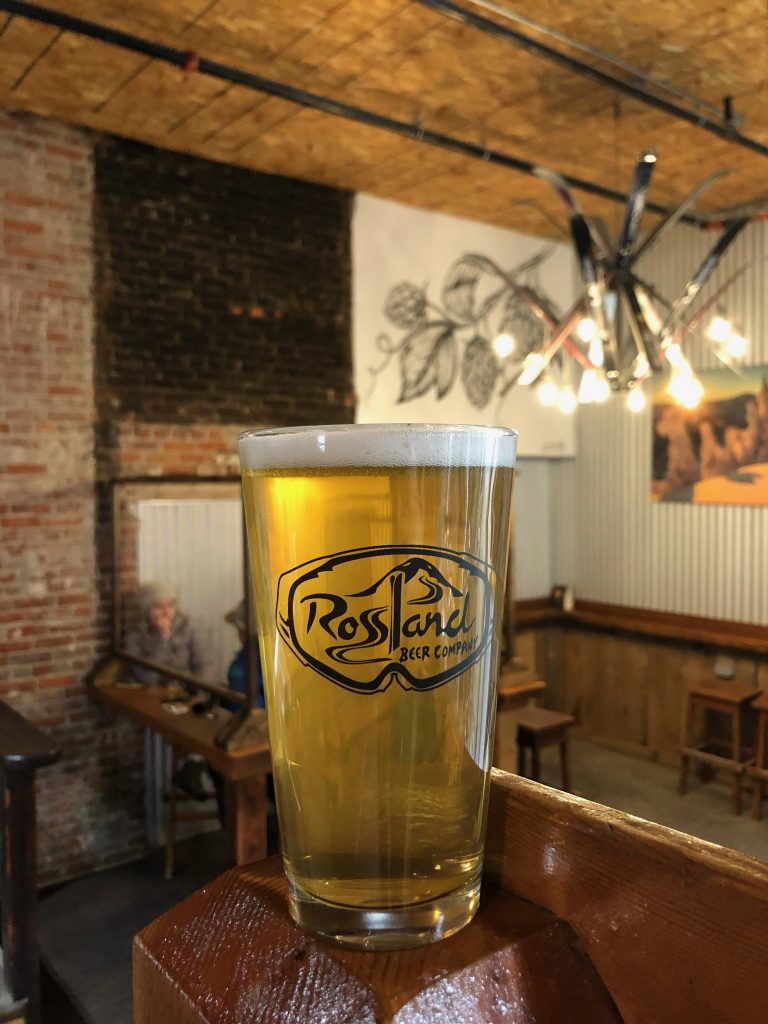 Now open for inside beers! Locals can enjoy their indoor or outdoor seating areas, with specials each week and live music Friday afternoons – as local musicians serenade the brewing tanks. All their beers use fresh Rossland Mountain filtered water, the healthiest yeast, NO preservatives, NO additives, fresh malted grain & hops, all while taking extra care in the brewing process. They are proud to give you the quality hand crafted beers you love at a fair price!  
Valley of the Springs Winery (Nakusp)  
"A global pandemic wasn't one of the challenges we anticipated in our first year – but we adapted and overall, we think it was a successful first year. The feedback we have received has been amazing – many of our small-batch wines have quite a following actually – especially our Vista which we sold out of the wineshop in August. We have just released 4 new reds – including our first red blend, Trailhead Red – and we will be getting ready to bottle our whites and a new rose in February or March. We are on the cusp of something here in the Arrow Lakes valley – a valley historically known for agriculture – we think the trend towards supporting local and paying for quality means that we are finding our way back to the fruit farming heritage of this region, while opening a new market for wine tourism," says owner, Jody Scott.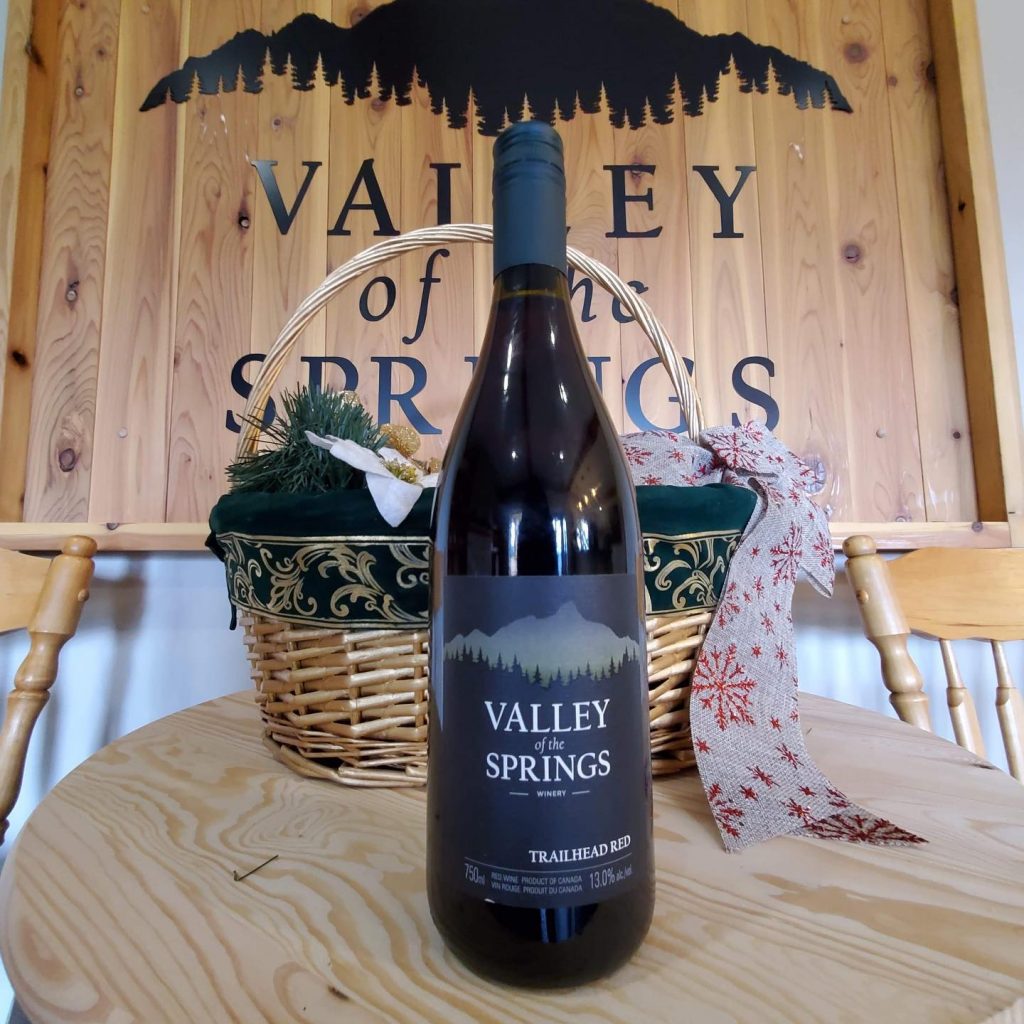 They have an online store and are offering free shipping on a minimum order of 6 bottles. They also offer free local delivery with contactless payment. Right now, their tasting room is open by appointment (for locals) and for Valentine's day we are offering charcuterie and wine boxes (for pick up or delivery), a Sunday brunch board and tasting (must be booked in advance), and a 'sip, soak, savour' gift package with other local products. They are also excited to announce a partnership with Alpenglow Mountain Escapes to offer guided hikes/snowshoeing from the Nakusp Hot Springs to the winery with a wine tasting and cheese board.
Whitetooth Brewing Co. (Golden)
"We're constantly updating our COVID policies, based on recommendations and the latest PHO's. Right now, the Whitetooth Brewing Company Tasting Room is set up for takeaway only, allowing one bubble in at a time. We have our back-brewery area set up for indoor seating- this allows for optimal spacing between tables, and space for people to enter/exit the building (using the patio entrance). Recently, we teamed up with Reposados Tacos & Tequila offer burrito delivery, which has been a super fun food option at the brewery", says co-owner Kent Donaldson.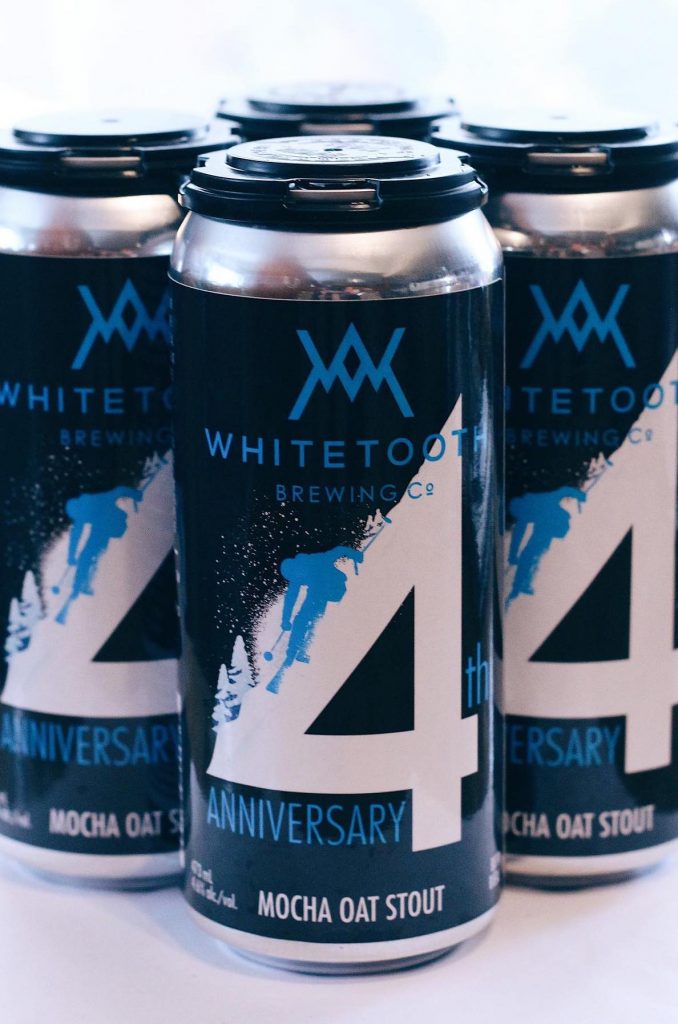 Over the past 10 months, they have introduced BC Wide Shipping, 'Free Local Beer Delivery', as well as shipping to Alberta – so there are now tons of options available to get your hands on Whitetooth beers without having to stop by the brewery.
To assist you with which businesses in the Kootenay Rockies are open, these communities maintain lists of their businesses: Castlegar, Cranbrook, Columbia Valley, Fernie, Golden, Kimberley, Nelson Kootenay Lake, Revelstoke and Rossland.
~ Take extra time to research and plan your trip in advance. Many of our tourism businesses and services have adopted new COVID-19 protocols and changes to their schedules or policies to ensure your safety. You'll want to become familiar with them ahead of time.
~ If you normally travel with extended family or with several friends, consider travelling in a smaller group. Travelling with fewer people makes it easier for you to practise physical distancing in public, and may have less of an impact on the destination.
~ Consider a slower travel pace to help curb the spread. Instead of checking in and out of multiple destinations during one trip, choose one or two destinations and one/two accommodation properties for your entire trip (and explore all the things to do & see nearby).
Related Stories
~ Kootenay Made
~ Kootenay Rockies: Farm to Fork
~ Stay Local, Support Local in the Kootenay Rockies
~ What's New of the Powder Highway?
~ Wet Your Whistle: Along a Kootenay Road Trip  
Top/cover photo courtesy of the Rossland Beer Company.
Please tag your images with #KootRocks on Instagram or Facebook to be featured on our social channels.