Your pet is not just a pet, they are part of your family. Yes? Let's find out how much you have taken that to heart with a little quiz.
Do you:
#1 –  Search out events they can have fun at?
#2 –  Look for places where they can do their favourite things?
#3 –   Celebrate with them on their birthdays and holidays like you would a (human) member of your household?
If you said yes to all three of these questions, then congratulations; your furry friend is indeed full-fledged member of your family (go ahead, give yourself a pat on the back).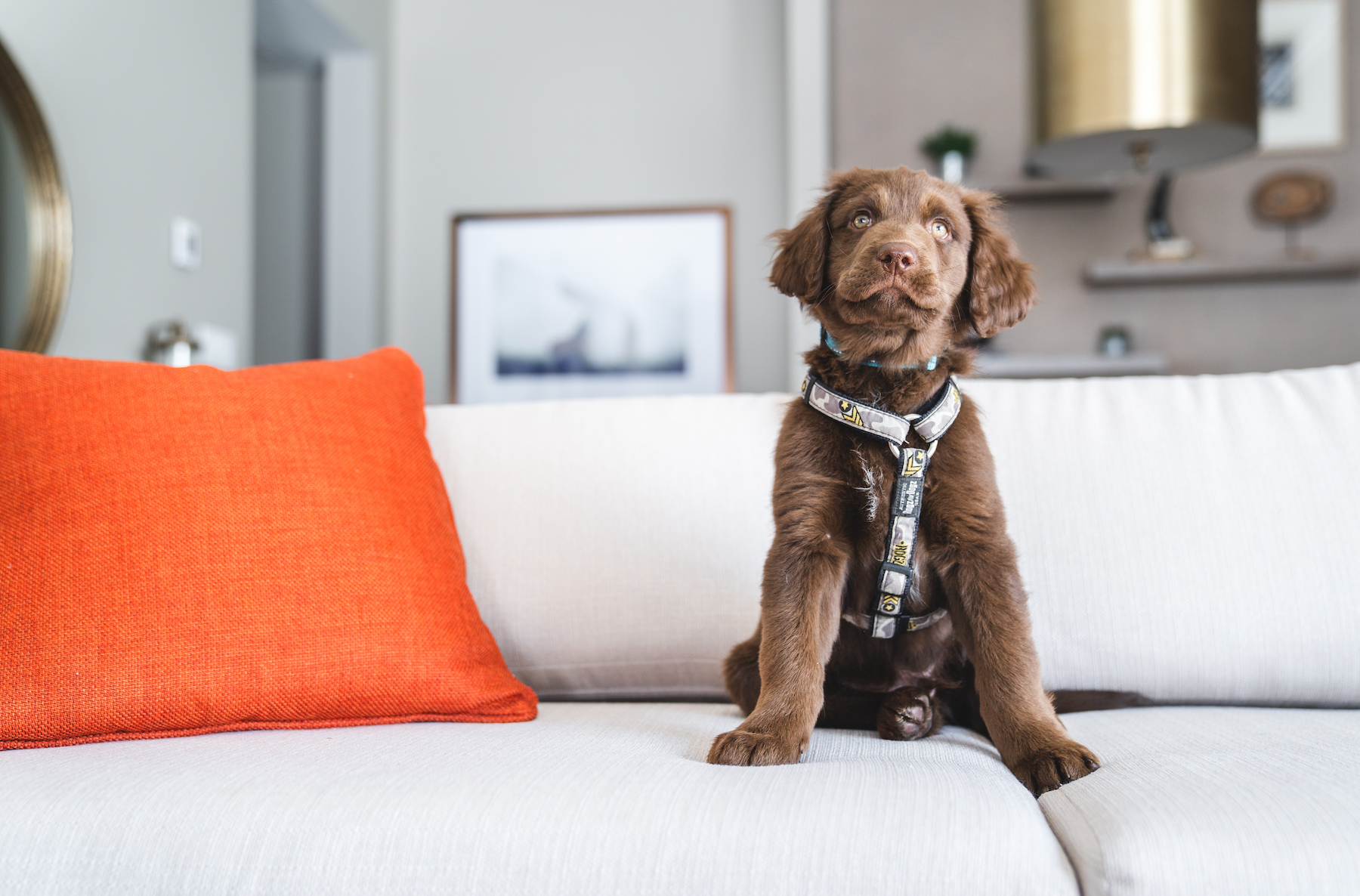 Photo by Christoph Johann at The Josie Hotel in Rossland, BC   
Missed the mark but justifying it because you play catch with them regularly? That's a good start. But if we're talking family-level activity, consider these points:
For a significant other's birthday, wouldn't you take them to dinner or check out the community calendar to find if their favourite band was in town? If you have children, wouldn't you look for special ways to surprise them by taking them to parades or the pool for an afternoon of swimming?
It's what you do for family, right?
So, if you've been neglecting that part of your pet's life, it's time to get your actions in line with your words.  Here are just a few places around the Kootenays to make it happen:
POOL PARTIES
Checking out the bbq, frisbee and all the divers jumping in, you'd come to a conclusion that this pool party was the classic summer kickoff pool party – for humans. But this party is reserved for those who doggy paddle (literally). Each year, Fairmont Hot Springs Resort closes their pool for maintenance and throws one last hurrah – with the pooches. And why not? Our canine family deserve luxury time, too.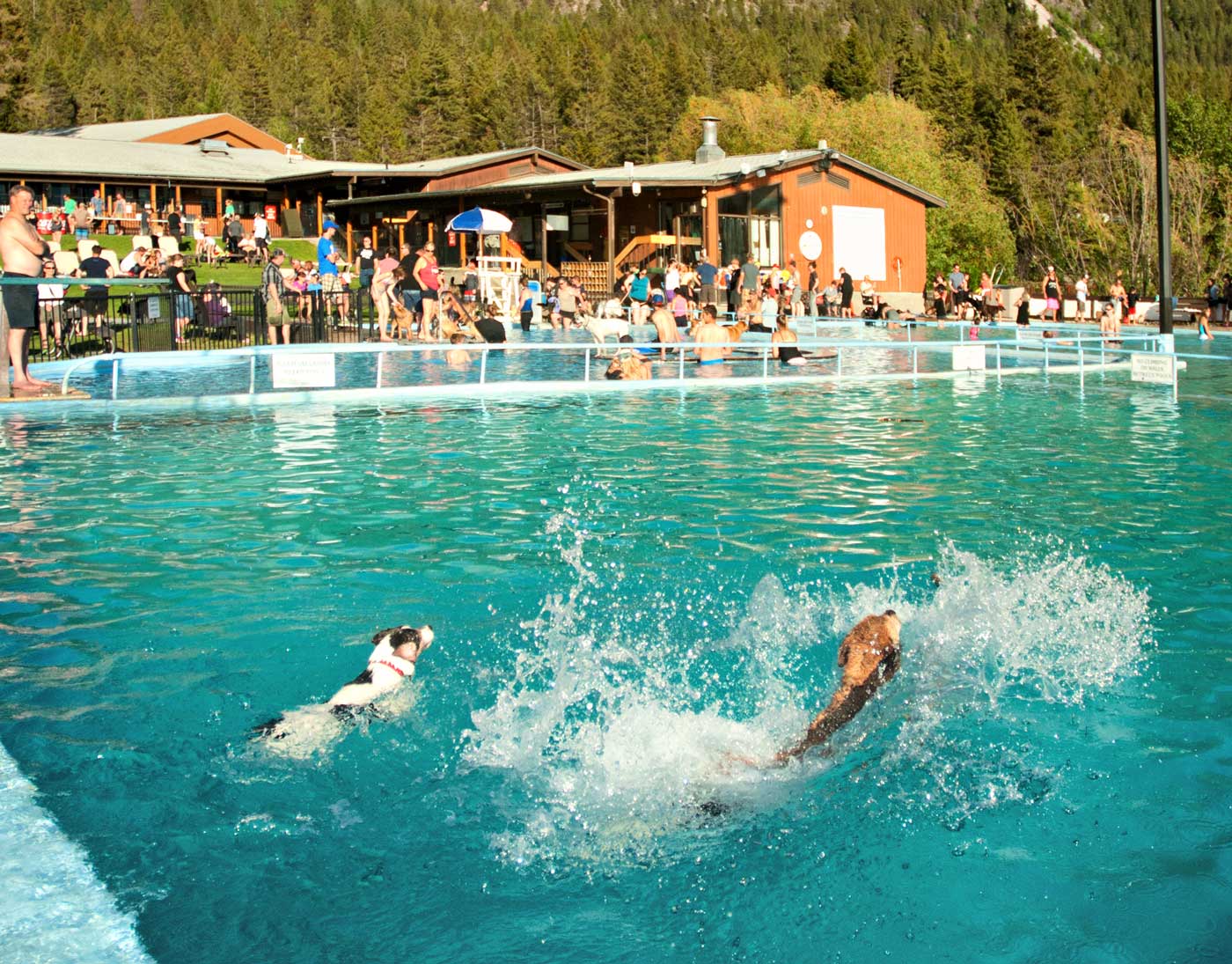 Photo courtesy of Fairmont Hot Springs Resort
And while the dogs are letting loose at the Pooch Plunge, they're also giving back to fellow furry buds: The event is a fundraiser for both Global Animal Lovers and ICAN, two organizations created to protect animals.
Many who attended the Pooch Plunge in the past noted that they'd be back this year, echoing Rhonda's sentiments surrounding her pooch plunging participant: "Duke had a great time!" If your dog wants in on the action, mark your calendar for early May (each year).
PARKS
Adults have happy hour. Children have play dates. Doesn't your dog need a social hour, too?
Yup. Enter dog parks. I'm not talking the kind that's a plot of grass with a chain-link fence wrapped around it; think instead of your favourite city park: it includes elements of nature, provides creature comforts like shelters and benches, and within its borders, it lets you roam without restriction.
Now scale that for dogs.
That's what the Fernie Pet Society has in mind as they plan a new dog park – the Fernie Railyard Dog Park. They even have an architect, Leslie Lowe, designing the entire area. Lowe's believes that a good dog park "replicates the experience of frolicking in the wide-open, ever-stimulating wild, making dogs feel at ease by placing them in a setting that feels naturally familiar."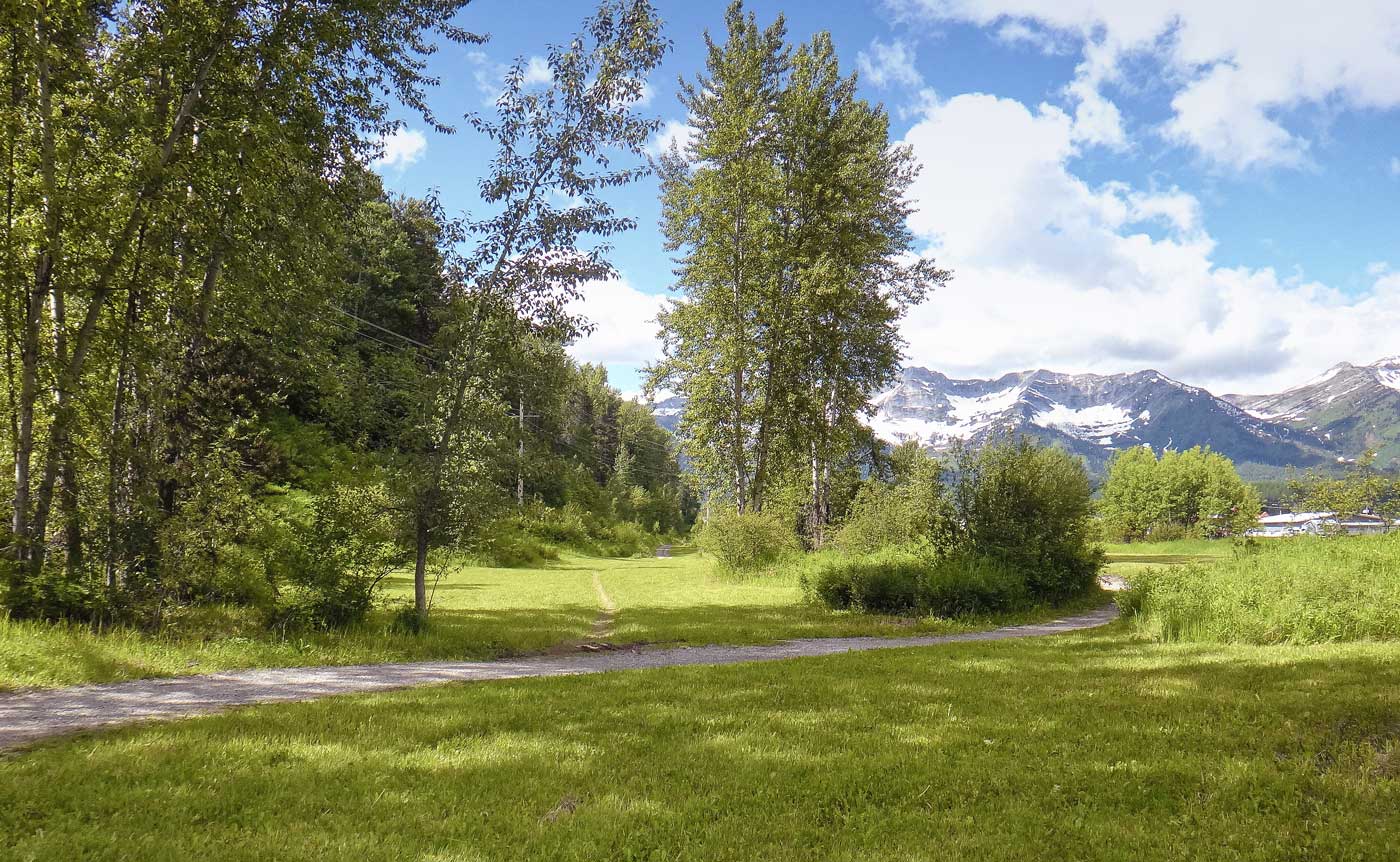 To make that happen, Fernie's dog park will include a vegetated plaza, decorated walking paths; a weatherproof pavilion; a water park; and play area with tunnels, a slide, and climbing ramp. If you end up playing as much as your pup, no judgement here.
Kokanee Creek Provincial Park offers a "dog beach" located just around the corner next to the boat launch at the north-end of the Park. Plus, their trails are accessible to your furry friend (while on-leash).
RACES
You take your dog out when training for an upcoming 10K, right? But then leave them at home on race day? With all that training in, let them get some competition time in, too.
Golden gives canines the chance to get competitive during their annual Canada Day Kicking Horse Country Dash in Golden, BC. Starting and finishing in Golden's "Spirit Square", the timed 5K and 10K event utilizes the town's Rotary Trail, which runs along the Kicking Horse River, through forested areas and past Reflection Lake.
Even if your pal hasn't been training, they still love to stretch their legs; this race lets you both go at your own pace. "Run as an ambitious athlete or as a family," says Ruth Hamilton of Golden's Chamber of Commerce.
RAILS TO TRAILS/OTHER TRAILS
Many of our community rails-to-trails allow for dogs to explore on-leash with you. And we have endless hiking and mountain biking trails that allows you take your favourite buddy with you when out exploring!
Check-in with each Kootenay community Visitor Centre (when you visit) to find out which trails are pet-friendly (on and off-leash).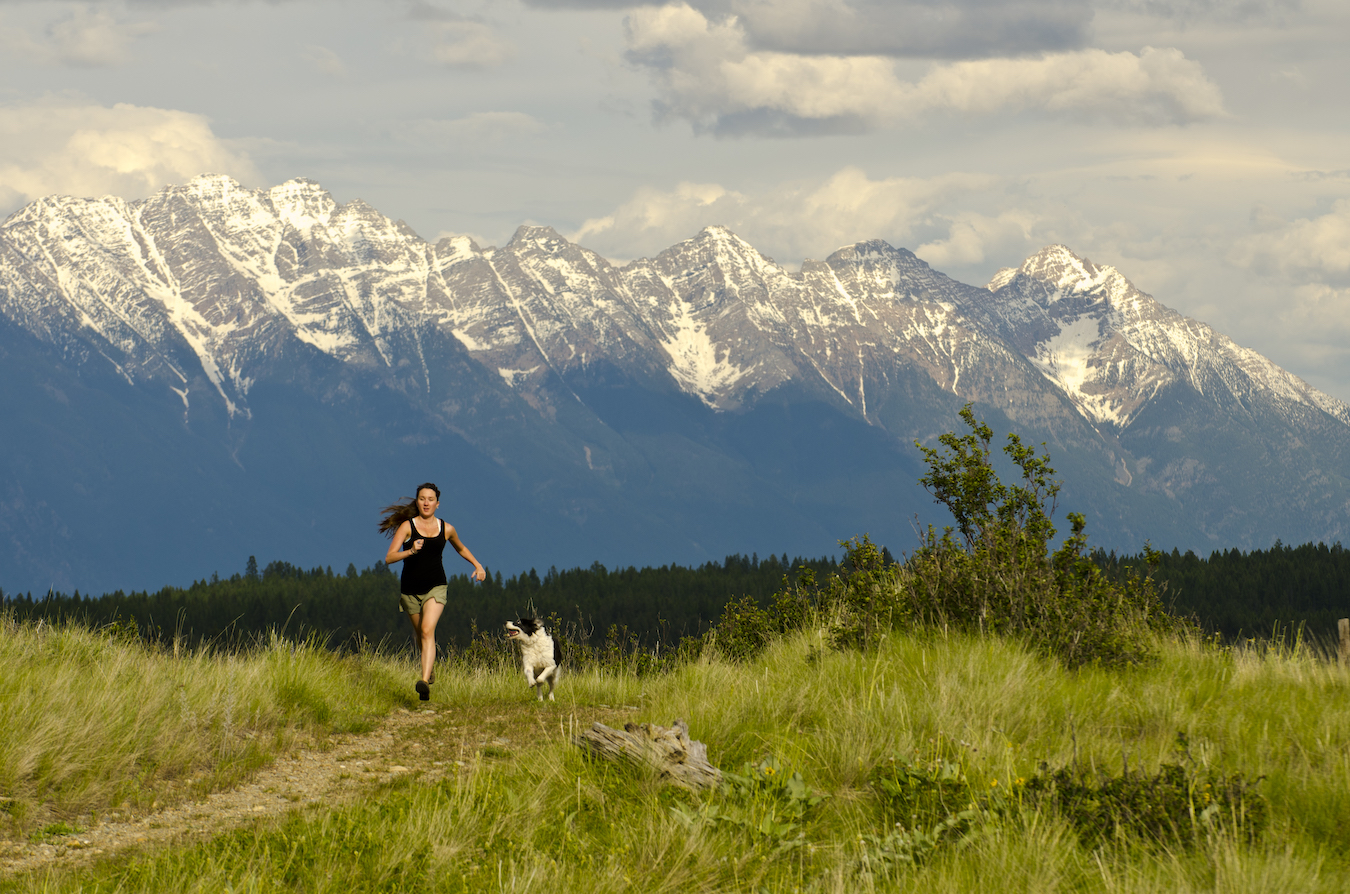 Kimberley's Volksmarch Trail, photo by Pat Bates
RESORTS
Wide open spaces for daytime exploration. Suites outfitted for evening relaxation with heated floors and custom-made beds. Soothing music to ease away the stresses of daily life. Spa services on site. And nutritious meals that can be customized to fit dietary needs.
No, this isn't for you, dear human. It's for your furry buddy. These resorts are so catered to the enjoyment of your pets, it could become part of a regular rotation of play (and not just when the humans are away).  Here are a few exceptional resorts who offer great "furry" packages:
Creston – Li'l Mutt Pet Resort
Radium Hot Springs/Edgewater – Rocky Mountain Pet Resort & Spa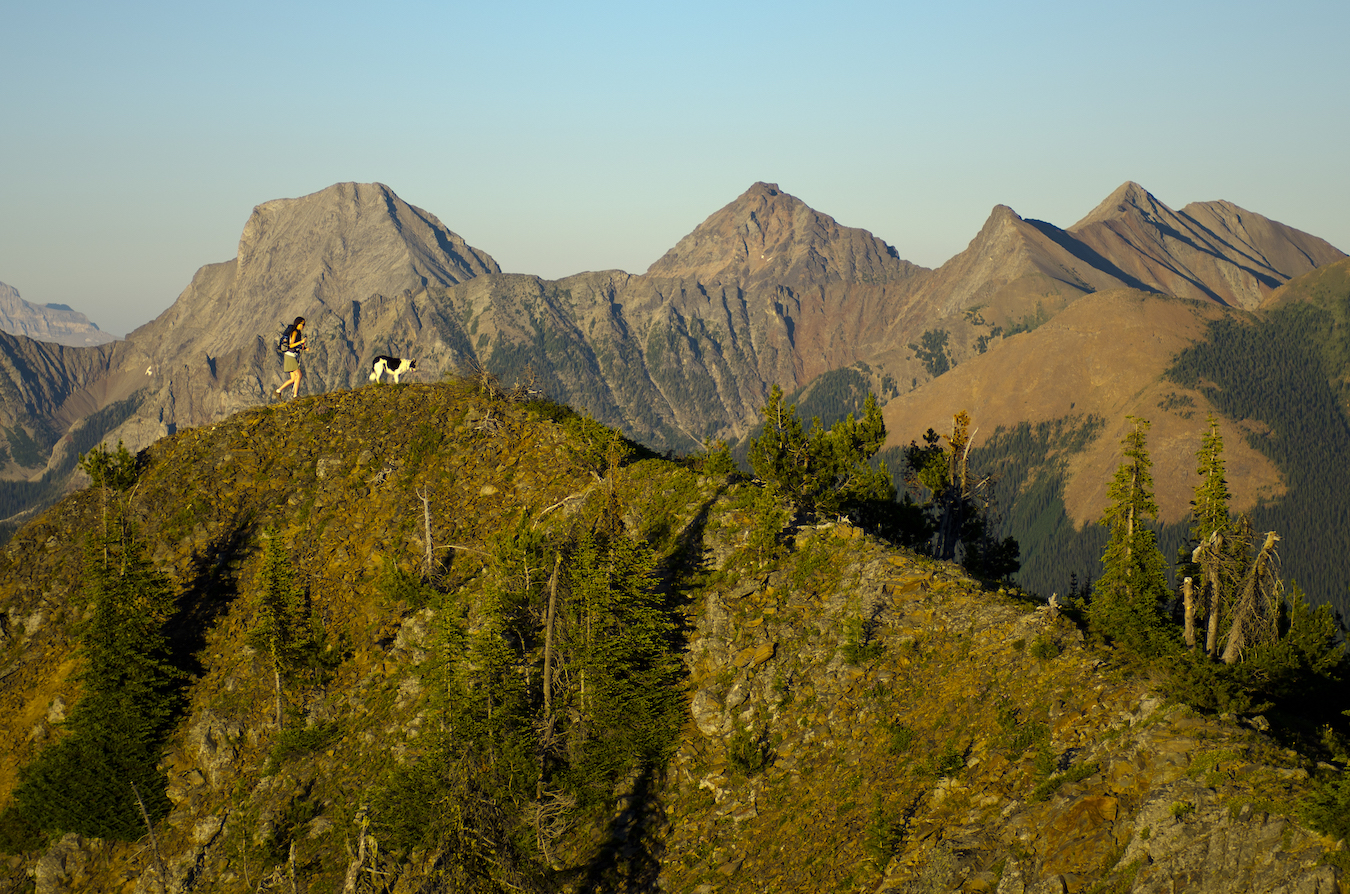 Out exploring the backcountry with your favourite hiking buddy, photo by Pat Bates
~ Take extra time to research and plan your trip in advance. Many of our tourism businesses and services have adopted new COVID-19 protocols and changes to their schedules or policies to ensure your safety. You'll want to become familiar with them ahead of time.
~ If you normally travel with extended family or with several friends, consider travelling in a smaller group. Travelling with fewer people makes it easier for you to practise physical distancing in public, and may have less of an impact on the destination.
~ Consider a slower travel pace to help curb the spread. Instead of checking in and out of multiple destinations during one trip, choose one or two destinations and one/two accommodation properties for your entire trip (and explore all the things to do & see nearby).
Related Stories
~ 3 Legendary Kootenay Hikes – You May Have Never Heard Of
~ Easy Kootenay Hikes: To 360 Degree Vista Views
~ Hidden Waterfalls in the Kootenays
~ Kootenay Hacks: Tips Before You Go Exploring
~ Out Your Back Door: Kootenay Community Treks
Words by Gina Begin.  Cover photo by Christoph Johann at The Josie Hotel in Rossland, BC.  
Gina Begin – Although she's a Florida girl, exploration called her away after the final bell of her high school career. On a quest to reach the distant adventures of North America, she lived in her car, traveling to ski the backcountry of Alaska, sleep under the northern lights in the Yukon Territory, ice climb Colorado's frozen canyons, photograph Nova Scotia's coves, backpack in southern US wildernesses and munch on sugared tamarindo in the jungles of Mexico. But after three years living on the road and seeing the many wonders this continent had to offer, she chose the place she knew would fit an explorer looking for a lifetime of wild wonder: British Columbia. Dual citizenship in hand, she settled along the Powder Highway in the Selkirks and is making her home between four walls and deeply wooded mountains.
Please tag your images with #KootRocks on Instagram or Facebook to be featured in future stories.
(Original published date in April 2o17.)