Chosen by our fans/followers, here are your top 5 picks for the best "Family Picnic Spots" in the Kootenays!
#1 — Kokanee Creek Provincial Park
Kokanee Creek Provincial Park is situated in the Slocan range of the Selkirk Mountains and borders the West Arm of Kootenay Lake 19-kms (12 mi) from Nelson on Highway 3A. With 257 hectares, this park has over a kilometre of sandy beaches and a large delta area.
Kokanee Creek Park is a West Kootenay landmark. In addition, to the sandy beach area with picnic tables & boat launch, the park has a network of walking/hiking trails in and around the park.  Kokanee spawning channels are also within the park's boundary.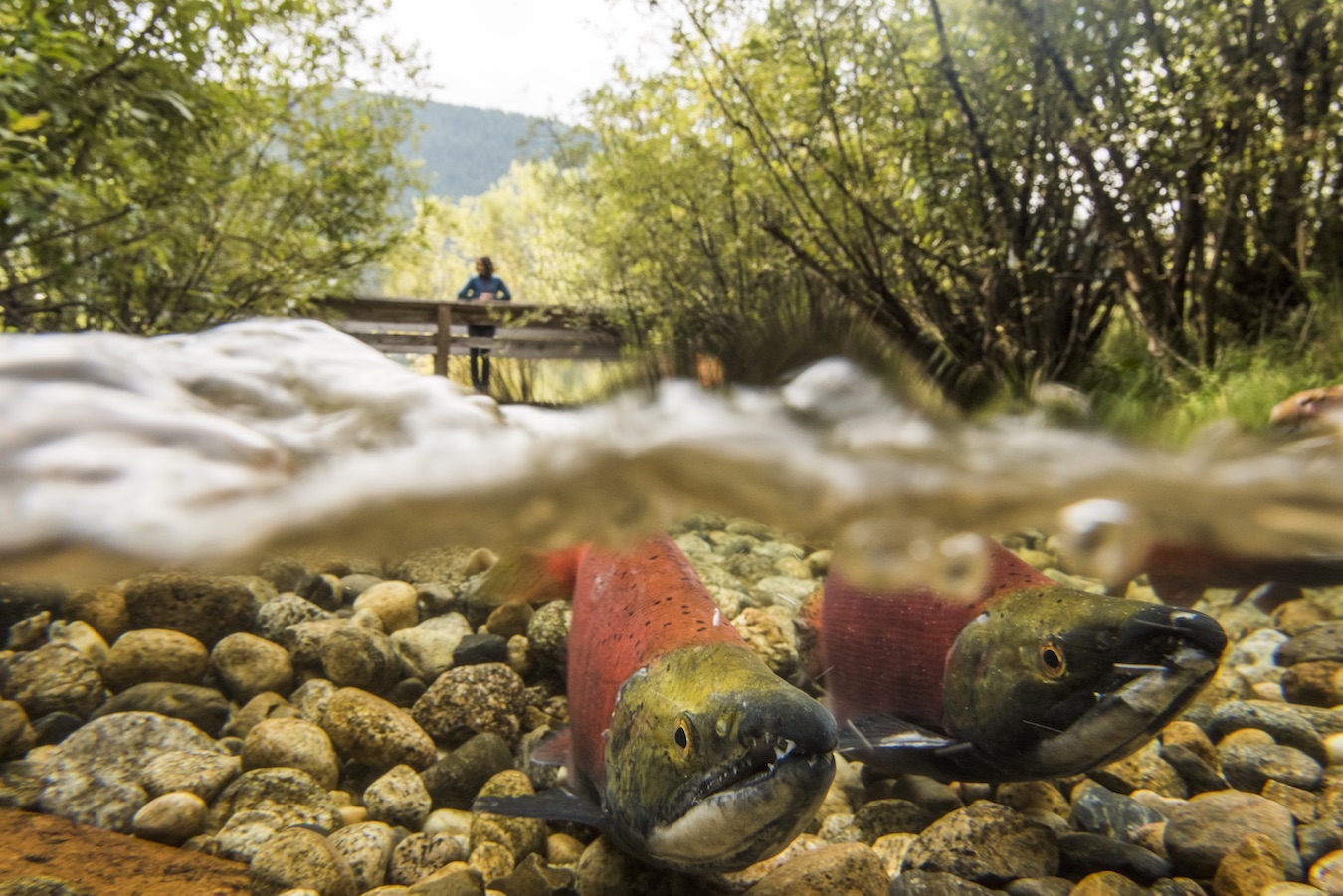 Annual Salmon Run in Kokanee Creek Provincial Park; photo by Kari Medig
#2 — Lockhart Creek Provincial Park
Located 40-km north of Creston on Highway 3A (near Boswell/Sanca), adjacent to Lockhart Beach Provincial Park this small park provides the only easy access to public camping along the south arm of Kootenay Lake. The day use area is located near a sand/fine gravel beach, where visitors can relax and enjoy the clear waters of Kootenay Lake.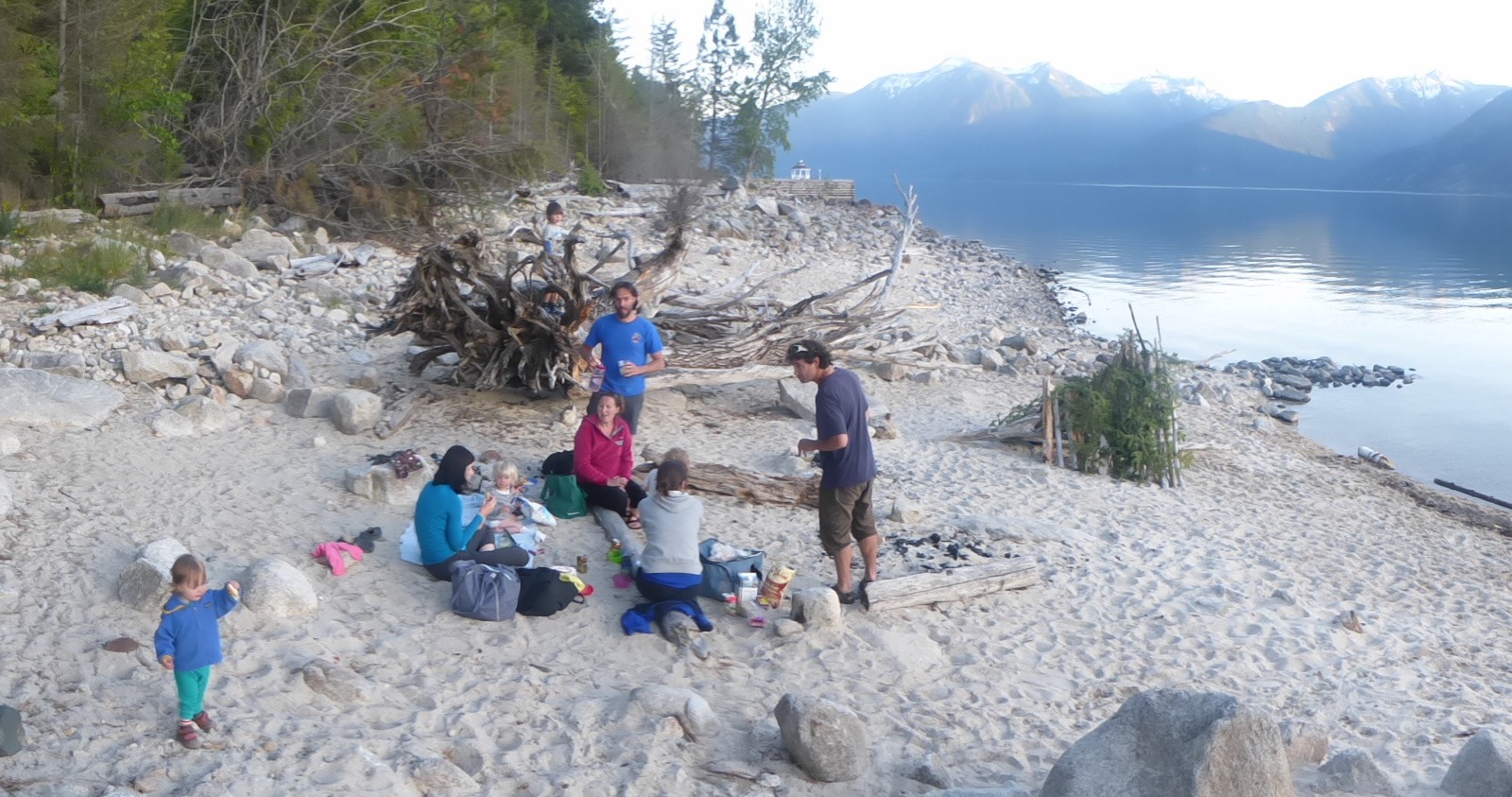 Picnic with friends on Kootenay Lake; photo by Herve Durand
#3 — Premier Lake Provincial Park
Located 60-km (36 mi) northeast of Kimberley, south of Fairmont Hot Springs is Premier Lake Provincial Park. Premier Lake is one of the key recreational fishing lakes in the Kootenays. The emerald green lakes of Premier and four smaller lakes, Canuck, Yankee, Cats Eye and Quartz offer a unique and varied fishing experiences. The day use area at Premier Lake has lakeside picnic tables, a sheltered beach & boat launch.
Did you know Premier Lake is one of three freshwater lakes in the "world" that has freshwater coral?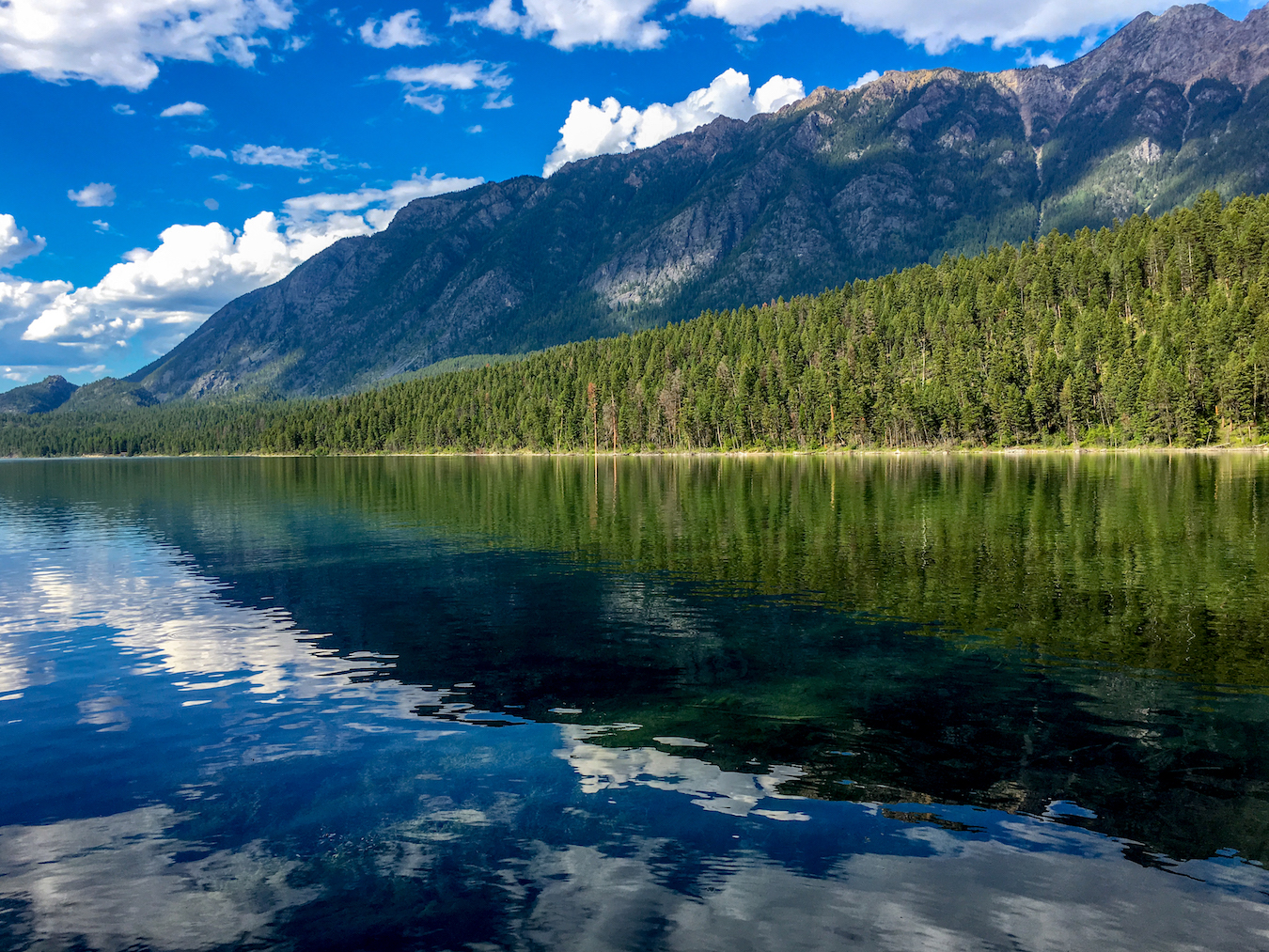 Looking out onto Premier Lake; photo by Shannon Harrison
#4 — Rotary Lakeside Park & Beach
Located at the foot of Nelson's landmark orange bridge (B.O.B.), the park features a long, sandy beach & change rooms, wide promenade, green spaces with shade trees, an adventure playground, bocce & tennis courts, a covered picnic and BBQ shelter, a greenhouse, a boat launch and a permanent labyrinth.  It is also home to Nelson's restored Streetcar 23, which runs along a portion of the waterfront during the summer months.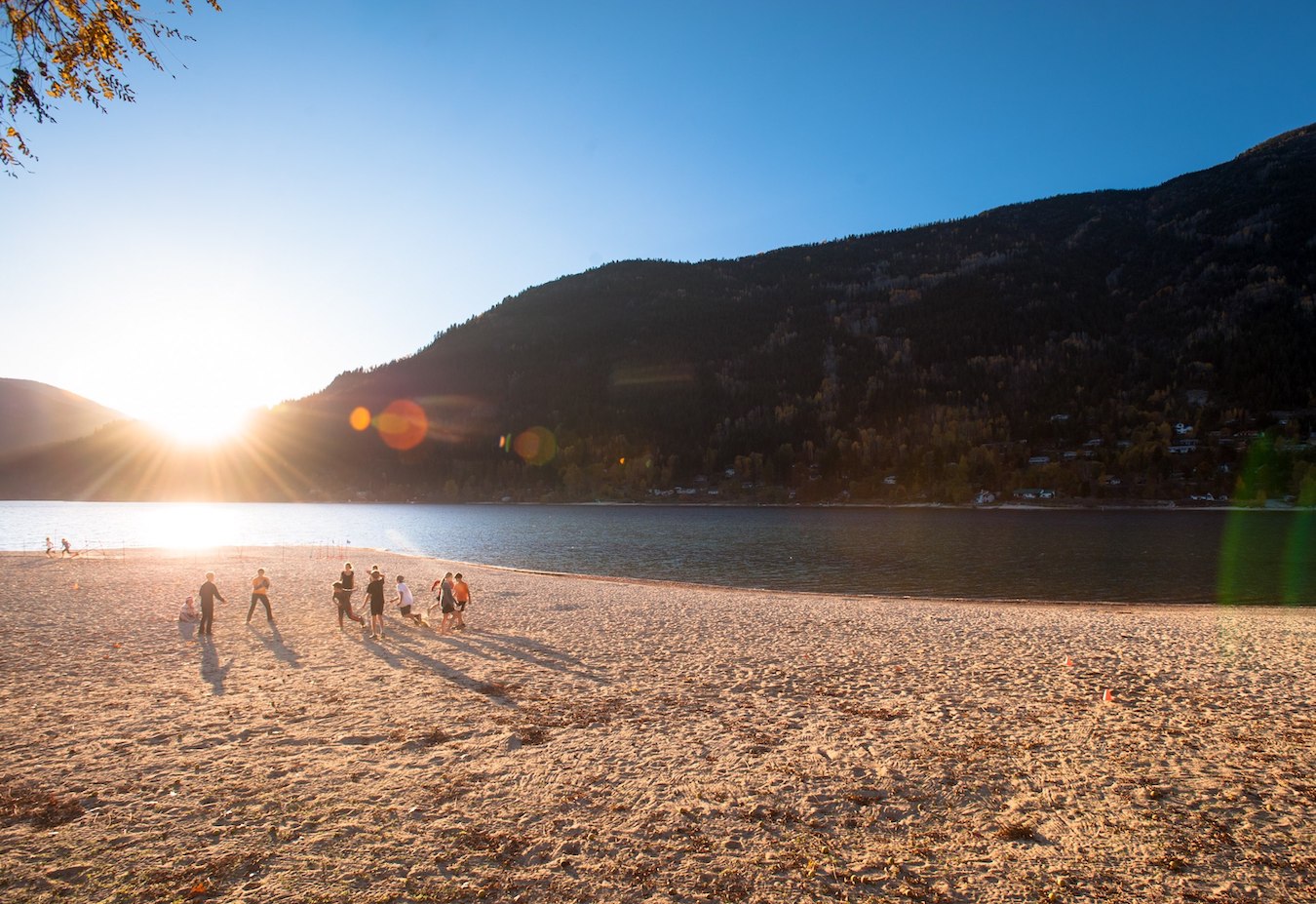 Sandy beach of Rotary Lakeside Park; photo by Kari Medig
#5 — Wasa Lake Provincial Park
A family destination since 1950, Wasa Lake is one of the warmest in the Kootenays.  This park is open year-round and the campground is open from May until mid-September.  This park has four-day-use/picnic areas including 45 picnic sites.
Campers' Beach located across from the campground has a change house, picnic tables, sandy beach, children's playground with grassy area and toilets. Horseshoe Beach located 2-km north of the campground has picnic tables, sandy beach, grassy area and toilets. Pete's Beach day-use area has picnic tables, pebbly beach, a grassy area and toilets. And, the Main Beach has a large sandy beach with swimming, picnic tables, paved parking and toilets.
Other Honourable Mentions
~ Blanket Creek Provincial Park (near Revelstoke)
~ Champion Lakes Provincial Park (near Rossland/Trail)
~ Columbia Lake Provincial Park (Canal Flats)
~ James Chabot Provincial Park (Lake Windermere in Invermere)
~ Jim Smith Lake Provincial Park (Cranbrook)
~ Kikomun Creek Provincial Park (Wardner; halfway between Cranbrook & Fernie)
~ McDonald Creek Provincial Park (Nakusp)
~ Mount Fernie Provincial Park (Fernie)
~ Moyie Lake Provincial Park (south of Cranbrook)
~ Nancy Greene Provincial Park (near Rossland/Trail)
~ Syringa Provincial Park (near Castlegar)
Know Before You Go – The Seven Principals of Leave No Trace provide an easily understood framework of minimum impact practices for anyone visiting the outdoors. They are easy to follow and are easily implemented. The Seven Principals are; Plan Ahead & Prepare, Travel & Camp on Durable Surfaces, Dispose of Waste Properly, Leave What You Find, Minimize Campfire Impacts, Respect Wildlife and Be Considerate of Other Visitors. Consider these principals and put them into action on your next adventure! Want to learn more? Leave No Trace Center is an excellent resource for actions in reducing your footprint while being outdoors.
Related Stories
~ 6 Secluded Swimming Holes in the Kootenays
~ Easy Kootenay Hikes: To 360 Degree Vista Views
~ Family Adventures On & Off the Beaten Track
~ Family Fun on the Powder Highway
~ Funky Kootenay Fun Facts
~ Getting into Hot Water: Kootenay Hot Springs
~ Hidden Waterfalls in the Kootenays
~ Out your Back Door: Kootenay Community Treks
~ Pit Stops for a Kootenay Road Trip
~ Quirky Attractions Only Found in the Kootenays
Story by KootRocks Staffer (Shannon Harrison).  Cover/top photo by David Gluns.
(Original published date: July 2018)