It's exhilarating. It rides the line between pain and pleasure. It's really, really cold, very quick, and it's darned fun. A Polar Bear Swim may not be for everyone, but if you are among the hot-blooded crowd who feel the need for an iced mid-winter dip, bring your swimsuit and your axe (to chop through the ice) and join fellow Polar Bear swimmers at organized swims across the Kootenays this winter.
Most official, organized Polar Bear dips occur on New Year's Day. Whether as a ritual cleansing after a heady night before, or an invigorating way to kick off a whole new year, you can't beat a frigid plunge for a unique Kootenay winter experience.
One of the largest Polar Bear Swims with well over 100 swimmers is the Kootenay Coop Radio/Friends of Kootenay Lake splash at Nelson's Lakeside Park at noon on New Year's Day. The swim is also supported by the youth climate change action group Fridays for Future. Get your pledge forms at the KCR office on Hall Street and help keep these three Kootenay community initiatives sailing through 2020!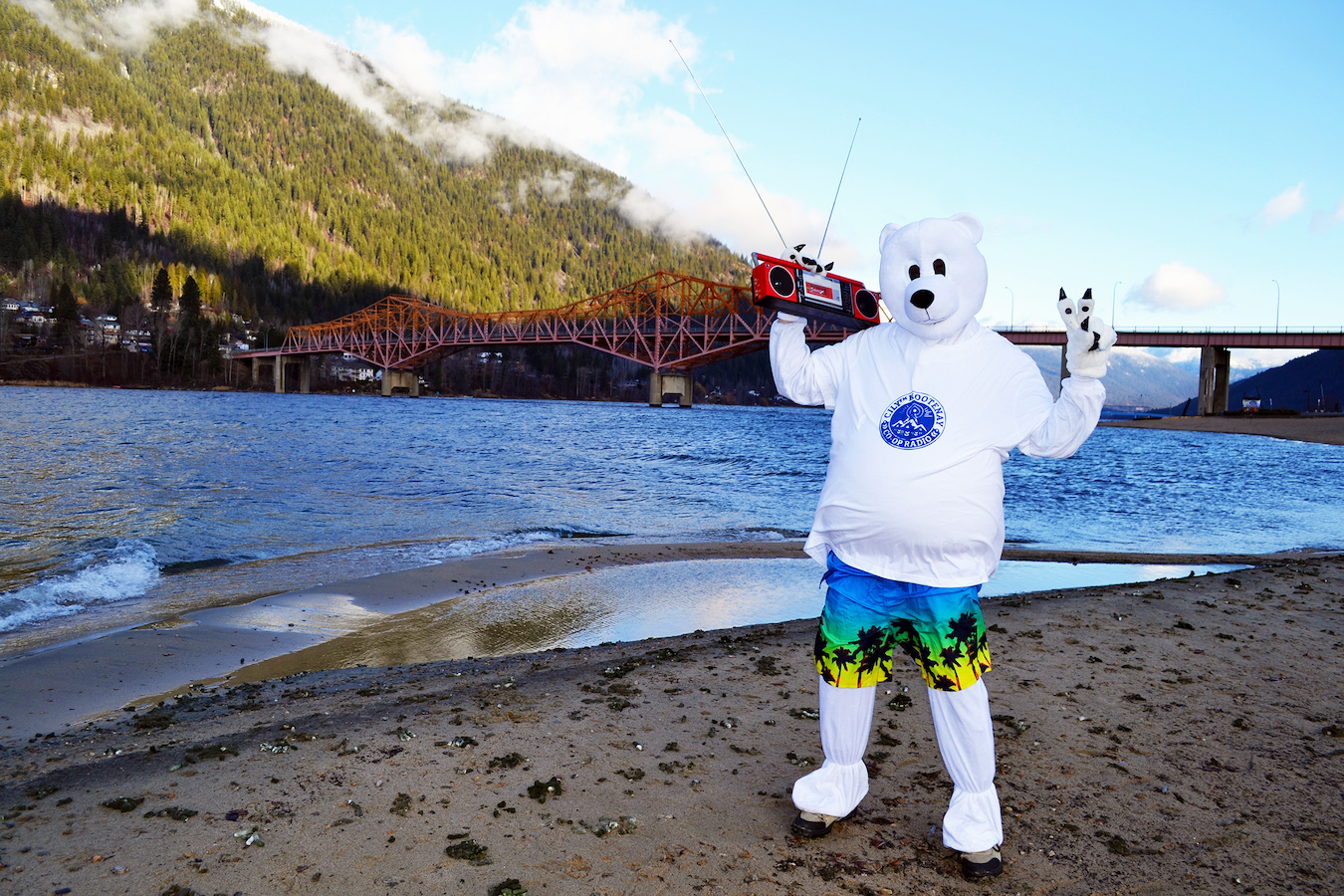 Photo courtesy of Nelson's Kootenay Coop Radio/Friends of Kootenay Lake
Polar Bear Swims will also be happening at noon on January 1st  in Trail and Kaslo. Organized by Trail's 44th Field Engineer's Squadron, who help with safety and a huge bonfire to thaw swimmers post-dip, the 34th annual Trail Polar Bear Swim at noon Gyro Park is also expected to attract over 100 shivering souls to the banks of the Columbia River.
Kaslo's New Year's Day swim is an annual fundraiser for North Kootenay Lake's historic Langham Cultural Society, which maintains the historic Langham Theatre as the cultural hub for North Kootenay Lake. Get sponsored, roll in the pledges and enjoy a very short swim, a bonfire and bar-b-q at noon on New Year's Day at Kaslo Bay Beach.
If the relatively warm West Kootenays are too tame for you, Invermere's RAD Recreation Adapted Society is hosting their annual icy fundraiser on Family Day weekend (Sat, Feb 15, 2020). The Lake Windermere ice will be cut and open for dips from noon until 6 pm at Kinsmen Beach. Funds raised will help purchase specialized equipment to help paralyzed athletes hit the slopes, mountain bike trails, and golf courses of the Upper Columbia.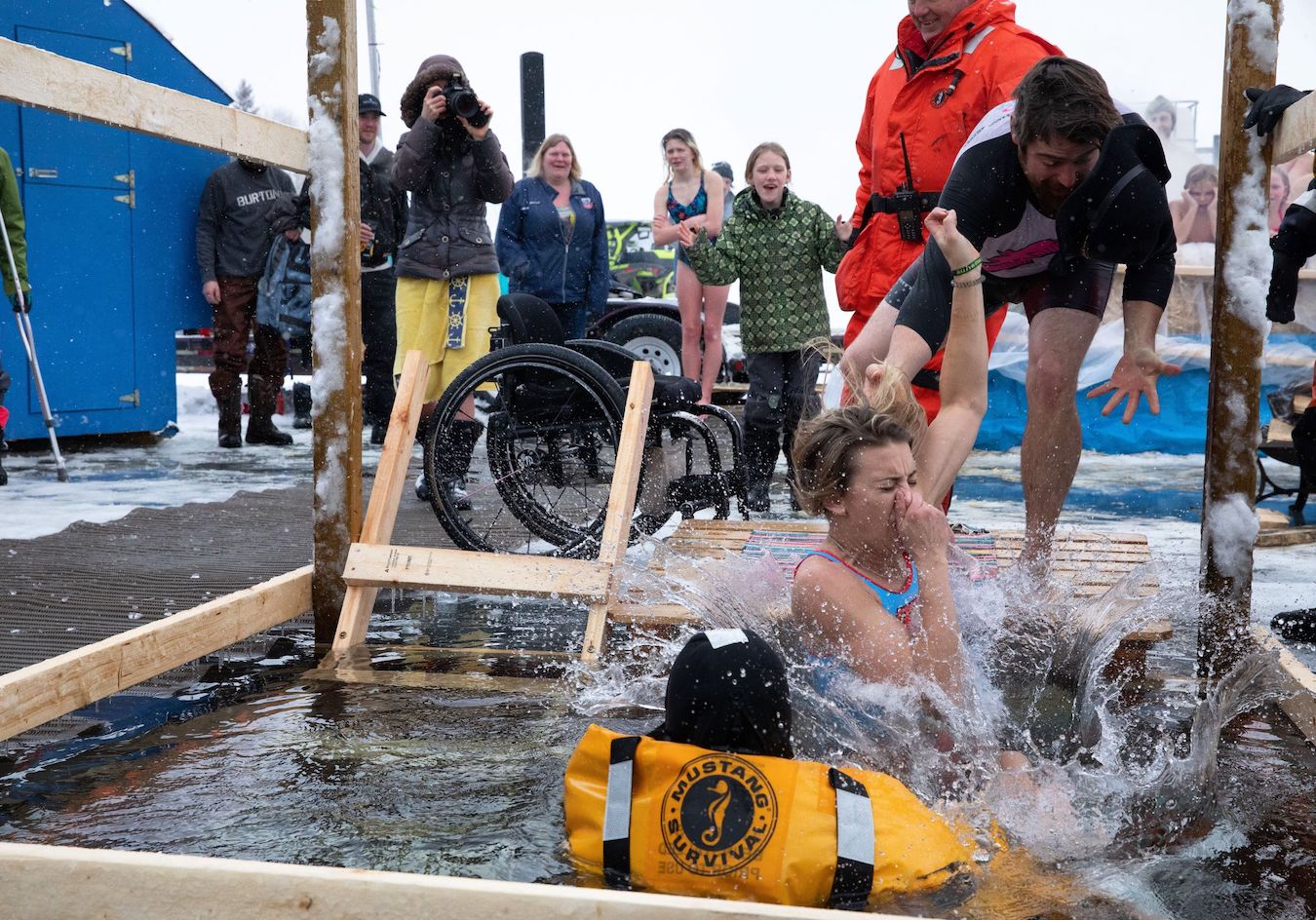 Photo by Tannelle Bolt, courtesy of Invermere's RAD Recreation Adapted Society
Know Before You Go – Are you unsure of where you're going, things to pack and best practices? Don't be shy – just ask! Us Kootenay folk are friendly and knowledgeable. We'll get you on the right track with the information required to be a responsible visitor. BC Adventure Smart is a great resource to help you get informed before heading into the outdoors!
Related Stories
~ 9 Things to Aspire To Do on the Powder Highway this Winter! 
~ Funky Finds on the Powder Highway
~ Invermere's Whiteway: And All Things Winter
~ Kootenay Winters: And Why we Love Them!
~ Our Kootenay Winter Celebrations: Along the Powder Highway
~ Planning your Powder Highway Road Trip: The Local Way
~ Powder Highway 101
~ Top 6 Things to Do with the White Stuff
~ Where the Locals Hang-out in the Kootenays

Top/cover photo courtesy of Invermere's RAD Recreation Adapted Society.
Words by Dave Quinn. Born in Cranbrook, BC; Dave is a wildlife biologist, educator, wilderness guide, writer and photographer whose work is driven by his passion for wilderness and wild spaces. His work with endangered mountain caribou and badgers, threatened fisher and grizzly, as well as lynx and other species has helped shape his understanding of the Kootenay backcountry and its wildlife.
Please tag your images with #KootRocks on Instagram to be featured in future stories.