Meet Ryan Bavin. Based in Invermere, Ryan has a passion for the outdoors, mountain photography and glass art. He is lucky enough to spend almost every day of the summer outdoors, and has no problem getting out in the cold either! His job as a backcountry guide allows him to take people from all over the world to explore the mountains he hold close. Check out his Instagram account to see more of his work!
We asked Ryan three questions, here are his responses:
If you could choose one spot in the Kootenays that make you the happiest, where would it be?
That is a tough question as there are so many places! When I think about it though, I would have to say the Purcell Mountains. I realize this is pretty broad based, but I've been spending time in the Purcells since before I can remember, always with family and friends. Key spots would be; the Chalice/Septet Creek areas, Lake of the Hanging Glaciers, the Bugaboos and Silent Pass.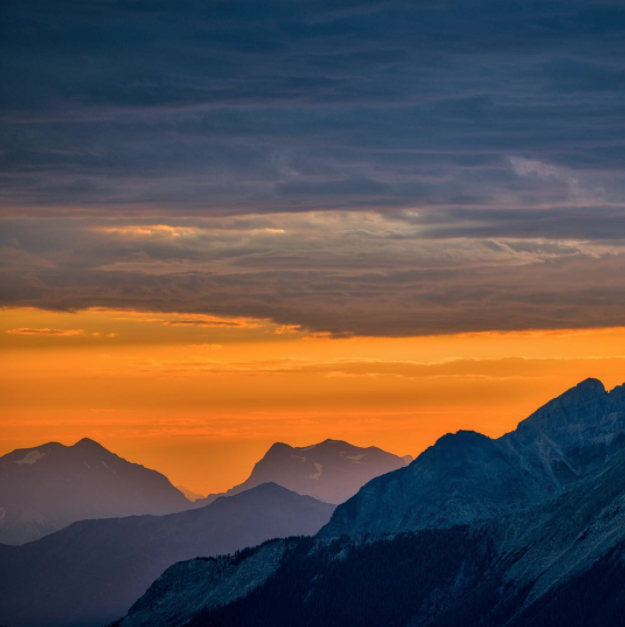 Name your 'Top 3 Things' you love about the Kootenays. 
#1 – Close access to pristine Mountains and Lakes.
#2 – The culture, which is somewhat vague but definitely unique! It is made up of people who are committed to a lifestyle that is a bit closer to the land and their surroundings.
#3 – The seasons, which, just as you're getting used to one, the next one is just around the corner to look forward to.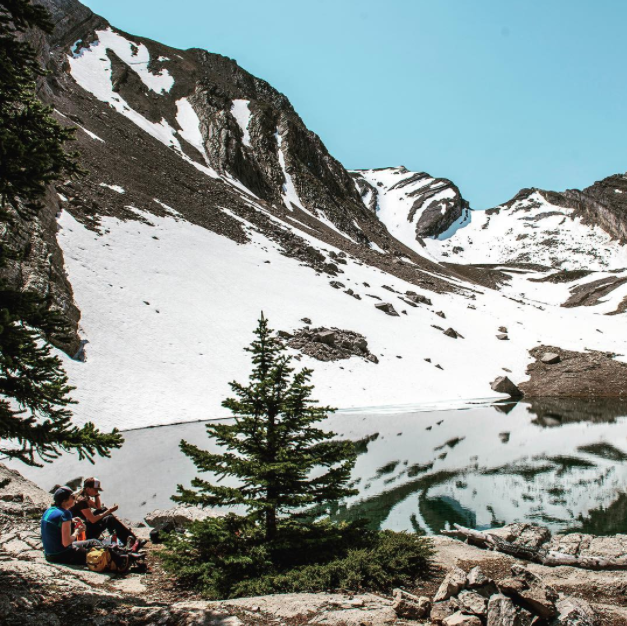 What's your favourite Kootenay season and why?
I would have to say my favourite season is the one that it happens to be at the time. I think that having such diversity in our seasons gives us something to look forward to. The different seasons bring different people to the area looking for different types adventure, relaxation or wellness. I always feel fortunate to be home in the Kootenays, any time of year.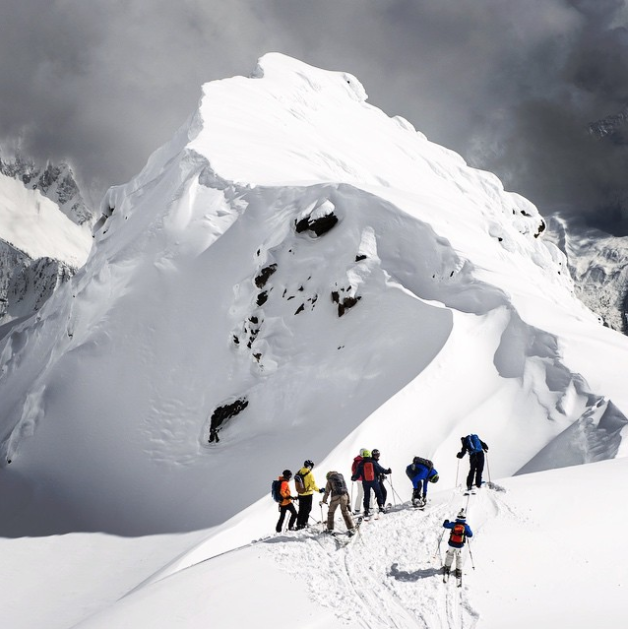 Quite the crew getting ready to drop in for some fresh powder lines!
~ Take extra time to research and plan your trip in advance. Many of our tourism businesses and services have adopted new COVID-19 protocols and changes to their schedules or policies to ensure your safety. You'll want to become familiar with them ahead of time.
~ If you normally travel with extended family or with several friends, consider travelling in a smaller group this summer. Travelling with fewer people makes it easier for you to practise physical distancing in public, and may have less of an impact on the destination.
~ Consider a slower travel pace this fall/winter to help curb the spread. 
Related Stories
~ A Kootenay Coffee Road Trip: Meet the Locals
~ Best Summit Hikes in the Kootenays
~ Easy Hikes to 360 Degree Vista Views
~ Funky Finds on the Powder Highway
~ Getting into Hot Water: Kootenay Hot Springs
~ Invermere's Whiteway: And All Things Winter
~ Kootenay Hacks: Local Tips Before You Go Exploring
~ Little Known Fall Secret: Larch Trees in the Kootenays
~ Outdoor Skating: Gliding on Frozen Lakes in the Kootenays
~ Planning Your Powder Highway Trip: Local Tips
~ Powder Highway 101
~ Stay Local, Support Local in the Kootenay Rockies
~ What's NEW on the Powder Highway?

All responses and images by Ryan Bavin. 
Please tag your images with #KootRocks on Instagram or Facebook to be featured on our social channels.
(Original story published in October 2018.)