You're familiar with the skiers' ultimate dream: a solid day on the mountain followed with relaxing with your ski buds in hot water. In the Kootenays, we've obviously got the skiing portion covered. For the latter part, you just need to pick your fave: Do you want hot water in the form of hot tubs or hot springs?
We've got both here, too.
The following are hot tubs that have a unique twist to them as well as hot springs that invite a winter wellness experience.
HOT TUBS
#5 – Retallack Lodge
Last fall, I headed to Retallack, a West Kootenay hot spot for cat skiing and heli-mountain biking. We were there to visit Phil Pinfold, Retallack's manager and majority owner. I shuttled with Phil and my boyfriend as they biked. The terrain was incredible, and I imagined the descent in the winter season would have the same smile-plastering effect on skiers.
But it sure made muscles sore. Phil had an answer for that.
Showing us what they were working on in preparation for cat skiing season, Phil led us to a small clearing adjacent to the lodge. It was here that they were working on their latest: a hot tub under the stars.
"Our … 12-person hot tub is great for a number of reasons," says Pinfold of the now-finished project. "Having the hot tub as a healing tool after a big day of cat-skiing or heli-biking is a tremendous asset to our clients. The fact that it is situated under the sky, surrounded by mature forest growth, overlooking a bumbling river just adds to the allure of the product we offer."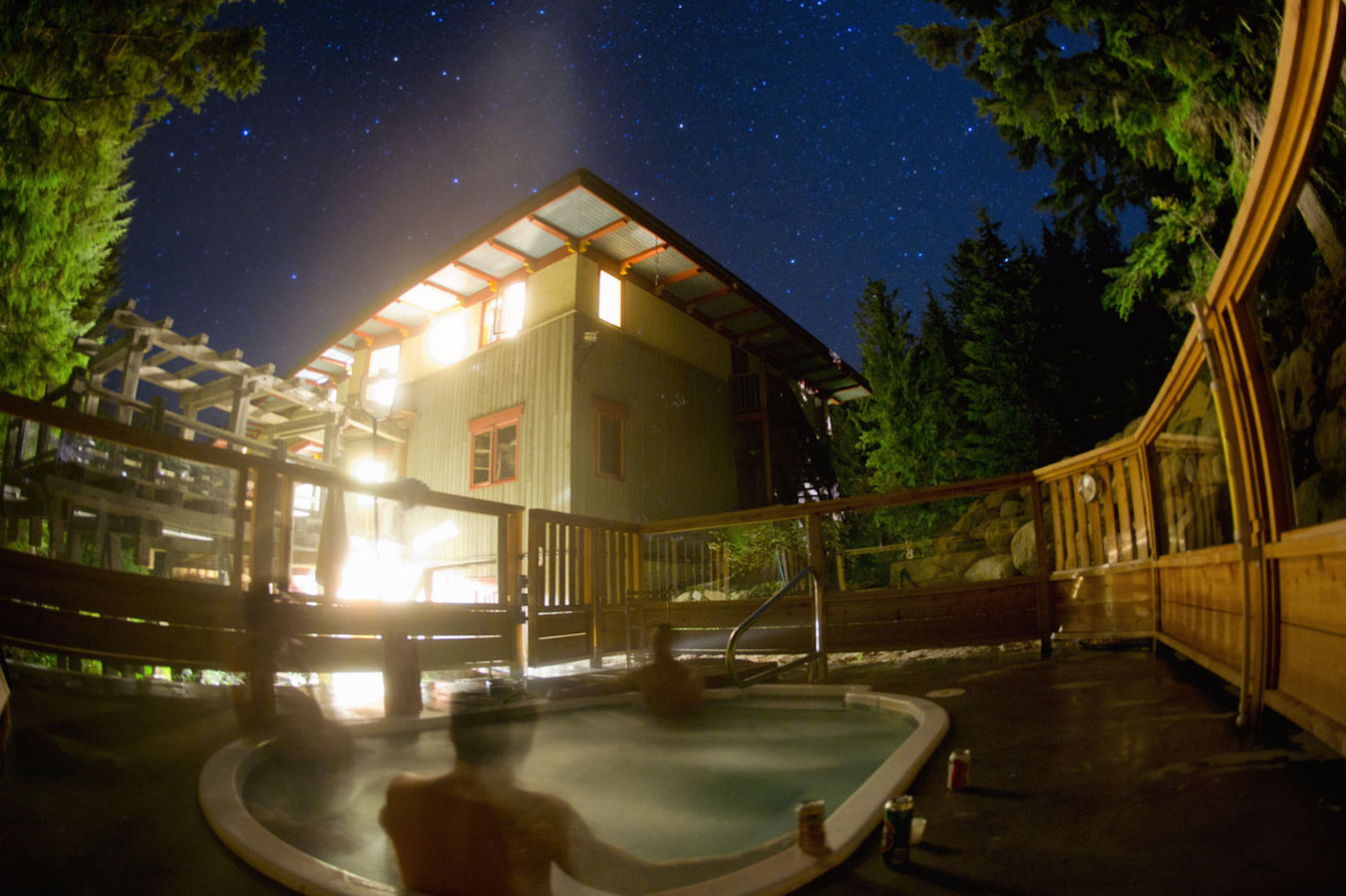 Retallack Lodge, photo by Phil Penhold
#4 – Fernie Alpine Resort
"It sits smack dab under the Elk Chair, which provides access to the famed Lizard Bowl, one of the 5 Alpine Bowls at Fernie Alpine Resort," says Matt Mosteller, Senior Vice President of Marketing & Resort Experience at Resorts of the Canadian Rockies.
Mosteller's talking about a hot tub. Not just any ol' hot tub, though; this one was featured in the "Hot Tub Time Machine," a 2010 comedy starring John Cusack, and is a point of pride at the resort when it comes to soaking options.
The hot tub, which belongs to the 4,600-square-foot Timbers Chalet, Matt says "It's probably the most famous hot tub … It's right under the lift and hidden in the cedars at Fernie."
#3 – Panorama Mountain Resort
"There's nothing like skiing into your accommodations, changing into a swimsuit, sliding into the hot pool, and relaxing while you watch the snow cats prepare the slopes for the next day," says Jamie Hurschler, Marketing Manager at Panorama Mountain Resort.
Hurschler describes a scenic experience: snowflakes falling atop your head while sitting in steaming waters, lights from the snow cats lighting up the ski trails in front of you. "It's literally right on the edge of the slopes," he says of the hot pools, which are accompanied by hot tubs and a sauna.
And not only are there views of the mountain, but there are views of the mountain village, which includes shopping and dining opportunities. "[The pools are] in the heart of the village," Hurschler says. "And since the pools stay open late, you can get dinner before or after soaking."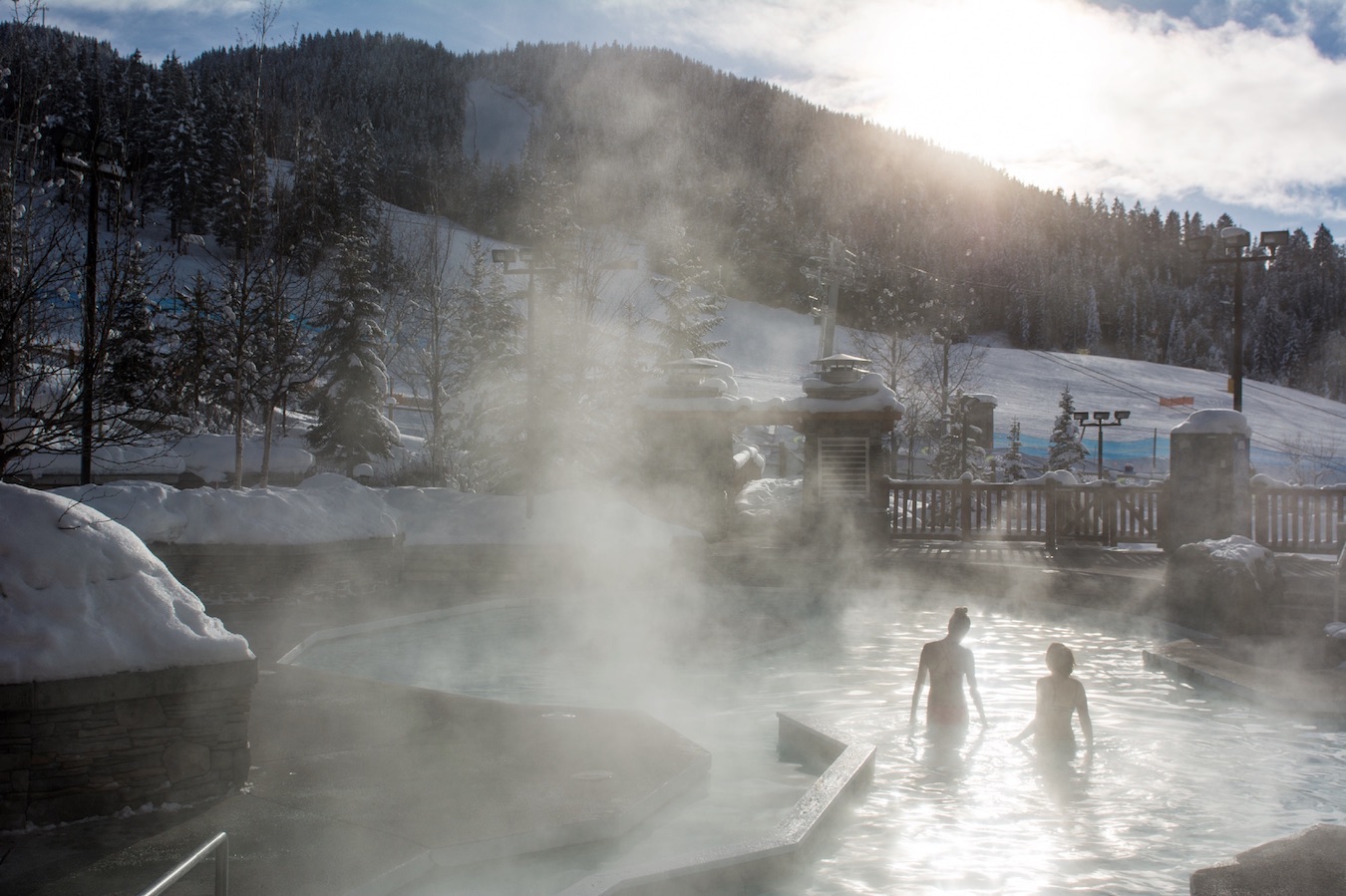 Panorama Hot Pools, photo by Kari Medig
#2 – CMH Bugaboos
"Hans broke trail into an opening with a spectacular view of Houndstooth and Bugaboo Spires piercing both the sky above and the steep Bugaboo glacier below. Old-growth forest framed the peaks and completed an alpine vista of rarely matched artistic balance and natural splendour. He turned to Thompson and said solemnly, 'I could buy this piece of Crown land and build a lodge for helicopter ski touring. What do you think?' – from Bugaboo Dreams: A Story of Skiers, Helicopters and Mountains
When asked what her favourite hot tub out of all the Kootenay area Canadian Mountain Holidays (CMH) lodges were, Tanya Otis, Public Relations Manager at CMH Heli-Skiing & Summer Adventures responded, "I'd recommend CMH Bugaboos Lodge near Invermere, the outdoor hot tub with views of the Bugaboos spires are gorgeous and incredibly unique."
That's saying something. CMH operates 12 heli-skiing lodges, with no small percentage of those being located in the Kootenays, a region famed for its wild-mountain views.
And it might be appropriate that the best hot-tub views of CMH are here: the Bugaboo Lodge is where the CMH family of heli-ski lodges–and arguably, heliskiing as a commercial venture–began. Thanks to Hans Gmoser, operations began in the Bugaboos in 1965; the lodge remains the most established of CMH's twelve.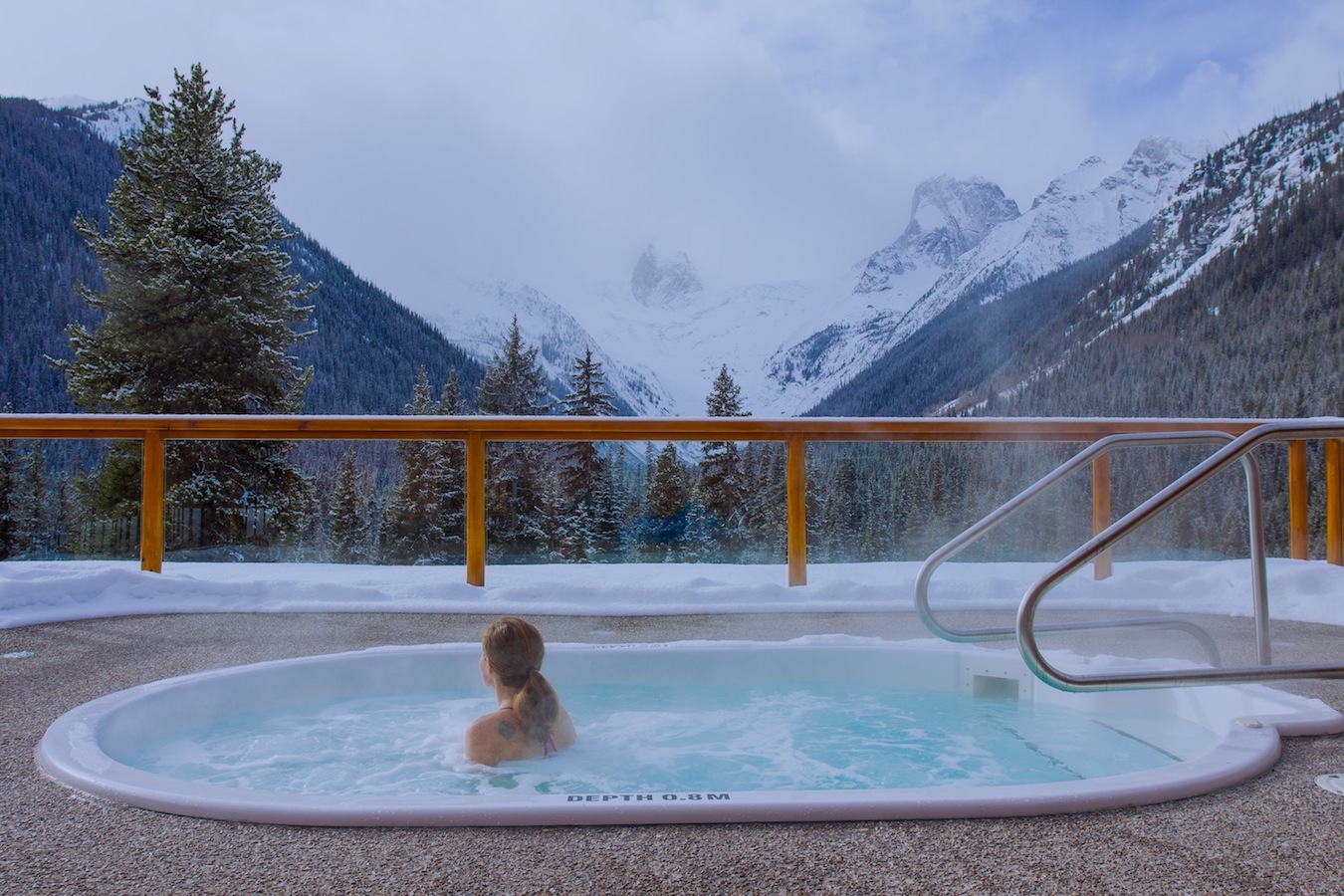 CMH Heli Bugaboo Lodge, photo by Tammy Hanratty
#1 – Mica Heliskiing
When you've got over 106,000 hectares of ski tenure, you better have a relaxation plan for your guests at the end of the day.
Luckily, Mica Heliskiing does.
Sitting atop their nearly 16,000-square foot lodge–itself a 2013 "Excellence in Building" award winner–are rooftop hot tubs. With less than two dozen other guests to share the waters with, skiers can easily secure a muscle-therapy session with a view.
The lodge, located about an hour north of Revelstoke, sits at the confluence of the Selkirks and the Monashees; the Columbia River flows at the base. With skiers getting this kind of bird's-eye-view from the rooftop hot tubs, the mind gets as much relaxation as the muscles.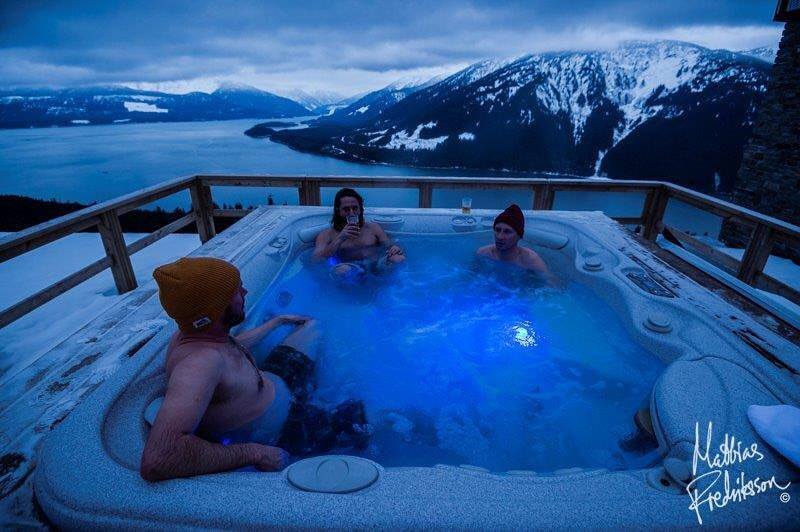 Photo courtesy of Mica Heliskiing
#5 – Fairmont Hot Springs
(Hot Springs pool access is to the public is available; due to COVID-19 you will need to book ahead.) 
Like having your soaking temps "just so"? With three pools, each held at a different temperature (39ºC, 32ºC, and 30ºC), it's a safe bet that Fairmont Hot Springs has your comfort level covered.
The history of Fairmont Hot Springs traces itself back to early 20th century ranching days when John Hankey took over the property and offered both accommodation and access to the springs for two dollars a day. Over the decades since, the property's various owners built upon the visions of their
Predecessors. A bathhouse, swimming pool, restaurant, bungalows and various other improvements and expansions followed, turning the resort into what visitors find today: the largest natural hot springs in Canada and a mecca for those who believe in the health and wellness aspects of the naturally-heated waters.
All that's needed to complete this sweet sensory experience is something to feast your eyes on; good thing the views of the Columbia Valley and Purcell Mountains beyond stand ready to serve this exact need.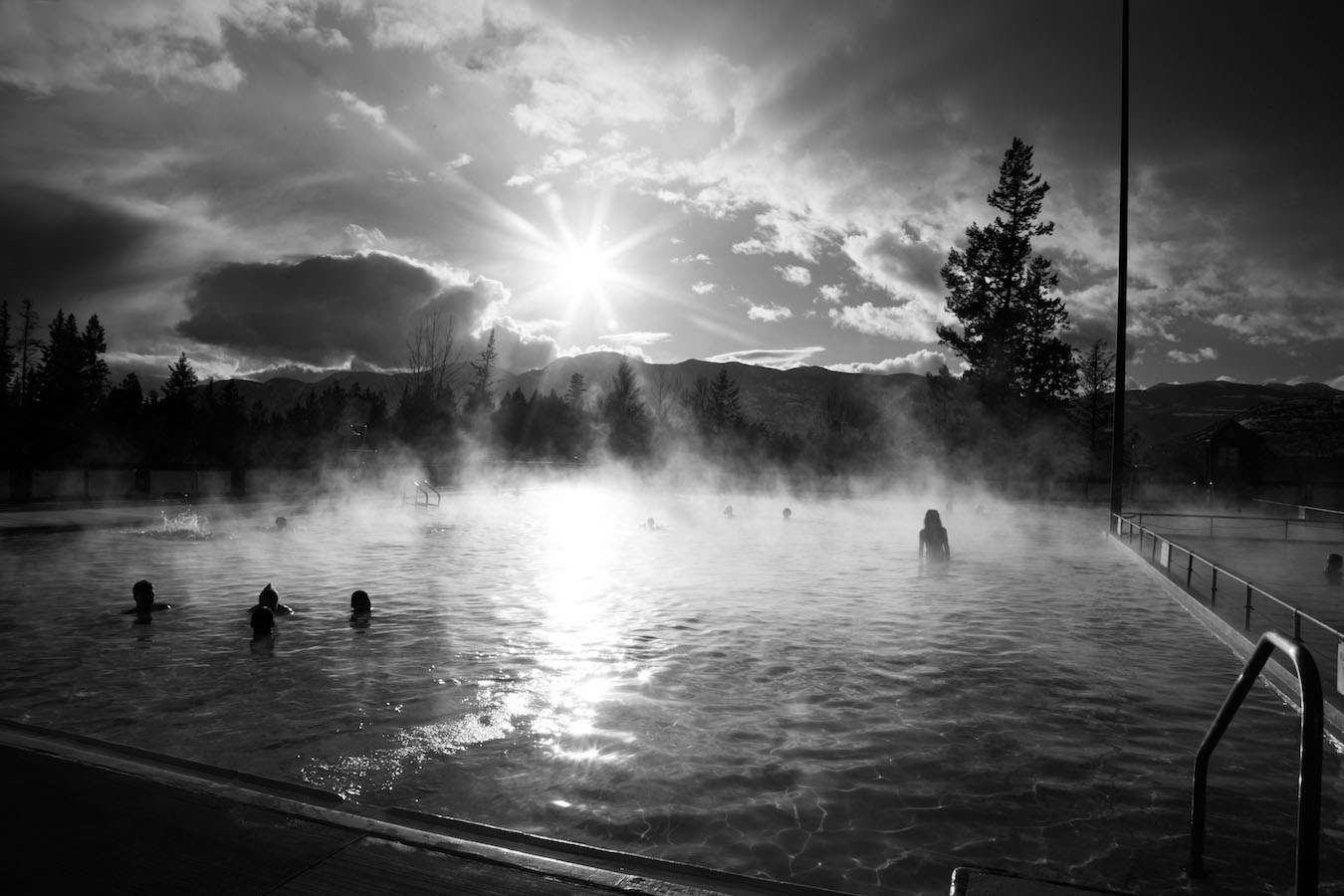 Fairmont Hot Springs, photo by Zoya Lynch
#4 – Radium Hot Springs
(Limited numbers to the hot springs pools are in place due to COVID-19.)
Forty minutes from both Panorama and Nipika Mountain Resorts, alpine and cross country enthusiasts will find their healing: Radium Hot Springs. Just up the road from the town of the same name and just within the entrances of Kootenay National Park, the hot springs have been a staple of the area's residents since time immemorial.
But Radium Hot Springs could only impart its healing to one person at a time–that is, until 1914. Through a donation of a grateful beneficiary of the spring's healing waters, a concrete pool was constructed to increase the capacity of the springs to more than one person at a time.
Today, you can multiply that single capacity to the tune of 550. Now one of the largest hot spring pools in Canada, 550 bathers can soak in Radium's fabled healing waters at once. So even if it's a busy day at the hill, you'll still find plenty of room to soothe sore quads for your après-ski.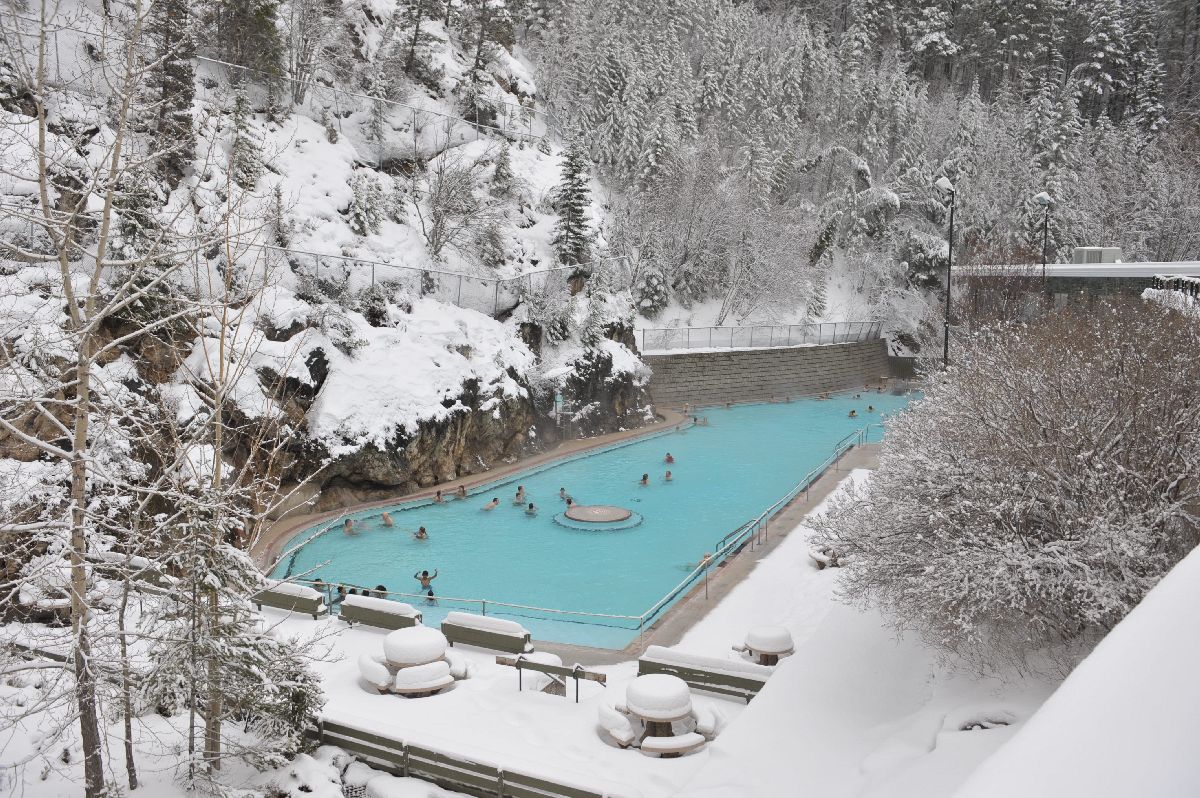 Radium Hot Springs, photo by Scott Rowed
#3 – Nakusp Hot Springs
(As of November 20, these pools are only accessible to locals, due to COVID-19.)
Right smack-dab between Revelstoke Mountain Resort and Whitewater Ski Resort, 30 minutes from Summit Lake Ski & Snowboard area, right in the heart of some incredible backcountry, and directly at the end of a multi-use all-season, old-growth trail is Nakusp Hot Springs.
If that last part intrigued you, get your backcountry-ready cross country skis on: The Kuskanax/Hot Springs Trail is an easy to moderate trail that's suitable for skiing or snowshoeing. The nearly 9-kilometre trail starts just outside of Nakusp and finishes at the hot springs. From there, you can book an overnight stay or two in a chalet, then spend the rest of the time hopping between snow play and hot water relaxation.
"The Nakusp Hot Springs has offered one of the most pure and clean sources of healing thermal waters in North America for over 100 years," says Terry Welsh, Director Recreation & Parks in the Village of Nakusp. "It truly is a hidden gem amongst the majesty of the Selkirk mountains."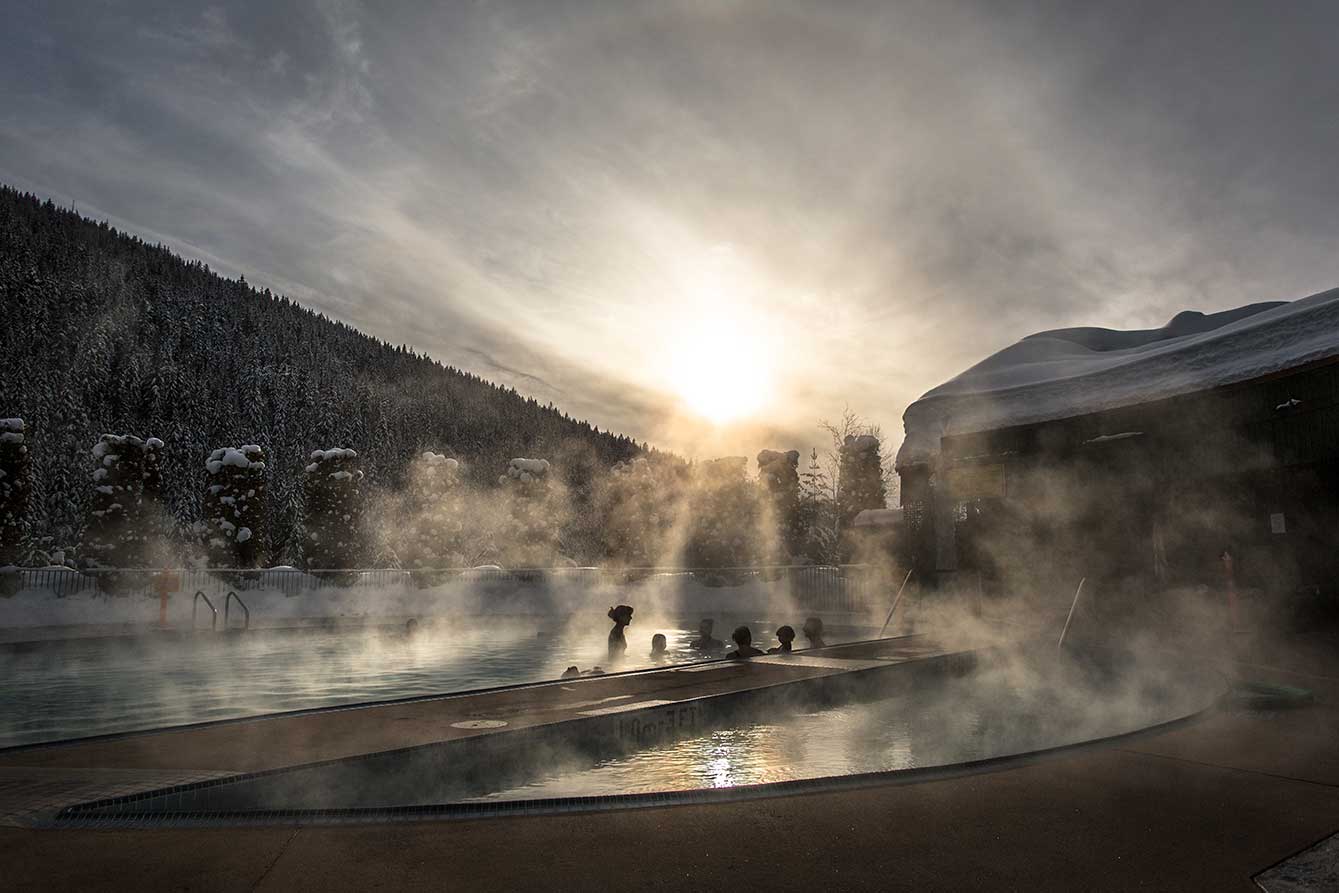 Nakusp Hot Springs, photo by Lee Orr
#2 – Halycon Hot Springs Resort & Spa
(Hot Springs pool access is only available to overnight guests, due to COVID-19.)
Halcyon is surrounded by spectacular alpine peaks, crystal blue lakes, rivers and streams, an abundance of wildlife and a magical legend.  It is a place of recreation and wellness. 
The hot pools are the centre piece of the resort.  You can relax and soak in the beneficial waters, massage your back in front of the jets in the warm or hot pool, or just relax under the stars. The hot pool averages 41C (107F) and warm pool 35C (95F).
At the spa, enjoy an experience that relieves pain, promotes harmony, balance and peace. Relax with a soothing massage from one of their certified practitioners who offer a variety of techniques, catered to your needs.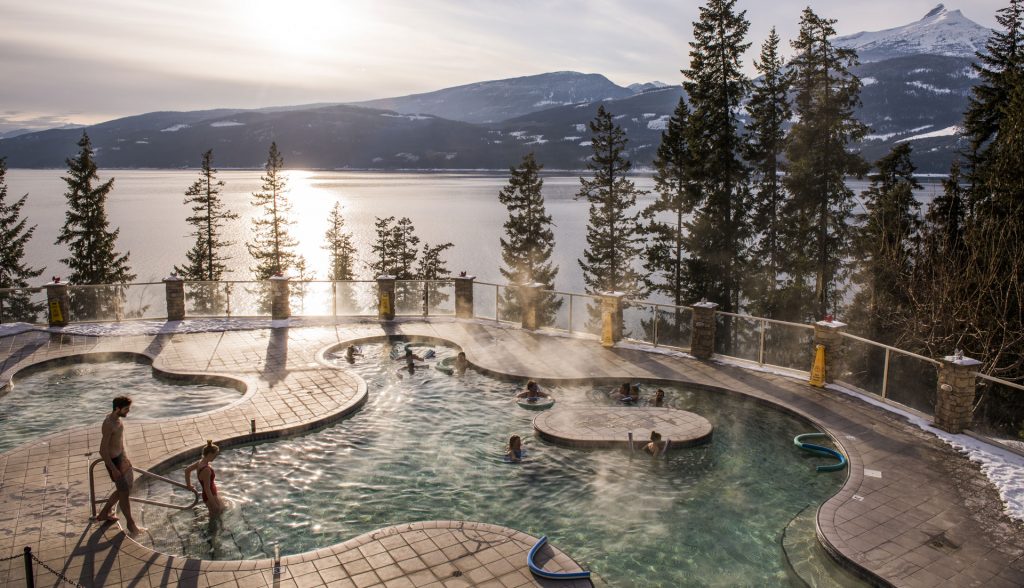 #1 – Ainsworth Hot Springs Resort
(Hot Springs pool access is only available to overnight guests, due to COVID-19.)
Spend your day skiing the steeps and trees at Whitewater? Just finishing a week of hard-charging deeps via the cat and heli-ski venues bordering Kootenay Lake?
You'll want Ainsworth Hot Springs. "The best and the hottest is, by far, Ainsworth," says Jeanne Desautels Dempster, a Kootenay Lake local, when asked which Kootenay-area hot spring she preferred. "We go in the winter all the time–it's our favourite time to go."
Overlooking the 104-km Kootenay Lake with a view of the Purcell Mountains, Ainsworth Hot Springs is the only hot springs owned by a First Nations people: the Lower Kootenay Band of the Ktunaxa. Their culture permeates the resort, from the pools to the rooms–which can be booked for those wanting to extend their "ski and soak" stay.
The biggest draw to the springs are the natural caves that bathers can relax in. "Those caves are an experience by themselves," says Dempster who described a recent visit to the springs with her grandkids. "After they got over the dark, "spooky" caves they couldn't see in … they loved it."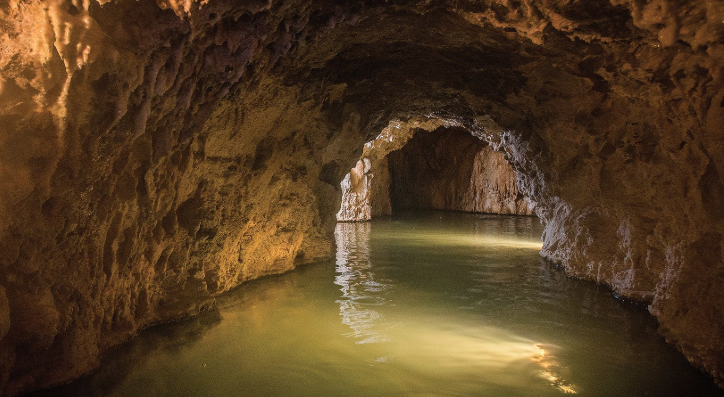 The cave at Ainsworth Hot Springs, photo courtesy of the Resort
~ Take extra time to research and plan your trip in advance. Many of our tourism businesses and services have adopted new COVID-19 protocols and changes to their schedules or policies to ensure your safety. You'll want to become familiar with them ahead of time.
~ If you normally travel with extended family or with several friends, consider travelling in a smaller group this winter. Travelling with fewer people makes it easier for you to practise physical distancing in public, and may have less of an impact on the destination.
~ Consider a slower travel pace this winter to help curb the spread. Instead of checking in and out of multiple destinations during one trip, choose one or two destinations and one/two accommodation properties for your entire trip (and explore all the things to do & see nearby).
Related Stories
~ Getting into Hot Water: Kootenay Hot Springs
~ The Indigenous Connection to our Natural Hot Springs
~ Kootenay Wilderness Wellness Retreats
~ Powder Highway 101
~ Quintessential Powder Highway Winters
~ Stay Local, Support Local in the Kootenay Rockies
~ Waters of Wellness: Kootenay Hot Springs
~ What's NEW on the Powder Highway?

Words by Gina Begin.  Cover/top shot by Lee Orr at Nakusp Hot Springs.
Gina Begin – Although she's a Florida girl, exploration called her away after the final bell of her high school career. On a quest to reach the distant adventures of North America, she lived in her car, traveling to ski the backcountry of Alaska, sleep under the northern lights in the Yukon Territory, ice climb Colorado's frozen canyons, photograph Nova Scotia's coves, backpack in southern US wildernesses and munch on sugared tamarindo in the jungles of Mexico. But after three years living on the road and seeing the many wonders this continent had to offer, she chose the place she knew would fit an explorer looking for a lifetime of wild wonder: British Columbia. Dual citizenship in hand, she settled along the Powder Highway in the Selkirks and is making her home between four walls and deeply wooded mountains.
Please tag your images with #PowderHighway or #KootRocks on Instagram or Facebook to be featured on our social channels.