This winter and holiday season is the time to stay close to home and support local businesses. Re-discover the unique character of your community – the works of artisans creating hand-made quality pieces, enjoy a culinary experience made with locally grown food and feel good about nurturing local shops who use sustainable resources, employ community members and offer personalized service.
ARTISANS & ART EXHIBITIONS
The unique character of the Kootenay Rockies region are the artisans that reside here and their works of creating hand-crafted art.  Work done by hand takes less energy than a mass production assembly line, which makes it more environmentally sustainable. Find out what works of art are featuring at some of the stores, galleries and studios in the region:
There are several Art Exhibitions happening this winter, such as Art Alleries (Revelstoke), Centre 64 (Kimberley), Cranbrook Arts, Fernie Arts Station, Oxygen Art Centre (Nelson) and Studio Connexion (Nakusp). 
The Craft Connection in Nelson is a cooperative of eight working artist members and over 100 consignees. From pottery to wool slippers to candles to wooden spoons – this shop practices COVID safety measures and is one of the largest Artisan Coops in the West Kootenays.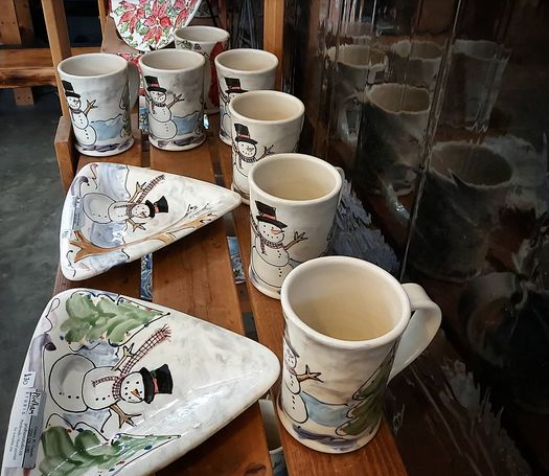 Crawford Bay is home to one of the most vibrant and eclectic artisan groups in all of British Columbia – the Artisans of Crawford Bay. There are numerous quaint and tucked-away studios to visit. Blacksmithing, weaving, broom making, copper enamel, jewellery, pottery and the culinary arts, it is all here within the community.  In-store visits and online sales.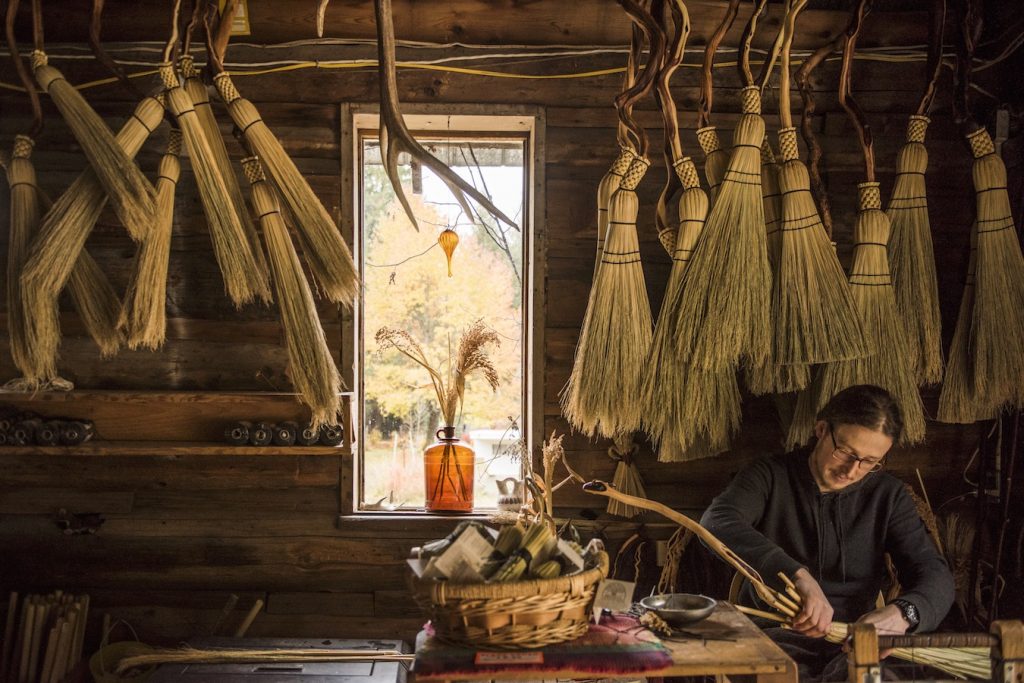 The Fernie Arts Co-op is located in a beautiful heritage building in historic downtown Fernie. This volunteer organization that provides a venue for local and regional artists to display and sell their work. 
The Kootenay Gallery of Art a small public gallery located in Castlegar, BC.  Their popular Gift Shop featuring the best of the craft makers who live in the area; and they are pleased to now share some of these items online for you.
Old Crow Emporium in Kimberley is an indoor market experience featuring over 70 local artisans. They are currently setting up appointments for private shopping. This smart idea enables shopper to explore the store in an exclusive, safe setting. Please call 250-432-9742 or 250-417-9982 to book your spot.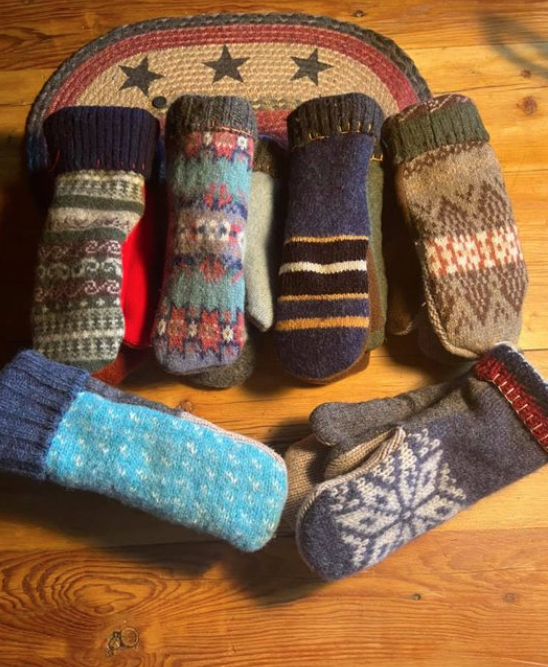 Skinkuc Treasures from St. Eugene Resort has a new pre-Christmas location in Cranbrook's Tamarack Centre.  This Ktunaxa Nation indigenous business has beautiful, distinctive gifts.  Profits from the shop will support the work of the language revitalization done by the Ktunaxa Nation Council through its 'Traditional Knowledge & Language Sector'.
In Invermere, the Village Arts, an Artisan Co-op,  features over 50 western artisans with over 20 of them are local artists and craftspeople. Showcasing fine contemporary and traditional artwork and craft in ceramics, clay, glass, fibre, metal, print and a variety of mixed media.
FESTIVE FOODIES
Many local business owners donate more to local charities than non-local owners and they often hire people with more specific product expertise for better customer service.  Find out what specials are in-store at some of the region's restaurants:
Beanpod Chocolate, in Fernie, is one of the original bean-to-bar companies in Canada, and is one of only a few in the world that specializes in making chocolate the traditional old-fashioned way. Organic beans sourced directly from farmers, loving turned into decadent chocolate in small batches using authentic stone grinding machines, with no preservatives, or additives – chocolate as it should be.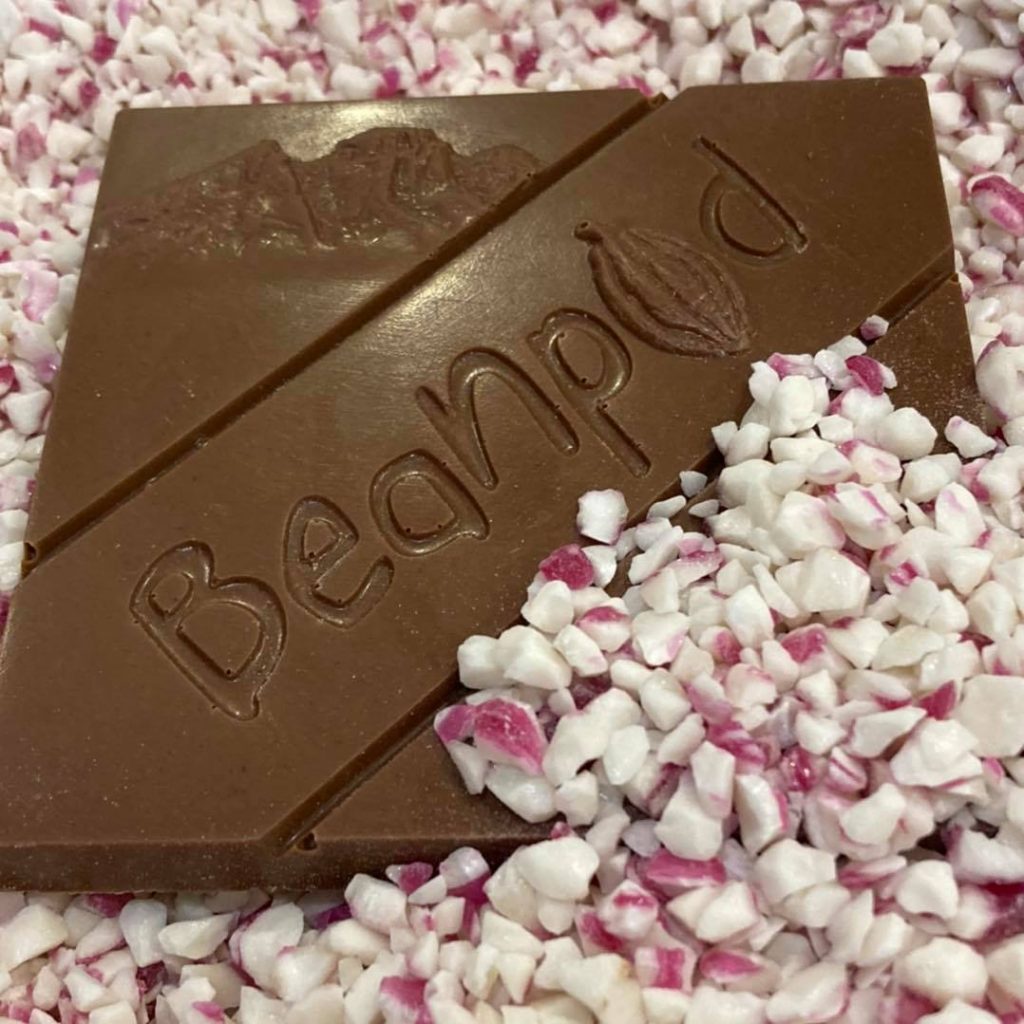 Broken Hill Nelson is celebrating their 1st year anniversary! To celebrate, they are offering a 'whisky experience'. They have put together four different packages sold in the form of a gift certificate. Each experience contains a number of rare, special & high-end whiskeys along-side a feast of your choice.  Stop to see them or call at 778-463-2244 for more details.  Don't want to feast & drive, stay overnight in their new 2-bedroom suite – Broken Hill Flats.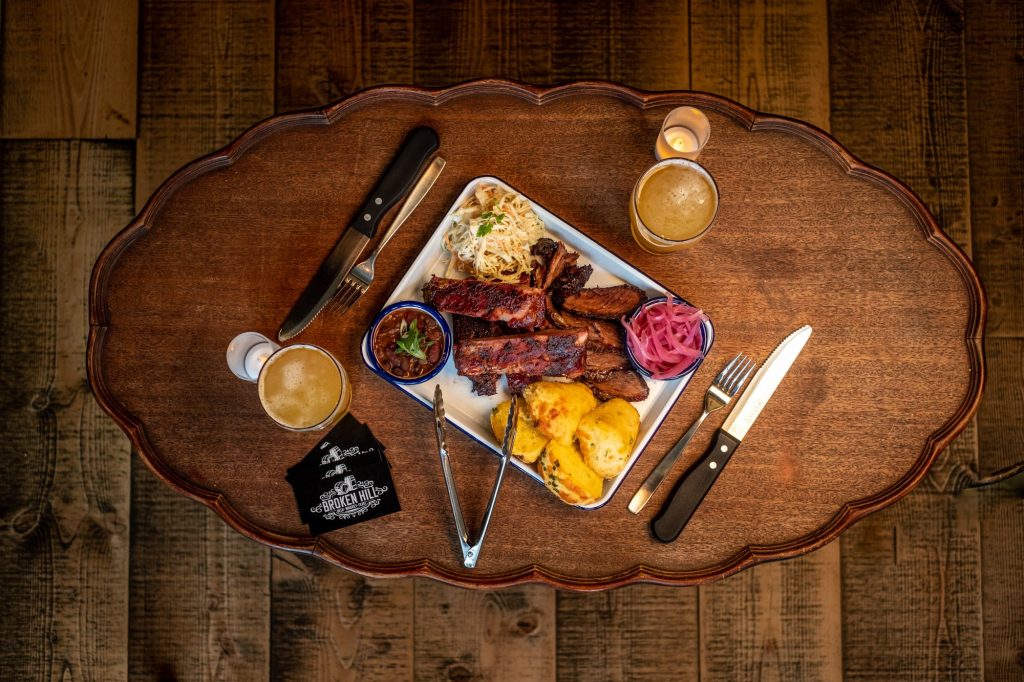 Burton City Cider, in Burton (near Fauquier), will be offer their infamous special pizza nights on Thursdays and Chef's dinners on Saturday nights in January.  Order online.
The Eagle's Eye Restaurant perched at 2,347 m. (7,700 ft.) atop of Kicking Horse Mountain in Golden – is the most elevated dining experience in Canada. This winter, you can make reservations for dinner on Saturdays & Sundays.  Every dinner reservation includes gondola access and of course dining at the top of the world!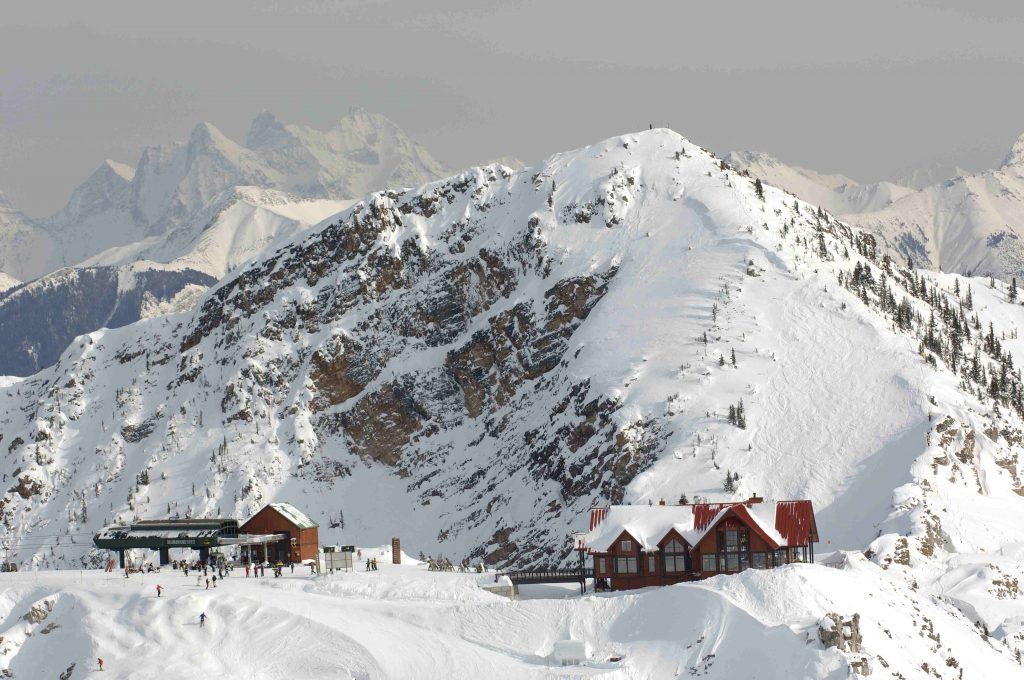 The Heid Out Restaurant & Brewhouse in Cranbrook began offering COVID takeaway meals in the early spring.  These delicious frozen meals were such a success they continued offering them. From creamy Butter Chicken to Lobster Mac & Cheese to Shepherd's Pie, their menu items are unique and diverse.  Don't want to cook? This is an excellent option for gourmet dining at home (or in your vacation rental).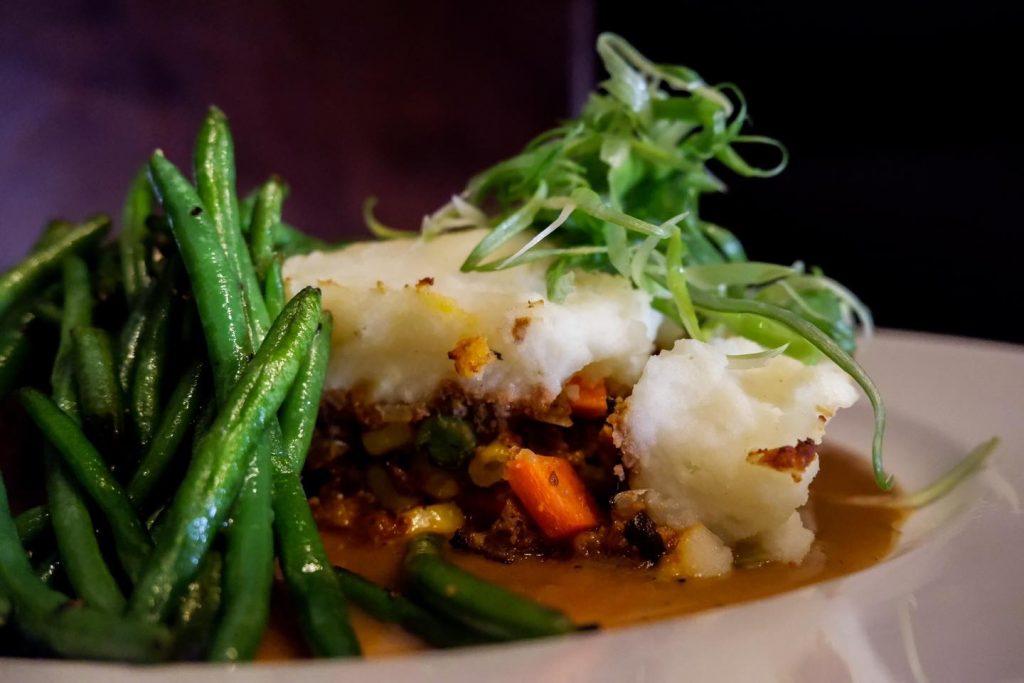 The Ktunaxa Grill at Ainsworth Hot Springs Resort hosts a GMO, hormone and antibiotic-free dining experience. Against a mountain backdrop, Executive Chef Corey Chapman and his team craft an Indigenous-inspired menu, with fresh local ingredients like Columbia River Steelhead and Wild BC Rockfish. Sink your teeth into Ktunaxa Grill's own Wild Game Burger: an elk, venison and bison patty, featuring a juniper tomato sauce and sage mustard. Open Wednesday through Sunday (dine-in,  reservations are required after 5pm).   
The 'Bavarian Feast' at the Old Baurenhaus restaurant in Kimberley serves a hearty fare. This building is more than 350 years old; it was dismantled in Germany and transported to Kimberley.  The multi-course feast includes baked brie, garlic prawns, and bauernplatte (house-cured meats), a family-style main course that features jagerschnitzel (a meat dish served with mushroom cream sauce), spatzle (German noodles) and more. Bring your appetite! Available for dine-in & take-out.
Outdoor dining in winter?  Yes please! The Pedal & Tap in Kimberley has added a 6-seated, heated Ice-Fishing Tent.  Enjoy one of their fresh, farm to fork dishes with a small group of family/friends, in their sheltered, cozy tent.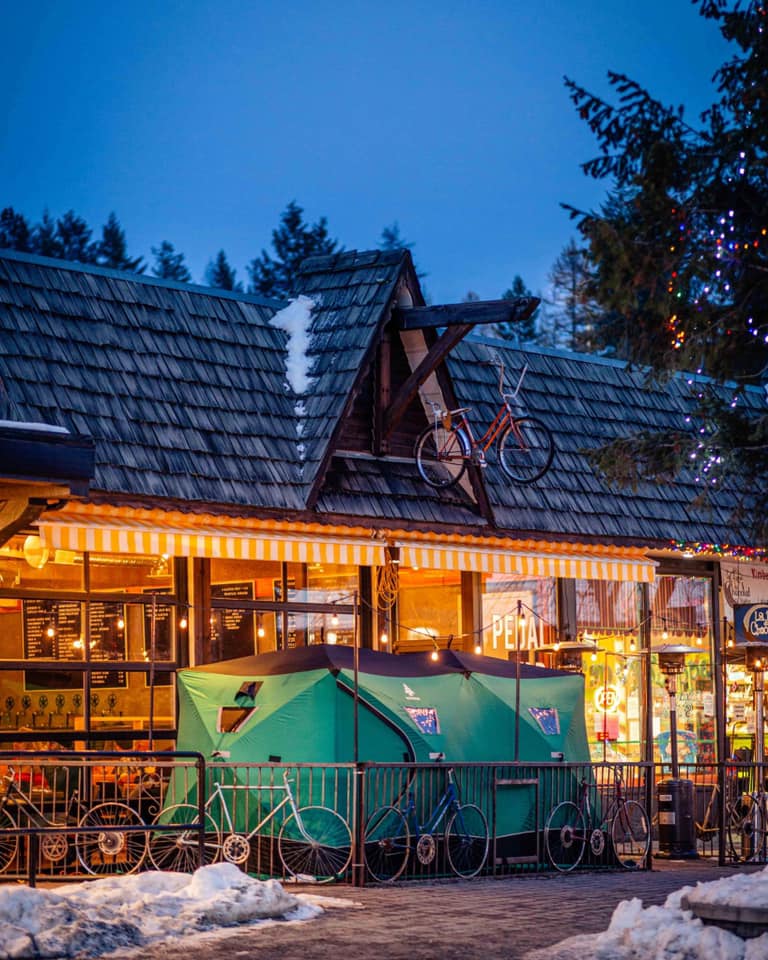 The Roasted Chick Pea offers plant-powered recipes, inspiration & healthy lifestyle.  They specializes in plant-based, gluten-free meal prep services in the West Kootenays (Castlegar, BC).  
RETAIL THERAPY
Shopping local means nurturing locally owned businesses which use local resources sustainably, employ local workers at decent wages and serve primarily local customers. It means becoming more self-sufficient and less dependent on imports.  Here are a few of our local stores in the region: 
Revelstoke's Big Eddy Glass Works showcases local artist Leah Allison and her delicate hand-blown glassware, including Candy Canes for Christmas to cheerful cups to flasks to hanging vases and more. Shop in-store or online.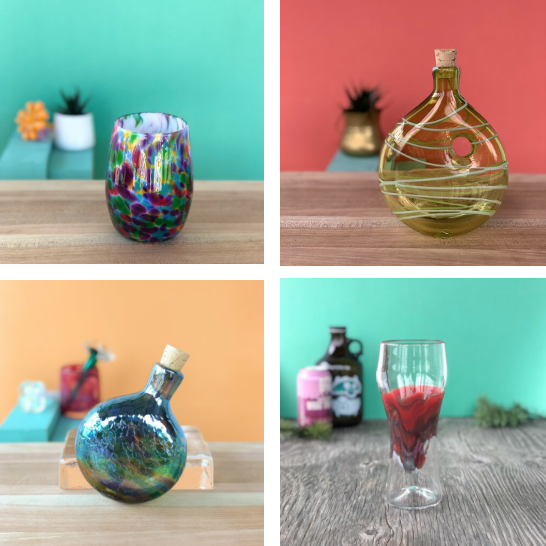 Cartolina in Nelson, sells vintage style gifts, candles, home decor and a unique collection of paper products.  Accessories such as leather bags and jewellery are very popular, as is their growing collection of men's shaving gear and fragrances. And, their map department houses one of the largest selections of vintage maps in BC – originals and re-productions.  In store shopping & online orders are available too.
Castlegar's DoddleBug Chocolates uses the finest ingredients they can find, organic whenever possible, keeping our recipes simple & with pronounceable ingredients. With all natural flavours & no added preservatives, they offer a wide variety of delicious homemade centres covered in silky smooth premium dark, milk and white Belgium chocolate.
Freyja Kootenay Boutique in Fernie has grown into one of the best fashion apparel stories in the region.  It started out as small side-project and has grown into a thriving business.  The storefront is open to walk-ins and private showings; or you can shop online.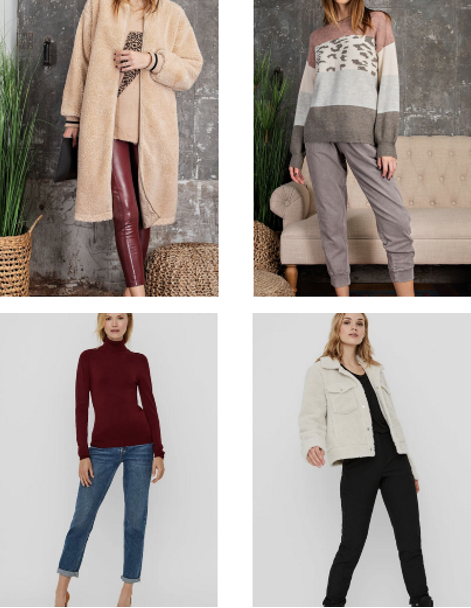 Get ready for this season ski activities at Powderhound Sports in Rossland. In the winter, they specialize in alpine skiing and backcountry touring; plus, they do custom boot fitting and top-quality ski/board/boot repairs. 
Stoke Market in Kimberley stocks fresh, local produce, meats & cheeses – they also offer meal kits (similar to Hello Fresh) but includes local menu items produced by their in-house nutritionist Gathering Company.  Book online.
The Yahk Soap & Candle Company is a great stop along Highway #3 (the Crowsnest highway) offering Christmas & stocking stuffer gifts to skin & body care to hand-made hats and more. And a stop wouldn't be complete unless you said 'hi' to their goats — Buttin, Toot and Walter (or watch for them on the roof).  Shop in-store.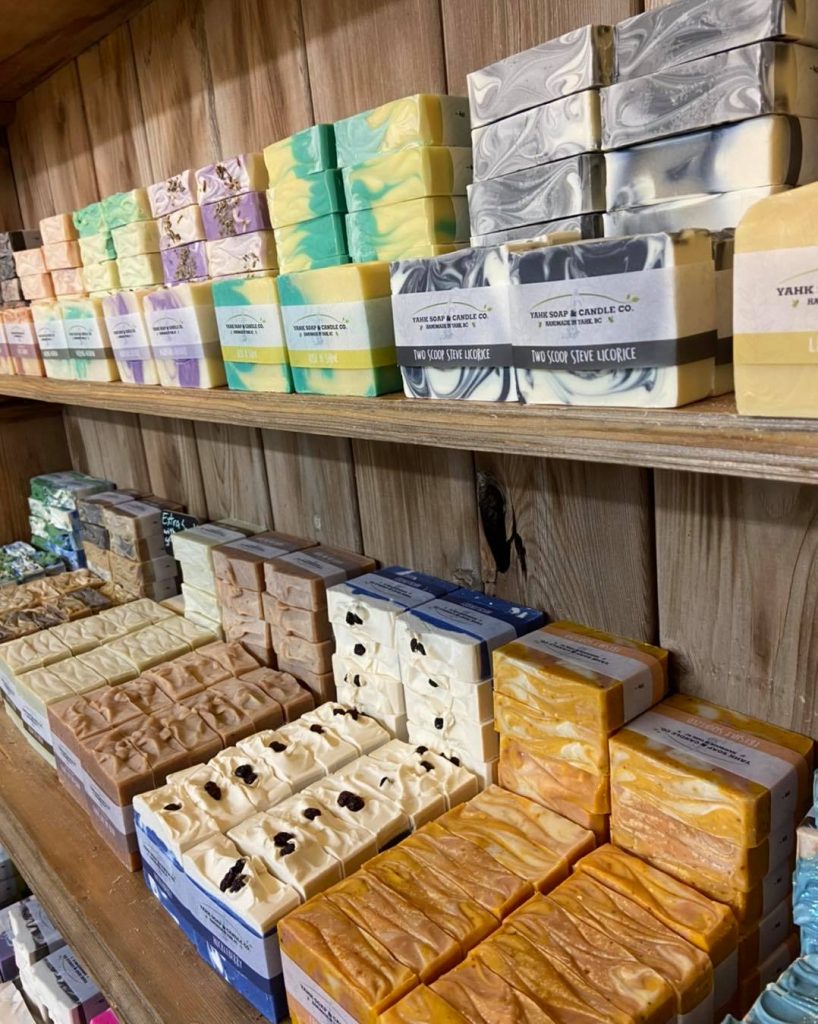 SIP & SAVOUR
Pairing with one or all of the above activities is a healthy & loving community partnership.  These businesses are owned by people who live in our mountain communities and are more invested in their community's future.  Find out how to purchase in-person or online, at many of our craft breweries, distillers & wineries:
Angry Hen Brewery's European Pilsner is back on tap and sure to put a smile on your face even when that smile is hidden by a mask! Perfectly crisp and thirst quenching the "Happy Pills" will keep the gray day blues at bay. Share it with the good company of those in your bubble in the lakeshore mountain community of Kaslo.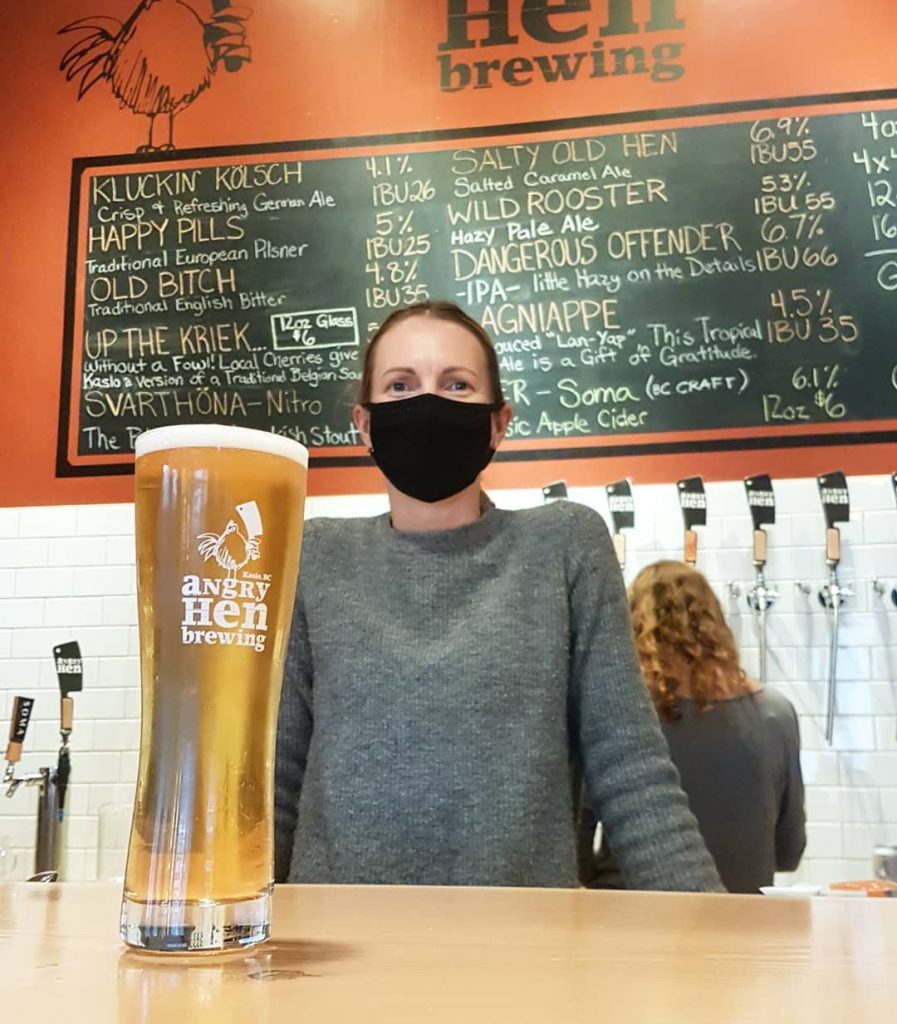 Take advantage of their free shipping (using the promo code 'winetime') with Baillie-Grohman Estate Winery in Creston.  Hand-picked and hand-crafted wines, they offer eight different styles of wine to choose from (four white, one rose and three reds).  Order online.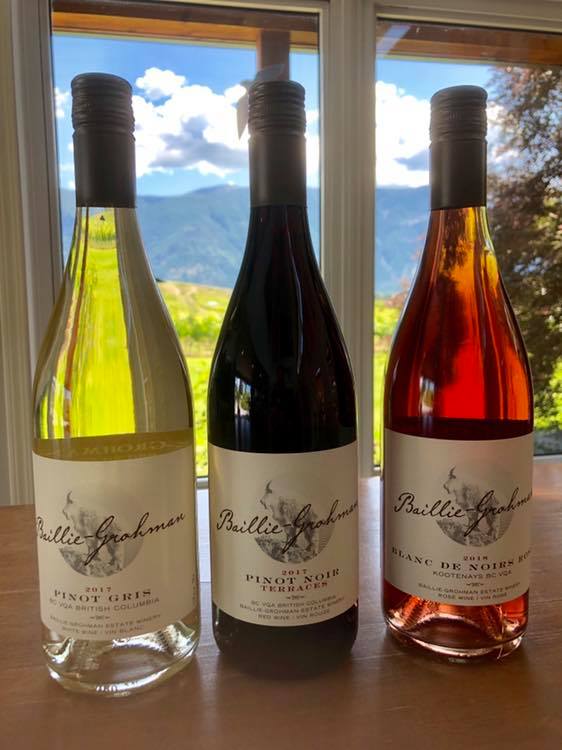 The Fernie Brewing Co. has just launched three new beers, Black Current Sour Dark Horse, Snowblind Belgian-Styple IPA and the Thunder Meadows IPA.  Be sure to do a FBC 'fly by', available daily. 
Fernie Distillers is releasing their limited Park & Damson Gin in early December.  This award-winning Prospector Gin is infused with local damson plums.  Best used in any recipes calling for a sloe gin.  
The Revelstoke Collection – "Go Big or Go Gnome" from Jones Distilling is available for pick-up or you can order it online.  Featuring the flavours of cinnamon, clove, nutmeg and ginger; it's spicy, smooth yet complex with undertones of elderberry and plum. This alcoholic botanical cordial is best mixed with tonic or hot apple cider (one-part cordial with two parts mix). Order online.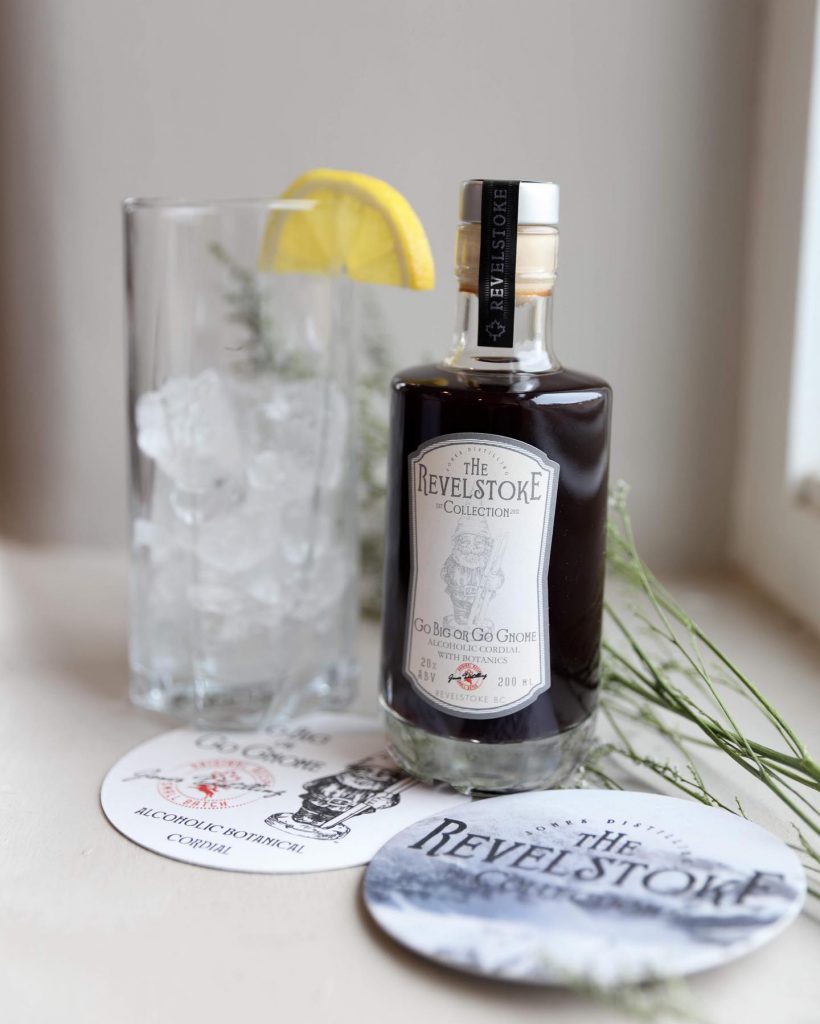 The Red Bird Estate Winery in Creston still has space available for their exclusive Wine Club. Twelve bottles of wine will be delivered to your door, twice a year (with free delivery). 
TailOut Brewing is offering online orders.  It's easy: you fill out the online form, submit an order of your favourite Tailout brews and they will delivered them right to your door in Castlegar! 
Taynton Bay Spirits in Invermere is offering a virtual tasting to a social audience, shared on their social channels.  Or you can purchase their spirits online, including their festive holiday gift boxes.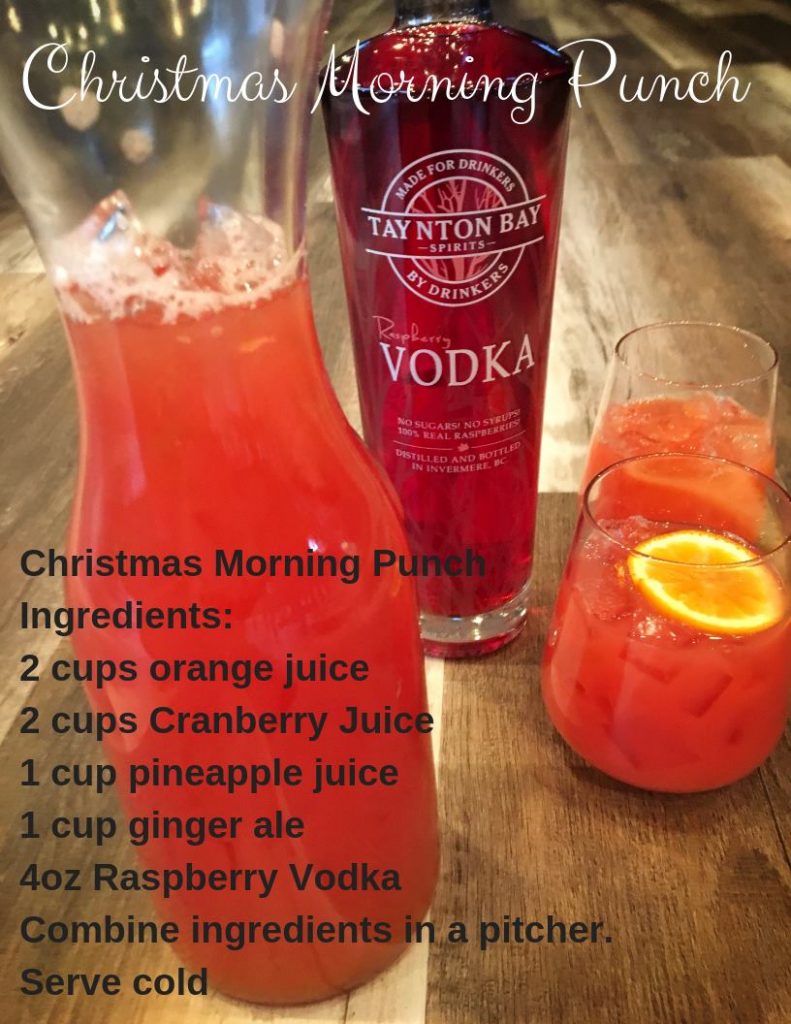 The Valley of the Springs Winery in Nakusp is launching four new red wines Zweigelt, Gamay, Marechal Foch and their special blend Trailhead Red. Order online.
Whitetooth Brewing Co., in Golden, will ship anywhere in BC and is offering local deliveries.  Offering six craft brews to choose from – try their India Pale Ale 'Blower Pow' or their Pale Ale ' Icefields' or Nordic Imperial Stout 'Truth Dare Consequence'.  Shop online.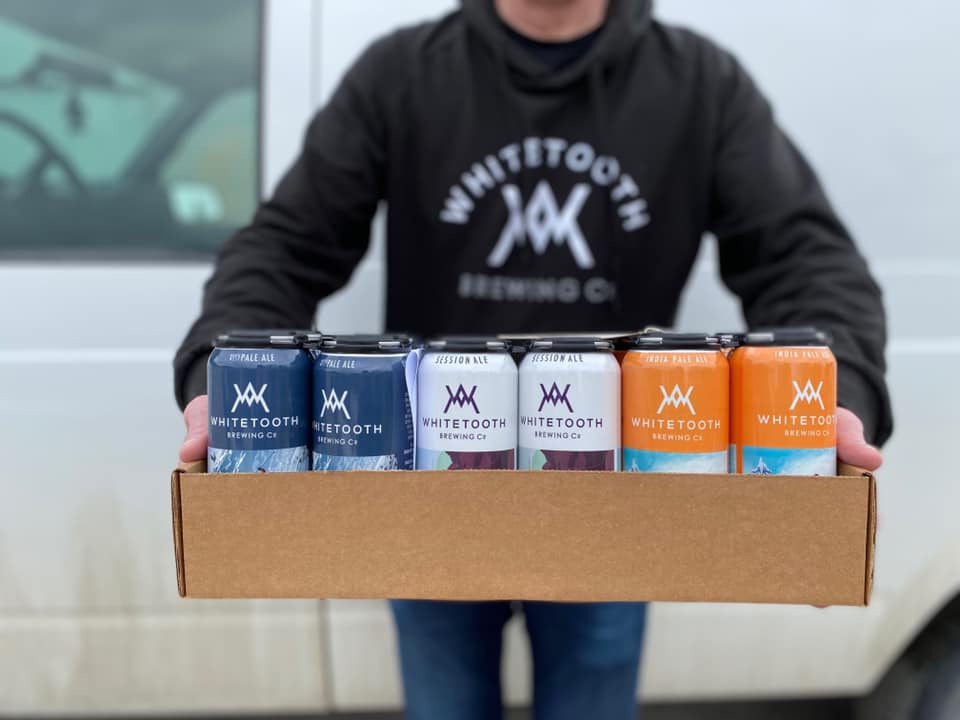 Online order and local deliveries are available at most of our craft breweries, cideries, distillers and wineries.
To assist you with which businesses are open along the BC's Powder Highway, these communities maintain lists of their businesses: Castlegar, Cranbrook, Columbia Valley, Fernie (shop local), Golden, Kimberley,  Nelson Kootenay Lake, Revelstoke (shop local) and Rossland.
Explore your own community safely in alignment with the latest health orders and recommendations. 
~ Take extra time to research and plan your trip in advance. Many of our tourism businesses and services have adopted new COVID-19 protocols and changes to their schedules or policies to ensure your safety. You'll want to become familiar with them ahead of time.
~ If you normally travel with extended family or with several friends, consider travelling in a smaller group. Travelling with fewer people makes it easier for you to practise physical distancing in public, and may have less of an impact on the destination.
~ Consider a slower travel pace to help curb the spread. Instead of checking in and out of multiple destinations during one trip, choose one or two destinations and one/two accommodation properties for your entire trip (and explore all the things to do & see nearby).
Related Stories
~ Creston Cru: Get a Taste of these Vineyards
~ Family Fun on the Powder Highway
~ Funky Finds of the Powder Highway
~ Kootenay Made
~ Kootenay Rockies: Farm to Fork
~ Learn to Ski or Snowboard on the Powder Highway
~ Our Kootenay Spirits
~ Savouring the Kootenay Rockies this Summer-Fall
~ Support Local: Meet Our Partners – Winter Adventurers
~ Wet your Whistle in the Kootenay Rockies
~ What's NEW on the Powder Highway?
Story by KootRocks Staffer (Shannon Harrison).  Cover/top photo featuring artwork from the Big Eddy Glass Ware. 
Please tag your images with #KootRocks on Instagram or Facebook to be featured on our social channels.