It is March, and typically in the Kootenay Rockies it means an end to big powder dumps and time to reflect on snow free trails filled with alpine wildflowers.  Many of the high alpine trails are covered with the 'white stuff' until late June.  But don't dismay – here are some roaming secrets on how to get the best out of our incredible (early season) trails in the Kootenays!
SNOWSHOEING TO HIKING or SKIING TO HIKING
The Merry Creek Trail, in Castlegar is a fun and easy trail (4-km return), perfect to go from snowshoeing to hiking (or if you prefer, mountain biking). The trails meander over a soft forest floor.  Explore interesting landmarks and big views of the Columbia River Valley at the far end.
For the Creston Valley, the Cornice Ridge and Ripple Ridge trails in the Stapleap Provincial Park at the top of Kootenay Pass, offers an incredibly popular and easily accessible back-country skiing and snowshoeing area.
(The two cabins Lightening Strike & Ripple at the top of Ripple Ridge can be rented overnight or for a day-use when snowshoeing or hiking. Currently sold-out for this season 2019/2020.)
In Fernie, the Fairy Creek Falls (4-km return), begins at the Visitor Centre and leads to a stunning waterfall destination which in the winter becomes an intricate ice formation and, in the spring, showcases its glory during the run-off. Suitable for novices and popular for both winter & spring adventures.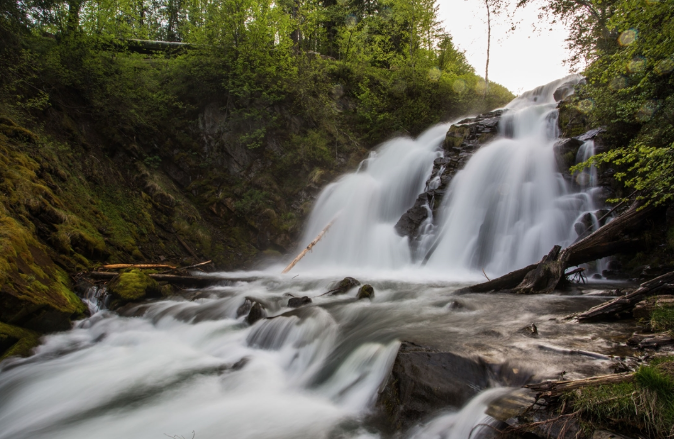 Fairy Creek Falls in Fernie, photo courtesy of Tourism Fernie
Mt. Fernie Provincial Park is accessible year-round and close to the town. There is a wide array of trail networks accessible for the snowshoe enthusiast. If you are looking for a steeper and more advanced trail Hedonism/Dem Bones will get your heart rate up, approx. 2-4 hrs trek, (note: in the summer this trail becomes a popular mountain bike route), so best to enjoy when you can in the winter!
Also popular in Fernie is the Fernie Alpine Resort as it offers a network of multi-use trails. The Double Creek Loop (3-km) is a single-track trail (signed for snowshoeing) that winds through the forest. During the summer months, this is a family friendly trail which can be enjoyed as a trail run/hike.
In Revelstoke, snowshoe rentals and guided snowshoe walks are offered at Nels Nelsen Chalet at the base of Mt. Revelstoke National Park on Saturdays and Sundays. Explore the park on your own or join a Parks Canada interpreter for stories and fun along the 2-km and 5-km Soren Sorenson trails. This a great entry-level opportunity for anyone who has not experienced a mountain park in winter.
Another super option is the Begbie Falls. Walk, snowshoe or drive (depending on conditions) the Begbie Falls FSR to the Forest Recreation Site then take the short and steep 15-minute walk to the bottom of the impressive falls or if it's not too snowy, access the actual hiking trailhead from Highway 23 South.
A family friendly snowshoeing experience is going out to Wapta Falls in Yoho National Park (east of Golden, BC). In the winter, it is 5-km each way and ends in a spectacular partially frozen waterfall. The trail switches in the spring to a fantastic hike for all.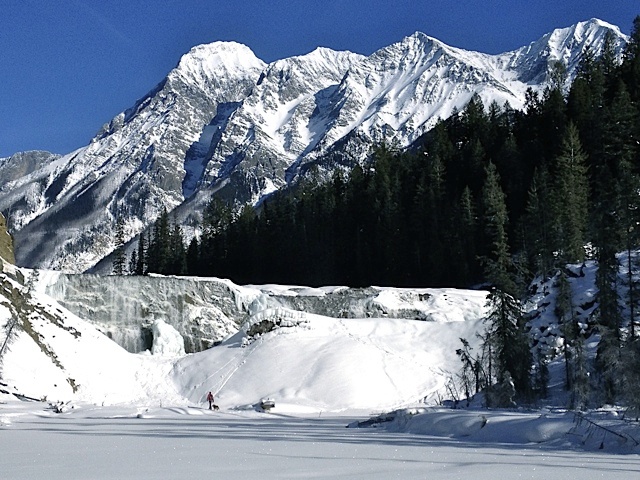 Wapta Falls in Yoho National Park, photo by Shannon Harrison
FAT BIKING TO MOUNTAIN BIKING
The Montane Blue in Fernie, is the perfect place for beginner and intermediate fat bikers to enjoy wide multi-use trails, meet other riders and enjoy the purpose-built warming hut.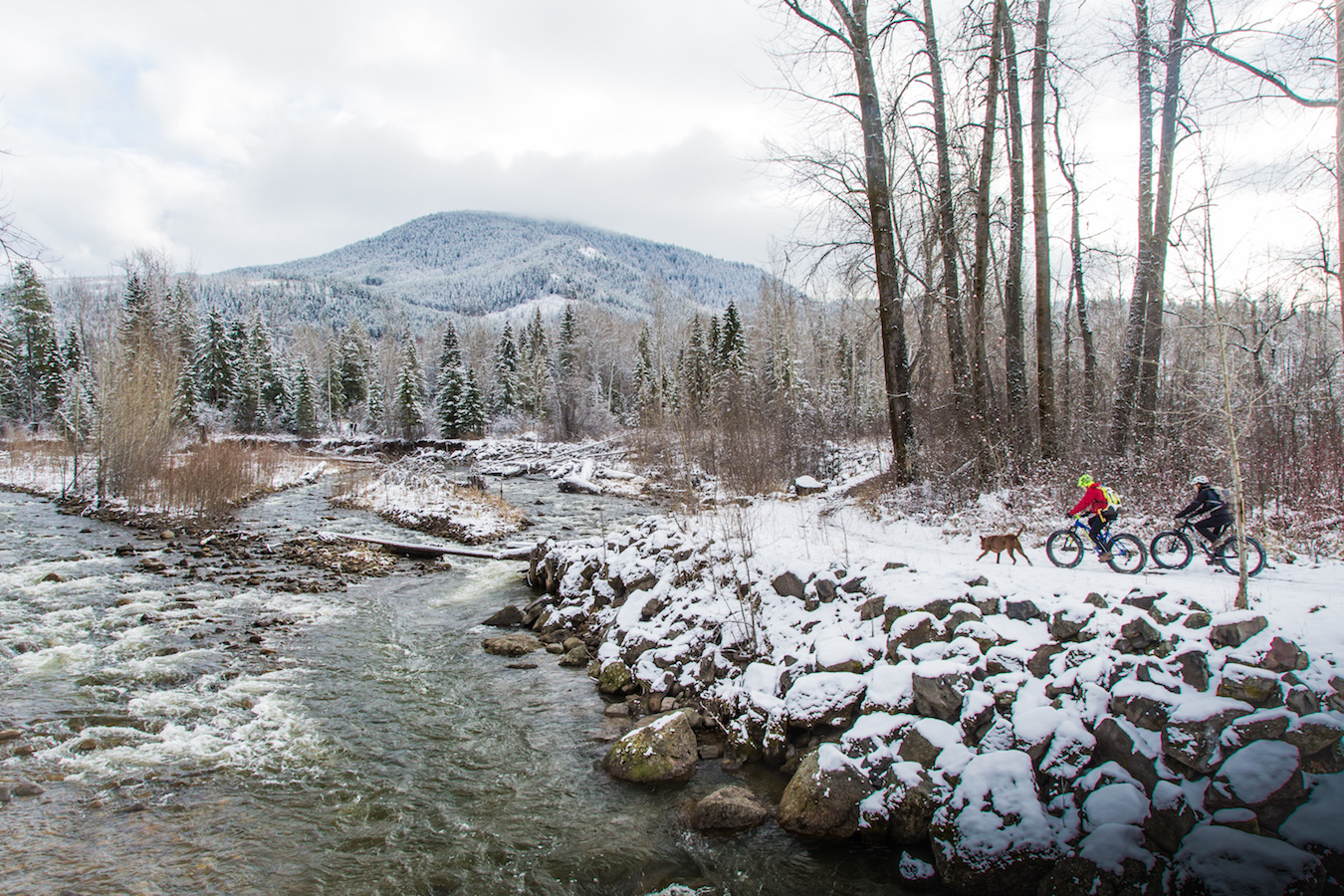 Montane Blue Fat Biking trail in Fernie, photo courtesy of Tourism Fernie
The Lazy Lizard (Fernie), is accessible from Mt. Fernie Provincial Park, where you ascend up to stunning Island Lake Lodge (trail is ungroomed in the winter for fat biking).
While the Contra (Fernie) is filled with epic berms and jumps, in the winter this trail is more moderate on your fat bike and in the summer much more advanced on your mountain bike!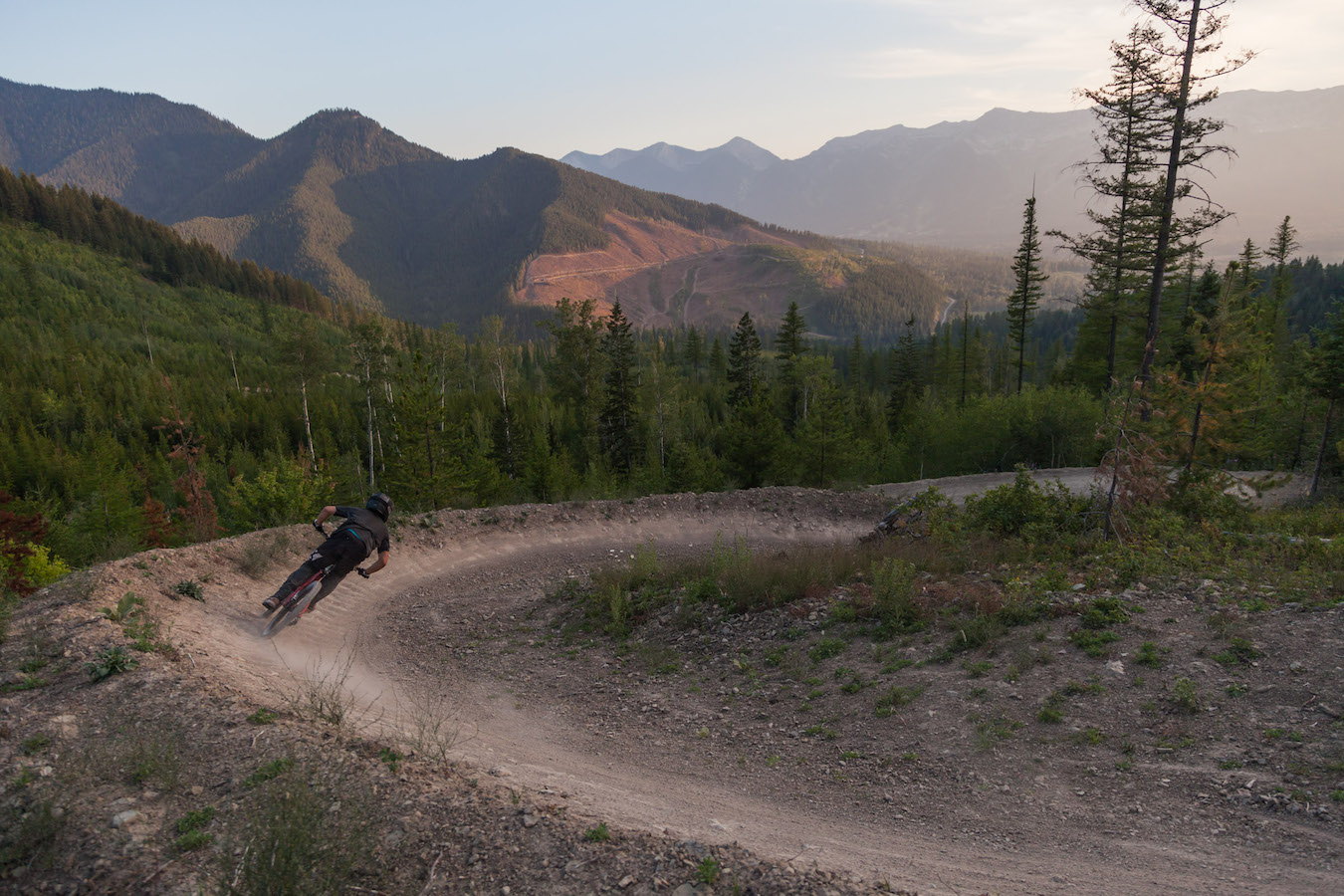 Contra trail in Fernie, photo courtesy of Tourism Fernie
Golden's Rotary Trails around town is a great ride right from town. If you want to drive to a trailhead then Odanata to Cedar Lake is another great ride. In the spring the trails on the east side of the valley (Mountain Shadows) open up first, typically in late-March to mid-April.
In the community of Nakusp, the 8.5-km Kuskanax Creek/Hot Springs Trail, winds through the stunning Cedar and Hemlock forests and arrives at the Kuskanax Creek Bridge just a short jaunt from the Nakusp Hot Springs. (Check out their new trail area, 16-km – Mt. Abriel is a great early season ride, since the snow melts early. Fantastic for all ages, the trail also includes a boardwalk over a portion of the trail.)
Nipika Mountain Resort, near Radium Hot Springs, has 30-km of dedicated fat-biking trails that are groomed.  Once clear of snow, the trails are open to trail-running and mountain biking. Set next to Kootenay National Park — you'll be surrounded by amazing views, in addition to well-maintained trails.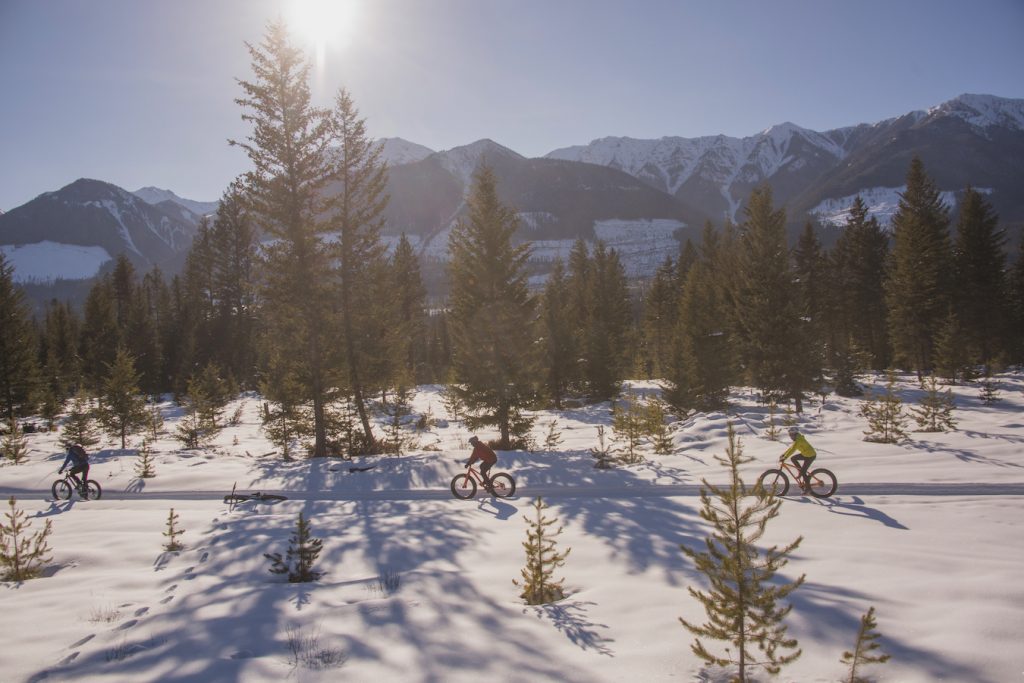 The Sunnyside trail network near Mount Cartier (in Revelstoke) has a brand-new climbing trail. This is the first of a one-directional trail network which will see growth in the upcoming years.  The Beaver Lodge Kids Bike Park (easy) is designed for families with children from 1.5 years and up with easy playful features.
For the experienced rider, the trails at Mt. MacPherson offer more challenge. Here are some options: Tantrum (intermediate; 5-km) of variety and challenging terrain; Flowdown (intermediate; 5.7-km) of flowy and rocky sections; Berm Donor (intermediate; 2.2-km) fast downhill and tough climbs; Hemlock Groove (intermediate; 1.6-km) a fast and flowy trail, watch out for rocky sections; Yew are Here (Intermediate; 0.9-km) a fast and flowy trail, watch out for rocky sections — this trail connects with Hemlock Groove/Sex on the Beach and Sex on the Beach (expert; 2.6-km) offers technical sections and steep climbs.
In Rossland, they have a 'Fat Bike Groomer' that has made a large number of trails up around RED Mountain Resort which are ridable year-round.  The most amazing addition to the trail network is the Blue Elephant, which was designed for 7 to 70-year-olds to enjoy biking, walking, fat biking and snowshoeing and connects to the existing network around a reservoir and up onto the KC Summit (Centennial) trail.
The network of trails that includes Blue Elephant, Larry's, Drifter, Eddie J and Techno Grind is generally groomed and amazing for a short or long Fat Bike loop. Or the summer, a mountain bike loop or connector into either RED Resort's 3 trails (Paydirt, Redtop, Redhead) or up into the many km of trails that wind around Monte Christo onto KC and down into Warfield.
The 7 Summits trail is another well used trail both summer and winter.  It accesses a lot of terrain in the winter which is great for getting out on snowshoes, xc skis or touring (into some of our infamous slack country ski and riding areas).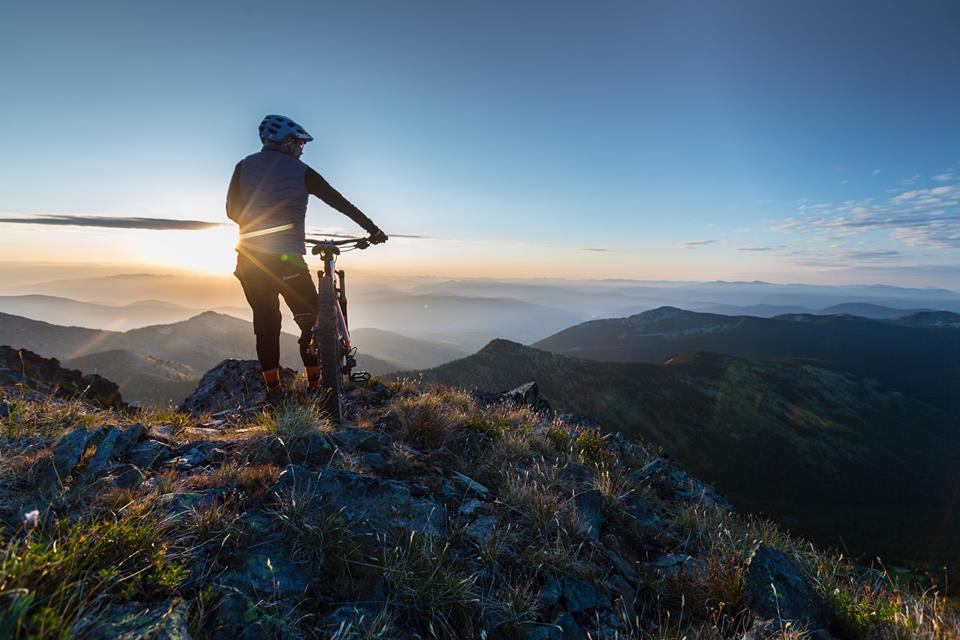 The 7 Summits trail in Rossland, photo courtesy of Tourism Rossland (photo by Ryan Flett)
~ Take extra time to research and plan your trip in advance. Many of our tourism businesses and services have adopted new COVID-19 protocols and changes to their schedules or policies to ensure your safety. You'll want to become familiar with them ahead of time.
~ If you normally travel with extended family or with several friends, consider travelling in a smaller group this winter season. Travelling with fewer people makes it easier for you to practise physical distancing in public, and may have less of an impact on the destination.
~ Consider a slower travel pace this winter to help curb the spread. Instead of checking in and out of multiple destinations during one trip, choose one or two destinations and one/two accommodation properties for your entire trip (and explore all the things to do & see nearby).
Related Stories
~ 3 Legendary Hikes – You May Have Never Heard Of
~ Best Summit Hikes in the Kootenays
~ Easy Kootenay Hikes: 360 Degree Vista Views
~ Hike, Pedal, Roll & Ski: Our Kootenay Rails-to-Trails
~ Human Powered: The Westside Legacy Trail
~ Out Your Back Door: Kootenay Community Treks
~ Rossland's Epic 7 Summits Trail
~ Stay Local, Support Local in the Kootenay Rockies
~ What's NEW on the Powder Highway?
Story by KootRocks Staffer (Shannon Harrison). Cover/top photo courtesy of Nipika Mountain Resort.
Please tag your images with #KootRocks on Instagram or Facebook to be featured in future stories.
(Original story published in March 2019.)