Domes, rail cars, treehouses, yomes and yurts are just some of the unique accommodations in the Kootenay Rockies region, perfect for an off the beaten path stay on a Kootenay rejuvenating hot springs road trip.
Blaylock Mansion was built in 1935-37, this lakeside retreat features 3 acres of manicured grounds – as well as an arboretum with mature trees that can't be found anywhere else in Western Canada.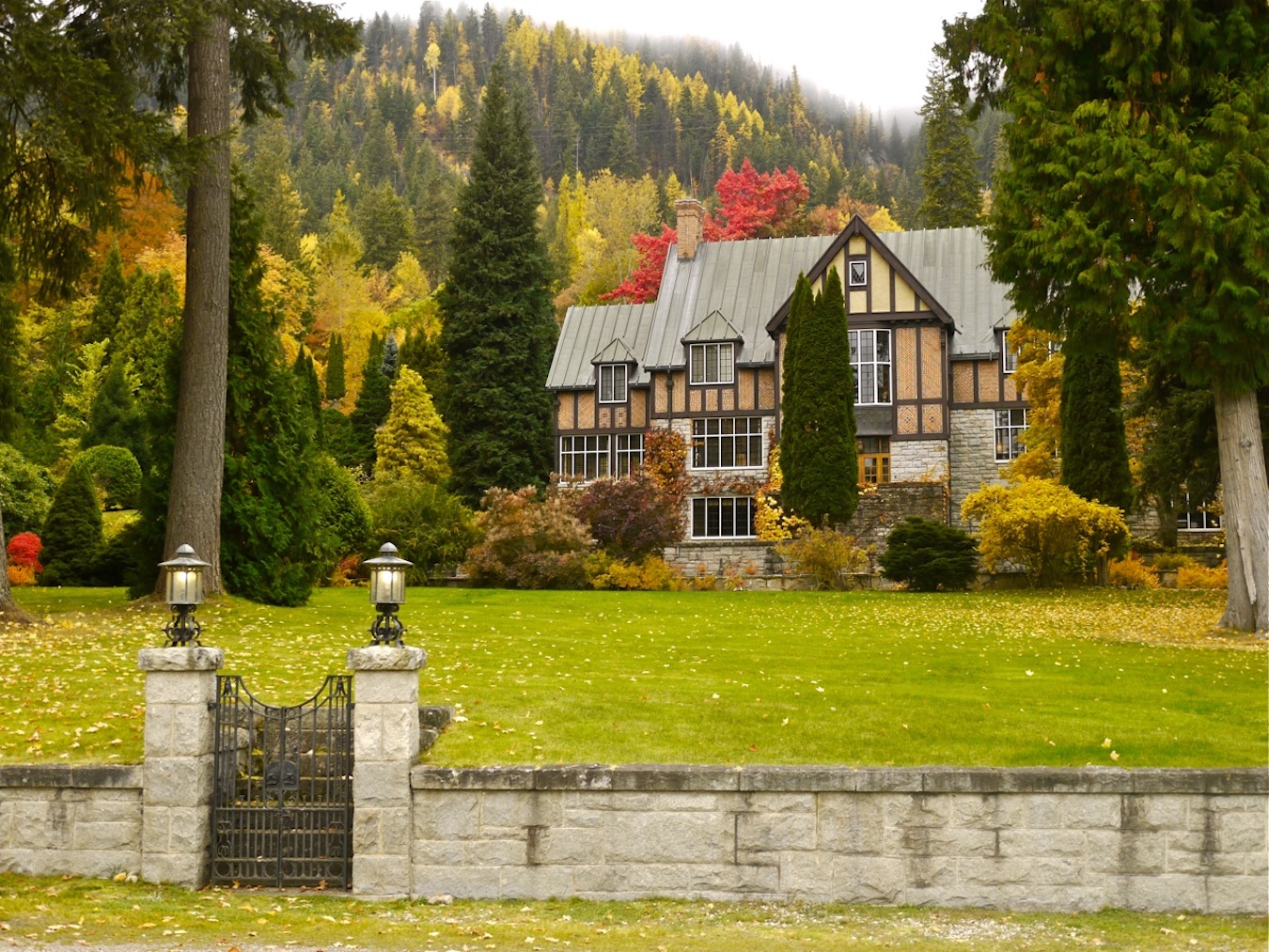 Blaylock Mansion near Nelson, photo by David Gluns
Overlooking Kootenay Lake is a Johnson's Landing Retreat choose between a treehouse, cabin, dorm room, or tenting space. Providing both mountain views, and meditation spaces to relax.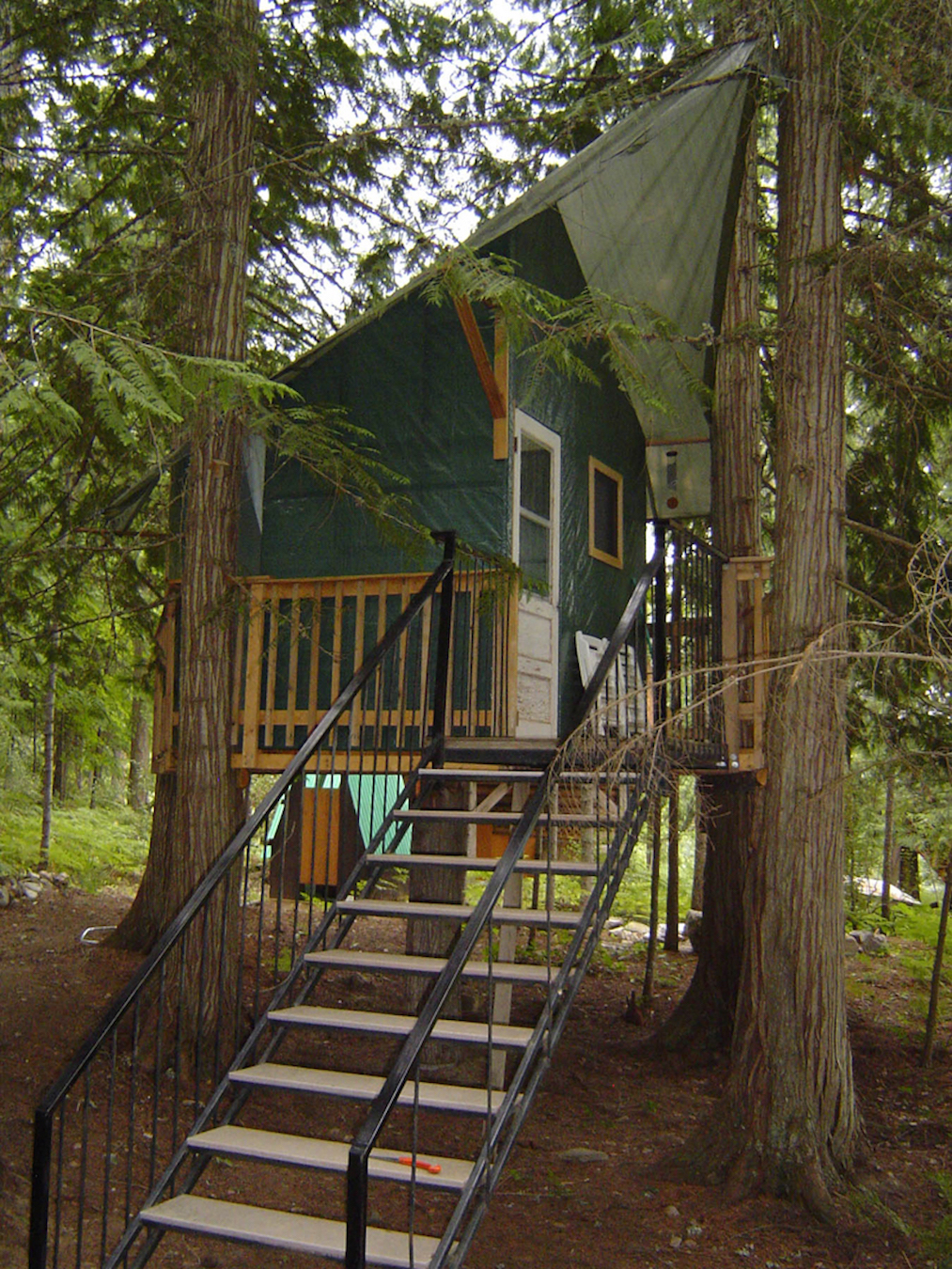 The Treehouse at Johnson's Landing Retreat
The Sentinel is a lakeside retreat and wellness centre, located in the small town of Kaslo, BC. Amenities include a cedar spa, sauna, and rejuvenating health and wellness programs.
The  Yome at Williamson Lake Campground in Revelstoke, BC is a blend of a Dome and a Yurt, offering a peaceful camping experience. The Yome can accommodate up to five people and includes a shaded canopy.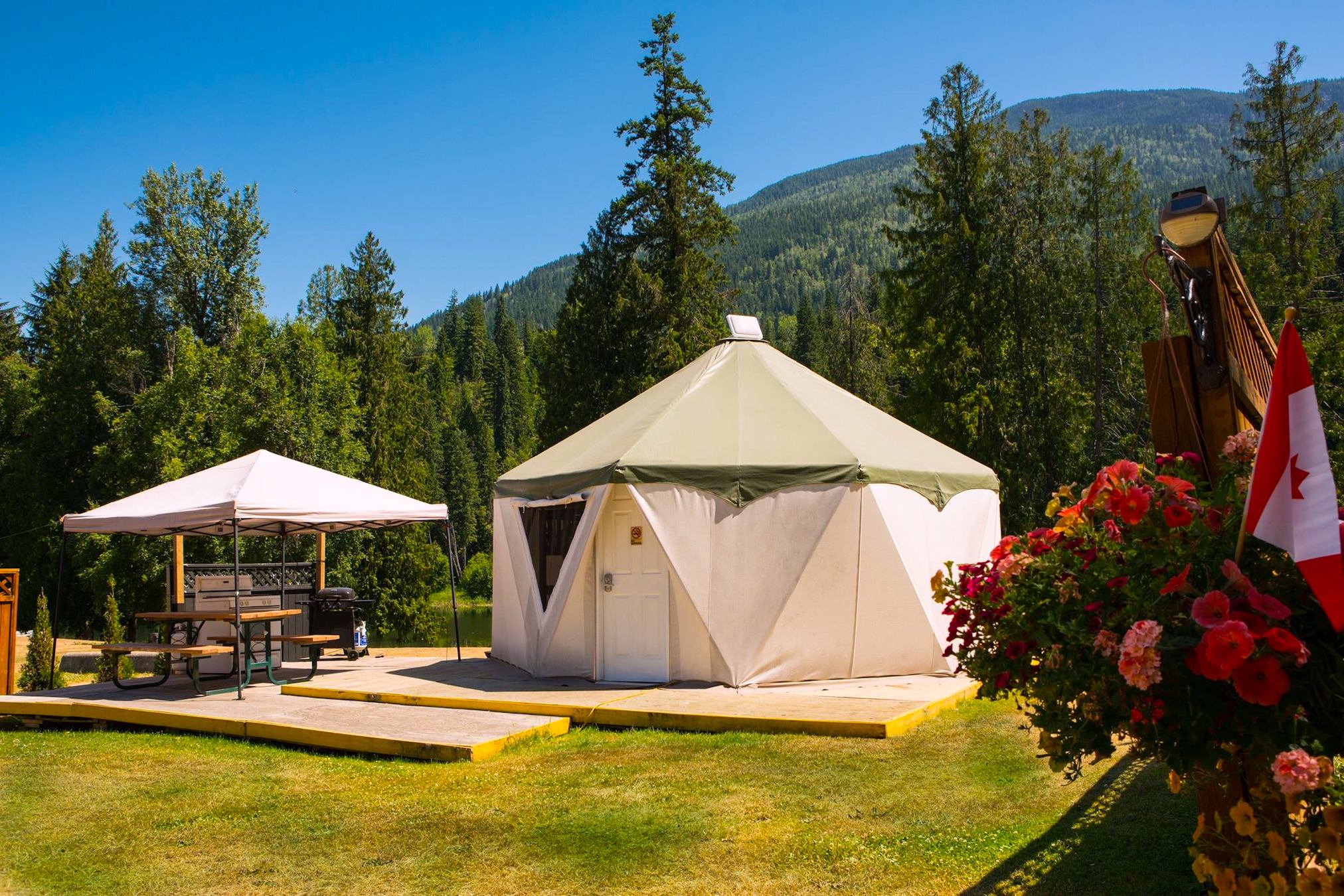 The Yome at Williamson Lake Campground in Revelstoke
Along the shoreline of Lake Windermere, Lakeshore Resort & Campground has teepee rentals, tenting, and RV camping located a short drive north of Fairmont Hot Springs.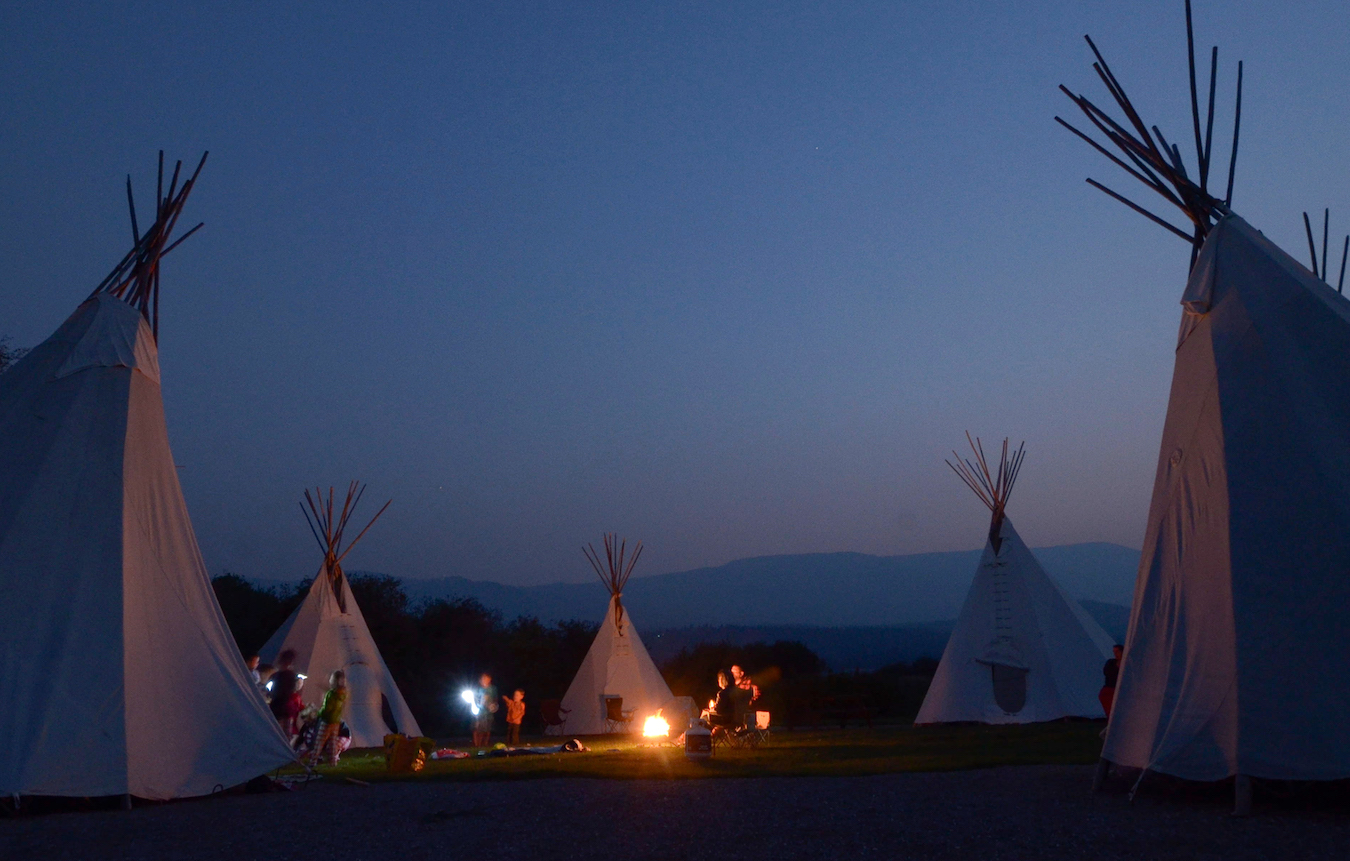 Lakeshore Resort and Campground on Lake Windermere; photo by Dave Quinn 
Offering both Yurt and Cabin Rentals, Rock Island Resort south of Nakusp, BC is only a short drive to Nakusp, BC (and both hot springs).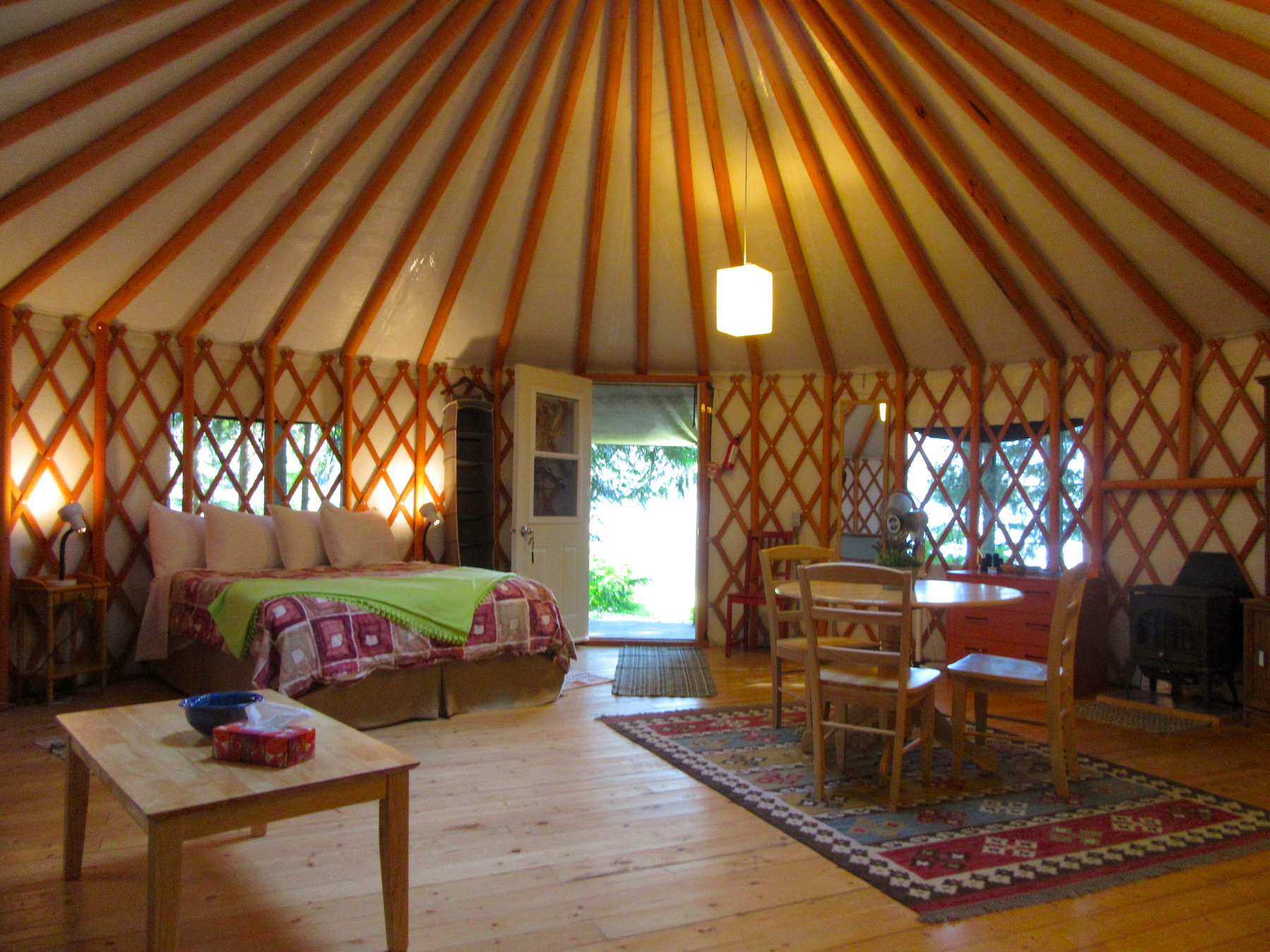 Interior of the Yurt at Rock Island Resort in Nakusp
If quaint Victorian-era hotels peak your interest, one of the finest examples is the Leland Hotel in Nakusp.  It is the oldest continuously operating hotel in British Columbia since 1892.
RADIUM HOT SPRINGS
Completely off-grid, Nipika Mountain Resort is situated within the wilderness of the Canadian Rockies. The resort generates electricity and heat with renewable energy, for a comfortable and eco-friendly nights stay.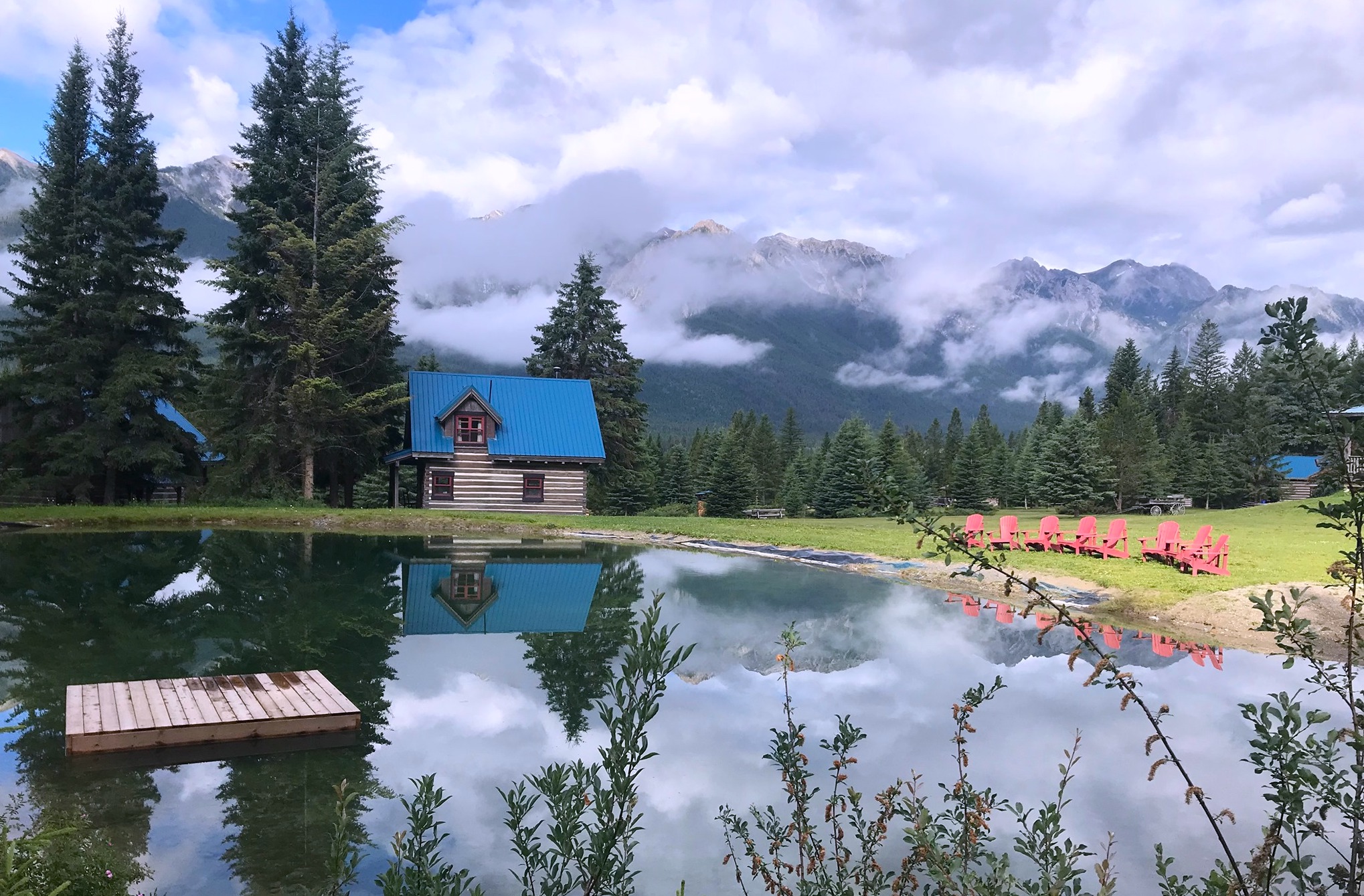 Nipika Mountain Resort offers fantastic trails to explore (Nordic, Mountain Biking, Trekking & Fat Biking) 
Return to nature at Radius Retreat with their hike-in off the grid yurt retreat located on 404 hectares (1,000 acres) of wilderness.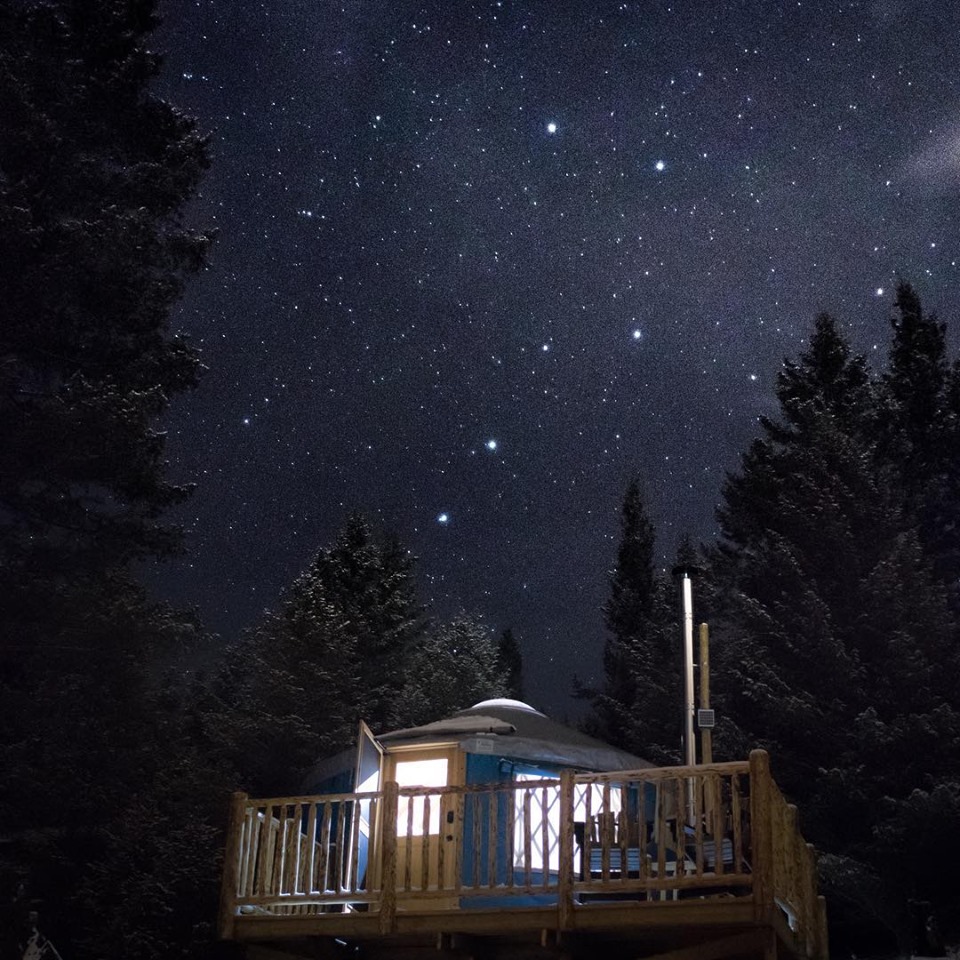 Radius Retreat just north of Radium Hot Springs
The oTENTiks in Redstreak Campground are part cabin, part tent, and within walking distance to the town of Radium Hot Springs and the relaxing mineral waters of the hot springs.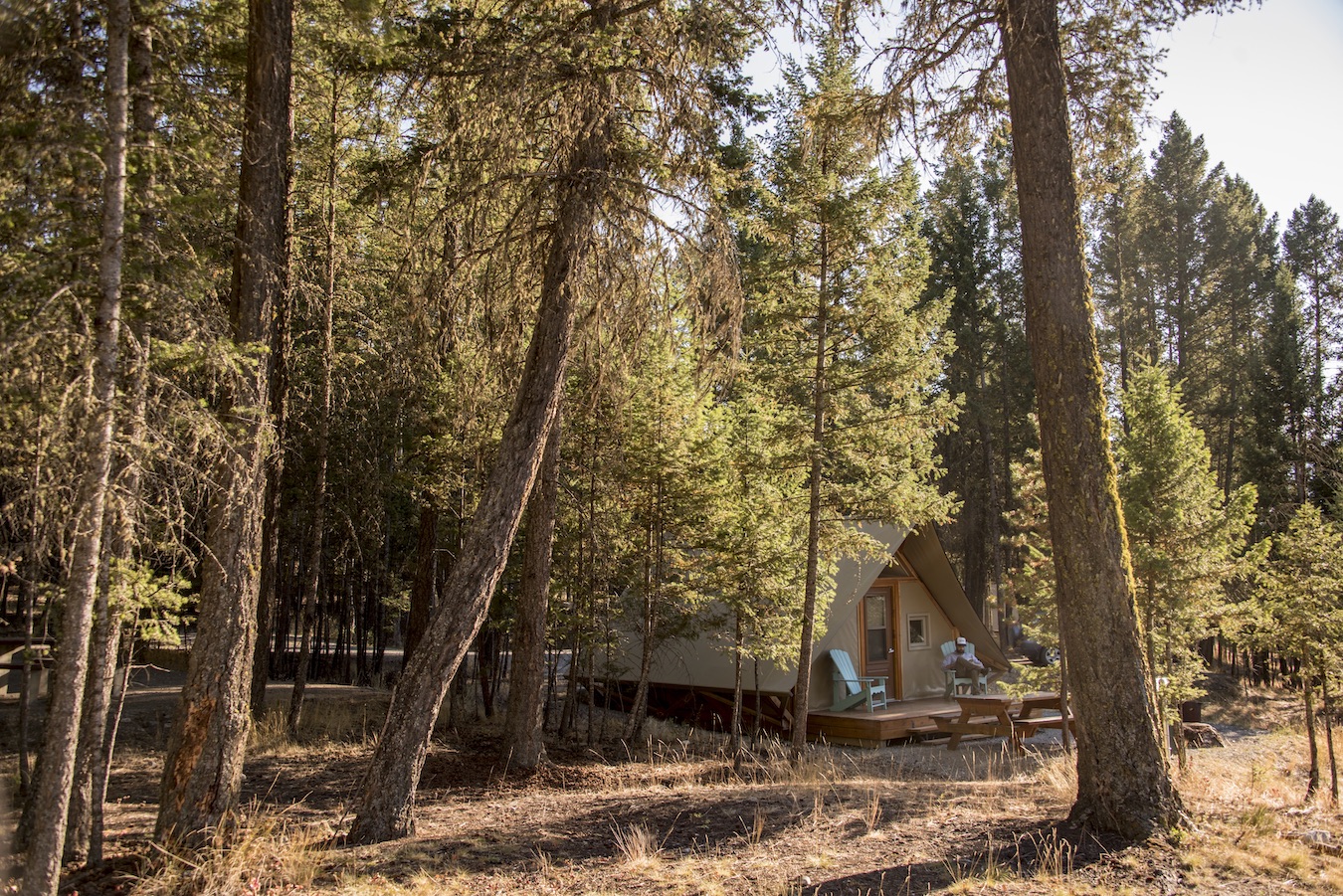 The oTENTiks at Redstreak Campground in Radium Hot Springs; photo by Kari Medig
ALONG THE ROUTE
In the lakeshore community of New Denver, you can find The Domes – four energy efficient cottages with a strikingly unique shape. Views of the Selkirk and Valhalla mountains make this spot ideal for an off-beat getaway.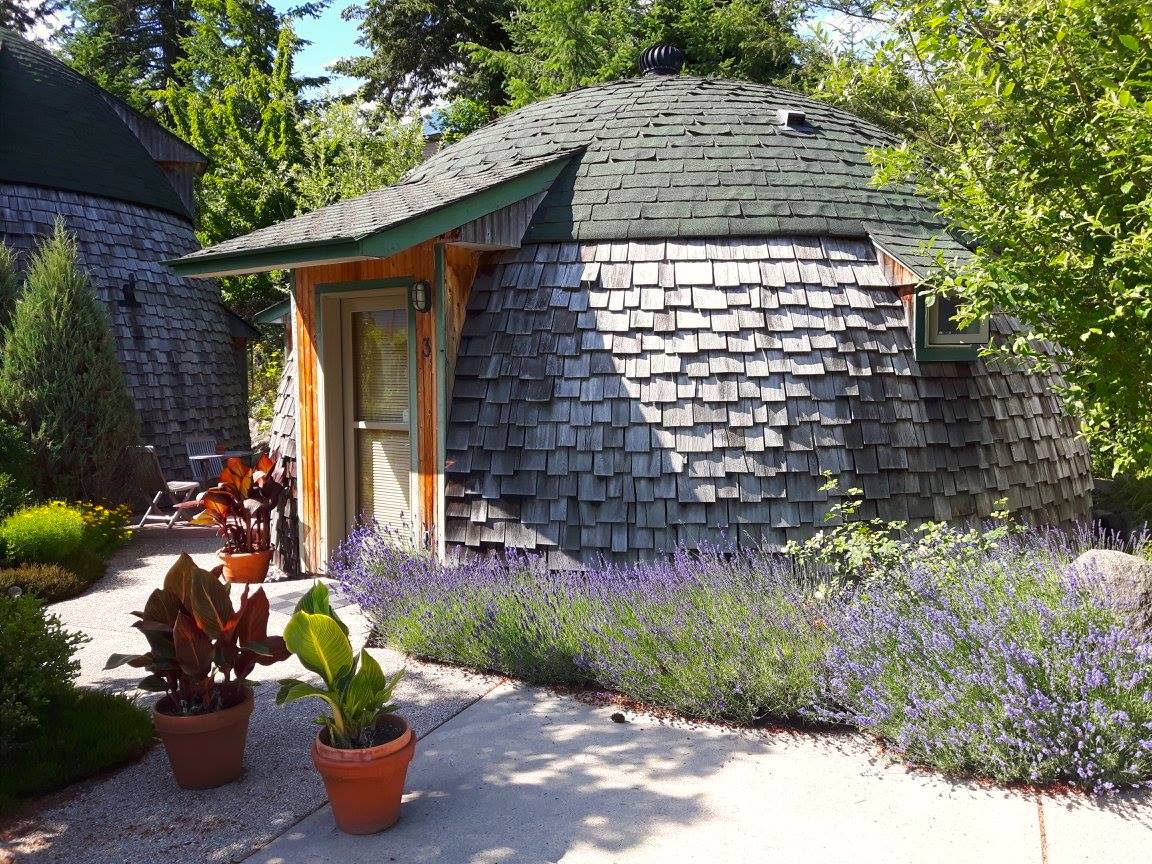 The Adventure Domes in New Denver
Addison's Bungalows were originally housed in Jasper, Banff, Lake Louise & Miette Hot Springs. These post & beam cabins were moved to Kootenay National Park and then to their current home in Brisco (along highway 93, between Golden and Radium Hot Springs). 
Emerald Lake Lodge is on its own island in Yoho National Park.  Dotting the 13-acre peninsula are 24-cabin style buildings, built to reflect the traditional architectures of the main lodge.
In Fernie, both the Fernie RV Resort and Snow Valley Lodging are overnight stays in a 'tiny home'.  Answering the call of campers who want outdoor adventure combined with a few home comforts.
Kootenay Park Lodge (formerly known as Vermilion River Camp) opened its doors on June 30, 1923 and was the first property on the Banff-Windermere Highway that travelled through Kootenay & Banff National Parks. The cabins were built in the 1930's by CPR and has been welcoming guests for over 90 years.
Spend a night in the trees, at Outa-the-Woods near Wardner BC. Featuring a rustic eco-friendly treehouse, raised 5 meters (15 feet) above the forest floor.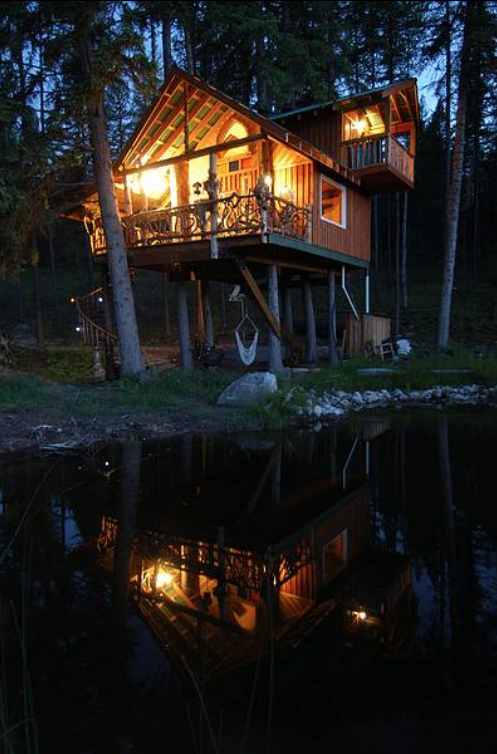 Outa-the-Woods Treehouse near Wardner, BC (located between Cranbrook & Fernie)
Stay in an actual rail car in Cranbrook, BC when you stay at the Prestige Rocky Mountain Resort.  This restored rail car has all the comforts, king bed, WiFi, mini-refrigerator, jetted tub, unique decor, premium linens and HD TV.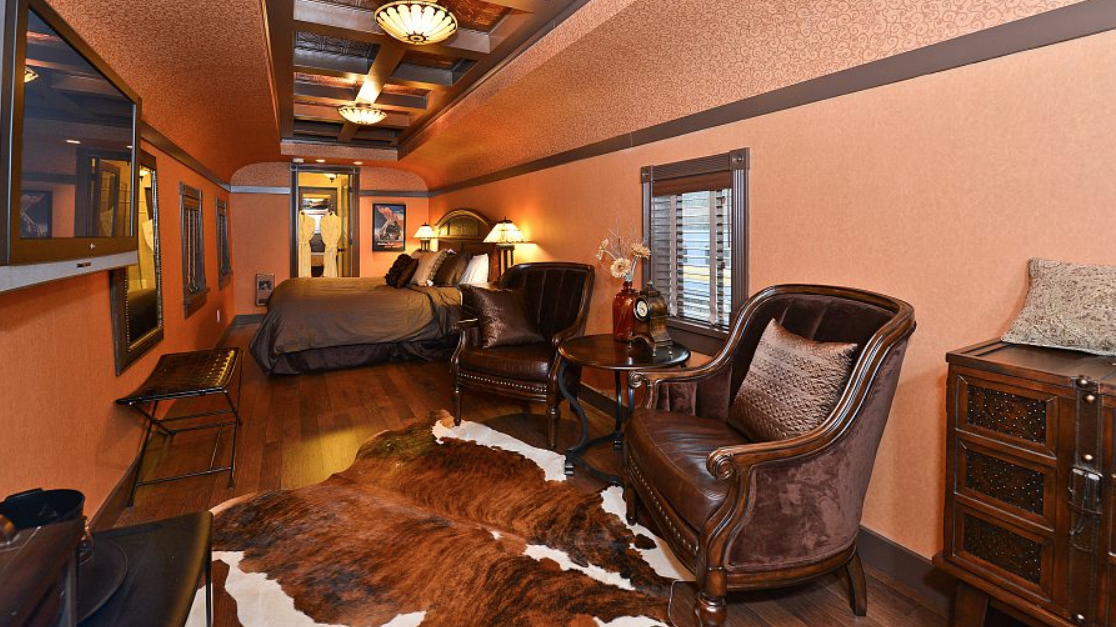 Interior of the Rail Car in Cranbrook; photo courtesy of the Prestige Rocky Mountain Resort
If you wish to wake up listening to the Blaeberry River, then the 8-sided, straw bale constructed 'Meditation House' at Quantum Leap Lodge & Retreats near Golden, BC offers a tranquil overnight stay.
The Red Barn Lodge in Rossland, BC was once Rossland's Dairy and today is situated on 13-acres of private grounds.
St. Eugene Golf Resort Casino offers deluxe guestrooms, housed in the original Mission building.  In addition to its unique history, it is also home to the nearly extinct Townsend's Big-Eared Bats.  During renovations to the building in 1996 (from an Indigenous Residential School), they built a roost for these bats that is sound-proofed, heated and air-conditioned (plus infrared cameras to monitor the bats' activities).  St. Eugene continues to protect this colony that returns each year.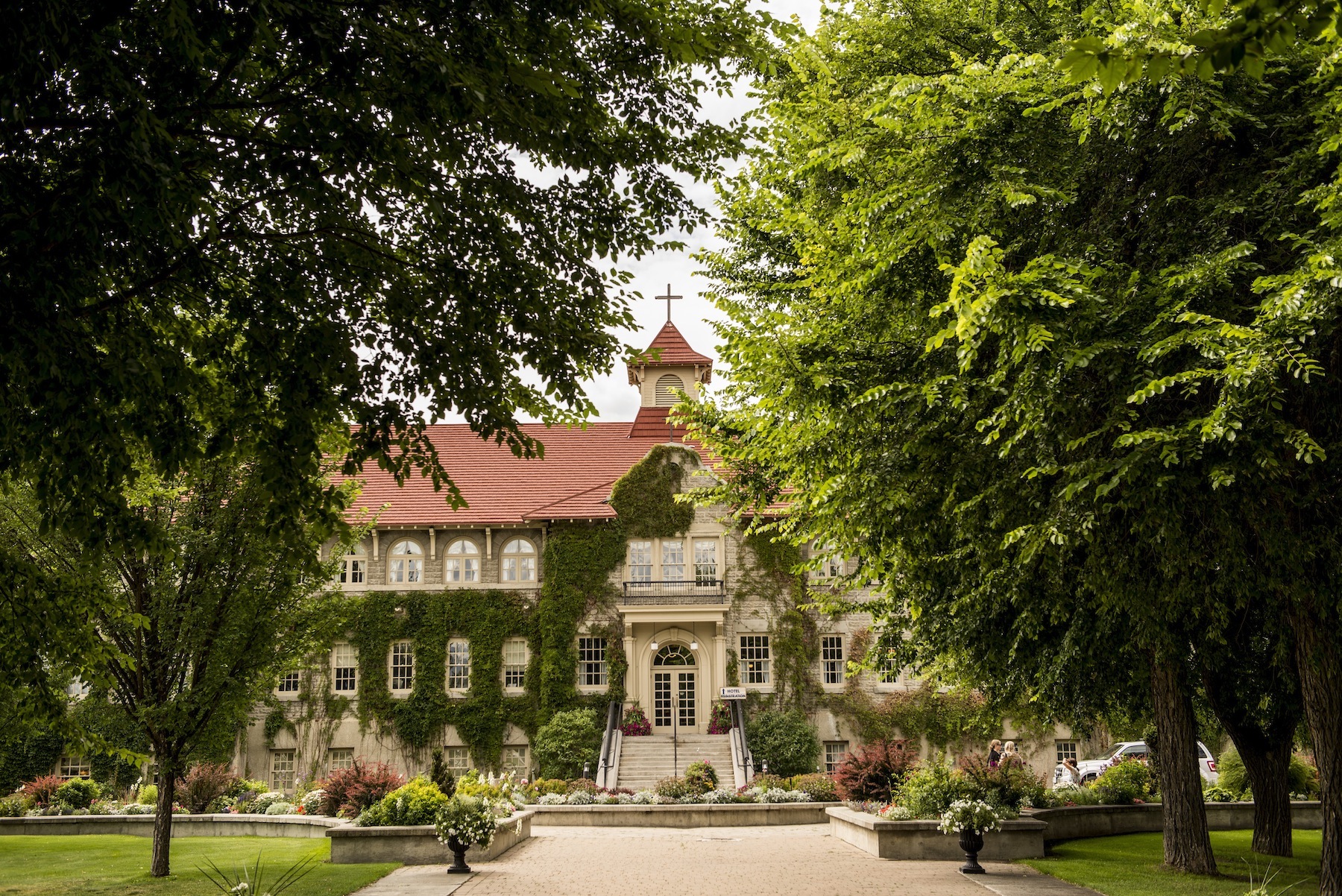 St. Eugene Golf Resort Casino near Cranbrook, BC; photo by Kari Medig
Next stop Hogwarts?! The Super 8 in Castlegar has their own Harry Potter themed room. Take a magical journey through the world of Harry Potter and his friends in their Harry Potter room.
Wedgwood Retreat in Crawford Bay is set on a 50-acre estate. It has stood since 1910 and was built for the daughter of British china magnate Josiah Wedgwood. The Manor is an intriguing English Country House in the midst of natural beauty. It is beautifully restored and decorated with contemporary art.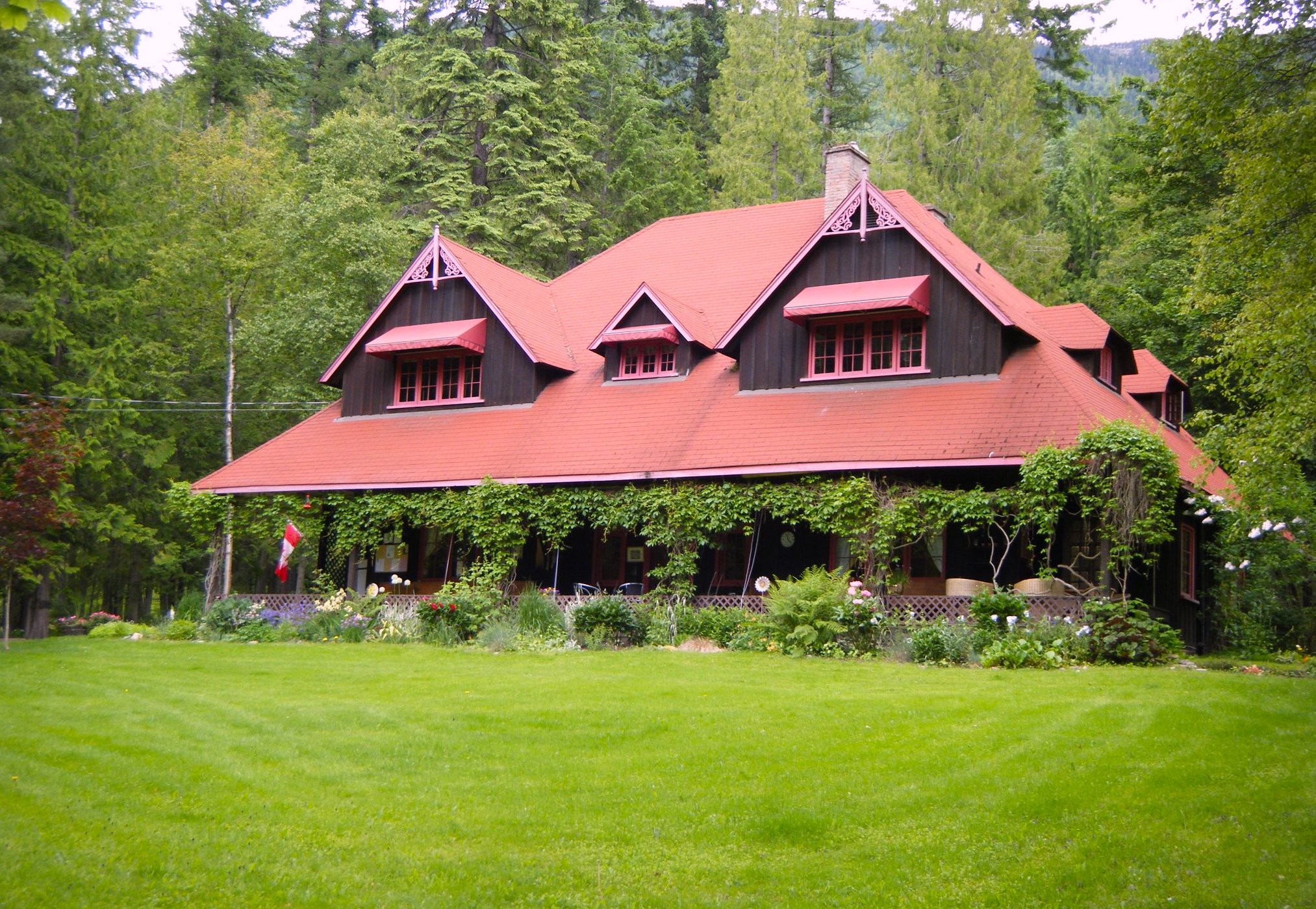 Wedgwood Retreat in Crawford Bay (the East Shore of Kootenay Lake)
Know Before You Go – With high levels of snow and winter driving conditions in effect, it is very important to check highway conditions and travel advisories while traveling throughout the Kootenay region. Winter tires are needed on your vehicle from October to April and Road Safety at Work has some great ideas for items to pack in your car such as windshield scraper & snow brush, shovel, warm blankets, snacks/beverages. If you're traveling in the spring, summer or fall just remember that traveling in the mountains can come with unexpected changes in weather patterns. Even in the warmer months, it is very important to check highway conditions and travel advisories. DriveBC is a great resource with real-time webcams and road statuses.
Related Stories
~ Getting into Hot Water: Kootenay Hot Springs
~ Glamping in the Kootenays
~ New Places to Stay in the Kootenays (in 2019)
~ Pet Friendly Kootenays
~ Waters of Wellness: Kootenay Hot Springs
Words by Ashley Voykin.  Cover/top photo courtesy of the Adventure Domes in New Denver, BC.
Ashley Voykin is a landscape and outdoor adventure photographer in the West Kootenays. Her work focuses on big mountains, small towns and exploring those spaces. Committed to capturing local landscapes in a new way, she can often be found chasing Northern Lights late into the night and finding new views of endless lakes and mountains around the Kootenays.
Please tag your images with #KootRocks on Instagram  to be featured in future stories. 
(Original published date: Jan 10, 2020.)