Are you a digital nomad? These days that's not just someone who gets lost in fantastical video games. In the modern workplace, it's anyone empowered by tech to do their job remotely. 
As a sign of things to come, according to Forbes, 50 per cent of the entire US workforce will be remote by 2020. It turns out freedom is productive, and companies everywhere are catching on. If you're someone with this kind of mobility, it means you can do your work anywhere with a good connection.
Since high-speed gigabit internet courses through the Kootenays, you can take your work on vacation here for the week, or even an entire season. And, nowadays, you can even skip the distraction of cafés and stodginess of libraries by parking your butt in one of our region's many co-working spaces. These communal environments let you plug in and get your work done, so you can unplug and play afterwards.
Check out these co-working spaces for your Kootenay 'winter' work-cation.
Fernie Common
_ Fernie Alpine Resort
All of their clients are members, not tenants.  They offer several types of flexible membership agreements starting at $380 per month.  Day passes ($38) include WiFi, refreshments, parking and printing.  Plus, they also offer weekly passes ($175), which includes all of amenities as a day pass. 
Ground Floor
_ Kimberley Alpine Resort
Built around the sharing economy, Ground Floor is the most professional co-working space in the Kootenays, located in historic Cranbrook's amenity-rich downtown. From here it's only a short hop to Kimberley (a 20-minute drive). With more pricing tiers than anywhere in BC, you can start with drop-in for $15.
Two other coop spaces are also available in Cranbrook, the second space is located on 9th Avenue South near The Heidi Out Brew Pub/Restaurant and the third space is in the Brooks Public Relations building also on 9th Avenue.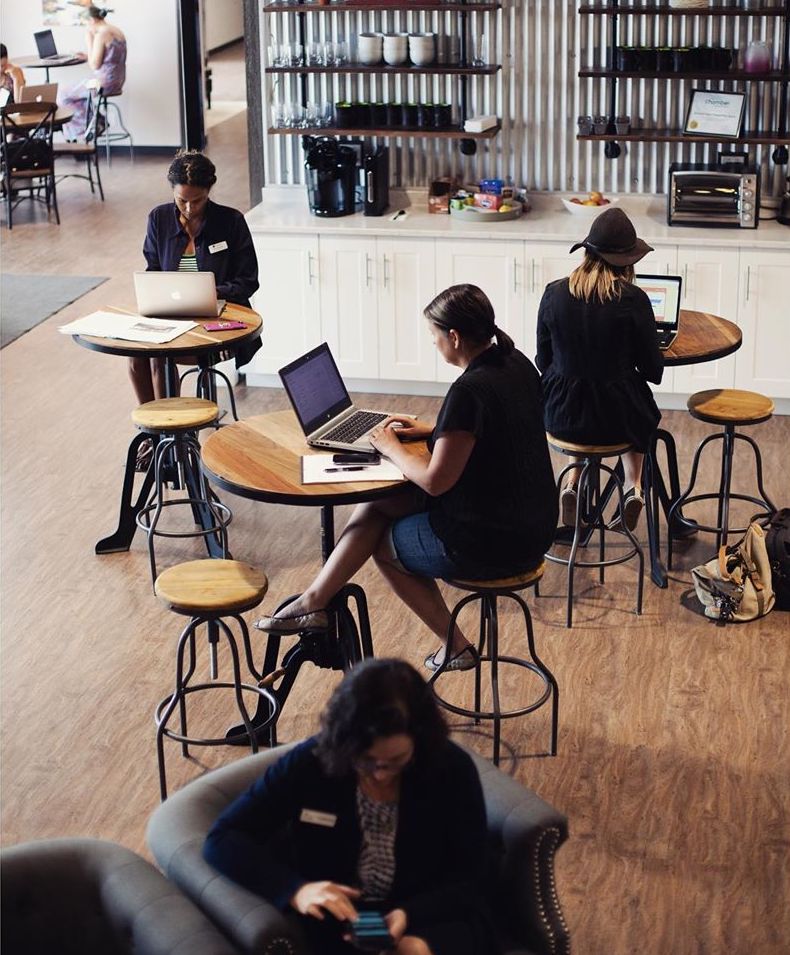 Photo courtesy of Ground Floor Coworking Space in Cranbrook, BC

Mountain Hub
_ Panorama Mountain Resort
A bright open space with modernist décor, Mountain Hub in Invermere, holds to a mission of bringing workers together to network and problem solve. Come ride the new 'Monster' terrain that opened last season at Panorama Mountain Resort in the morning and then the rejuvenated wave of your own creativity and productivity in the afternoon. Day passes are $25 (for Mountain Hub) which includes super fast WiFi, a shared workstation & kitchen, unlimited coffee/tea and a welcoming community (with options for varying stays).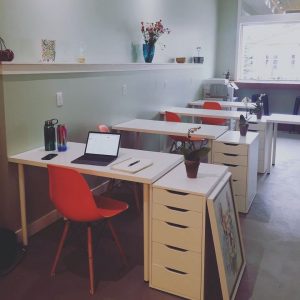 Photo courtesy of Mountain Hub in Invermere, BC
Mountain CoLab Cooperative
_ Revelstoke Mountain Resort
Located in Revelstoke, the resort boasts the most ski-able vertical in North America. Here, you can get a hot desk in the open-concept mountain-modern space for just $85 a month and bag first tracks at Revelstoke Mountain Resort all winter. (You can also grab a punch pass or a daily drop in at even lower rates.)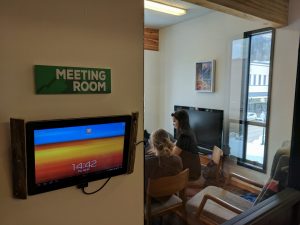 Photo courtesy by Mountain CoLab in Revelstoke, BC
Jam Factory
_ Whitewater Ski Resort
Repurposing an industrial
building that one century ago produced, you guessed it, jam, this space offers a warm, historic seat in the bustling Queen City of the Kootenays – Nelson.  Hot desks start at $175 a month, contact them for drop-in rates and yes you can bring your dog (and yoga pants, there are classes). Only 30-minutes are endless stashes of powder at Whitewater Ski Resort.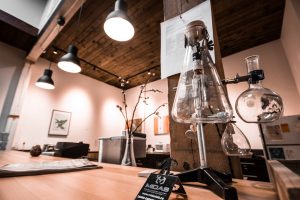 Photo courtesy of the Jam Factory in Nelson, BC
_ Co-working spaces are also coming to Golden (Kicking Horse Mountain Resort) and Fernie (Fernie Alpine Resort) soon. Check out the "Seven Summits Centre For Learning" if you're on sabbatical in Rossland with children while skiing/riding at RED Mountain Resort.
Know Before You Go – During winter months, winter driving conditions are in effect. It is very important to check highway conditions and travel advisories while traveling throughout the Kootenay region. DriveBC is a great resource with real-time webcams and road statuses. Winter tires are needed on your vehicle from October to April and Road Safety at Work has some great ideas for items to pack in your car such as windshield scraper & snow brush, shovel, warm blankets, snacks/beverages.   
Related Stories
~ Funky Finds on the Powder Highway
~ How BIG is BC's Powder Highway?
~ Kootenay Winters: Why We Love Them
~ Our Kootenay Mountain Culture on the Powder Highway
~ Powder Highway 101
~ Revel-Stoked: On Community, Mountains and Powder
~ Road Tripping the Powder Highway Like a Ski Bum
Story by Matt Cote. Cover/top photo by Kari Medig, on route to Whitewater Ski Resort near Nelson, BC.
Matt Coté is a writer, editor and wanderer based in Revelstoke. His written musings typically focus on the inner workings of society and ecology, at the intersection of the landscape he most loves: mountains. Equally enraptured by robust stories of adventure and the sweetest spots to find it, no place has won him over more than his own British Columbia backyard.