To some, (yours truly included), signing up for an 'ultra marathon' has not made the bucket list… not even close. That type of thing is for serious athletes on a competitive mission to prove who knows what.  Right? Well, my perspective and that of many others has changed thanks to a new favourite event in Golden, BC – a three day stage running race called The Golden Ultra. Here's why.
Like most activities in Golden, 'fun' is often achieved with a bit of risk, a lot of determination and a dash of insanity while exploring the mountain terrain. That's what race director Magi Scallion saw as an opportunity when she came up with The Golden Ultra.
"What inspired me to create The Golden Ultra was travelling to some other ultra marathons, and seeing how much better the trails were in Golden. I went to some races where the routes just weren't as fun, and I just knew the potential that Golden, BC had. I wanted to show off Golden, and provide a great running experience for every participant", explains Scallion.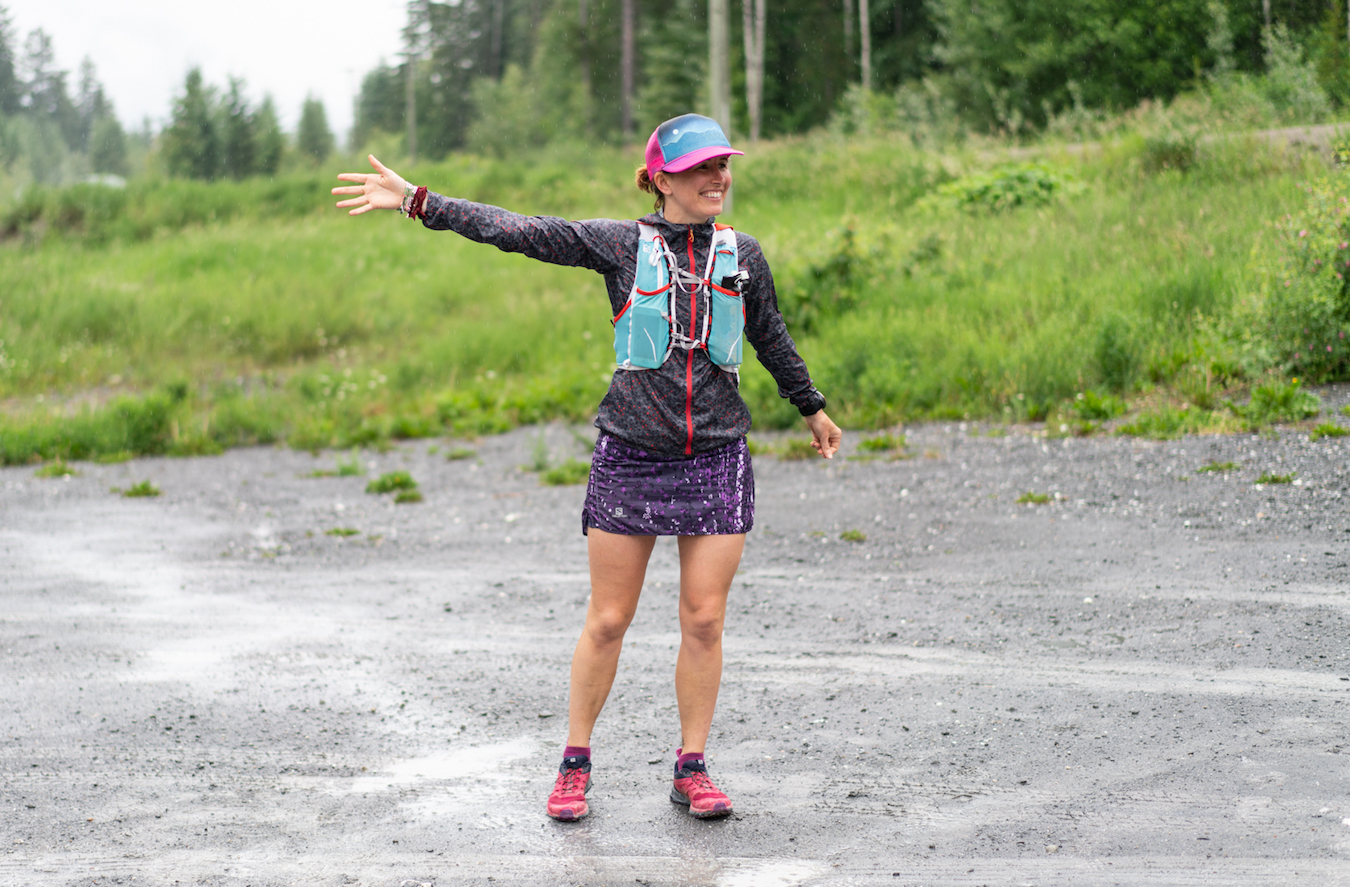 Golden Ultra Race Director Magi Scallion showing off the trails in Golden. (photo: Elora Braden)
Shortly after that realization, Golden became host to a race with a vertical kilometre the first day, a 60-km ultramarathon the second, and a half marathon on the third day. By the way, each day had its own name: The Blood, The Sweat and the Tears.   
Over the 3 years, that great running experience has been noticed not only by hard core ultra runners from all over the world, but also by those who might not even consider themselves 'ultra' at anything. That's because the race has evolved to provide a custom menu of difficulty to each participant.  "There's the full Golden Ultra race and then there's a half version of each day. So you can register for any distance of any day", adds Scallion.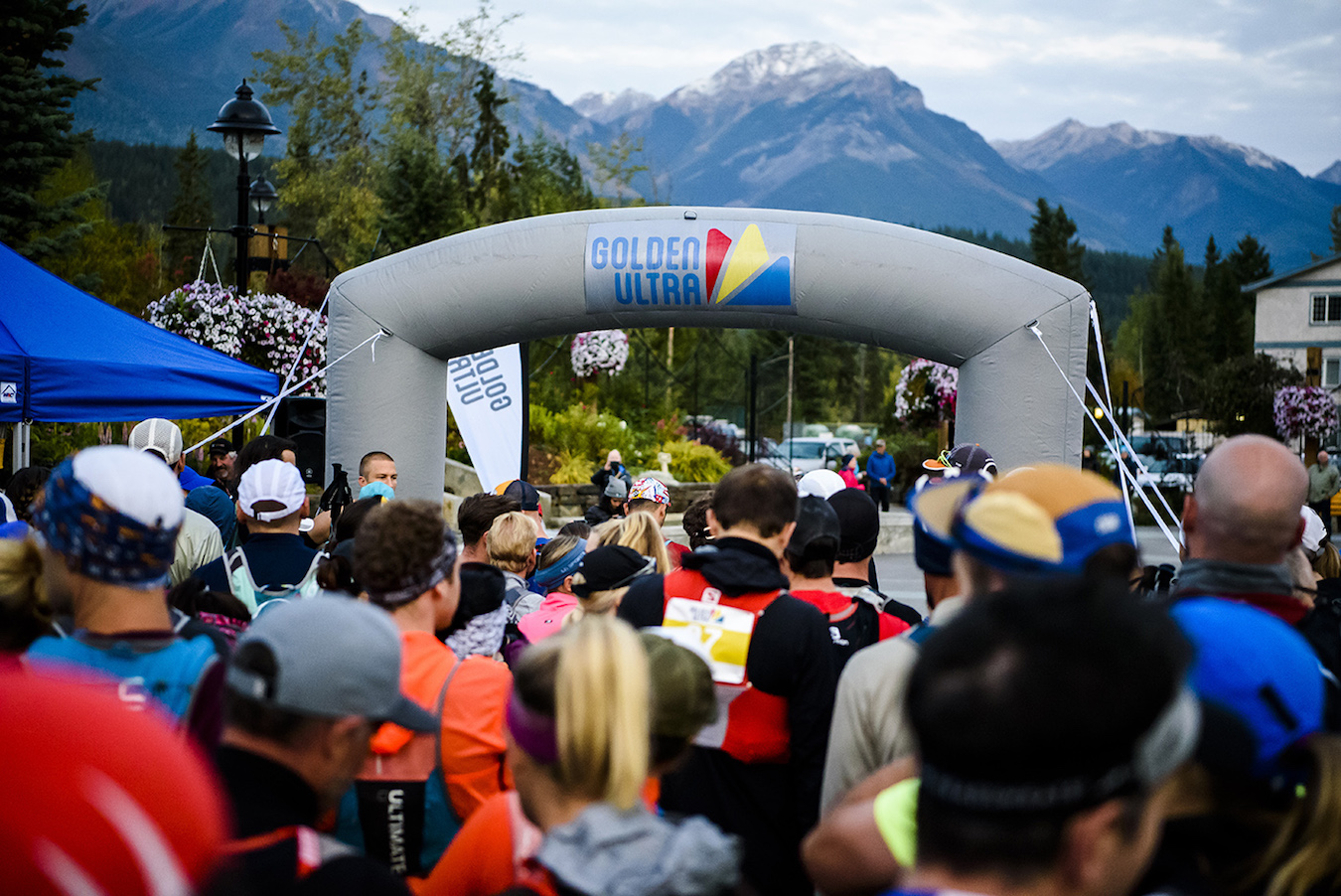 Ultra Attitude: We're all in this thing together, no matter what the distance! (photo: Bruno Long)
Scallion explains that it helps anyone hesitant try their hand at ultra racing, or trail running, "I think that that is a real motivator. You can go on a running trip with friends, and maybe one of your friends is crazy fit, and the rest are normal human beings thinking of doing 10-km, there really is something for everybody."
This race has not only grown in participation, but the whole event draws in a crowd of spectators.  That's because they are likely to be given a show at any stage of the event thanks to some unique traditions. Scallion notes a few of her favourites, "I have a very bizarre sense of humour and we come up with crazy ideas, so our first year we invited those running the 60-km to celebrate their halfway point of the race with a beer at the Eagle's Eye restaurant. Last year we invented a 'Hobby Horse' category and free entry was given to ANYONE running the 60-km saddling up with a wooden hobby horse. This year you can run any event on a hobby horse and get some great prizes. New this year, we married the concept of bear safety (making noise in the woods) with having a good  time on the trail by having a karoke contest!"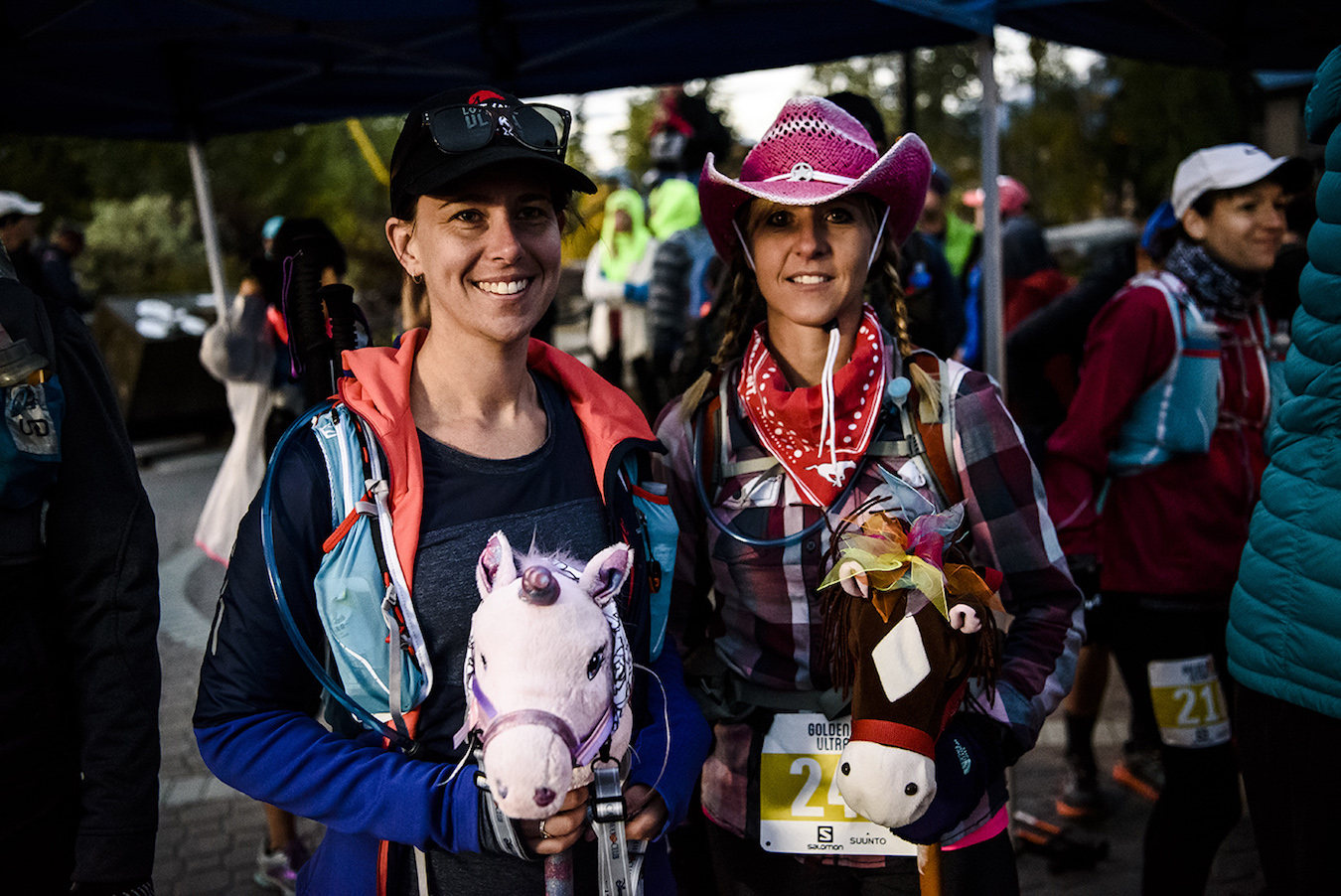 Hobby horsing around. (photo: Bruno Long)
To those who want to be a part of the event, but haven't dusted off those sneakers in a few years, there is another great way to get involved by volunteering. Scallion agrees, "I recommend people to volunteer to get the full experience, you really get to interact with the runners."  
The next best place to take in the race? The finish line of course. "There's tons of energy and our sponsors are set up at the finish line and have so many prizes to give away, you see everyone finishing, that's where all the emotions are."
If you aren't convinced that this isn't the best race ever, you can check out the upcoming 'three days of trail running bliss' this fall. The next Golden Ultra takes place September 18-20, 2020.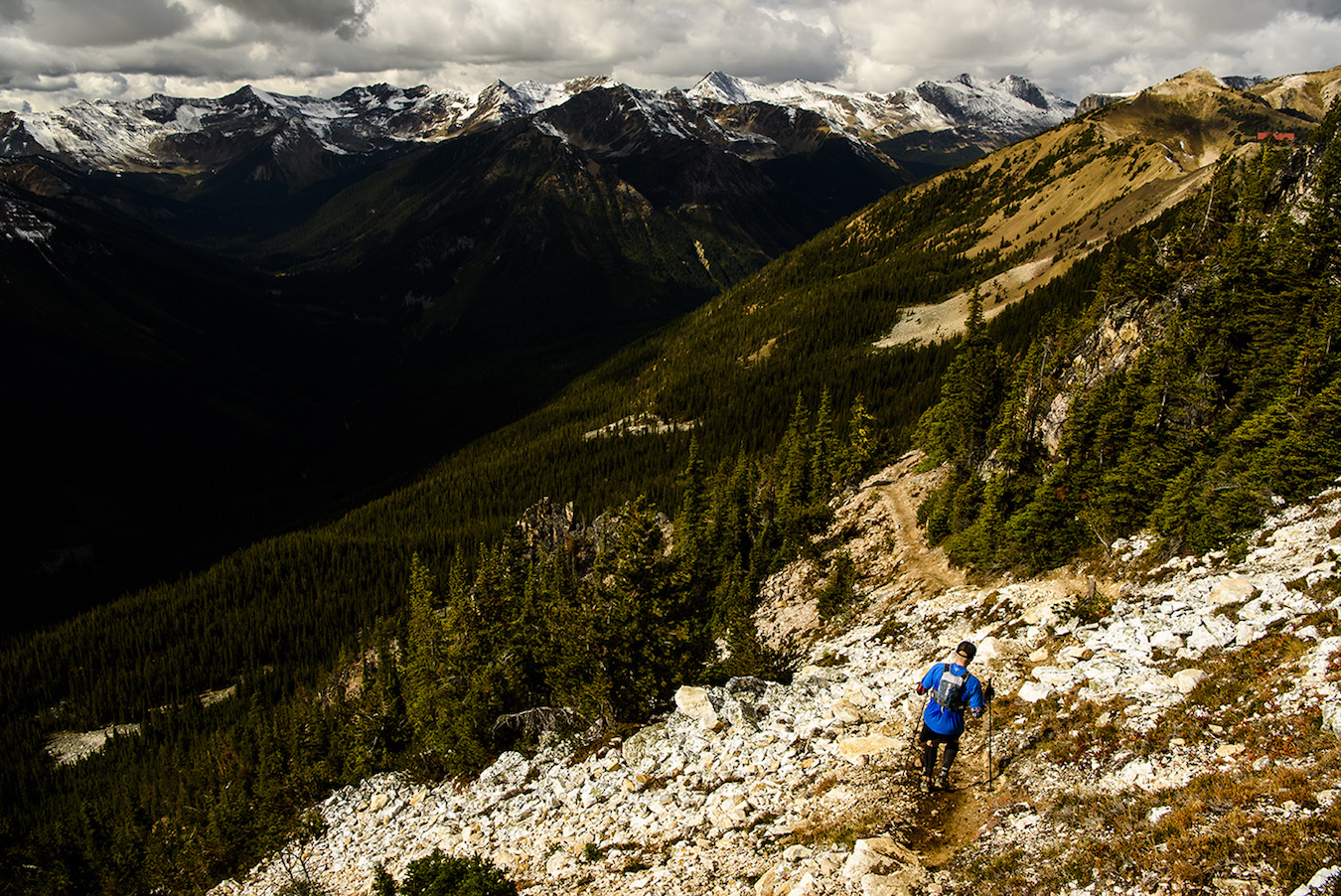 Know Before You Go – The seven principals of Leave No Trace provide an easily understood framework of minimum impact practices for anyone visiting the outdoors. They are easy to follow and are easily implemented. The seven principals are; Plan Ahead & Prepare, Travel & Camp on Durable Surfaces, Dispose of Waste Properly, Leave What You Find, Minimize Campfire Impacts, Respect Wildlife and Be Considerate of Other Visitors. Consider these principals and put them into action on your next adventure! Want to learn more? Leave No Trace Center is an excellent resource for actions in reducing your footprint while being outdoors.
Words by Elora Braden. Photos by Elora Braden and Bruno Long Photography, courtesy of The Golden Ultra.
Elora Braden is a videographer and photographer in Golden, BC. Raised between Yellowknife, Northwest Territories, and Nelson, BC, she grew up listening to the stories of the north and the Kootenays. Her love of adventure and passion for storytelling has been applied to a career as an actor, journalist, radio producer, photographer and videographer. She's now thrilled to call Golden, BC home and is likely at this moment attempting a new mountain sport, camera in hand.
Please tag your images with #KootRocks on Instagram  to be featured in future stories. 
(Original published date: July 17, 2018)