It's 4:00 am and I am wide awake. I am so excited and anxious I have barely closed my eyes all night. The eight-hour road trip from Kimberley to Monashee Powder Snowcats, near Cherryville, should have exhausted me (in fact it has!) but the anticipation is just too high. The temperature, which was very high yesterday, has dropped a lot and the rain turned into snow early last night. I look out the window. The sky is clear and I can see some stars. The snow has stopped falling.
Warm and cozy between the soft flannel sheets, I can hear my sister's regular breathing. I smile. I am here with her for 3 full days to experience cat skiing for the first time and to see with my own eyes what her job is all about. It's her second season as a Tail Guide here. Her alarm should ring soon; the days start pretty early for MPS' staff. I smile some more and think about the day ahead.
6:30 am: I am granted access to the guides' morning meeting. I hear them talking temperature, wind, new snowfall, avalanche rating, weather forecast, what runs are "safe" to ski and which ones are to be avoided. Truly fascinating. The guiding team is very knowledgeable and professional and listening to them makes me feel like I am in good hands.
At 8:30 am: the beacon search training begins, following up to an informative avalanche safety and research technique refresh provided the night before by the Lead Guide. In my group, everyone seems fairly savvy on how avalanche beacons work, yet everyone listens carefully to the instructions and welcomes the refresh.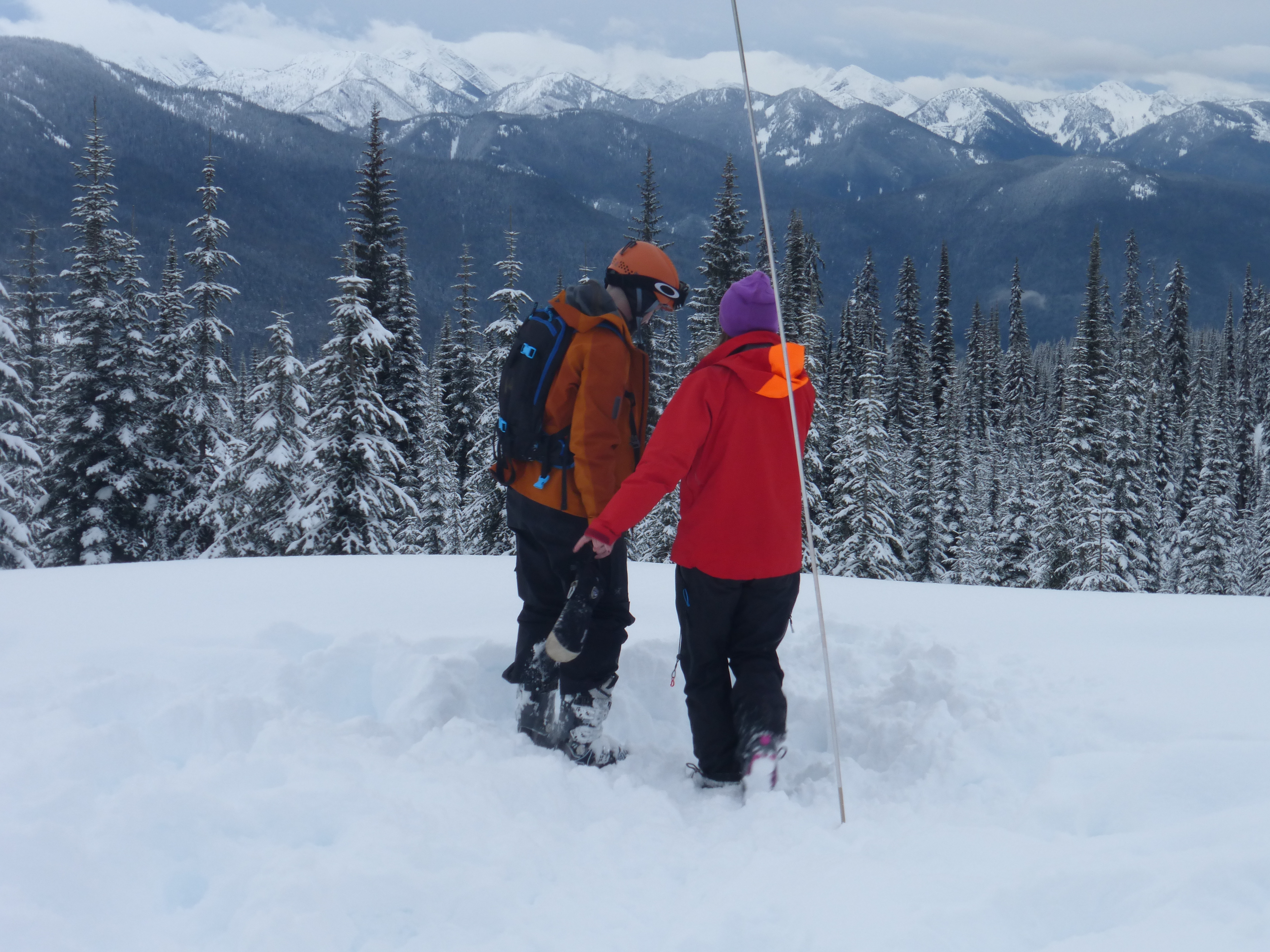 Photo by Emilie Cayer-Huard
Then we all load the cat after a few more safety instructions. Once again, guests on my group all listen carefully to the Tail Guide's speech. As she says, the snowcats are big hard machines with lots of blind spots and we humans are small and soft in comparison…no one wants to be crushed under their oversized tracks.
A 15-minute ride up a steep road takes us to our first run. Unloading the skis and poles happens very quickly and within minutes of reaching the "drop off", we're all clicked into our bindings and ready to go, smiling with excitement. Our guide assesses the slope and drops in. The fresh powder, nearly 15 cm, flies light and fluffy behind him. This sets the tone to our day.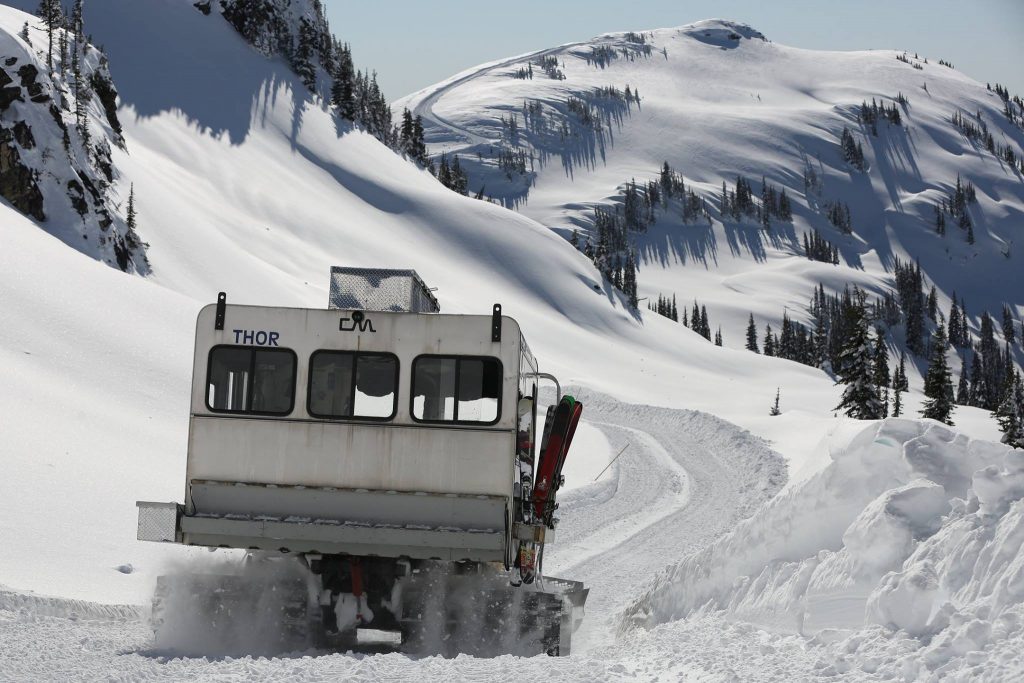 Photo courtesy of Monashee Powder Snowcats
Monashee Powder's tenure is huge, 6,880 hectares (17,000 acres) total, and the terrain extremely varied, although the visibility doesn't allow me to gauge the extent of it on that very first day. The Lodge itself being located at 1,600-m (5,250 ft.) of elevation, the warm temperatures has only had a moderate effect on the snowpack above it so the skiing is absolutely fabulous. At the end of day one, I am in awe and so stoked about what I just got to experience. I am even happier thinking that I have two more days of more of this heavenly powder ahead of me. As the forecast predicted, it's snowing hard again!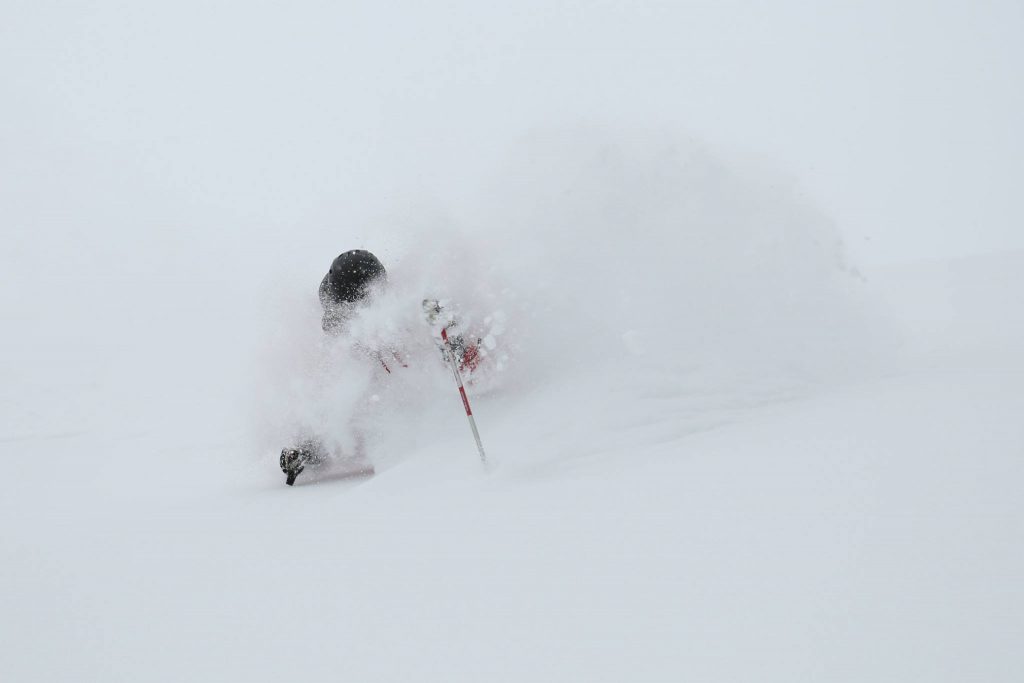 Photo courtesy of Monashee Powder Snowcats
Back to the Lodge, guests disperse to soak in the hot tubs, take advantage of the Registered Massage Therapist and Acupuncturist on duty or enjoy some Après in the bar where some tasty appies and cold beverages are served.
A little later, a gourmet 4-course dinner is casually served in the dining room by the Lodge's friendly staff. Helping bringing the plates really works up my appetite. To the sound of chatter, laughter and tales of the extraordinary day, guests and staff all replenish their energy with a fine albacore tuna tartare, split pea and roasted garlic soup, bison tenderloin cooked to perfection and sweet delicacies crafted by the on-staff pastry chef, all paired with a selection of fine BC wines.
Jokes and stories are flying around and I can tell that a long-lasting friendship links Carolyn and Tom Morgan, the owners of Monashee Powder, to their guests and staff. This extraordinary couple, originally from the oil & gas industry in Calgary, literally got addicted to cat skiing and to this little corner of the Monashee mountains back in the 90's. Back then, guests were hosted in prospector-type tents (Tom would tell you the exact make and model of those tents!) heated by wood stoves…and skiing long straight skis. The Morgan's have invested all their heart in this unconventional business, making this place unpretentious, warm, authentic, and extremely welcoming, where people gather around a true passion for skiing.  This is certainly the reason why their guests return over and over and the Lodge almost sells out a year in advance.
While guests and staff make their way to the bar for some after-dinner drinks and live music, I head right for my cozy little bed. One thing is certain, tonight my eyes won't stay open and my dreams will certainly involve some white, fluffy snow and steep untracked lines.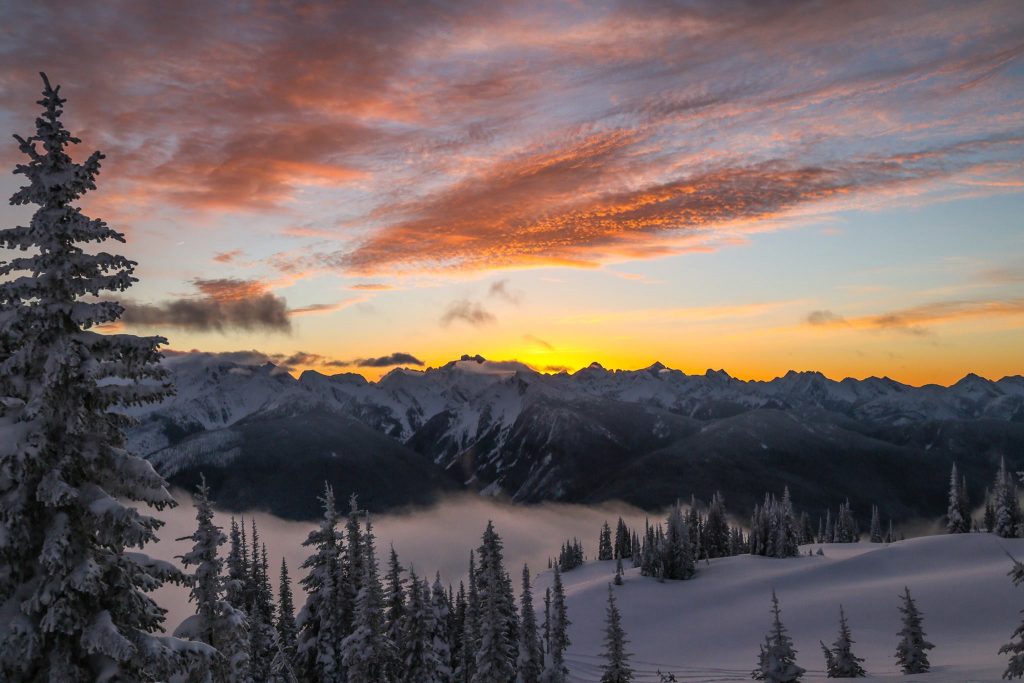 Photo courtesy of Monashee Powder Snowcats
~ Take extra time to research and plan your trip in advance. Many of our tourism businesses and services have adopted new COVID-19 protocols and changes to their schedules or policies to ensure your safety. You'll want to become familiar with them ahead of time.
~ If you normally travel with extended family or with several friends, consider travelling in a smaller group this winter. Travelling with fewer people makes it easier for you to practise physical distancing in public, and may have less of an impact on the destination.
~ Consider a slower travel pace this winter to help curb the spread. Instead of checking in and out of multiple destinations during one trip, choose one or two destinations and one/two accommodation properties for your entire trip (and explore all the things to do & see nearby).
Related Stories
~ How BIG is the Powder Highway?
~ Keefer Lake Lodge: Bringing Snowcat Skiing to a Higher Level
~ Planning your Powder Highway Trip: Local Tips
~ Powder Highway 101
~ Stay Local, Support Local in the Kootenay Rockies
~ Up the Ante: Powder Highway Cat & Heli Day Packages
~ What's NEW on the Powder Highway?

Story by KootRocks Staffer (Emilie Cayer-Huard). Top/cover photo courtesy of Monashee Powder Snowcats. 
Please tag your images with #PowderHighway on Instagram and Facebook to be featured in future social channels.
(Original story published during the 2017/18 season.)