Pack up the clubs, lace up the golf shoes and hit the links with your family or friends at one of the Kootenay's many fine golf courses.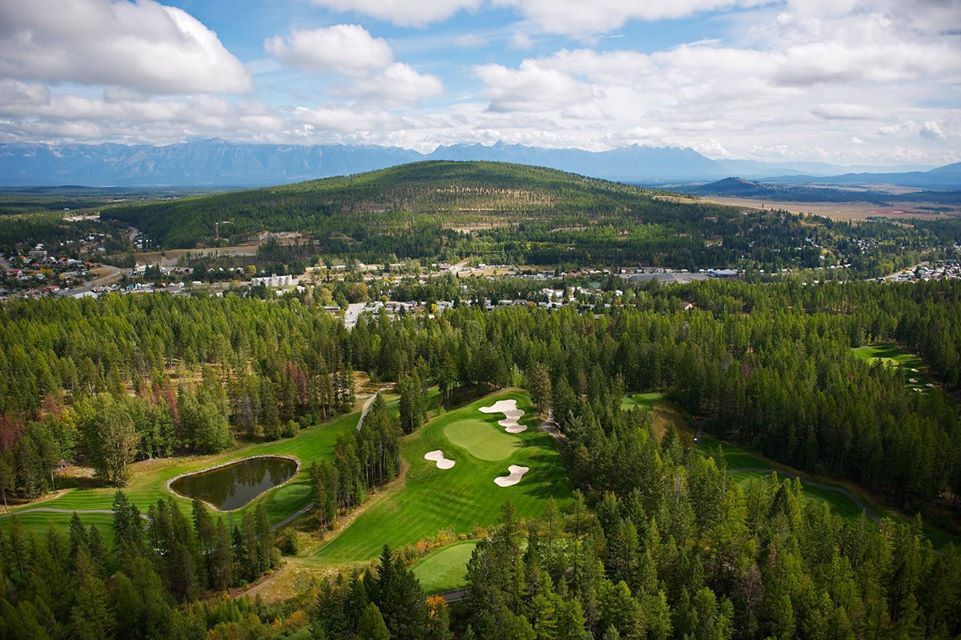 Across the Kootenay Rockies, our courses challenge golfers of all abilities.  If you need a quick fix, play a quick 9 holes at Champion Lakes Golf Course or if you have all day, get in as many rounds as you can at Golden Golf Club.  With plenty of wide-open space on each course, golfing in the Kootenays is the perfect summer activity to socialize with friends and family in these socially distant times. Here are a few of the rewarding courses in the region:
18 holes of perfection situated alongside Kootenay Lake in Balfour, BC.  The course meanders through varying terrain, from tightly knit forests to wide-open fairways with expansive lake views.  With three of their five par-5's in the first four holes, be sure to get a good warm-up in!  Book your tee-time.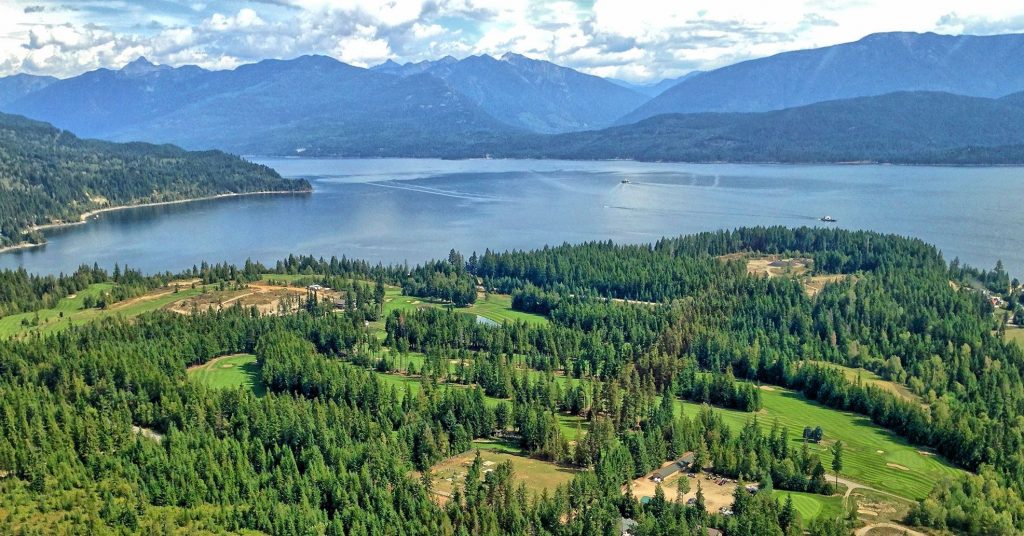 Birchbank Golf Course (Trail)
Golf early in the spring and late into the fall at the Birchbank Golf Course just outside of Trail, BC. Open from April 1 to October 31 most years, Birchbank averages 213 days a season!
Sitting above the Columbia River just outside of Castlegar, this semi-private golf course offers some of the best value for the money of any golf courses in the Kootenays.  Stay onsite at their RV Park and save on the golf with their stay and play package.  Book your tee time.
You'll find this 9-hole course in a narrow valley near Fruitvale, BC.  The thick forest surrounding the course makes for a challenging day if you don't stay on the fairways with your drives!
If you've got all day free and want to play more than 18 holes, visit Golden Golf Club for their all you can play – everyday special.  Or play during the week for one of their mid-week specials, including a free pair of golf shoes on Wednesday mornings and a free pack of balls on Thursday afternoons.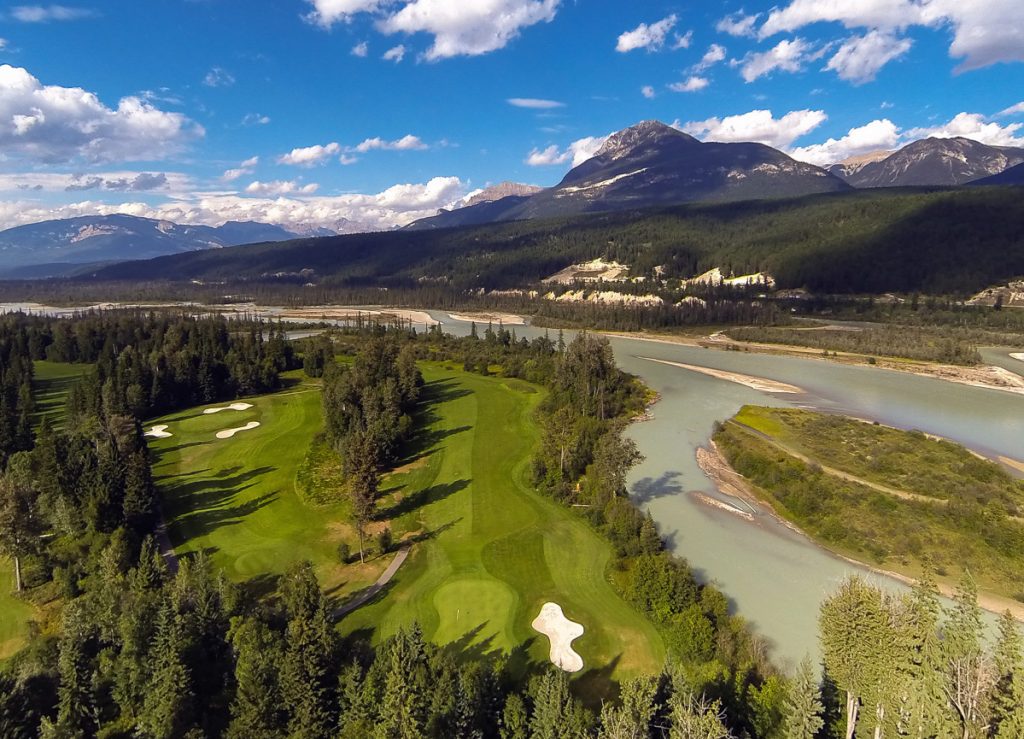 Kokanee Springs Golf Resort (Crawford Bay)
Stay in one of their course-side villas or book a guest-room and play at your leisure at Kokanee Springs Golf Resort.  Old-Growth cedars and immense evergreens line the course, providing an incredible nature experience with your round of golf.
Eagle Ranch Golf Resort/Headwaters Lodge (Invermere)
Perched up on a bluff overlooking the Columbia River, the Eagle Ranch Golf Course challenges golfers of all abilities.  The course incorporates the natural landscape to pleasing effect, with long drives over imposing ravines and water hazards.  Stay in one of their luxury cabins for a complete vacation experience.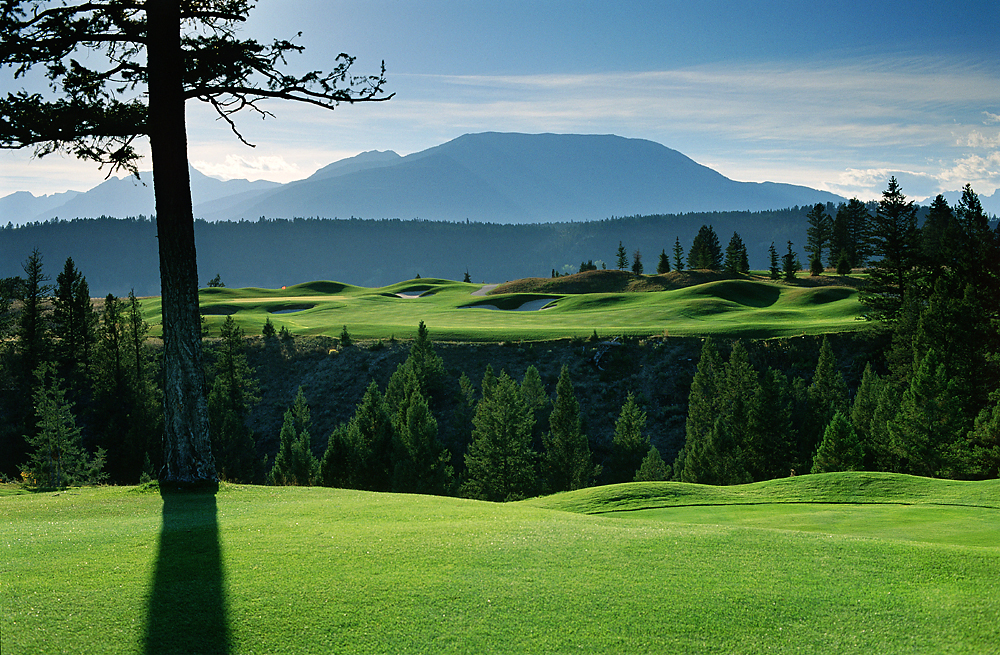 Opened in 1918, the Fernie Golf Club lies in the Elk Valley with imposing views of the Lizard Range, Three Sisters and other peaks of the CanadianRockies from all angles.  The par 70 course is ideal for both experienced and beginner golfers.
Redstone Resort (Rossland)
If you're looking to stretch the distance you can drive your tee shots, be sure to check out Redstone Resort in Rossland.  The combination of being situated at 3500 feet above sea level with significant elevation changes on the course means the average golfer can see an additional 20 yards on each drive! You'll need the extra distance for their 627-yard hole 10, which also happens to be the most scenic hole on the course.
Revelstoke Golf Course features views of snow-capped peaks and looming Cedars, all played out on the edges of the Columbia River.  Stay at any local accommodation provider and get 25% off your green fees with their updated Golf & Stay program.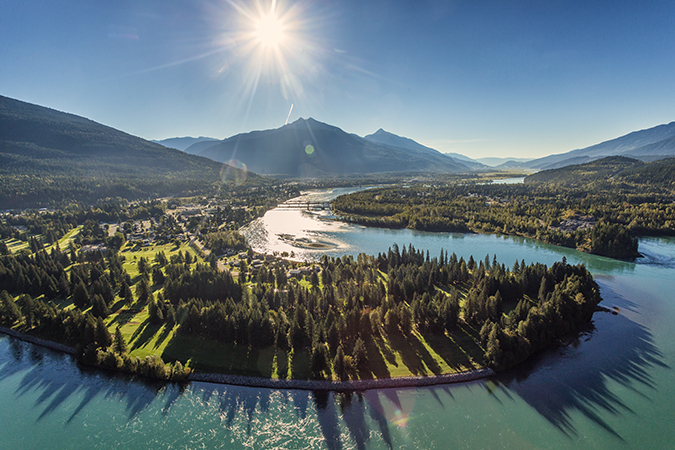 Riverside Golf Course (Fairmont Hot Springs)
Why golf on just one side of the Columbia River when you can cross over multiple times?  Featuring six different crossings of the mighty Columbia, the Riverside Golf Course truly lives up to its name.  Stay at the Resort with their stay and play package and get complimentary access to their mineral hot springs for that soothing post-golf dip.
Slocan Lake Golf Club (New Denver)
With narrow fairways and enormous evergreens, this challenging 9-hole course near New Denver demands precision with your drives.  The stunning views of the Selkirk Mountains and crystal-clear waters of Slocan Lake provide an incredible backdrop on this course.
The Springs Golf Resort (Radium Hot Springs)
With the Purcell Mountains to the west and Canadian Rockies to the east, The Springs Golf Resort near Radium Hot Springs will make any golfer's jaw drop with beautiful views all around.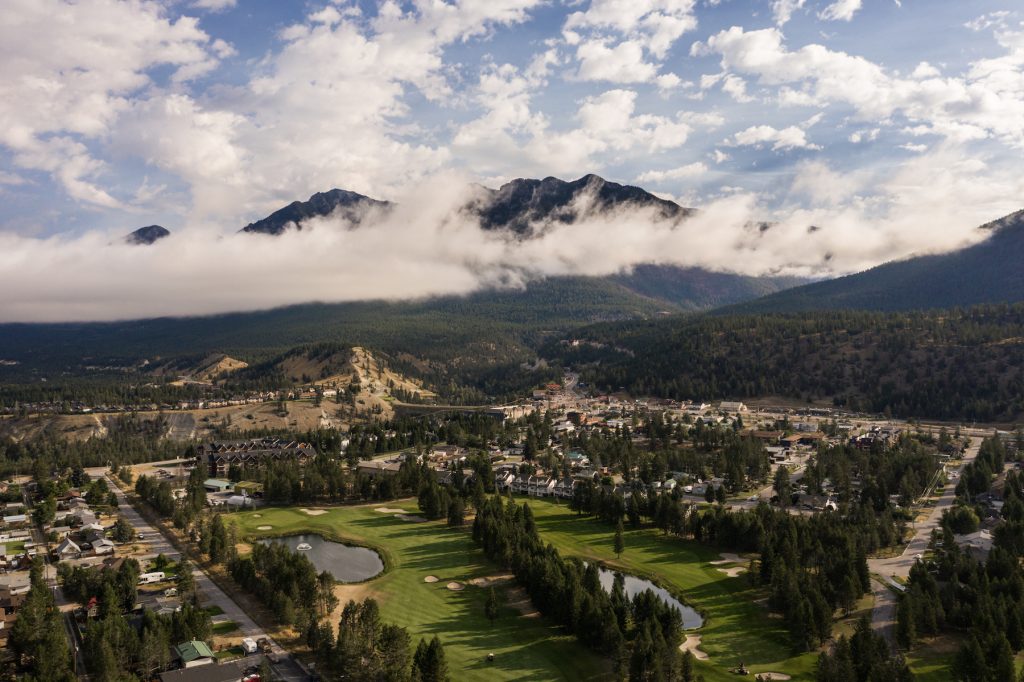 Trickle Creek Golf  (Kimberley)
Trickle Creek features one of the most unique holes in the Kootenays – their signature hole 11.  A par 3 with a steep drop-off from tee box to green, this 175-yard hole also features an iconic view of the legendary Fisher Peak in the Canadian Rockies.
Wildstone Golf Course (Cranbrook)
At 7,127 yards, Wildstone Golf Course sits among the longest courses in the Kootenays.  Unending views of the Canadian Rockies make this course one of the most memorable you'll play this season.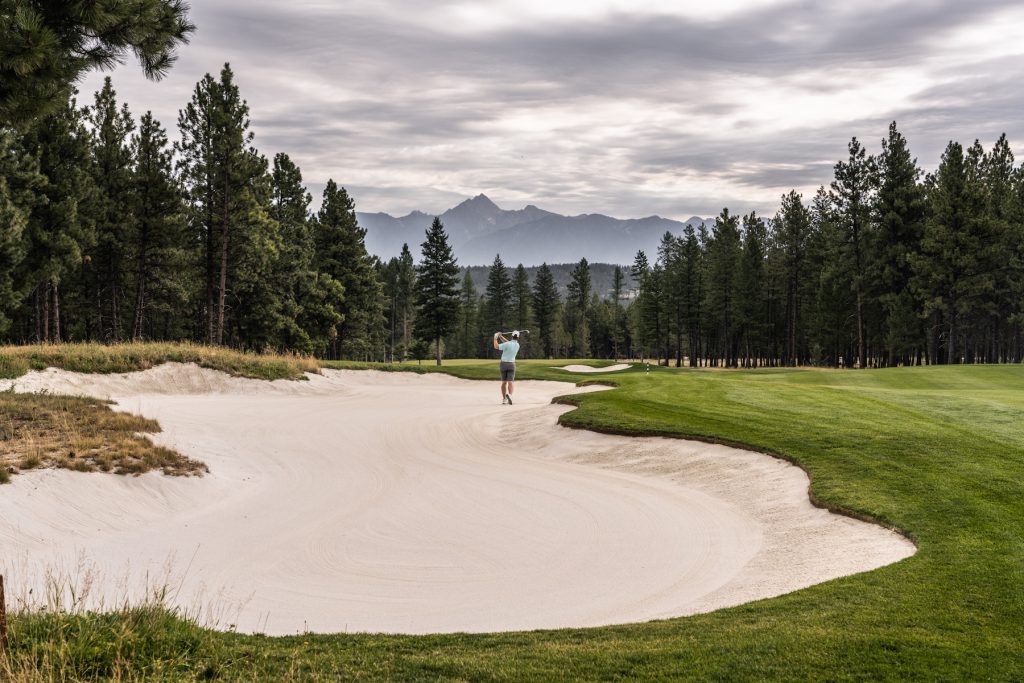 Drive, pitch and putt your way through a golfing adventure this summer in the Kootenay Rockies.  The lake and riverfront courses playing out in front of vast mountain landscapes will make it a trip you won't soon forget.
To assist you with other golf courses that are available to for a round of golf – check out our community partners: Arrow Lakes/Slocan Valley, Castlegar, Cranbrook, Columbia Valley, Creston Valley, Elkford, Fairmont Hot Springs, Fernie, Golden, Invermere/Panorama, Kimberley, Nakusp, Nelson Kootenay Lake, Radium Hot Springs, Revelstoke, Rossland, Sparwood and Trail.
Know Before You Go – Plan ahead so you can travel safely and responsibly. Familiarize yourself with weather, road conditions, general alerts for travellers and provincial health orders & recommendations.
Related Stories
~ A Road Trip of a Lifetime: Kootenay Rockies Hot Springs
~ Camping & Glamping in the Kootenay Rockies
~ Cast a Line in one of the Kootenay's Rivers & Lakes
~ Craving the Refreshing Flavours of the Kootenays
~ Big Adventures in Our Mountains
~ Getting into Hot Water: Kootenay Hot Springs
~ Guided Paddle Adventures in the Kootenays
~ Kootenay Ambassadors: Mindful Explorers
~ Kootenay Rockies: Farm to Fork
~ Laid-back Kootenays: Wellness Getaways
~ Our Kootenay Spirits
~ Outdoor Adventures: Unique to the Kootenays
~ Rewarding Play: Golfing the Kootenay Rockies
~ Unique Stays on a Kootenay Hot Springs Road Trip
~ Savouring the Kootenay Rockies this Summer
Top/cover photo by Mitch Winton at Wildstone Golf Course in Cranbrook, BC. 
Words by Mark Locki. Mark is a photographer and writer based in Kimberley, BC. An avid traveller throughout the Kootenays and abroad, he enjoys exploring the natural world, camera in hand, seeking out compelling stories. He's often found deep in the backcountry, running, climbing or on skis, challenging himself to discover new scenes and viewpoints.
Please tag your images with @KootRocks on Instagram to be featured in a future social post.  For travel deals and specials – sign up for our Consumer Travellers Newsletter.