There is nothing quite like the feeling of 'discovering' something new, whether it is in our backyards or some far-flung destination. As the weather begins to cool, discovering new hot springs is a popular way for residents and visitors alike to experience the Kootenays.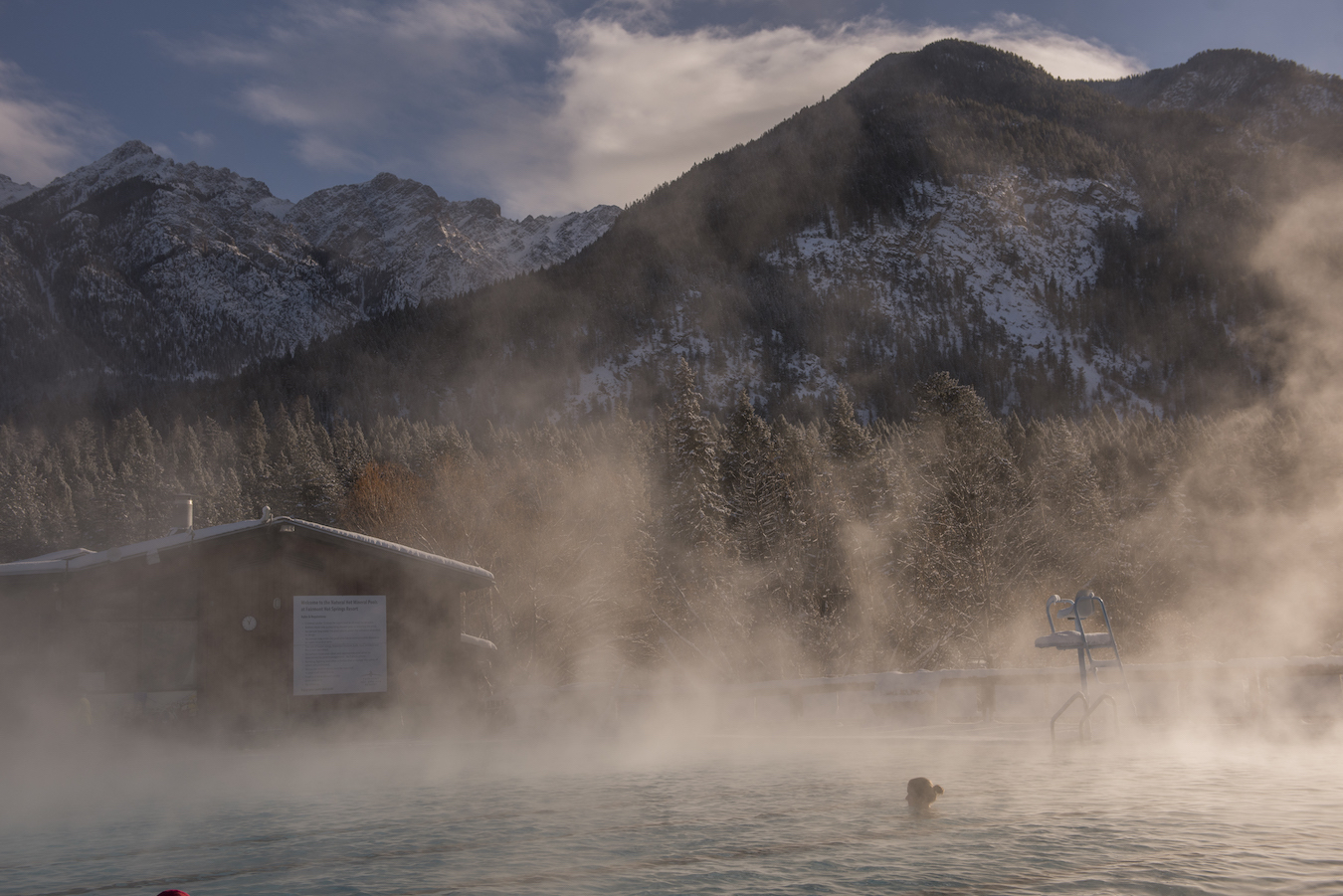 Soaking in Fairmont Hot Springs pool & looking up to the Canadian Rockies; photo by Kari Medig
But of course these thermal springs were 'discovered' long ago by the ancestors of the Ktunaxa First Nation, whose constant movement throughout their territory, Ktunaxa ?ama?kis, would have led them to these natural wonders. Similar to today, hot springs were seen as a remedy for arthritis, hunting or battle injuries and other ailments.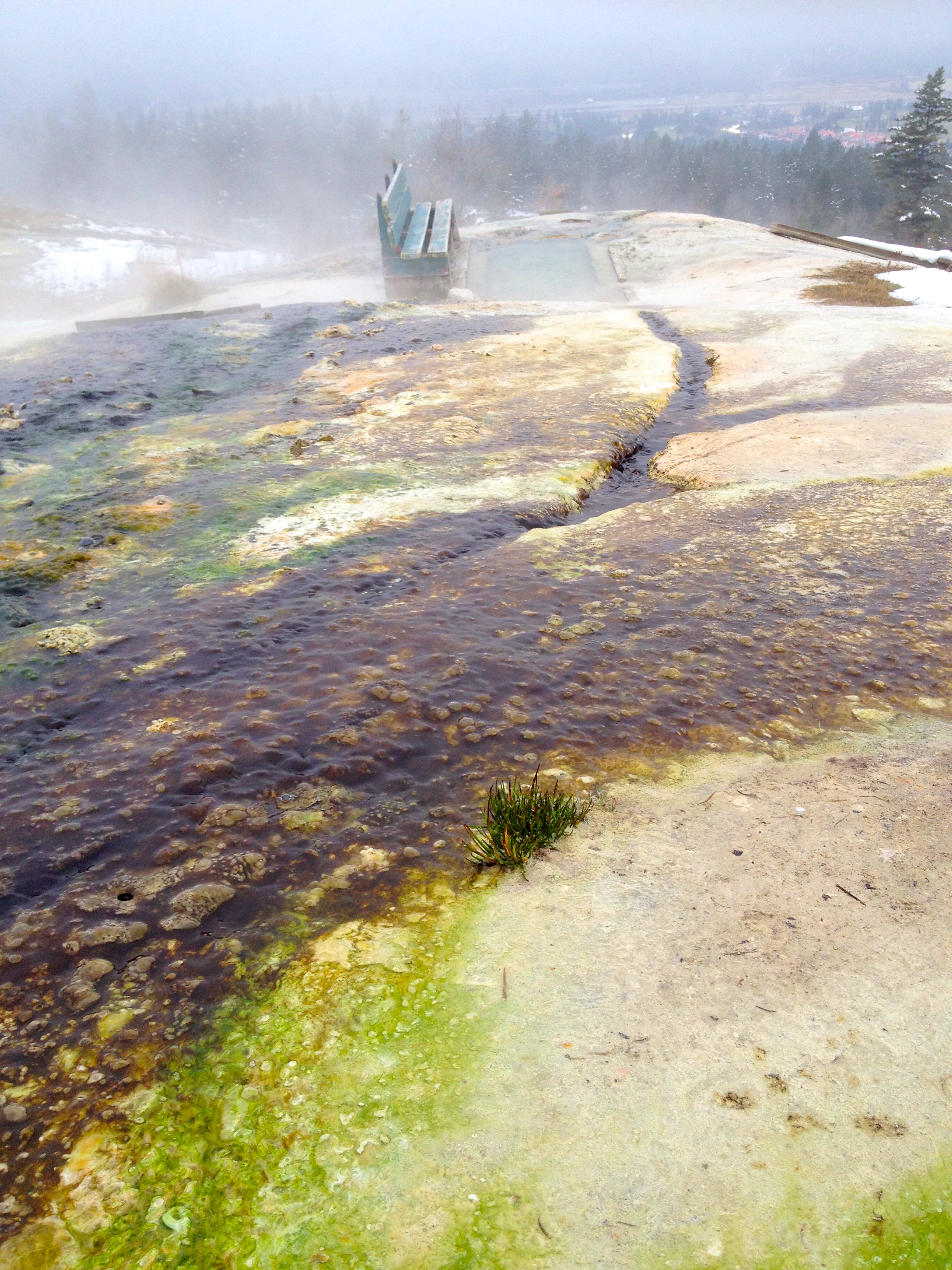 The mineral waters bubble up at Fairmont Hot Springs and visitors are well to take a dip; photo by Shannon Harrison
The larger springs like Fairmont and Radium were likely also used by First Nations from many nearby groups, including Stoney, Peigan and Blood whose territories border Ktunaxa  ?ama?kis to the East. These two hot springs would have seen busy times when people converged on the region for the once bountiful upper Columbia summer salmon run and during the winter burbot spawning season. Other, more remote hot springs would likely have been discovered and used on hunting, berry-picking and trading trips.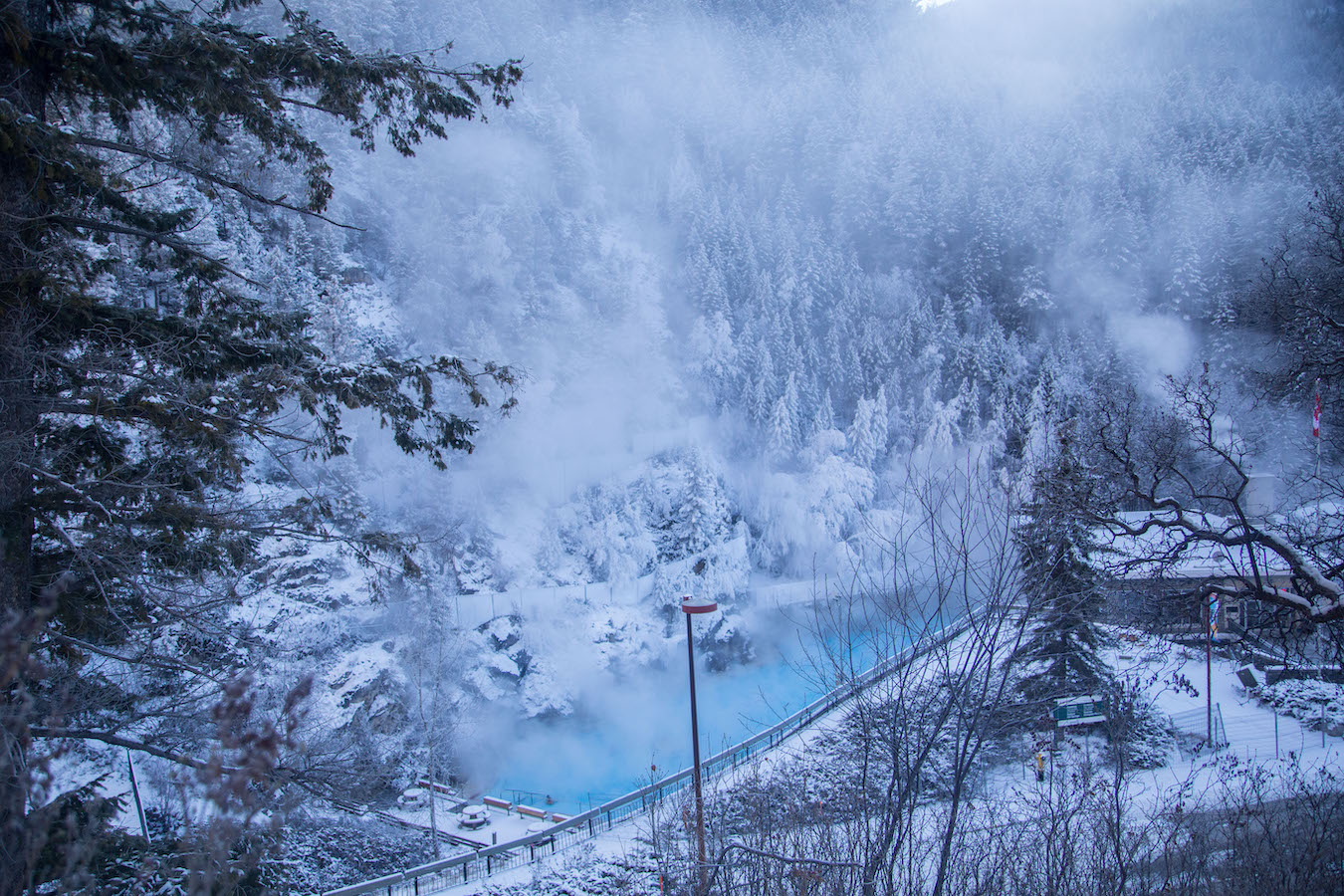 Steamy Radium Hot Springs in Kootenay National Park; Photo courtesy of Parks Canada/Olivia Robinson
(Radium Hot Springs: Temporary closure of hot and cool pools in affect for safety issues to visitors due to structural safety concerns in the wet hall. At this time, there is no definitive date or time for re-opening.)
They may also have been a critical source of winter food, as the springs and the warm earth around them once attracted wildlife, particularly birds, that would otherwise have had to migrate. Mountain goats were particularly attracted to the warmth and\ the mineral deposits of natural hot springs.
The unpleasant odour of Sulphur Springs near Elkford is called Yakamumts'ikukwi, "water smells," by the Ktunaxa. While it was likely never appealing to soak in, it would have been an important landmark for travellers in the days before road signs and Google Maps.
During your next hot spring soak, close your eyes and imagine the millennia of early First Nations people who likely sat on the same rock, eyes closed, with a dreamy smile as the Nupika Wu'u, or Spirit Waters worked their magic on body and spirit.
Know Before You Go – The Seven Principals of Leave No Trace provide an easily understood framework of minimum impact practices for anyone visiting the outdoors. They are easy to follow and are easily implemented. The Seven Principals are; Plan Ahead & Prepare, Travel & Camp on Durable Surfaces, Dispose of Waste Properly, Leave What You Find, Minimize Campfire Impacts, Respect Wildlife and Be Considerate of Other Visitors. Consider these principals and put them into action on your next adventure. Want to learn more? Leave No Trace Center is an excellent resource for actions in reducing your footprint while being outdoors. 
Related Stories
~ Getting into Hot Water: Kootenay Hot Springs
~ Kootenay Wilderness Wellness Retreats
~ Ski & Soak: Hot Springs vs. Hot Tubs along the Powder Highway
~ Unique Stays on a Kootenay Hot Springs Road Trip 
~ Waters of Wellness: Kootenay Hot Springs
Top/cover photo courtesy of Parks Canada/Olivia Robinson at Radium Hot Springs mineral pools.
Words by Dave Quinn. Born in Cranbrook, BC; Dave is a wildlife biologist, educator, wilderness guide, writer and photographer whose work is driven by his passion for wilderness and wild spaces. His work with endangered mountain caribou and badgers, threatened fisher and grizzly, as well as lynx and other species has helped shape his understanding of the Kootenay backcountry and its wildlife.
Please tag your images with #KootRocks on Instagram to be featured in future stories.