Venturing through the mountains and valleys of the Kootenay Rockies, you'll be hard-pressed not to come across some aspect of Indigenous culture. Even the name 'Kootenays' is derived from the Ktunaxa people, who have inhabited this land for generations. The Indigenous communities and members are increasingly opening their doors to help travellers experience their culture and lifestyle. From heritage centres and restaurants to campgrounds and resorts, the Indigenous entrepreneurs of the Kootenay Rockies are welcoming visitors. 
Below is a selection of  Indigenous-owned businesses and experiences available in our region to enrich your travels.
Ainsworth Hot Springs Resort (Kootenay Lake)
Located on the Western shores of Kootenay Lake between Balfour and Kaslo, Ainsworth Hot Springs Resort combines the therapeutic and healing waters of the natural hot springs nearby with a first-class resort, fantastic cuisine at the Ktunaxa Grill Restaurant, and stunning mountain views. Enjoy the mineral waters at either the main lounging pool or in the 150-foot horseshoe cave. Long used by the Ktunaxa Nation to relax and rejuvenate after long days of fishing, hunting and gathering, the resort is now owned and operated by the Lower Kootenay Band.  Book a stay in the Yaqan Nukiy Suites.
(The pools are now open to the public, by "reservation only", Wed to Sun 10am to 5:30pm. Note, the resort is closed on Mondays & Tuesdays. Recommendation: Book your overnight stay in advance, too.)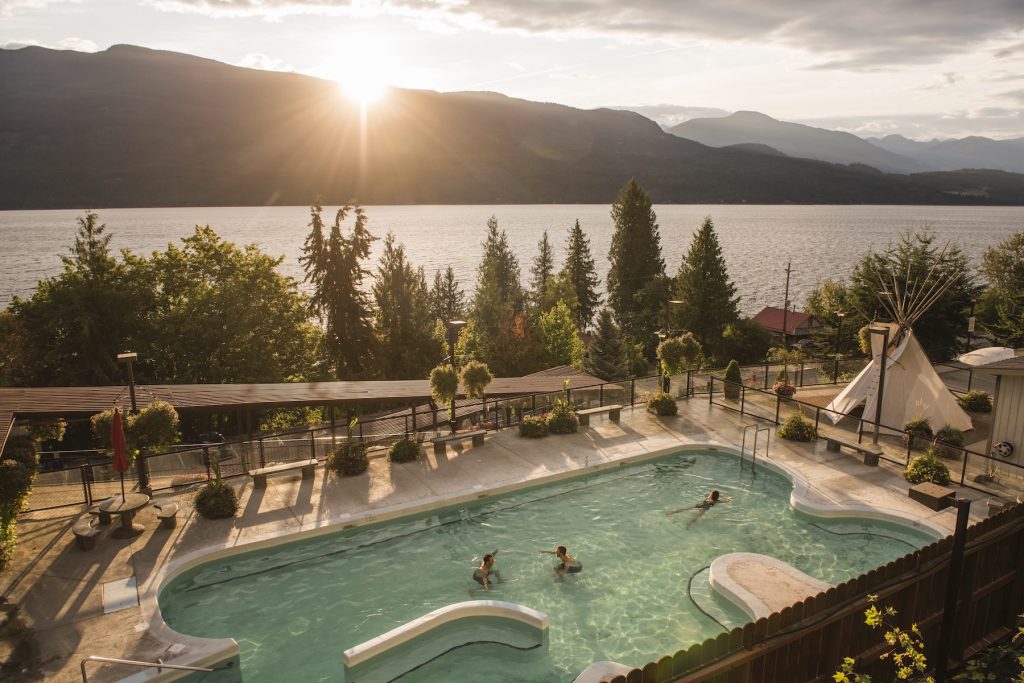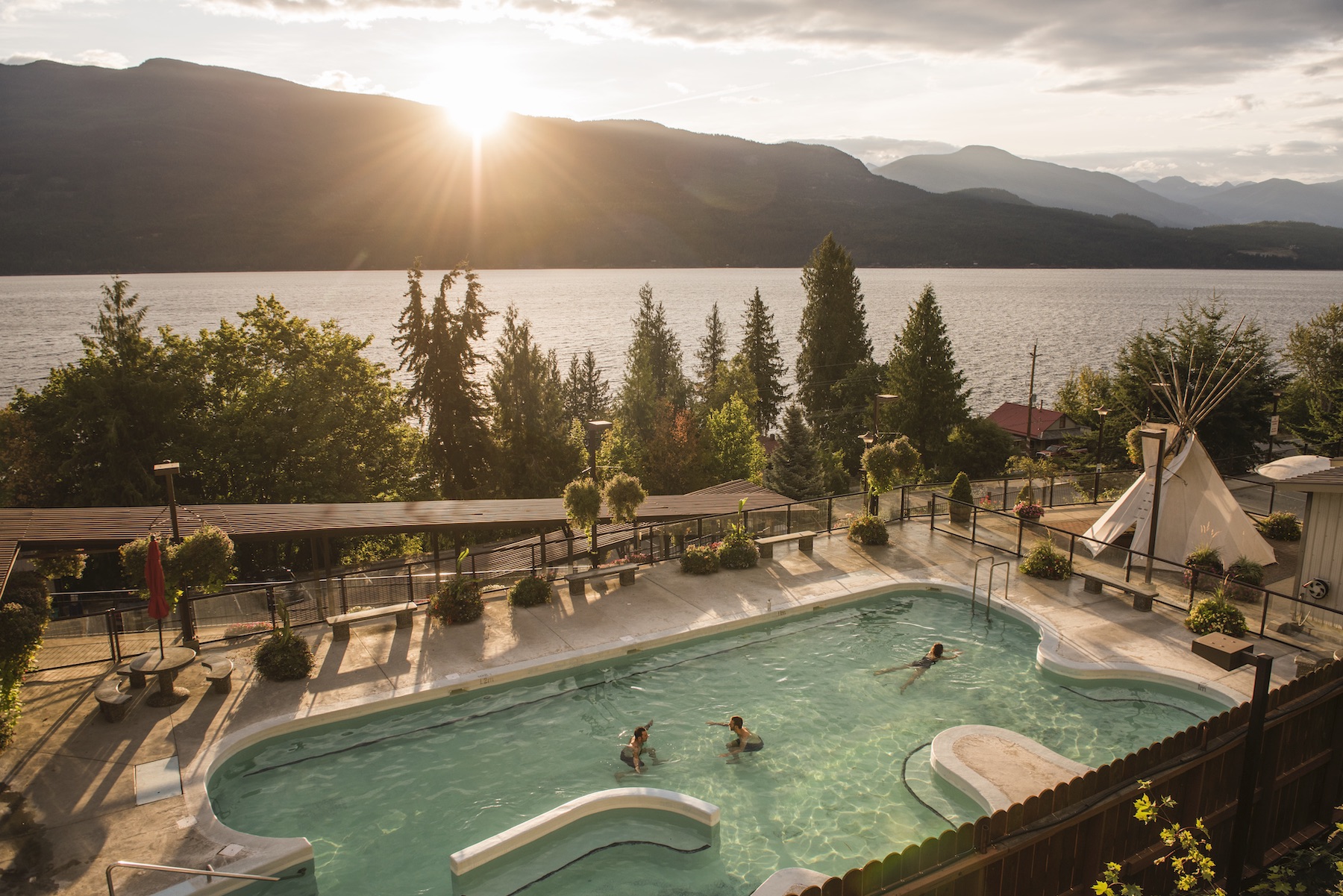 Bear & Bone Burger Co. (Golden)
Feast on a juicy burger made with locally raised longhorn beef from Whisky Hill at Bear & Bone Burger Co. in Golden. For those with an appetite, go big or go home with the quadruple-stacked The Canadian Burger. For a unique taste, give the Bugaboo Buffalo burger a try.
Koocanusa Lake Campground/Tobacco Plains 
Situated on the shores of Koocanusa Lake, the Tobacco Plains Indian Band runs three campgrounds for guests – Big Springs Campground and RV Park, Ayes Ranch Campground and RV Park, and Dorr Road Campground and RV Park. Enjoy the sandy beaches and lakeside camping on Koocanusa Lake.
Legend Logos and Legend Lake Tours (Creston)
Stop in at Legend Logos in Creston for an Indigenous experience, featuring a gift shop with many souvenirs, beadwork and much more. Learn about the local Indigenous culture and traditions at the Yaqan Nukiy Heritage Centre.  Legend Logos also offers a 2.5-hour boat tour on Kootenay Lake with their Legend Lake Tours running in July and August. Learn the ancestral teachings of the Indigenous People who have lived on Kootenay Lake and its tributaries for over 10,000 years.
(Recommendation: Book your boat tour adventure in advance.)
Raven's Nest Resort (Fairmont Hot Springs)
Tucked away on a bench overlooking the Columbia River between Windermere Lake and Columbia Lake, Raven's Nest Resort offers a secluded getaway from the hustle and bustle of nearby Fairmont Hot Springs and Invermere. 
Stay in one of their eight off-grid log cabins, or bring your tent or RV and pull into one of their 25 campsites. While there, take a float trip down the Columbia River, relax at one of the local beaches, or play some disc golf on their course.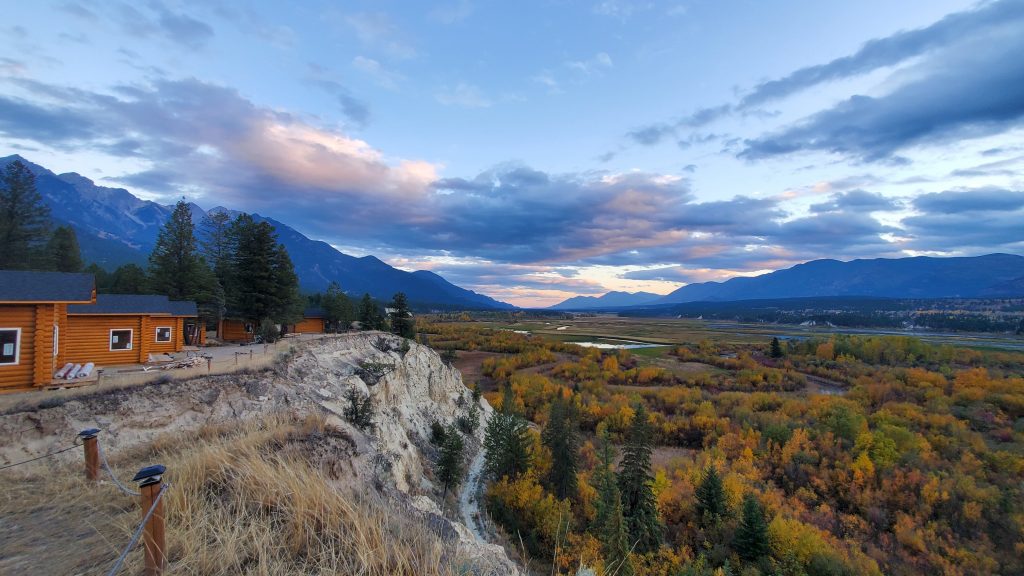 St. Eugene Golf Resort Casino (Cranbrook)
Learn about the traditional knowledge and culture of the Ktunaxa Nation at the Ktunaxa Interpretive Centre at the St. Eugene Golf Resort Casino.
Join Ktunaxa Nation members in the Indigenous Cultural Awareness program experience where  you will learn about and discuss past, present, and future issues related to Indigenous, listen to Ktunaxa elders share legends around the campfire, or discover the traditional arts of beading or moccasin making.
For golf enthusiasts, enjoy a round on their 18 hole championship course and relax afterward with a fine meal at one of their two on-location restaurants.  Book your stay at this luxurious resort.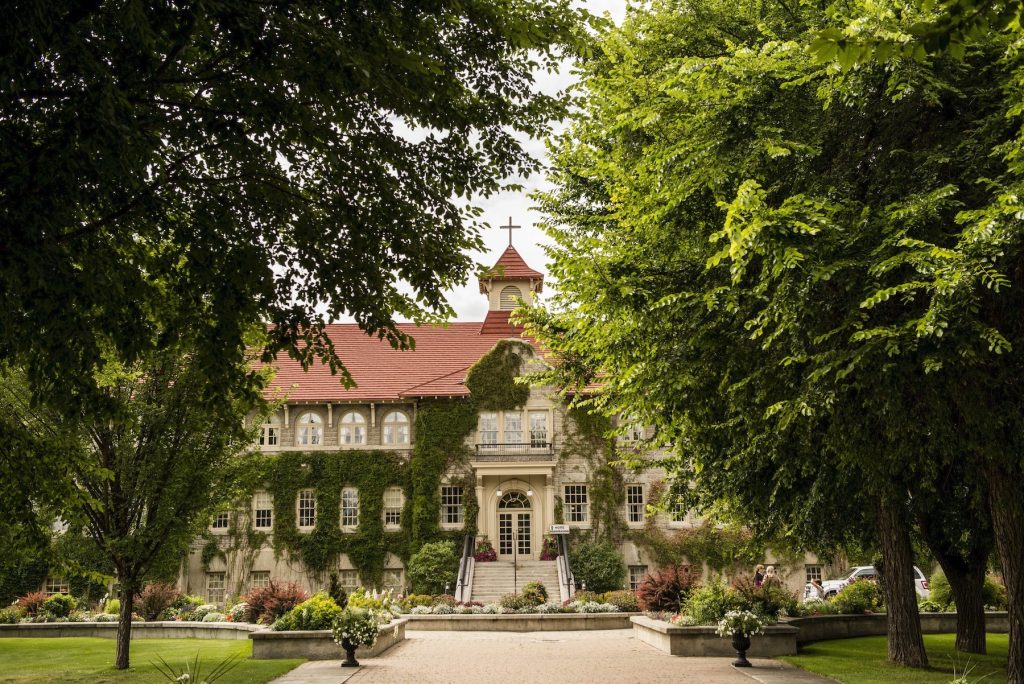 Whether you're looking for hot springs or golf courses, interpretive experiences or accommodations, you're sure to find an Indigenous-owned and operated business to suit your needs in the Kootenay Rockies.
(Lakeshore Resort & Campground in Windermere is another Indigenous owned property and plans to re-open to visitors in 2022.)
~ Take extra time to research and plan your trip in advance. Many of our tourism businesses and services have adopted new COVID-19 protocols and changes to their schedules or policies to ensure your safety. You'll want to become familiar with them ahead of time.
~ If you normally travel with extended family or with several friends, consider travelling in a smaller group. Travelling with fewer people makes it easier for you to practise physical distancing in public, and may have less of an impact on the destination.
~ Consider a slower travel pace to help curb the spread. Instead of checking in and out of multiple destinations during one trip, choose one or two destinations and one/two accommodation properties for your entire trip (and explore all the things to do & see nearby).
Related Stories
~ 4 Quirky Communities Along Kootenay Lake
~ A Road Trip of a Lifetime: Kootenay Rockies Hot Springs
~ Craving the Refreshing Flavours in the Kootenays
~ Columbia River Paddle: Paddle the David Thompson Historical Route
~ Fishing on Kootenay Lake: A Story of the Catch
~ Getting into Hot Water: Kootenay Hot Springs
~ Hidden Waterfalls in the Kootenays
~ Indigenous Connection to our Natural Hot Springs
~ Kootenay Rockies: Farm to Fork
~ Quirky Attractions only Found in the Kootenays
~ Savouring the Kootenay Rockies
~ Unique Stays on a Kootenay Road Trip

Top/cover photo by Kari Medig at Ainsworth Hot Springs Resort, along Kootenay Lake. 
Words by Mark Locki. Mark is a photographer and writer based in Kimberley, BC. An avid traveller throughout the Kootenays and abroad, he enjoys exploring the natural world, camera in hand, seeking out compelling stories. He's often found deep in the backcountry, running, climbing or on skis, challenging himself to discover new scenes and viewpoints. 
Please tag your images with #KootRocks on Instagram or Facebook to be featured in future stories.