As I pull my exhausted body up the last stretch of trail before ridgeline, I am overcome with the sensation of being watched.  I glance around at the rugged, steep terrain above me, and there I see them. Not more than 30-metres (98 ft.) away, on a rocky outcropping just off the trail, a herd of Rocky Mountain Bighorn Sheep looks down at me.
They're so close I can almost hear them ask themselves what a lonely human would be doing in their neck of the mountains.  I wait and watch as they contemplate their next move, will they move away and let me pass?  Or kick rocks down onto me and watch me flee?  Thankfully, the majestic creatures decide to back away. Once again, I'm left with another incredible wildlife encounter in the Kootenay Rockies.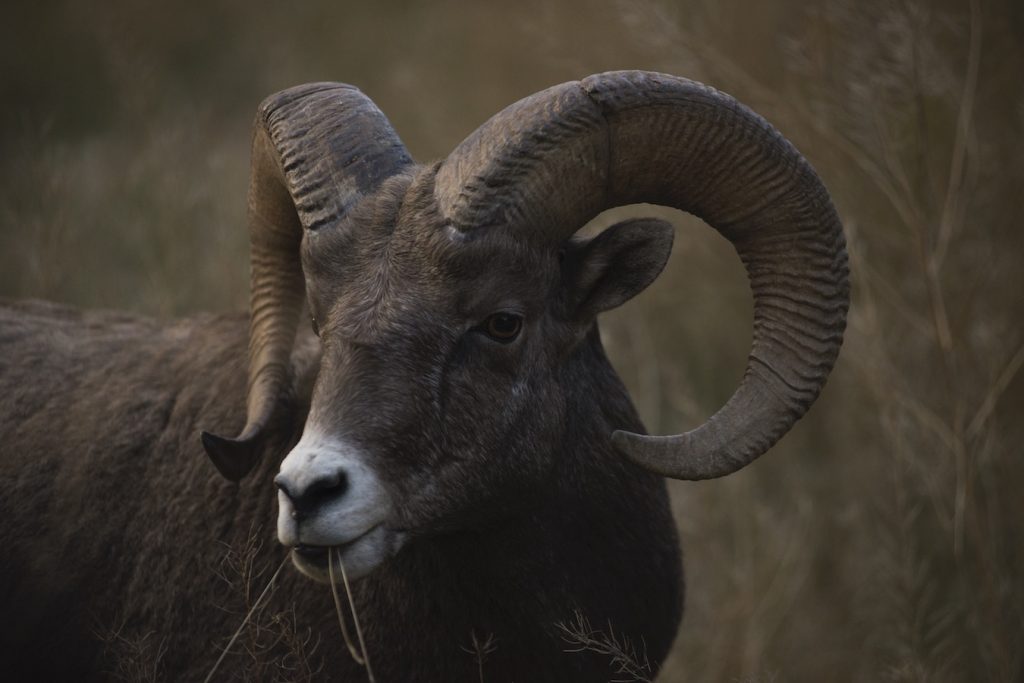 The best part about the Kootenays is you don't need to climb the steepest mountainsides or dive to the bottom of the deepest lakes to experience the wildlife in their natural habitat.  A short drive outside of Radium Hot Springs, you might catch a glimpse of those same bighorn sheep gracing the roadside hills. 
Travel between Kimberley and Cranbrook and you may meet the resident elk herd.  Spend enough time in the Elk Valley and you'll likely catch a glimpse of a Grizzly foraging for berries.  And, with countless other species present, including rare birds, large ungulates and numerous species of fish, there's more than enough in the Kootenays to keep wildlife watchers happy for a lifetime. 
Kicking Horse Mountain Resort Grizzly Bear Refuge (Golden)
If you've been wanting to see a grizzly bear but don't want to risk an encounter in the wild, stop by the Grizzly Bear Refuge on Kicking Horse Mountain Resort in Golden.  Boo, the resident orphaned grizzly bear, roams his 8-hectare (20-acres) of habitat, free to forage and play as he pleases.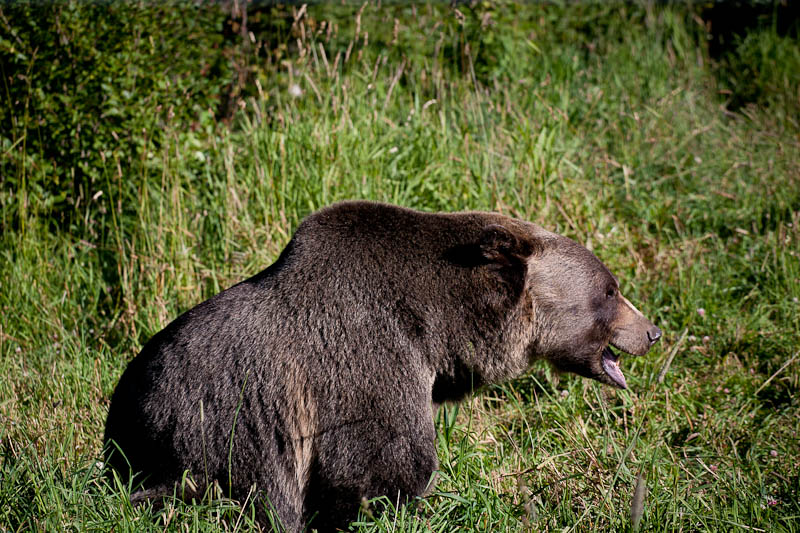 Kokanee Creek Provincial Park/Salmon Run (Balfour/Nelson)
From mid-August to late September, thousands of bright red Kokanee salmon flood the Kokanee Creek Spawning Channel as they make their way back to their spawning grounds. Witnessing the return of this landlocked relative of Sockeye Salmon is a sight to behold.  Follow the self-guided interpretive tour along the boardwalk and learn more about the migration of the Kokanee.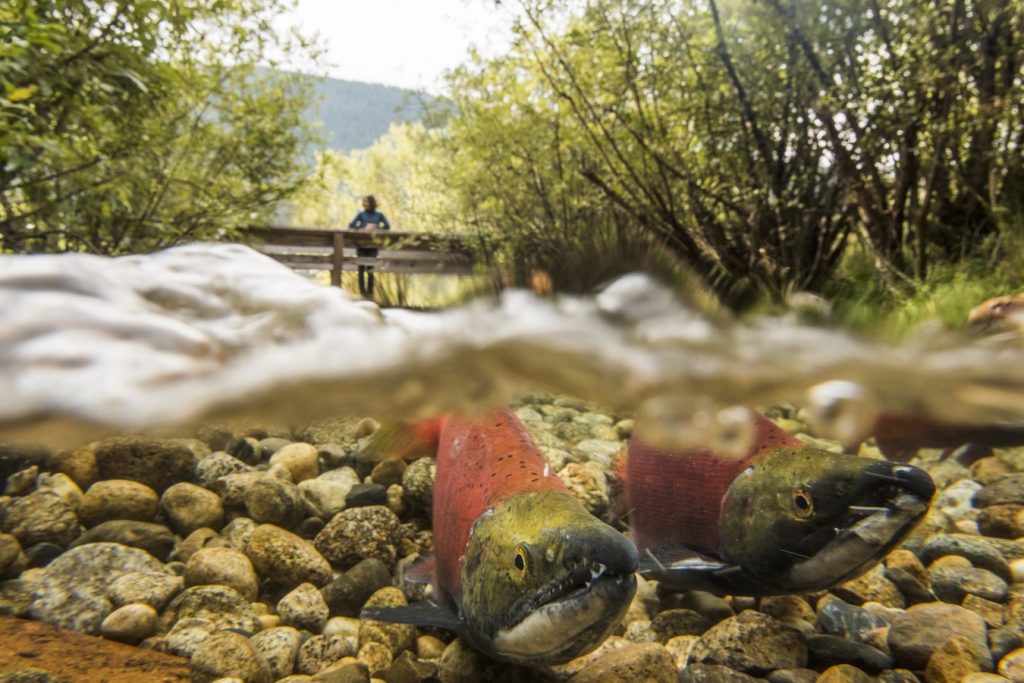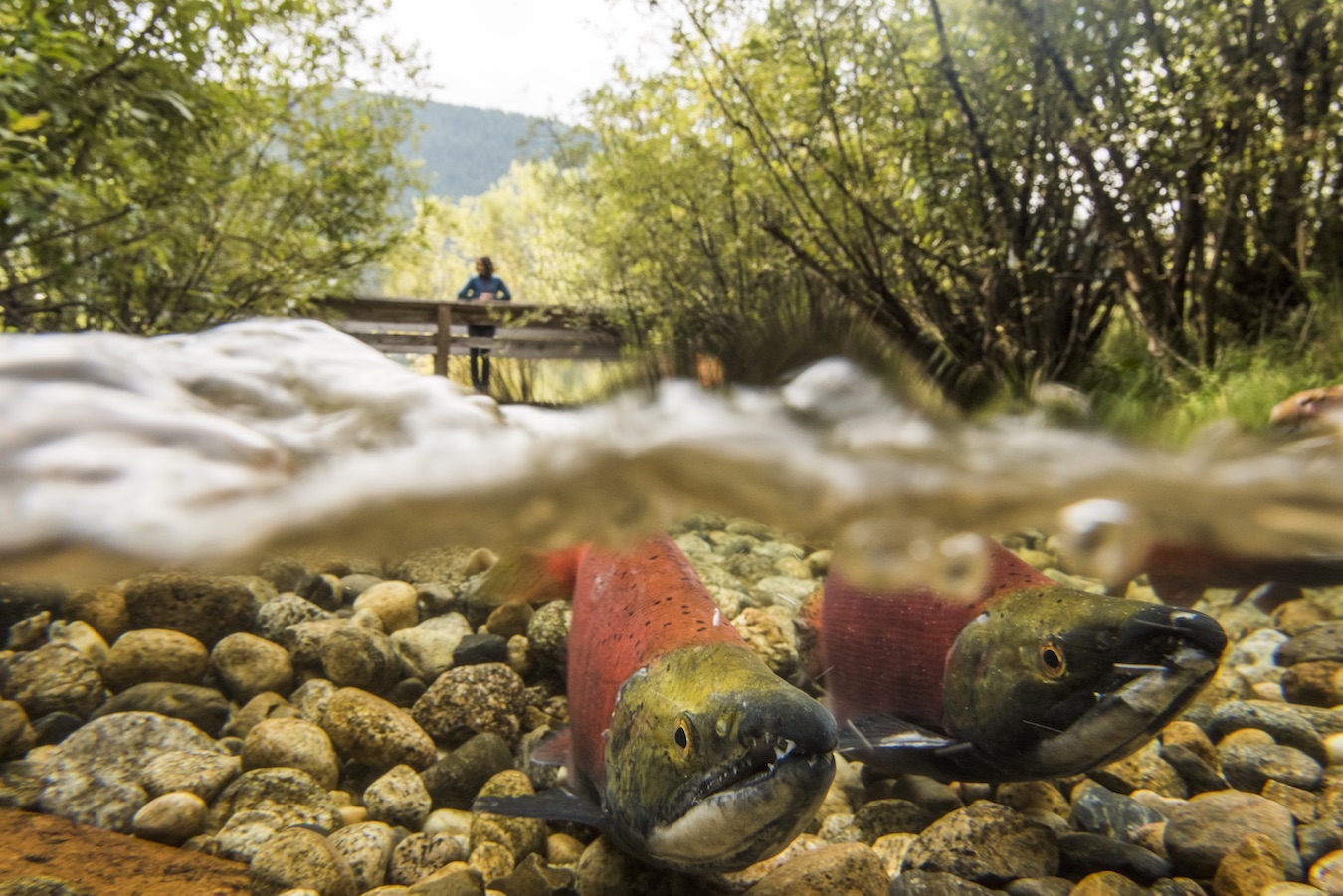 Kootenay-Columbia Discovery Centre (Creston)
In the fertile Creston Valley, the Kootenay-Columbia Discovery Centre leads guided canoe trips through the wetlands of the Kootenay River.  Or take a self-guided tour of the boardwalk where you could catch a glimpse of one of the over 300 bird species, mammals, fish and reptiles that inhabit the area.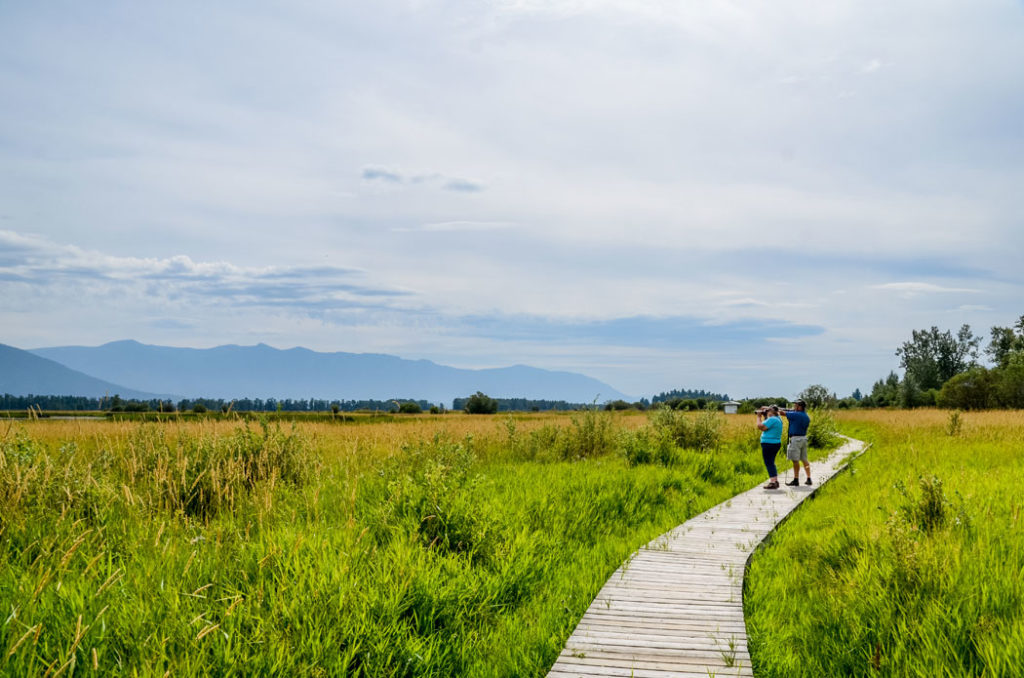 Kootenay Trout Hatcher (Wardner)
The Kootenay Trout Hatchery rears up to 3 million baby trout each year to enhance recreational fishing opportunities. The species raised here are Rainbow, Cutthroat trout, Brook Char and Kokanee to enhance recreational fishing opportunities. In addition, the red-listed White Sturgeon are raised here for conservation purposes.  A tour guide is on hand daily from May through August. An extensive interpretive area with aquaria, educational models, displays and a turtle pond is open every day from 8am to 4pm for self-guided tours.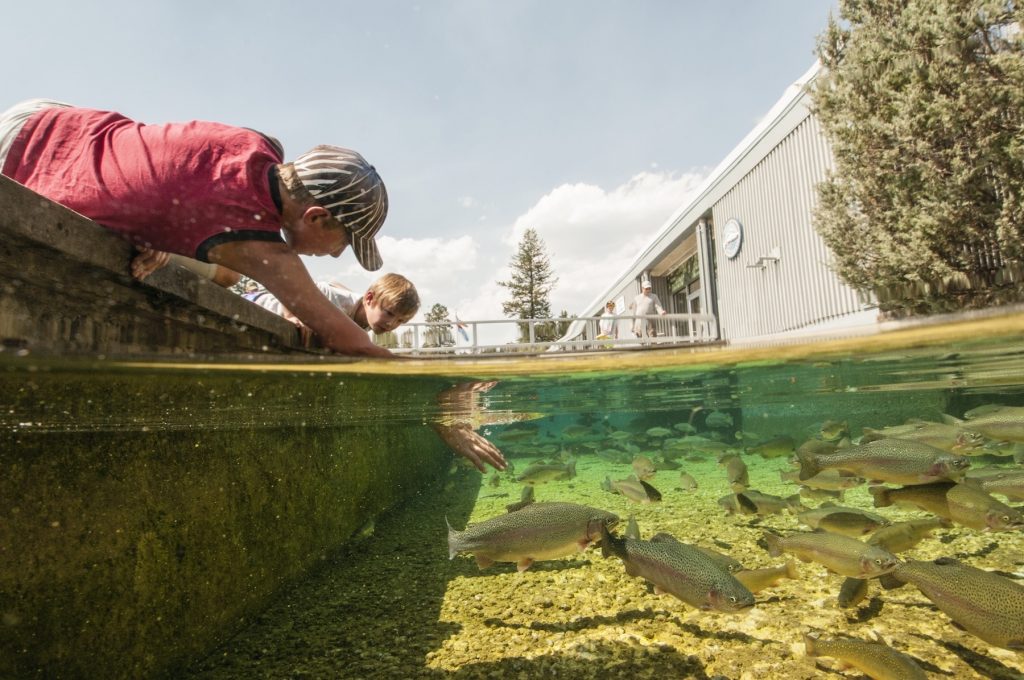 Waldie Island Trail (Castlegar)
This 1.5-km Waldie Island Trail in Castlegar takes you through a protected Blue Heron bird Sanctuary.  Watch for this magnificent bird from the bird viewing platform along the shores of the Columbia River.
Wild Nature Tours (Fernie)
Take a 3-hour guided tour of your property or local area and learn about the plants, bugs and animals that call that space home.  You can even learn about the health of the soil and ecosystem with a Citizen Scientist Assessment of the land!
Wings Over the Rockies Festival (Columbia Valley)
The Wings Over the Rockies Festival takes place in the Columbia Valley (every year, the second week in May).  In 2021, attendees participated in the festival from the comfort of their own homes with streamed presentations. Alternatively, join interpretive guides on hikes and paddles at various locations across the Columbia Valley while you watch for local wildlife.  Please join them in 2022 when Wings celebrates 25 years, as one of the largest nature festivals in Canada.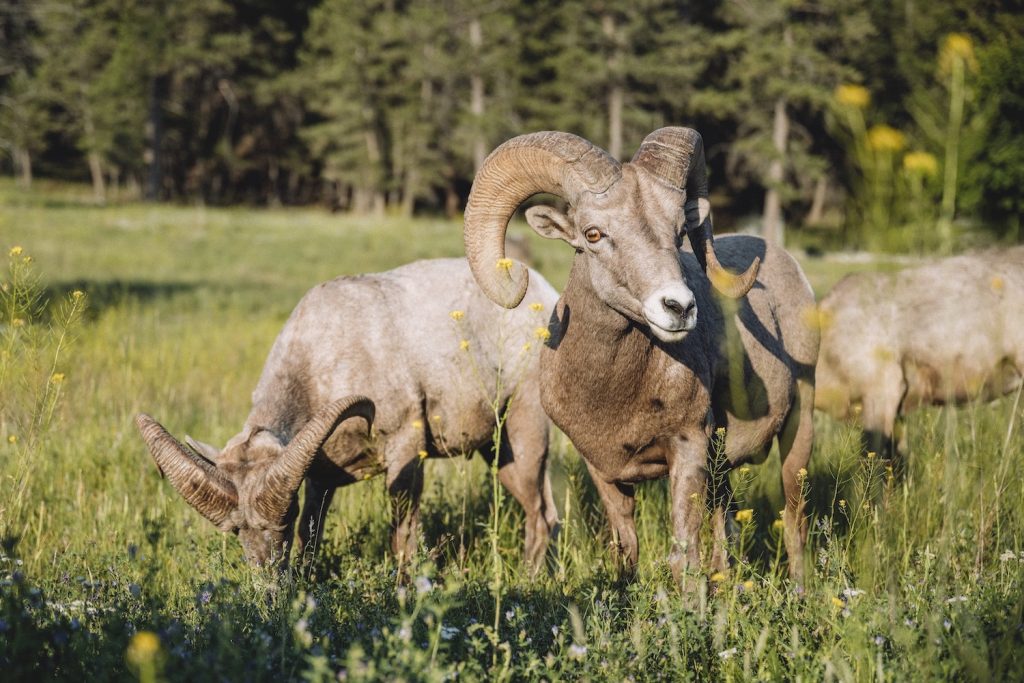 To assist you with other wildlife experiences that are available to you in the region – check out our community partners: Arrow Lakes/Slocan Valley, Castlegar, Cranbrook, Columbia Valley, Creston Valley, Elkford, Fernie, Golden, Invermere/Panorama, Kimberley, Nakusp, Nelson Kootenay Lake, Radium Hot Springs, Revelstoke, Rossland, Sparwood and Trail.
~ Take extra time to research and plan your trip in advance. Many of our tourism businesses and services have adopted new COVID-19 protocols and changes to their schedules or policies to ensure your safety. You'll want to become familiar with them ahead of time.
~ If you normally travel with extended family or with several friends, consider travelling in a smaller group. Travelling with fewer people makes it easier for you to practise physical distancing in public, and may have less of an impact on the destination.
~ Consider a slower travel pace to help curb the spread. Instead of checking in and out of multiple destinations during one trip, choose one or two destinations and one/two accommodation properties for your entire trip (and explore all the things to do & see nearby).
Related Stories
~ A Road Trip of a Lifetime: Kootenay Rockies Hot Springs
~ Big Adventures in our Mountains
~ Camping & Glamping in the Kootenay Rockies
~ Connect with our Indigenous Culture in the Kootenay Rockies
~ Columbia River Paddle: Paddle the David Thompson Historical Route
~ Easy Kootenay Hikes: To 360 Degree Vista Views
~ Guided Paddle Adventures in the Kootenays
~ Hidden Waterfalls in the Kootenays
~ Multi-Generational Family Hiking in the Kootenays
~ Outdoor Adventures: Unique to the Kootenays
~ Paddling Adventures in the Kootenays
~ Tips: How to be a Safe & Responsible Traveller
~ Unique Stays on a Kootenay Road Trip

Top/cover photo, courtesy of Wandering Wheels in Revelstoke, BC.
Words by Mark Locki. Mark is a photographer and writer based in Kimberley, BC. An avid traveller throughout the Kootenays and abroad, he enjoys exploring the natural world, camera in hand, seeking out compelling stories. He's often found deep in the backcountry, running, climbing or on skis, challenging himself to discover new scenes and viewpoints. 
Please tag your images with #KootRocks on Instagram or Facebook to be featured in future stories.