You've spent the morning hiking up one of the mountain trails and the afternoon paddling the pristine waters of our local lakes.  Now, as the sun sets, you retreat back to your accommodations for a relaxing evening.  But your time spent in the outdoors doesn't need to end as the last light of day fades.  The Kootenays offers many exciting options to extend the time you spend in nature beyond daylight hours, from fully loaded VW camper vans to luxury yurts. 
Have a look at the delightful options available to stay out under the incredible night skies of the Kootenay Rockies on your next trip.
Arrowhead Camp Company (Revelstoke)
Arrowhead Camp Co. offers a chance for visitors who don't own their own RV/Camper to experience camping, by offering customized RVing experiences.  You can choose to pick up your trailer & tow it yourself, or have it delivered to your favourite private RV Park or Provincial/National Park campground.  Coming soon Roof-top tents and backcountry tents. 
Back 40 Outdoor Events (near Radium Hot Springs)
Just outside of Brisco (north of Radium Hot Springs), Back 40 Outdoor Events has three different Canvas Bell Tents, each with four beds for your sleeping comfort.  Make use of the shared amenities, including camp kitchen, firepits and more.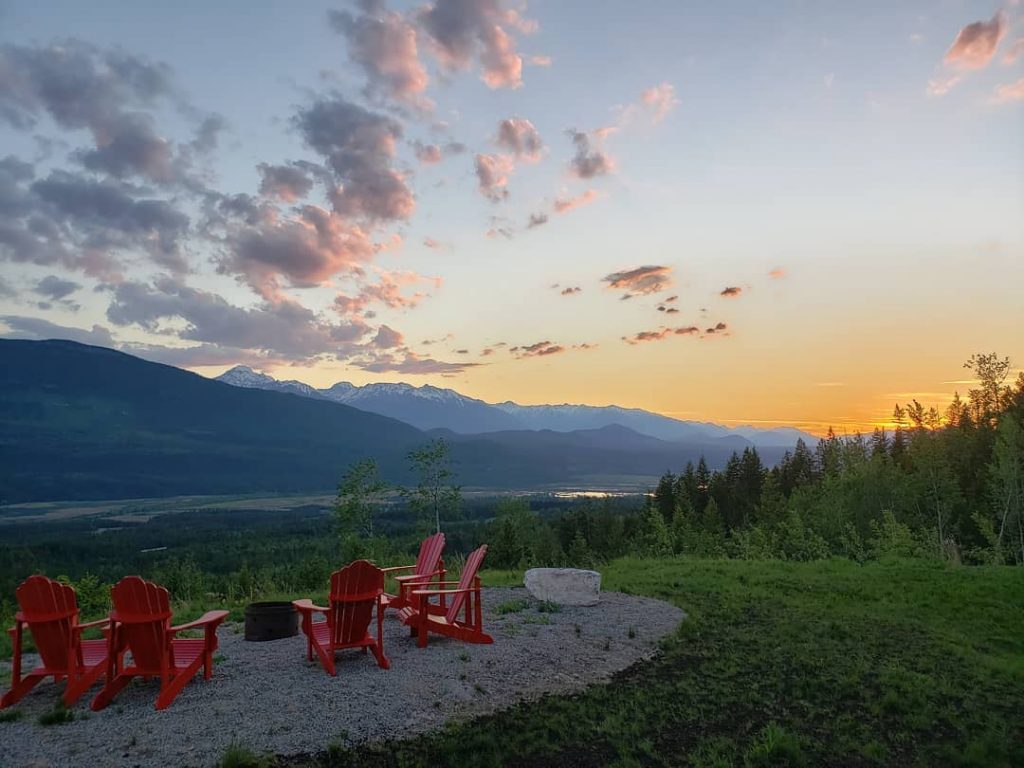 Bear Springs Eco-Retreat (between Castlegar & Nelson)  
Bear Spring Eco Retreat offers novel glamping accommodations and three cozy guest rooms in a self-contained suite. Enjoy stunning views of Kootenay River,  gaze at stars or explore the edible gardens and food forest on this 121-hectares (300-acre) property in the mountains.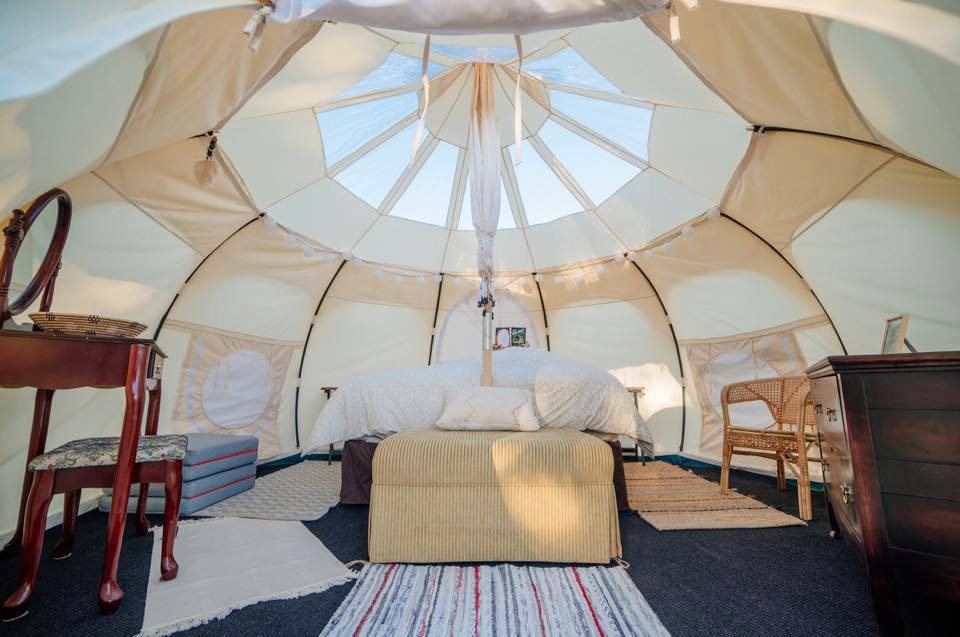 Boulder Mountain Resort (Revelstoke)
Boulder Mountain Resort in Revelstoke has you covered for all your needs with accommodation options ranging from fully furnished lodge suites to tenting sites.  Their glamping tents combine the coziness of a queen-sized bed with the fresh air of the great outdoors right outside the windows. NEW for 2022 – are their 'Glamping Domes'.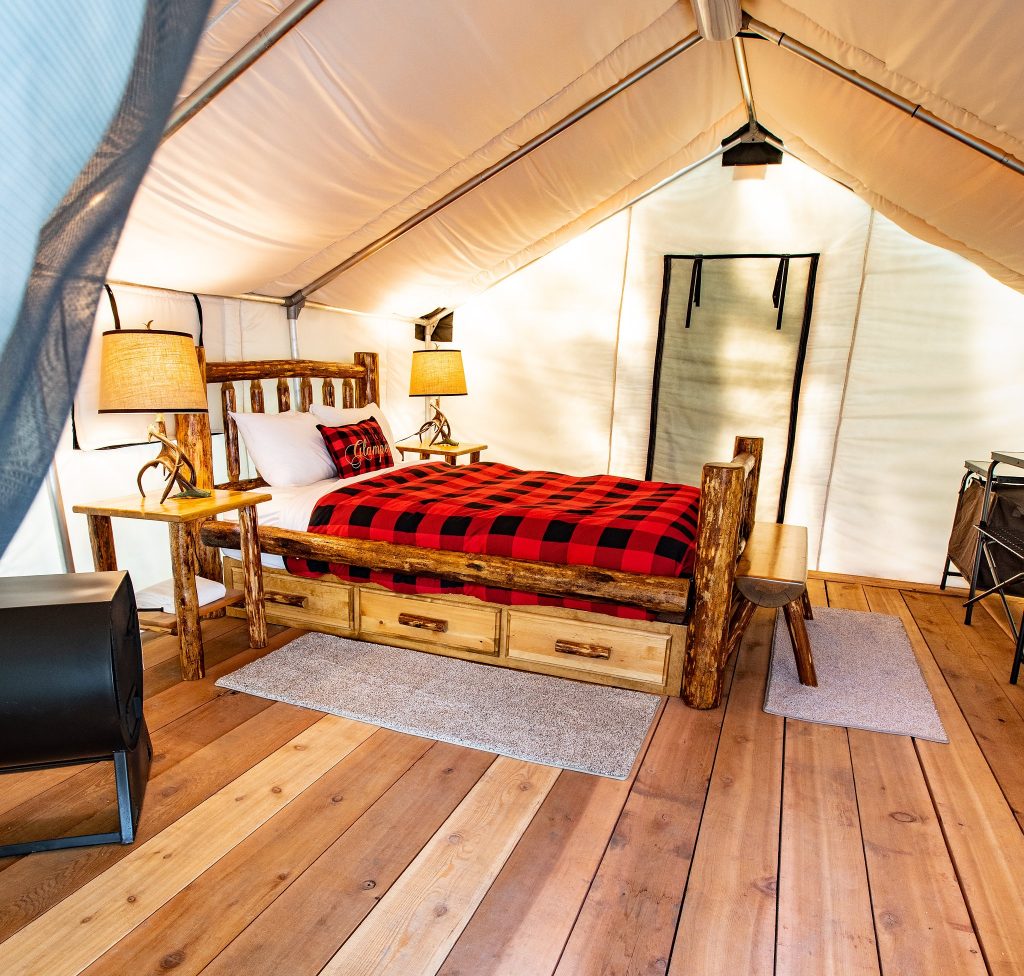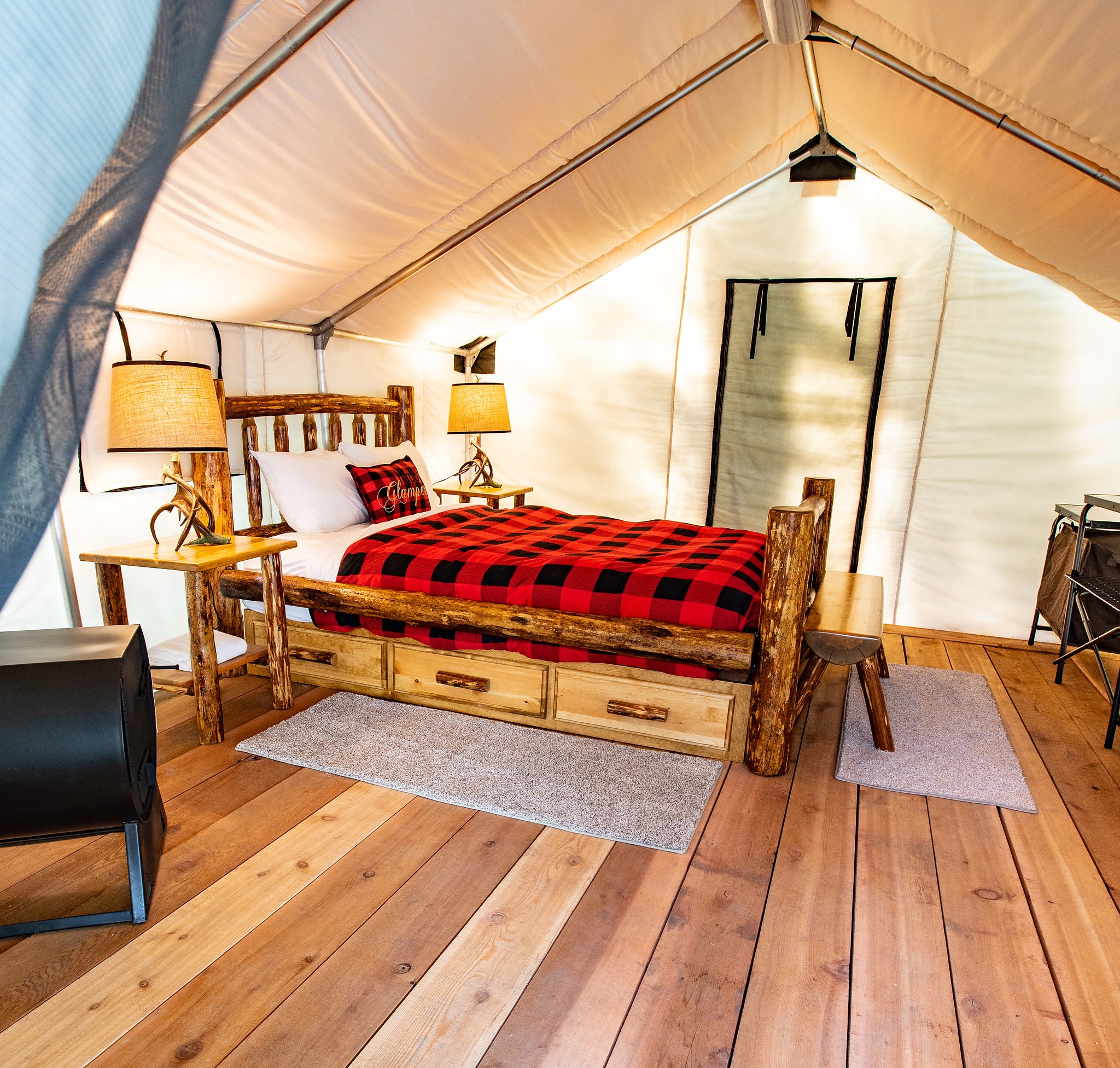 Camp Moose Trail (Golden)
Their camp is inclusive for all!  A romantic night away, a trip away with friends, or families.  They'll love to host all levels of campers, from seasoned backcountry enthusiasts, to those who have never slept in the woods, and everyone in between.  Leave the work to them, and immerse yourself into the woods and nature.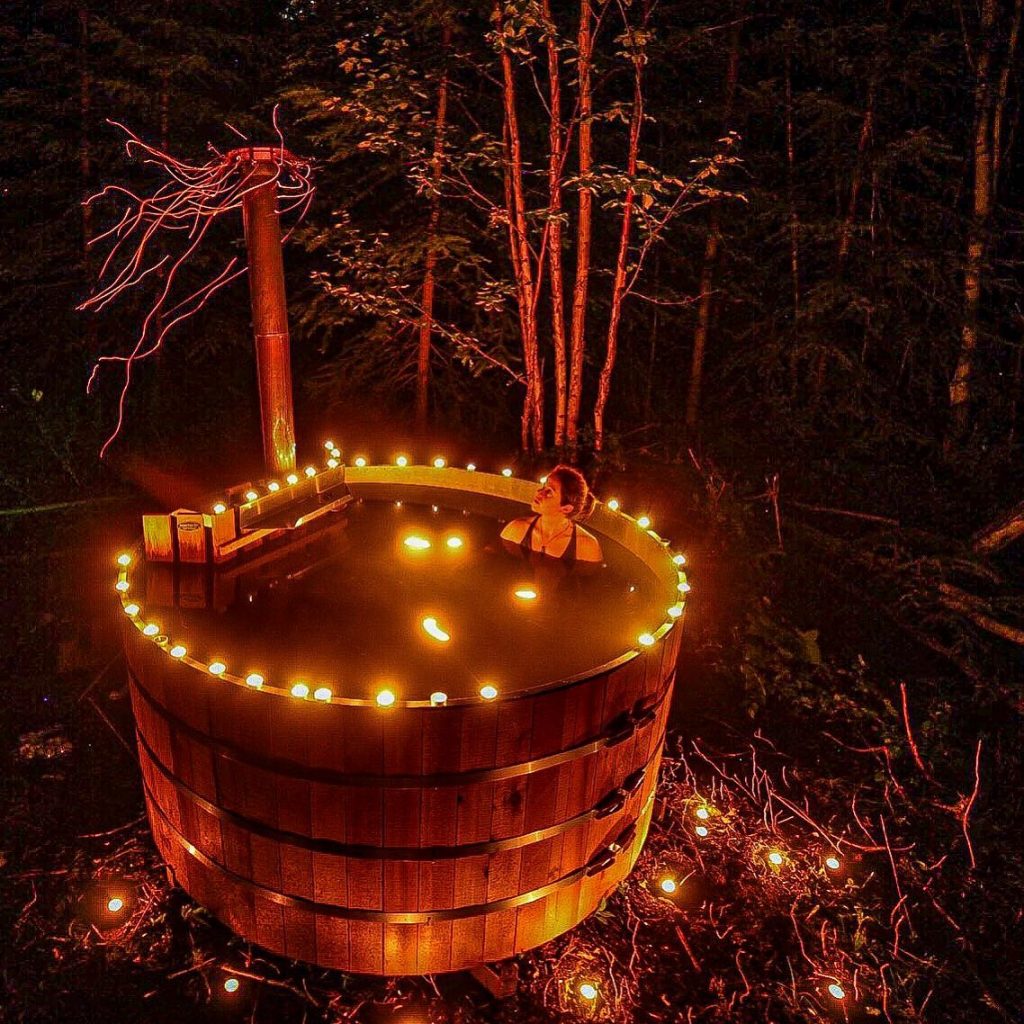 Camping in the Woods (Golden)
Set in a picturesque mountain setting, the owner's fleet of refurbished and fully-equipped VW vans are available for rent to adventurous souls looking for something a little more groovy in terms of the usual camping fare. The property is decked out with quaint white picket fences, picnic tables, lanterns and twinkle lights. In the VW vehicles, all the little necessities are taken care of: cutlery, dishes, BBQ, stove and propane. The only thing campers need to bring is bedding, food, water and a taste for spirited adventures and the hip vibes.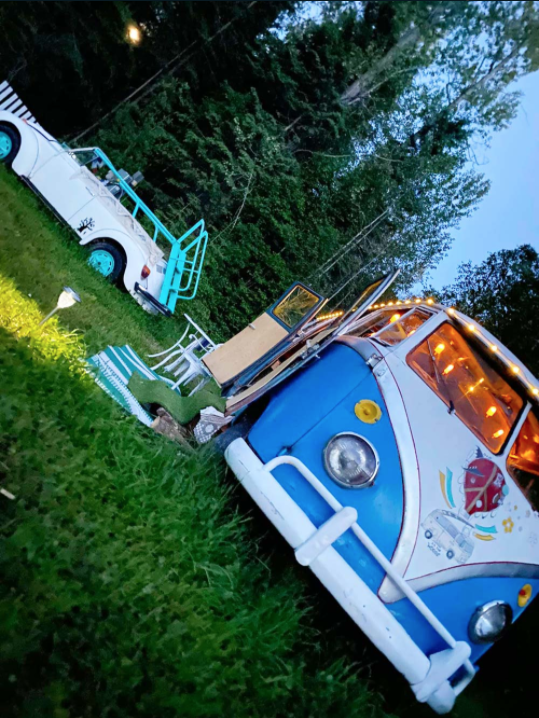 This RV Resort on the East Shore of Kootenay Lake, one hour north of Creston on Highway 3A, offers outdoor adventures in their hard tents. A beautiful property close to Kokanee Springs Golf Resort, artisans shops, sandy beach, marina and much more.  
Sleep on the edge of a forest next to the Elk River in one of the five Forestside Yurts at the Fernie RV Resort.  These sizeable 6×6 metre yurts comfortably sleep six people, excellent for the extended family!
Kimberley Riverside Campground
If you're looking for an RV experience but don't have one yourself, stay in one of the four rental trailers available alongside the St. Mary River. Each trailer sleeps 5-6 people and comes fully loaded with a kitchen, dining area, air conditioning for the hot days and a furnace for those cool mountain evenings.  
Or, stay in one of the "new" Glamping Tents. All tents include a raised deck/platform with bed(s), 2 Adirondack chairs, a side table, a firepit with one complimentary bundle of wood (per stay) and a picnic table. Their glamping sites are completely un-serviced, so come prepared for an off-grid camping experience.  (And if you need a little more assistance with your camping experience, they offer camp kitchen supplies; which must be arranged in advance & is subject to availability). 
(Check out the new Kimberley Adventure Centre, to book a e-Bike & SUP Rental and a Rafting Tour.)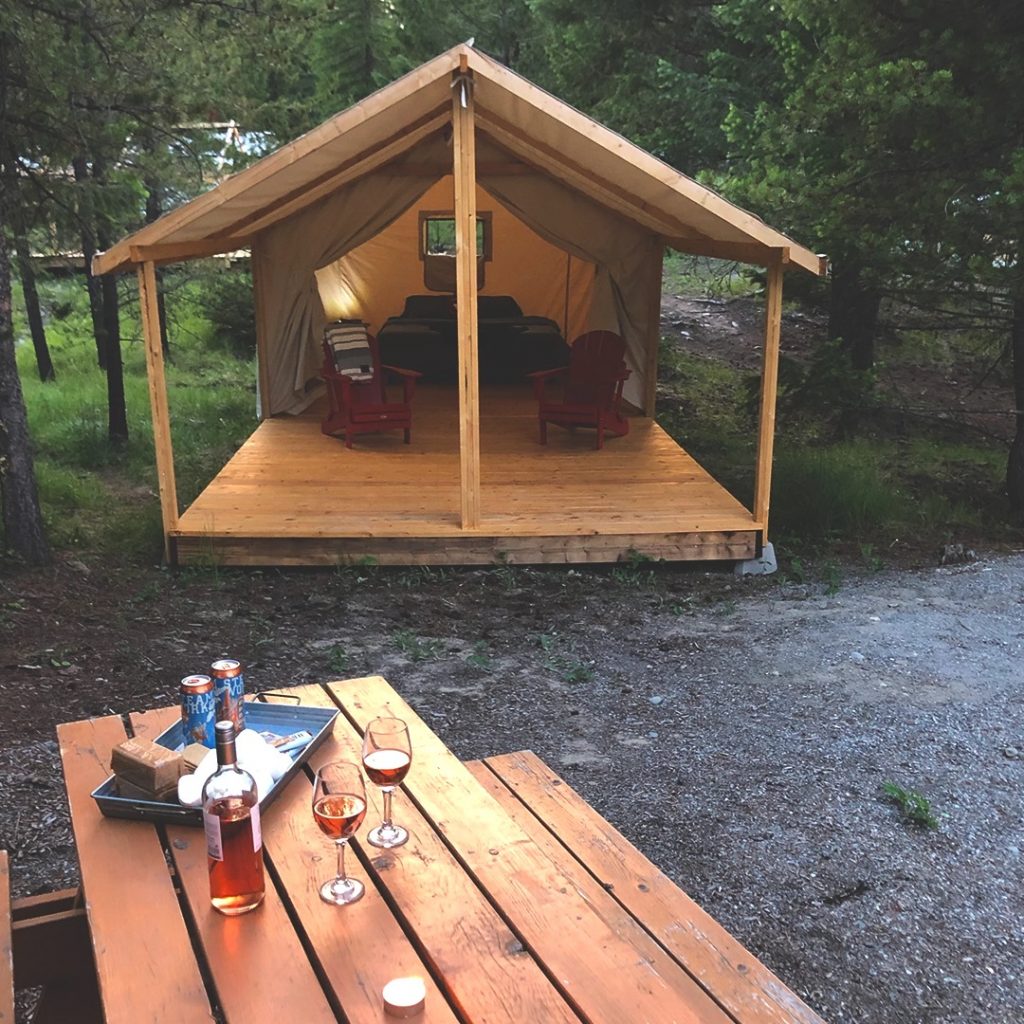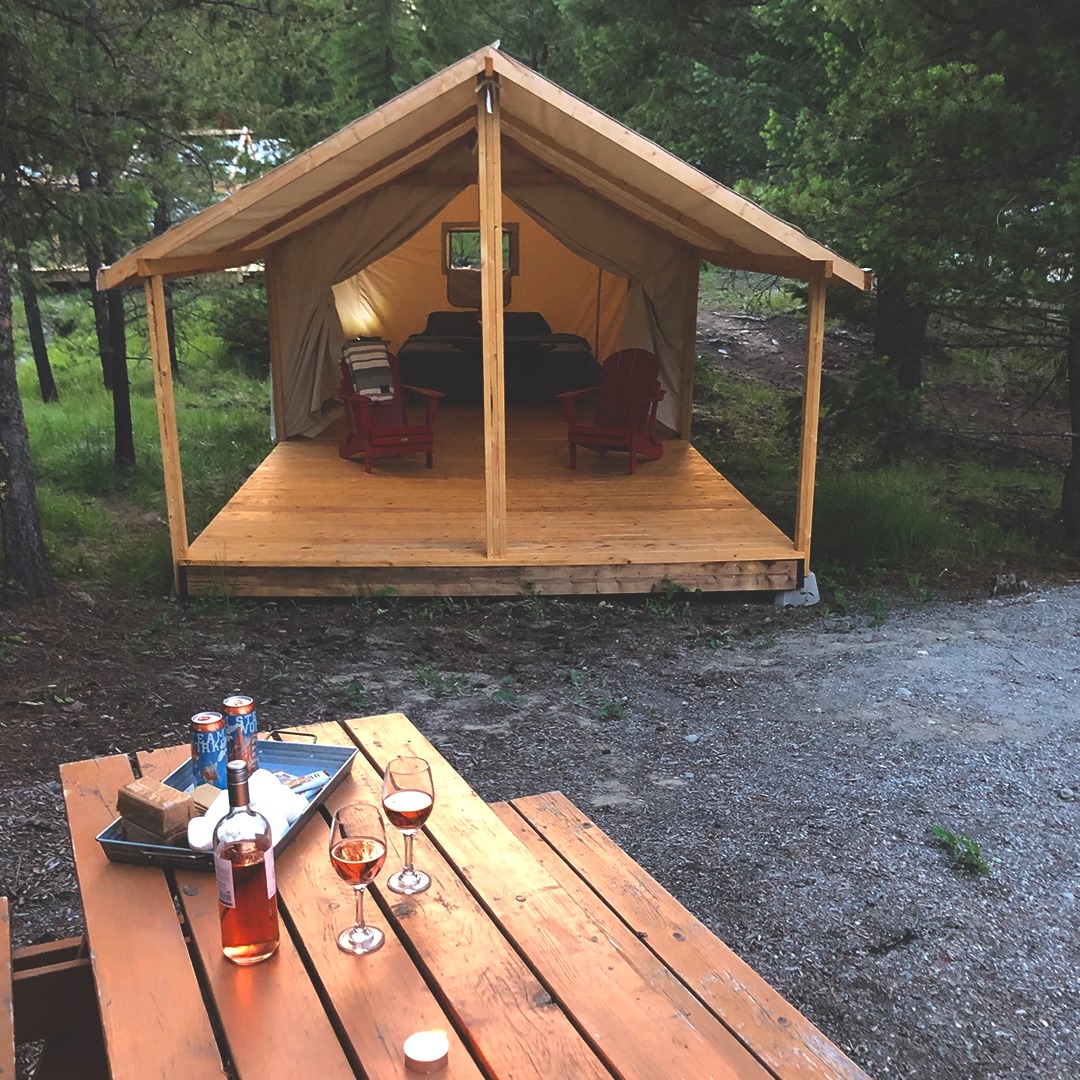 The Ranch RV Park & Campground (Golden)
Situated on 400 acres of prime riverfront property, The Ranch RV Park & Campground (formerly Golden Eco Ranch) is perfectly situated to explore the local Mountain Parks.  Their yurt village features three 2-person yurts – ideal for that romantic getaway under the stars.
Redstreak Campground (Kootenay National Park/Radium Hot Springs)
Less than three kilometres from the village of Radium Hot Springs and within Redstreak Campground, 10 (ten) oTENTiks  stand ready for visitors. These cabin-like tents have the advantage of the campground's plateau views, access to park programs at the campground's theatre, and of being within a quick hike to both the hot springs and the village.
The oTENTiks themselves, erected atop raised wooden platforms, can sleep six people within the large interior. High-density foam mattresses, indoor sitting area, screened windows, and private campfire pits make the camping experience comfy and each oTENTik is close to washrooms, showers, and kitchen shelters.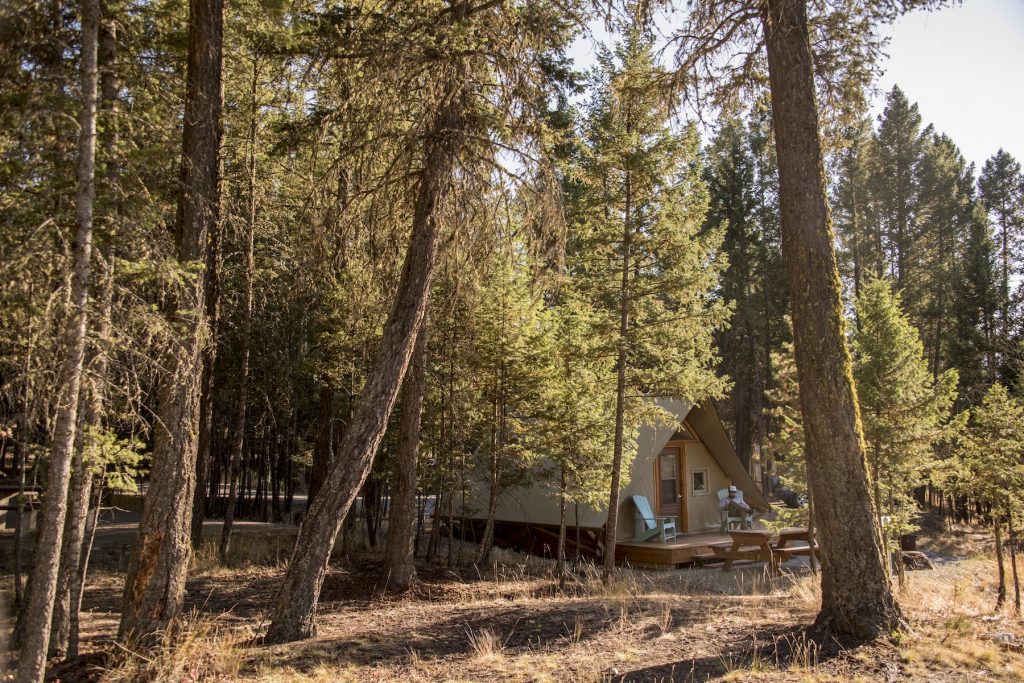 Rider's Retreat (Nakusp)
Are you on a cross-Kootenays motorcycle trip but don't have room to pack your camping equipment?  Stop in at the Riders Retreat in Nakusp, where you'll find your tent already set up and ready for you to relax into after your long day of riding.  Alternatively, opt for the 1970 Bluebird bus, converted into a character-filled camper for your comfort.
Rock Island Resort (Nakusp)
Spend your evening taking in the last rays of sun on the porch of your private studio-style yurt while overlooking Arrow Lake.  Or stay in one of their two waterfront cabins for a more luxurious experience.
Snowforest Campground (Mount Revelstoke National Park)
Get super-cozy in a MicrOcube. Tucked away in the Snowforest Campground in Mt. Revelstoke National Park. A MicrOcube is a 10 m2 cabin equipped with: a double bed (54 in.) for 2 people with waterproof mattress, storage space under bed, two small nightstands, one USB port for charging electronic devices, indoor and outdoor lighting, picnic table, two patio chairs and a small table, and a fire pit.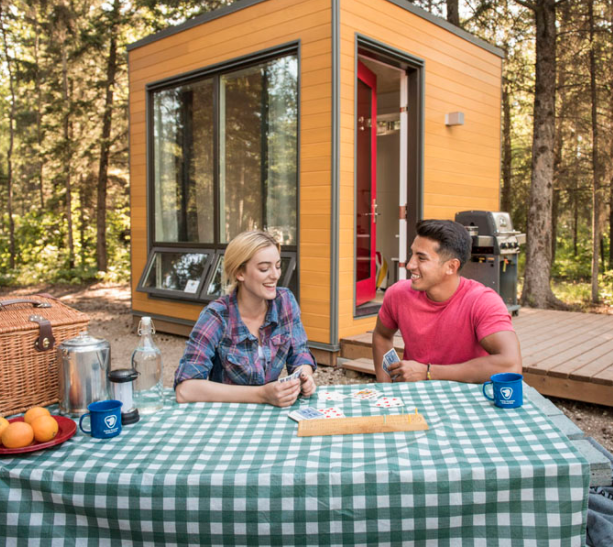 Valhalla Pines Campground and Guesthouse
Need some time in nature? Disconnect from the world in your own private hut in the forest at Valhalla Pines Campground and Guesthouse.  Their Tree Hut features an A-frame style cabin with a large tree right through the middle of its deck, definitely a unique touch!
Winderdome Resort (Windermere, BC)
Situated in beautiful Windermere, BC, Winderdome Resort offers fully serviced Geodesic Dome Tents nestled in a tranquil forest. Come and unwind in luxury. If you really want to treat yourself, rent our private pool located a short walk away.
Winderdome Resort sits on 8 hectares (20 acres), 6.8 of which are dedicated to their glamping sites. There private home takes up the remaining 1.2 hectares where you can have access to their amazing pool (extra fees apply), decks and lounging space. Note that if you choose to use the pool, you may get a glimpse of our docile dog, Kiska, the Winderdome Spokespup.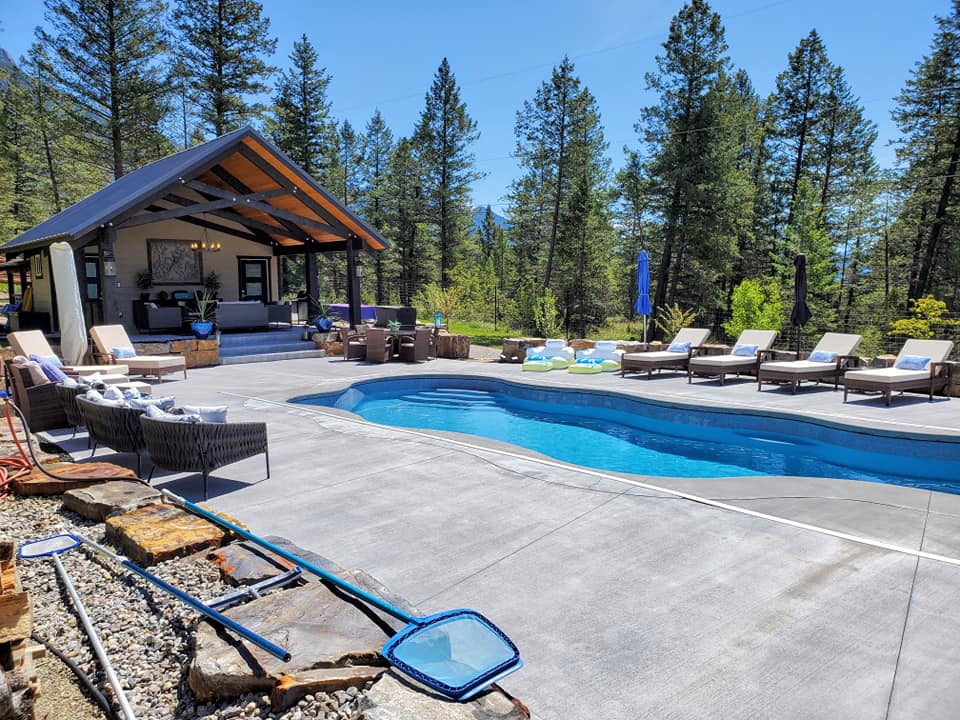 Next time you're in the Kootenays, think beyond the fine hotels and resorts of the region and opt for one of our unique and luxurious glamping experiences.
To assist you with other accommodation experiences that are available to you in the region – check out our community partners: Arrow Lakes/Slocan Valley, Castlegar, Cranbrook, Columbia Valley, Creston Valley, Elkford, Fernie, Golden, Invermere/Panorama, Kimberley, Nakusp, Nelson Kootenay Lake, Radium Hot Springs, Revelstoke, Rossland, Sparwood and Trail.

Know Before You Go – Plan ahead so you can travel safely and responsibly. Familiarize yourself with weather, road conditions, general alerts for travellers and provincial health orders & recommendations.
Related Stories
~ A Road Trip of a Lifetime: Kootenay Rockies Hot Springs
~ Accessible Trails in the Kootenays
~ Adventures for All: Accessible & Adaptive Sports Road Trip
~ Big Adventures in Our Mountains
~ Camping & Glamping in the Kootenay Rockies
~ Craving the Refreshing Flavours of the Kootenays
~ Glamping in the Kootenay Rockies
~ Get Informed: Before your Wild Adventure in the Kootenays
~ Everything is Local
~ Follow the Trail: Kootenay Hiking Adventures
~ Funky Kootenay Fun Facts
~ Keeping the Kootenays Natural
~ Kootenay Ambassadors: Mindful Explorers
~ Outdoor Adventures: Unique to the Kootenays
~ Pit Stops on your Kootenay Road Trip
~ Stewards of the Land: Positive Effects
~ We Are All Connected

Top/cover photo by Ashley Voykin.
Words by Mark Locki. Mark is a photographer and writer based in Kimberley, BC. An avid traveller throughout the Kootenays and abroad, he enjoys exploring the natural world, camera in hand, seeking out compelling stories. He's often found deep in the backcountry, running, climbing or on skis, challenging himself to discover new scenes and viewpoints. 
Please tag your images with @KootRocks on Instagram to be featured in a future social post.  For travel deals and specials – sign up for our Consumer Travellers Newsletter.