The Slackcountry is the untracked, lift-accessed "backcountry" that snow seekers enjoy just outside ski resort boundaries, without the hours of sweat and toil normally required to 'earn your turns' in the Backcountry. Experienced Slackcountry enthusiasts use ski lifts to help them enjoy everything from a quick lap before work or after school to a full day of easily earned untracked Slackcountry snow within sight of most of the resorts on the Powder Highway.
Dreamy tracks in Whitewater's out-of-bounds Ymir Bowl tell the tale of local hard-cores who have the gear and the know-how to push the limits and drop into any of a dozen or more runs like First Choice and Dog Leg.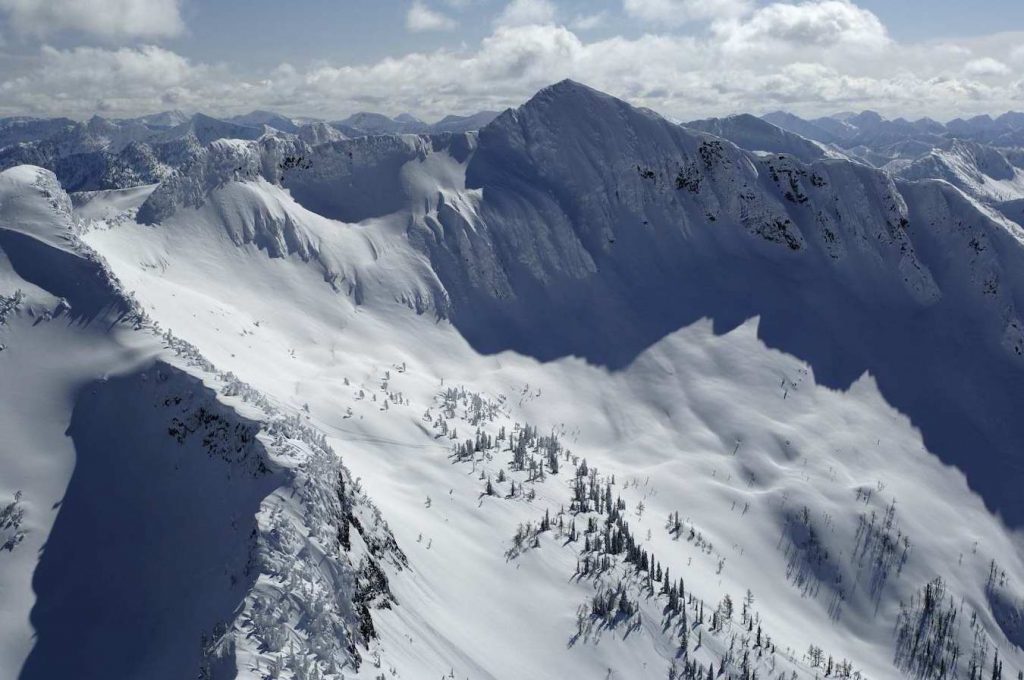 Photo by David Gluns; Ymir Peak at Whitewater Ski Resort
Montana Creek shouts an untracked call to riders from the top of Revelstoke Mountain Resort, and offer fresh tracks long after the resort's in-bounds moguls take over. Greely Bowl, while not technically Slackcountry as it is inside resort boundaries and avalanche controlled, still requires a short boot-pack to drop in, an effort guaranteed to thin out the ski tracks.
In the Dogtooth Range above Golden, advanced Slackcountry skiers and riders skin up to Ruedi's Ridge and Ozone just outside Kicking Horse Mountain Resort.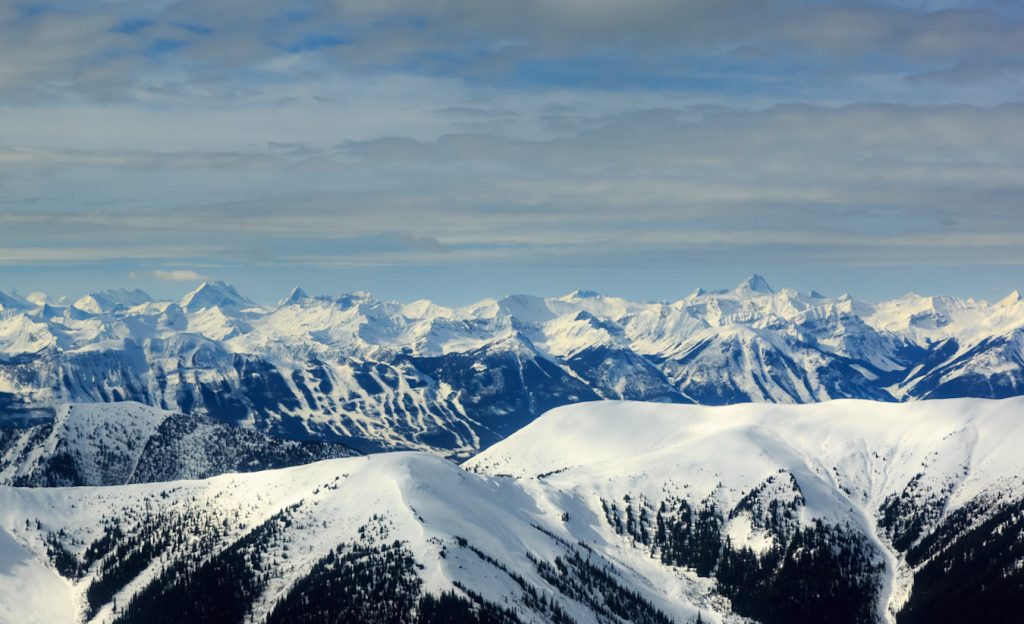 Photo by Dave Best;  Kicking Horse Mountain Resort (slackcountry to the right of the runs)

Fernie's legendary bowls see regular Slackcountry traffic. With Fish, Orca, and Cabin Bowls accessed from the Great Bear Quad, and Siberia and Mongolia Bowls are a short skin track away from the Timber Bowl Quad. Nearby Lost Boys Pass is aptly named, so be warned.
*** It's steep, it's deep, and don't let the name Slackcountry deceive you, it is every bit of the definition of backcountry, meaning that the consequences are serious for poor decisions. Bring your avalanche safety training, rescue gear, skins and deep snow travel gear, extra food, water, and clothing, a map, and a way to communicate in case of emergency. Never venture out alone, and be sure to leave a plan with someone you trust if you head out into the Slackcountry. BC Adventure Smart is a great resource to help you get informed before heading into the Slackcountry. ***
Know Before You Go – Plan ahead so you can travel safely and responsibly. Familiarize yourself with weather, road conditions, general alerts for travellers and provincial health orders & recommendations.
Related Stories
~ Backcountry Ski Touring: Step 1 Avalanche Safety Training
~ Guiding Services: Powder Highway's Backcountry
~ How BIG is the Powder Highway?
~ Kootenay Winters: Why We Love Them
~ Our Kootenay Mountain Culture
~ Powder Highway 101
~ Quintessential Powder Highway Winters
~ Tips: How to be a Safe & Responsible Traveller
~ Up the Ante: Powder Highway Cat & Heli Day Packages

Top/cover photo by David Gluns, of Ymir Peak at Whitewater Ski Resort.
Please tag your images with @KootRocks on Instagram to be featured in a future social post.