You've skied Polar Peak at Fernie Alpine Resort, you've maxed out the vertical you can bag in a day at Revelstoke Mountain Resort, and you know every inch of Captain Jack's Trees at RED Mountain Resort. You're ready to step it up, so it's time to go beyond the boundary lines.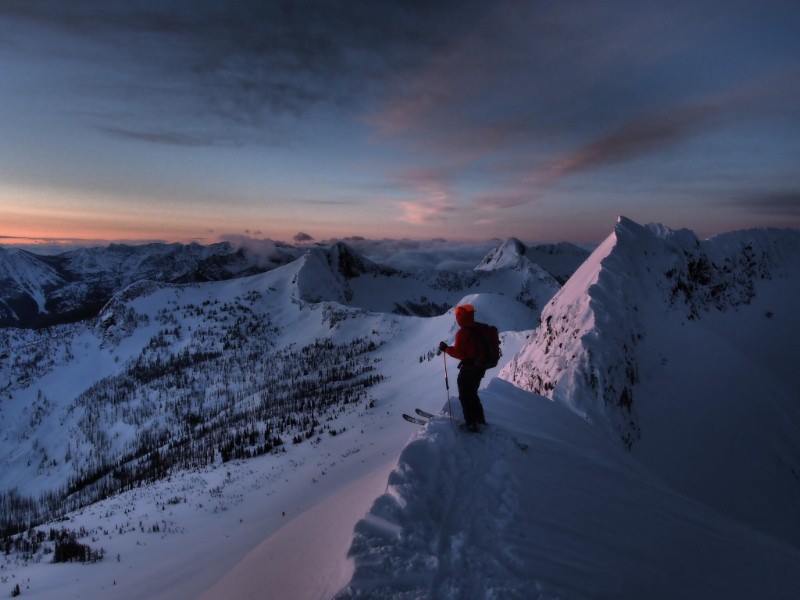 Backcountry ski touring in BC is as complex as it is rewarding – to ski it safely takes years of training. So how do you partake when you're new to the game? You give a call to some of our regions most experienced guides to help safely show you the up-tracks and the places where you can get the steep and deep stuff all to yourself.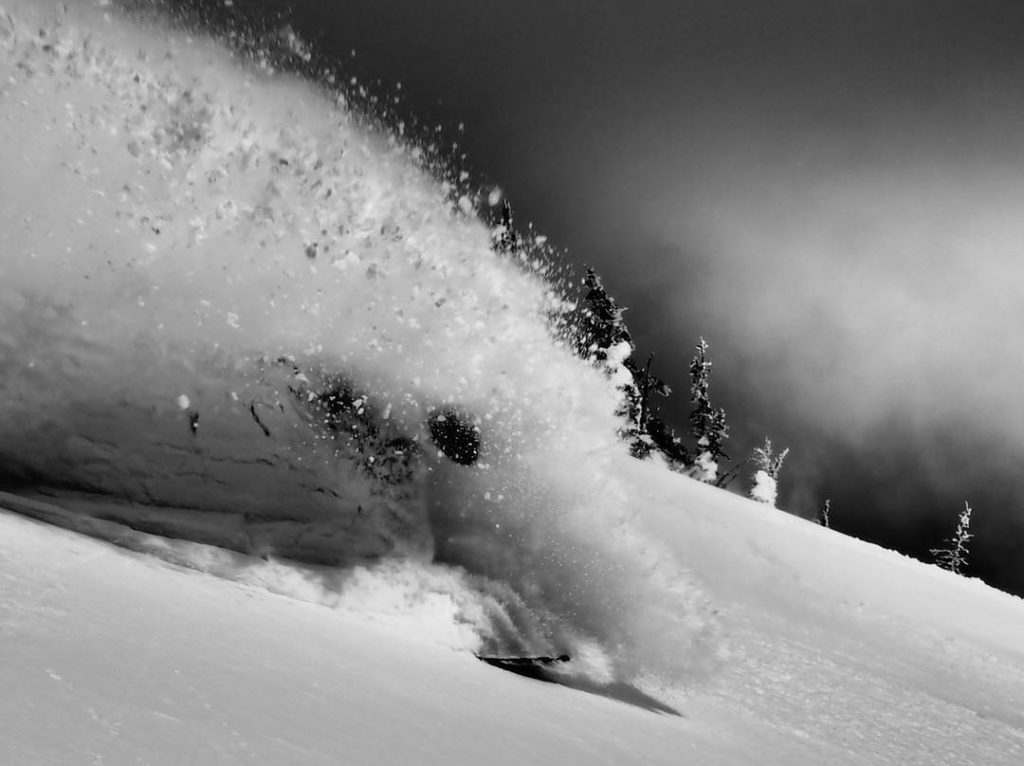 All Aspects Alpine (AAA) Backcountry Guides  has been specializing in ski touring and splitboarding for first-time ski tourers, backcountry free-ride to advance backcountry ski/splitboard mountaineering and 'shreducational' adventures.  ACMG-certified ski guides explore Golden's and Revelstoke's side-country, the Canadian Rockies and the Rogers Pass.

Adrenalin Descents has been leading peak-bagging trips around Golden for 15+ years. Based at the intersection of the Canadian Rockies, Purcells and Selkirk Mountains, this operation benefits from three distinct snowpacks and weather zones and can reliably produce some of the most alpine-centric backcountry in the Kootenays. This includes the particularly exciting 'slackcountry' off nearby Kicking Horse Mountain Resort.
Arctos Guides has been offering guided backcountry skiing since 2017 in Slocan, BC. Its name is derived from the ancient Greek word Arktos, which means bear. They operates in the Valahalla, Kokanee and Goat Ranges (all sub-ranges of the Selkirk and Columbia Mountains).  Arctos Guides also offers daily services in Golden, Revelstoke, Nelson and Rogers Pass. Arctos Guides are certified by the Association of Canadian Mountain Guides.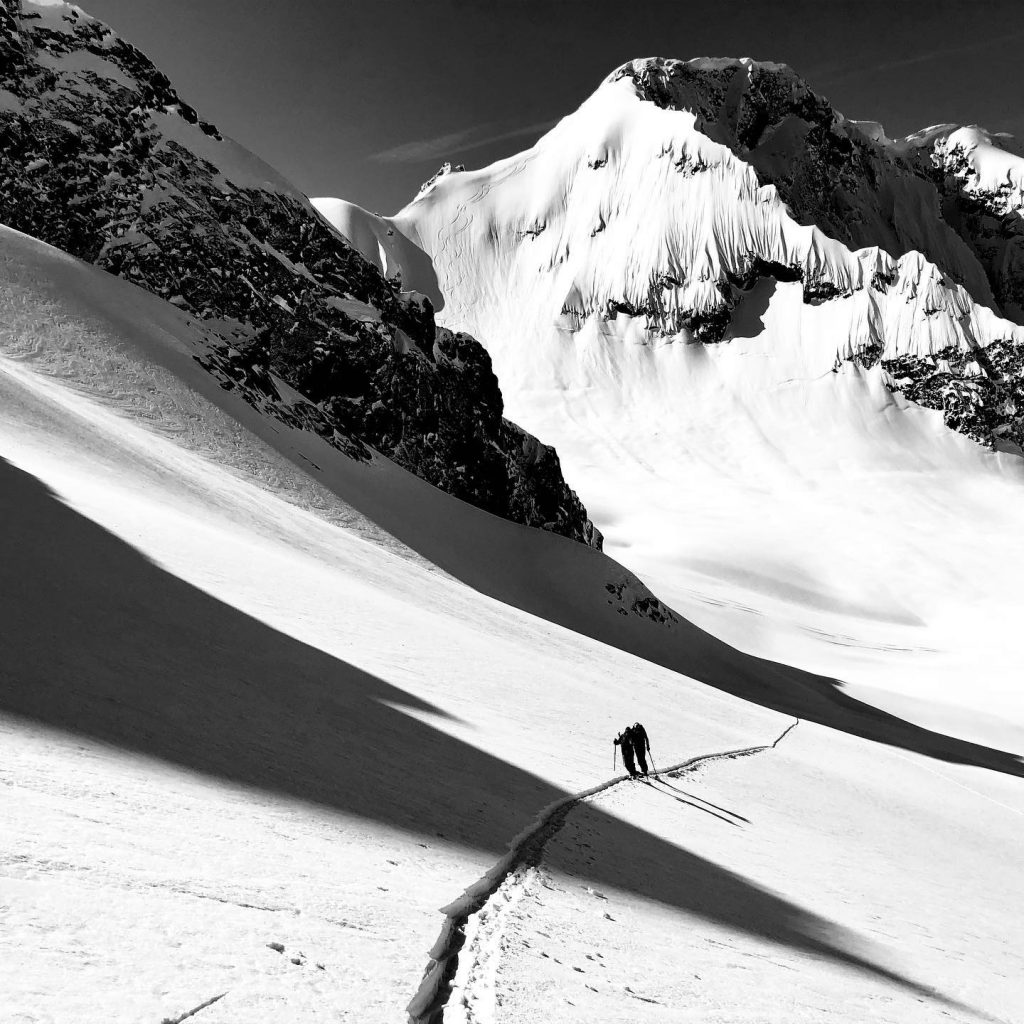 BC Mountain Guides is a small guiding company offering climbing, backcountry skiing / boarding, hiking and courses for beginners to strong experts.  Join in on a single day tour, hut trips or big mountaineering objectives and remote camps. Golden is the centre of everything skiing from the Canadian Rockies to the Monashee deeps.
CAPOW is an Association of Canadian Mountain Guides (ACMG) certified guiding team. Recognized as leaders of a growing community; one that believes in sharing specialized mountain travel knowledge with recreational enthusiasts in a fun and approachable way.  Their BL-AST courses (Backcountry Learning and Avalanche Sills Training) are based on the most advanced knowledge available and taught by ACMG certified guides. You'll learn the fundamentals of decision making in backcountry avalanche terrain.
Deep Lines Guiding is how you'll get in touch with Nelson's Josh Milligan, an ACMG-certified ski guide with 20 years of experience in the Kootenays. Josh can take you as far as the legendary Rogers Pass—the birthplace of North American Mountaineering—as close as the snow-plastered summits adjacent to Whitewater Ski Resort, or to a backcountry fly-in lodge experience like Sorcerer Lodge, Sol Mountain Lodge or the Alpine Club of Canada's Fairy Meadow Hut.
East Kootenay Mountain Guides can plan and execute your custom trip with their abundant knowledge of local terrain and current snow conditions. ACMG certified guides offering guided mountain experiences based in Invermere and serving the Columbia Valley.
Flow Guiding Service have an ACMG Ski guides to show you around the spectacular mountains near Golden, BC. Explore the backcountry skiing accessible from the lift access at Kicking Horse Mountain Resort to the alpine peaks in the Rogers Pass. Flow GS strives to empower their guests to experience a trip of a lifetime.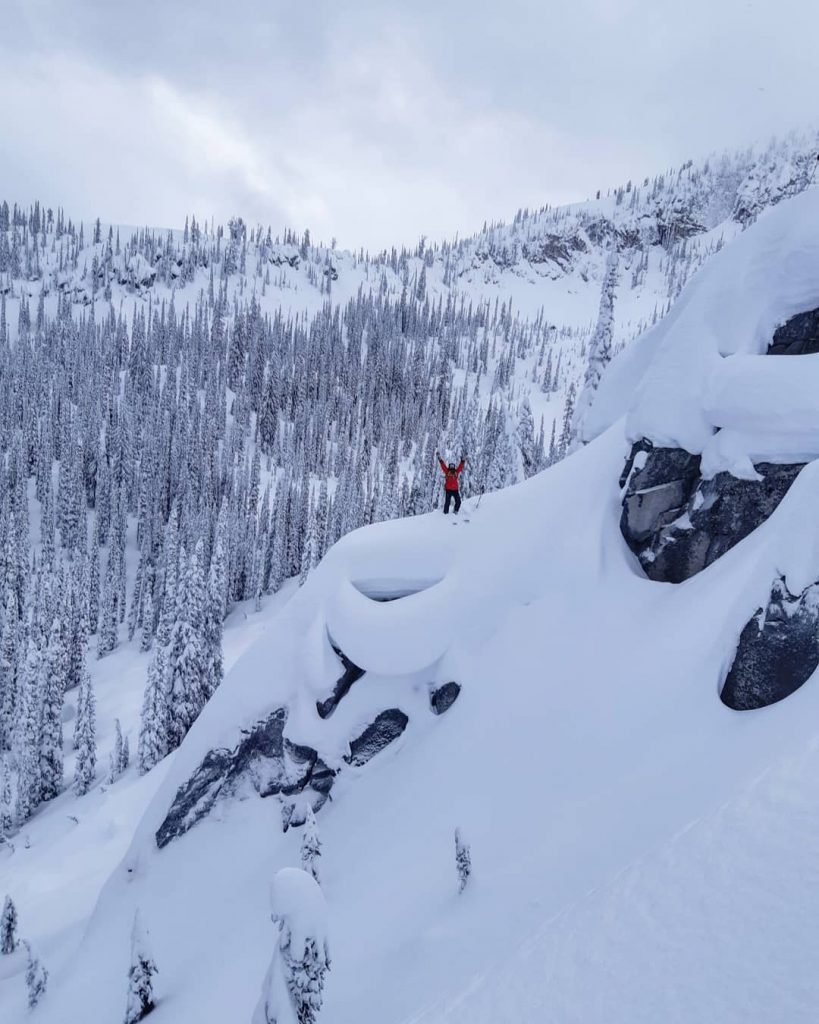 Gearys Guiding Service offers Ski Touring, climbing and mountaineering trips and courses.  If you require a guide for the Revelstoke area or would like to learn more about the mountains, their guiding service is available to take you on a great adventure. 
Their Ultimate Everything Course includes 7 nights at Snowfall Lodge.  It combines the AST2, Glacier Travel and The Art of Up-tracking courses.  During this course, you will spend most time ski touring and learning along the way. Their attempt is to have students leading as much as possible while they supervise the exposure to hazards and search for learning opportunities.
Golden Powder Guiding focuses on offering hut trips (Golden Alpine Holidays & Icefall Lodge) and multi-day guiding experiences. If you are looking for an adventure that they are not currently offering, don't hesitate to contact them, as they will tailor a custom trips for you. 
Kootenay Backcountry Guides are the right phone call if you want to come away with more than just waist-deep turns. Purveyors of top-notch education as well as guided trips, this company will empower you to take your own steps. Whether that be in the deep forests of Kootenay Pass or the hidden stashes of the Slocan Valley, owner Judson Wright makes sure you get the goods and then keep on getting them.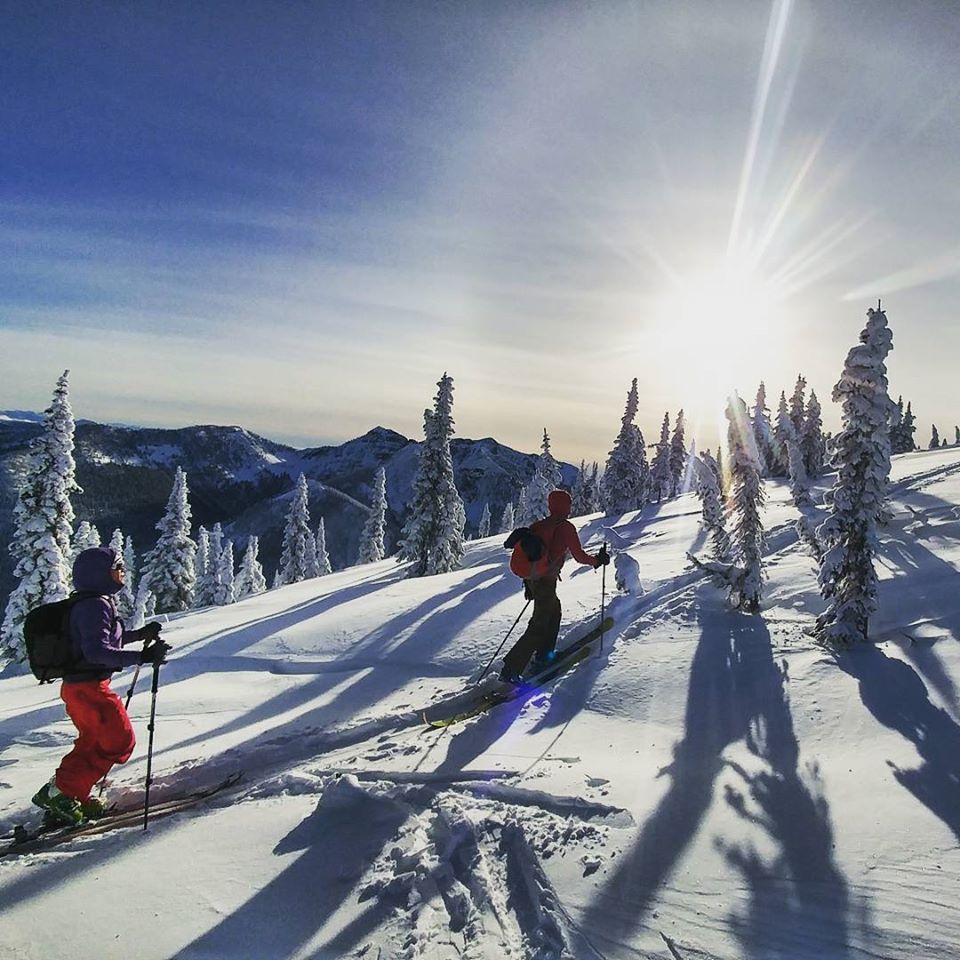 At Revelstoke Ski Touring, they specialize in bringing the wonders of winter in the backcountry to you, offering private group heli-skiing and snowboarding, powder ski and snowboard touring and heli-snowshoeing adventures. Their combination of helicopter and road transport, luxury accommodation and highly experienced guides means that your vacation not only fits your goals, but your dreams.
Selkirk Powder Descents offers ski touring trips, run by fully-certified ACMG Guides – single to multiple day trips to the Rogers Pass, backcountry ski touring in Revelstoke (slackcountry & heli-assisted ski touring) and backcountry lodge adventures (Selkirk & Icefall lodges). 

Summit Mountain Guides is your one-stop for everything from ice climbing to ski mountaineering – or just straight-up great skiing. With experience from the world's highest places, these guides can take you on a glacial traverse across the surreal Wapta Icefield, or any of the region's loftiest zones. They specialize in expertise for multi-faceted trips that bring together technical mountain skillsets, and deeper adventure.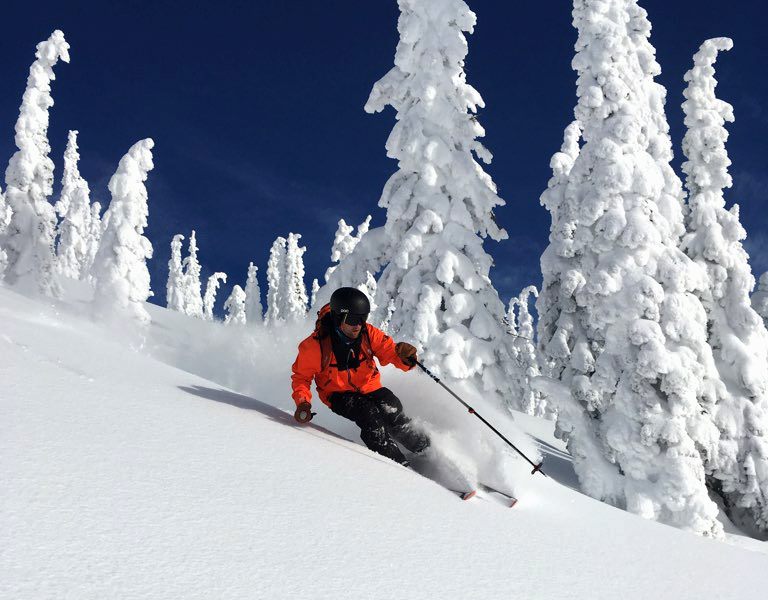 *** Even though you're going with a guide company the importance of safety is huge. Take an avalanche safety training course – whether you're a beginner or seasoned traveller, there's always something to learn. Ensure you have all the appropriate gear (avalanche transceiver, probe, shovel, airbag packs, emergency communication) and understand how to use every piece of that gear properly. Be aware of the current snow-pack and avalanche risks within the area. Avalanche Canada is an incredible resource showcasing avalanche forecasts, providing free information and coordinate and deliver avalanche awareness and education programs to the public. BC Adventure Smart is also a great resource. ***
Know Before You Go – Plan ahead so you can travel safely and responsibly. Familiarize yourself with weather, road conditions, general alerts for travellers and provincial health orders & recommendations.
Related Stories
~ 4 Reason to Ski-Ride the Powder Highway this Winter
~ 6 Safety Tips for your Powder Highway Road Trip
~ 7 Tips to Get You Started: Exploring Powder Highway's Backcountry
~ Backcountry Ski Touring: Step 1 Avalanche Safety Training
~ Get Informed: Before your Wild Adventure in the Kootenays
~ How BIG is the Powder Highway?
~ Our Kootenay Mountain Culture
~ Planning your Powder Highway Trip: Local Tips
~ Powder Highway 101
~ Quintessential Powder Highway Winters
~ Powder Towns on the Powder Highway
~ Slackcountry Touring at our Powder Highway Ski Resorts
~ Up the Ante: Powder Highway Cat & Heli Day Packages
~ What's New on the Powder Highway?

Words by Matt Cote.  Cover/top photo courtesy of  Summit Mountain Guides in Nelson. 
Matt Cote is a writer, editor and wanderer based in Revelstoke. His written musings typically focus on the inner workings of society and ecology, at the intersection of the landscape he most loves: mountains. Equally enraptured by robust stories of adventure and the sweetest spots to find it, no place has won him more than his own British Columbia backyard.
Please tag your images with @PowderHighway and @KootRocks on Instagram to be featured in a future social post.  For travel deals and specials – sign up for our Consumer Travellers Newsletter.