With 100+ ski/snowboard operators along the Powder Highway, you will be sure to find countless areas with deep, dry champagne powder to relish in.  Big mountains, big POW, makes for some, tired legs!
We suggest you take a 'rest day', unless you prefer epic powder day after day (we totally get that too), then add in an 'après-ski' activity. Here are our top 3 ideas, in each of our legendary communities, on how to extend the powder fun.
COLUMBIA VALLEY
1 – Enjoy a soothing mineral soak at the Radium Hot Springs pools and Fairmount Hot Springs Resort.  The healing waters of these hot springs will rejuvenate you for your next awe-inspiring day.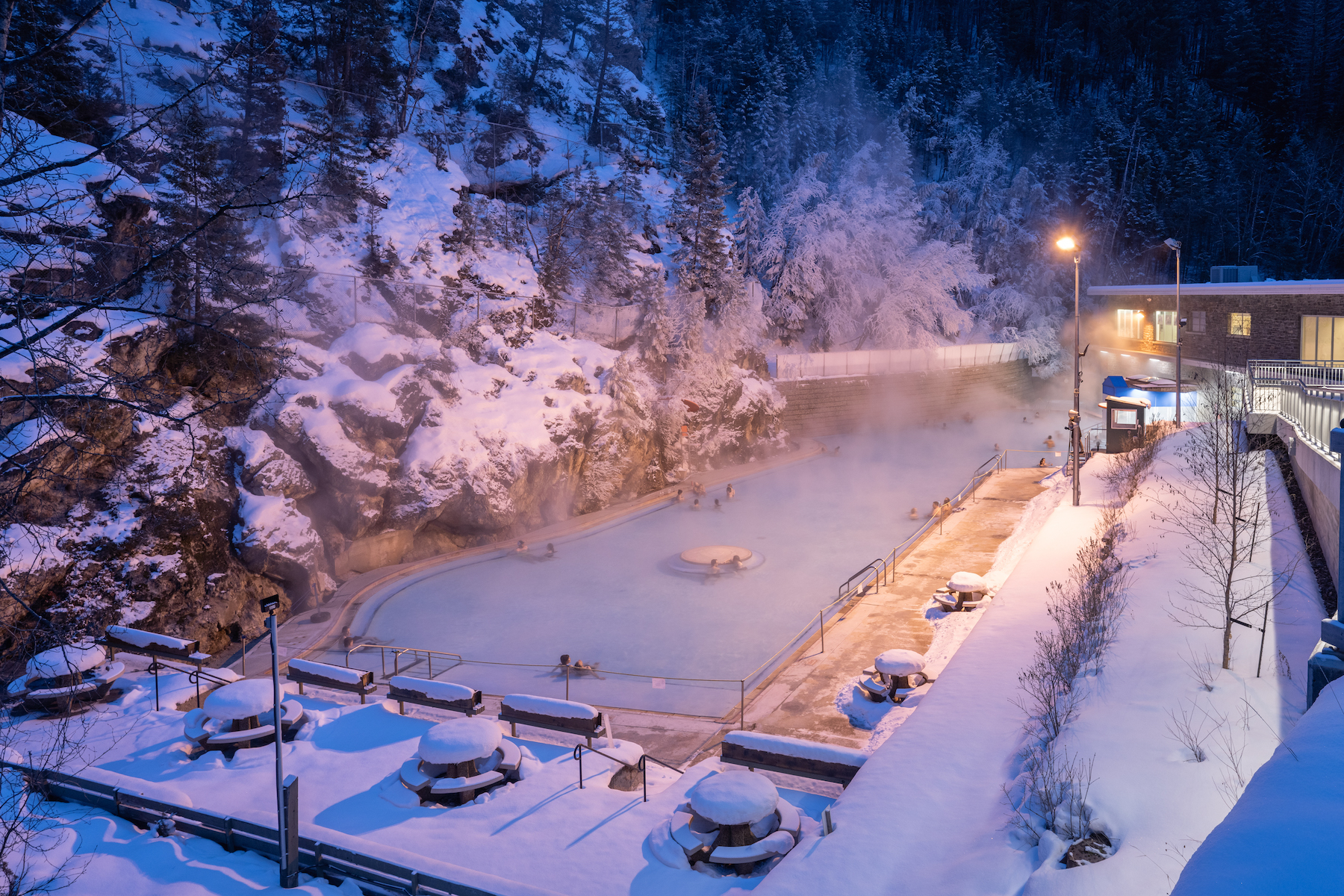 2 – Ice-skate, fat bike or Nordic ski on 'The Whiteway' on Windermere Lake. It is the world's longest skating path at 30+ km — a "must do"!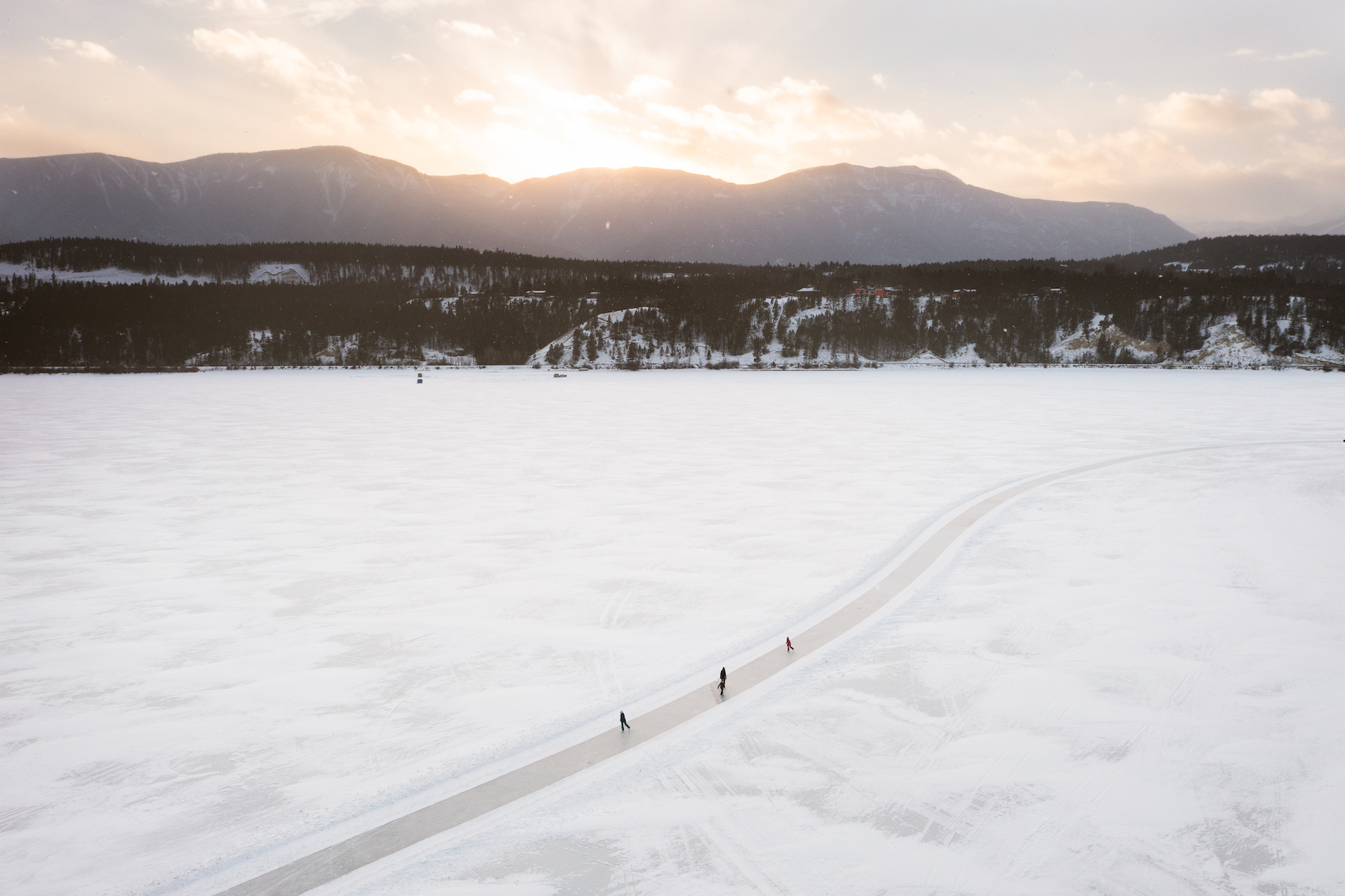 3 – Plan a fun family snowmobile tour with Toby Creek Adventures at Panorama Mountain Resort. A cozy alpine cabin, a private network of trails and an icefall are some of the highlights featured on their guided tours.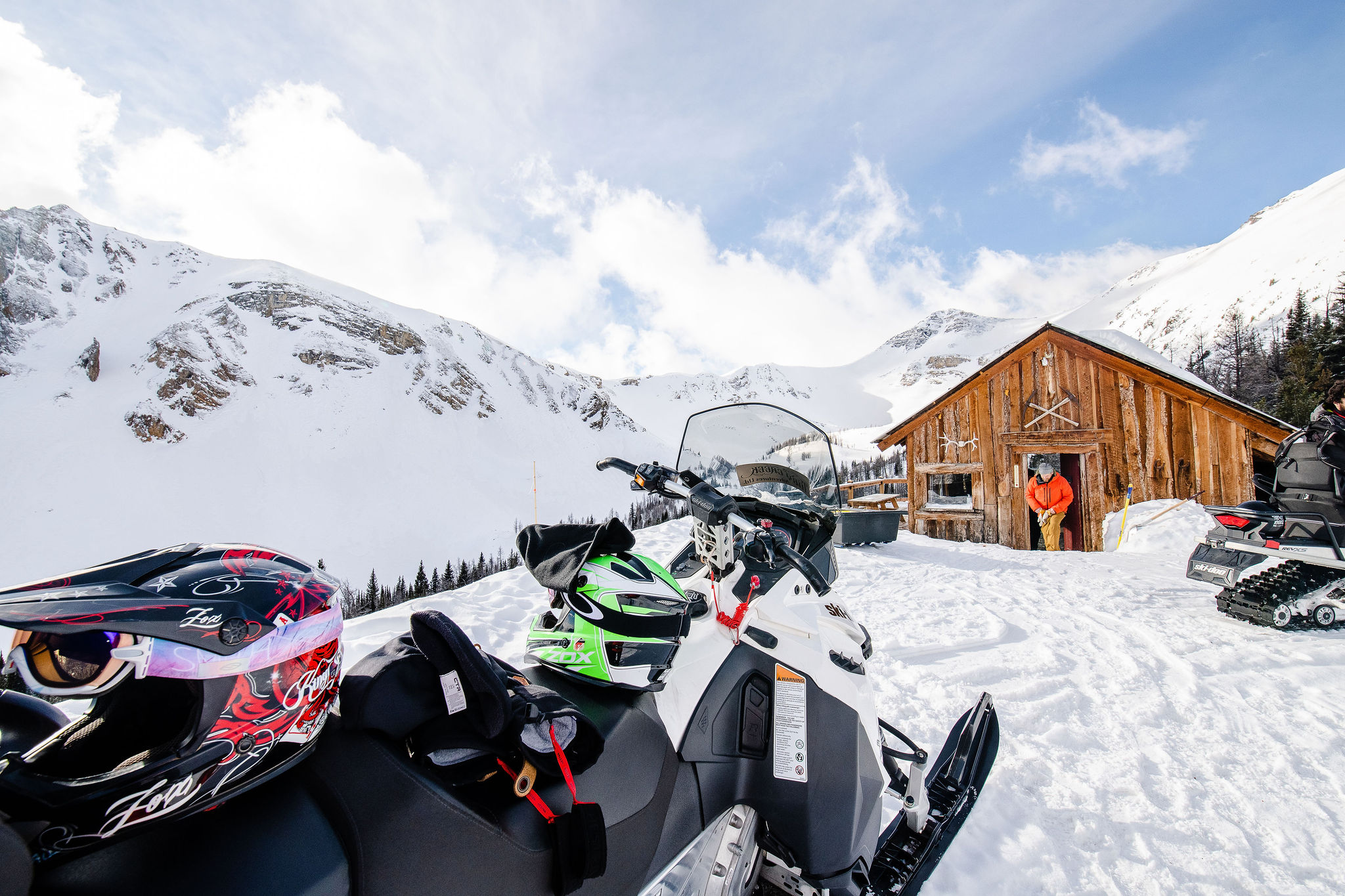 (Bonus: Nipika Mountain Resort offers some of the best trails near Radium Hot Springs. There are 30 km/19 mi of groomed fat biking trails, plus there are separate snowshoe trails, which double as the summer single track trails.)
FERNIE
1 – Go Fat Biking on Fernie's trail network, offering trails suited for all types of riders is at the Montane area, Fernie Alpine Resort, Ridgemont & Mounthttps://tourismfernie.com/activities/mountain-biking/fatbiking Fernie Provincial Park. Rentals are available at the GearHub & Straightline in downtown Fernie and at the Fernie Alpine Resort.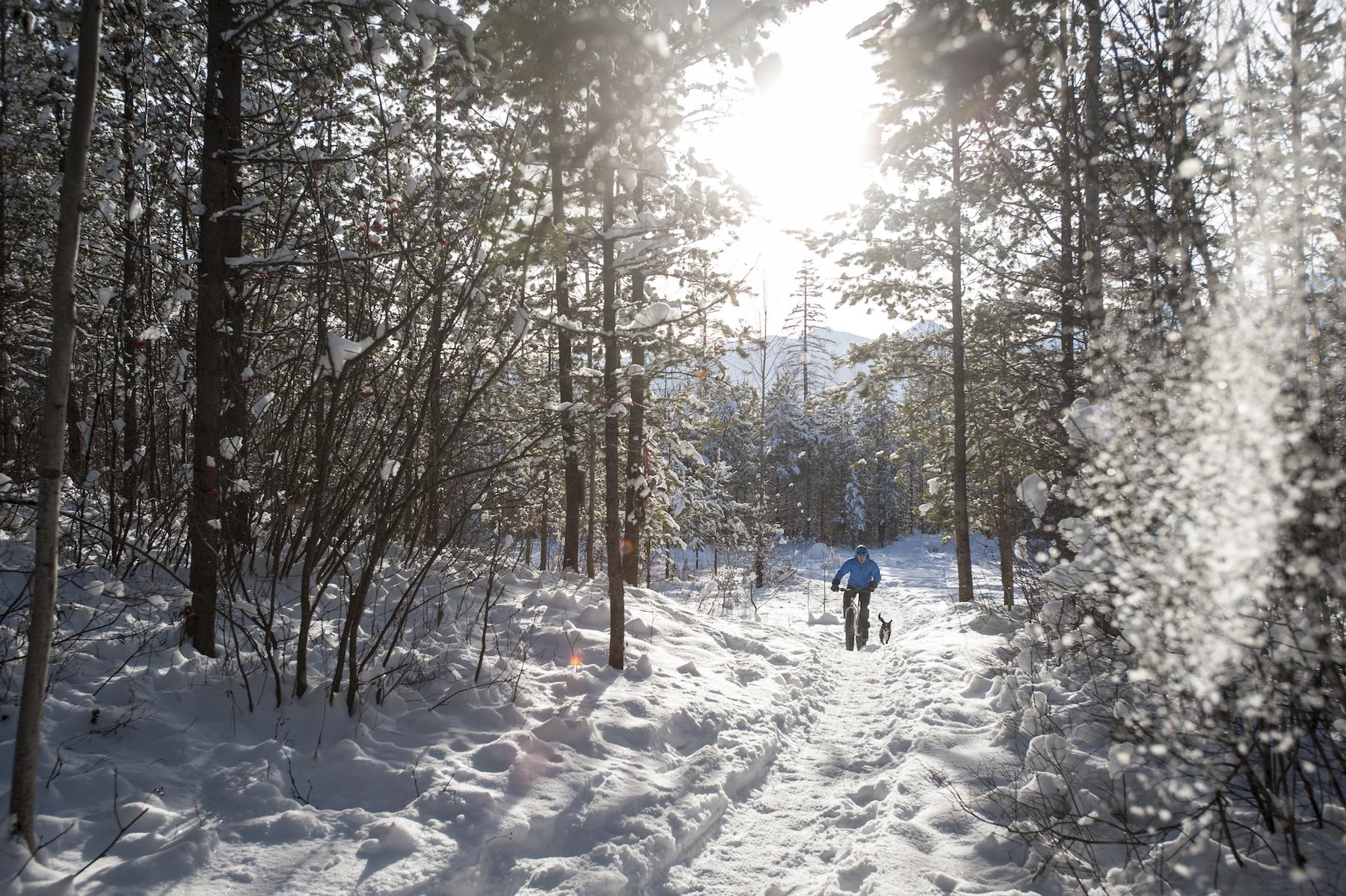 2 – Savour the chilled vodka at the Ice Bar located inside the Cirque Restaurant & Bar at Lizard Creek Lodge at the base of the resort. Or enjoy the tasty local spirits and brews at Fernie Distillers, Fernie Alpine Springs & Fernie Brewing Company. If you are looking for a lively atmosphere, listen to live music at Brickhouse and/or Kodiak Lounge in the Raging Elk Hostel.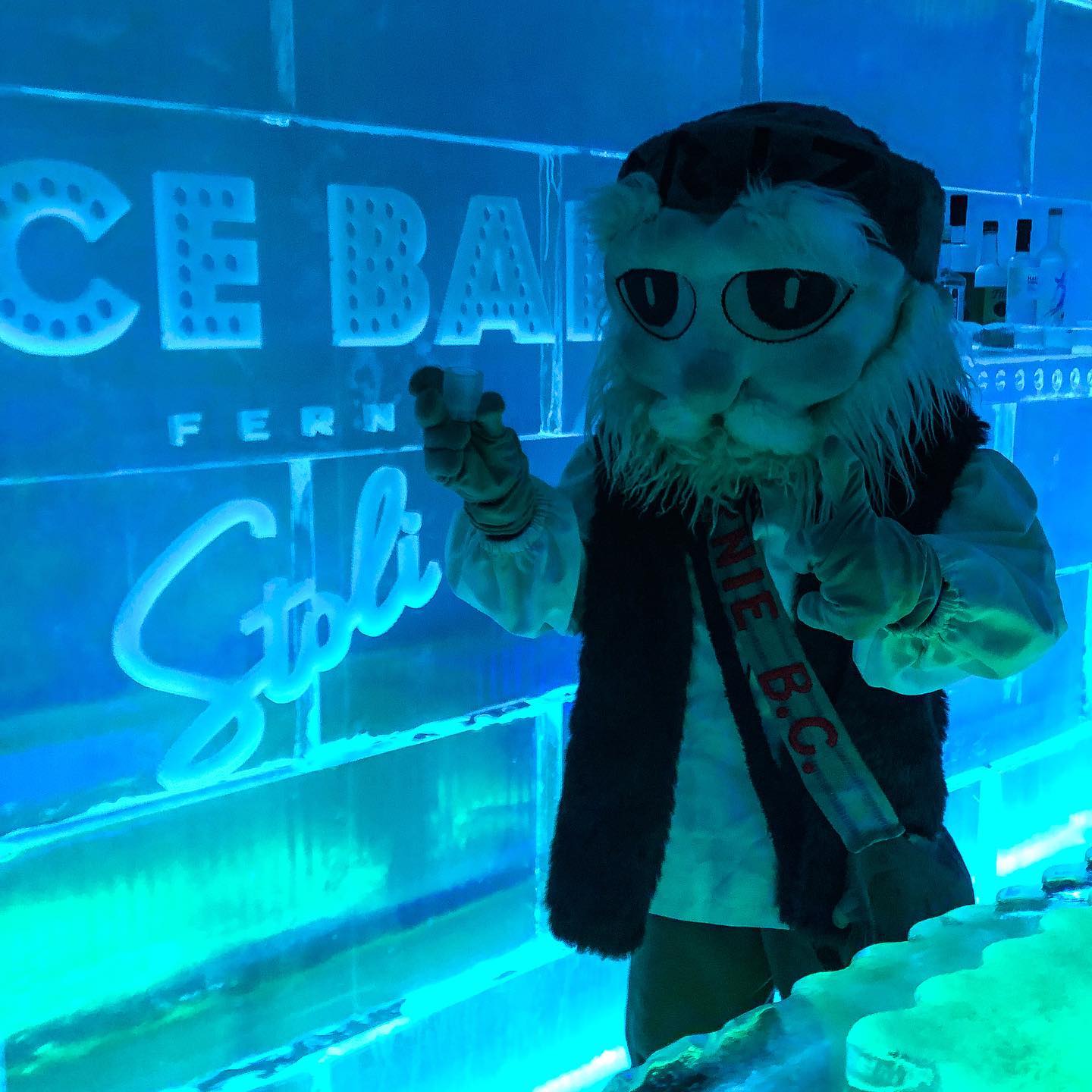 3 – Go ice-skating on the Outdoor Community Rink – it is an NHL-size natural rink. Great for a family outing or friends' game of shinny hockey.
(Bonus: Experience winter wonderland on snowshoe on many of Fernie's trails or take a guided tour with Wild Nature Tours or Fernie Alpine Resort.)
GOLDEN
1 – Enjoy an invigorating snowshoe to a breathtaking frozen waterfall. Wapta Falls is the largest waterfall along the Kicking Horse River in Yoho National Park, and it is a relatively easy trip (4.5-km one-way, from the parking lot) in the winter.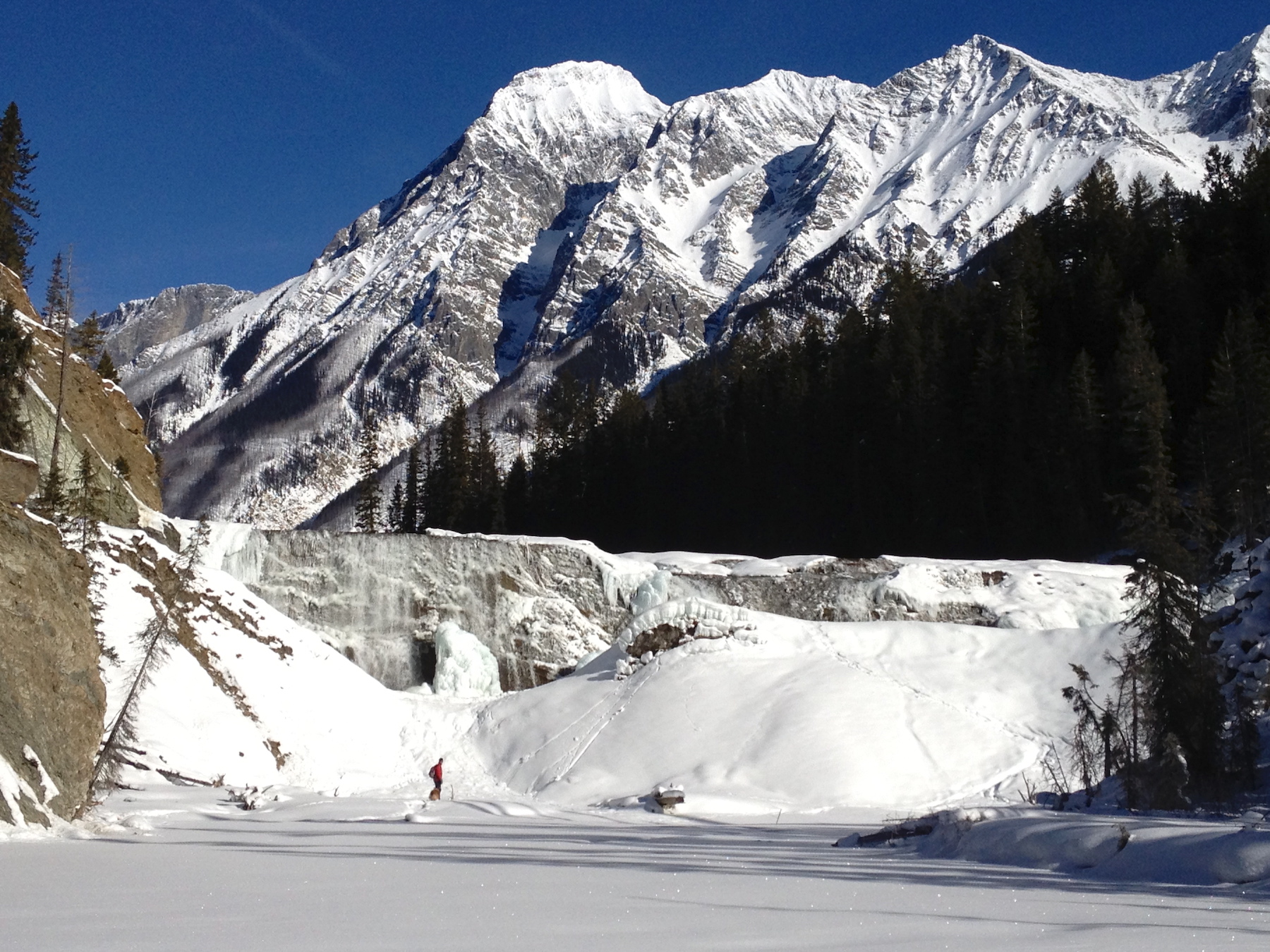 2 – Dine at Canada's highest elevated restaurant (2,347 m | 7,700 ft), the Eagle's Eye at the top of Kicking Horse Mountain Resort. Book your table in-advance for Friday or Saturday.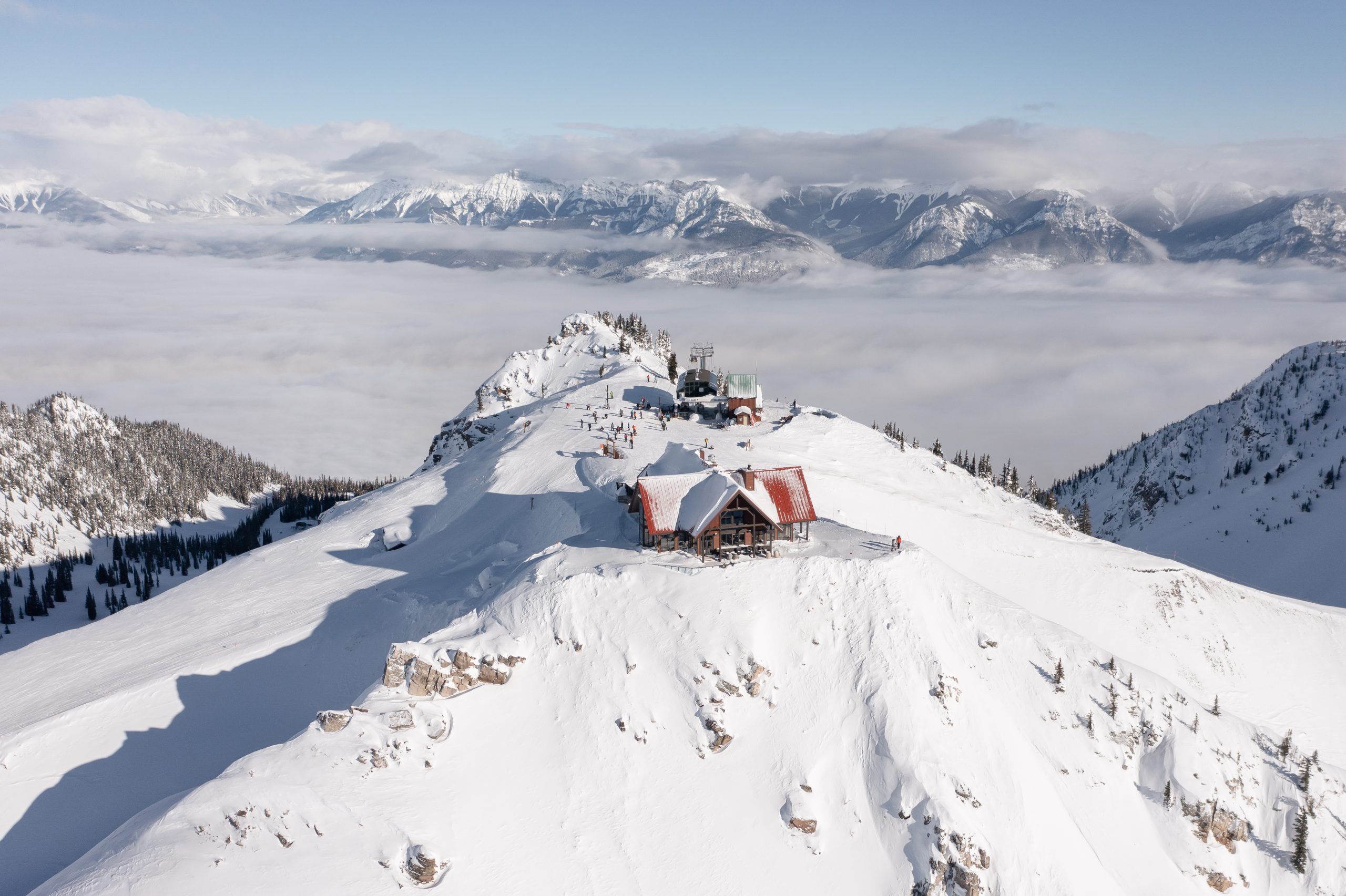 3 – Feel the rush as you sail down the mountain on a tube. Located in the Kicking Horse Mountain Resort Plaza and accessed by the Jelly Bean surface lift.  No skills are required, just a whole lot of smiles.
(Bonus: The Golden Snowmobile Club keep their trails in top-notch condition by grooming trails, maintaining bridges and cleaning cabins.  And, there are various snowmobile operators that provide rentals and guided tours.) 
KIMBERLEY
1 – Grab a pair of snowshoes (or rent from the Kimberley Alpine Resort) and hit the snowy trails. Explore the forest winter wonderland at the Trickle Creek Golf Resort. Guided tours include, trail exploring, a warm-up by the fire with a hot drink and time to roast marshmallows for 'smores.
2 – Check out the Platzl, a pedestrian open-air mall in downtown centre. It's home to Canada's biggest Cuckoo Clock, live music on weekends, unique stories and three art galleries showcasing local & regional artists.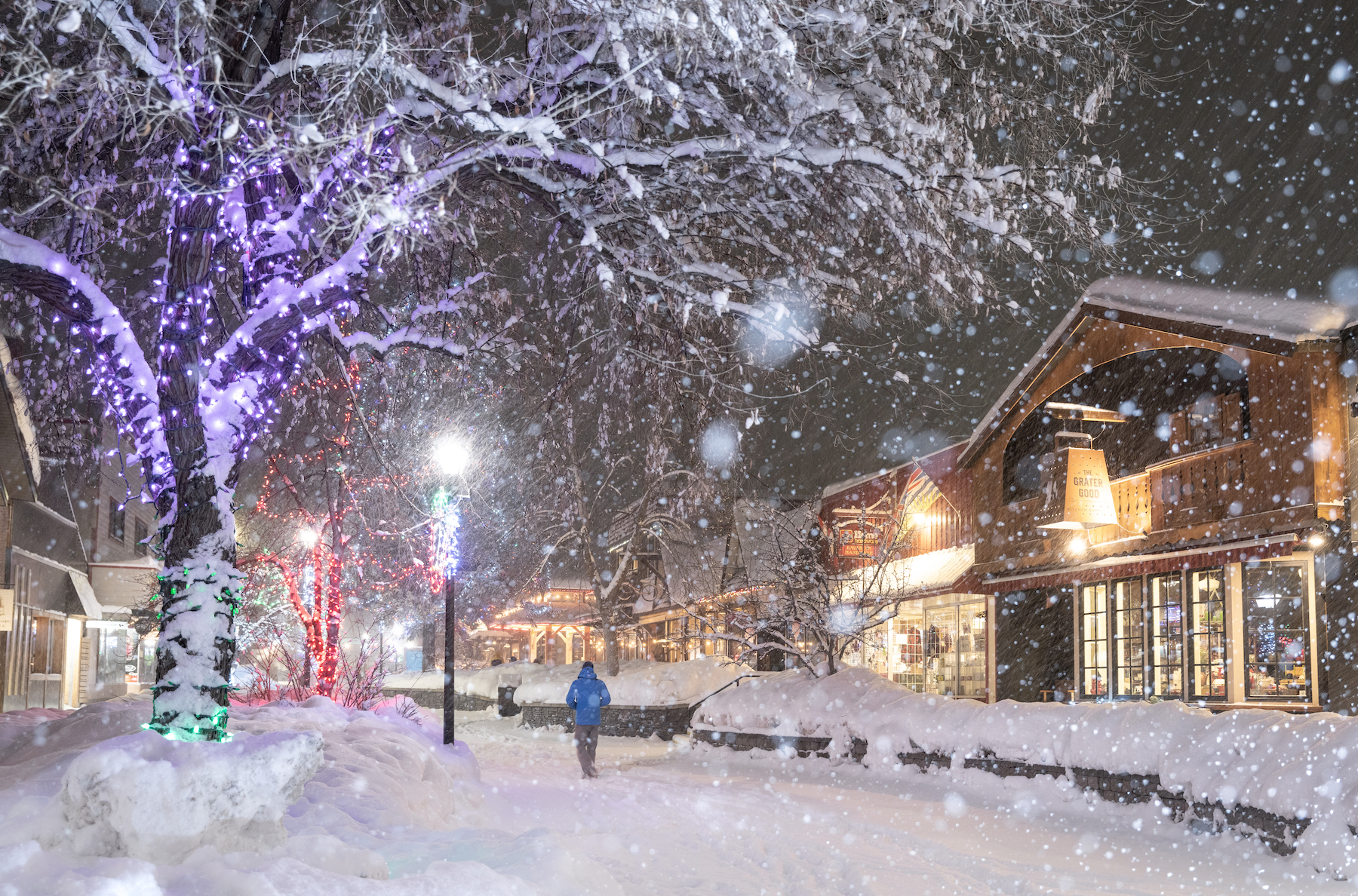 3 – Dine in Canada's oldest building, the Old Baurenhaus Restaurant was constructed 350+ years ago in Germany. The building was used as servant quarters, and in 1987 it was dismantled and shipped to Kimberley, to be reconstructed upon its arrival. The 'Bavarian Feast' is a must, a multi-course extravaganza, using locally sourced and organic ingredients.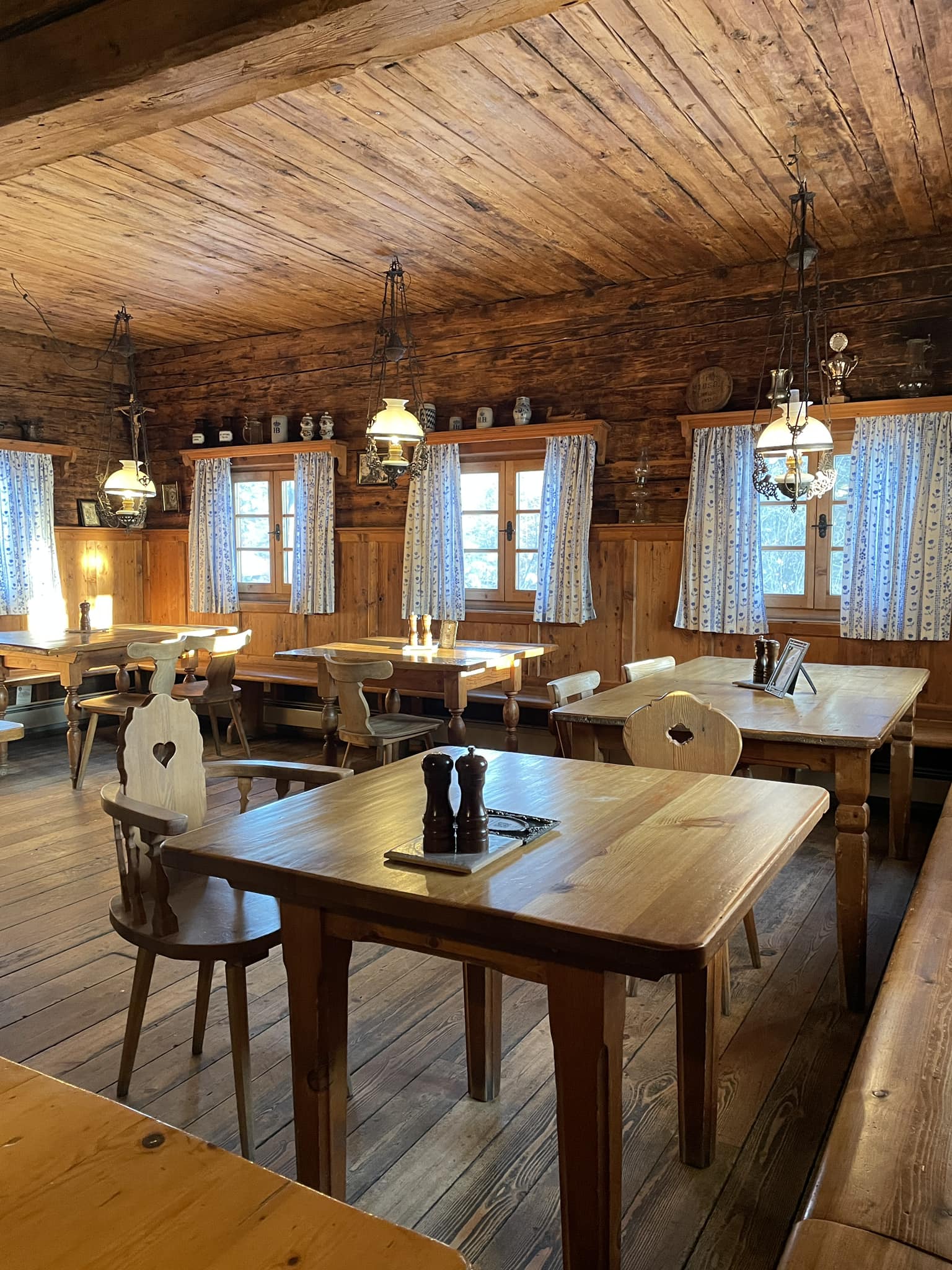 (Bonus: It's an easy trek to Marysville Falls & Eco Park, in south Kimberley. A wooden-pathway follows Mark Creek through the forest to the 30 metre/100 ft. waterfall displaying nature's beauty.)
NELSON
1 – Nelson has more restaurants per capita than Manhattan! That's a lot of options to choose from. Many restaurants are committed to locally sourced ingredients and farm-to-table style cuisine. Broken Hill,  The Pitchfork Eatery, and Red Light Ramen to name a few, all offer delicious food options that are hormone and antibiotic free and sourced daily from reputable suppliers.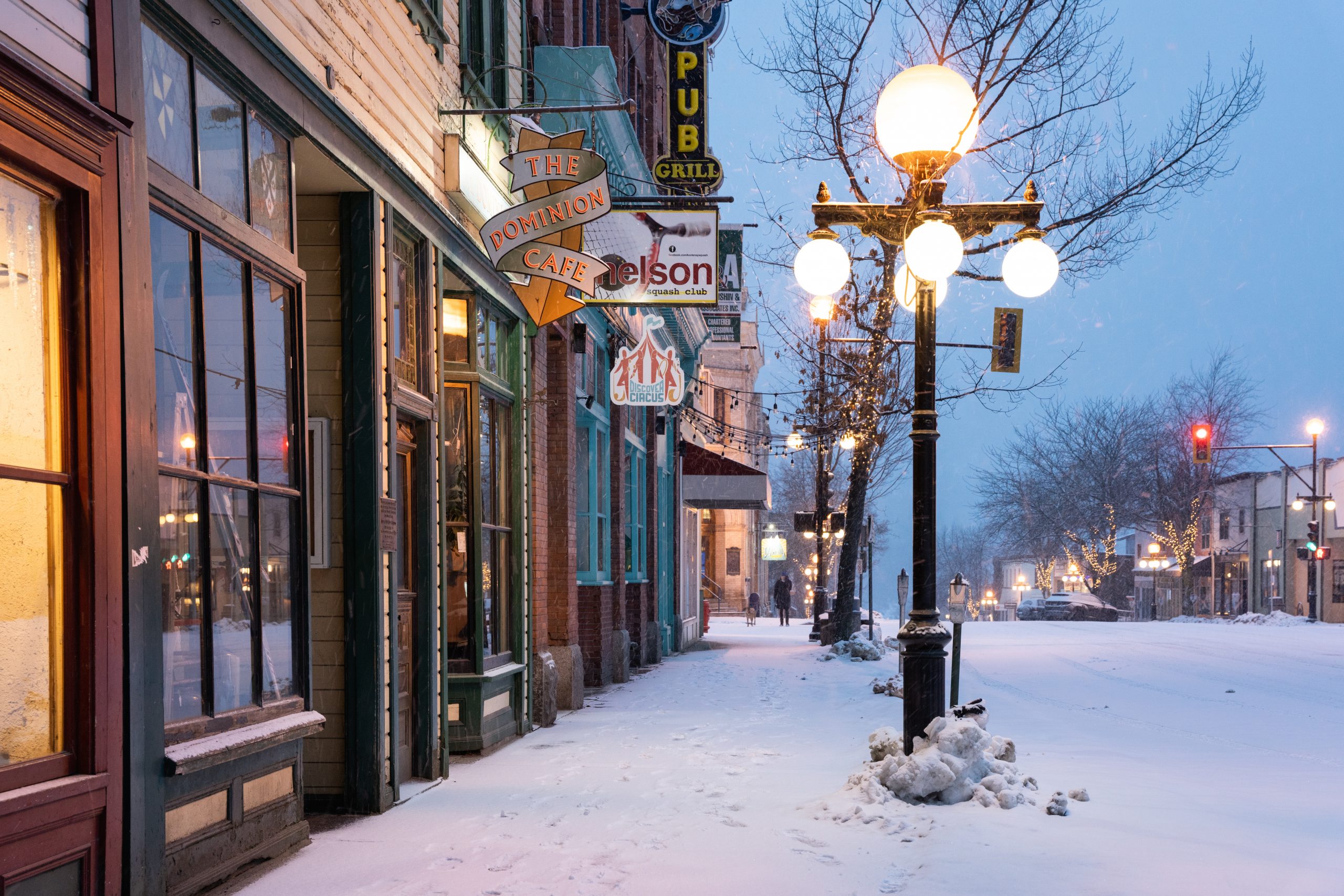 2 – Just a 40-minute drive away is Ainsworth Hot Springs Resort.  It is the only hot springs in Canada with a cave, 49 m | 160 ft. horseshoe shaped. These healing waters are located at one of the Indigenous owned resorts in the region.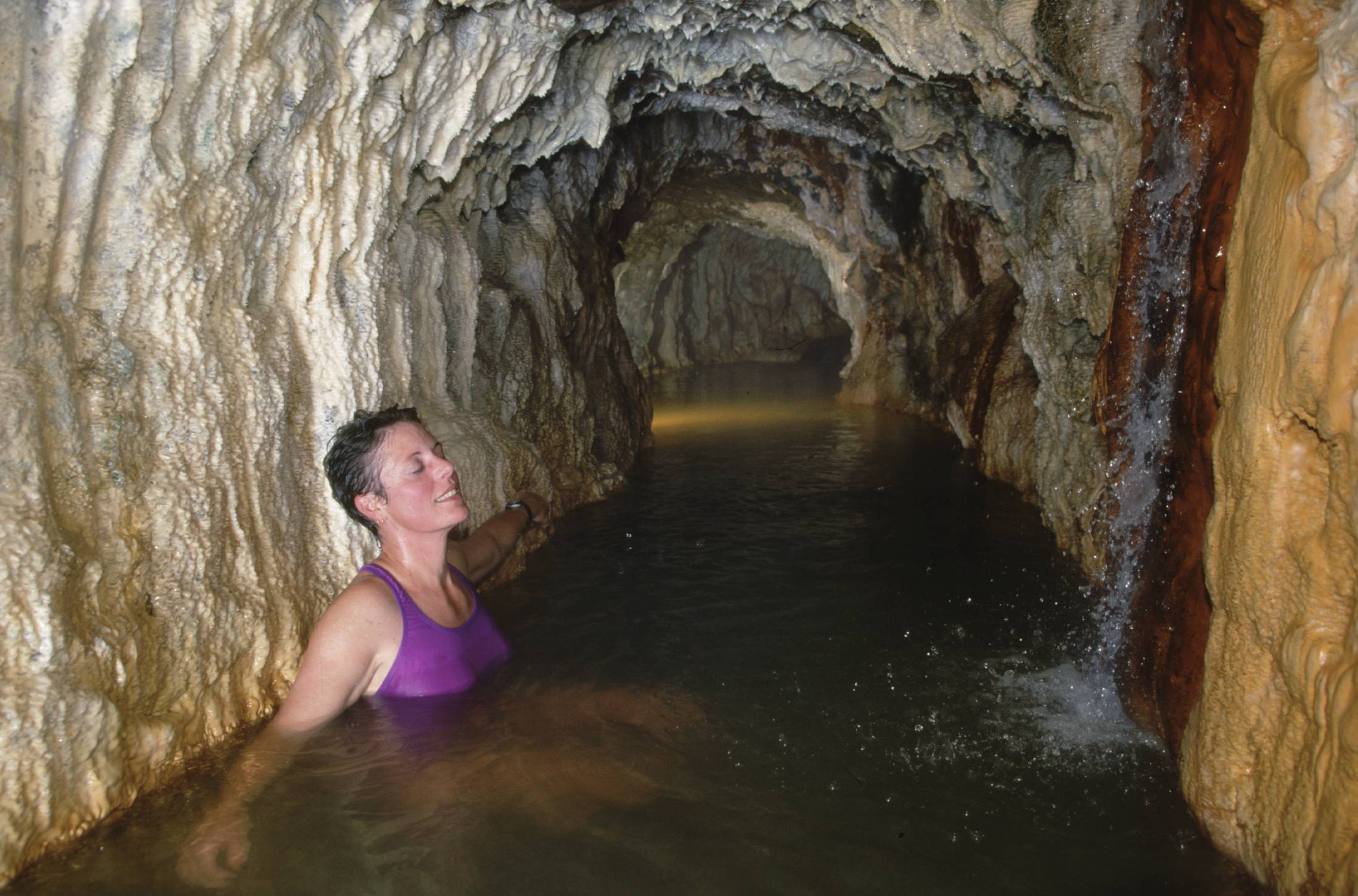 3 – Nelson was named the 'Number 1 Small Arts Town in Canada'. This town has a huge community of artists and is packed full of theatres, art galleries, museums, artisan markets, and festivals of all kinds. Check out the 'Mural Tour' which is a self-guided audio tour tucked away in Nelson's back alleys or head to the Nelson Museum, Archives & Gallery for unique exhibitions.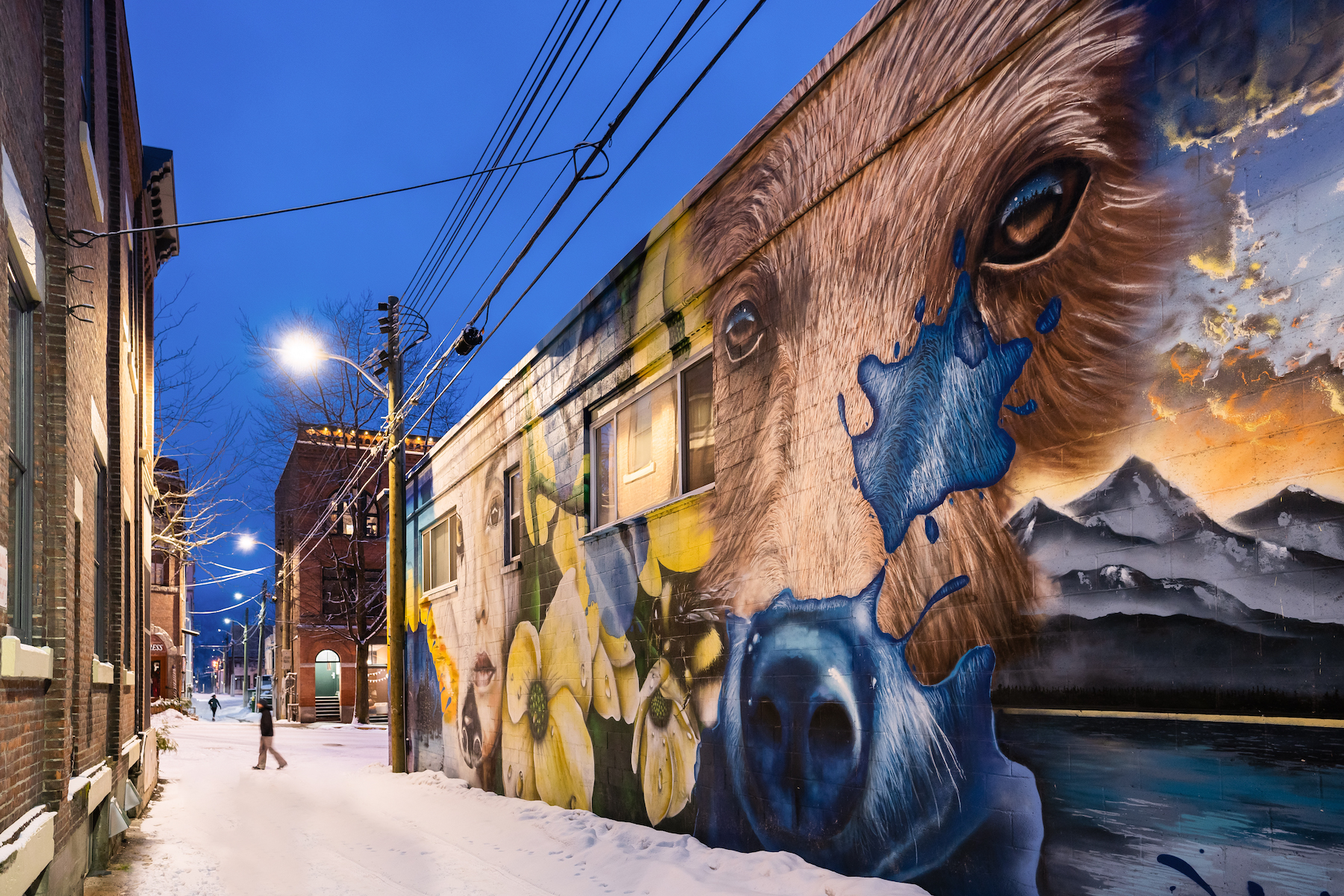 (Bonus: Snowshoe trails are available to explore at the Nelson. The Nelson Nordic Ski Club has several designated snowshoe trails, one that winds through a tall cedar forest, one that shadows the serene Apex Creek, and a longer trail that leads to the cozy A-frame Euphrates Hut.)
REVELSTOKE
1 – Spend some time with a new furry friend. The Alaskan Racing Huskies, at Revelstoke Dog Sledding, will whisk you through the snowy trails. Whether it's over hills, around corners, fast and slow, the experienced, happy, and hard-working dogs love to run, and it shows.
2 – Immerse yourself in hot steamy goodness at Crazy Creek Resort Hot Pools (40-km west of Revelstoke) or Halcyon Hot Springs Resort (71-km south).  Each of these hot pools will soothe your tired muscles, so you're ready to go full-on the next day.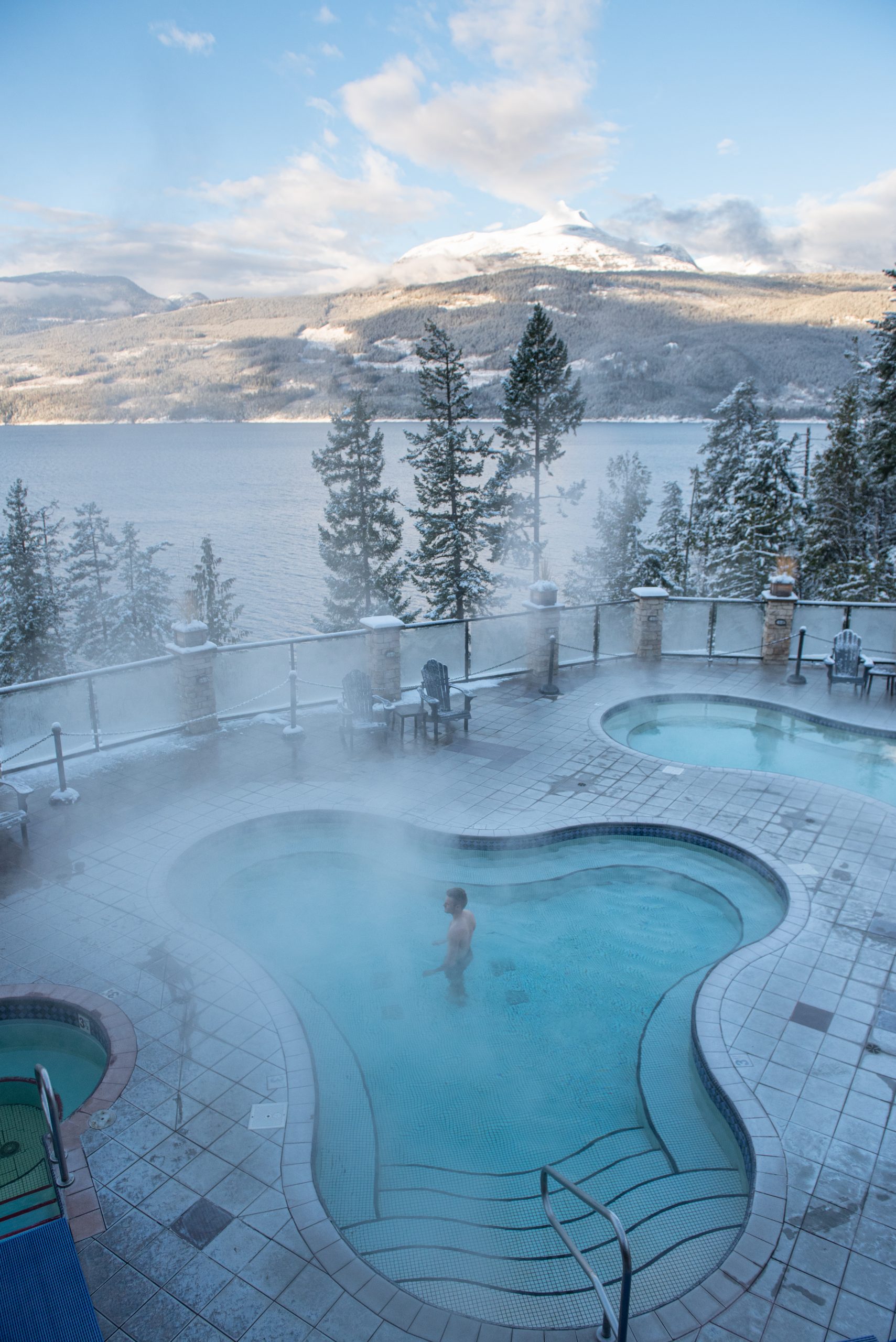 3 – Feel the rush with a guided snowmobile tour with Great Canadian Tours. Riding through the mountains, whether it is on a tight single track or on a powder filled trail, you'll be exploring & connecting with nature.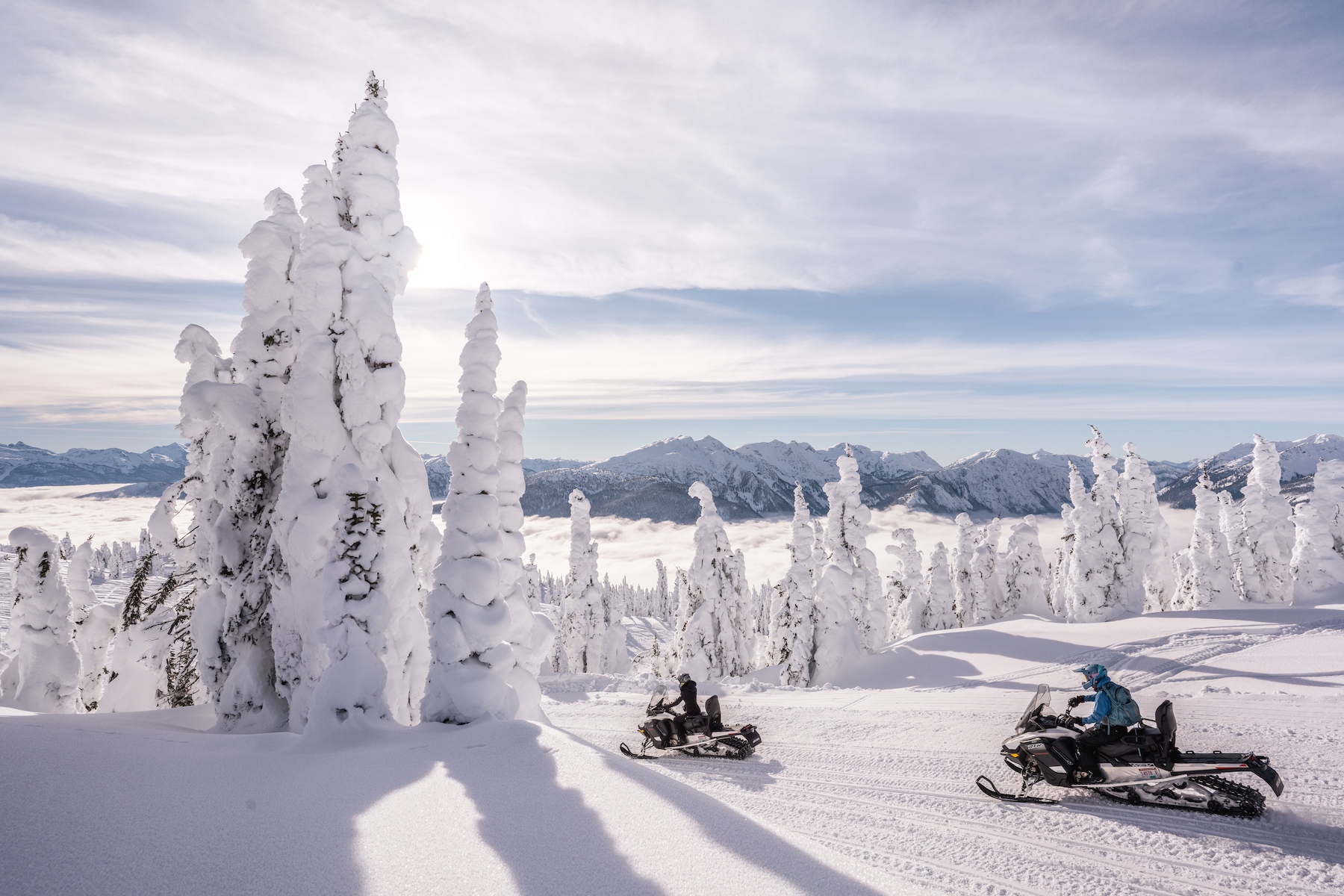 (Bonus: Discover Revelstoke's deep railway roots and colourful railway history at the Revelstoke Railway Museum.  To learn more about the community's history & culture, add a visit to the Revelstoke Museum & Archives & the BC Interior Forestry Museum.)
ROSSLAND
1 – A unique experience would be to snowshoe or Nordic ski to one of the 16 cabins dispersed around Strawberry Pass at the Rossland Range Recreation Site. These fun cabins are decorated with custom artwork and were built by locals for day use only. Trips range from a couple minutes to a several hours.
2 – Drop into Get Lost Adventure Centre to pick up a fat bike rental and explore Rossland's selection of groomed winter trails. You'll find everything from mellow pathways to cruising single-track throughout the town. Beware, fat biking may leave you hooting and hollering as much as you would be, laying down powder turns on the mountain.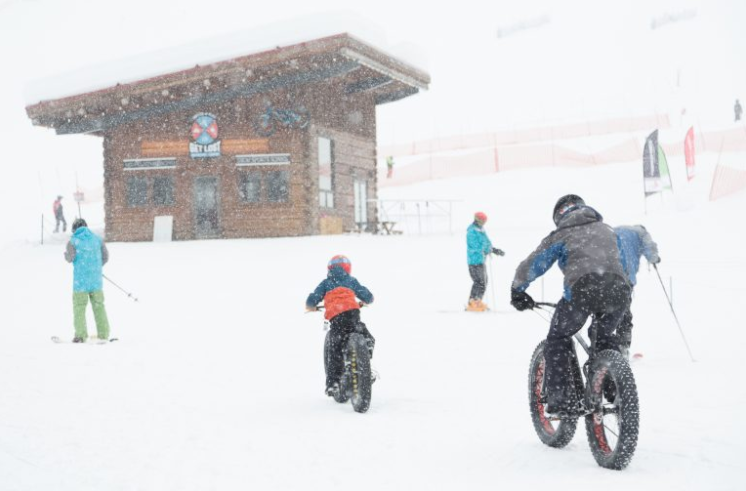 3 – Unwind from your afternoon at Rafters at RED Resort it is #1 après bar in the world. Is it really, the best in the world? Share a platter of nachos, a pitcher of your favourite beer, pull up a seat at one of the picnic tables and re-live the epic descents of the day.  Or head downtown to the Rossland Beer Company for some local good cheer and if you are heading into Trail, the Trail Beer Refinery has an indoor bocce court too.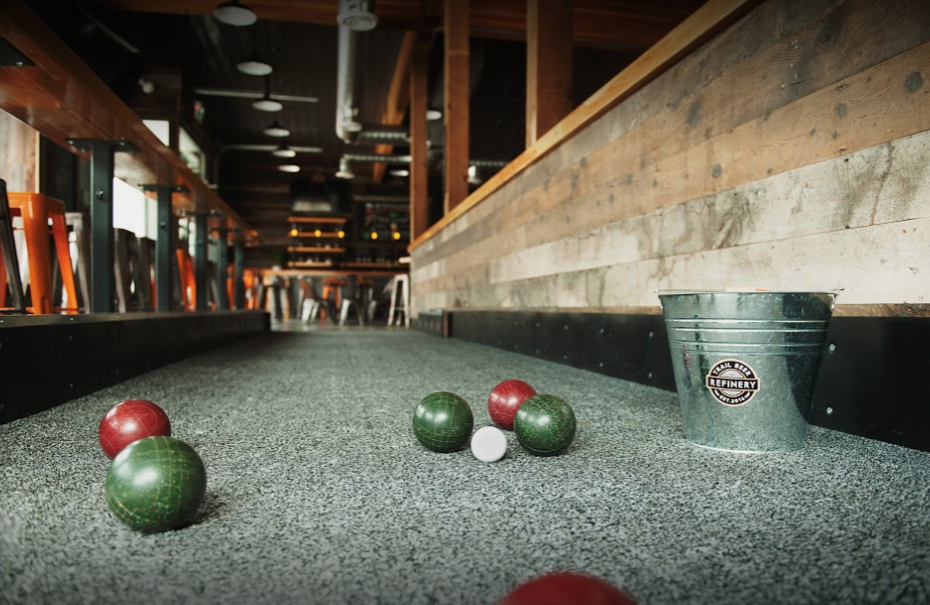 (Bonus: There are no big box stories in Rossland, so venture out and explore the many independent, charming boutique shops.)
Each of our powder towns are unique, and full of vibrant locals. To find out what's happening around town, be sure to visit the community's hot spots – we're home to 30+ craft breweries, distillers & wineries, plus many home-grown Kootenay coffee houses. The locals are friendly, so listen or just ask us to get the 'inside scoop' and heighten your Powder Highway winter experience.

Know Before You Go – Plan ahead so you can travel safely and responsibly. Familiarize yourself with weather, road conditions, general alerts for travellers and provincial health orders & recommendations.
Related Stories
~ 4 Reasons to Ski-Ride the Powder Highway this Winter
~ 9 Tips to Keep Your Family Safe on the Slopes
~ 72 Hours in the Columbia Valley this Winter 
~ 72 Hours in Fernie this Winter
~ 72 Hours in Golden this Winter
~ 72 Hours in Kimberley this Winter
~ 72 Hours in Nelson this Winter
– 72 Hours in Revelstoke this Winter
– 72 Hours in Rossland this Winter
~ Our Kootenay Winter Celebrations: Along the Powder Highway
~ Powder Towns on the Powder Highway
~ What's New on the Powder Highway?
Story by Shannon Harrison (KootRocks Staffer); researched by Laura Szanto. Top/cover photo by Mitch Winton at Kicking Horse Mountain Resort.
Please tag your images with @PowderHighway and @KootRocks on Instagram to be featured in a future social post.  For travel deals and specials – sign up for our Consumer Travellers Newsletter.