In addition to 100+ operators along this route – it is the birth place of heli (CMH Heli-Skiing) who began taking visitors out into the alpine in 1965 and snow-cat (Selkirk Snowcat Skiing) in 1975.  Other fun facts you may not be aware of – Revelstoke Mountain Resort has the most vertical in North America at 1,713 m/5,620 ft and it is home  to the longest run (the Last Spike – 15 km/9.5 mi).  While, the Kimberley Alpine Resort has the longest lit night-skiing run.   
To assist you with your Powder Highway road trip, here are some of the most "funkiest finds" you can discover on and off the slopes along this route:   
Kicking Horse to Panorama
#1 — At Kicking Horse Mountain Resort, in Golden BC, you'll experience the 'most elevated dining experience' in Canada at 2,347 m/7,700 ft. (access by gondola, and you don't need to ski or snowboard).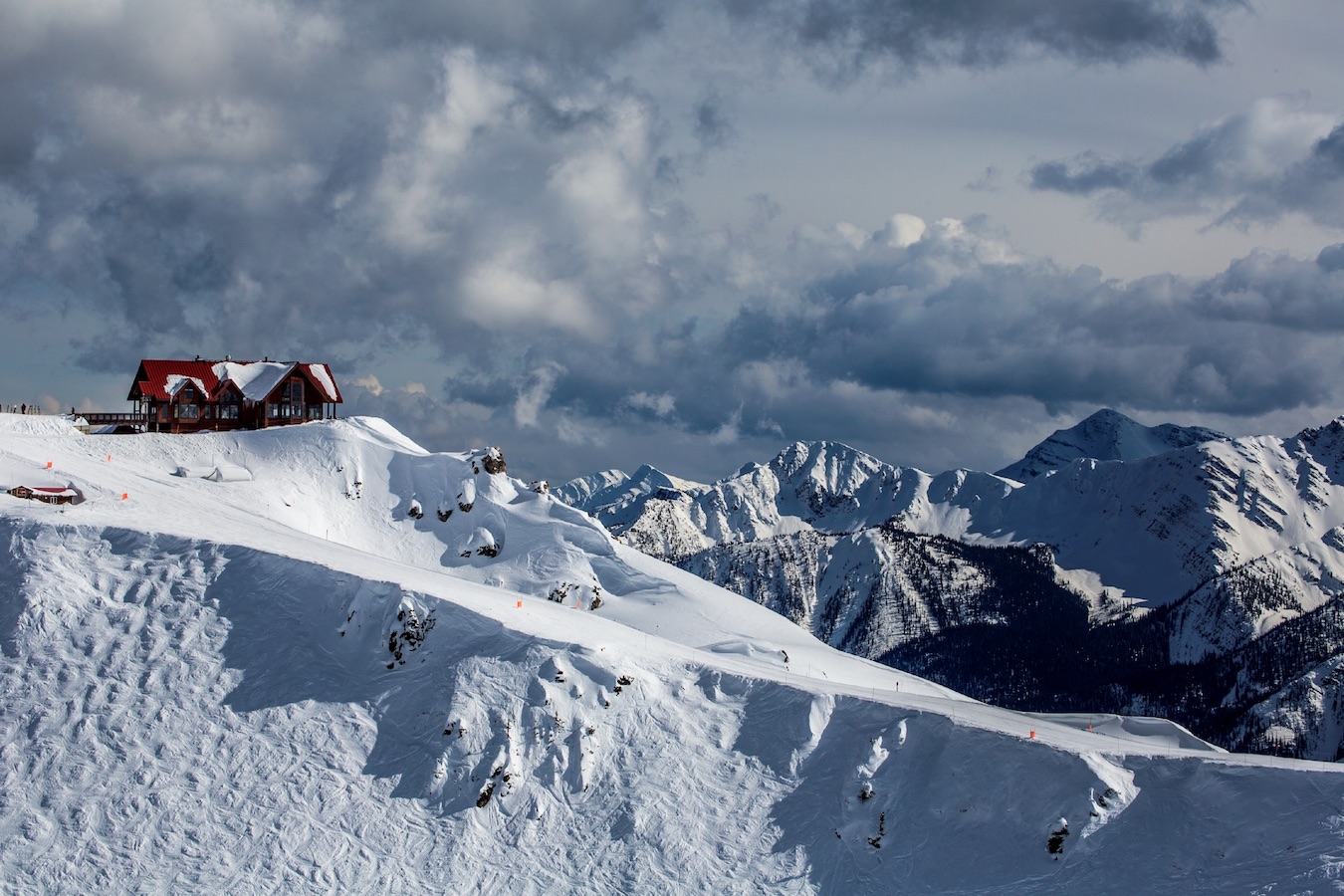 Golden/Kicking Horse Mtn Resort Eagle Eye Restaurant, photo by Kari Medig
#2 — The 'Biggest Paddle in the World' — located on Highway #95 south of Golden, (access by vehicle).
#3 — The Whiteway (34-km/21-mi) on Lake Windermere connecting the communities of Invermere and Windermere. (access by vehicle, then on ice skates, fat-bike or Nordic).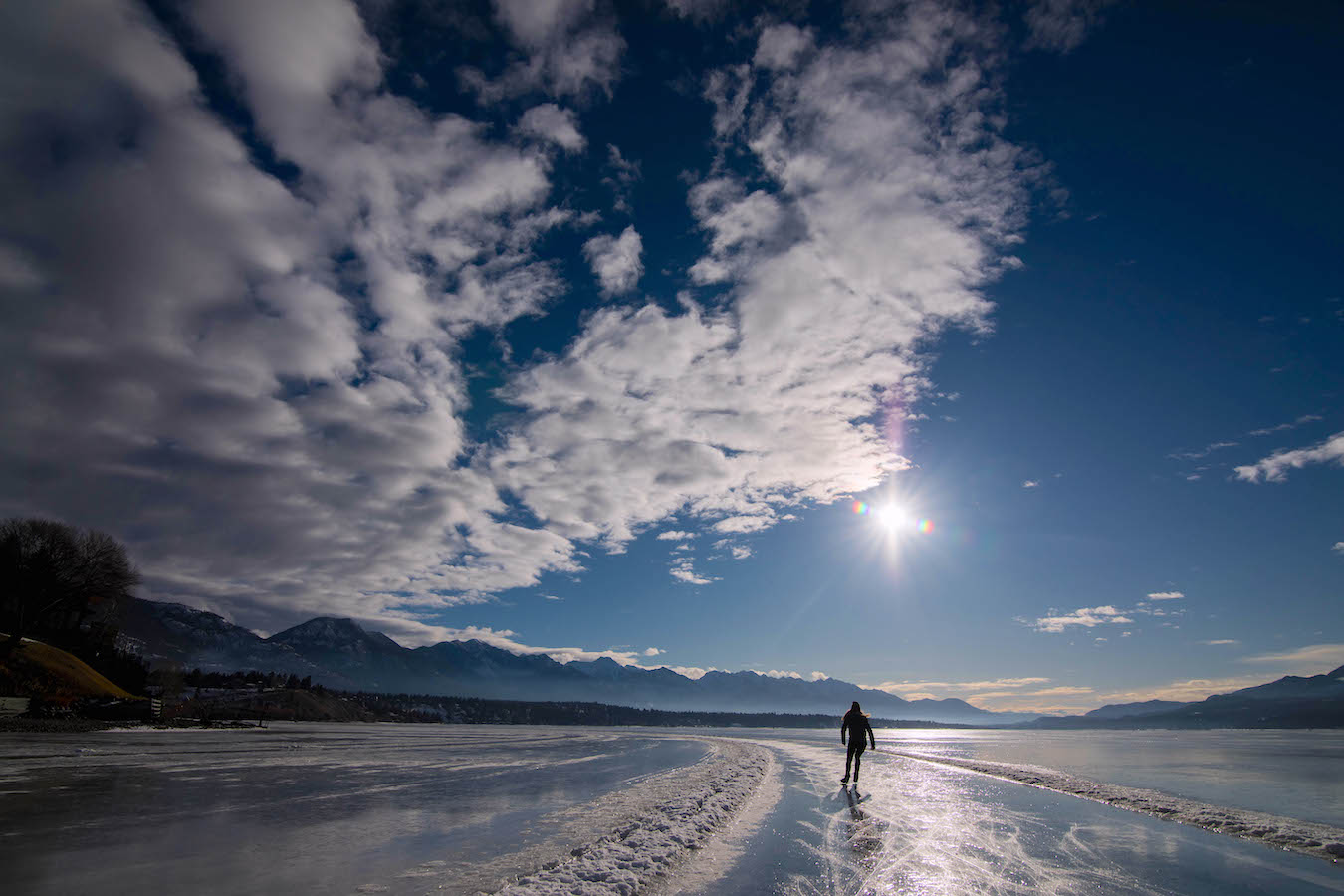 The Whiteway in Invermere, photo by Zoya Lynch
(The Whiteway is closed for the 2019/20 season)
Panorama to Fairmont Hot Springs to Kimberley
#4 — Summit Hut Cheese Fondue atop of Panorama Mountain Resort, (access by helicopter or ski/snowboard). New this year, the Mile One Hut atop of the Mile 1 Express chairlift (located in the kids/beginner area) offers up an authentic Swiss cheese and chocolate fondue perfect for all ages.  And the best part is you can ski down the mountain on a lit trail.
#5 — The incredible and natural formation of the Hoodoos near Fairmont Hot Springs along Highway 93/95, (access by vehicle, hike to the top on foot).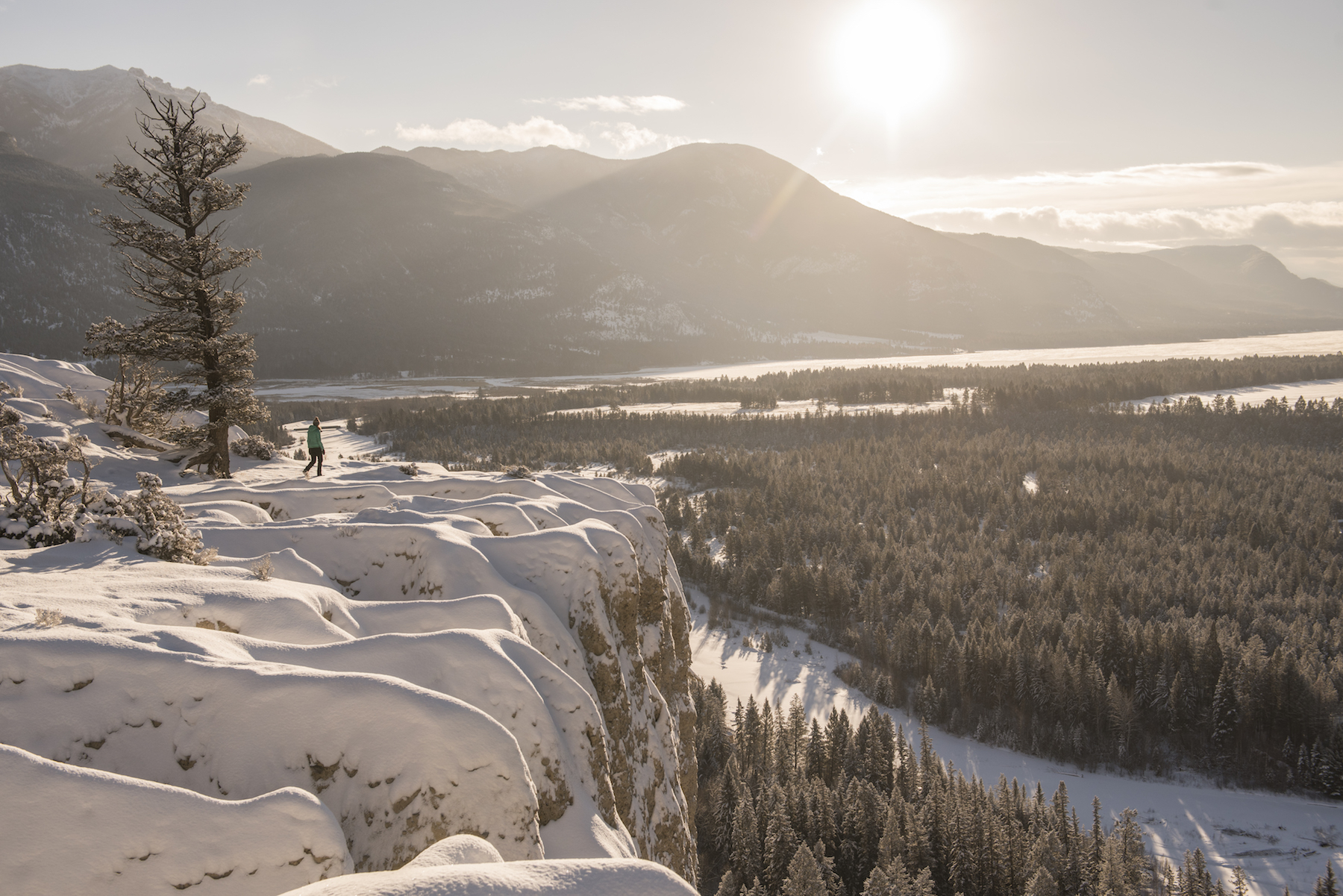 The Hoodoos in Fairmont Hot Springs, photo by Kari Medig
#6 – A Bavarian Feast at the Old Baurenhaus restaurant, a 350+ year old farmhouse from Germany, in Kimberley.  Offering a delicious 8-course meal, with many farm-to-fork menu items, (access by vehicle).
Kimberley to Fernie
#7 — 'Canada's Largest Cuckoo Clock' is located in Kimberley's Platzl. Be sure to feed the meter to hear the town's mascot 'Happy Hans' yodel, (access on foot).
#8 — 'World's Largest Truck' (a short side-trip to Sparwood, east of Fernie) is located on Highway #3. This is the biggest capacity truck (can fit two greyhound buses and two pick-up trucks) and the only one of its kind ever built, (access by vehicle).
#9 — The Ice Bar at Lizard Creek Lodge at the Fernie Alpine Resort. You'll be dressed in parkas before you enter the tasting room where you'll have the opportunity to sample vodka from around the world in custom made ice-glasses, (access on foot).
Fernie to Whitewater
#10 — Experience a traditional Swiss Raclette dinner at the Birch Meadows Lodge in Fernie.  This delicious meal centres around your own table grill — great for small groups, (access by Nordic or snowshoe).
#11 — Snap a photo with a 'Sasquatch' in Creston at the Columbia Brewery, home of our Kokanee Beer, (access by vehicle).
#12 — Discover the 'World's Biggest Penny' — located on Highway #6 in Salmo.  The Giant Penny is 2.5 m (8 ft.) high and honours the Penny Power campaign of 1995, where Salmo residents collected pennies and donated them to the Government of Canada to reduce the national debt, (access by vehicle).
#13 — Side trip along the East Shore of Kootenay Lake to reach Nelson, crossing the lake  on the 'longest free ferry in the world'.  And an extended side-trip to Ainsworth Hot Springs with the natural horse-shoe shaped cave is a must! (access by vehicle.)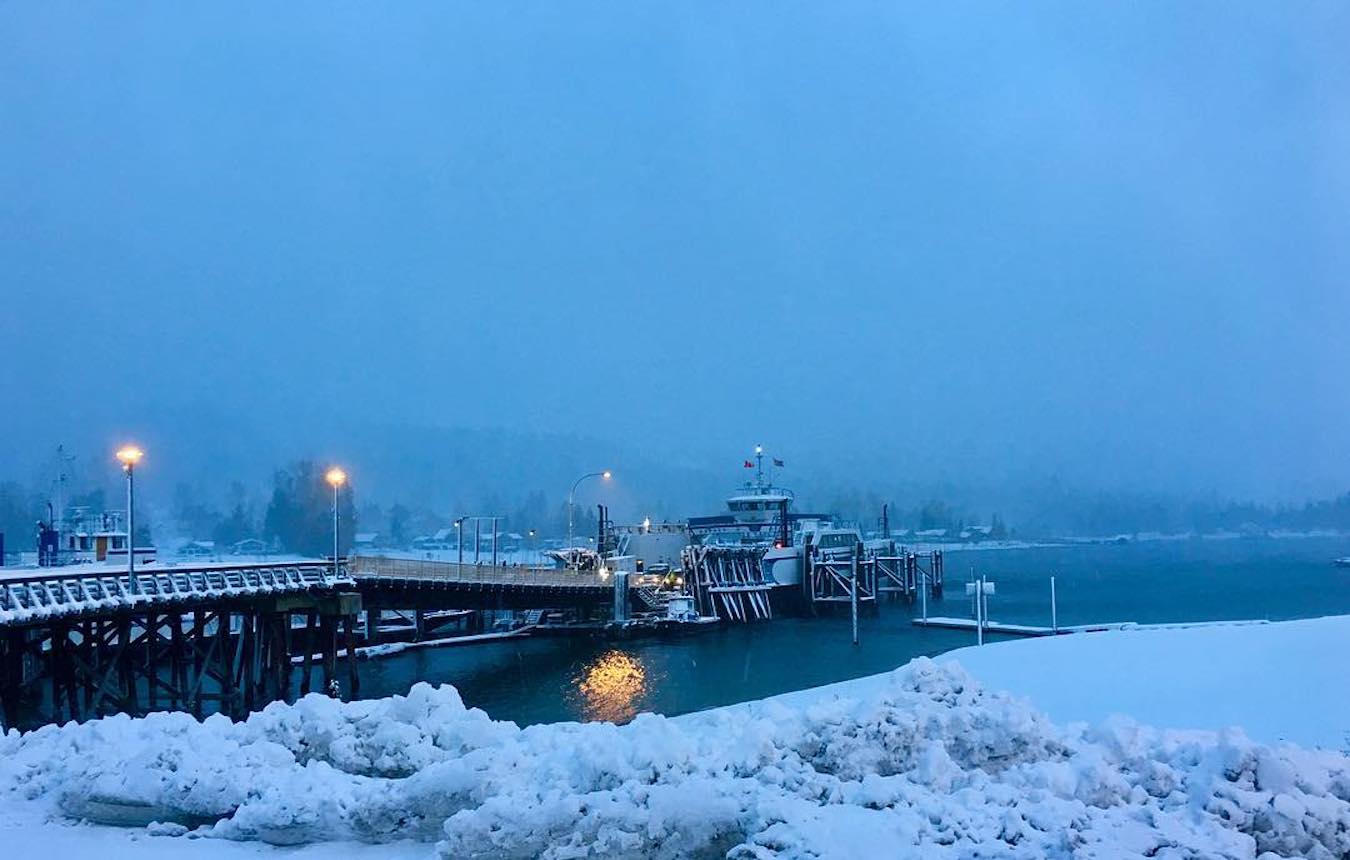 Kootenay Lake free Ferry at Balfour, photo by Shannon Harrison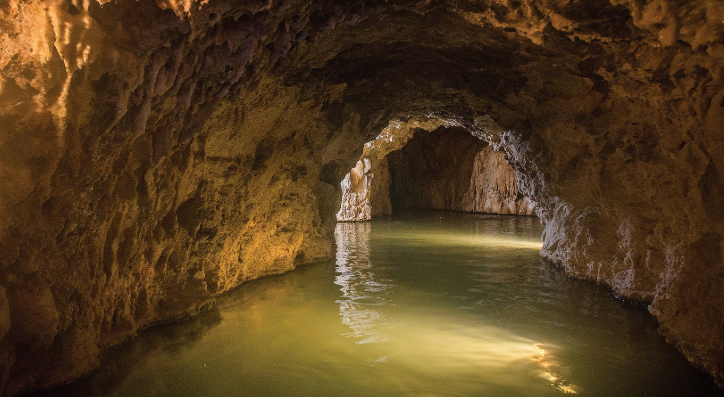 Photo courtesy of Ainsworth Hot Springs Resort – the Cave
Whitewater to RED Mountain
#14 — Let your taste-buds be infused with 'garlic' at the Outer Clove Restaurant in Nelson, (access on foot).
#15 — Along this portion of the route we have eight craft breweries — Angry Hen, Backroads, Lion's Head, Nelson, Rossland, Savoy, Torchlight and Trail.  Many offers tours & tastings, be sure to sample their seasonal brews too, (access by vehicle, then on foot).  In total we are home to 16 breweries in the Kootenays (eastern & western maps).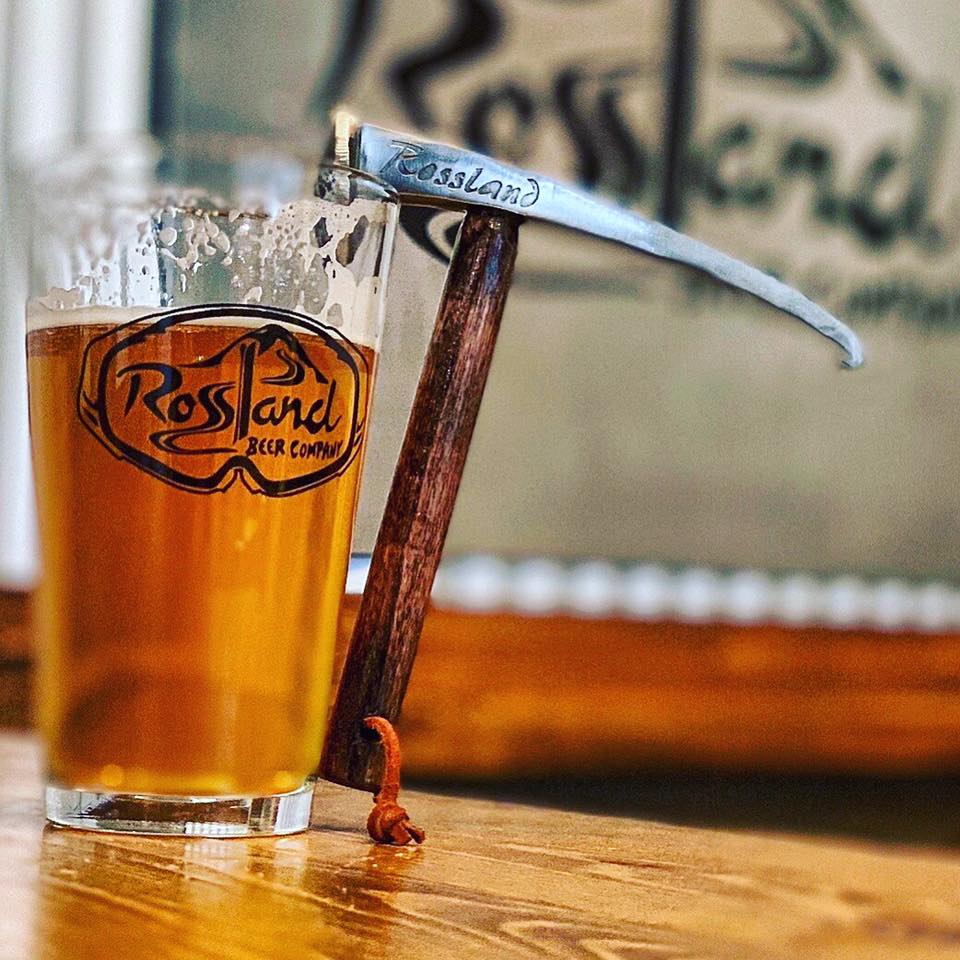 Photo courtesy of the Rossland Beer Company
#16 — The "Brat Station" at the base of Gray Chair at RED Mountain Resort in Rossland – enjoy gourmet sausages from around the world, (access on ski/snowboard).
RED Mountain to Revelstoke
#17 — Visit the Nakusp and Halcyon hot springs, both resort springs offer incredible views in tranquil and relaxing settings.  
#18 — One of the biggest 'Smokey the Bear' is located on Highway #1 near Revelstoke.  The real-life Smokey the Bear was an orphaned black bear cub rescued from a wildfire, (access by vehicle).
#19 — Meet Troy (Revelstoke Mountain Resort's veteran avalanche forecaster) and his rescue dog Penny the 'Pup Patrol' on the slopes, (access by ski/snowboard).
#20 — On route to the Powder Highway in Yoho National Park (Highway 1-Trans Canada, Calgary to Golden BC), you'll pass the Natural Bridge and during the winter months the water freezes (access by vehicle, then foot).
Know Before You Go –  With high levels of snow throughout the region and winter driving conditions in effect, it is very important to check highway conditions and travel advisories while traveling through the Kootenay region. Winter tires are needed on your vehicle from October to April and Road Safety at Work has some great ideas for items to pack in your car such as windshield scraper & snow brush, shovel, warm blankets, snacks/beverages. DriveBC is a great resource with real-time webcams and road statuses. 
Related Stories
~ 6 Things to Do with the White Stuff in the Kootenays
~ 9 Things to Aspire To Do On the Powder Highway
~ Getting into Hot Water: Kootenay Hot Springs
~ Kootenay Craft Beer Winter Road Trip
~ Unique Stays on a Kootenay Hot Springs Road Trip
~ Road Tripping the Powder Highway Like a Ski Bum
Story by KootRocks Staffer (Shannon).  Cover/top photo by Kari Medig (Hoodoos from Highway 93/95, near Fairmont Hot Springs, BC).
Please tag your images with #KootRocks on Instagram to be featured in future stories.
(Original published: January 2018)