The open road is calling to you and, being the adventure lover you are, you're all set to lay down tracks in British Columbia. You might be traversing the province from Calgary to Vancouver or focusing on the Kootenays; either way, you're headed into big country and you'll need a place to stretch your legs.
In addition to our national parks, provincial parks, wineries, hot springs and breweries, the Kootenay Rockies have plenty to pull over for. The following Kootenay roadside sights, strolls and culture favourites will help you plan pit stops worth your time. Go ahead and add them to your route's GPS waypoints. You can start anywhere, but to assist you we'll start in Golden (via the Trans-Canada Highway) and loop through the region clock-wise.
There are over 100+ EV Charging stations in the region, for details about a specific Electric Road Trip – follow the the Highway #3, deeply rooted in history, is a scenic route linking the Prairies to the Pacific Ocean, through the iconic Canadian Rocky Mountains along southern Alberta and BC. The Kootenay Rockies region, between the Crowsnest Pass and the city of Rossland, takes the traveller in search of relaxation, discovery and excitement (a journey of 380 km | 236 mi).
Takakkaw Falls (254 metres) is one of Canada's tallest waterfalls.
Wapta Falls (30 metres) is largest waterfall along the Kicking Horse River. With its 150-metre span, visitors have referred to Wapta as a 'mini Niagara Falls'.
World's Largest Paddle – is located in Parson (south of Golden).
This 18.5-metre, true-to-scale, Western Red Cedar replica holds the Guinness Book of World Records' standing for being the largest paddle ever created.
Snap a pic beside this Highway 95 attraction, before travelling along next to the Columbia River Wetlands.
It's likely to see Bighorn Sheep when your visit Radium Hot Springs and in Kootenay National Park. The herd makes up of approximately 120 sheep. Please reduce your speed, when you see them on the highway and in the community. Please do not feed them and give them ample space.
The "Bighorn Artwork" at Radium Hot Springs roundabout is big (6-m/20 ft. tall; 12-m/40 ft wide and 6-m/20 ft. deep). The artist Adam Meikle of Meikle Studios, fabricate and install the signature artwork featuring two large ram horns.
Radium Hot Springs Hot (Pools) are located in the UNESCO Canadian Rocky Mountain Parks World Heritage Site and open year-round. The spacious family-friendly facility welcomes visitors from around the world. The naturally heated mineral water is usually 39°C (102F). Here you can get out and explore nearby Sinclair Canyon, a short-walking from the parking areas of the hot springs pools.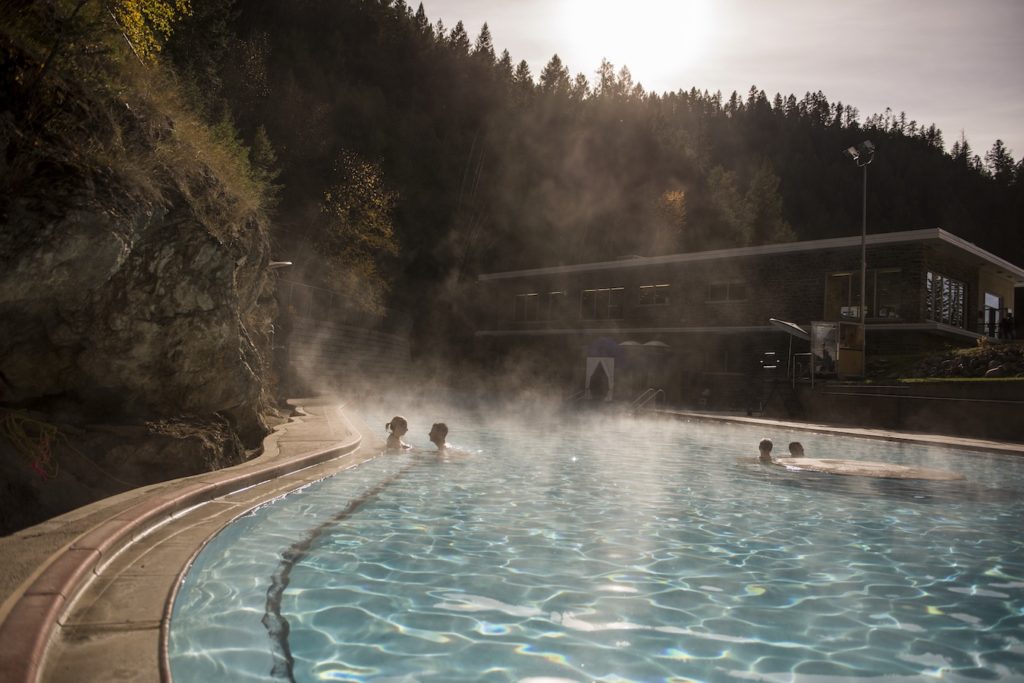 James Chabot Provincial Park in Invermere, is a popular day-use family recreation destination, located next to Lake Windermere, offers an array of recreational activities including swimming, kayaking/canoeing, windsurfing and volleyball.
And, Kinsman Beach & Park is a beautiful outdoor public space on the shores of Lake Windermere, nestled at the north end of Taynton Bay in Invermere. Adjacent to the park are Dorothy Lake, the Pynelogs Culural Centre and its seasonal lakeside Café Allium, The Station Neighbourhood Pub, and the Rotary Splash and Spray Park.
The Hoodoos Trail is located closer to the Fairmont Hot Springs entrance to the Markin-MacPhail Westside Legacy Trail, off highway 93/95. Along the route, be sure to check out the Westside Legacy Trail, a paved hiking and biking path.
Though the beginning is somewhat steep, it only lasts 5-10 minutes before becoming an easy trail at the top of the hoodoos – just make sure to keep an eye on your children since this trail travels a cliff area! The hour-long round-trip hike includes outstanding views Columbia Valley's river & lake and the Rockies and Purcell mountain views.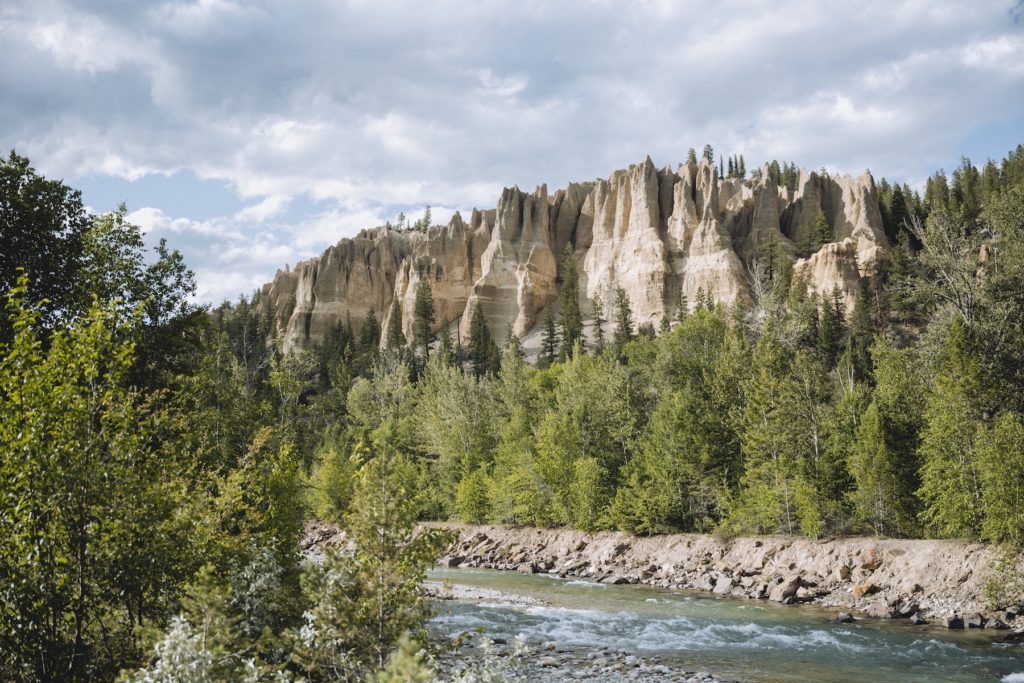 Whether you've come here to splash, soak or swim – Fairmont Hot Springs Resort's setting offers a truly unrivaled experience. Fairmont Hot Springs is one of Canada's largest natural hot springs with over 1.2 million gallons of fresh mineral-rich water flowing through the pools daily.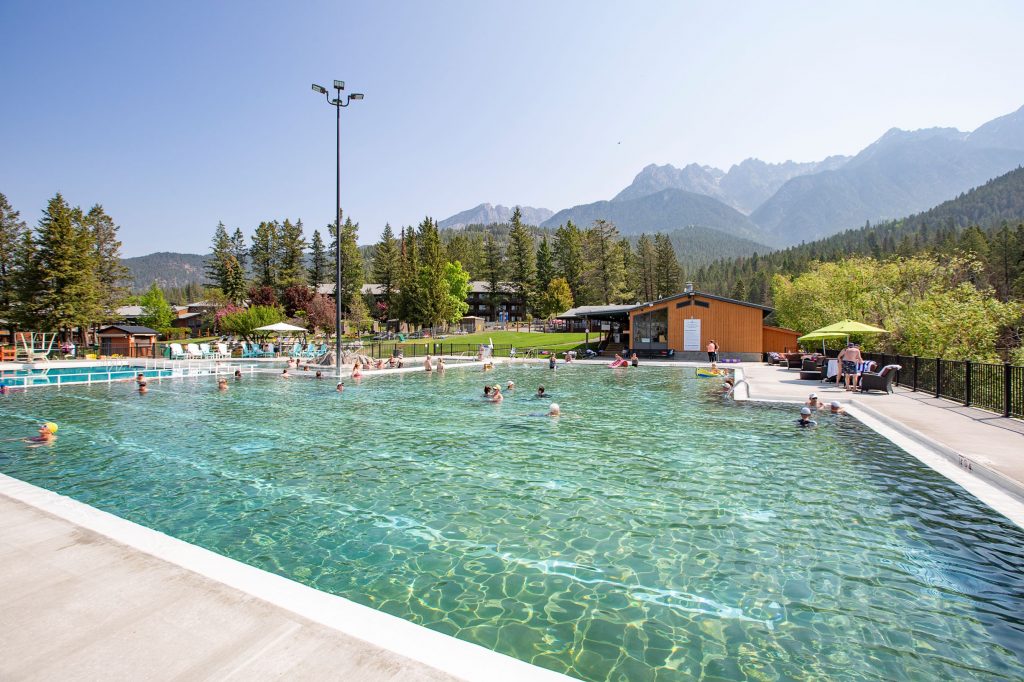 Just off the Highway 93/95 is a rest stop with picnic tables that look out onto Columbia Lake, just south of the Hoodoos and Fairmont Hot Springs. Restrooms are available and a short trail for exploring (or dog-walking).
The origins of Fort Steele can be traced back to the small settlement of Galbraith Ferry born during the 1864 Kootenay Gold Rush. Today, over 60 restored or reconstructed homes and buildings are waiting to take visitors back to yesteryear. Treat yourself to the experience of life in Fort Steele Heritage Town and it's guaranteed that part of your memory will remain here forever. If a quick stop is all the time you have, their parking area (no charge to park) offers amazing view of the Rockies and shaded areas to rest, before you continue on your way.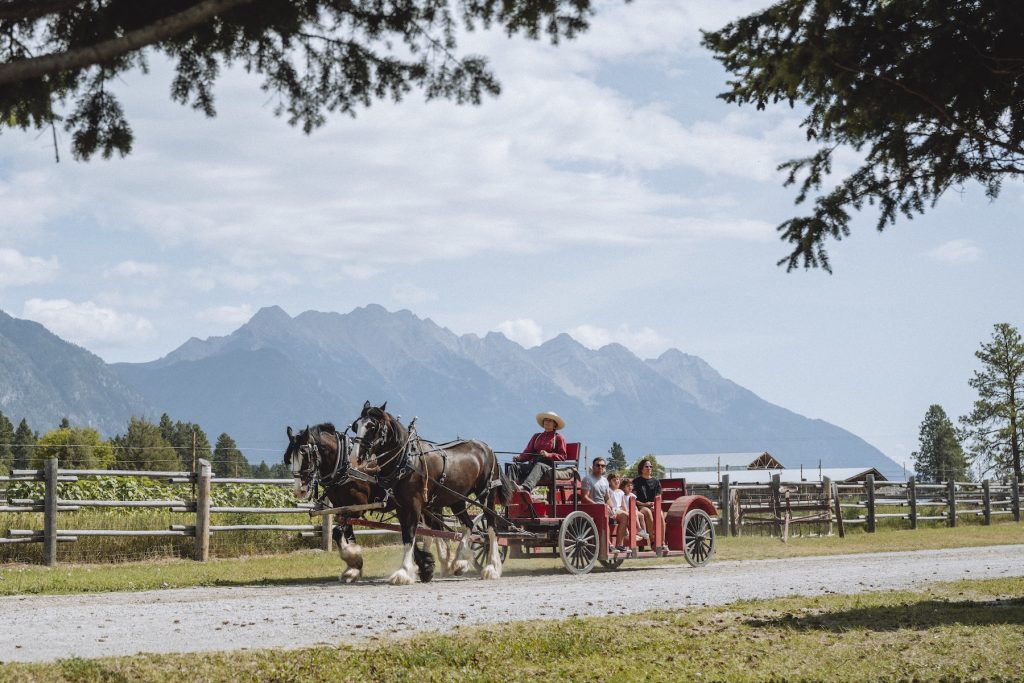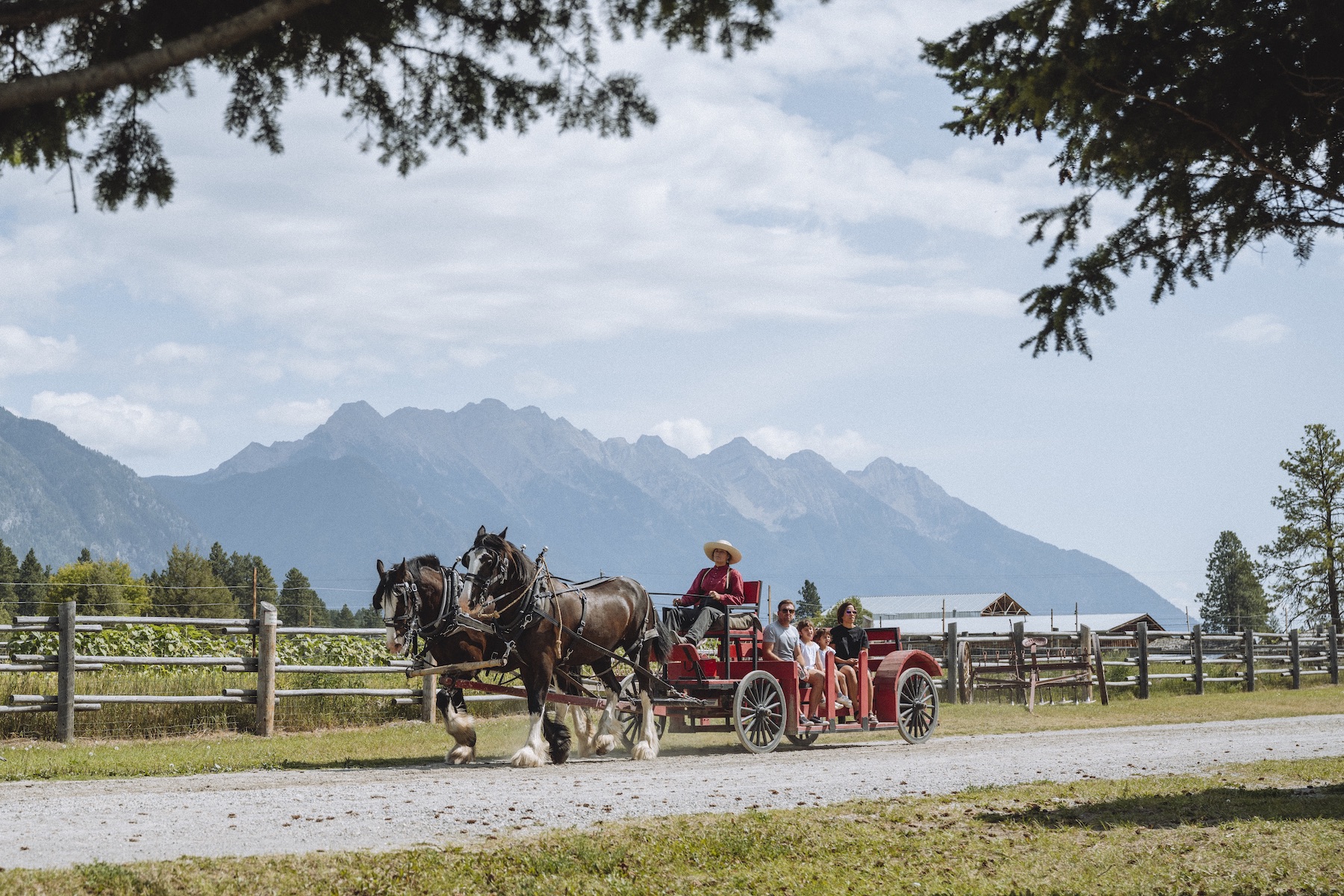 The Elizabeth Lake Bird Sanctuary is a large wetland area on the west edge of Cranbrook. This sanctuary is home to many different animal species, from western painted turtles and squirrels to permanent and migratory birds. There are walking trails and viewpoints around the lake, as well as picnic tables and benches.
Responsible Tip: While tempting, please do not paddle on the lake; this disturbs the various animals that call these waters home, many of which raise their young in the area or are species of concern.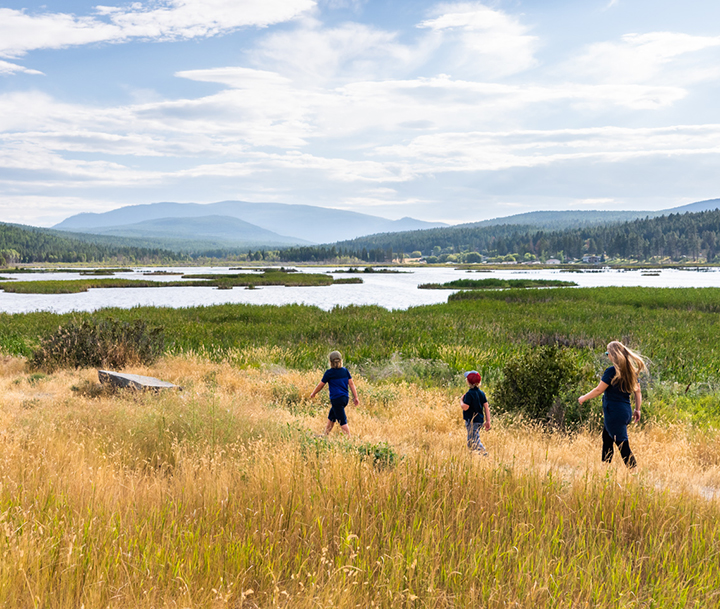 CRANBROOK TO CRESTON
Moyie Lake Provincial Park is 20 kilometres (12 mi) south of Cranbrook. The park's day use area, boat launch and 111 site campground provides the only public access to the deep blue mountain waters of Moyie Lake. This vacation friendly park features 1,300 metres (4,333 ft) of developed sandy beach backed by a large grassy area. Swimming, wind surfing, sailing, boating, wildlife and bird viewing and a variety of fishing experiences enhance Moyie Lake Park. As well, an adventure playground and hot showers are on site.
Close to 400 species of wildlife make use of this wetland area right off of Highway 3. The Kootenay Columbia Discovery Centre is part of "the largest and most important resting and feeding ground for waterfowl in the interior of British Columbia". This also means it's an especially great stop for wildlife lovers and photographers. Trails through cattails and cottonwoods range in length from 20-minutes to three hours, so you can choose your trail depending on how badly your legs need a stretch.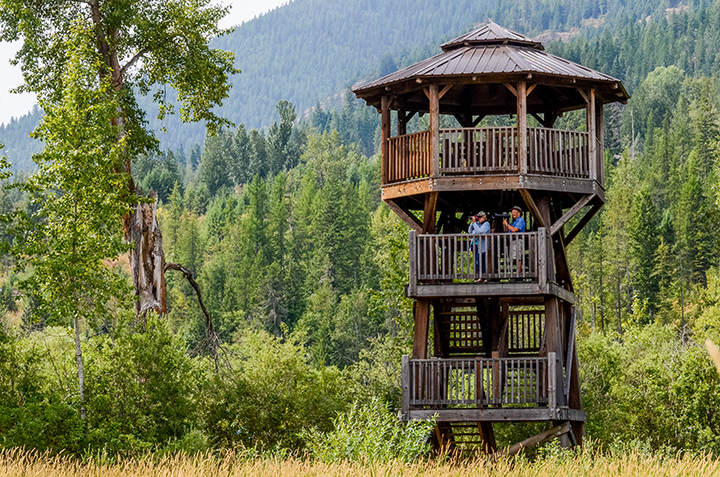 EAST SHORE (CRESTON TO KOOTENAY BAY)
If you're headed to or from Creston by way of Kootenay Lake, the ferry connecting both sides of Highway 3A will be part of your journey. And while this might be a 'forced' pit stop, you'll feel freedom: this ferry's 35-minute crossing between Balfour and Kootenay Bay is the longest free scenic ferry ride in the world. Two ships make this passing; try to board the M.V. Osprey 2000 if possible. This larger of the two ferries (the other being the M.V. Balfour) has an on-board cafeteria and an open-air deck where passengers can watch the surrounding mountain views go by.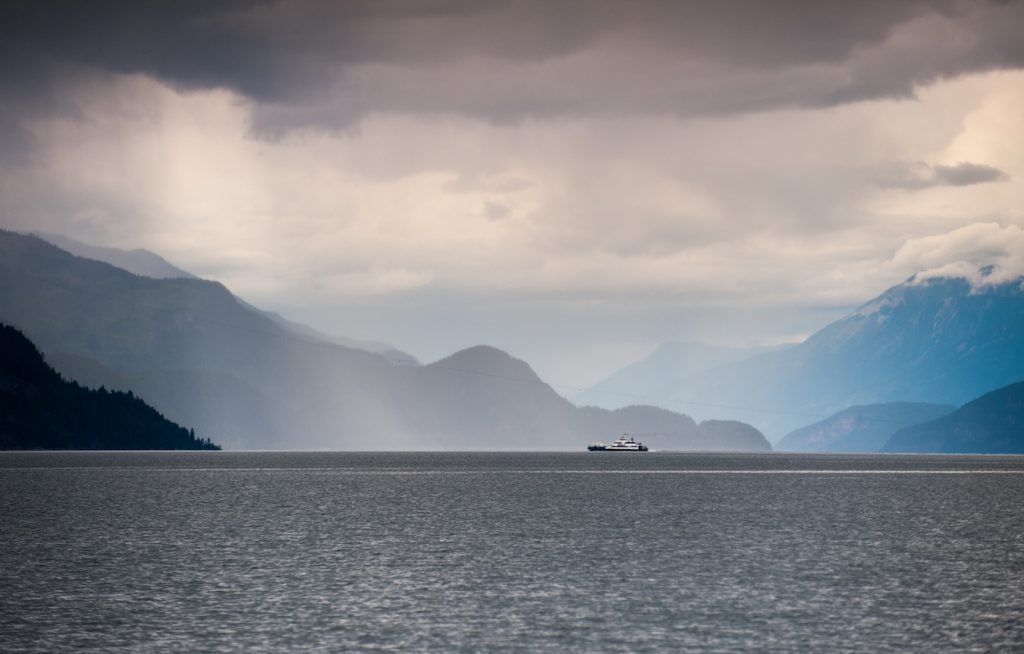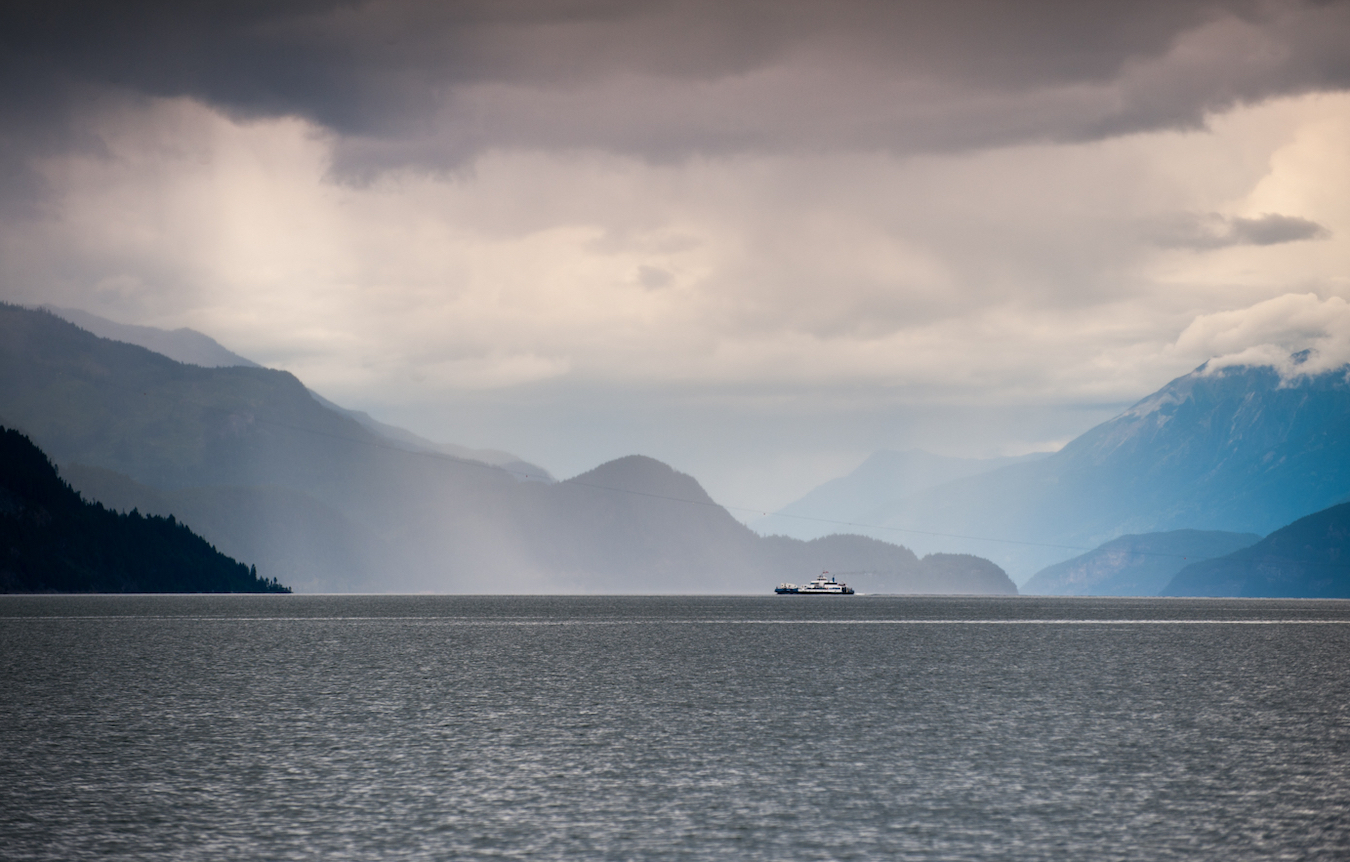 Lockhart Beach Park is located 40 km north of Creston on Highway 3A (near Boswell), adjacent to Lockhart Creek Provincial Park, this small park provides the only easy access to public camping along the south arm of Kootenay Lake.
Along this route (Highway 3A), known as the East Shore, you'll follow along two lakes – Duck and Kootenay. The East Shore communities are hidden gems – such as the Artisans of Crawford Bay, one of the most vibrant and eclectic artisan groups in all of British Columbia.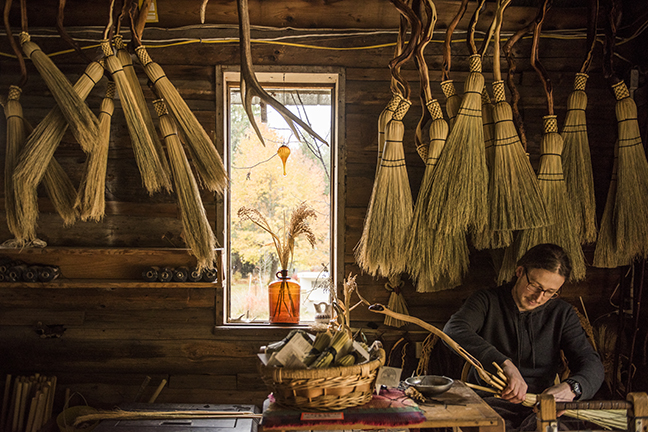 If you choose to continue on Highway 3, you'll reach the Kootenay Pass – the highest all-weather pass in British Columbia and one of the highest paved highways in Canada, Stagleap Provincial Park is a favourite with backcountry skiers. But the subalpine setting is good for summer enjoyment, too. Take a walk on the Bridal Lake Shore loop trail, stop for a picnic using the tables near the water, or hike the short Beargrass Trail, views from here can extend into Washington state. You may also catch a glimpse of wildlife: This park protects habitat for both the endangered mountain caribou and Southern Selkirk grizzlies; it's also home to black bears and rainbow trout.
Keeping with the historical nature of Nelson, this restored Streetcar #23 from the 1920s carried Nelsonites until the mid-20th century. Today, it runs on a remaining section of track along the west arm of Kootenay Lake. Jump on board for a short ride to Lakeside Park where you can stretch out on the sandy beach next to BOB, Nelson's photogenic 'Big Orange Bridge'. Rent a kayak or canoe for a few hours here, grab lunch at the pavilion, then hop the streetcar again for a ride back or return via the walking path along the shore.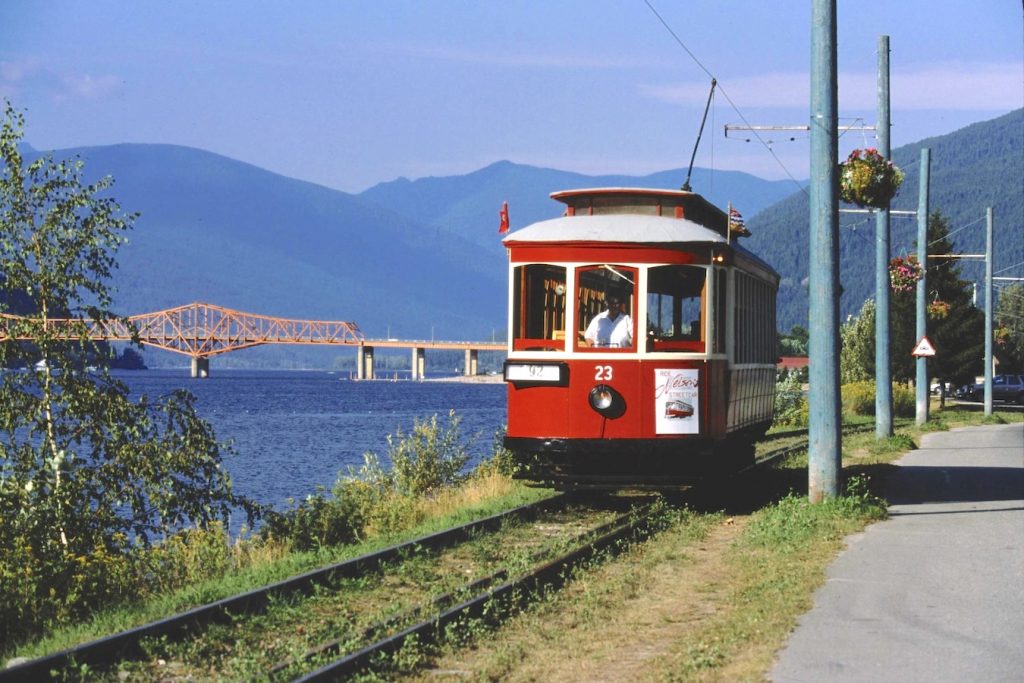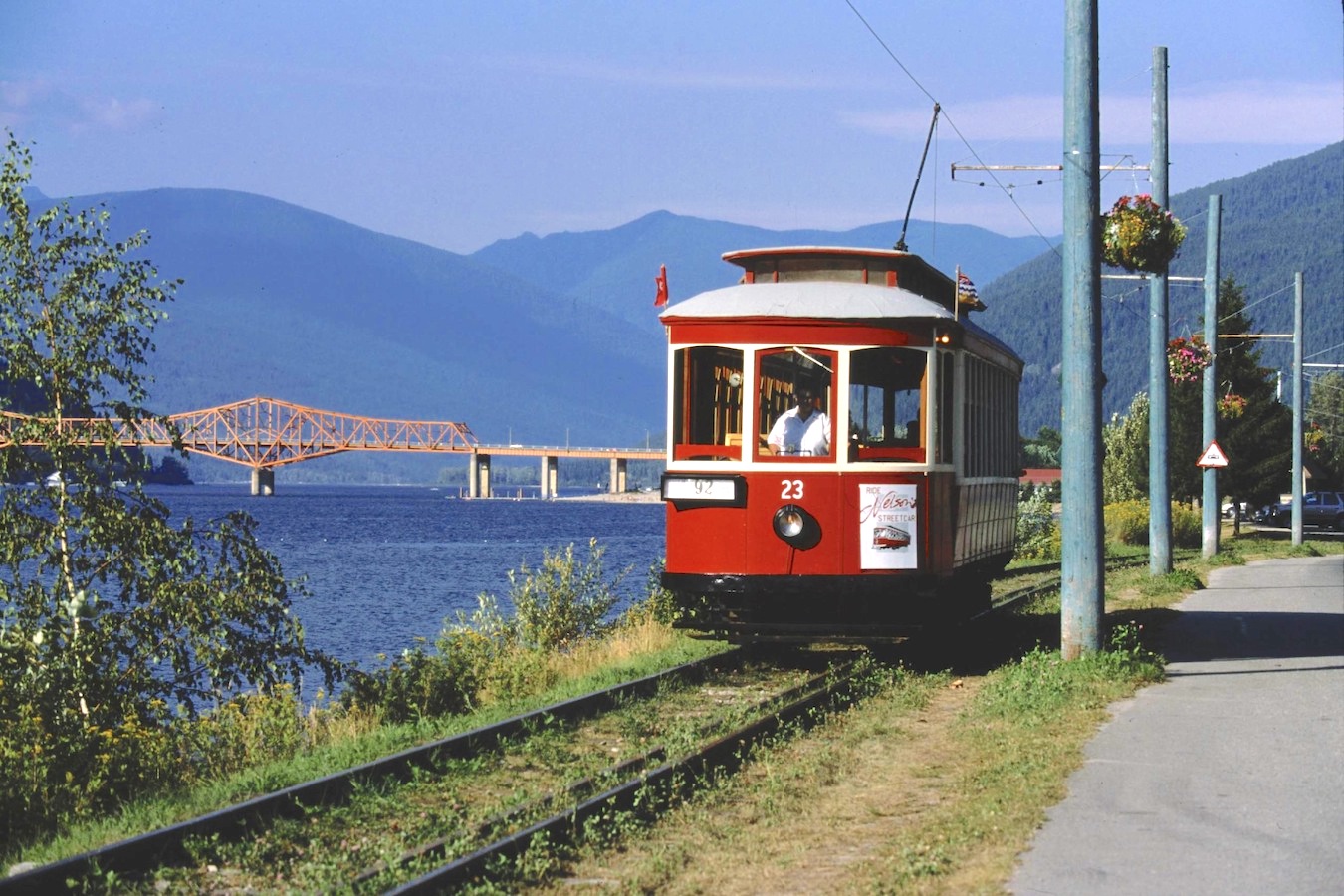 The Nelson International Mural Festival has created a self-guided mural tour with nearly 50 of the best murals tucked into alleys and side streets around Nelson BC. The Mural Tours are available in both French and English. Download the Nelson Kootenay Lake App to discover these unique works of art showcased throughout Nelson.
NELSON TO KASLO
Ainsworth Hot Springs Resort is nestled into the mountain side along the north shore of Kootenay Lake. Since time immemorial, the nupika wu'u (spirit water) has been utilized as a place for soothing and relaxing by the Ktunaxa people. The warm mineral waters of the cave and pool provide multiple experiences for all who visit this beautiful area.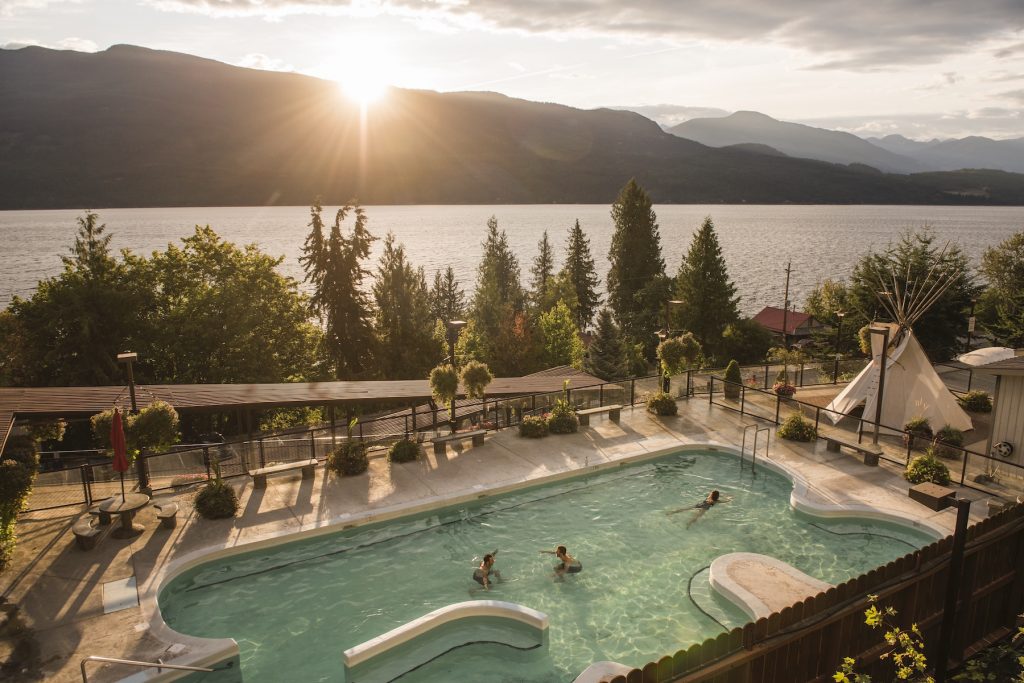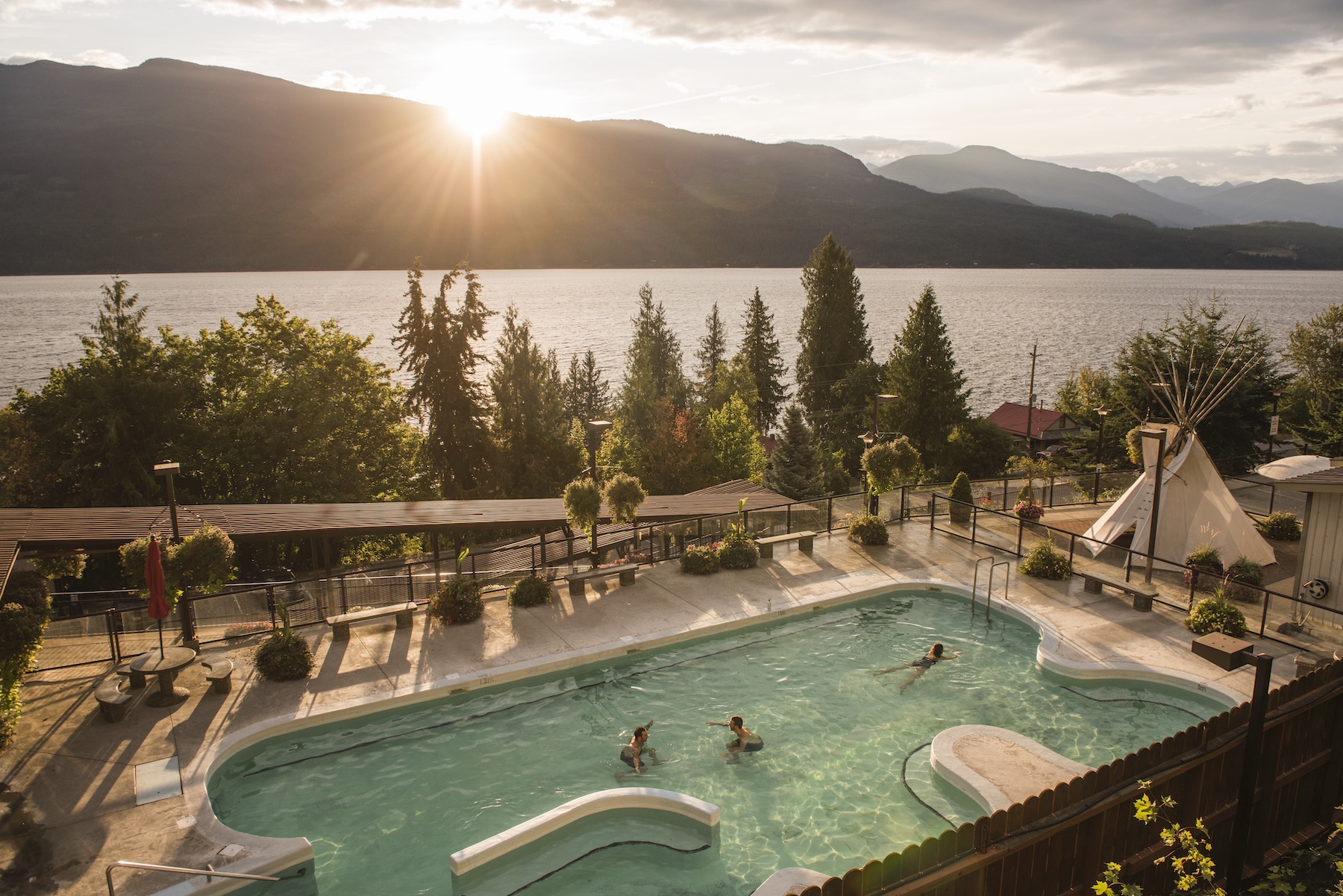 From the base of Fletcher Falls, a creek flows over the adjoining beach and into Kootenay Lake, follow it and find one heck of a great picnic spot. To find it: As you near Kaslo heading north on Highway 3A, keep an eye out for the sign on your right; it leads to a wide pull-through that doubles as a parking lot. The trailhead is on the north end.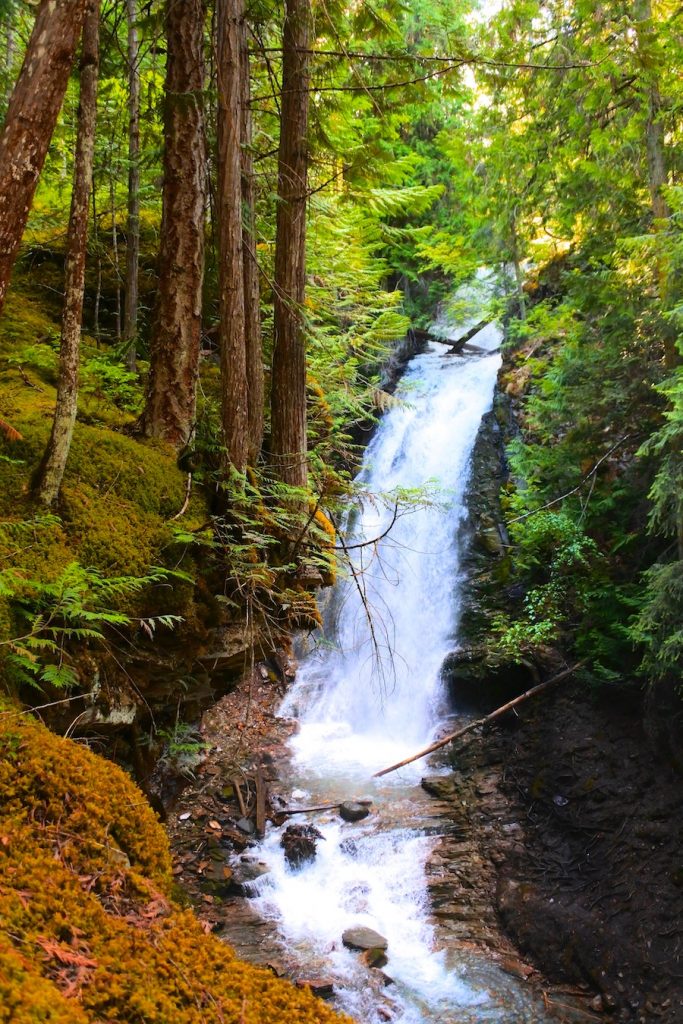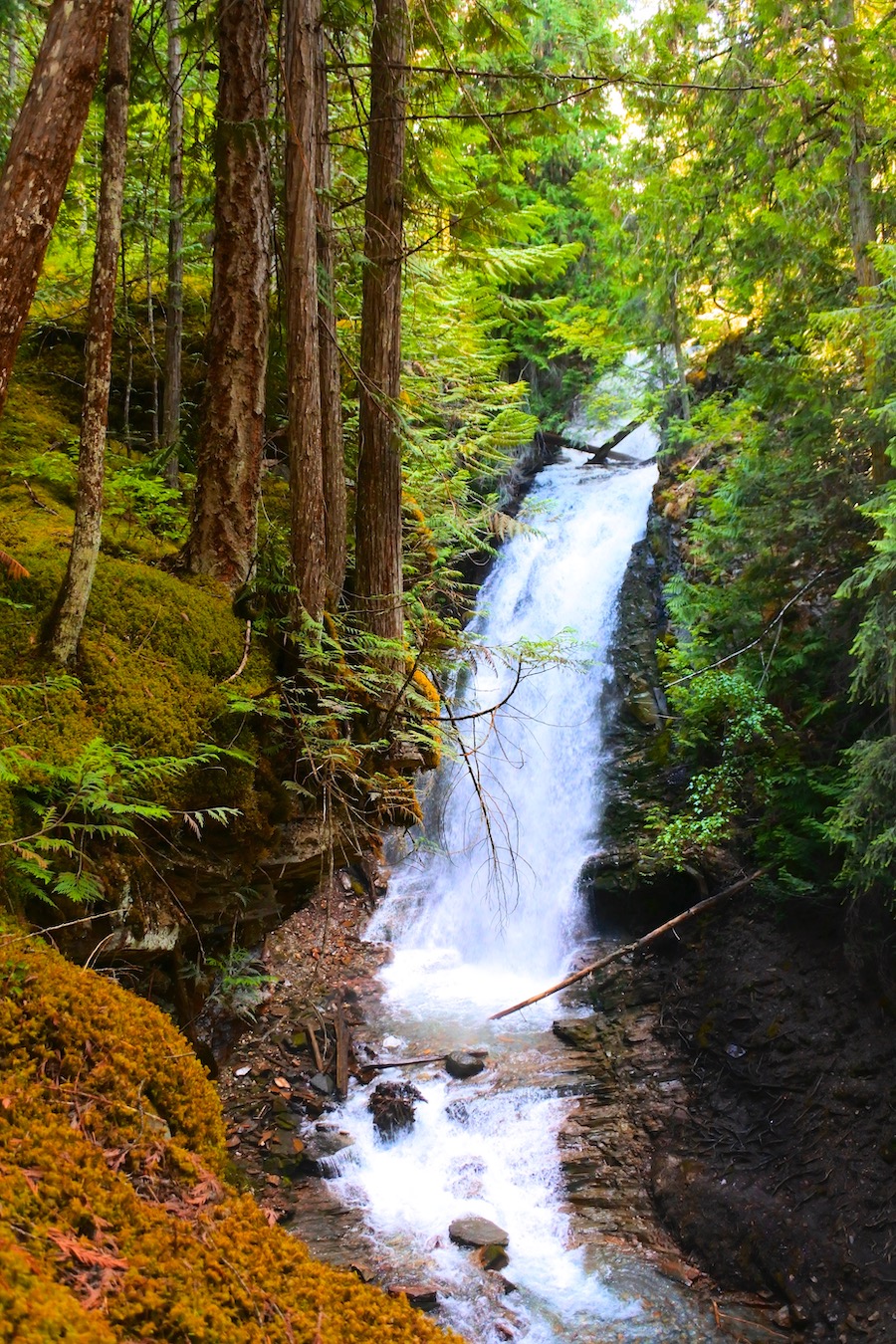 Step back in time aboard the oldest sternwheeler in the world! The SS Moyie is located at the Kaslo Visitor Centre along the shore of Kootenay Lake. An international treasure, the SS Moyie is the oldest surviving intact vessel of her type in the world. Berthed at the edge of Kootenay Lake, the sternwheeler rests permanently in her former port of call at Kaslo. Owned and operated by the Canadian Pacific Railway, the SS Moyie plied the waters of Kootenay Lake for nearly 60 years.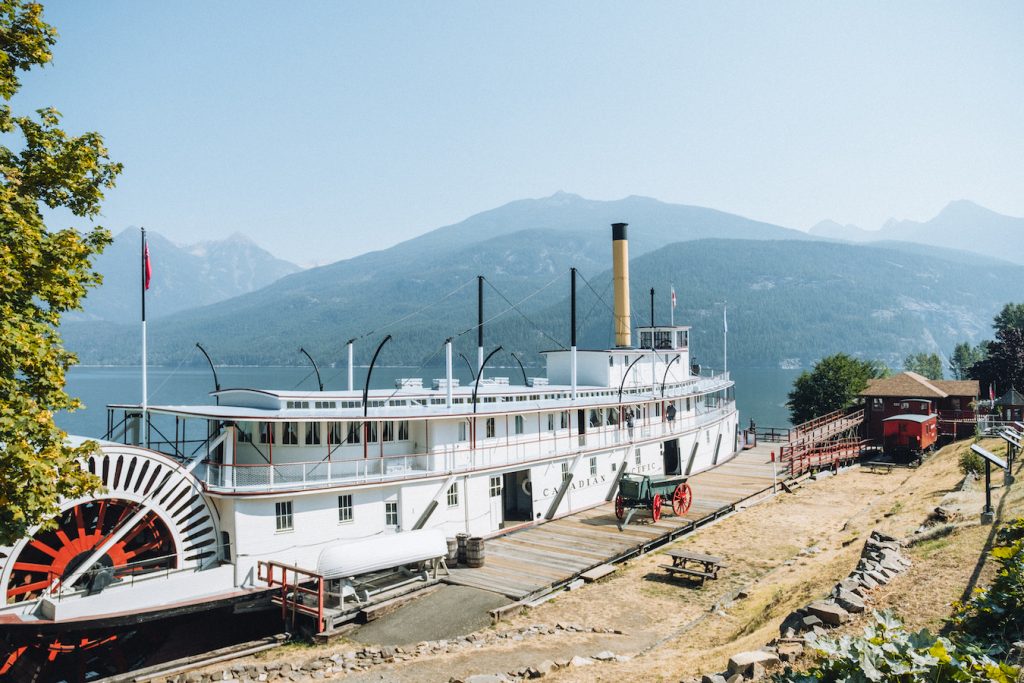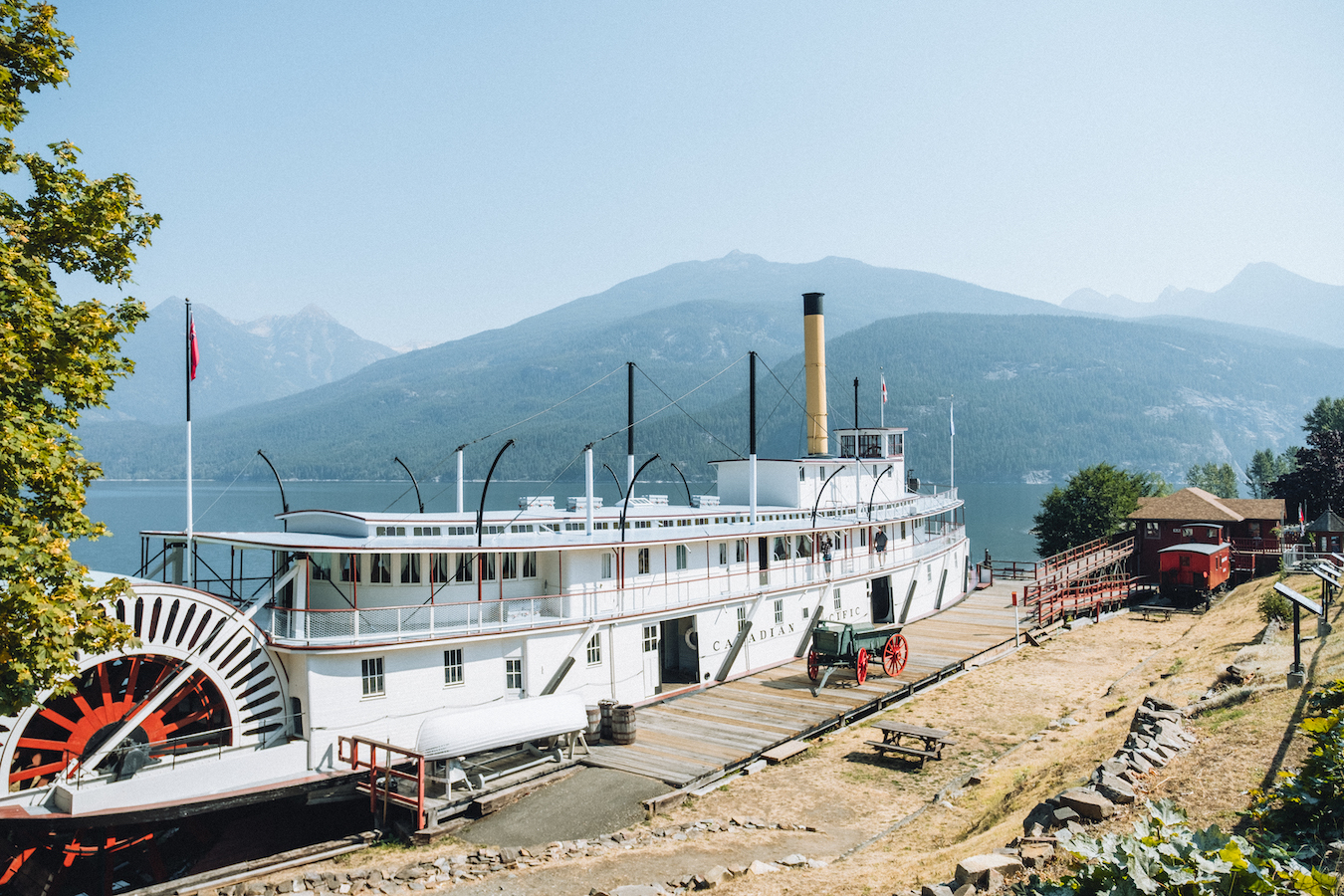 SANDON
If you enjoy touring ghost towns, Sandon's your place. In the late 19th century, Sandon was a booming mining town, home to 5,000 people and 29 hotels, 28 saloons, a whopping 85 'houses of ill-repute' (ahem: brothels), theatres, and the first hydroelectric utility in British Columbia. But after major disasters struck, its reputation as the 'Monte Carlo of North America' faded into history.
Many buildings still stand, some with tattered curtains in their windows and interiors of peeling painted, but the quiet is eerie. Though visitors may not see a soul, they will feel a human presence. This might be due to the handful of people who moved to the site to restore the ruins and gather mining artifacts. Or maybe residents of the past still inhabit this tract of land. [Cue creepy music] Either way, this ghost town is a fascinating stop between Kaslo and New Denver.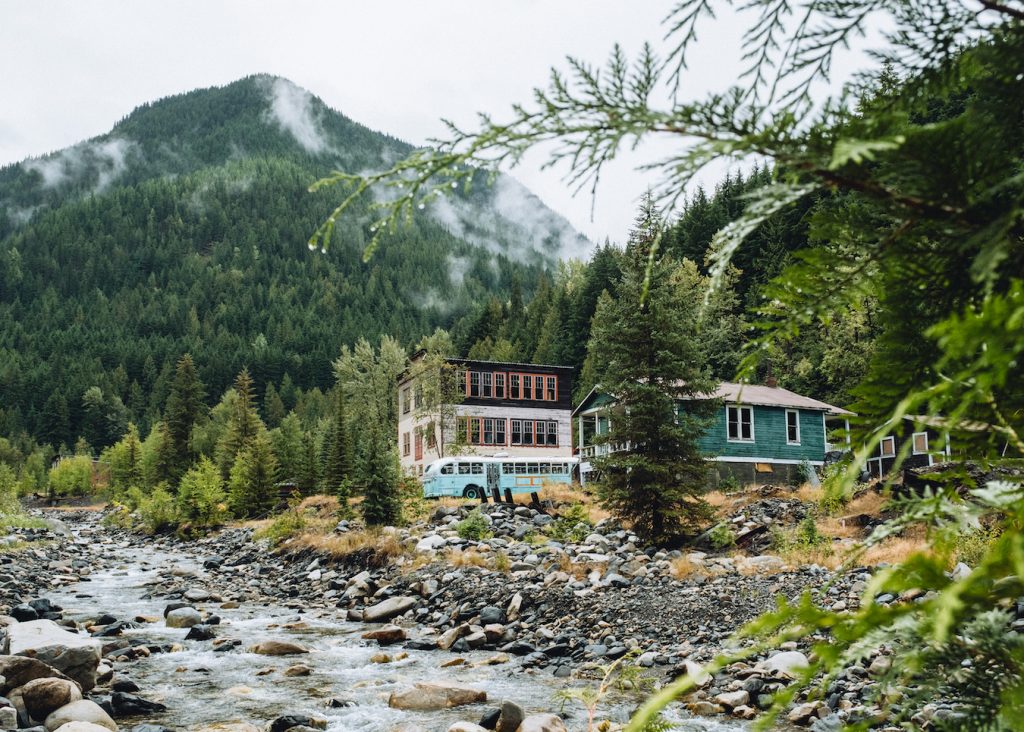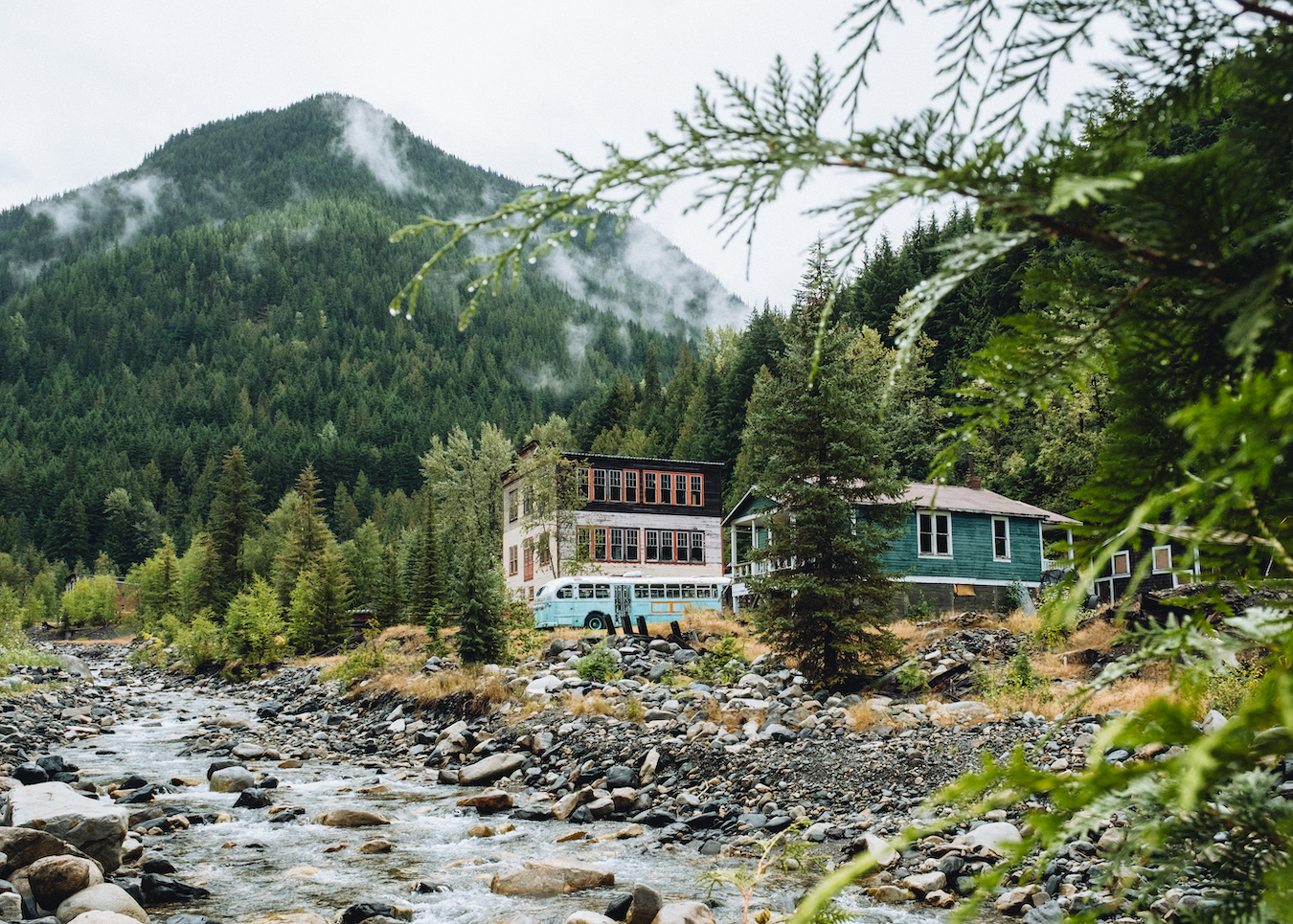 Today, the largest centre in the Slocan Valley is New Denver with a population of approximately 500. New Denver offers great stop-overs at the the Centennial Park/Campground, the Nikkei Interment Memorial Centre, Kohan Reflection Garden, Silvery Slocan Museum and the waterfront community of Silverton.
The Galena Trail is very popular; a 13-km / 8-mi section of an old CPR rail line that runs from Rosebery Provincial Park to Three Forks where Carpenter Creek can be crossed in a small cable car.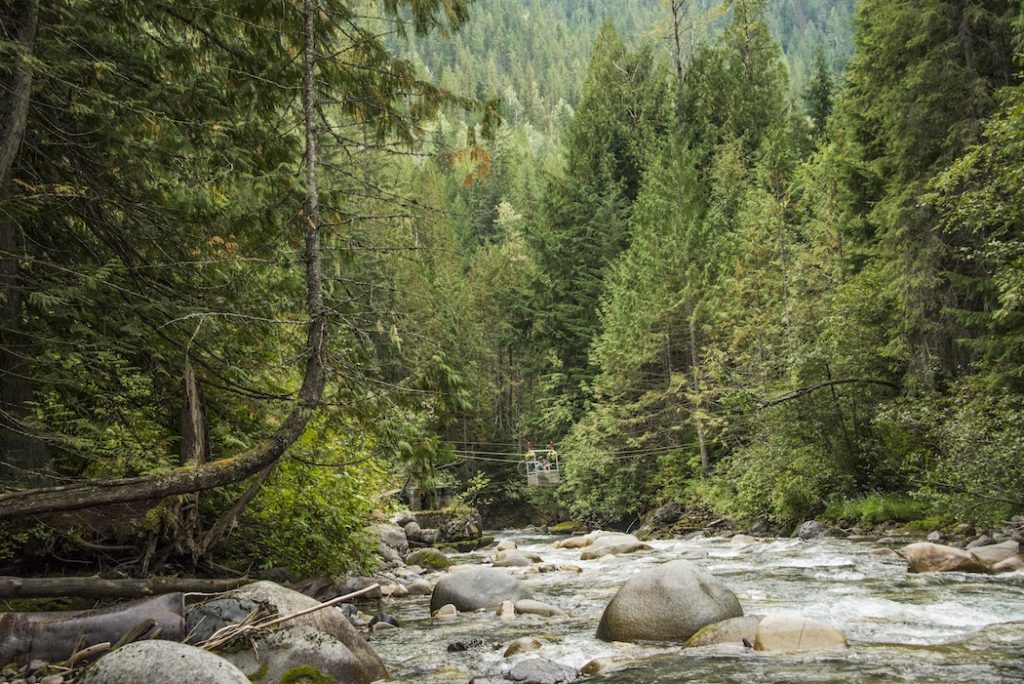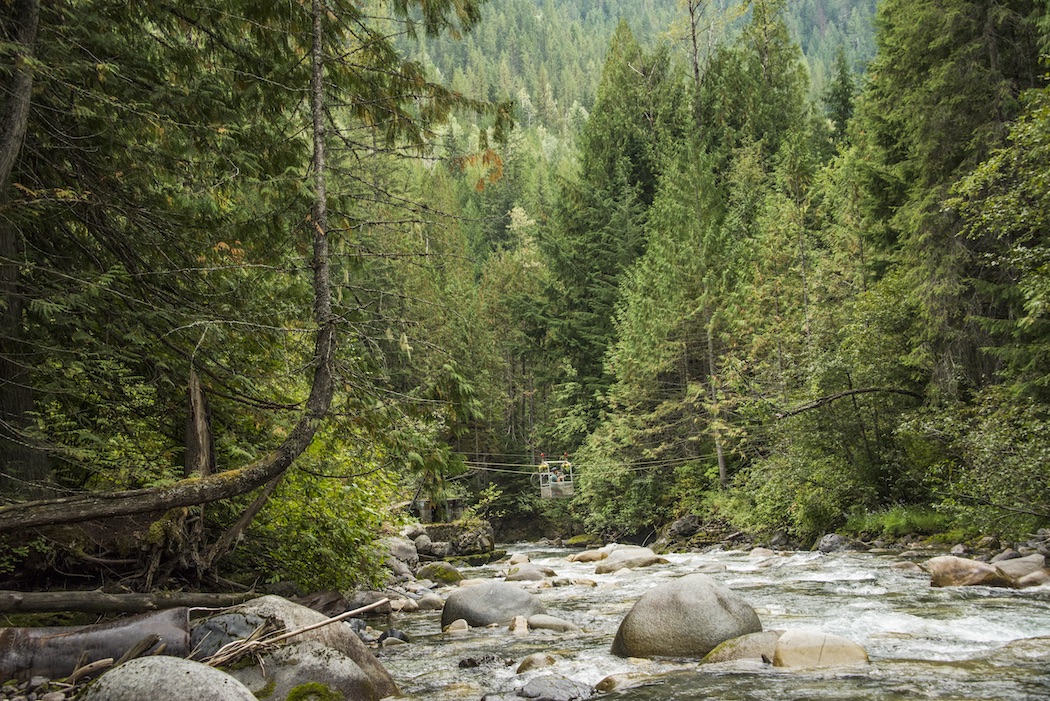 Before your reach Nakusp, you'll pass by Summit Lake Provincial Park. A day-use/picnic parking lot is a short walk to the lake. Here you will find a 100 metres long, shale/pebble type beach. At the edge of the forest, approximately 10 metres from the shoreline, on a small grassy area are six picnic tables.
The Nakusp Waterfront Walkway offers a stunning view of the Arrow Lakes and surrounding mountain ranges. It is a level, paved pathway in the downtown area with benches, shade trees and beautiful garden areas. The Waterfront Walkway is just a block south of our main street (Broadway) and downtown shops, services and restaurants.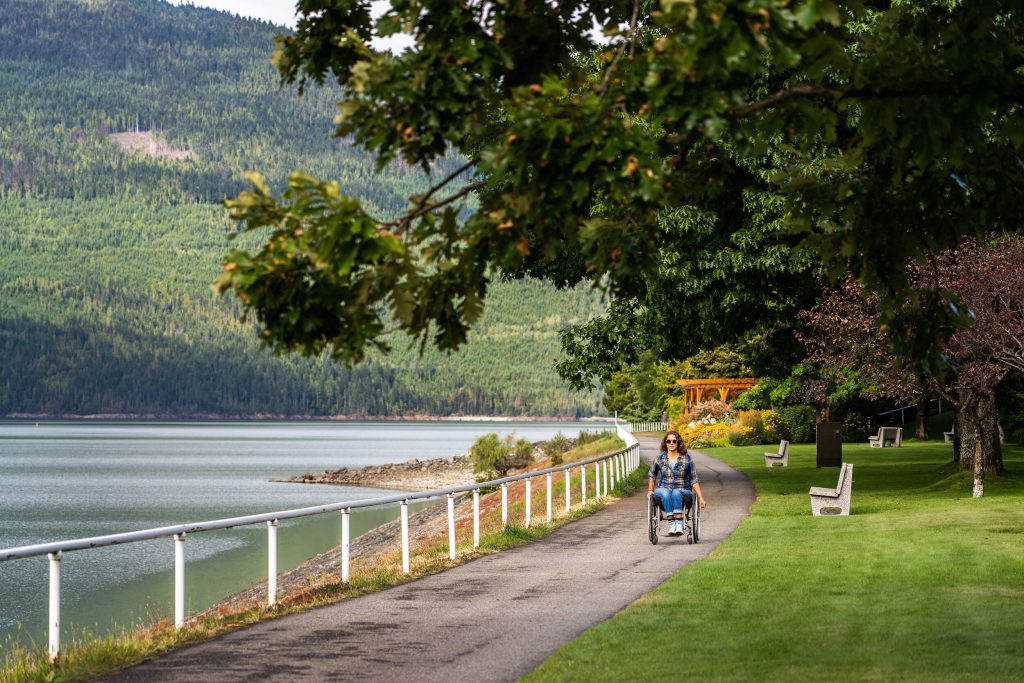 Nakusp Hot Springs, Chalets & Campground is located just 12 kilometres (7 mi) northeast of the village of Nakusp, the quaint hot springs pool is situated in a beautiful mountain setting, with creeks rushing by and trees to shade your eyes. The small pool averages 42C (108F) and the large pool 30C (100F).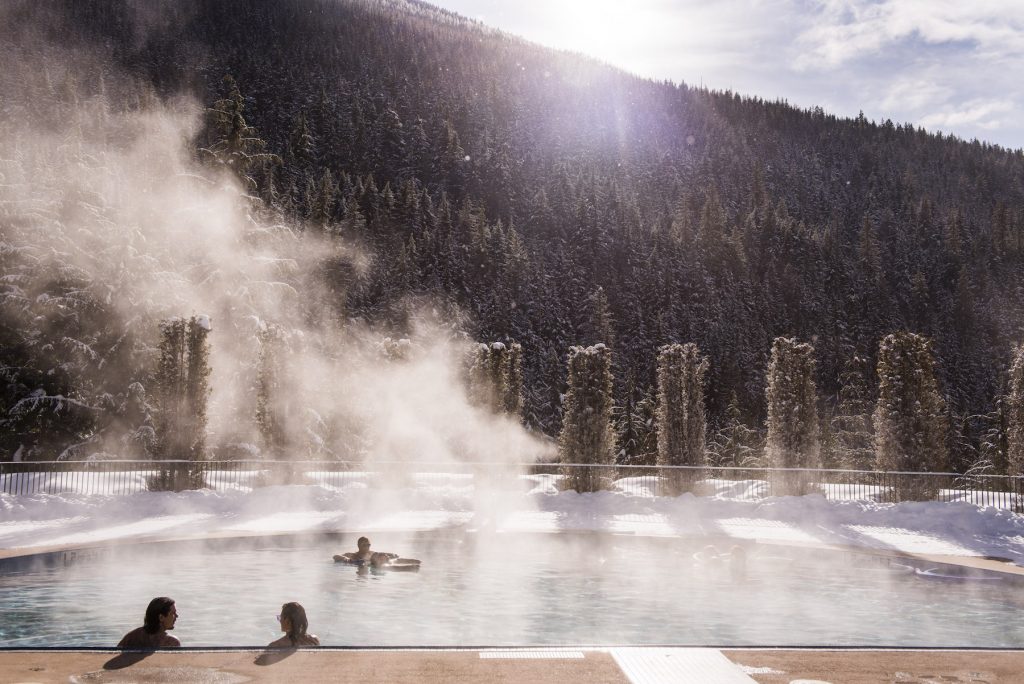 NAKUSP TO REVELSTOKE
Ione Falls is a small, but gorgeous waterfall located along a scenic stretch of Highway 23. It is conveniently located right beside the highway at a rest area.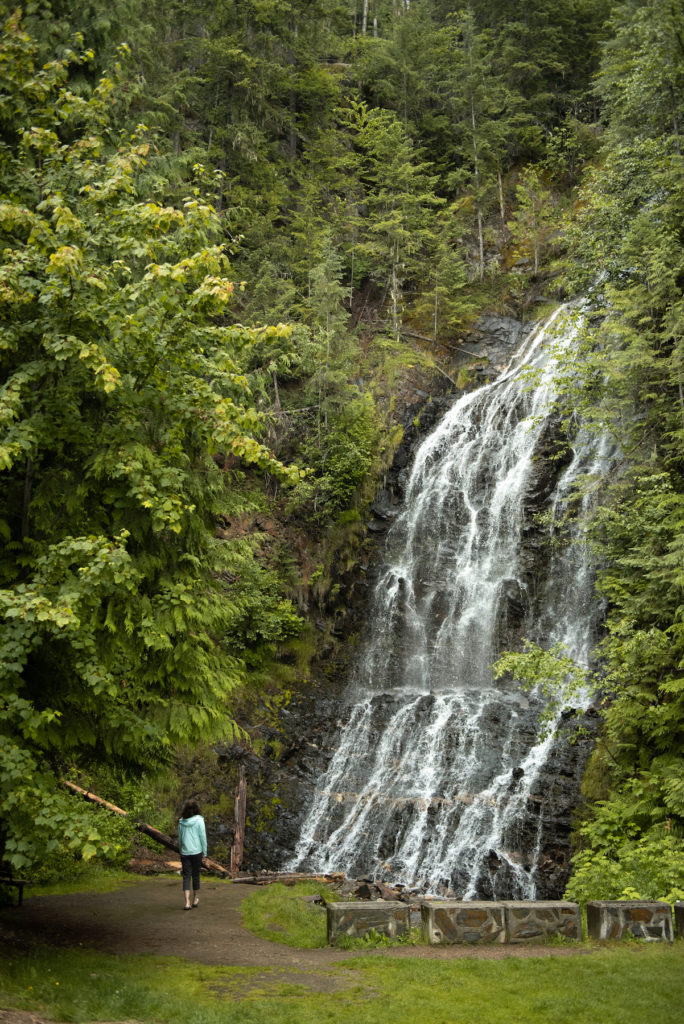 Halcyon Hot Springs Resort is surrounded by spectacular alpine peaks amd crystal blue lakes. It is a place of recreation and wellness. The resort offers all-season accommodation, fine dining restaurant, local artisan retail shop, full-service spa and adventure packages.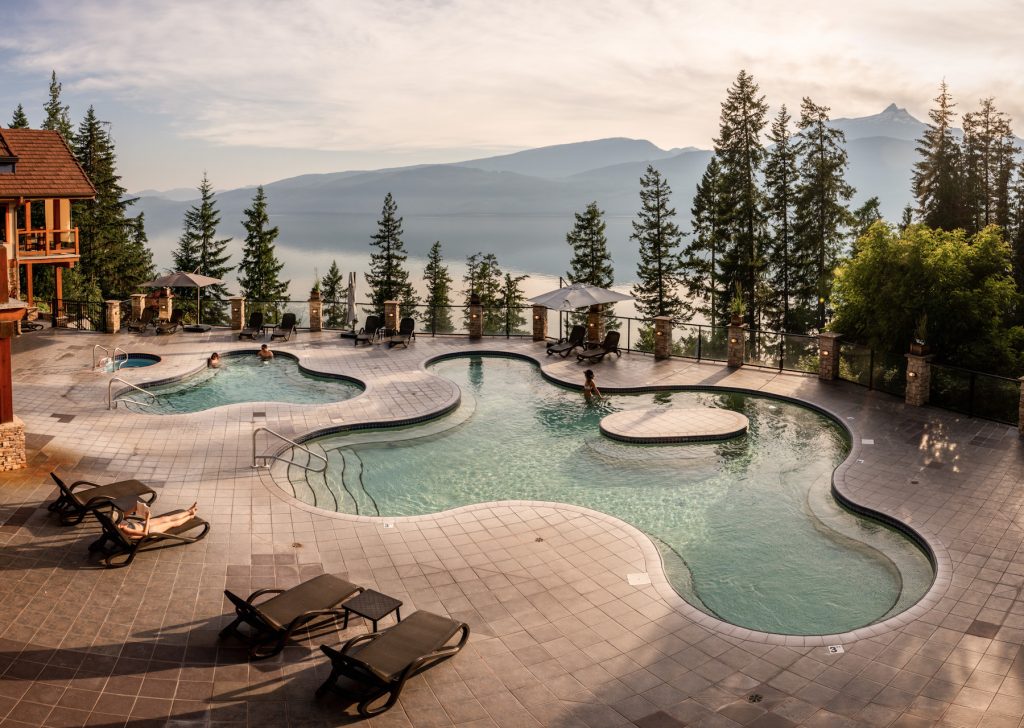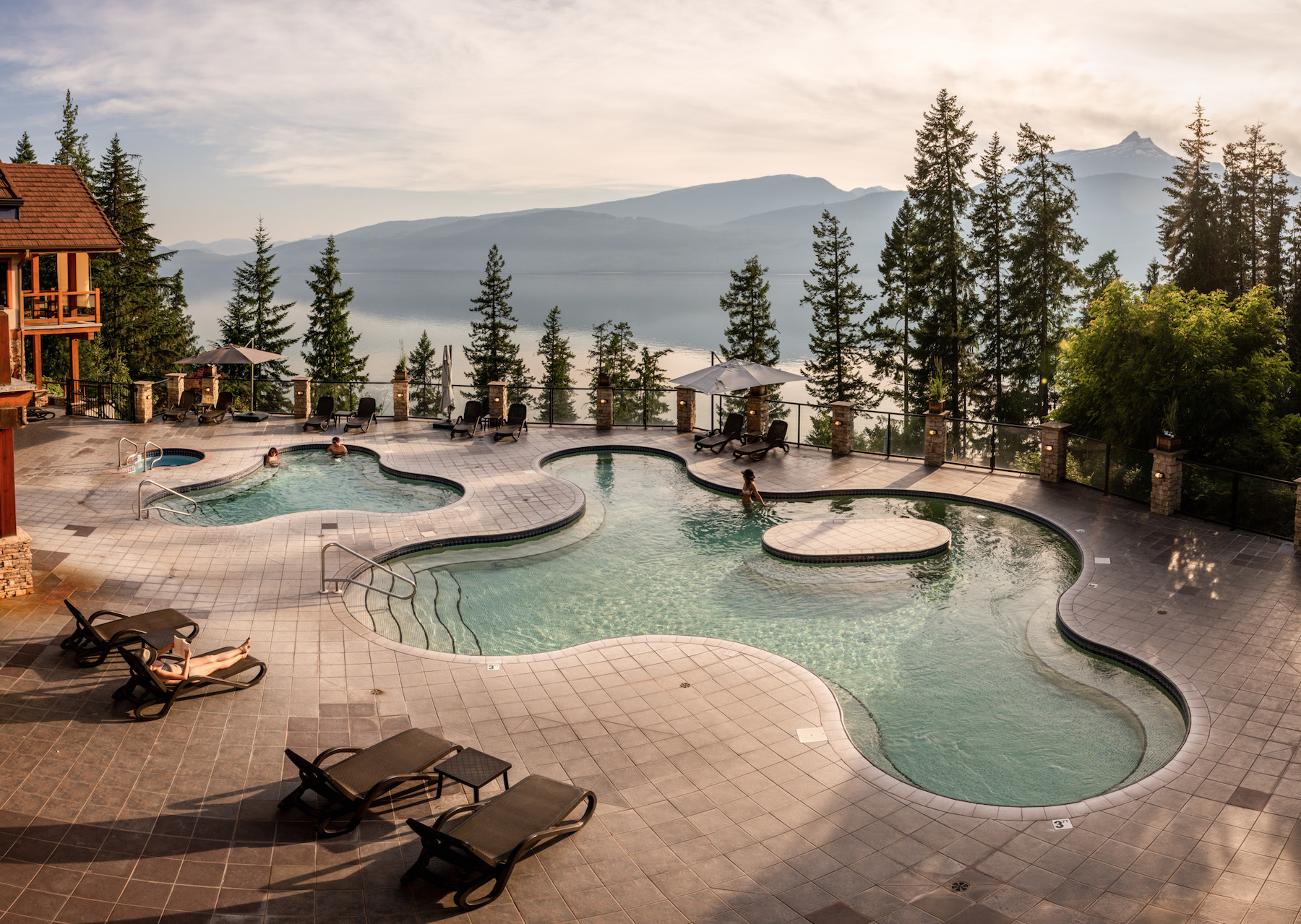 The Galena Bay to Shelter Bay Ferry crossing offers a short break in the drive, as the ferry crossing is a short 20-minutes.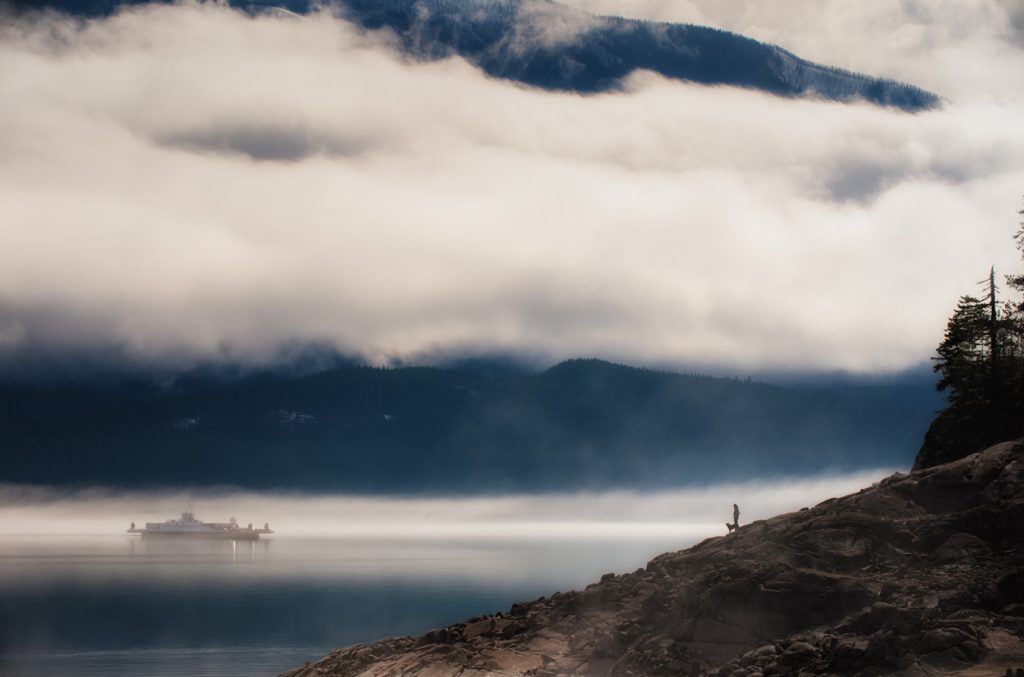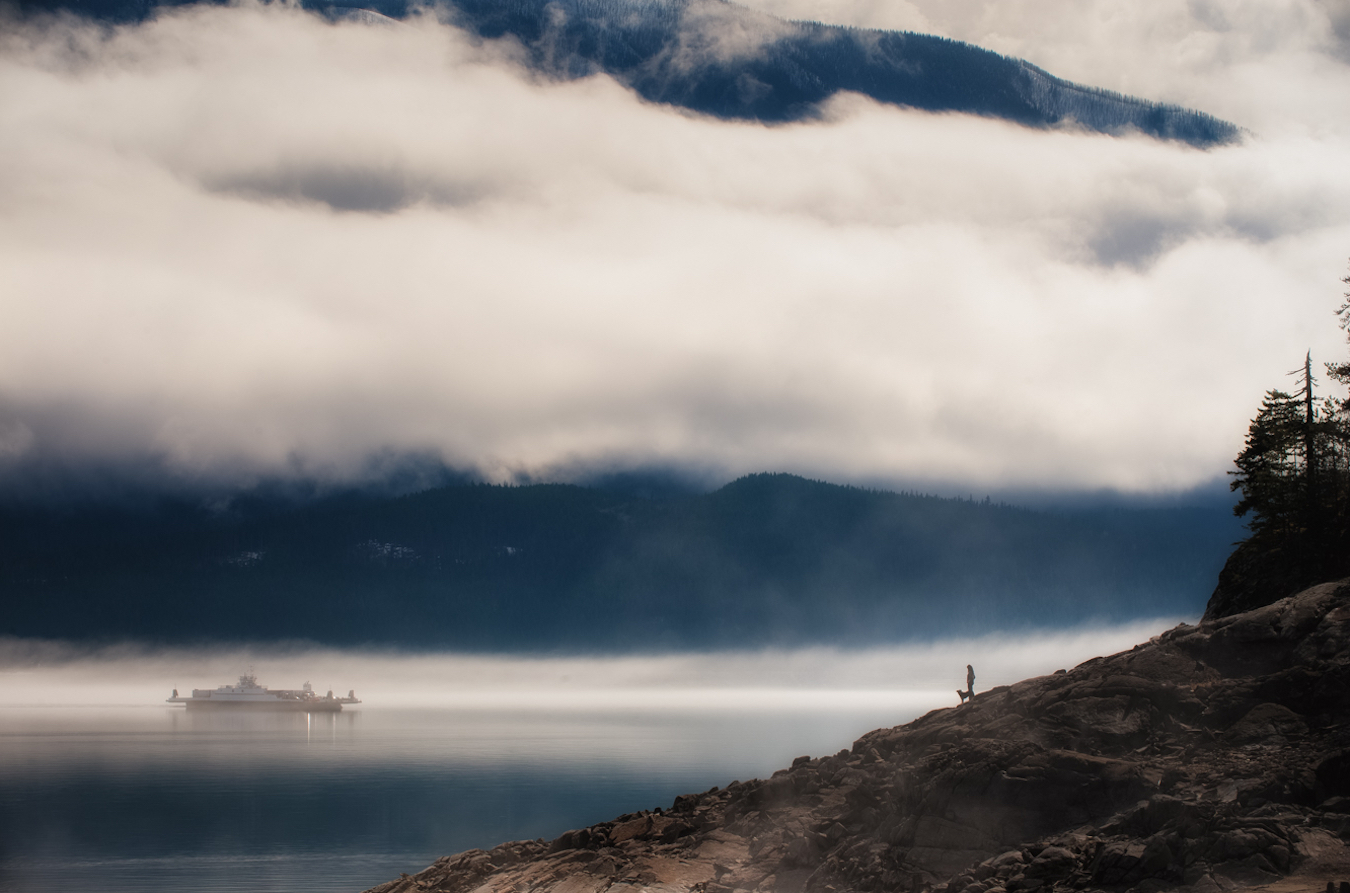 The Martha Creek Provincial Park is situated on an old river terrace on the western shore of the Revelstoke reservoir. It hosts one of the few sandy beaches in the area and provides playground opportunities including an adventure playground, indoor cook shelter and a large picnic field complete with volleyball net and horseshoe pitch.
Pick up a Walking Tour Map at the Visitor Centre and explore Revelstoke's Grizzly Plaza Downtown Centre. There's also a Heritage Trail featuring interpretive panels and scenic views, near Centennial Park.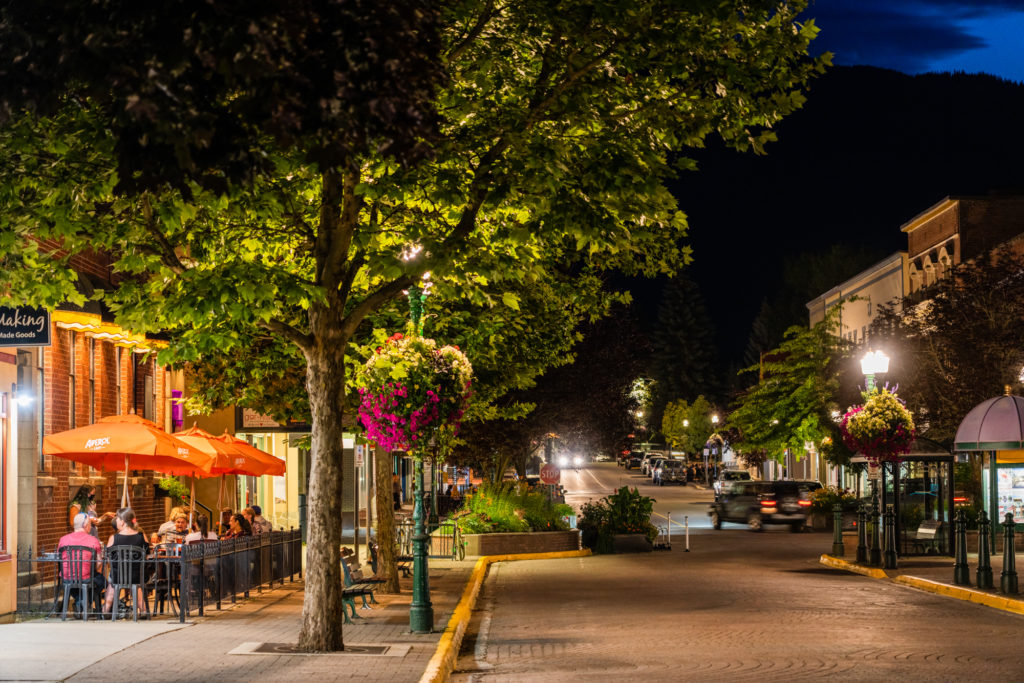 The summit of Mount Revelstoke is just a short walk from your car once you travel the paved 26 kilometre (16 mi), Meadows-In-The-Sky Parkway which takes you up the mountain, offering views of Revelstoke, The Columbia River and the Monashee and Selkirk Mountains.
REVELSTOKE TO GOLDEN
Canyon Hot Springs is set in the spectacular Selkirk Mountains of British Columbia, an area of great natural beauty between Glacier and Mount Revelstoke National Parks. Located 35-km east of Revelstoke. Located alongside the Trans-Canada Highway, at Albert Canyon, the resort offers 2 mineral hot pools. One is at a temperature of 40C (104F) and the other, a swimming pool is 32C (86F).
The Hemlock Grove Boardwalk and Picnic Area in Glacier National Park has been designed to barrier free standards. The Hemlock Grove Boardwalk trail was developed as a legacy of the Man in Motion World Tour visit. This short 400-metre barrier-free boardwalk offers a rainforest experience to people with mobility disabilities, people with visual impairments and people with other limitations on movement, such as seniors and even visitors with baby strollers.
(An all terrain wheelchair is available for loan at the Illecillewaet Campground welcome station.)
Other note-worthy pit-stops on 'Side-Trips' (Highway 3 via Alberta's Crowsnest area)
– Heading east on Highway 3 stop to check out the Terex Truck in Sparwood – it is the world's largest tandem axle dump truck and could carry 350 tonnes during its operation in one of the area's coal mines.

– Mt. Fernie Provincial Park is the eastern gateway park to the Kootenay Rockies is only minutes away from Fernie. The Park is open year-round unless inaccessible due to weather conditions. The proximity to the City of Fernie offers such amenities as golfing, restaurants and art galleries. This area is also popular for mountain biking and the opportunity for fishing in the nearby Elk River.

– Maiden Lake, in Fernie, is a popular rest stop if you've been driving from afar, or for those needing a close-by escape from downtown for the afternoon. Offering epic views of the Mount Trinity (Three Sisters Mountain) and Mount Proctor this is a quiet spot to rejuvenate.
– In Castlegar (south-east of Nelson on Highway 3A) be sure to explore their downtown centre and walk the streets to admire their SculptureWalk (a rotating exhibition of sculptures by local and international artisans). And if you wish to do more exploring a hike around Zuckerberg Island Park is an ideal option.