The open road is calling to you and, being the adventure lover you are, you're all set to lay down tracks in British Columbia. You might be traversing the province from Calgary to Vancouver or focusing on the Kootenays; either way, you're headed into big country and you'll need a place to stretch the legs.
In addition to our national parks, provincial parks,  wineries, hot springs and breweries, the Kootenay Rockies have plenty to pull over for. The following Kootenay roadside sights, strolls and culture favourites will help you plan pit stops worth your time. Go ahead and add them to your route's GPS waypoints. You can start anywhere, but to assist you we'll start in Golden (via the Trans-Canada Highway) and loop through the region clock-wise.
There are over 100+ EV Charging stations in the region, for details about a specific Electric Road Trip – follow the the Crowsnest Highway #3, deeply rooted in history, is a scenic route linking the Prairies to the Pacific Ocean, through the iconic Canadian Rocky Mountains along southern Alberta and BC. The Kootenay Rockies region, between the Crowsnest Pass and the city of Rossland, takes the traveller in search of relaxation, discovery and excitement (a journey of 380 km | 236 mi).
Takakkaw Falls and Wapta Falls
Both of these falls hold their own in Yoho National Park, and both are accessed with little effort. Of the two walks, Takakkaw is the shortest. As you near its parking lot, the view will have you glued to your window: at 254 metres, Takakkaw one of Canada's tallest waterfalls. But heads up: If you're in an RV or towing a trailer, the hairpin turns on the road up are legitimately
tight.
Not ready to navigate them?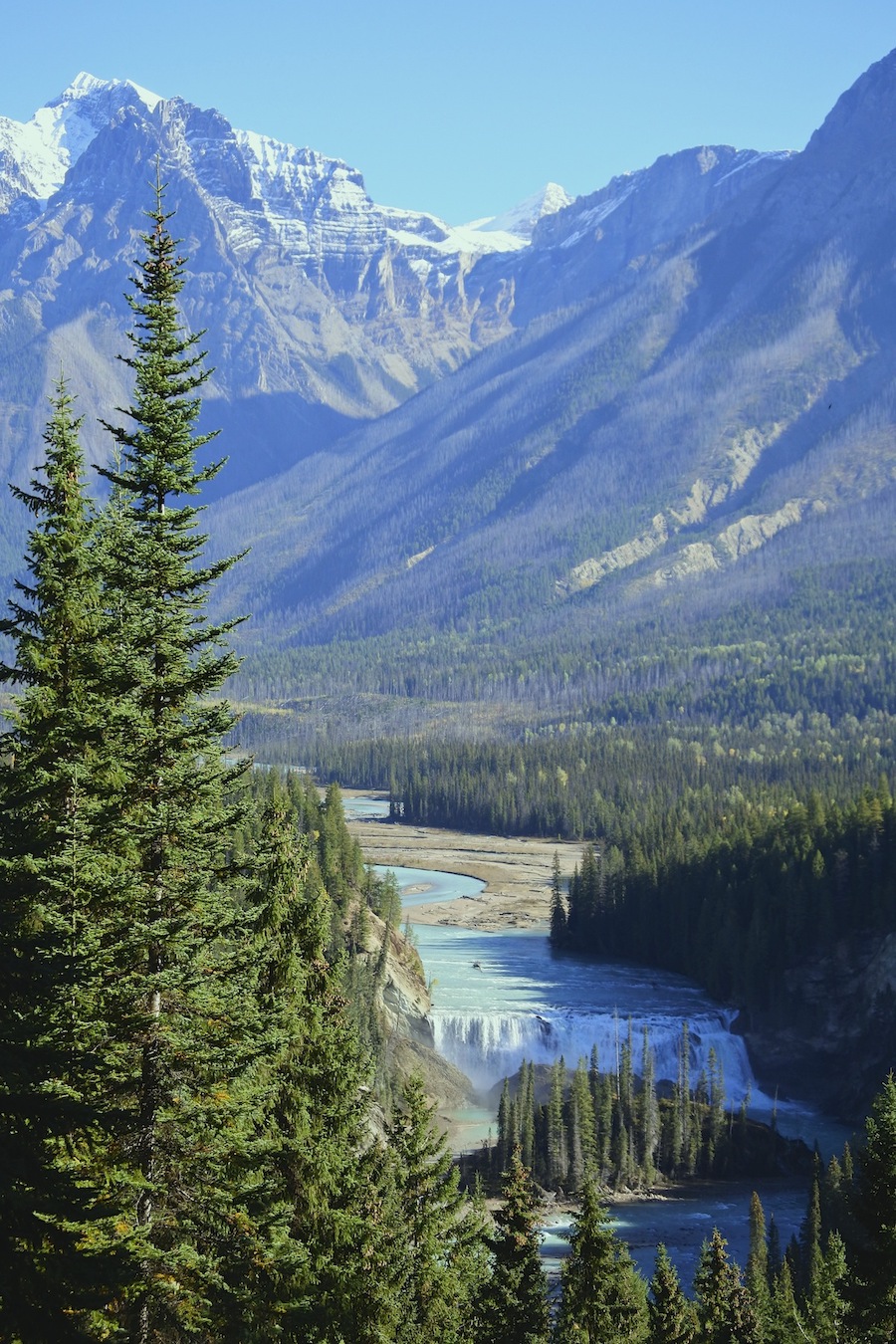 Wapta Falls in Yoho National Park, photo by Heidi Korven
Head to Wapta Falls for the largest waterfall along the Kicking Horse River. With its 30-metre height and 150-metre span, visitors have referred to Wapta as a 'mini Niagara Falls'.
Are you 24-metres tall? You may have left your paddle behind on the Columbia River.
This 18.5-metre, true-to-scale, Western Red Cedar replica holds the Guinness Book of World Records' standing for being the largest paddle ever created.
Snap a pic beside this Highway 95 attraction (in Parson), then continue by foot toward the river via a short nature walk and suspension bridge.
Redstreak Campground – Lookout
On route to the campground is a small pull-out and if you climb the short path, you'll be rewarded with epic views of the community of Radium Hot Springs, the Columbia River valley and the Purcell Mountains.  There are picnic tables available — a great spot for a secluded picnic lunch.
These sneak up on you on a windy section of road, so it's good to know where they're located. Instead of rubbernecking to get a second glimpse of these unexpected formations, check them out from the trail that's located off Highway 93/95. Though the beginning is somewhat steep, it only lasts a few minutes before becoming an easy trail at the top of the hoodoos — just make sure to keep an eye on the kids since this trail travels a cliff area! The hour-long round-trip hike includes Columbia Valley's river, lake and mountain views.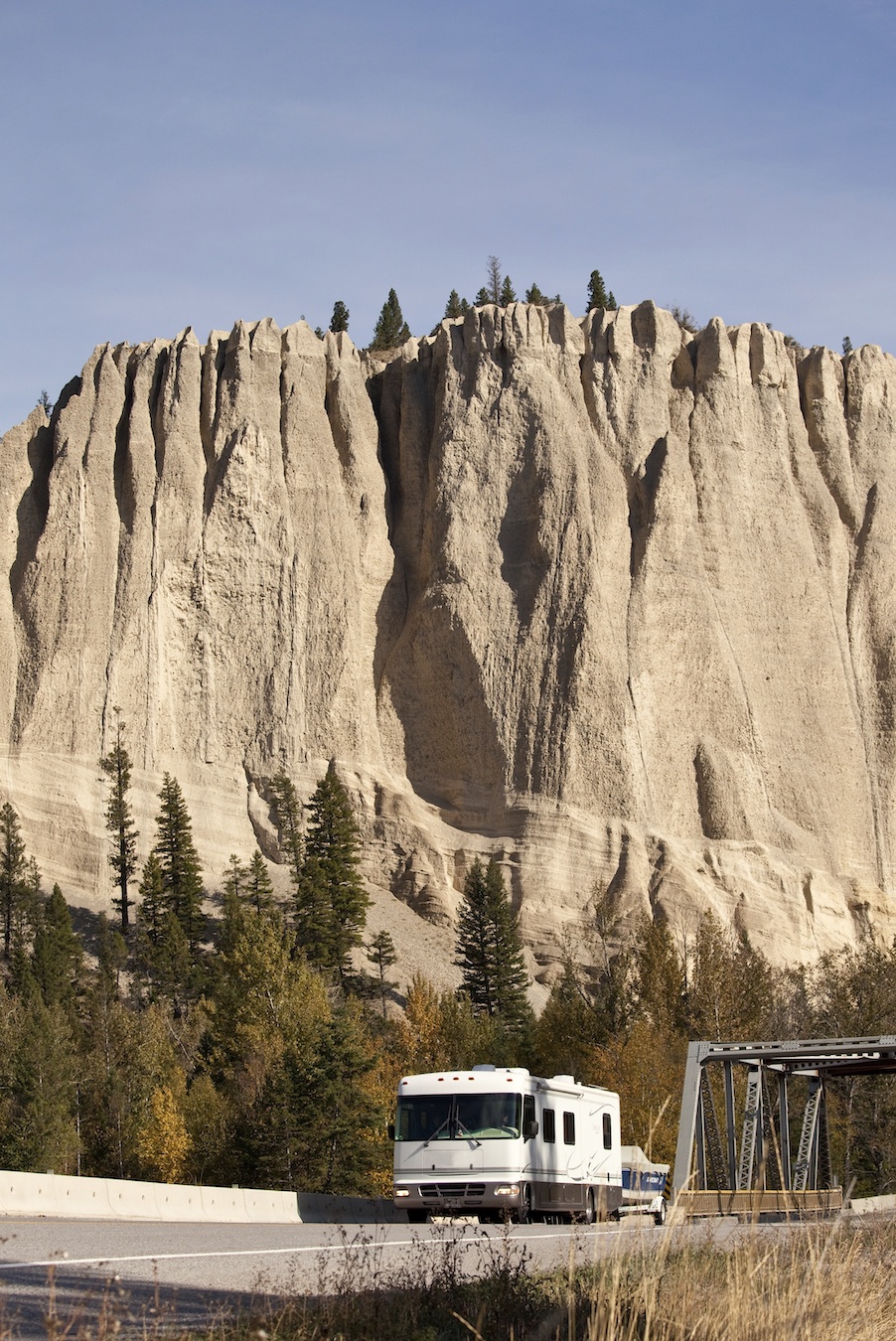 The Hoodoos on Highway 93/95, photo by Andrew Penner
Columbia Lake Rest Stop
Just off the Highway 93/95 is a rest stop with picnic tables that look out onto Columbia Lake, just south of the Hoodoos and Fairmont Hot Springs. Restrooms are available and a short trail for exploring (or dog-walking).
Trade road travel for time travel. North of Cranbrook is a booming mining town — or at least, that's what it was in its 1800s heyday. Today, Fort Steele is full of historic reenactment. Come for the fresh-baked goods, horse-drawn wagon and steam-engine train rides, watch craftsmen working their trade, and see the printing press buzzing with the latest edition.
This attraction is pet-friendly too.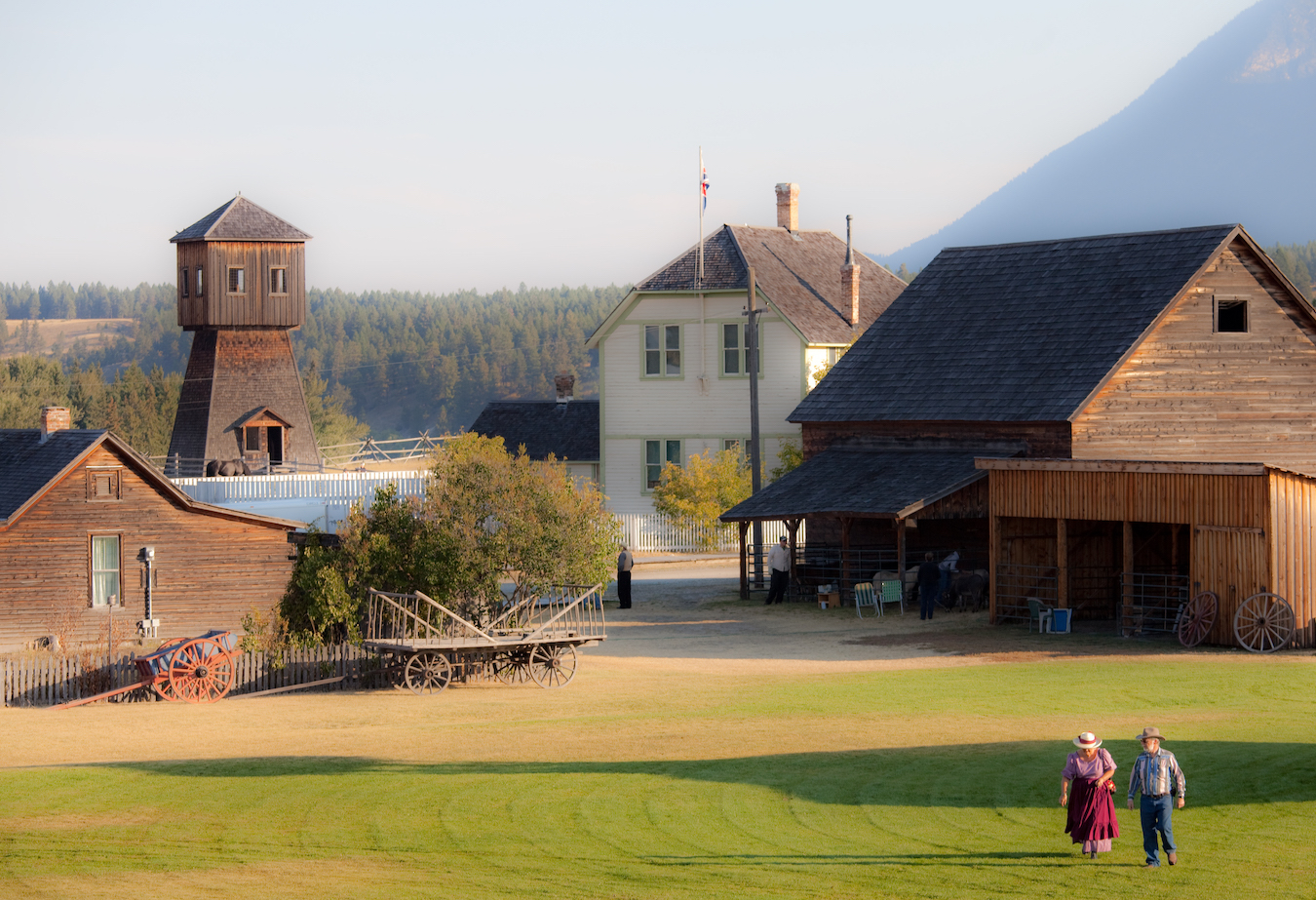 Fort Steele Heritage Town, photo by Andrew Penner
Elizabeth Lake/Jimsmith Lake
On the west side of Cranbrook is a small rest area that overlooks Elizabeth Lake in Cranbrook.  If you wish to take a dip a short drive to Jimsmith Lake Provincial Park offers a swimming area and day-use facilities for a refreshing break.
Kootenay-Columbia Discovery Centre

Close to 400 species of wildlife make use of this wetland area right off of Highway 3. The discovery centre is part of "… the largest and most important
resting and feeding ground for waterfowl in the interior of British Columbia".
This also means it's an especially great stop for wildlife lovers and photographers. Trails through cattails and cottonwoods range in length from 20 minutes to three hours, so you can choose your trail depending on how badly your legs need a stretch.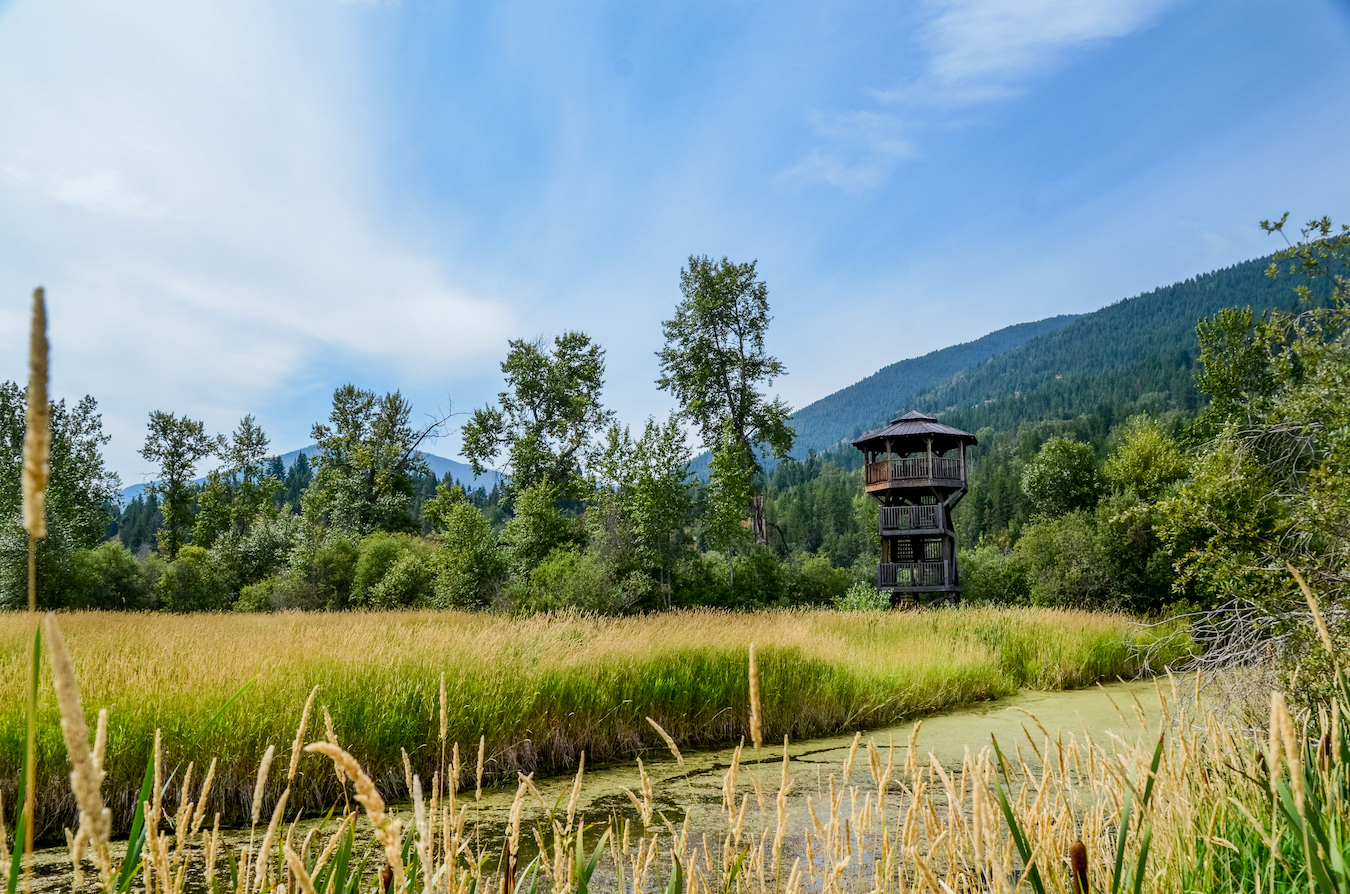 Kootenay-Columbia Discover Centre in Creston, photo by Jeff Banman
Balfour/Kootenay Bay
If you're headed to or from Creston by way of Kootenay Lake, the ferry connecting both sides of Highway 3A will be part of your journey. And while this might be a 'forced' pit stop, you'll feel freedom: this ferry's 35-minute crossing between Balfour and Kootenay Bay is the longest free scenic ferry ride in the world. Two ships make this passing; try to board the M.V. Osprey 2000 if possible. This larger of the two ferries (the other being the M.V. Balfour) has an on-board cafeteria and an open-air deck where passengers can watch the surrounding mountain views go by.
Ferry crossing on Highway 23, Galena Bay to Shelter Bay (Nelson to Revelstoke) and on Highway 6, Fauquier to Needles (Nakusp to Vernon) are also great pit-stops along your travels.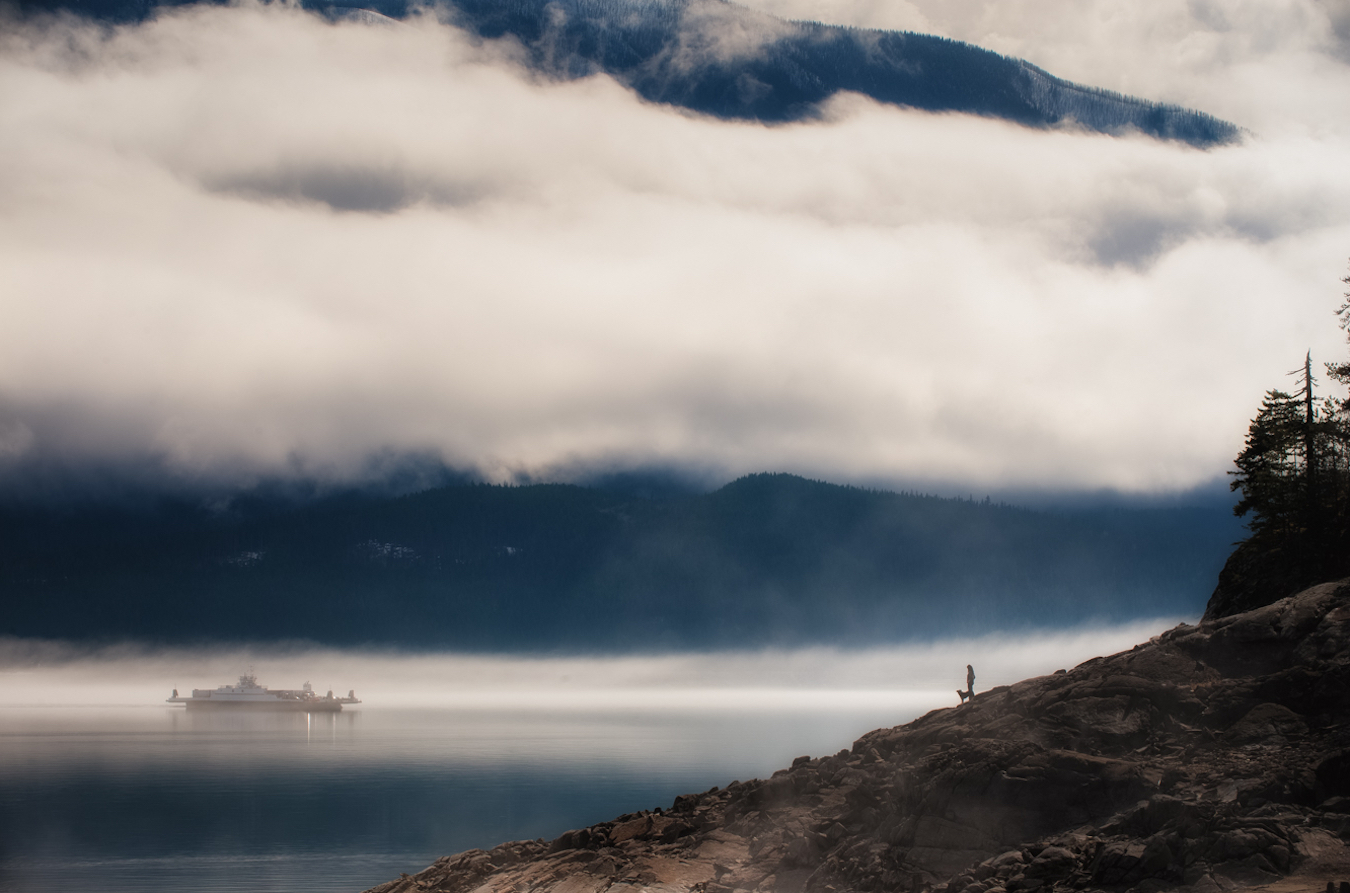 Galena Bay/Shelter Bay Ferry, photo by Dave Heath
Kootenay Pass
This is another pocket park on the list that's more than meets the eye. Located at the highest all-weather pass in British Columbia and one of the highest paved highways in Canada, Stagleap Provincial Park is a favourite with backcountry skiers. But the subalpine setting is good for summer enjoyment, too. Take a walk on the Bridal Lake Shore loop trail, stop for a picnic using the tables near the water, or hike the short Beargrass Trail — views from here can extend into Washington state. You may also catch a glimpse of wildlife: This park protects habitat for both the endangered mountain caribou and Southern Selkirk grizzlies; it's also home to black bears and rainbow trout.
Nelson's historic street is the backdrop for several Hollywood films including one memorable Steve Martin classic: Roxanne. Baker Street is also the hub for people watching in Nelson. Study the various humans milling about and, after a few moments, you'll understand why Nelson is renowned for the eclecticism of its citizens. While here, check out the artist collectives, varied culinary options, cafes competing for best cup, and buskers with actual talent. And note: Come as you are. Even the ritziest restaurant on Baker Street won't mind a disheveled driver who's been stuck in the car for days.
Streetcar to Lakeside Park and Beach

Keeping with the historical nature of Nelson, this restored streetcar from the 1920s carried Nelsonites until the mid-20th century. Today, it runs on a remaining section of track along the west arm of Kootenay Lake. Jump on board for a short ride to Lakeside Park where you can stretch out on the sandy beach next to B.O.B. — Nelson's photogenic 'Big Orange Bridge'. Rent a kayak or canoe for a few hours here, grab lunch at the pavilion, then hop the streetcar again for a ride back or return via the walking path along the shore.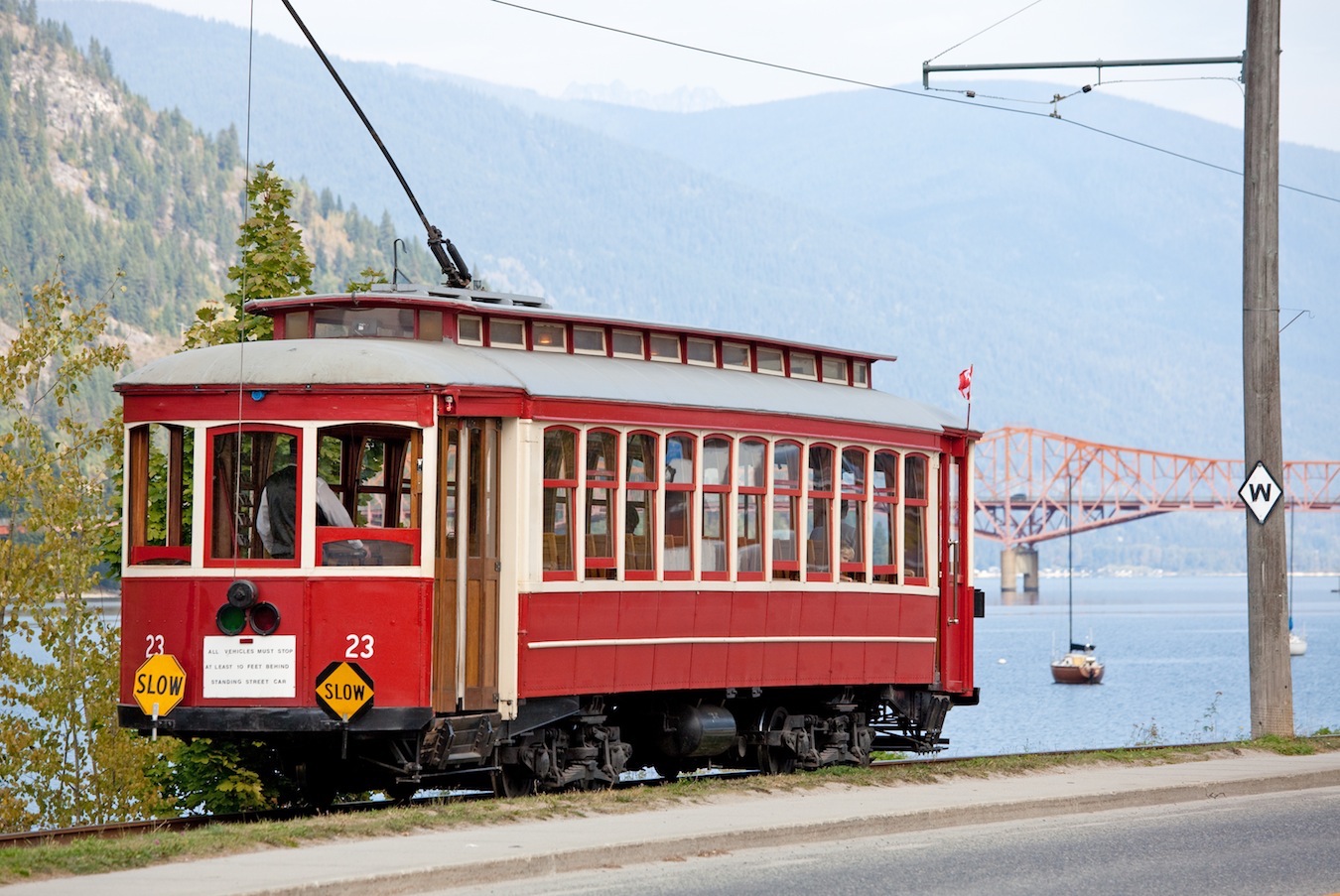 Streetcar #23 along the Kootenay Lake shoreline, photo by Heidi Korven
Only a tiny 'Fletcher Road' street sign indicates the pullout for this hidden beauty. The easy-to-miss signage may be the reason visitors will often have the place to themselves. A steep — but short — shaded path to the falls is fairytale-esque, especially as you approach the cavernous amphitheater into which the falls tumble.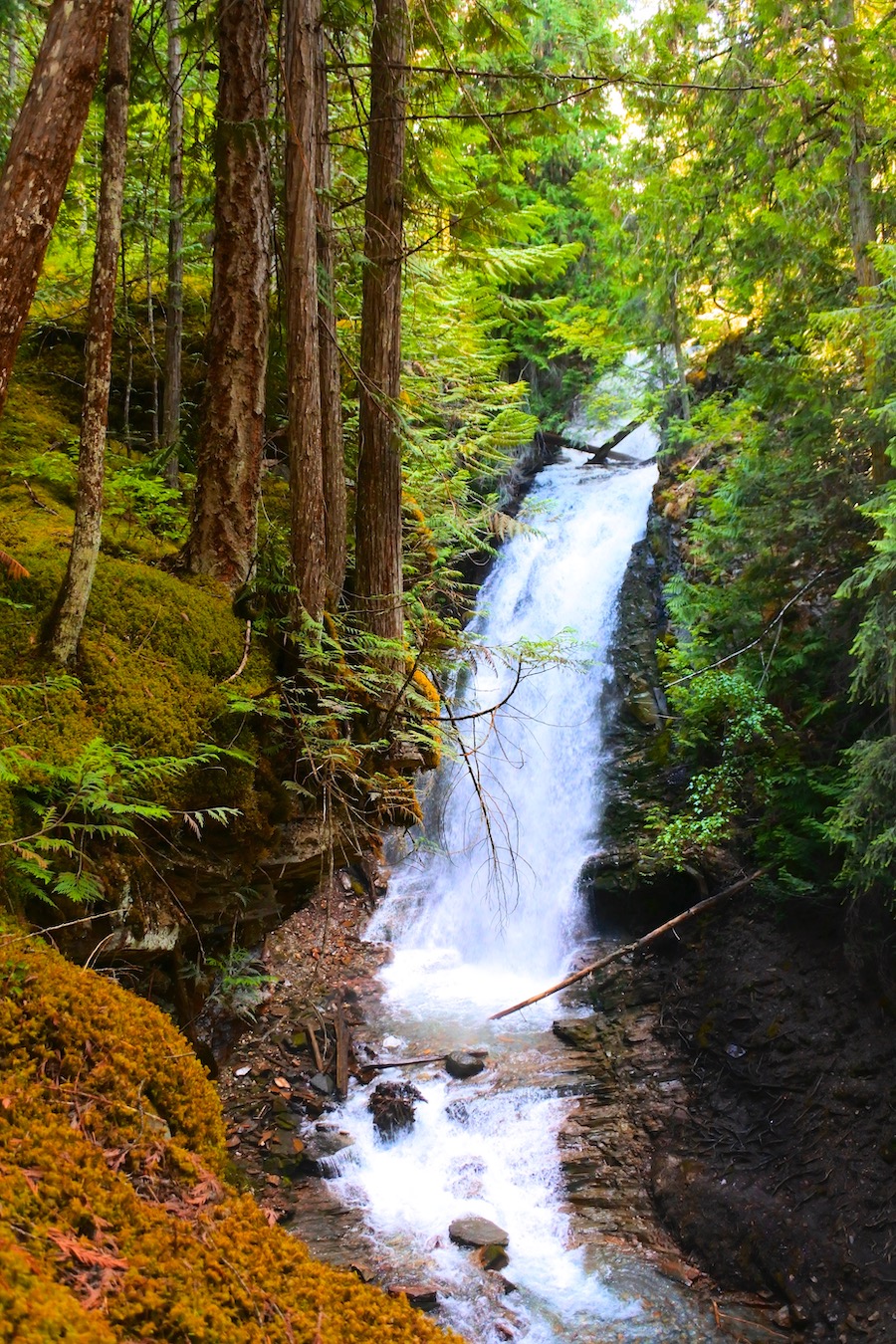 Fletcher Falls near Kaslo, photo by Heidi Korven
From the base of Fletcher Falls, a creek flows over the adjoining beach and into Kootenay Lake — follow it and find one heck of a great picnic spot. To find it: As you near Kaslo heading north on Highway 3A, keep an eye out for the sign on your right; it leads to a wide pull-through that doubles as a parking lot. The trailhead is on the north end.
The beaches around Kaslo always make me stop in my tracks no matter how often I see them. Skyscraping mountains and cliff bands drop straight into the waters of Kootenay Lake. Within this setting — worthy of a visit on its own — is the SS Moyie, the oldest intact sternwheeler in the world. Built in 1898, it travelled Kootenay Lake for 59 years. After its retirement, the people of Kaslo worked hard to restore the vessel, saving her from the scrapyard with a $1.00 investment. With a bigger investment of volunteer hours, the SS Moyie is now a designated National Historic Site.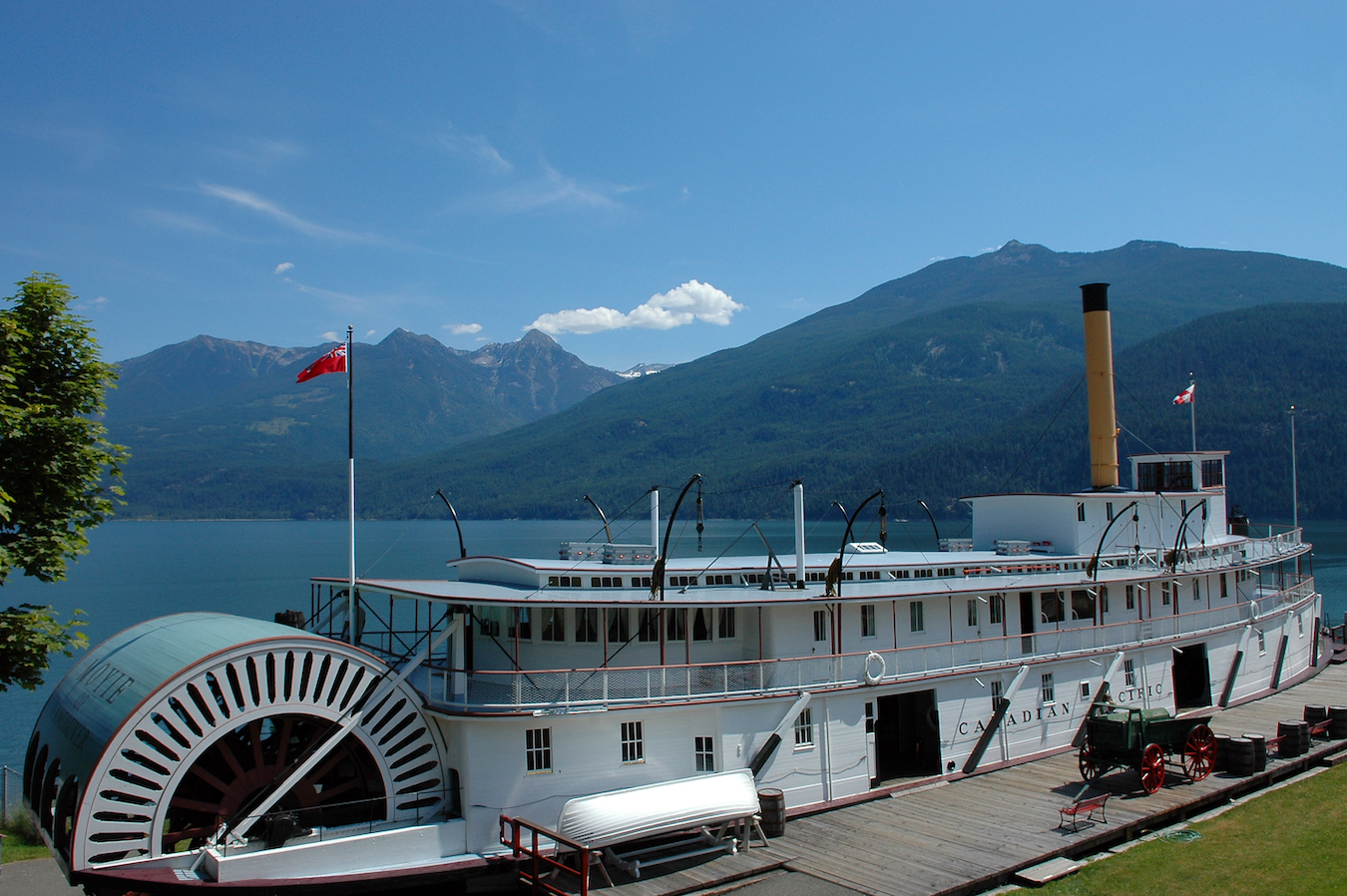 SS Moyie in Kaslo, photo by Phil Best
If you enjoy touring ghost towns, Sandon's your place. In the late 19th century, Sandon was a booming mining town, home to 5,000 people and 29 hotels, 28 saloons, a whopping 85 'houses of ill-repute' (ahem: brothels), theatres, and the first hydroelectric utility in British Columbia. But after major disasters struck, its reputation as the 'Monte Carlo of North America' faded into history.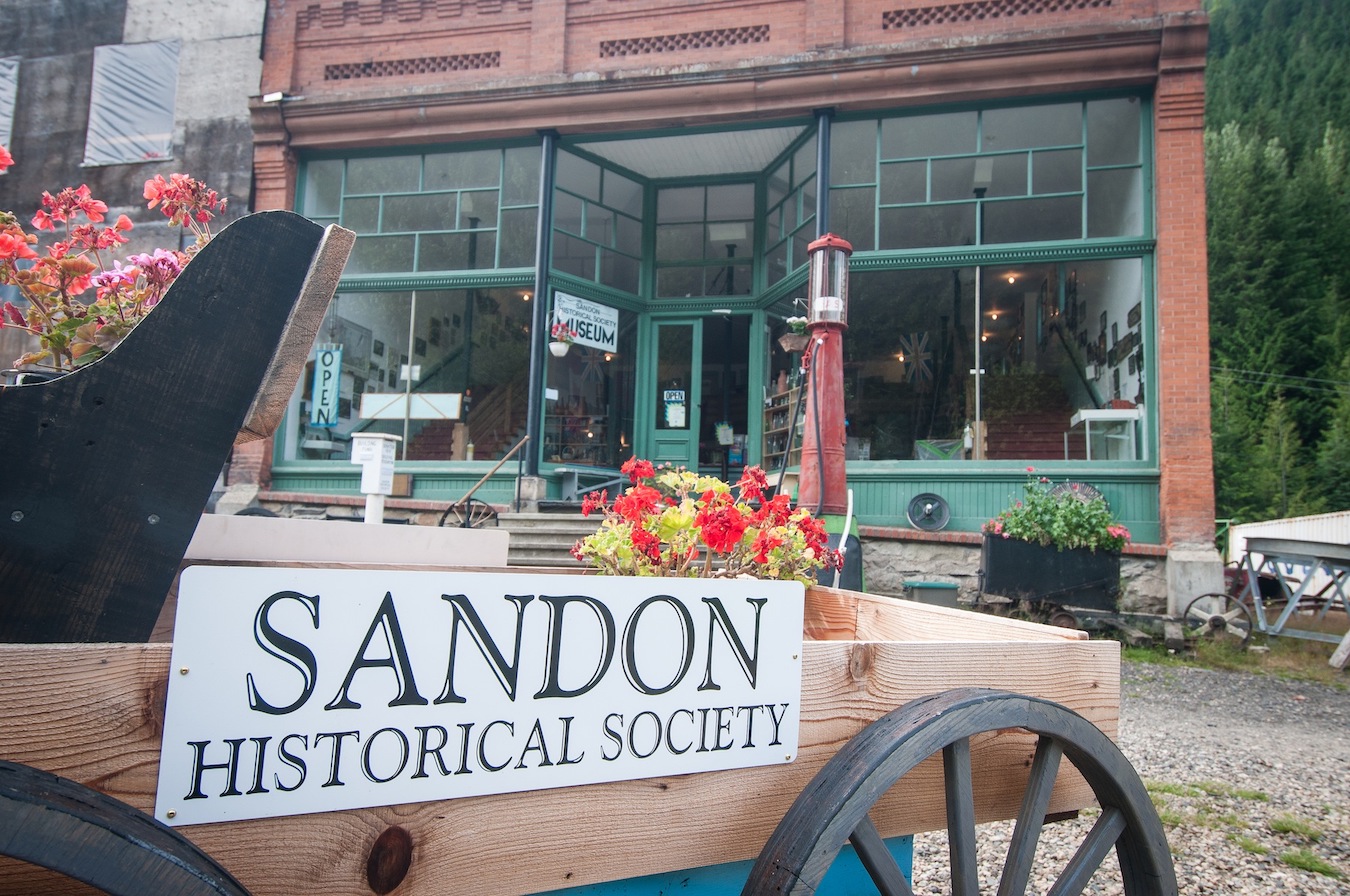 Sandon Museum, photo by David Gluns
Many buildings still stand, some with tattered curtains in their windows and interiors of peeling painted, but the quiet is eerie. Though visitors may not see a soul, they will feel a human presence. This might be due to the handful of people who moved to the site to restore the ruins and gather mining artifacts. Or maybe residents of the past still inhabit this tract of land. [Cue creepy music] Either way, this ghost town is a fascinating stop between Kaslo and New Denver.
Nakusp Boardwalk & Beach
The sandy beach is a short walk from the community's shops and restaurants. Surround by green spaces and gardens, the area offers shaded trees & picnic tables.  And just a short distance away is their downtown park (equipped with washroom facilities, gazebo, tennis courts, a skatepark and children's playground).  They even have a dog-friendly beach area.
Ione Falls
These small falls cannot be seen from the highway, but are well worth the stop to get out and stretch your legs during your road trip (to/from) Revelstoke and/or Nakusp.  Just one of the hidden waterfalls in the region.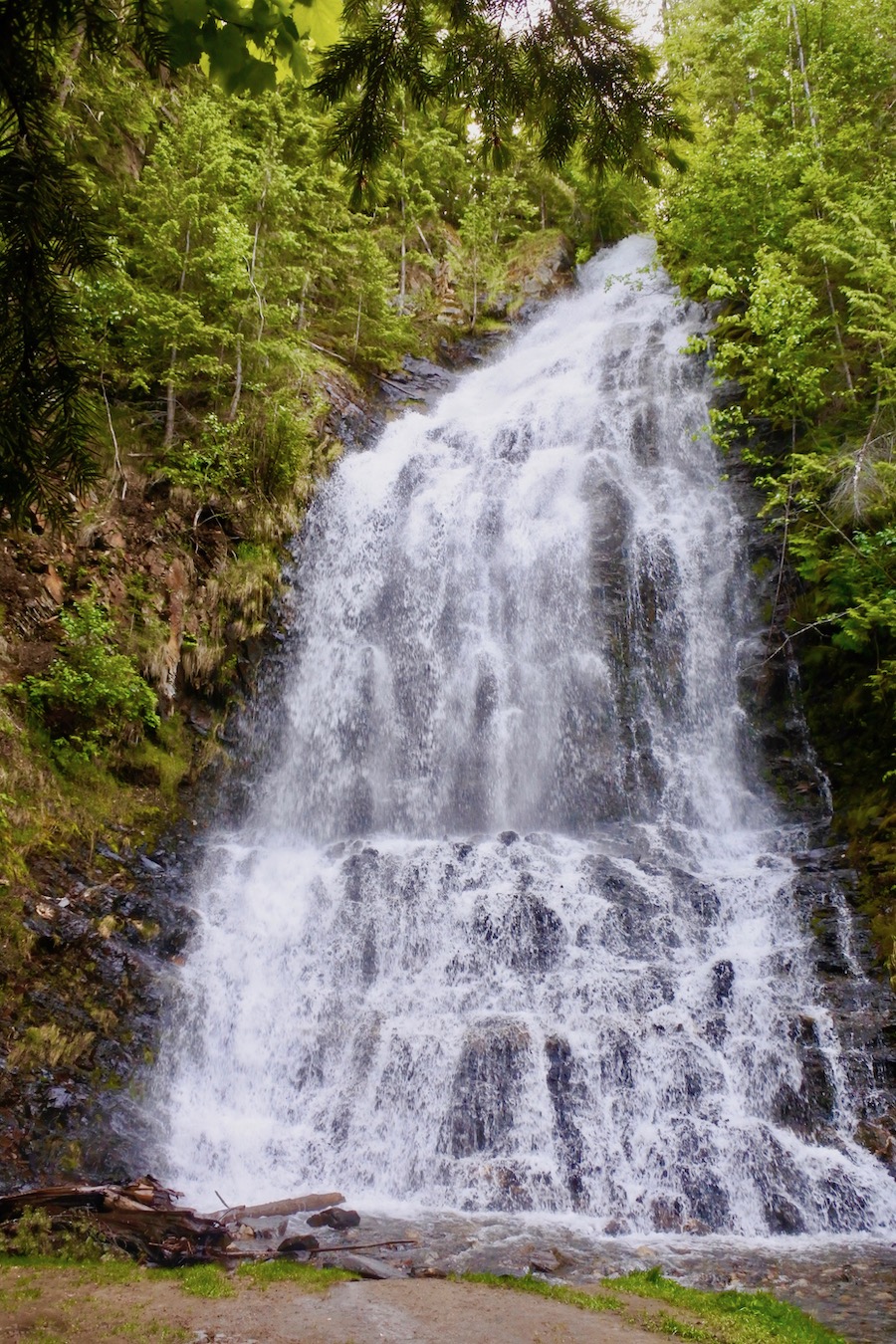 Ione Falls near Nakusp, photo by Heidi Korven
Mt. Revelstoke National Park – Giant Cedars Boardwalk Trail and Skunk Cabbage Boardwalk

If you need a little perspective on life, walk amongst giants — in this case the old-growth cedars and giant skunk cabbages of Mt. Revelstoke National Park. Both boardwalk strolls are right off the Trans-Canada Highway (Hwy 1) and both make visitors feel like they're kilometres away. The Giant Cedars Boardwalk loops you through trees that took root during the days of Christopher Columbus. Choose this walk to experience Kootenay old-growth and its overwhelming scale.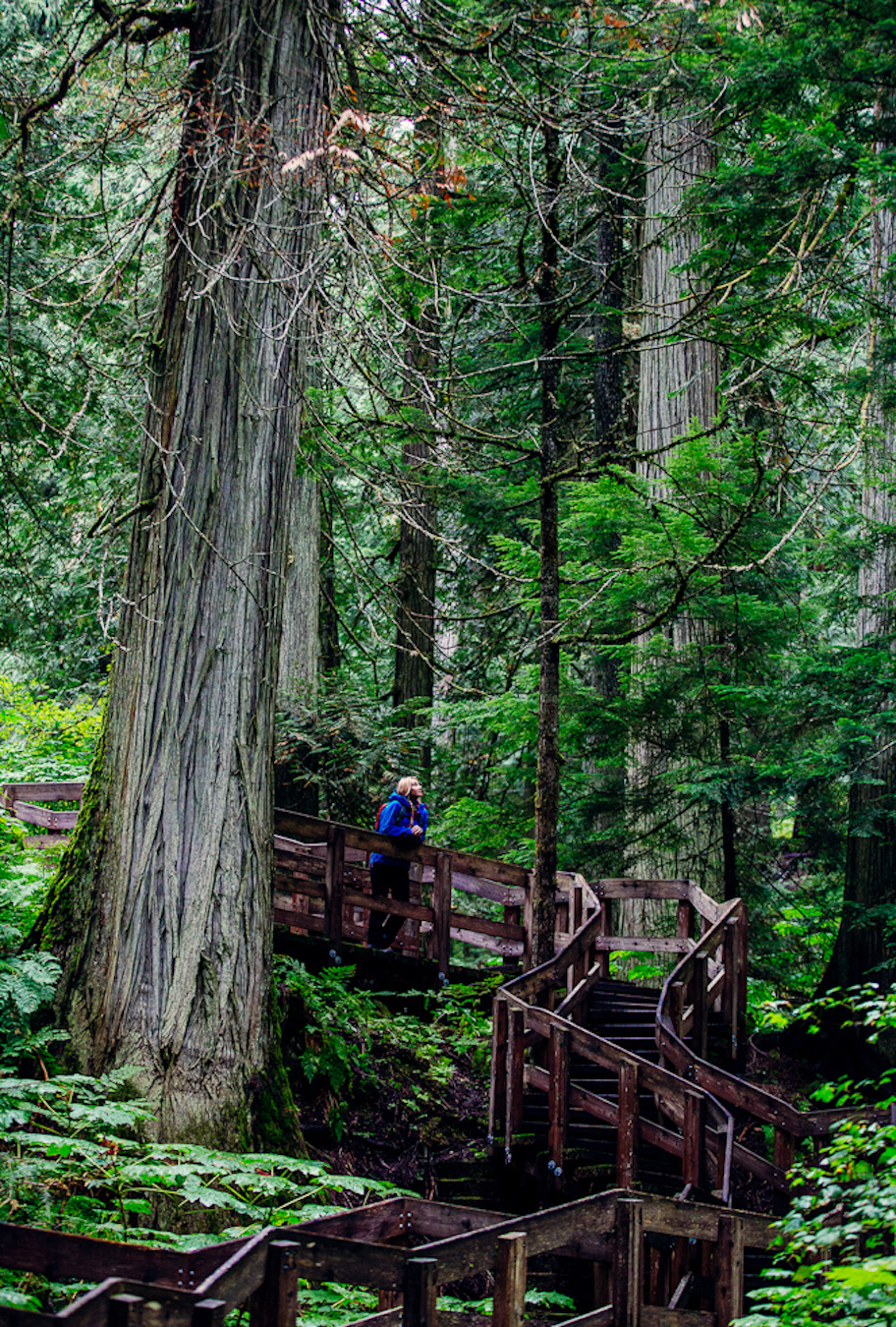 Giant Cedars Boardwalk in Mt. Revelstoke National Park, photo by Ryan Creary
The Skunk Cabbage Boardwalk is similar: when the plants are in bloom, you might be overpowered, but by their smell — and that's part of the draw. When they aren't in bloom, their massive size still impresses. This boardwalk also gives visitors a chance to examine a valley bottom wetland, categorized as the rarest environment in the Columbia Mountains. The wetland is home to the greatest diversity of plants and animals, serving as B.C.'s first research grounds for nesting songbirds — many which migrate from tropical climes.
Golden | Glacier National Park
If you and your road trip crew are in need of a quick but adventurous trail, this is the one. The Rockgarden Trail takes about thirty minutes to do round trip (with time for glacial views factored in). The young and young-at-heart will appreciate the non-mandatory (but fun) opportunities for scrambling over boulders. Though the trail has a short steep section, overall, the path is accessible for most people. Make sure you have proper footwear; it's a rugged trail and slippery in wet weather.
Other note-worthy pit-stops on 'Side-Trips'
– Heading east on Highway 3 stop to check out the Terex Truck in Sparwood – it is the world's largest tandem axle dump truck and could carry 350 tonnes during its operation in one of the area's coal mines.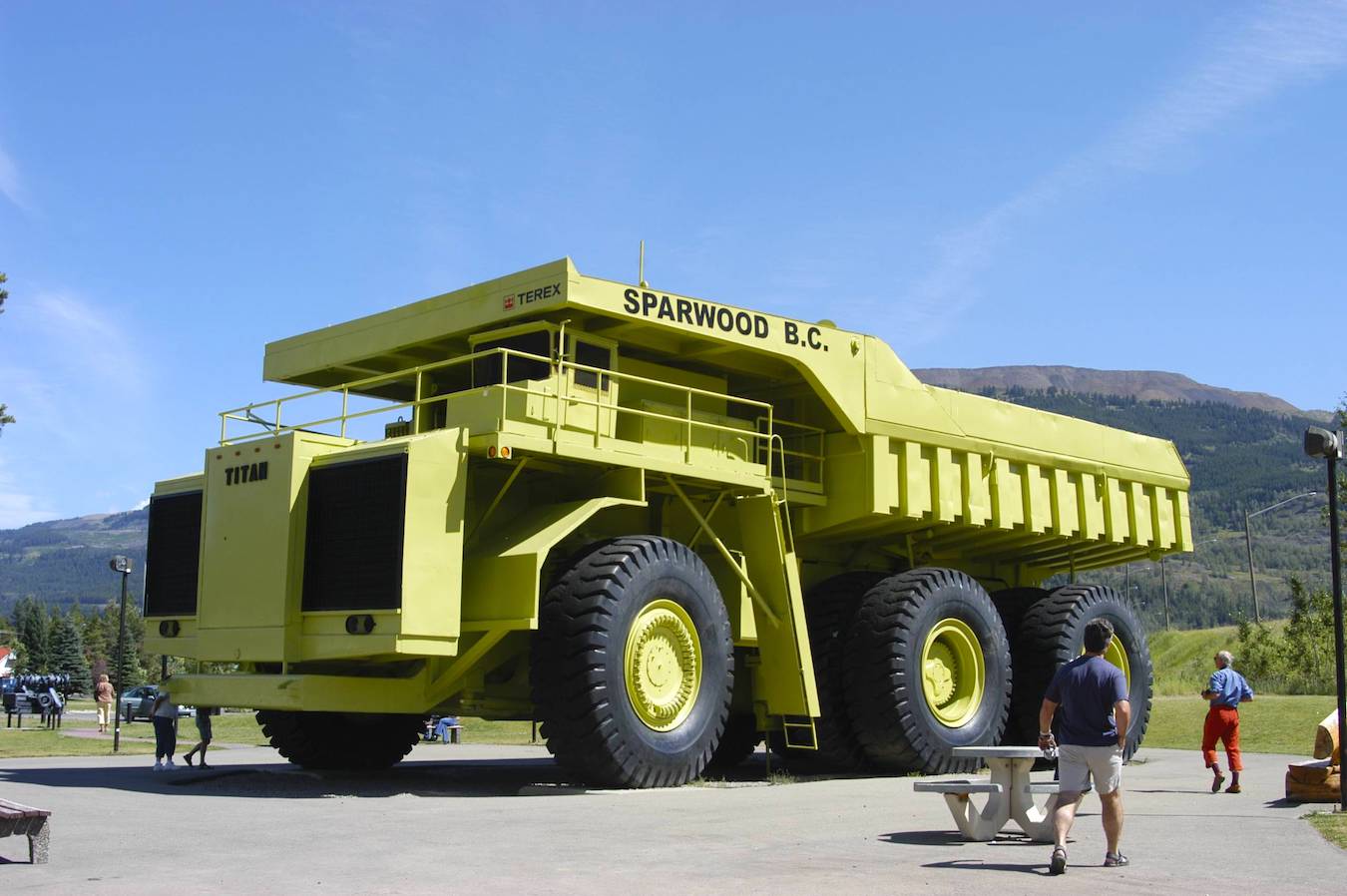 Terex Titan Truck in Sparwood, photo by Don Weixl
– In Castlegar (south-east of Nelson on Highway 3A) be sure to explore their downtown centre and walk the streets to admire their SculptureWalk (a rotating exhibition of sculptures by local and international artisans).  And if you wish to do more exploring a hike around Zuckerberg Island is an ideal option.
Know Before You Go – Plan ahead so you can travel safely and responsibly. Familiarize yourself with weather, road conditions, general alerts for travellers and provincial health orders & recommendations.
Related Stories
~ 4 Reasons to Drive BC's Hidden Route: The Slocan Valley
~ Accessible Trails in the Kootenays
~ Celebration 100+ Years in Kootenay National Park
~ Colossal Things to Do & See in the Kootenays
~ Cool Ways to Travel in the Kootenays
~ Cruising Down an Open Highway: Planning a Kootenay Road Trip
~ Follow the Trail: Kootenay Hiking Adventures
~ Funky Kootenay Fun Facts
~ Kootenay Ambassadors: Mindful Explorers
~ Kootenay Made
~ Make the Most of Your Kootenay Rockies Getaway
~ Outdoor Adventures: Unique to the Kootenays
~ Quirky Attractions Only Found in the Kootenays
~ Stewards of the Land: Positive Effects
~ We Are All Connected
~ Wet your Whistle: Along a Kootenay Road Trip
Top/cover photo by Ryan Creary at Giant Cedars Boardwalk in Mt. Revelstoke National Park.
Please tag your images with @KootRocks on Instagram to be featured in a future social post.  For travel deals and specials – sign up for our Consumer Travellers Newsletter.