With a population that is 7,000 strong, the community of Castlegar harbours a deeply rooted desire to nurture burgeoning artists, all while encouraging enthusiasts to take it outside. Castlegar's Sculpturewalk is the "Sculpture Capital of Canada"; a collection of local and international works artfully displayed throughout the city's parks and plazas.  They welcome art-minded visitors and locals out-of-doors to view these one-of-a-kind and sometimes, surprising sculptures.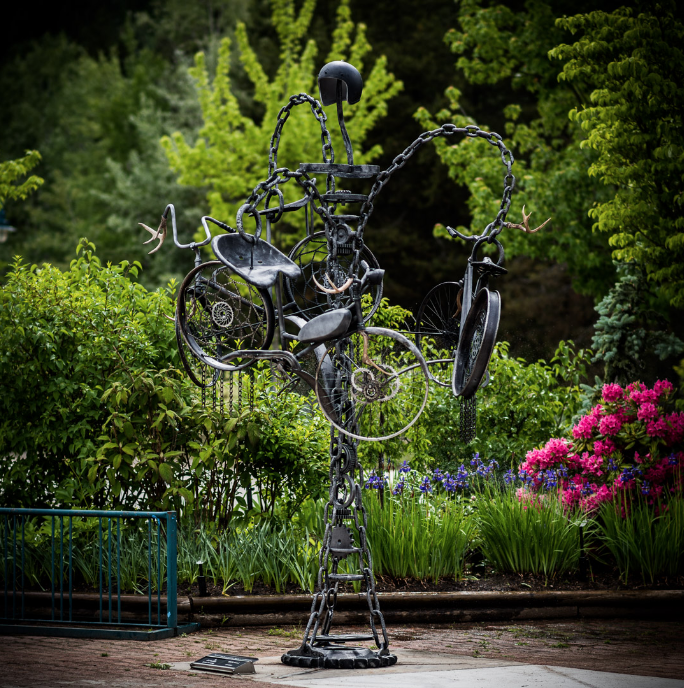 "Share the Road" by Alexis Mainland (Featured in 2016); Photo by David Gluns
The masterpieces are on loan and will be showcased with one sculpture ultimately selected by the locals (The People's Choice Award,) as a permanent landmark within the community.  The annually event attracts local, regional and international world-class sculptural talent to be showcased in Castlegar, BC.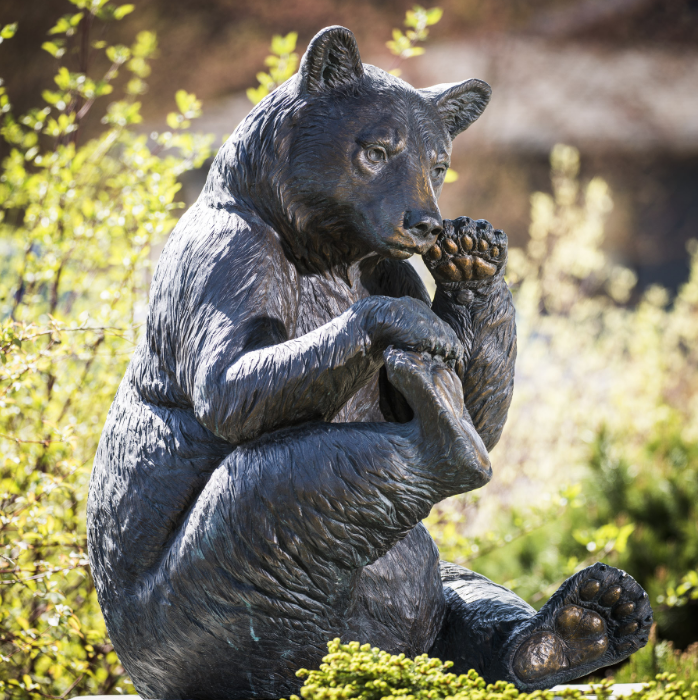 "Big Flirt" by Christine Knapp (Featured in 2018); Photo by David Gluns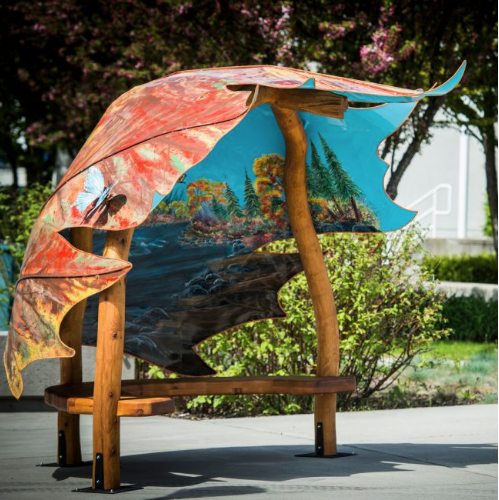 "Maple Leaf" by Mary Macnicol, Chris Perepolkin, Geoff Verigin & Peter Wulowka (Featured in 2017); Photo by David Gluns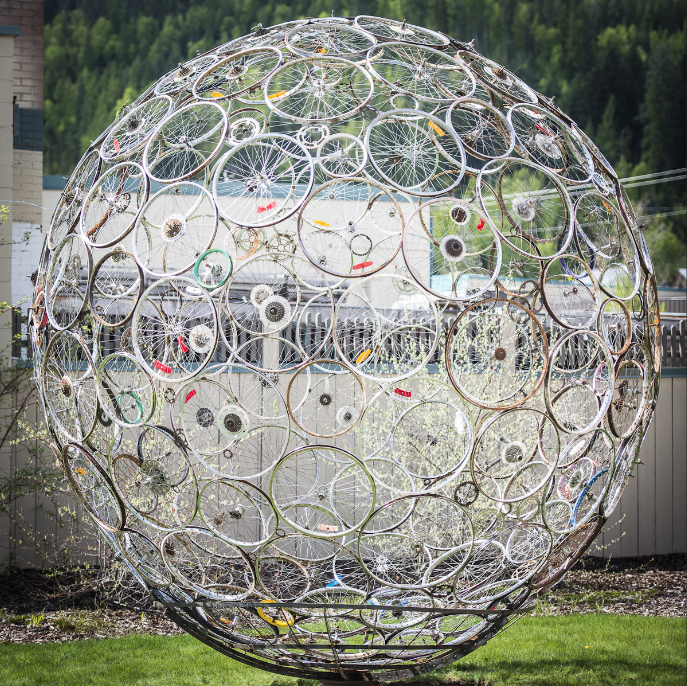 "Sphere of Influcence by Carl Schlichting; Photo by David Gluns
~ This was purchased by the community Rossland and is featured in the down centre
Want to keep walking? Stroll the landscape of nearby Zuckerberg Island Heritage Park, with its swath of pretty parkland, suspension bridge and a unique Russian Orthodox country chapel, built by the park's namesake, the late Alexander Zuckerberg, to celebrate his family's heritage.
Come explore the Sculpture Capitol of Canada, in Castlegar, BC.
~ Take extra time to research and plan your trip in advance. Many of our tourism businesses and services have adopted new COVID-19 protocols and changes to their schedules or policies to ensure your safety. You'll want to become familiar with them ahead of time.
~ If you normally travel with extended family or with several friends, consider travelling in a smaller group. Travelling with fewer people makes it easier for you to practise physical distancing in public, and may have less of an impact on the destination.
~ Consider a slower travel pace to help curb the spread. Instead of checking in and out of multiple destinations during one trip, choose one or two destinations and one/two accommodation properties for your entire trip (and explore all the things to do & see nearby).
Related Stories
~ Funky Kootenay Fun Facts
~ Kootenay Made
~ Out Your Back Door: Kootenay Community Treks
~ Quirky Attractions Only Found in the Kootenays
Story by Destination BC.  Top/cover artwork by David Ducharme "Equilibrium" (from 2018); photo by David Gluns.
Please tag your images with #KootRocks on Instagram or Facebook to be featured in future stories.
(Original published date in May 2016.)