The Kootenays hold colossal secrets — the kind that end in a discovery you'll want to share. And while some of the secrets listed below are well-known in certain circles, read up: you'll likely find (or learn) something new.
Without further ado, here are the "things to do & see" with big reputations, gigantic thrills or massive views that can be found in the Kootenays. Be sure to add these colossal attractions to your bucket-list for your trip or re-visit to the Kootenay Rockies (listed in alphabetical order):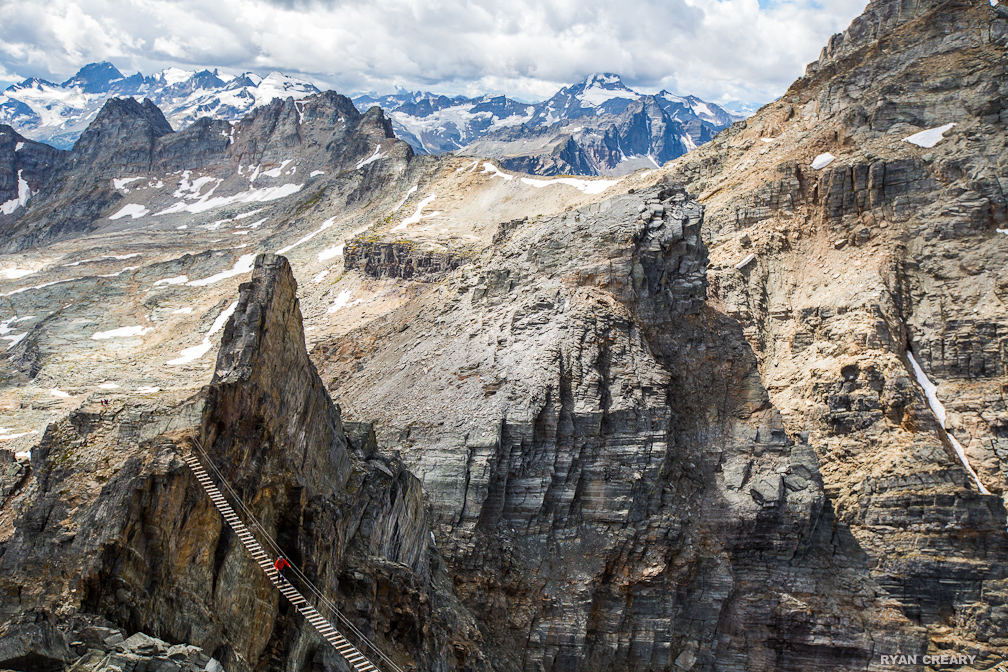 Via Ferrata at Mt. Nimbus with CMH Summer Adventures; photo by Ryan Creary
Birthplace of Heli & Cat Skiing
The birth of heli-skiing took place in 1965 by Hans Gmoser, Canadian Mountain Holidays (CMH) in our Purcell mountains.  Now, CMH has 10 alpine lodges in the region, plus two additional lodges in BC. While, cat-skiing was pioneered in 1975 by Allan and Brenda Drury, Selkirk Snowcat Skiing (formerly Selkirk Wilderness Skiing) is located in the small community of Meadow Creek (north of Nelson). Today, the Powder Highway is home to 15 cat-ski and 19 heli-ski operators in the region.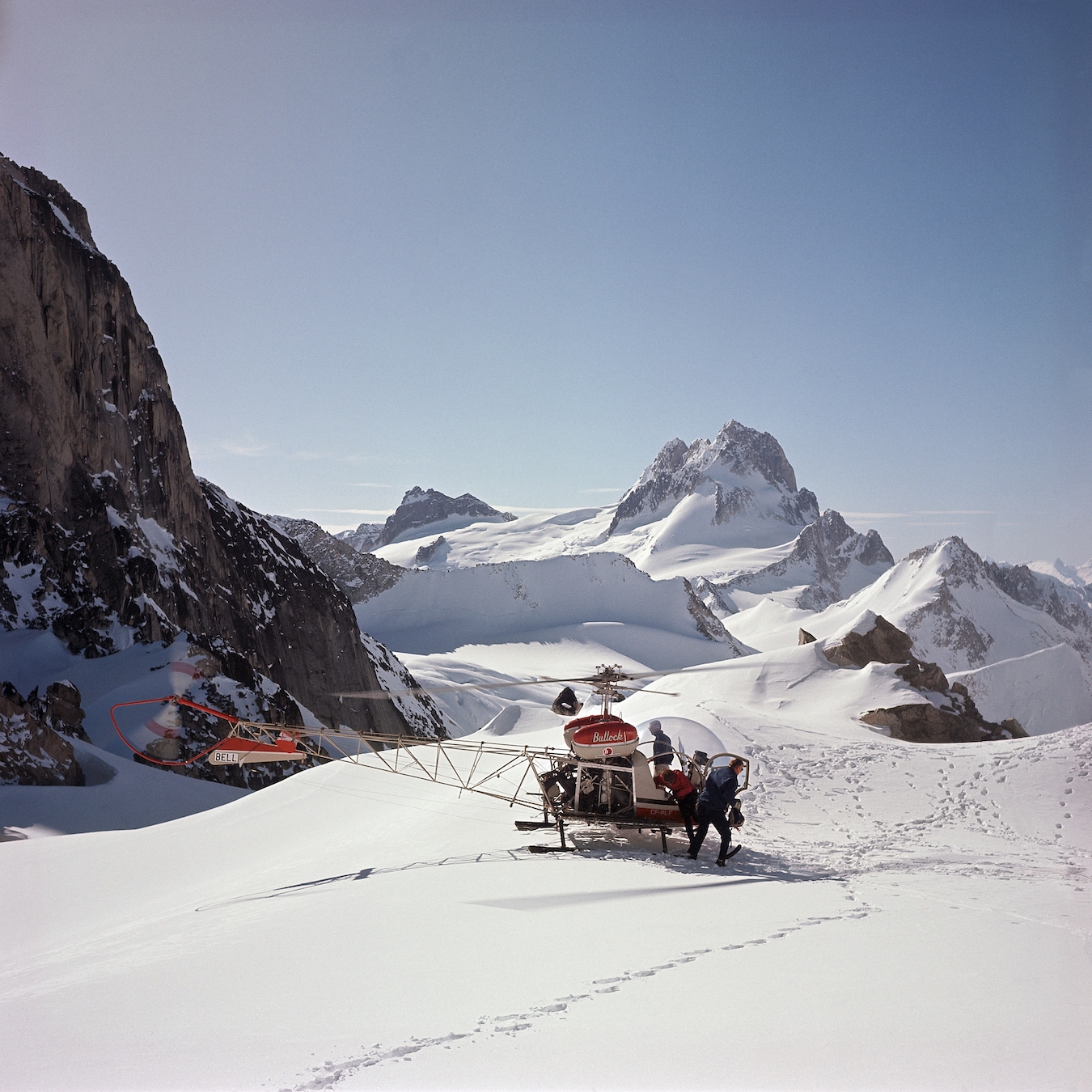 Vintage helicopter skiing with CMH Heli Skiing; photo courtesy of CMH
Columbia River
(Headwaters at Columbia Lake/Canal Flats)
The first time I saw the Columbia River snaking through the valley near Invermere, BC, I had no idea it was the same mighty river that flowed to the Pacific, the same river that Lewis and Clark once explored. All I knew was that the way the sun and clouds played with the snaking water was spellbinding. Later, on a road trip in the same area with a native British Columbian, I learned I had been standing near the headwaters of the fourth largest river in North America. Now you'll know when you go.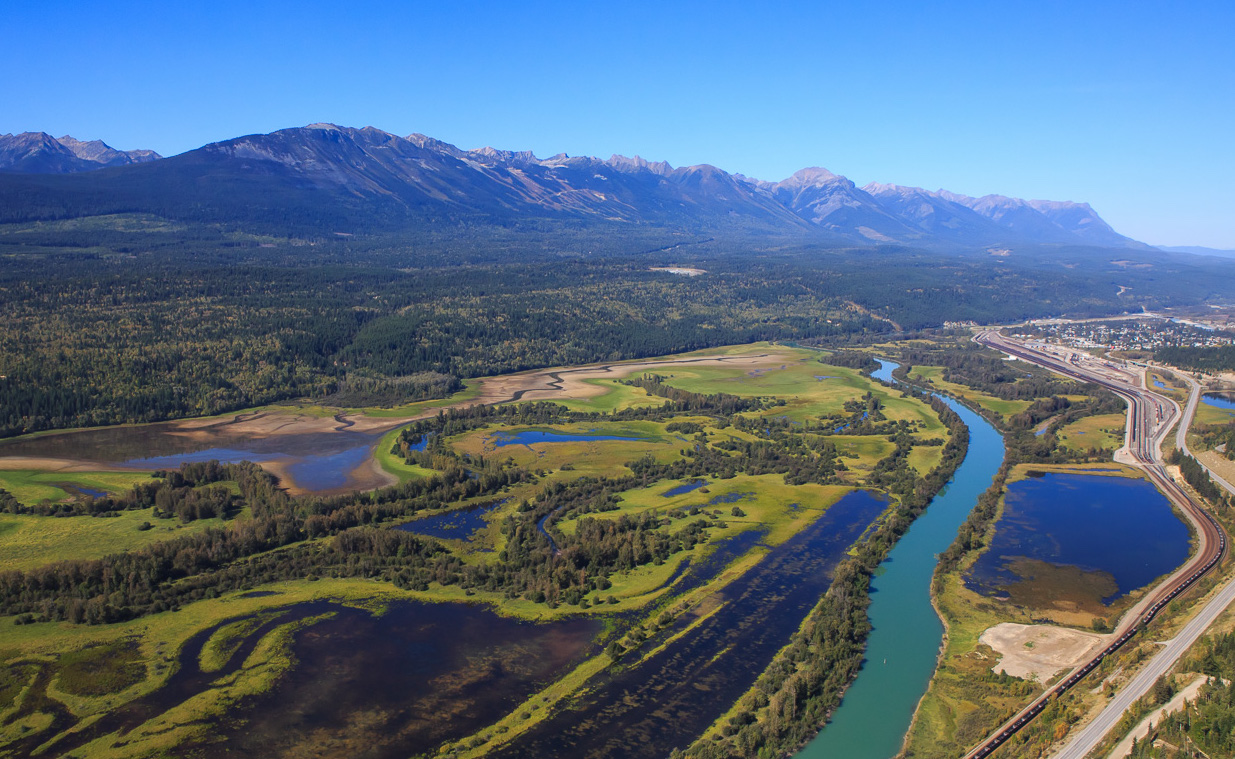 Columbia River Wetlands near Golden, BC; photo by Dave Best
Cycling the International Selkirk Loop
Over 200-km of the 450-km US-Canadian International Selkirk Loop resides within the Kootenay Lake region. Extend the main route with one of the 'Super Side Trips' options and you'll get even more time in the larger Kootenay region: three of the six options are either partially or entirely within the Kootenays. Either way, your chosen route will lead you through glacial valleys, alongside rivers, past lakesides, and always within view of the Selkirk Mountains. The best time to take this on is before or after high season (late June – August).
Giant Cedars Boardwalk in Mt. Revelstoke National Park
If you want easy access to BC's famed old-growth cedars, this stop, right along the highway in Mount Revelstoke National Park is the place to come. A boardwalk with interpretive signs winds through 500-year-old cedars; their imposing presence makes you feel ages away from the present day. (Boardwalk is temporarily closed in 2022, due to boardwalk damage from last winter's snow.)
The Great Divide in Kootenay National Park
The Great Divide Trail, called 'one of the most spectacular and challenging long distance trails on the planet', travels through the Rocky Mountains that make up the lower provincial border between Alberta and British Columbia. Roughly half of the 1,100-km trail traces the Kootenay section of the Rockies, crisscrossing back and forth as it works through a vast mountain wilderness.
As you perch 130-metres (426 ft.) above an expansive canyon, engulfed by the Columbia Valley, the epic views from Golden's newest, must-visit attraction will take your breath away. The Golden Skybridge rewards with views of the Rocky and Purcell mountain ranges like you've never seen before, while a crashing river and 61-metres (200 ft.) waterfall thunders below.
The new bridge will also be part of a three-kilometers (about 1.9 mile) nature walk and include viewing platforms so guests can have a 360-degree view of the picturesque landscape. The ends of the trail will be marked by an outdoor courtyard and café to refresh yourself before and after your journey.
Ante up your adventure – take a breath and prepare for the adrenaline-spiking plunge as you free-fall over the canyon edge, take another breath, and the bungee kicks in. Then feel the rush and enjoy the view above and beyond, while soaring across the canyon floor. Or experience ziplining across the canyon – promising a thrilling ride!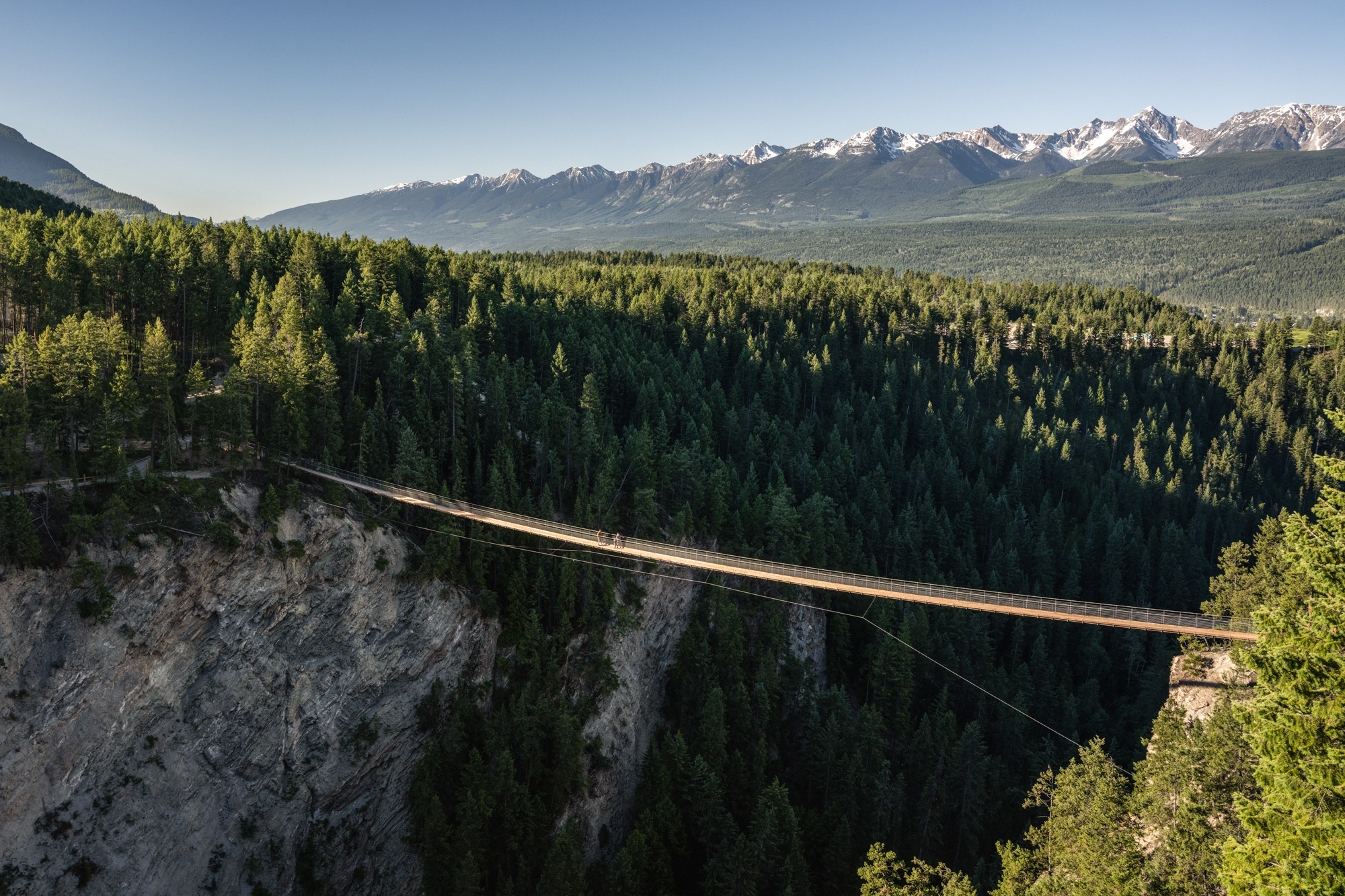 Kootenay-Columbia Discover Centre
This 17,000 acre area along the Kootenay River protects habitat for over 300 species of birds. It's also home to nearly 100 other, non-avian creatures, including one of only two known breeding populations of the northern leopard frog in BC.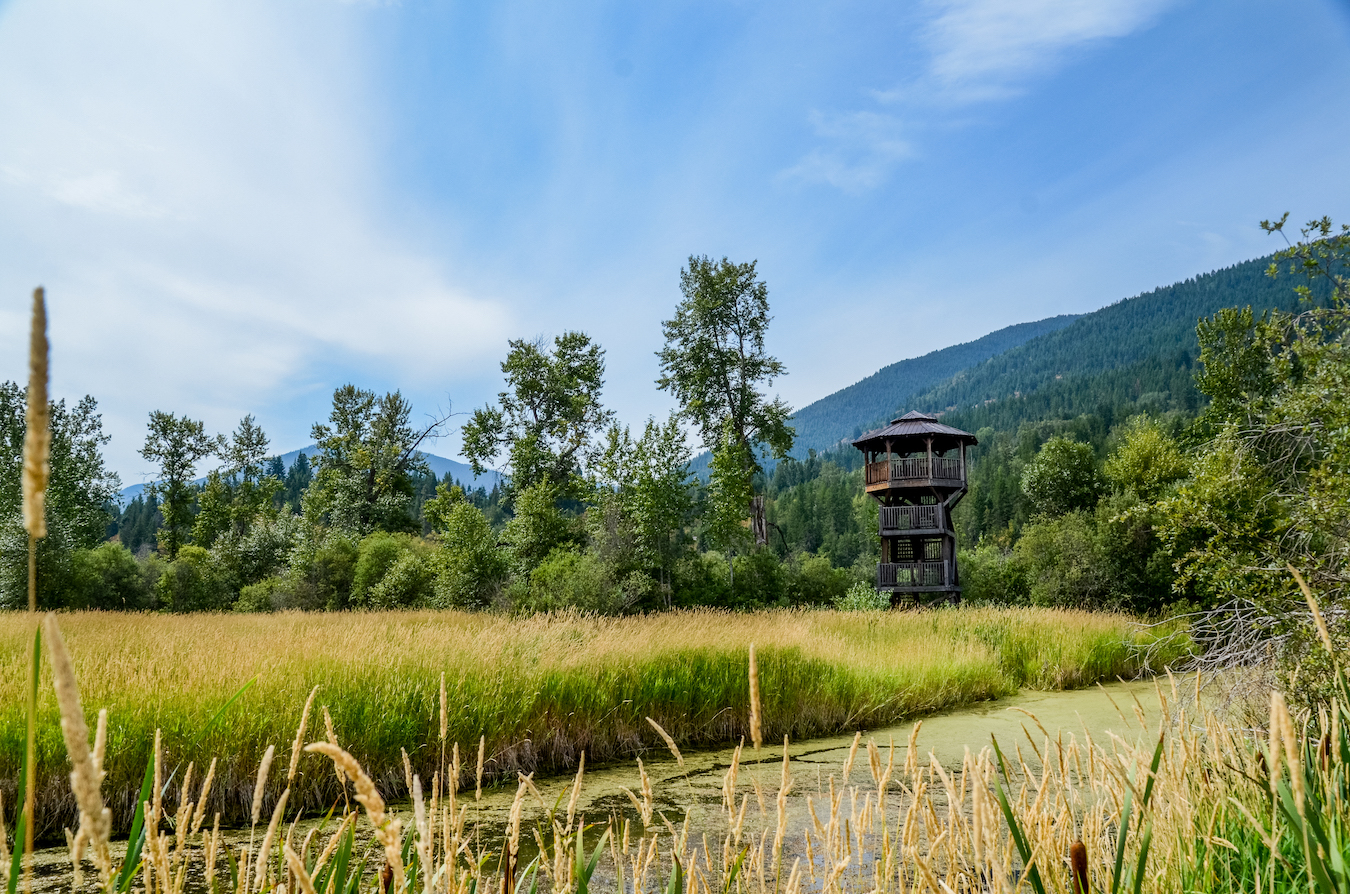 Creston's Kootenay-Columbia Discovery Centre; photo by Jeff Banman
Kootenay Lake Ferry
Crossing Kootenay Lake between Balfour and Kootenay Bay, this ride is the longest free scenic ferry in the world. You can sit in your car while crossing, but with seats on deck and a view that is 360-degrees of spectacular, even travellers in winter get out to catch a glimpse.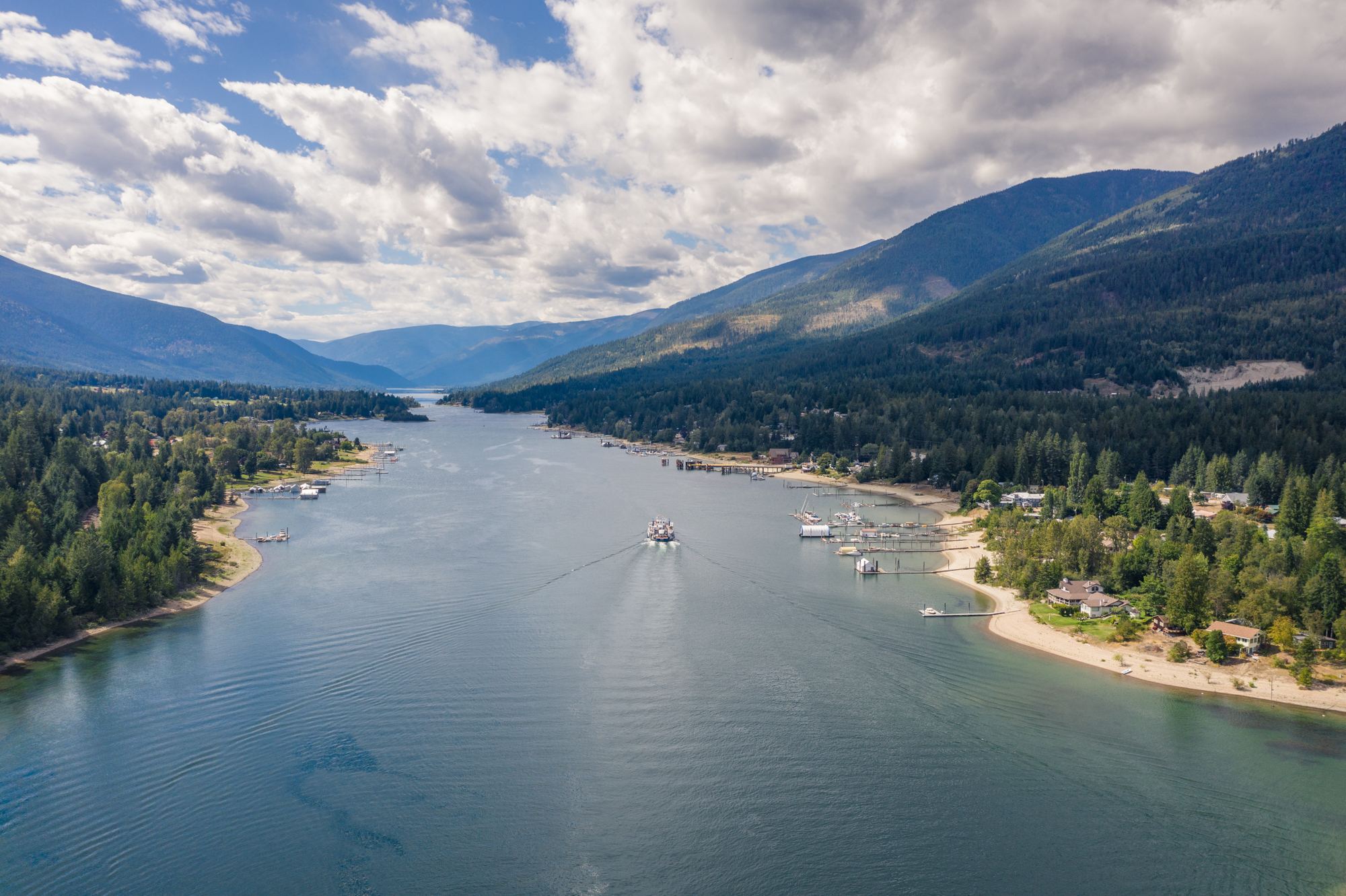 Kootenay Rockies Hot Springs
Most hot springs in Canada occur in British Columbia, and the Kootenays is blessed with one of the highest concentration of these natural mineral pools. Soothe your spirit in these legendary natural mineral pools.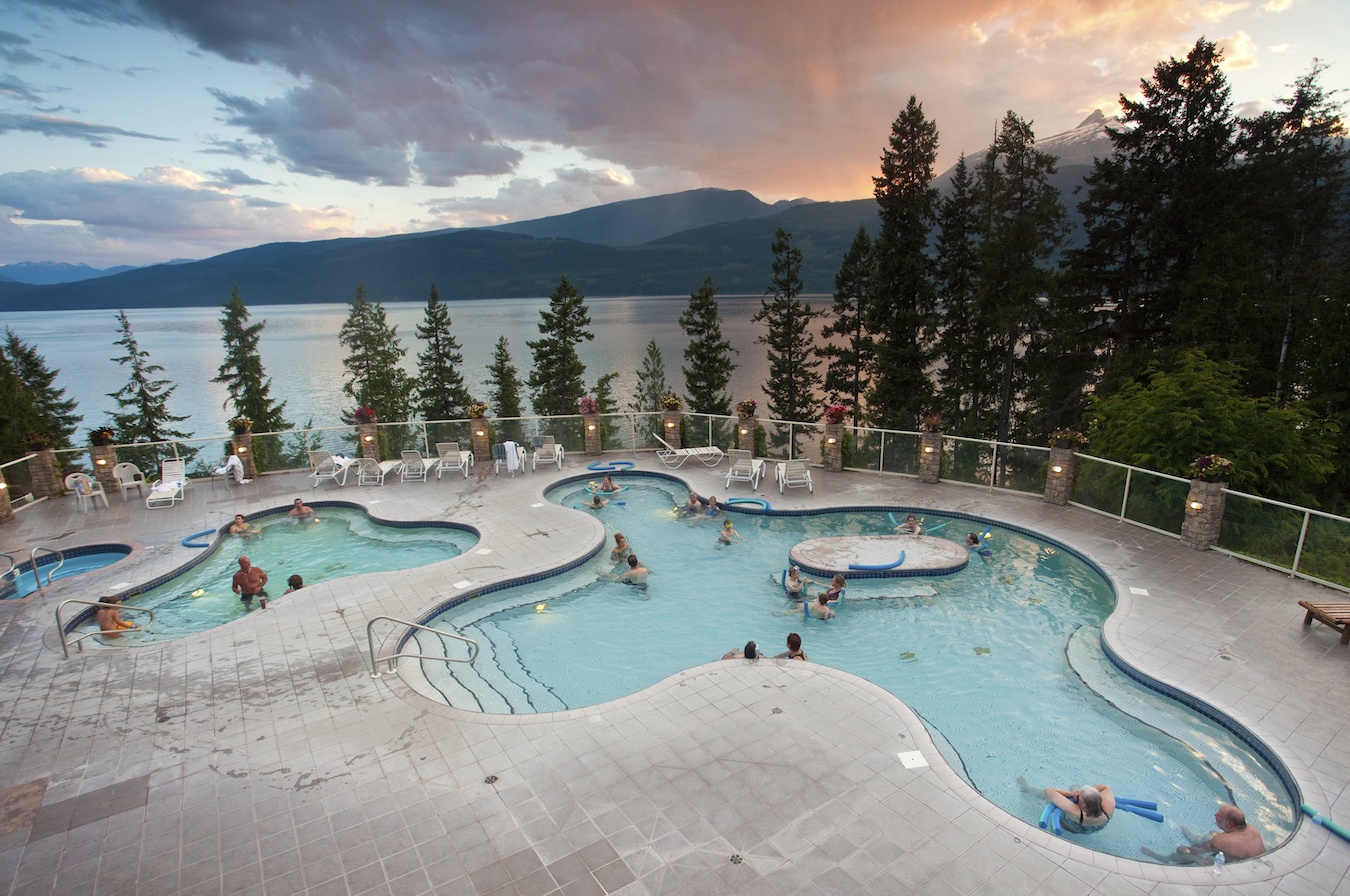 Halcyon Hot Springs Resort in the Slocan Valley; photo by Andrew Penner
Kootenay Rockies Provincial & National Parks
The Kootenays is home to four National Parks and over 75 Provincial Parks Canada's natural treasures are protected forever in these parks. Burgess Shale, Kootenay & Yoho national parks are included in the Canadian Rocky Mountain Parks UNESCO World Heritage Site. Plus, you'll find roadside picnic spots, vast areas of unspoiled wilderness and everything in between.
The total protected area in our corner of BC is 10,406 km2.  The Kootenays is home to 76 protected areas (608,000 hectares), including four National Parks and 75+ Provincial Parks.  Get ready to roam!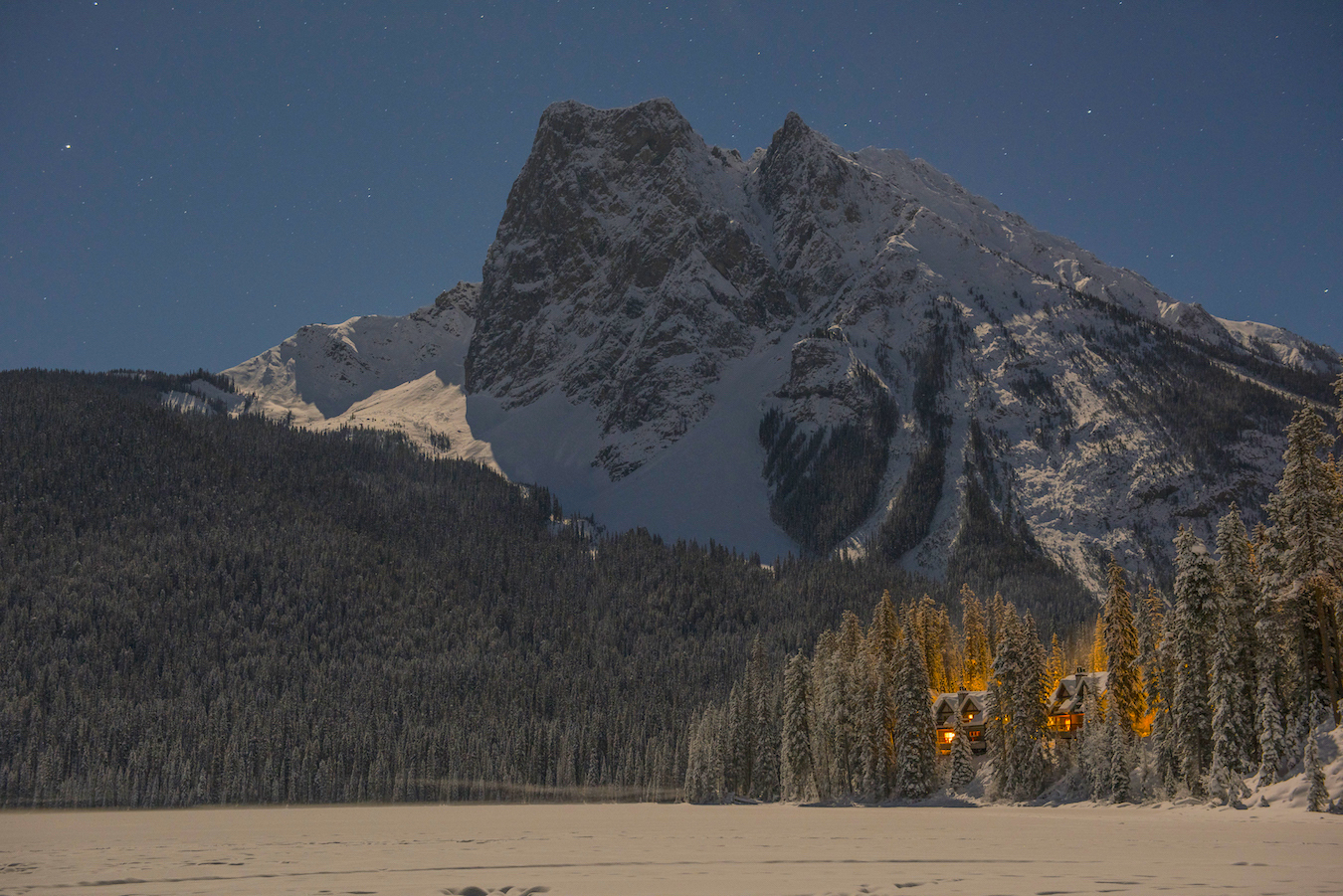 Emerald Lake Lodge in Yoho National Park; photo by Kari Medig
Meadows in the Sky Parkway in Mt. Revelstoke National Park
"A 26-km well paved, winding road brings you to one of the most beautiful views in the world — the summit of Mt. Revelstoke," says Revelstoke local, Meghan Tabor of the scenic drive in Mount Revelstoke National Park.
The approach moves from the Trans-Canada Highway at an elevation of 470-metres to the 1,835-metre summit. The journey doesn't just include mountain views: you'll pass through forests of cedar, hemlock, spruce, and fir before finding yourself at the summit's Balsam Lake. "And if you catch it just right, you'll be engulfed in the infamous alpine wildflowers."
Mica and Revelstoke Dams
About half of BC Hydro's total power generation comes from the Columbia River region in the Kootenays, and within that region, the two largest dams are the Mica and Revelstoke Generating Stations. The Mica dam stands 244-metres above ground while the Revelstoke reaches 175-metres in height. The latter has a seasonal visitor centre that showcases First Nations galleries and interactive displays.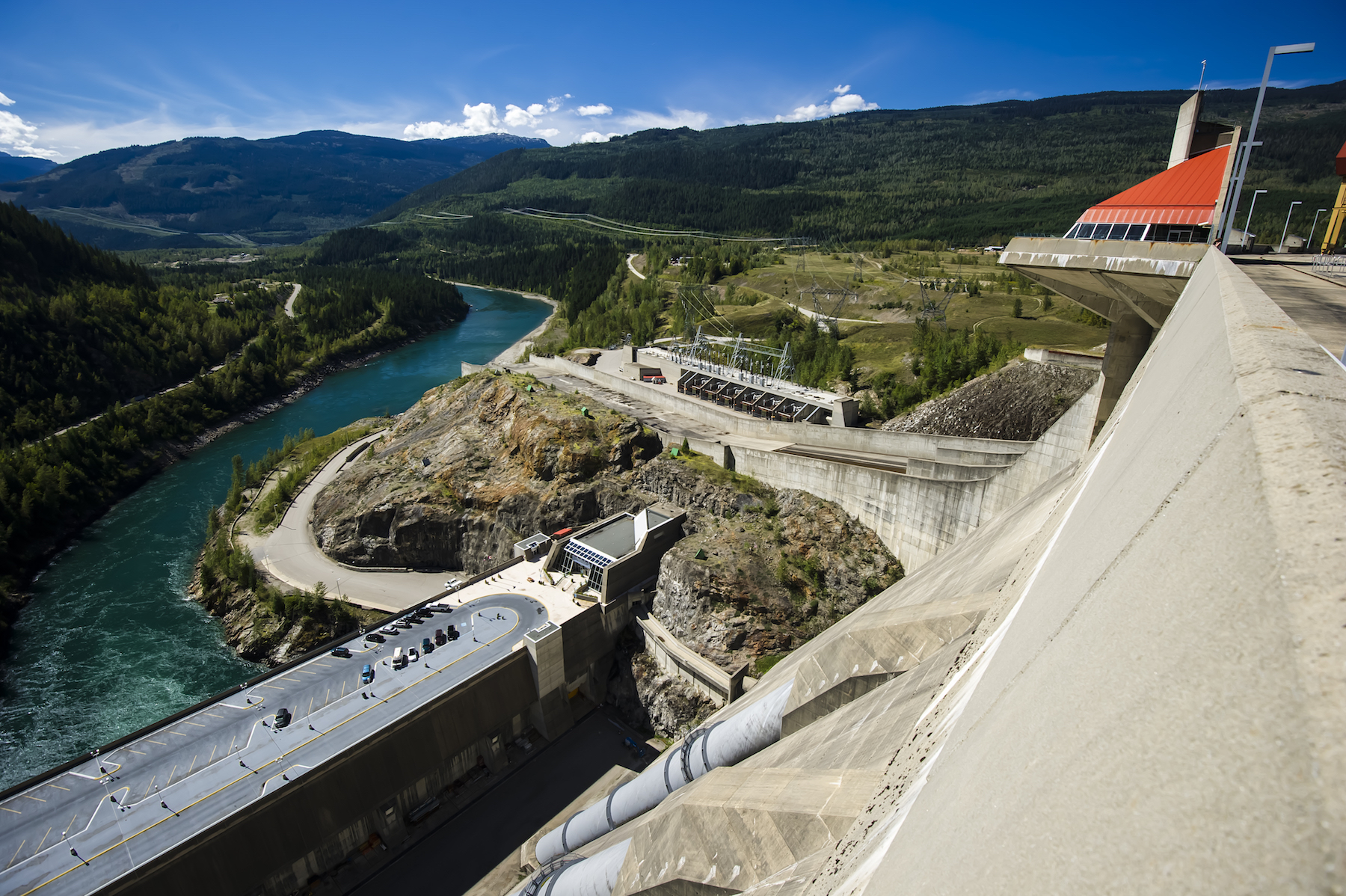 Revelstoke Mica Dam, photo by Bruno Long 
Mount Sir Donald in Glacier National Park
Named after Donald A. Smith who, in 1885, drove the last spike in the coast-to-coast  Canadian Pacific Railway, this peak is the highest along the entire Trans-Canada Highway in Glacier National Park and regarded as one of the 'Fifty Classic Climbs of North America' by the climbing and mountaineering community.
Mount Sir Sandford
Though sites rank this Selkirk peak anywhere from the 12th highest peak in BC to the 21st highest peak, one thing is certain: In Canada, Mount Sir Sandford ranks in the 'top 10' for the county's ultra-prominent peaks. To make this list, a peak must reach or exceed 1,500-metres in height (or prominence) above its surroundings, including the summits of surrounding mountains. In short, Mount Sir Sandford commands attention on the skyline.
The Powder  Highway
With over 7+ million acres (2.8+ million hectares) and 100 ski operators serving up deep, dry powder, the Kootenay region is belted in by all the elements needed to deliver top notch product for snowsports enthusiasts year after year. For skiers and snowboarders everywhere, this translates into the Kootenay region being one of the world's most sought-after powder meccas (not to mention the highest concentration of skiing and riding in the WORLD).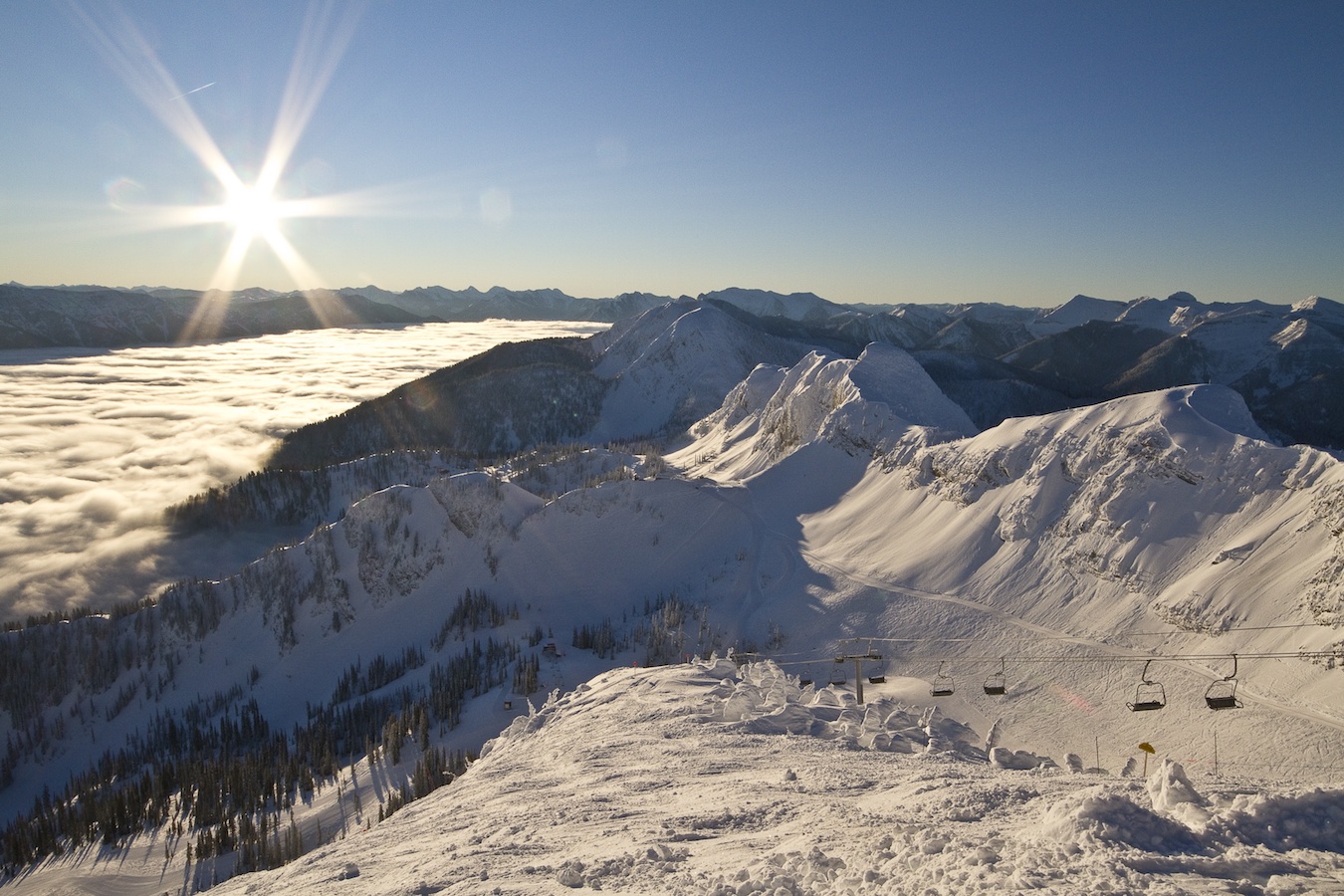 Views from the top of the Fernie Alpine Resort; photo by Henry Georgi
Radium Hot Springs Roundout – Art Installation
The art, aptly named Bighorns, is in the centre of Radium's recently completed roundabout (2021).  At a breathtaking 6 metres (20 ft.) tall, 15 metres (40 ft.) wide, and 6 metres (20 ft.) deep, the COR10 weathering steel is three dimensional and designed to be visible from all entryways to Radium Hot Springs. With lighting as a key component for prominence, the art will leave a lasting impression on residents and visitors alike.
Revelstoke Mountain Resort
If you want the most vertical of your friends next winter season, get your pass at Revelstoke Mountain Resort and get your legs ready for the laps; the resort holds the title for North America's greatest ski resort vertical at 1,713-metres.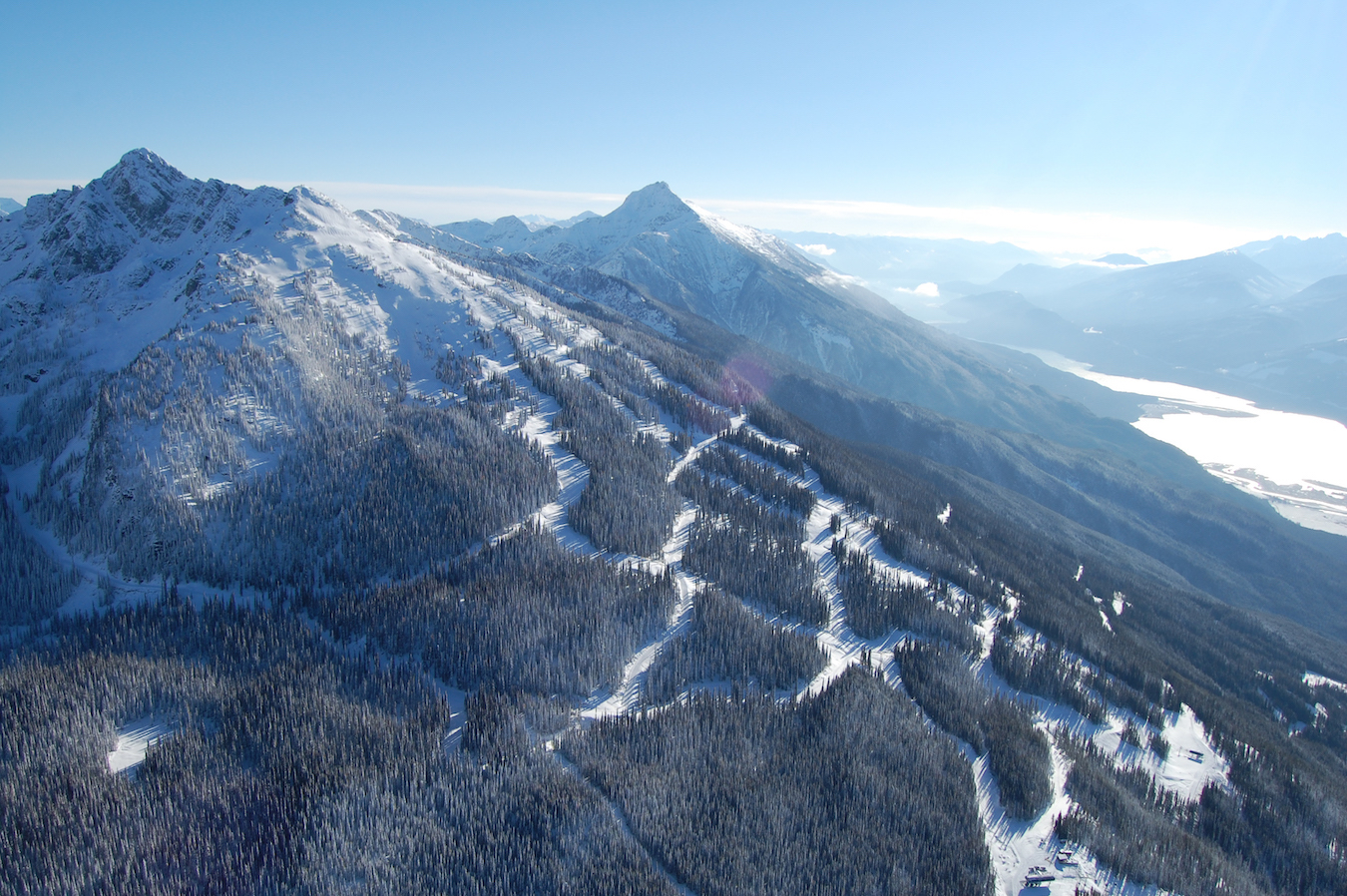 Revelstoke Mountain Resort; photo courtesy of the Resort
Rossland's Seven Summits Trail
This trail qualifies as an International Mountain Bicycling Association (IMBA) 'Epic', one of only a few mountain bike trails worldwide to be designated as such. According to the IMBA, a trail must be a "…true backcountry riding experience–one that is technically and physically challenging, more than 80% single-track and at least [32-km] in length." Climbing nearly 915 metres over 35-kms, the technical single-track climbs ridgelines and descends over views of the Columbia River Valley. 
Takakkaw Falls in Yoho National Park
Tumbling 254-metres in a single stretch and 384-metres in total, Yoho National Park's Takakkaw Falls is Canada's second highest falls. To really experience the power of these falls, extend the main walk in on the unpaved trail that ends in a scramble up to the base. You may want to leave an extra set of dry clothes — and your camera — back at the car for this extension; you will get soaked. And it will be worth it.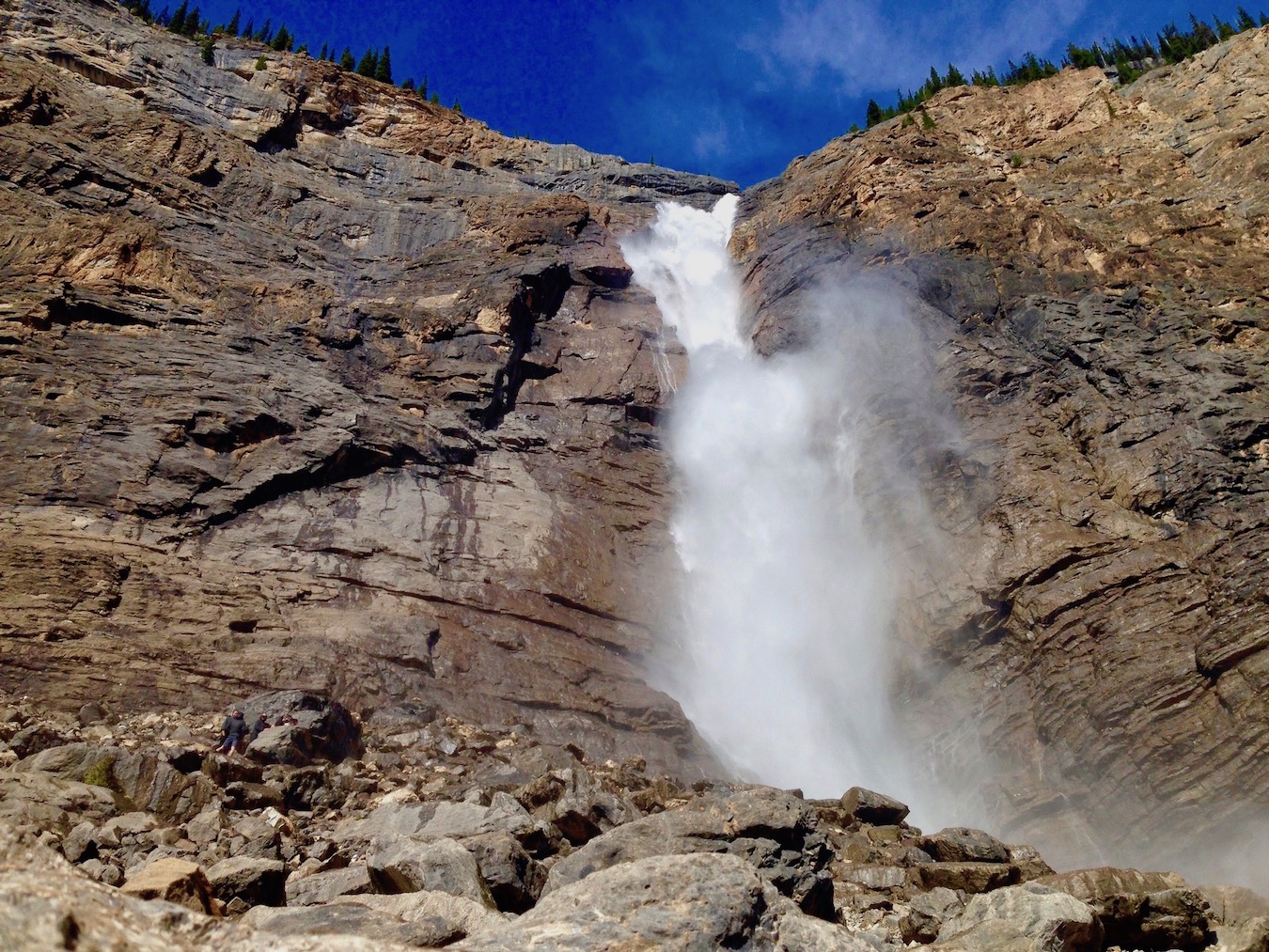 Takakkaw Falls in Yoho National Park; photo by Heidi Korven
Via Ferratas
A via ferrata will have you literally clinging to the side of the mountain. If that's your cup of tea (and for many visitors to the Kootenays, it is), then you're ready for the via ferratas at Kicking Horse Mountain Resort and CMH's Bobbie Burns/Bugaboo lodges (all three are located in our Purcell Mountains, near Golden). With Mt. Nimbus with CMH Summer Adventures offering North America's longest via ferrata.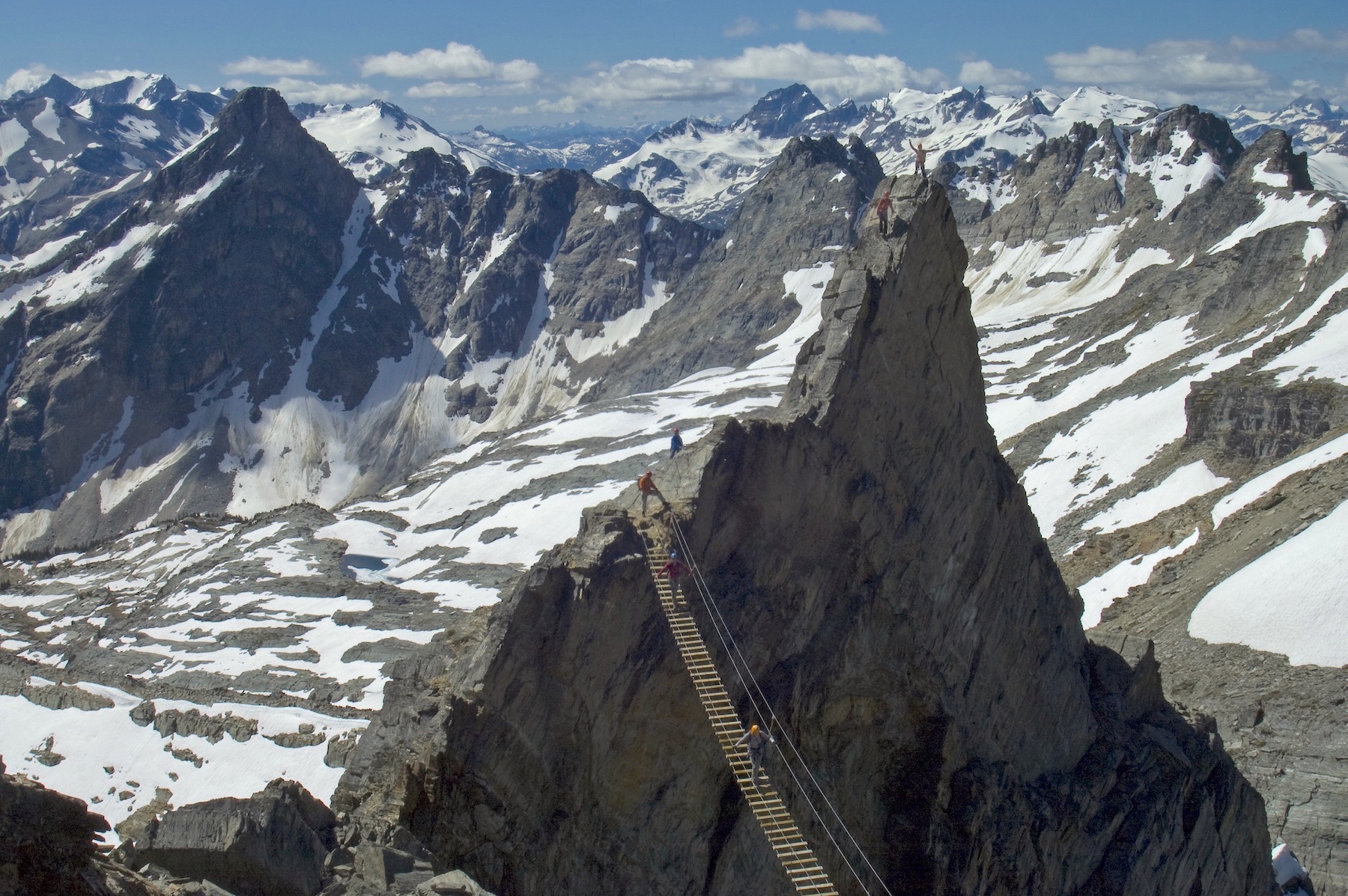 Mt. Nimbus at CMH Bobbie Burns Lodge; photo courtesy of CMH Heli Adventures
Other Honourable Mentions (as requested by our Fans/Followers)
~ The Enchanted Forest's Tallest Treehouse in BC (west of Revelstoke)
~ Fisher Peak in our Canadian Rockies (near Cranbrook & Kimberley)
~ Monica Meadows in our Purcell Mountains (east of Kaslo)
~ The Pipe Mountain Coaster at Revelstoke Mountain Resort
~ Terex Titan Truck in Sparwood, BC

Know Before You Go – Plan ahead so you can travel safely and responsibly. Familiarize yourself with weather, road conditions, general alerts for travellers and provincial health orders & recommendations.
Related Stories
~ Cool Ways to Travel in the Kootenays
~ Cruise the Open Highway: Planning a Kootenay Road Trip
~ Funky Kootenay Fun Facts
~ Kootenay Made
~ Legendary Kootenay Attractions – Not to be Missed this Summer
~ Pit Stops for a Kootenay Road Trip
~ Quirky Attractions Only Found in the Kootenays
~ Scaling Kootenay Heights