Are you up for a challenge? Good – the Kootenays are ready for you, too. From mountain biking to white-water kayaking, all throughout this mountainous region are places to put your coordination, balance, and bravery to the test. But if you're looking for an adrenaline rush in nature with some structure built in, it's time to try one of the area's ropes courses, via ferratas or ziplines.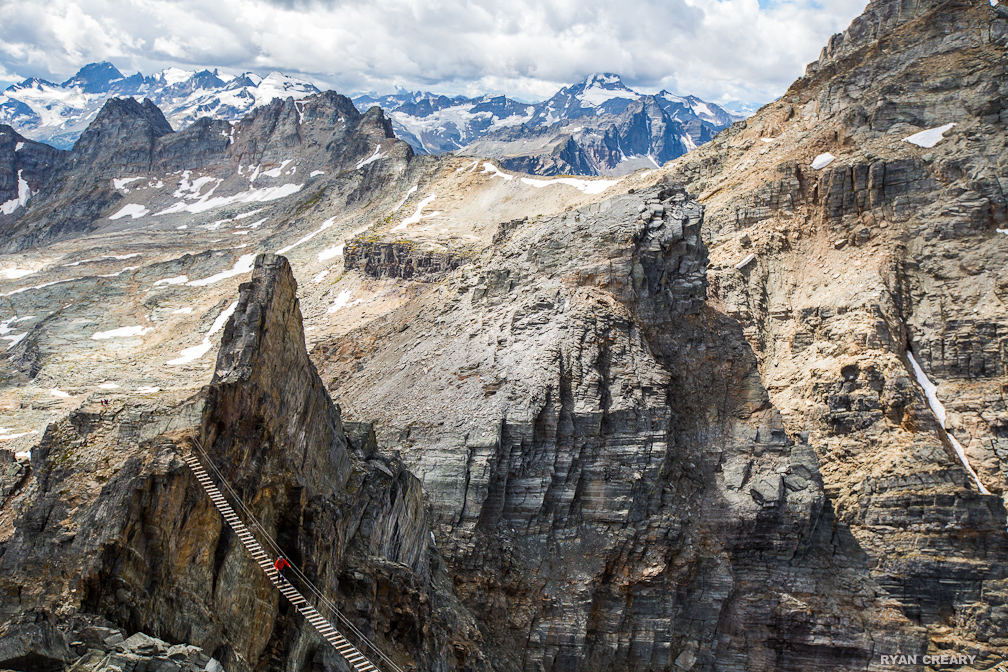 Mt. Nimbus via Ferrata with Canadian Mountain Holidays Bobbie Burns Lodge; photo by Ryan Creary
Here's where to climb, scale and fly in the Kootenays (operators listed in alphabetically order):
AWESOME ALL-SEASON ADVENTURES
Golden, BC
Want to zip in tandem with your bestie at 70-kms per hour? These ziplines propel you through Canadian Rocky scenery, including a crossing of the Kicking Horse River. The course's lines work their way up in height, starting at a lower elevation to help newbies ease their way into the experience. The ziplines, which range in length from 90 to 500 metres, are connected by a series of interpretive trails and each are manned by a guide at either end to help load and unload each zipliner.
CANADIAN MOUNTAIN HOLIDAYS (CMH) VIA FERRATAS
South of Golden, BC
You'll get into higher elevation before you even start your CMH via Ferrata excursion. Both CMH's Bobbie Burns and Bugaboos lodges offer guests wilderness via Ferrata experiences–but to get there, you'll take to the skies first, via helicopter.  
Conrad Glacier Adventure (Bobbie Burns Lodge)
This adventure is 'mostly a glacier hike' on the Conrad Icefield, and there's a twist too. Hiking experience their own via Ferrata built into the route, which assists them navigate waterfalls and vertical sections of rock.
And that's not the only surprise along the way: two zip lines and two cable bridges help keep things interesting (as though walking over glacial-polished stone while being surrounded by views of the biggest icefield in the Columbia Mountains wasn't enough!).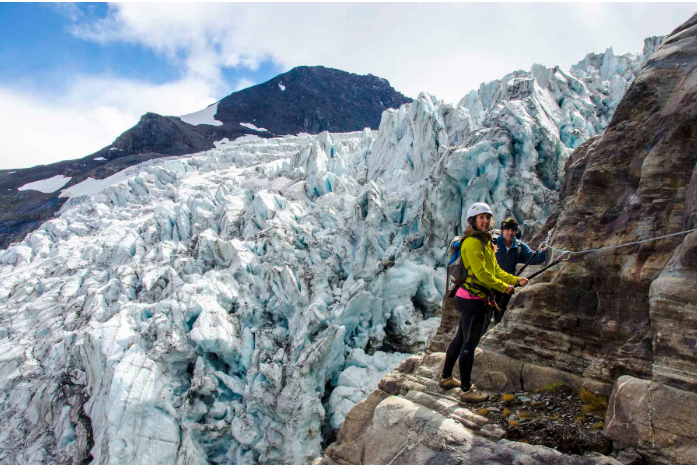 Conrad Glacier Adventure with CMH Bobbie Burns Lodge; photo by Carl Trescher
Mt. Nimbus via Ferrata (Bobbie Burns Lodge) 
This route spans two spires with a "hold-your-breath" suspension bridge, giving climbers a dizzying look at the valley floor while suspended over 600-metres above. The route up Mount Nimbus allows guests to experience technical terrain without the need for mountaineering experience or heavy gear.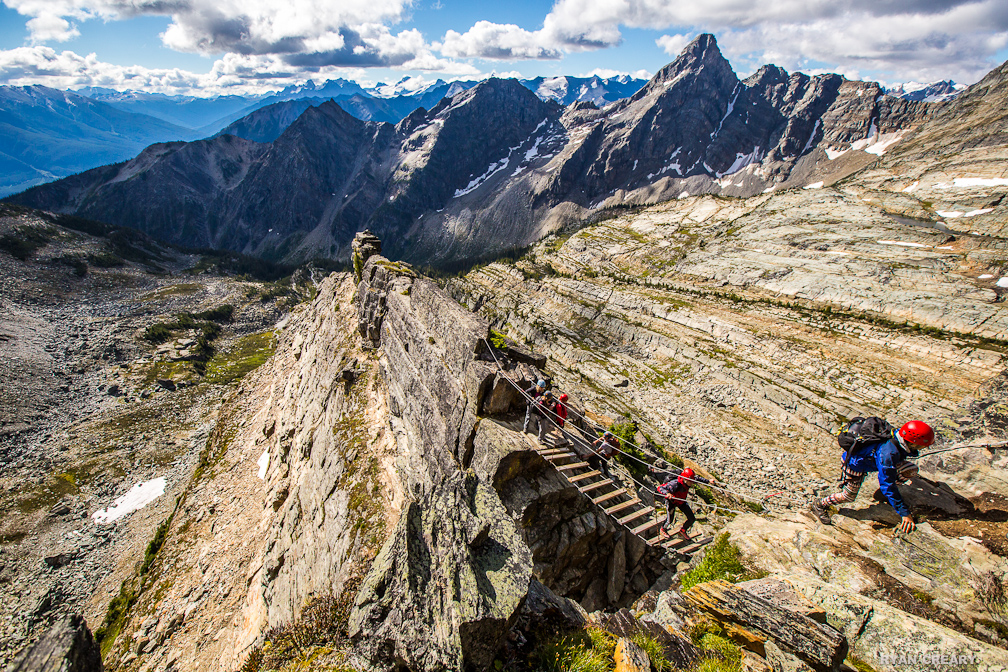 Mt. Nimbus at CMH's Bobbie Burns Lodge; photo by Ryan Creary
Crystal Trail via Ferrata (Bugaboo Lodge)
Granite spires spearing the sky from glaciated bases: that's the view here at CMH's Bugaboos Lodge and the Crystal Trail via Ferrata. This via Ferrata adds extra adrenaline built in as guests are carried–as fast as gravity can take them — into the basin via a zipline.
Skyladder via Ferrata (Bugaboo Lodge)
Want to get your bearings before going for the gold on Mt. Nimbus? Based out of CMH's Bugaboos Lodge, the Skyladder via Ferrata is CMH's answer for guests who need to ease into the idea of being clipped into a mountain hundreds of metres above level ground.
Like the Mt. Nimbus via Ferrata, the Skyladder via Ferrata was built by CMH guides, but on Trundle Mountain in the Purcells. The half-day tour leading to the summit is promoted as an introduction to the 'iron road' (what the Italian 'via Ferrata' translates to). However, the Skyladder's half-day tour offers a hefty reward for participants of every skill level: here in its Bugaboos surroundings, this via Ferrata's scenic payoff is justifies a trip for even the most experienced climber.  
FERNIE ALPINE RESORT AERIAL PARK & ZIPLINE
Fernie,  BC
Looking for a team-building experience? Take your co-workers out for the morning and work together in Fernie's trees. The resort's aerial playground takes participants on a three-hour, 16 challenge canopy course. Guides are on hand to help you and your crew work through the obstacles which include bridges, log swings and ziplining between trees.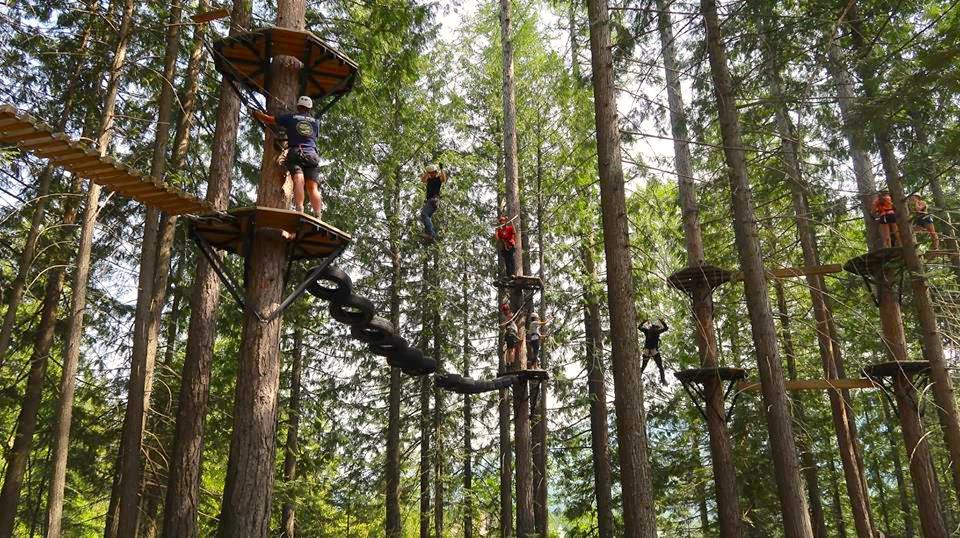 Fernie Alpine Resort Aerial Park; photo courtesy of the Resort
As you perch 130 m. (426 ft.) above an expansive canyon, engulfed by the Columbia Valley, the epic views from Golden's newest, must-visit attraction will take your breath away. The Golden Skybridge rewards with views of the Rocky and Purcell mountain ranges like you've never seen before, while a crashing river and 61 m. (200 ft.) waterfall thunders below.
The new bridges will also be part of a three-kilometer (about 1.9 mile) nature walk and include viewing platforms so guests can have a 360-degree view of the picturesque landscape. The ends of the trail will be marked by an outdoor courtyard and café to refresh yourself before and after your journey.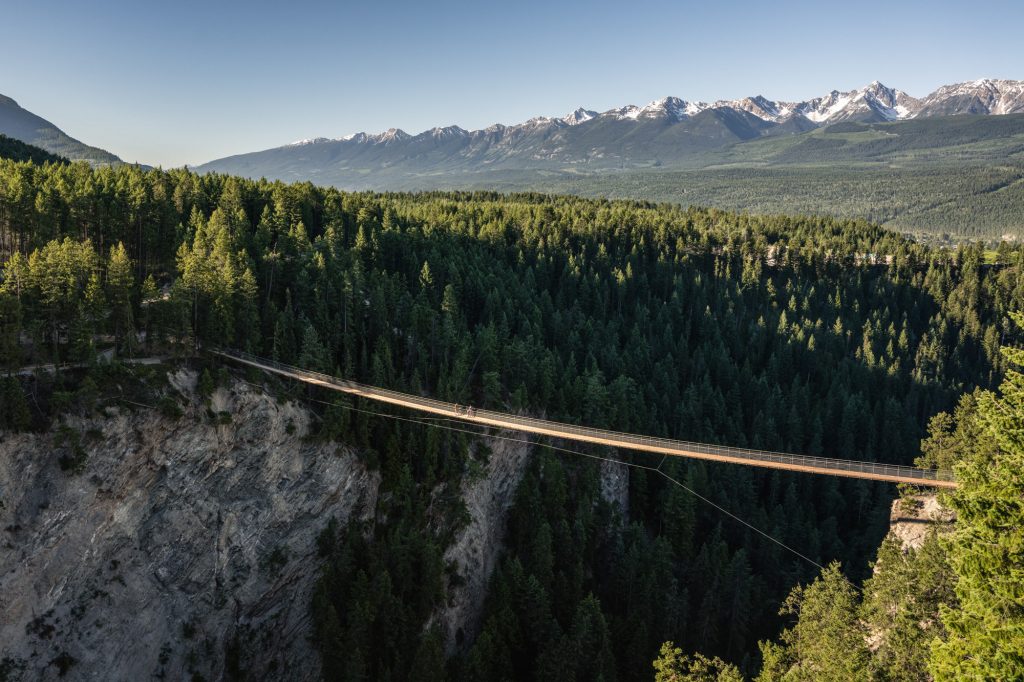 Ante up your adventure – take a breath and prepare for the adrenaline-spiking plunge as you free-fall over the canyon edge, take another breath, and the bungee kicks in. Then feel the rush and enjoy the view above and beyond, while soaring across the canyon floor. Or experience ziplining across the canyon – promising a thrilling ride! 
KICKING HORSE MOUNTAIN RESORT VIA FERRATA
Golden, BC 
Accessing the resort's summits in the summer is an altogether different adventure than what skiers are used to, and clipped into Kicking Horse's via Ferrata is one of the most immersive–and technical–ways to experience it.
Meet your initial test: making your way over a suspension bridge as you watch the ground drop out from below you. Once on the other side, you've got 465-metres of vertical to go, and you'll do it by traversing a sheer mountain face. For those with an appetite for adrenaline, being suspended mid-mountain–with a clear view of the ground 275-metres below–is a rush that's unmatched.
And the yes, there's a reward. Besides topping out at Canada's highest-elevation restaurant, Eagle's Eye, you've also earned a few pride points.
MINERAL MOUNTAIN ZIPLINES
Fairmont Hot Springs, BC
Mineral Mountain Ziplines is one of the only places in Canada where you can zipline below the headwall of a Rocky Mountain. Here, you'll criss-cross back and forth over Fairmont Creek Canyon and overlook the vast Columbia Valley with spectacular sights of the Purcell Mountains on the opposite side of the valley.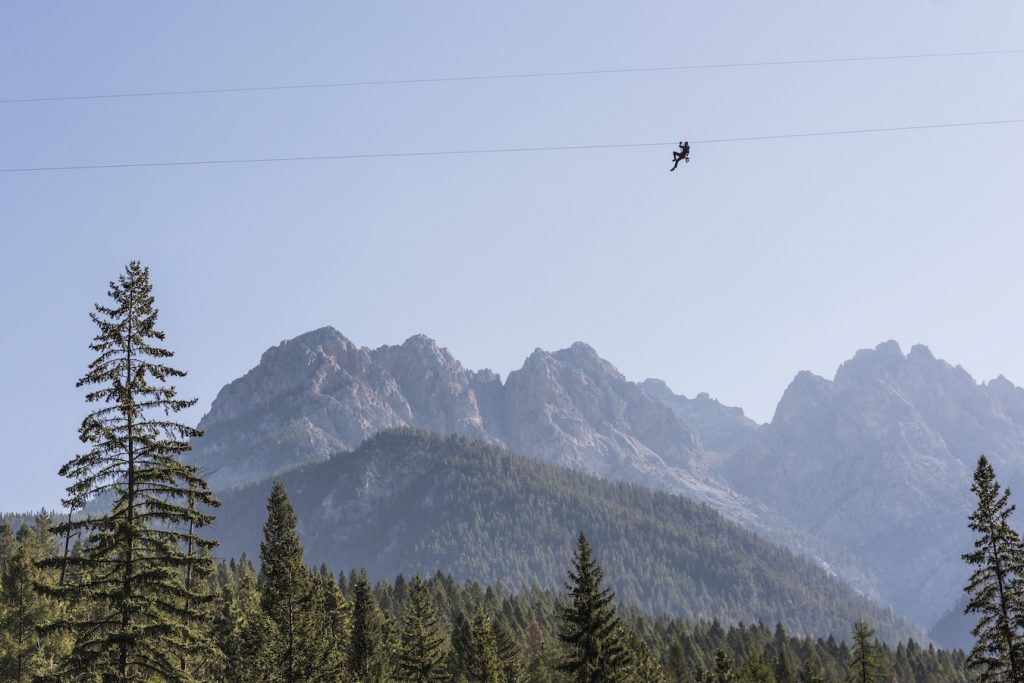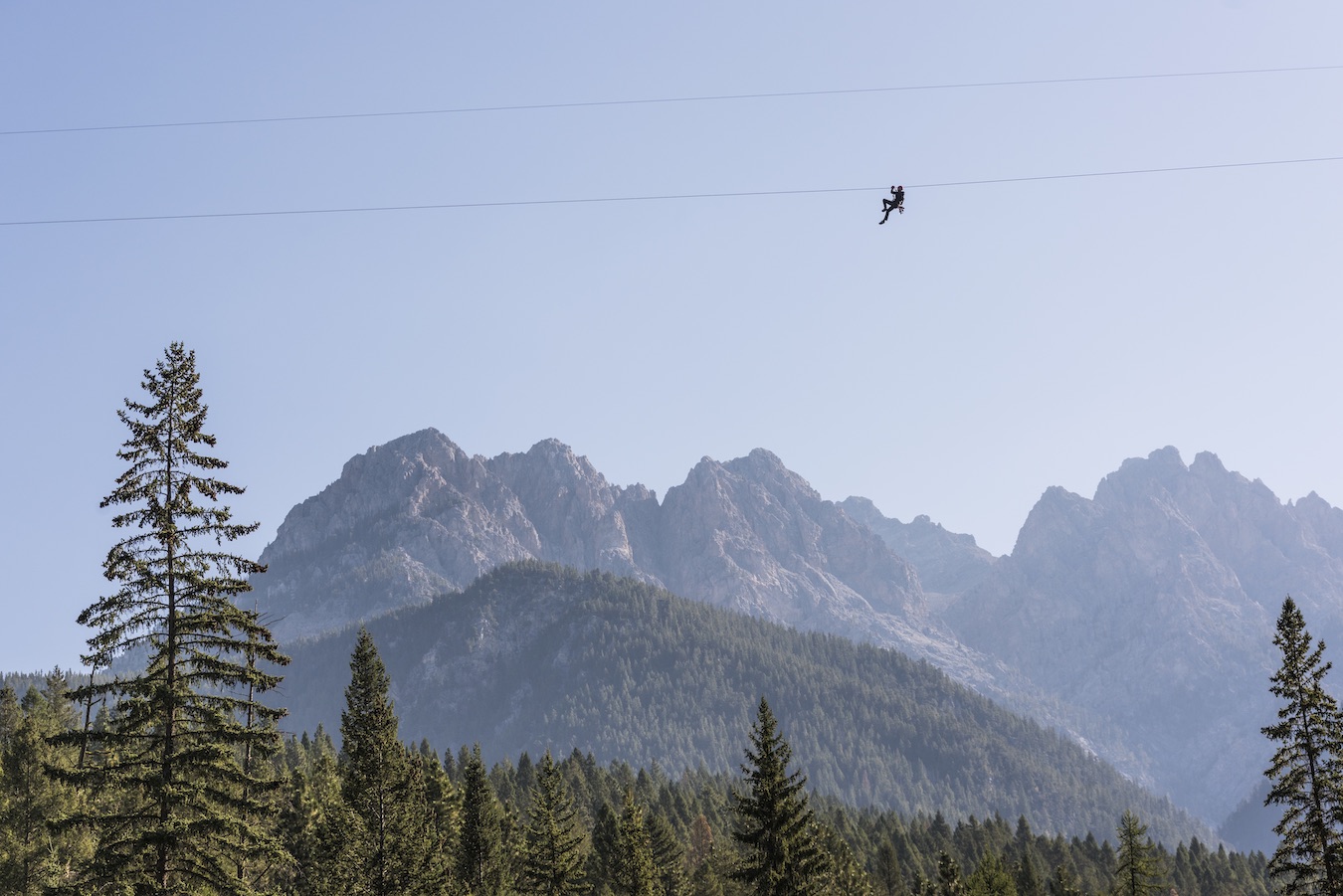 KOKANEE MOUNTAIN ZIPLINE
Nelson, BC
Kokanee Mountain Zipline is made of a series of six ziplines that zigzag through 18-hectares (44-acres) of old growth Douglas fir and pine. This course plays into that awareness by allowing views, the area is known for: ancient forests, glacial rivers, wildlife, and, of course, Kootenay Lake itself. But you'll have to stay attentive to catch it all; while cruising at altitudes of 107 metres high, you'll be at speeds of up to 90-kms per hour.
REVELSTOKE MOUNTAIN RESORT AERIAL ADVENTURE PARK
Revelstoke, BC
Guests can now reach new heights on this four story ropes course located at the base of the Resort.  The course offers 50 different elements and obstacles suitable for all ability levels, including a 50-metre zipline and a 10-metre climbing wall. Get a bird's eye view from the structure's highest platforms overlooking the Monashee Mountains and Columbia River, while you climb across the Rings of Madness, the Bear Paw Bridge and the Hanging Everest Ladder. Guests will be guided through an orientation and then given access to explore the course at their own speed.   
SKYTREK ADVENTURE PARK
West of Revelstoke, BC
Deep in the shade of Kootenay old growth, lies SkyTrek Adventure Park and its five adventure stations. While lots of activities are things other than ropes courses and ziplines, with six ziplines and an 'Aerial Trekking Course'.
And yes, the offerings are a family friendly way to take on physical challenges. The Aerial Trekking Course includes over 30 games in the trees that test agility and stamina and require you and the family to climb, scramble, swing and slide your way from station to station. There's even a zipline that straps you into a snowboard for the ride down.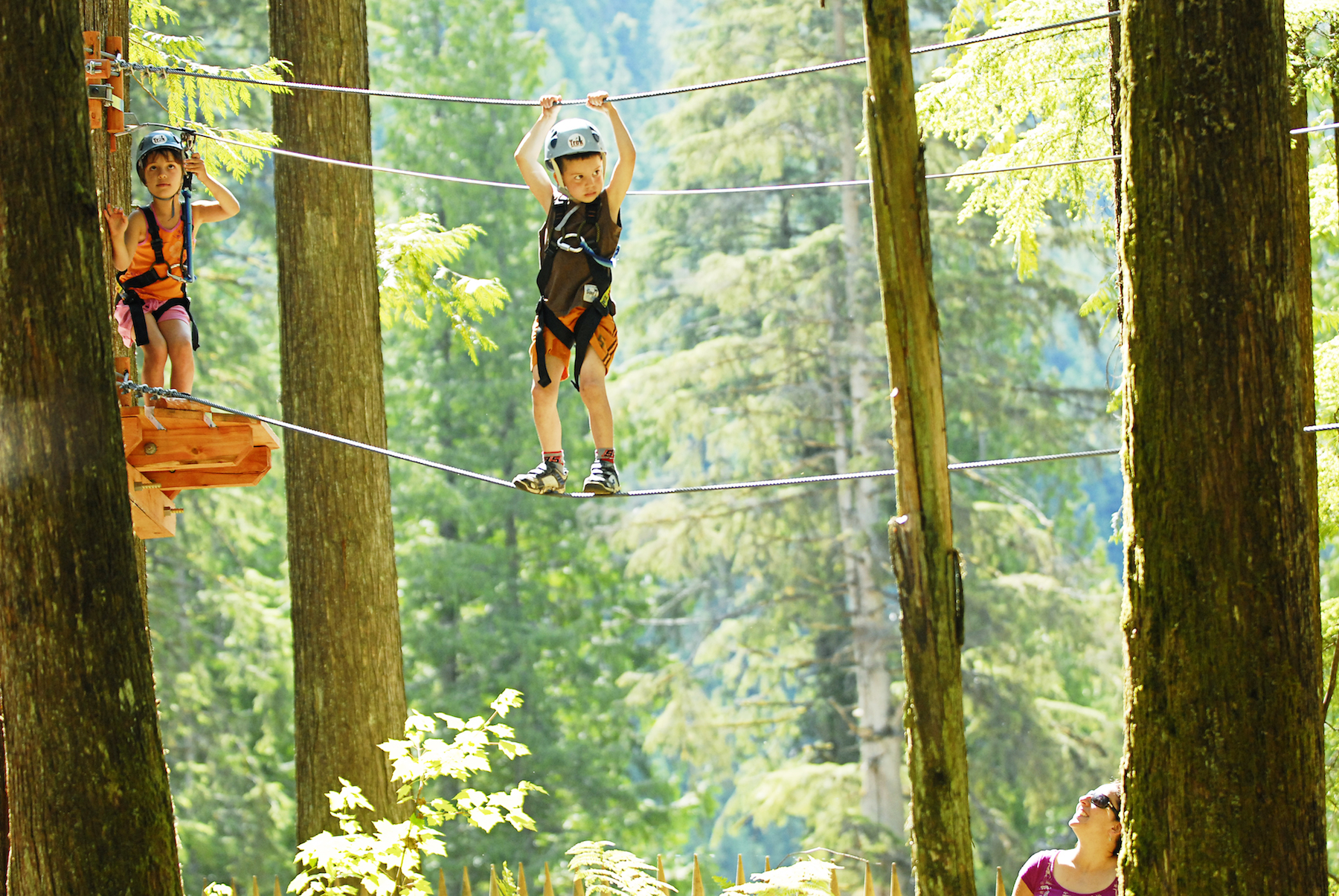 Family fun adventures with Skytrek Adventure Park, photo courtesy of Skytrek
VALLEY ZIPLINE ADVENTURES
Radium Hot Springs, BC 
Zipline enthusiasts can expect seven ziplines and a tour of an hour and a half that winds them through the course. While participants are flying through the Columbia Valley scenery, the guides will not only deliver high-speed excitement, but also teach guests about the forest and wetland ecosystems, including tidbits about wildlife and the local area.
The first five ziplines take you zig-zagging across the Dry Gulch valley, with the sixth line offering spectacular views of the Columbia Valley wetlands. But the last, is the longest and fastest line. And it's a double zip — so get ready to race your spouse, family or friend to the finish!

Know Before You Go – Plan ahead so you can travel safely and responsibly. Familiarize yourself with weather, road conditions, general alerts for travellers and provincial health orders & recommendations.
Related Stories
~ Best Summit Hikes in the Kootenays
~ Colossal Things to See & Do in the Kootenays
~ Easy Kootenay Hikes: To 360 Degree Vista Views
~ Family-Friendly Backcountry Adventures in the Kootenays
~ Forest Therapy: Replenish your Spirit and Reawaken your Soul
~ Follow the Trail: Kootenay Hiking Adventures
~ Hidden Waterfalls in the Kootenays
~ Keep the Kootenays Natural
~ Kootenay Ambassadors: Mindful Explorers
~ Legendary Kootenay Attractions: Not to Missed this Summer
~ Outdoor Adventures: Unique to the Kootenays

Cover/top photo by Ryan Creary at Kicking Horse Mountain Resort (via Ferrata) in Golden, BC.
Please tag your images with @KootRocks on Instagram to be featured in a future social post.  For travel deals and specials – sign up for our Consumer Travellers Newsletter.