The sun isn't up yet, but you are. With all the vistas and adventures you want to see and do while on this Kootenay road trip, you aren't willing to let even a few minutes escape unused by sleeping in. As the giant star in the sky finally sheds a tinge of light on the morning hours, you put your keys in the ignition; you're ahead of schedule and ready to start your adventure.
"But first," as they say, "coffee."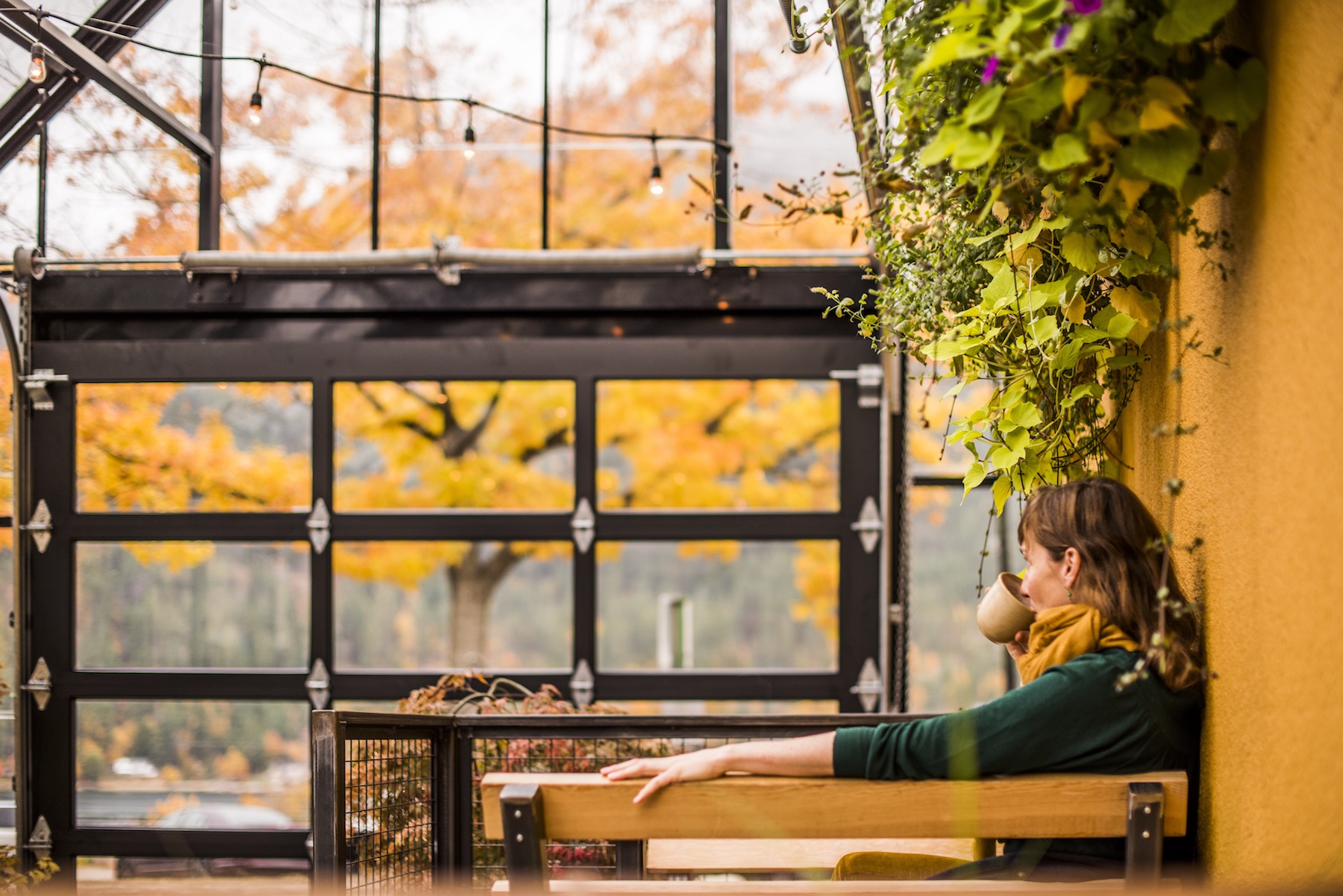 Empire Coffee in Nelson; photo by Kari Meidg
In a region full of artists, craftspeople, designers and outdoor folk, coffee shops are par for the course, but in the Kootenays, that expectation will be served — and then some. The region has coffee roasters who have gone on to international acclaim, roasters who have spread their beans throughout BC's borders, and neighbourhood coffee shops that serve as community hubs, caffeinating loyal locals. 
If you're the kind that prefers travel that also absorbs regional culture, you'd be hard pressed to find a better way than visiting independent coffee shops. Locally-owned cafes often provide a glimpse into an area's way of life. Order a cup and observe the interactions (or join in) while you enjoy a little "me time" as you warm up for the rest of the day. 
Circling around the Kootenays, these are just a handful of coffee shops and roasters that have caught my eye while road tripping.
First stop: Fernie
This mountain town was the first taste I had of the Kootenays. Because of linguistic overuse, I don't often use the phrases "literally" and "jaw-dropping" in descriptions, but please apply liberally to this town.
I can't imagine anything more idyllic than starting a Kootenay coffee road trip with a morning in Fernie, warming your hands around a mug of roasted goodness, and dreaming of the grandeur that encircles you.
What started as a mobile espresso trailer is now a brick and mortar cafe where you can brush up on local knowledge while drinking locally roasted beans from Fernie's own Rooftop Coffee Roasters. It's also a place that keeps things simple, so you can concentrate on the beauty that's around you, as well as the beauty of what's in your cup.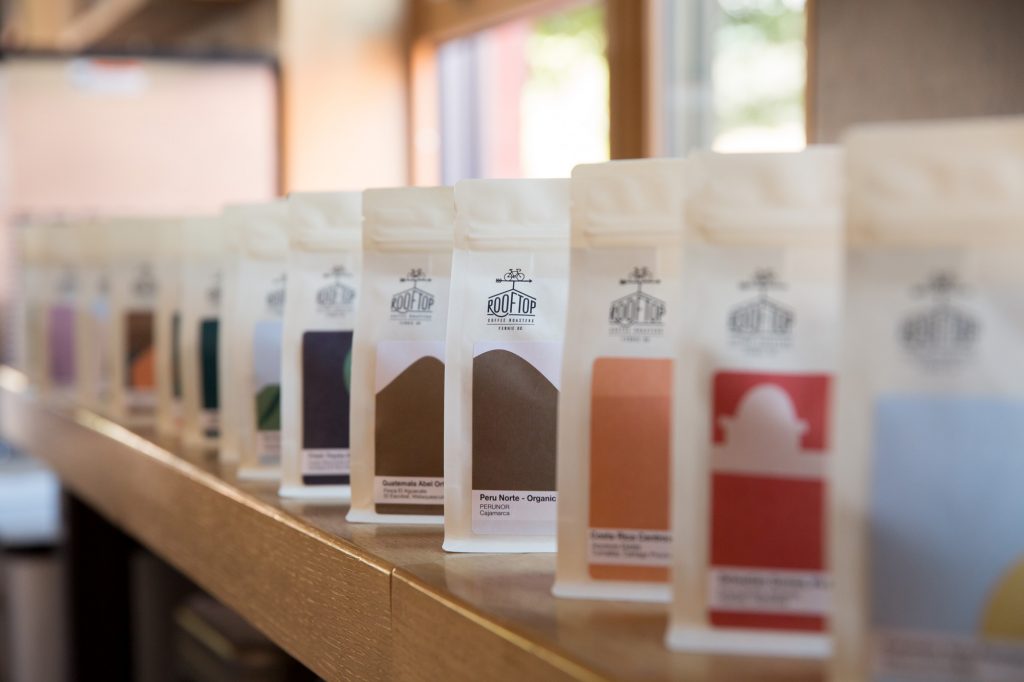 Back on the road heading north west of Fernie, you pull in at a coffee shop along the Rocky Mountain Trench.  Stolen Church Coffee is a specialty micro Coffee Roastery and Gelateria nestled between the Purcell's and Rocky Mountains.  Family owned and operated since 2004 we have always put freshness and quality above all else. All of our products are made in small batches, with the greatest of care and the highest quality ingredients.
The Rocky Mountains to the east and the Columbia River to the west force the road to wind as you head further north still to Golden. Not far from the northern terminus of the East Kootenay boundary, in the shadow of mountains that carry national park status, sits Kicking Horse Mountain Resort — a legend itself in the mountain sports arena. If you're headed here to participate in those mountain sports, wake up. The aptly named Double Black serves up local doses of caffeine at the base of the resort's gondola (open during the Resort's operating season).
"Coffee is the most delicious life elixir," says Golden local, Kenzie Wade. Wade, who worked as a barista for 11 years, says the experience gave her a fine-tuned appreciation for the perfect cup, which she notes Double Black as having attained. "Double Black is worth the 15-minute drive [from town]. Not only do they use local coffee, they prepare it perfectly; the baristas really know what they are doing."
Another option, is the pop up of the Wandering Fern Cafe.   Caffeine meets adventure, because their cafe is based out of a vintage trailer they can travel anywhere within the Golden area to serve up a fun and memorable experience.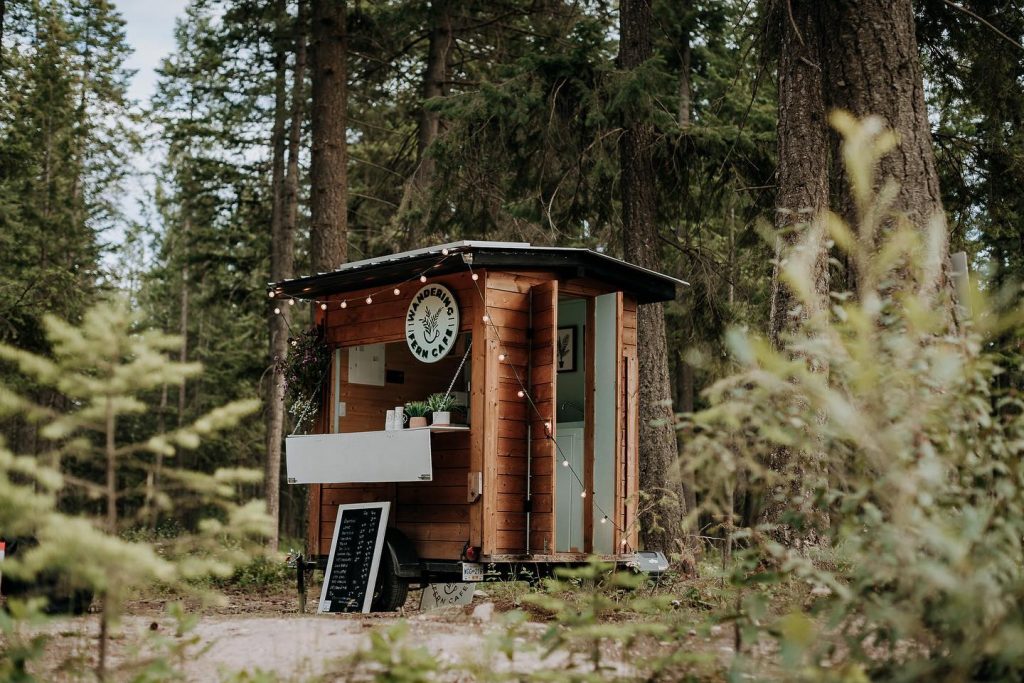 Like most towns, it's difficult to highlight just one local coffee shop. This rings true for Revelstoke. Passing through two national parks as you travel west from Golden, Revelstoke is home to three cafes I rotate between whenever I visit: The in-town La Baguette  (also available at Revelstoke Mountain Resort) for its cozy dark woods (and a chance to get a sample of gelato), The Modern Bakeshop for its vintage chic feel and array of food, and the newest kid on the Revelstoke block, Dose Coffee or its eye-candy interior.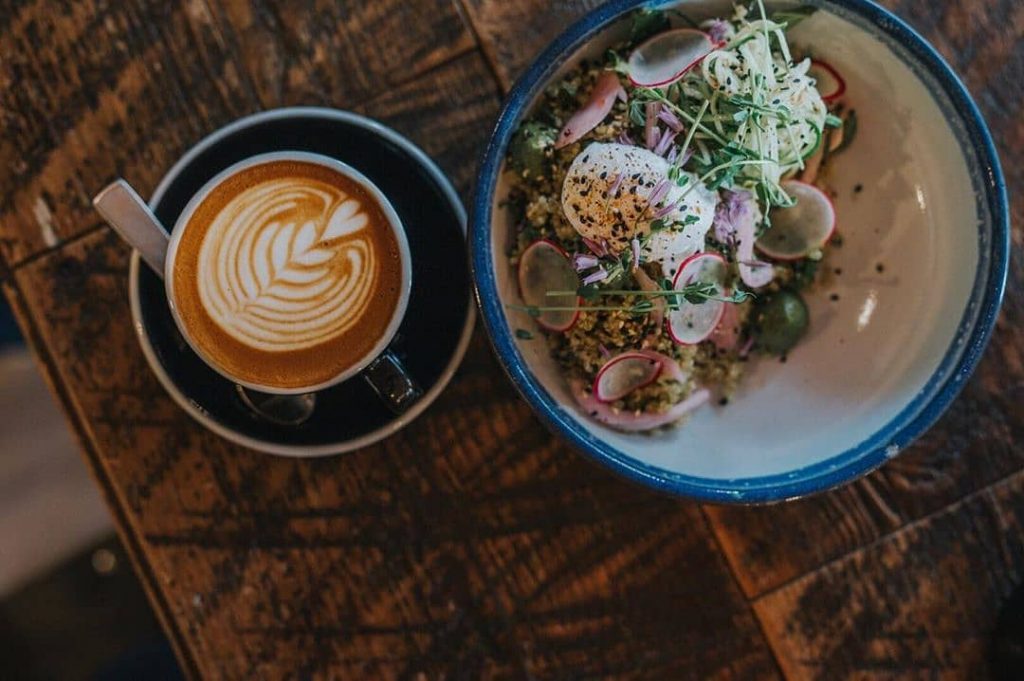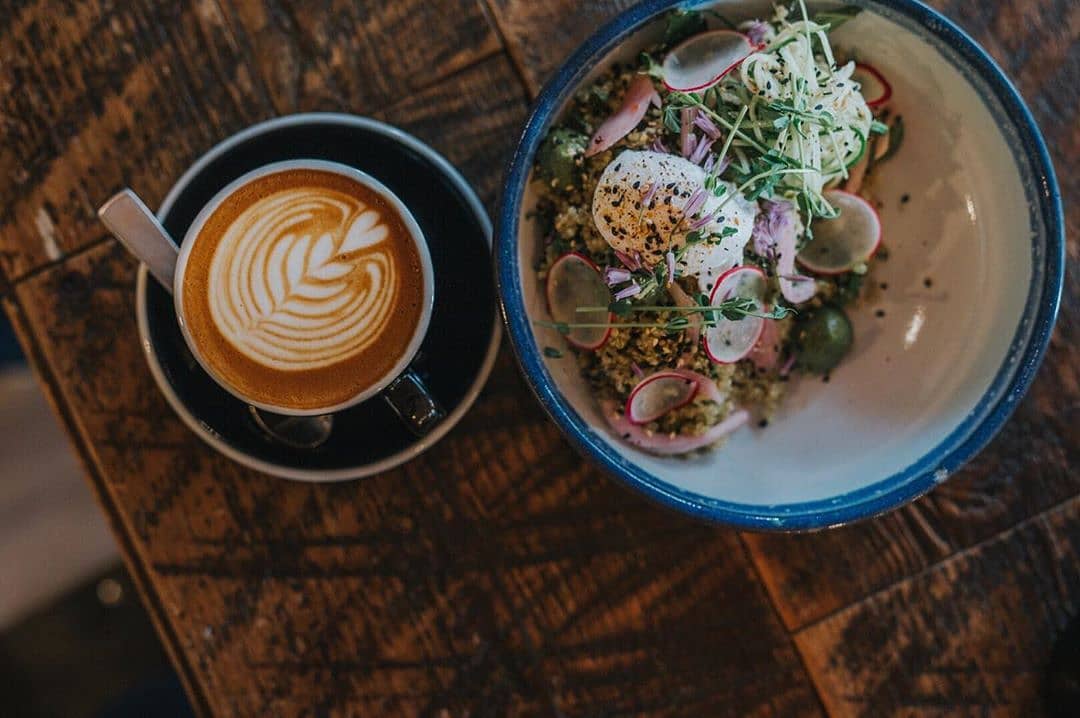 "Obviously, we all have favourites," says Revelstoke local, Guylaine St-Gelais. "You can spend a week trying the best of each coffee shop in Revelstoke." For example, she says, if you enjoy flaky pastries along with your morning joe, "La Baguette's croissants will change you; the best in the west!"
No matter which you choose, Revelstoke demands its travellers — and locals — prepare for a day of adventure, with coffee shops serving as a starting point. "Every morning … you'll notice people gathering and fuelling up for their adventure," says St-Gelais, sharing an example of days spent backcountry riding: "Every time … we meet up [at a Revelstoke cafe] and get ready for an epic day, sometimes just to catch up and warm up."
After tracing (and crossing) two of West Kootenay's massive lakes as you head south from Revelstoke, you'll find Crescent Valley. This tiny town rests along the Slocan River, just shy of joining Kootenay River and, just beyond, the mighty Columbia. It's for this area that I keep a keen eye out; not only to check whitewater conditions but also because of Frog Peak Café.  
If it's open (and it is, unless it's a late-night trip), my boyfriend automatically pulls over; it's our mandatory stop.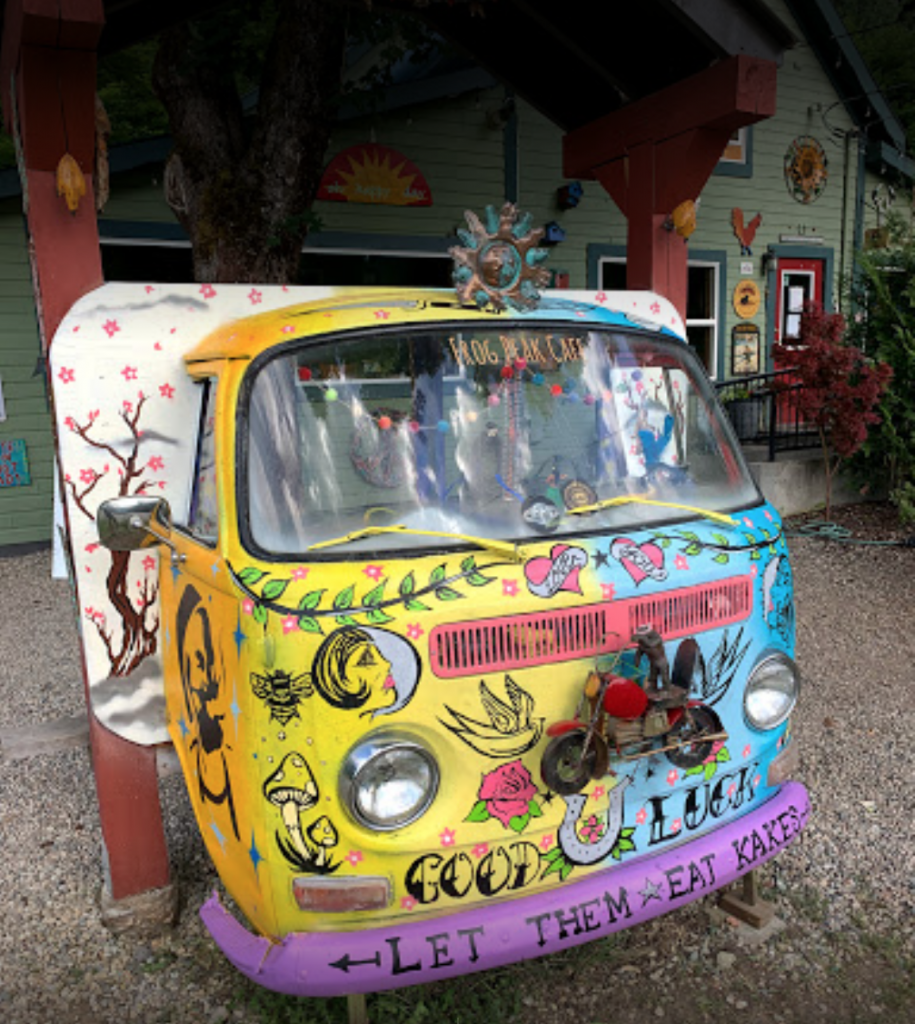 I was drawn to this brightly-coloured cafe the first time I travelled through the area on a similar road trip. Its cheery exterior begged a visit and, since I usually love the baked goods that independent cafes create, we stopped. Frog Peak Café was as warm inside as the outside promised, partially because of those baked goods and beverages, but just as much because of the conversations I had with the people inside.
"The community we are lucky to be a part of is well-known for original thinkers, hard workers, being artistic and fun-loving," says Laurel Giasson, co-owner of the cafe, as she describes Crescent Valley. Added to the coffee and from-scratch food — with recipes including foraged and home-grown elements — Giasson says, "These ingredients make Frog Peak Café a wonderful place to stop, even if just for a moment, to be able to experience this."
From the confluence of the Slocan River with the Kootenay, you follow the latter east through tiny riverfront villages held tightly between the water and the peaks above. As the river broadens into Kootenay Lake, you spot Nelson, named North America's top "small arts town".
Like Revelstoke, the coffee scene is serious in this here — so much so that coffee roaster, No. 6 Coffee Co., opened a tasting room. Read those last words closely: This isn't a traditional cafe. No. 6 Coffee Co.'s brick and mortar shop is an intentional space created so both the public and cafe owners can focus directly on the nuances of the company's varying beans and roasts. A stark, four-drink menu invites the coffee connoisseur (or the coffee curious) to sit down with a cup — not to douse the coffee with flavourings and sugar, but instead to experience the smells and taste differences between the company's small-batch roasts.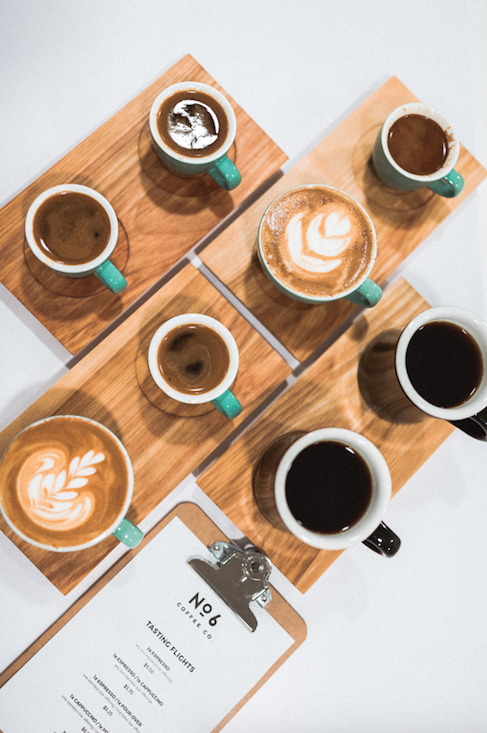 No.6 Coffee Roaster; photo by Thomas Nowaczynski
Using an educational approach, No. 6 Coffee aims to deepen knowledge about this regularly-consumed beverage many take for granted. It's a learning experience that's a must-do for any serious coffee road tripper.
On the other end of the coffee-serving spectrum is Oso Negro Coffee, a roaster with a cafe just one block up from the main thoroughfare of town. Like Invermere, Oso Negro is Nelson's own fair-trade, organic, double-decade staple of Kootenay coffee. Focused on retaining the warmth of the community, the roaster and its accompanying cafe reflect the vibe of Nelson, which is one of the primary reasons people visit this West Kootenay town. By keeping an eye single to the town's authenticity, the roasting company's fame has stretched beyond Kootenay Lake, with cafes across the BC province serving their beans. But as a local community hub, it is the place to experience Nelson's local demographic — in the time it takes to enjoy a cup.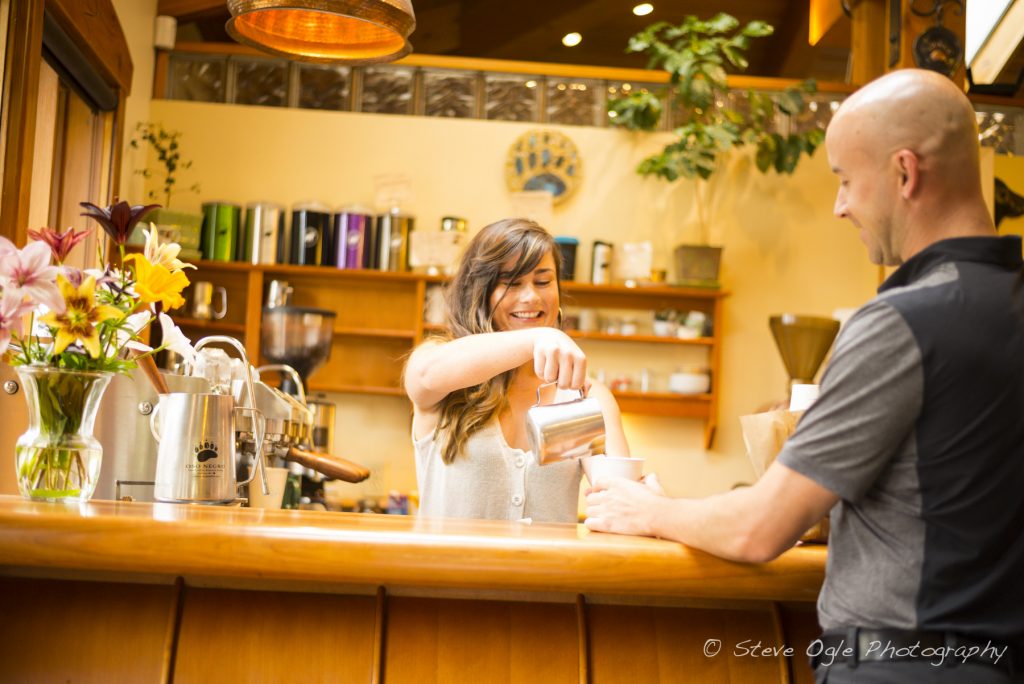 Seven Summits Coffee Company is a specialty coffee roaster with a public coffee bar with local baked goods.  They are dedicated to quality and focuses on a contemporary coffee experience.
KOOTENAY COFFEE ROASTERS
~  Bean Bag Roasters (Golden)
~  Chao Coffee Roasters (Kimberley/Wycliffe)
~  Kaslo Bean Roasting
~  Kicking Horse Coffee (Invermere; closed until 2022)
~  Kickturn Coffee Roasters (Kimberley)
~  Kootenay Coffee Company (Nelson)
~  Kootenay Roasting Company (Cranbrook)
~  No. 6 Coffee Co. (Nelson)
~  Northstar Roasting Company (Kimberley)
~  Oso Negro Coffee (Nelson)
~  Rooftop Coffee Roasters (Fernie)
~  Seven Summits Coffee Company (Warfield/Trail)
~  Stoke Roasted Coffee Company (Revelstoke)
~  Stolen Church Coffee Co. (Invermere)

Know Before You Go – Plan ahead so you can travel safely and responsibly. Familiarize yourself with weather, road conditions, general alerts for travellers and provincial health orders & recommendations.
~ A Golden Triangle Road Trip
~ A Road Trip of a Lifetime: Kootenay Rockies Hot Springs
~ Cool Ways to Travel in the Kootenays
~ Cruising down a Open Highway: Planning your Kootenay Road Trip
~ Everything is Local
~ EV Powered Turns on a Powder Highway Road Trip
~ Funky Kootenay Fun Facts
~ Keeping the Kootenays Natural
~ Kootenay Ambassadors: Mindful Explorers
~ Kootenay Made
~ Make the Most of Your Kootenay Rockies Getaway
~ Our Kootenay Spirits
~ Pit Stops on a Kootenay Road Trip
~ Stewards of the Land: Positive Effects
~ Unique Stays on a Kootenay Rockies Road Trip
~ Wet your Whistle: Along a Kootenay Rockies Road Trip
Words by Gina Begin.  Top/cover photo by Kari Medig.
Gina Bégin – Although she's a Florida girl, exploration called her away after the final bell of her high school career. On a quest to reach the distant adventures of North America, she lived in her car, traveling to ski the backcountry of Alaska, sleep under the northern lights in the Yukon Territory, ice climb Colorado's frozen canyons, photograph Nova Scotia's coves, backpack in southern US wildernesses and munch on sugared tamarindo in the jungles of Mexico. But after three years living on the road and seeing the many wonders this continent had to offer, she chose the place she knew would fit an explorer looking for a lifetime of wild wonder: British Columbia. Dual citizenship in hand, she settled along the Powder Highway in the Selkirks and is making her home between four walls and deeply wooded mountains.
Please tag your images with @KootRocks on Instagram to be featured in a future social post.  For travel deals and specials – sign up for our Consumer Travellers Newsletter.