The taste of honey still warm from the hive, the happy racket of a friendly crowd and the tangy scent of fresh sourdough joyfully bombard the senses at one of the Kootenay Farmers' Markets.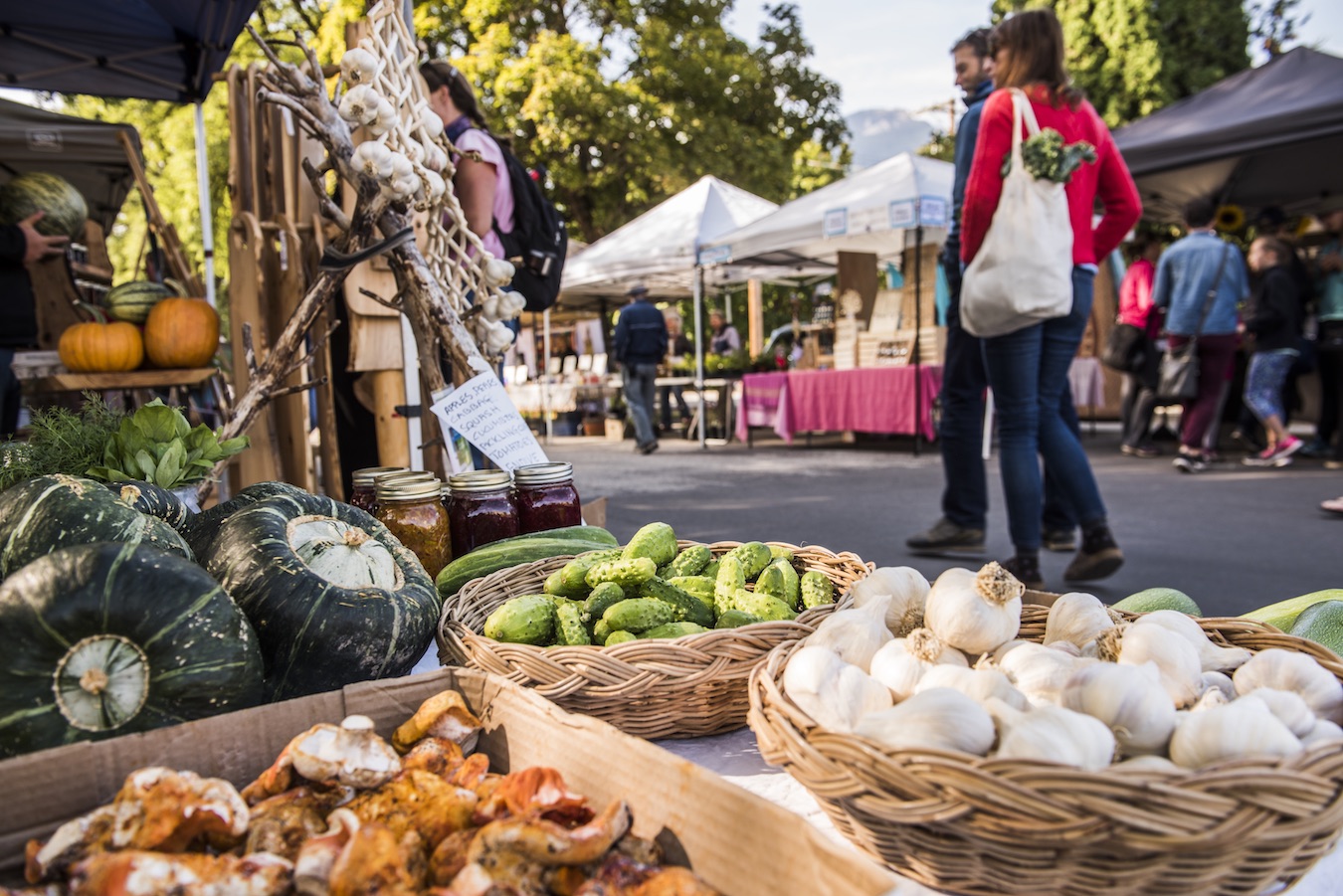 Nakusp Farmers' Market; photo by Kari Medig
A throwback to an era when food didn't come in plastic packaging, these markets are popping up all over the Kootenays.  From Kaslo to Cranbrook and Elkford to Revelstoke, there are over 20 Kootenay Farmers' Markets operating throughout the summer (in 2019).
~ Castlegar (Saturday – 9am to 1pm)
~ Cranbrook (Saturday – 9am to 1pm) + Winter markets
~ Creston Valley (Saturday – 9am to 1pm)
~ Elkford (Wednesday in July & Aug – 5pm to 7pm)
~ Fernie (Sunday – 10am to 2pm) + Summer Socials (Wednesday – 5pm-9pm in July to Sep)
~ Golden (Wednesday – Noon to 5pm and Saturday – 10am to 3pm)
~ Invermere (Saturdays – 9am to 1pm)
~ Jaffray/Baynes Lake (Saturday – 9am to 12:30pm)
~ Kaslo (Saturdays – 10am to 2pm)
~ Kimberley (Thursdays – 5pm to 7:30pm)
~ Nakusp (Saturdays, 9am to 1pm)
~ Nelson (Wednesdays – 9:30am to 3pm) + Cottonwood Market (Saturdays, 9:30am to 3pm)
~ New Denver (Fridays – 10am to 2pm)
~ Radium Hot Springs (Fridays – 4pm to 9pm) + Musical Performers (7pm to 9pm)
~ Revelstoke (Saturdays – 8:30am to 1pm)
~ Rossland (Thursdays – 3pm to 6pm)
~ Salmo (Thursdays – 4pm to 7pm)
~ Sparwood (Fridays – 4pm to 7pm)
~ Windermere (Wednesdays – 5pm to 7pm)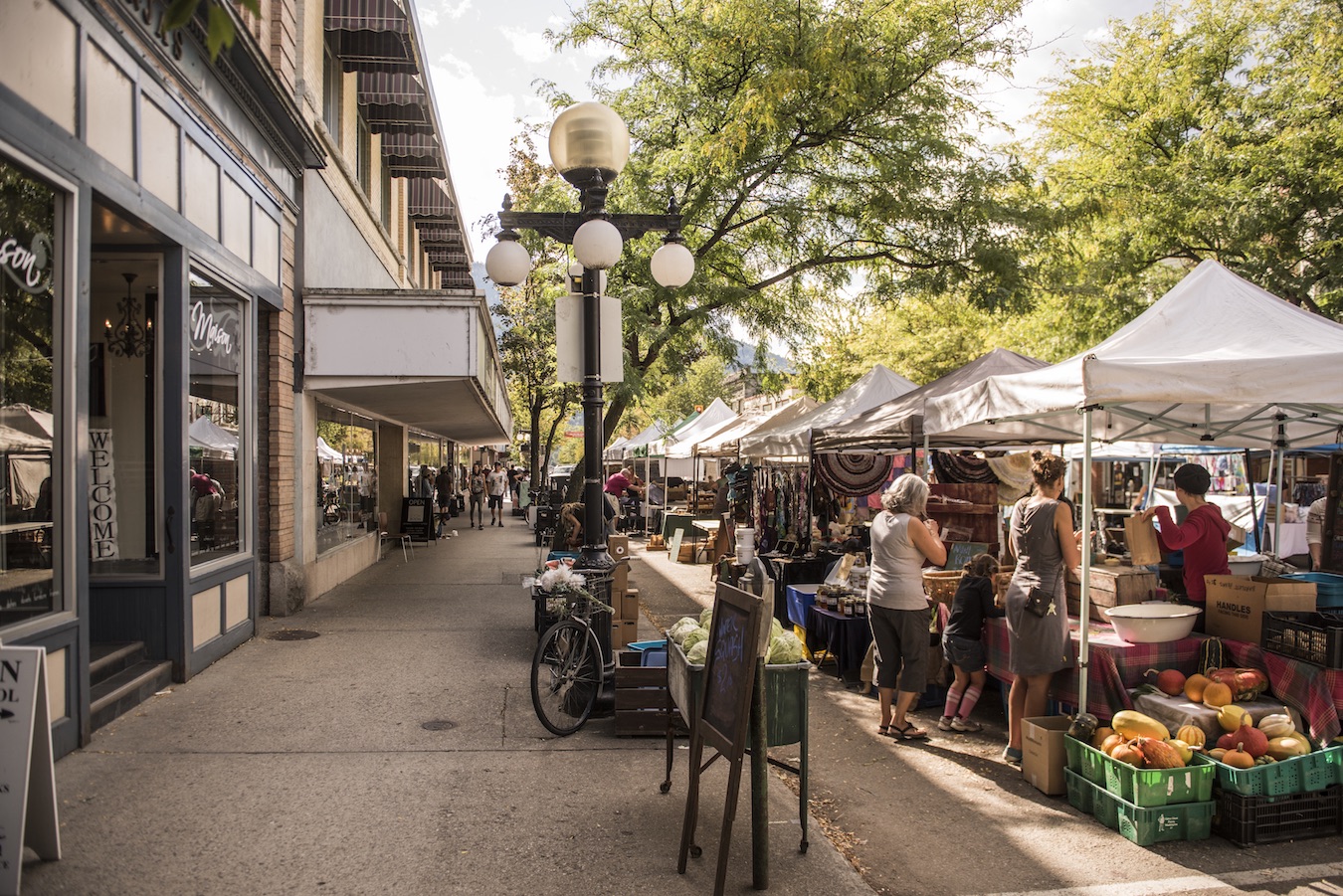 Nelson Farmers' Market; photo by Kari Medig
When I head to the Cranbrook Farmers' Market every Saturday morning I'm guaranteed to run into old friends (like Sharon from Fort Steele Farms) and know my kids will find their buddies and ditch me for the monkey bars.
With the kids safely running in their 'herd' I slowly browse everything the market has to offer.  With everything from multi-hued purple and orange carrots to delicately feathered fish-fly earrings, the market is a sensuous experience best explored at a snail's pace.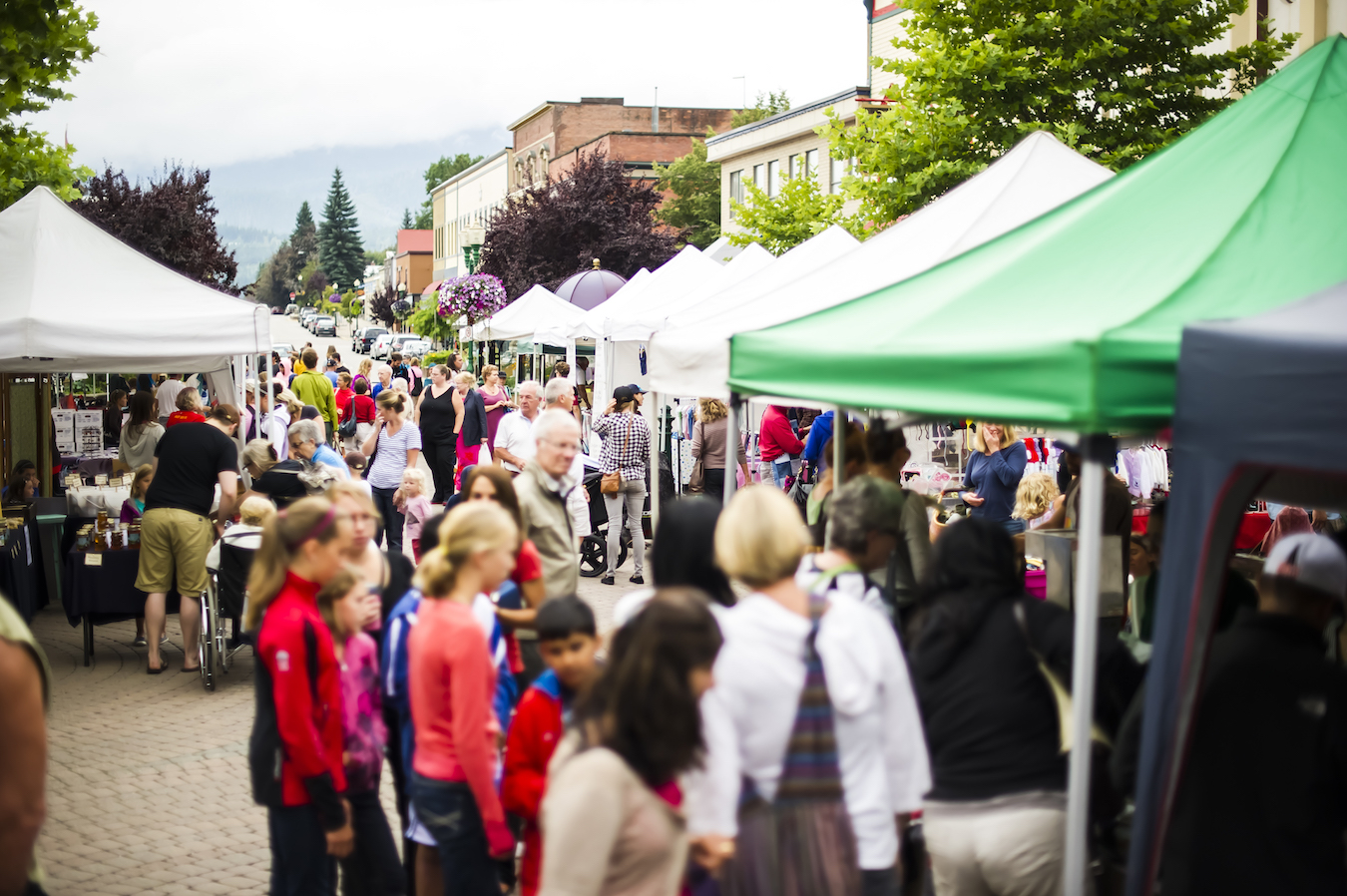 Revelstoke Farmers' Market; photo by Bruno Long
The BC Association of Farmers' Markets supports vendors who sell products they "make, bake, grow or raise themselves" creating vibrant markets filled with more than just fruit and veggies.
Micah Wassink, a popular vendor at the Creston, Kimberley and Cranbrook markets, sells pottery thrown by her husband Jeremiah and painted by herself at Pridham Studio, the Creston business they recently purchased from her parents.
"Farmers' Markets are a big part of our world", says Wassink. "We get to share our work with customers we wouldn't meet in the studio".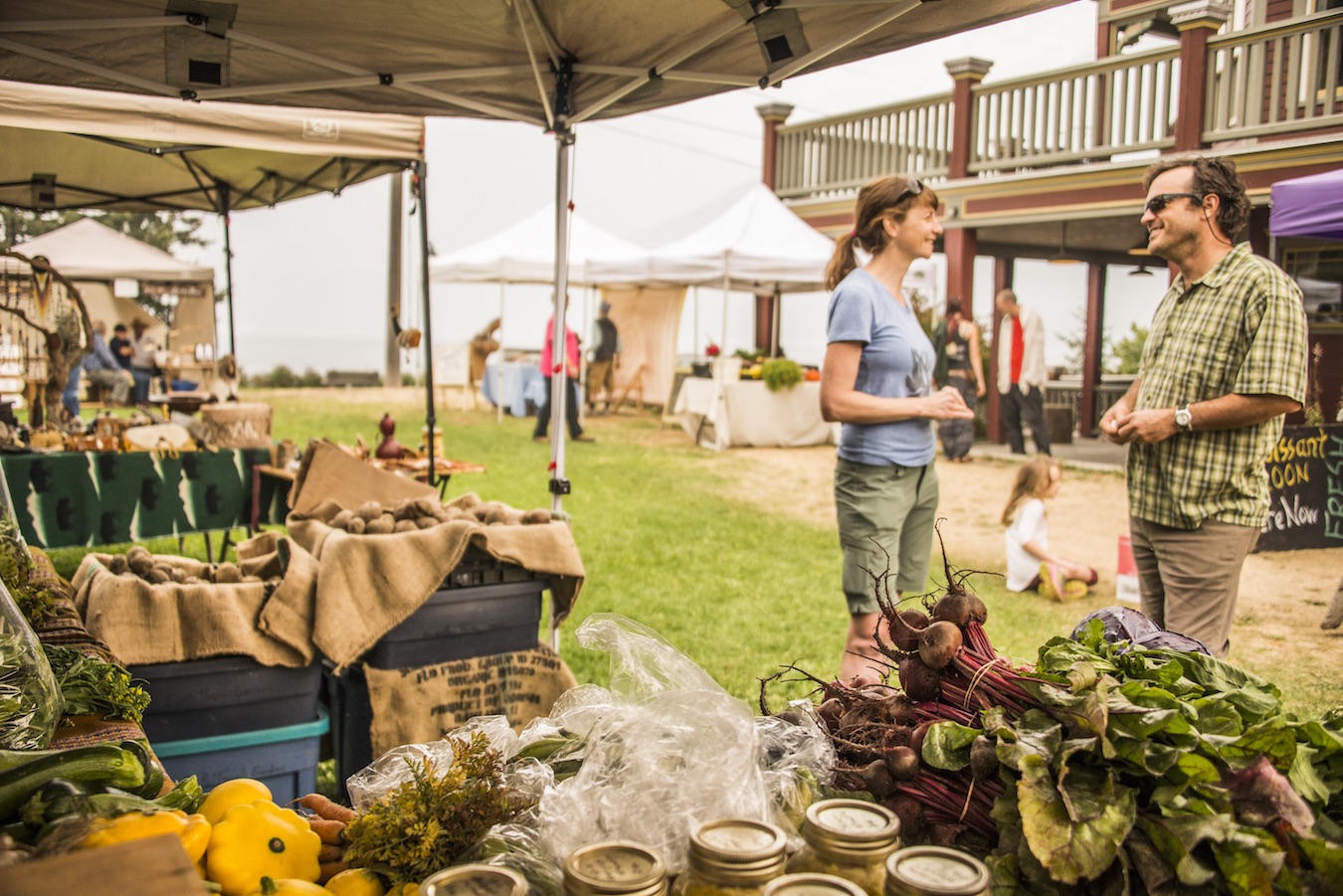 Kaslo Farmers' Market; photo by Kari Medig
Registered Nutritionist Roxanne Ferrier who works in Nutter's in Cranbrook says, "Farmers' Markets are good for the mind, body and soul; the bright colours and freshness of the produce encourages shoppers to try new foods they may not otherwise consider.  And they get a healthy boost of exercise, bone building vitamin D, and spirit boosting social interaction".
If you're focused on putting fresh, healthy food on your table and want to support local craftsmen, merchants and growers, Farmers' Markets are a great place to explore.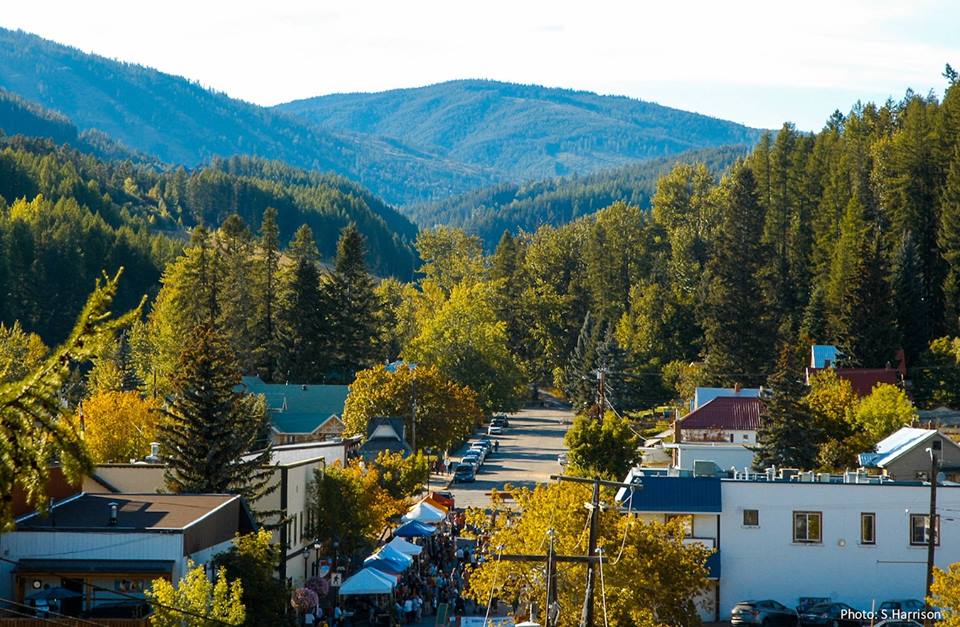 Kimberley Farmers' Market; photo by Shannon Harrison
Learn more about BC's Farmers' Markets Market Trail – a definitive guide to 145+ authentic farmers' markets across BC. Highlighting farmers' markets in the Cariboo Chilcontin Coast, the Kootenay Rockies, Northern BC, the Sunshine Coast and Vancouver Island & the Gulf Islands.
Know Before You Go – Upcoming travel plans? Living in the mountains can come with unexpected changes in weather patterns. Even in the warmer months, it is very important to check highway conditions and travel advisories. Drive BC is a great resource with real-time webcams and road statuses.
Related Stories
~ A Kootenay Coffee Road Trip: Meet the Locals
~ Creston Cru: Get a Taste of these Vineyards
~ Kootenay Craft Beer Winter Road Trip
~ Kootenay Rockies: Farm to Fork
~ Our Kootenay Spirits
~ Wet Your Whistle: Along a Kootenay Road Trip
~ Where the Locals Hang-out in the Kootenays
Words (and cover photo) by Julie Brannigan. 
Julie's daughters would love to throw her Canon in the river!  If she isn't taking photos for local businesses in the Cranbrook area, she's busy at her full time job as a legal assistant. Julie spends her downtime rafting the St. Mary's River, playing hockey and enjoying her multi-generational family.
Please tag your images with #KootRocks on Instagram  to be featured in future stories.
(Original story published: June 14, 2018)