Located in the southeastern corner of British Columbia, the Powder Highway refers to the area that boasts the highest concentration of alpine resort, backcountry, cat, heli and nordic skiing/riding in the WORLD!
How BIG is it really? It's absolutely gigantic. The combined tenure is 7+ million acres.  Locally known as the 'Kootenays' this ski/snowboard mecca is made up of 100+ ski operators along the route.   That's right – 8 Alpine Ski Resorts, 16 Backcountry Huts, 23 Backcountry Lodges, 15 Cat-Ski operators, 3 Community ski clubs, 5 Guiding Services, 20 Heli-ski operators and 16 Nordic Clubs/Centres.
"When you first arrive, there's that unmistakable feeling that you could never do it all. Not in just one lifetime. Like exploring an archipelago, or an ancient city. But within that realization comes another – that this will be the experience of a lifetime", quotes Mitchell Scott (Publisher & Editor in Chief of Kootenay Mountain Culture Magazine).  
So let's get down to how to tour the Powder Highway, you ski bums or aspiring "dirtbags" (an endearing local reference), on the cheap:
Fernie & Fernie Alpine Resort
Stay: No on-mountain RV Parking; Fernie RV Park (nightly rate; some services)
Eat/Drink: Griz Bar, Fernie Hotel & Pub, Kodiak Lounge in the Raging Elk Hostel, The Royal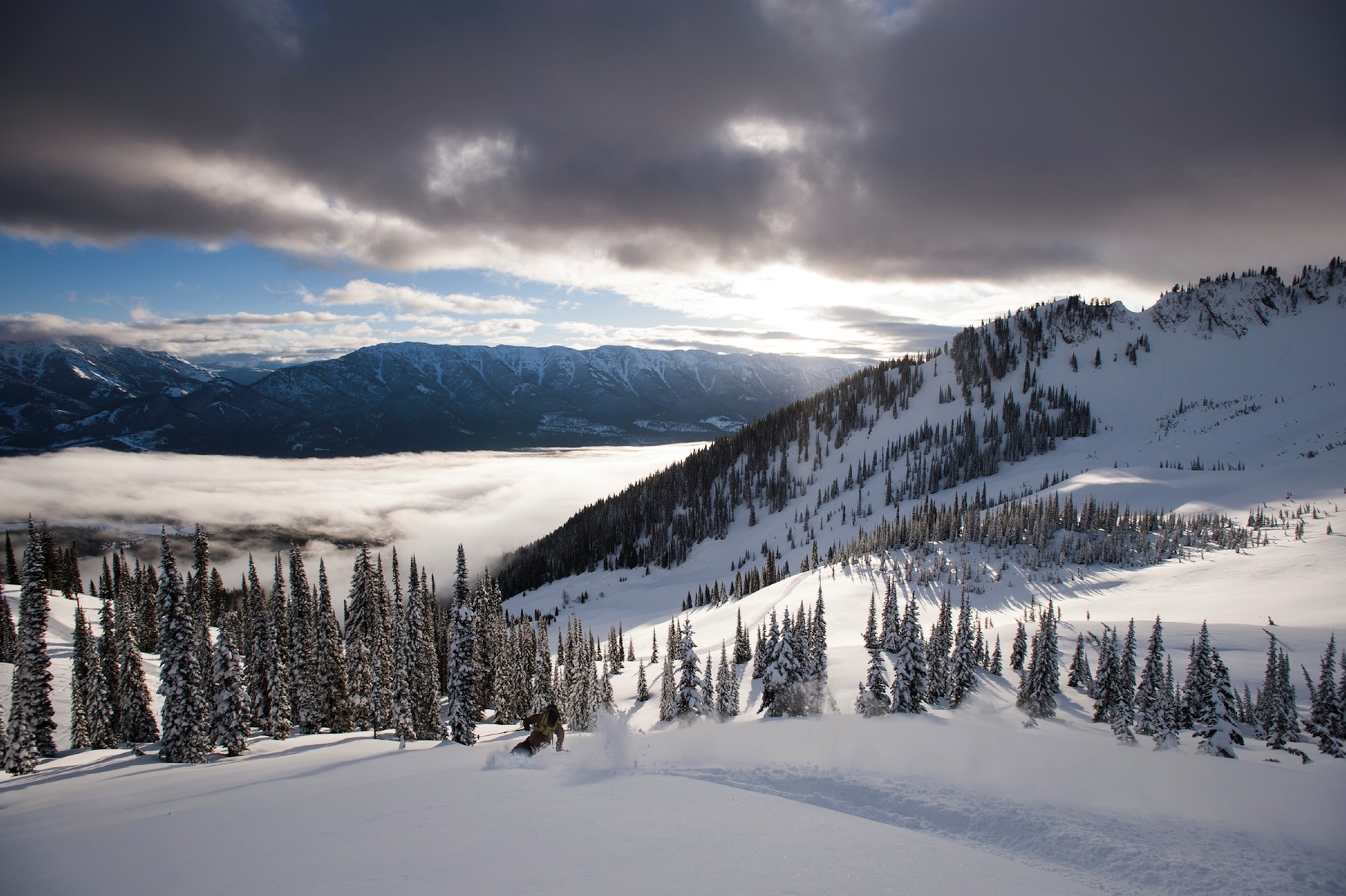 Photo by Dave Heath at Fernie Alpine Resort
Golden & Kicking Horse Mtn Resort
Stay: Kicking Horse Parking Area (no costs; no services) or downtown at the Golden Municipal Campground (nightly rate; some services)
Eat/Drink: Golden Taps, The Riverhouse, The Rockwater Grill & Bar, The Wolf's Den
Invermere & Panorama Mtn Resort
Stay: No on-mountain RV Parking; Radium
Valley Vacation RV Resort (nightly rate; some services)
Eat/Drink: T-Bar & Grill, Thunderbird Pizza, Arrowhead Brewery, The Blue
Dog Café, The Pynelogs Café, Station Pub
Kimberley & Kimberley Alpine Resort
Stay: No on-mountain RV Parking
Eat/Drink: The Stemwinder, Our Place, Pedal & Tap, The Shed
Nelson & Whitewater Ski Resort
Stay: Whitewater Parking area (nightly rate; limited services)
Eat/Drink: WH20 Fresh Tracks Cafe (next to the Glory Chair), Cantina Del Centro, Mike's Place Pub, Thor's Pizzeria 
Revelstoke & Revelstoke Mtn Resort
Stay: One night only at Revelstoke Mtn Resort
Parking area (no cost; no services), then Canada West RV Park: nightly rate; some services)
Eat/Drink: The McKenzie Outpost, Big Eddy Pub, Taco Club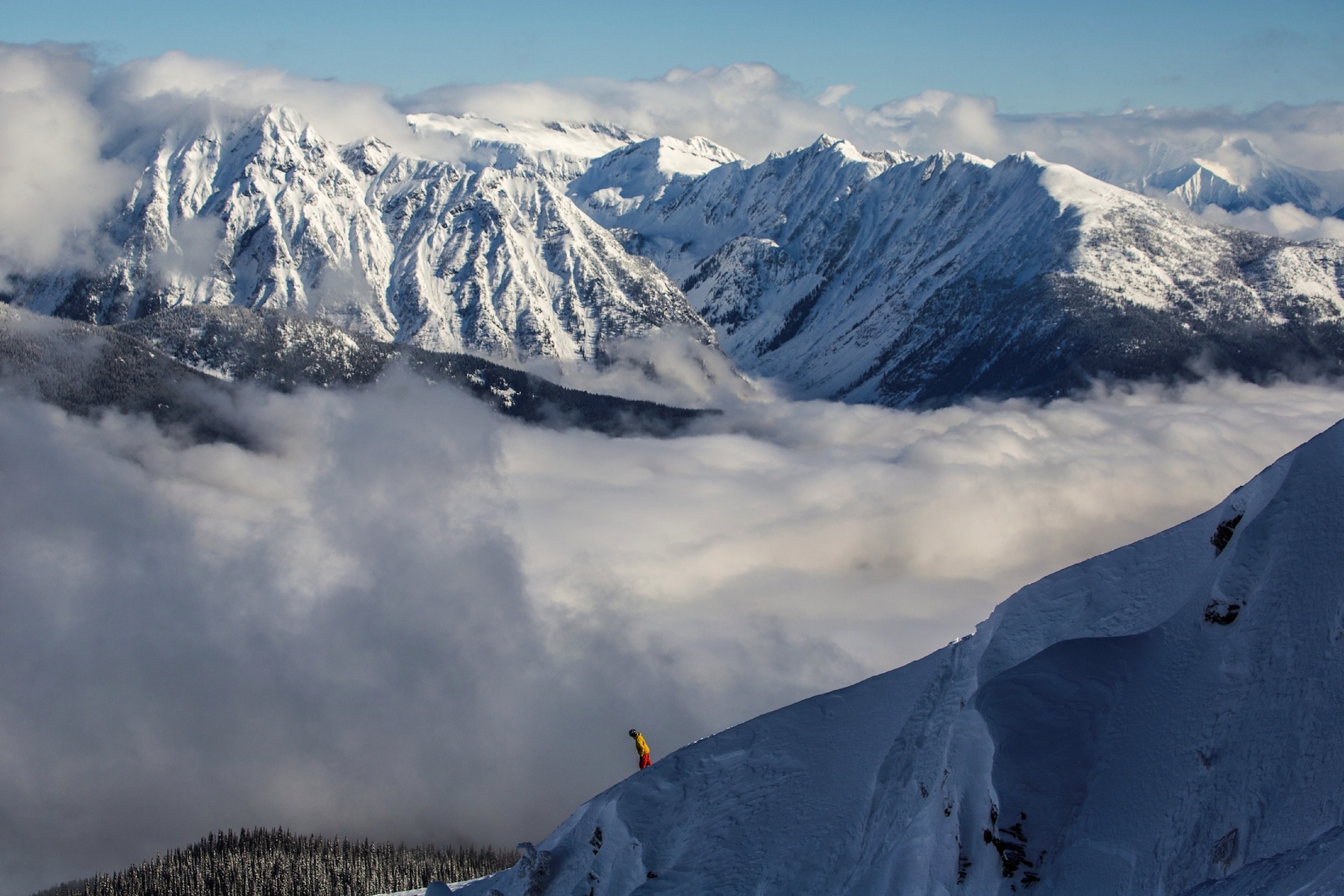 Photo by Ryan Creary at Revelstoke Mountain Resort
Rossland & RED Mtn Resort
Stay: Red Mountain Parking area (nightly rate; no services; short stays only)
Eat/Drink: Rafter's Lounge, Clansey's Café, The Flying Steamshovel, The Garage, Rossland Beer Company
RV rentals are available in Calgary, AB.  Or start your road trip from Kelowna, BC, Kalispell, MT or Spokane, WA.  Shuttle services are available to most ski resorts from these airports.  Once in the region there is the option of the Kootenay Rideshare to connect you to each mountain community!
"One constant is for certain, let's be sure, no matter how it begins. Once here, one highway connects many lifetimes of ski and snowboard adventures. But don't fret, there's no rush. The perfect snow, spectacular mountains and friendly people will wait. On the Powder Highway, there's plenty to go around", adds Mitchell Scott.
Know Before You Go – Traveling to one of these communities to join in the festivities? With high levels of snow throughout the region and winter driving conditions in effect, it is very important to check highway conditions and travel advisories. Winter tires are needed on your vehicle from October to April and Road Safety at Work has some great ideas for items to pack in your car such as windshield scraper & snow brush, shovel, warm blankets, snacks/beverages. DriveBC is a great resource with real-time webcams and road statuses.
Related Stories
~ 9 Things to Aspire to Do on the Powder Highway
~ Family Fun on the Powder Highway
~ Funky Finds on the Powder Highway
~ Guiding Services: Powder Highway's Backcountry
~ Learn to Ski or Snowboard on the Powder Highway
~ Planning your Powder Highway Road Trip: Local Tips
~ Powder Highway 101
~ Slackcountry Touring at our Powder Highway Ski Resorts
~ Up the Ante: Day Packages for Cat & Heli Skiing
Story by KootRocks Staffer (Shannon Harrison); top cover photo by Kari Medig at RED Mountain Resort in Rossland. 
Please tag your images with #KootRocks on Instagram to be featured in future stories.