Located in the southeastern corner of British Columbia, the Powder Highway refers to the area that boasts the highest concentration of alpine resort, backcountry, cat, heli and nordic skiing/riding in the WORLD!
How BIG is it really? It's absolutely gigantic. The combined tenure is 7.2+ million acres.  Locally known as the 'Kootenays' this ski/snowboard mecca is made up of 100+ ski operators along the route.   That's right – 8 Alpine Ski Resorts, 11 Backcountry Guides, 16 Backcountry Huts, 23 Backcountry Lodges, 15 Cat operators, 3 Community ski clubs, 19 Heli operators and 16 Nordic Clubs/Centres.
So let's get down to how to tour the Powder Highway, you ski bums or aspiring "dirtbags" (an endearing local reference), on a budget:
Fernie & Fernie Alpine Resort
Stay: The Fernie RV Resort is open all winter offering the winter camper and RVer a full-service and affordable option to enjoy your favourite snow activities.  Another budget offering is the Raging Elk Adventure Lodging. New for the 2021/22 season are their deluxe pods.   Perfect for the price-conscious solo traveller.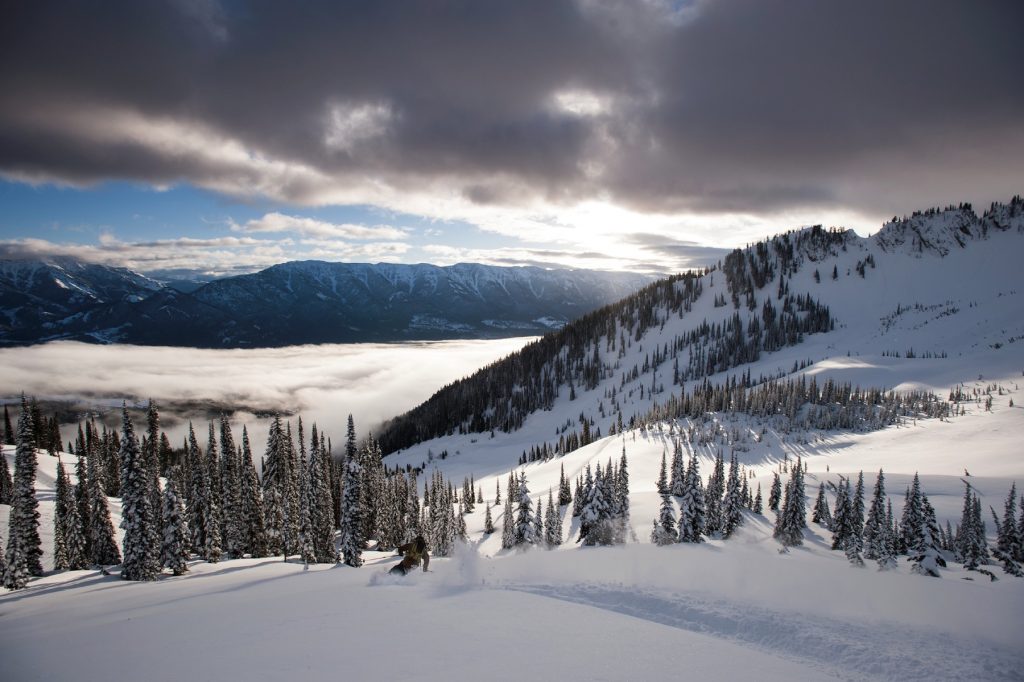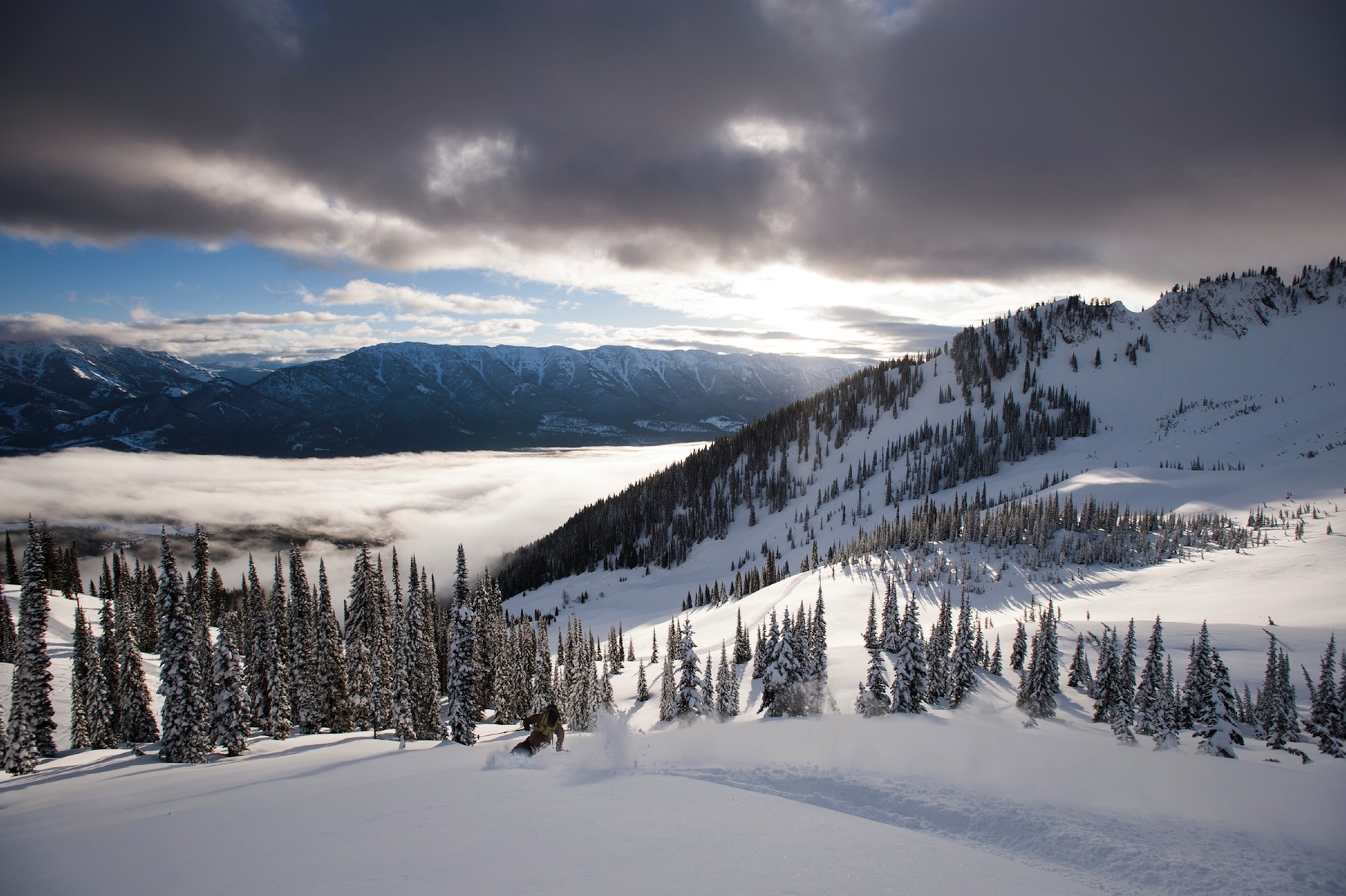 Golden & Kicking Horse Mtn Resort
Stay: The Golden Golf Club & RV Resort is a close proximity to Kicking Horse Mountain Resort and offers year-round RV sites.  The Dreamcatcher Hostel, in a renovated heritage building is located in the heart of downtown Golden.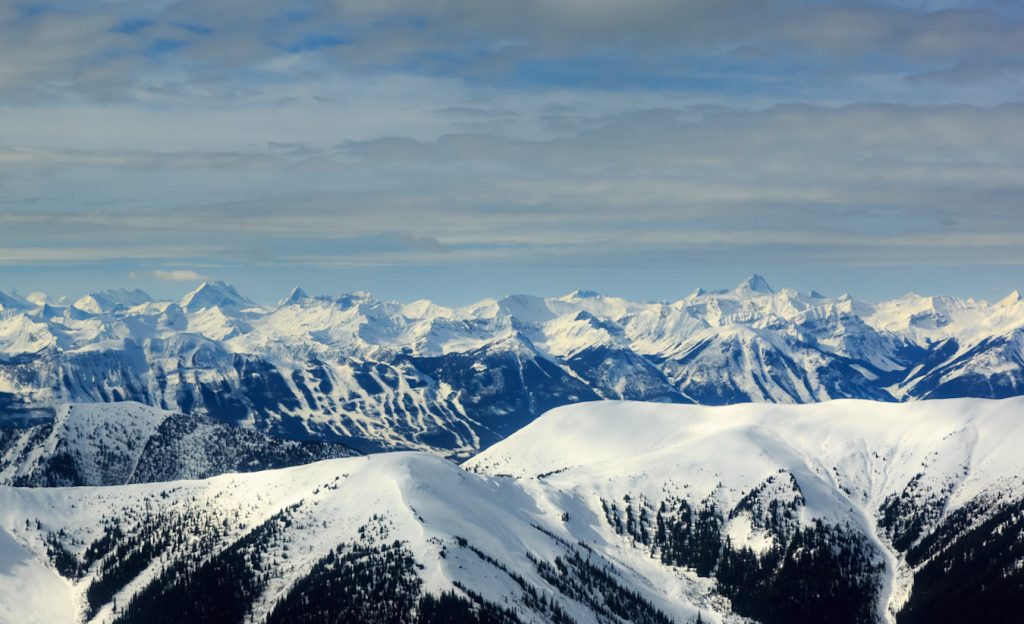 Invermere & Panorama Mtn Resort
Stay: Just a short drive away is the Fairmont Hot Springs RV Resort, offering winter RV sites.  It is also the home  to one of the largest natural hot springs (and they resort has its own family ski mountain).  For budget hotels/motels, stay at the Invermere Hostel (during the winter months, the Invermere-Panorama free shuttle stops right next to the hostel) and the Pine Inn in the Panorama Mountain Resort village.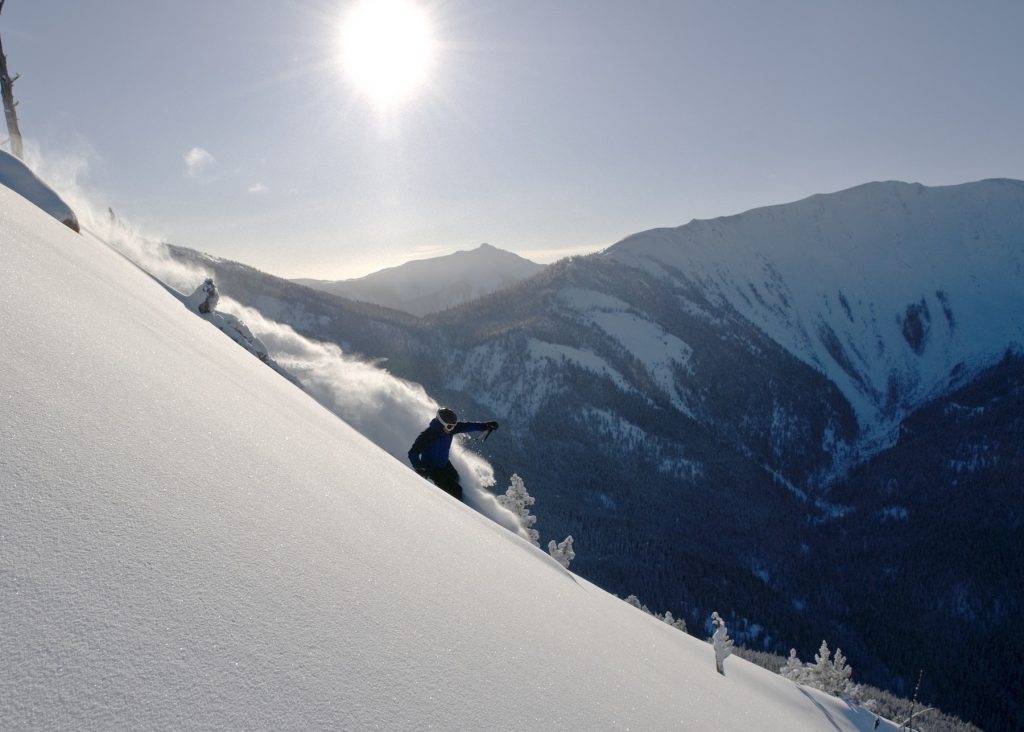 Kimberley & Kimberley Alpine Resort
Stay: There are no hostels or winter RV parks in this community. Check out the North Star Motel  for economical winter season rates (a 10-minute drive to the ski resort).
Nelson & Whitewater Ski Resort
Stay: There are no winter RV Parks in this community.  Budget accommodation, includes the Adventure Hotel  and the Dancing Bear Inn, both located on Baker Street in Nelson's thriving downtown centre.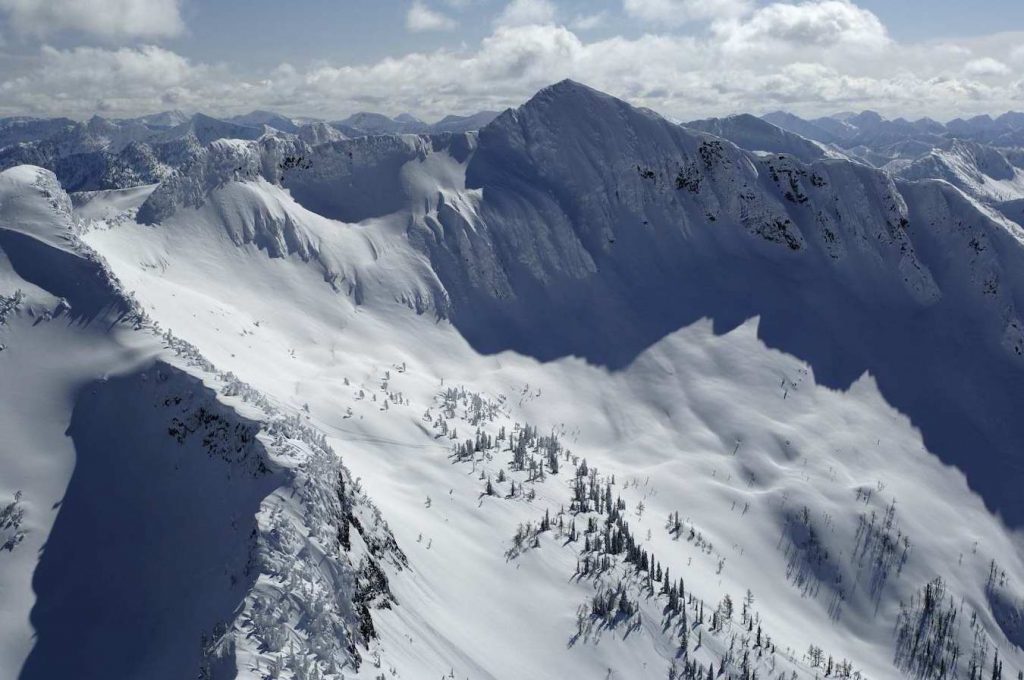 Revelstoke & Revelstoke Mtn Resort
Stay: Boulder Mountain Resort offers RV sites & Glamping options. Other economical stays includes, the Journey's Perch Guest House, Poppi's Guest House and Revelstoke Backpackers Hostel.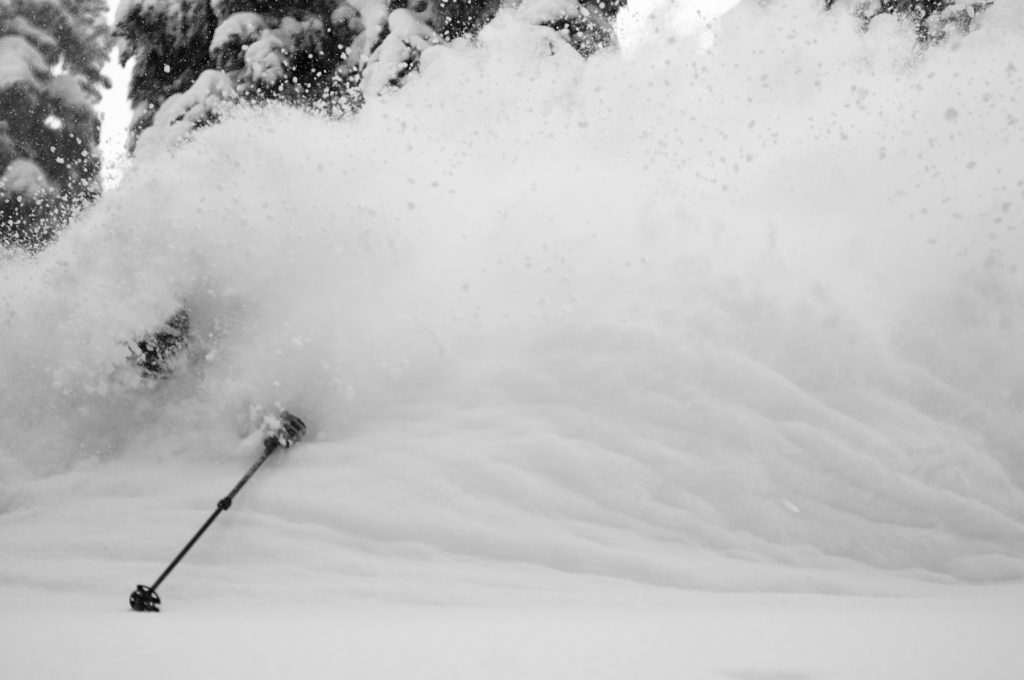 Rossland & RED Mtn Resort
Stay: There are no winter RV Parks in this community. Check out the Nowhere Special Hostel just a short walk from the hostel to the lifts at RED Mountain Resort.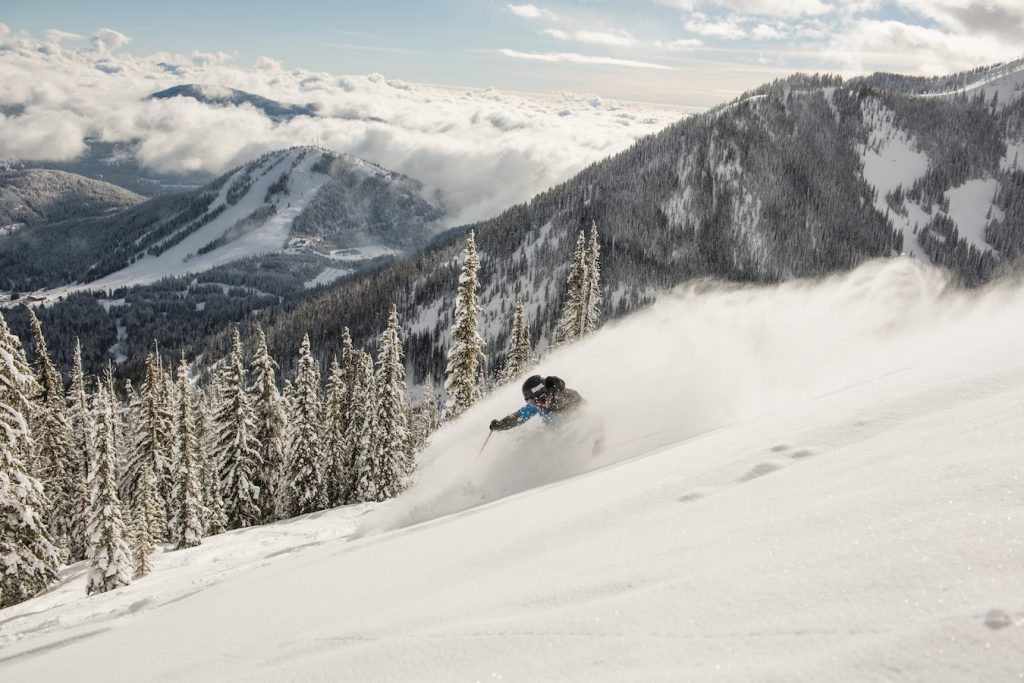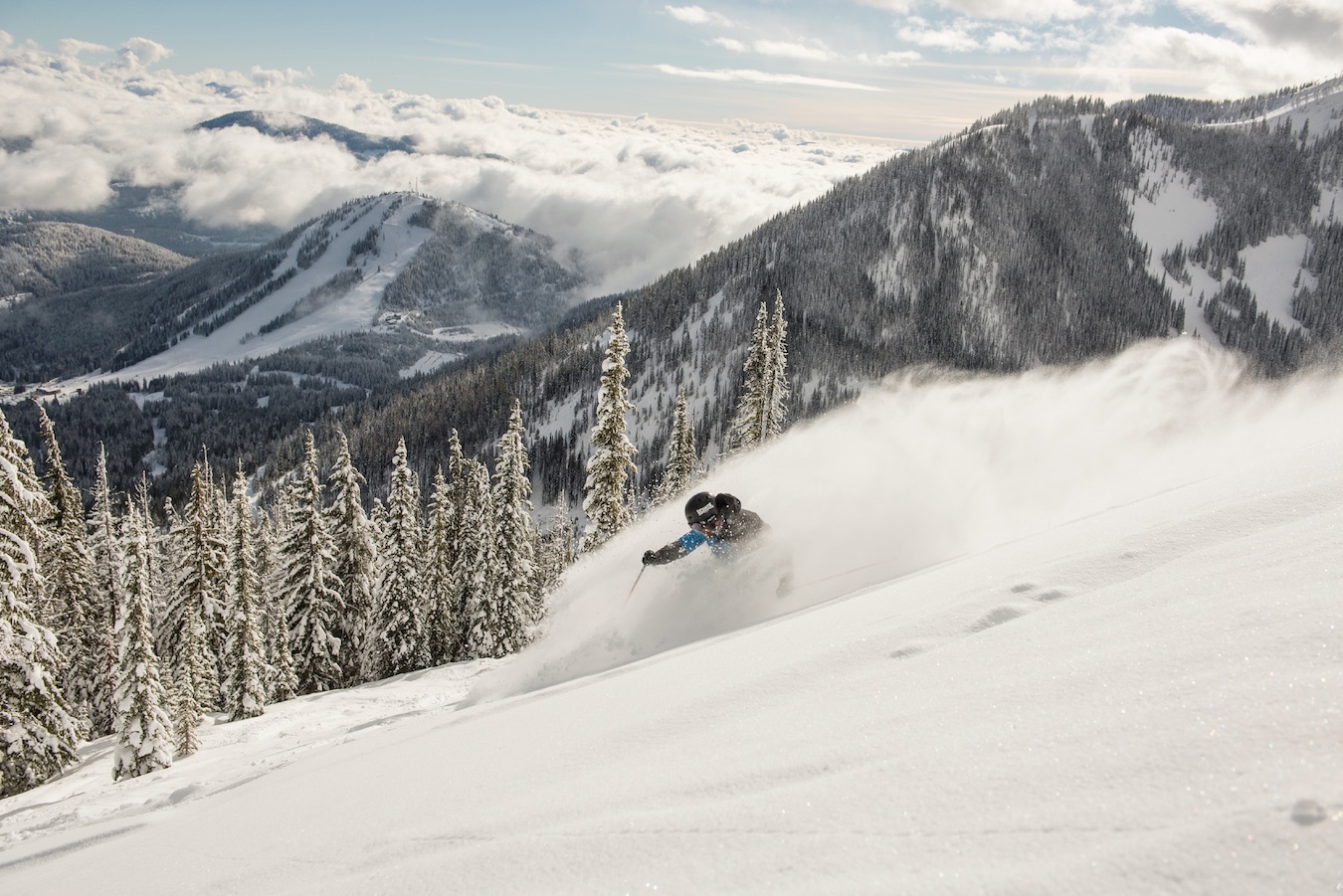 RV rentals are available in Calgary, AB or Vancouver, BC.  Shuttle services are available to most ski resorts from each our funky mountain towns.  And here is more info on other winter camping options in BC.
*** With high levels of snow throughout the region and winter driving conditions in effect, it is very important to check highway conditions and travel advisories. Winter tires are needed on your vehicle from October to April and Road Safety at Work has some great ideas for items to pack in your car such as windshield scraper & snow brush, shovel, warm blankets, snacks/beverages. DriveBC is a great resource with real-time webcams and road statuses. ***
~ Take extra time to research and plan your trip in advance. Many of our tourism businesses and services have adopted new COVID-19 protocols and changes to their schedules or policies to ensure your safety. You'll want to become familiar with them ahead of time.
~ If you normally travel with extended family or with several friends, consider travelling in a smaller group. Travelling with fewer people makes it easier for you to practise physical distancing in public, and may have less of an impact on the destination.
~ Consider a slower travel pace to help curb the spread. Instead of checking in and out of multiple destinations during one trip, choose one or two destinations and one/two accommodation properties for your entire trip (and explore all the things to do & see nearby).
Related Stories
~ Family Fun on the Powder Highway
~ Funky Finds on the Powder Highway
~ Guiding Services: Powder Highway's Backcountry
~ Learn to Ski or Snowboard on the Powder Highway
~ Planning your Powder Highway Road Trip: Local Tips
~ Powder Highway 101
~ Slackcountry Touring at our Powder Highway Ski Resorts
~ Up the Ante: Day Packages for Cat & Heli Skiing

Story by KootRocks Staffer (Shannon Harrison); top/cover photo by Henry Georgi in Fernie.
Please tag your images with #PowderHighway on Instagram or Facebook to be featured in our social channels.
(Original story published for the 2016/17 winter season.)