It was tradition in our house to go skiing every weekend in Kimberley… the house would be a buzz with five of us trying to get all of our stuff together. Long-johns, turtlenecks and warm socks were donned before we made our way into the kitchen for our cream-of-wheat breakfast.
Once fed, dressed in our ski-gear (including boots) we marched out to the truck, loaded in and raced to the mountain in hopes to be in the first row of the parking area.  Back then it was a sign of dedication, 'prestige' if you got in the first row.  Then we were off, swept up on the blue chair (Buckhorn) to start our day… followed by run after run after run, only to stop for a quick brown bag lunch, and to resume skiing the rest of the afternoon… Mambo, Midnight, Stemwinder, Rosa, Dreadnaught, Schoolhouse repeat. This was my all-time favourite time (era) of skiing.   
But today, skiing and snowboarding is just one of the many activities available at our ski resorts along the Powder Highway. And off-mountain activities are also a big part of the Kootenay ski culture.  So, here's some activities to make your family experiences on the Powder Highway trifecta fun!
Mountain
The entire mountain is family friendly and they even have their own mascot "Monty the Moose" who loves to hang out at the Ski Chalet or Tube Park. Be sure to introduce yourself!
Après Ski
Did someone say sliding… yes, this mountain offers an exhilarating 'tube park' – race your parents down the slope in under 10-seconds.  This resort is unique, as it has their own natural hot springs, parents can soak in the warmest pools while the kids take turns jumping off the low or high-diving boards.
Yum
Pizza and a milkshake to end the day! Who's in?  And, I've heard the ice-cream sundaes are the best at Fairmont Pizza & Ice-cream Parlour.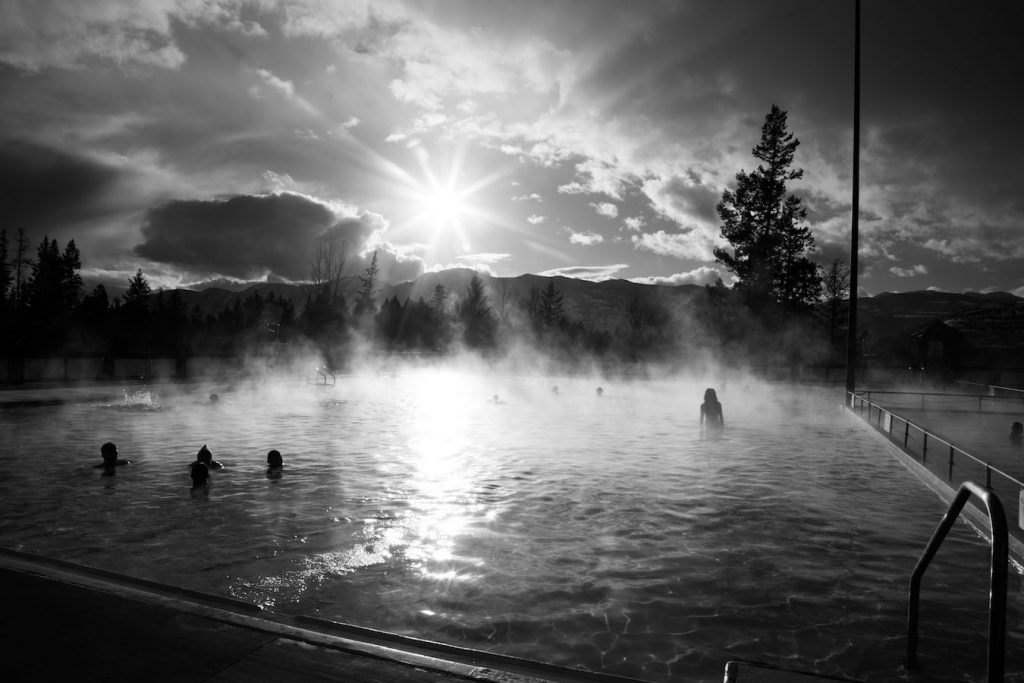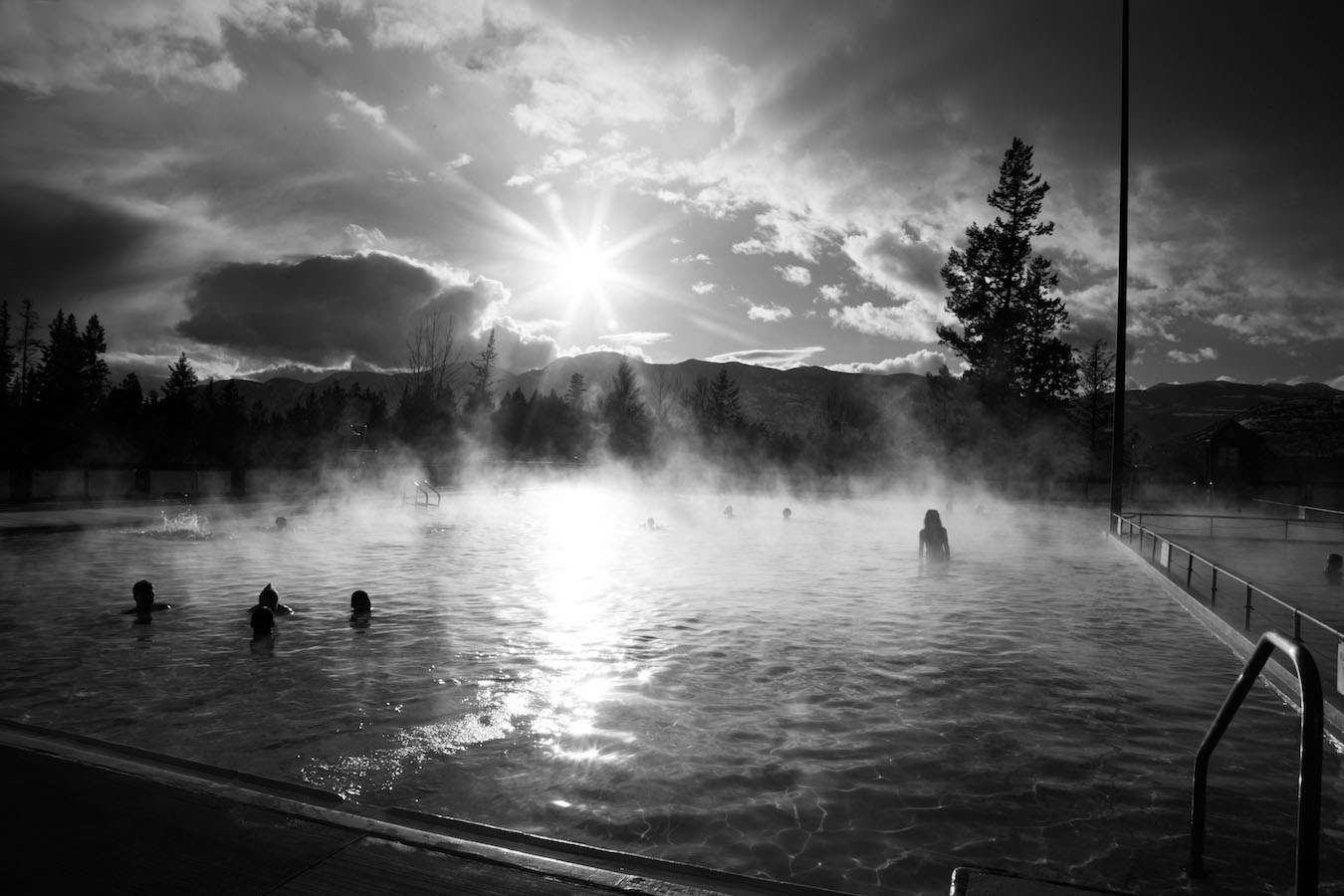 Mountain
The 'Minute Maid Kids Trails' off the Deer Chair will get you on the move; these trails are twisty, perfect for your kid's short skis and it even has a secret entrance.  Other fave is the 'Holo Hike'; an easy groomed blue run when you get to ski through two tunnels and weave your way through resort cabins.
Après Ski
Remember to bring your ice-skates and hockey sticks – in-town (Fernie) has an NHL outdoor skating rink. Start your own friendly pick-up game, it's free for public use and is open daily.  Or stop by the indoor pool, it has a leisure pool for small children, an indoor waterslide, diving board, rope swing and a 25-person whirlpool.
Yum
The Loaf on 2nd Avenue downtown Fernie is a great place to get home-baked goodness and nutritious meals for the entire family. Casual dining atmosphere too!  More options.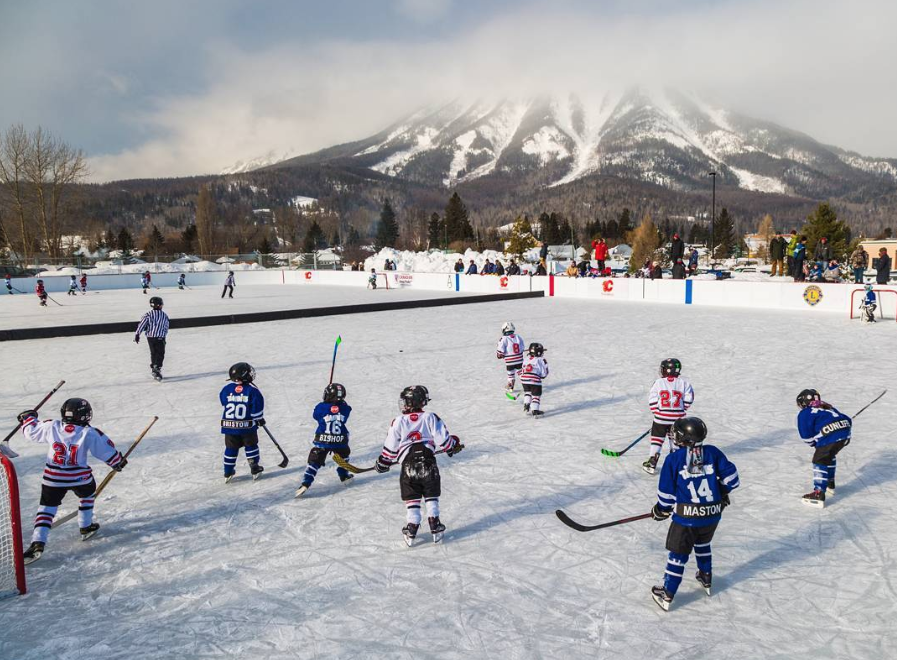 Hockey anyone?, photo courtesy of Tourism Fernie
Mountain
As a family you may want to stay and play on the Catamount quad and ski/ride the green (beginner trails) or venture to the top on the gondola and ride. It's a 10′ from top to bottom (but you do need to make your way over the Crystal Bowl, so skate-skiing and towing your kids could be a possibility).
Après Ski
On mountain, off of the magic carpet (Jelly Bean Surface Lift) is the Tube Park.  Another option for non-ski, is to ride the gondola to the top of the mountain and have lunch (it is Canada's highest elevated snacking hot-spot)!
Yum
For one of the best burgers, check out the Wolf's Den in downtown Golden.  Their full menu offers a great selection from AAA certified angus steaks to a family-friendly kids menu.  More options.
Mountain 
What has changed from the time I was a kid to now, is the mountain has way more glade areas to explore and a lot of it is easy or intermediate terrain.  
Après Ski
The Spirit Rock Climbing Centre in downtown Kimberley is a great way to burn more energy. The centre offers a kid's area, plus a boulder wall and beginner routes to long overhanding technical climbs.
If you still want more runs, the resort offers night-skiing too.  Or, hit the Kimberley Nordic Centre to classic or skate-ski under the starts on their lit 3-km trails. 
Yum
Neapolitan pizza & Italian food made from the freshest of regional ingredients. The Stonefire Grill is a truly unique family restaurant right in the centre of Kimberley's Platzl, their pedestrian walking mall.  More options.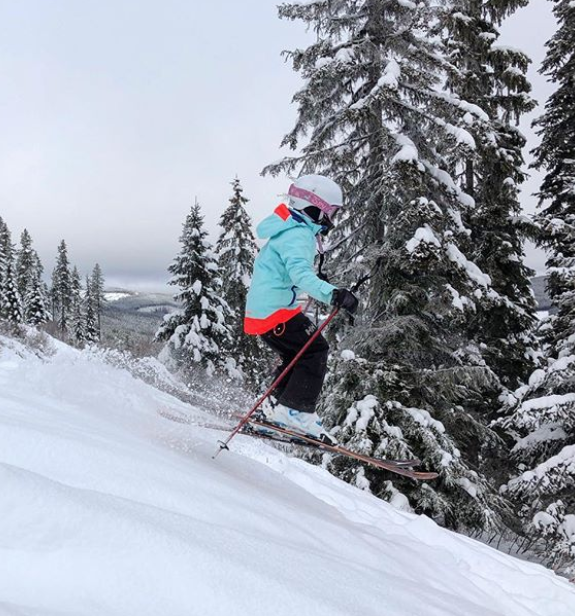 Fun times at the Kimberley Alpine Resort, photo by Heidi Korven
Mountain
This resort offers 2 magic carpets, 1 poma lift and two chairlifts accessing their beginner area, the Discovery Zone. Offering this whole kid friendly/learning zone is pretty awesome!
Après Ski
The XC trails at Panorama are family-friendly too, as they have small warming huts along the route — which is great for kids.  Or, they can go ice-skating on Lake Lillian (a mini-Whiteway), or venture into downtown Invermere to experience The Whiteway and its 34-km ice-skating track (the longest one in the world).  Or if you just want stay warm, be sure to take at dip in the Panorama Springs pools. 
Or take in a half day snowmobile tour with Toby Creek Adventures.  The Paradise Mine half-day tour (3-hours) is perfect for beginners and families. This tour follows the trails through old-growth forest to a frozen waterfall ending at a cozy cabin.
Yum
Location near Lake Windermere, in downtown Invermere, Huckleyberry's Family Restaurant is open daily for breakfast, lunch and dinner in a cozy family atmosphere.  More options.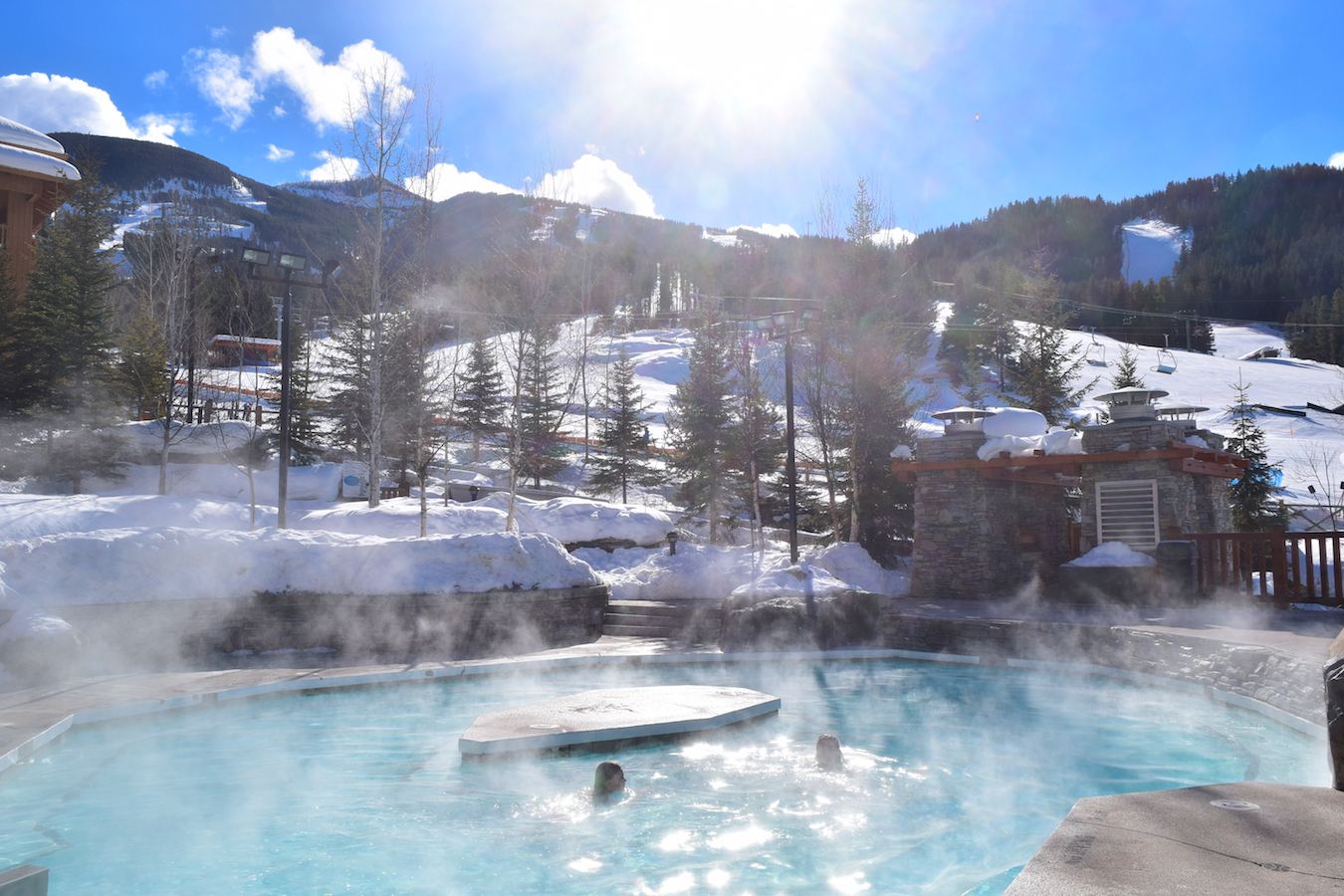 Panorama's hot pools, photo by Shannon Harrison
Mountain
Taking the lift to access 'Paradise' is an amazing option for families at RED in Rossland.  You could spend your entire time skiing/riding the terrain here and with the addition of the Paradise Lodge you can!  (Take 'Easy Street' run to access the front side of the mountain.)
Après Ski
The local hockey team, the Trail 'Smoke Eaters', play regular games over the ski season; cheer them on while they compete with other Junior A ice hockey teams in BC.
Yum
The Colander in downtown Trail has the very best spaghetti dinner with an authentic family-style dining experience.  Fill up on carbs for day two of exploring the mountain.  More options. 
Mountain
The first gondola up to Revelation Lodge is really short, so it's pretty cool that families, and beginners can experience 'gondola skiing'!  And beside the gondola is a magic carpet that provides access to the Turtle Creek beginner ski area, tube park and rail park.
Après Ski
Great Canadian Tours offers a 1-hour fun tour on a snowmobile along Frisby Ridge to a rustic cabin that overlooks the surrounding mountains.  Perfect for families, this tour offers four excursions daily to fit around your on-mountain activities.
Yum
Chubby Funsters — it's just fun to say!  This casual dining experience in downtown Revelstoke offers great Canadian cuisine featuring lasagna, prime rib dinners, delicious burgers and a family-friendly kids menu.  More options.
Mountain
Skiing/riding the Silver King area offers up some great easy to intermediate terrain for your family.  This mountain also offers an amazing terrain park — check on the current conditions and ride responsibly.  
Après Ski
The Nordic trails at the base of Whitewater are fun plus you can snowshoe & bike on them as well… which means from the base area a family can experience all three activities.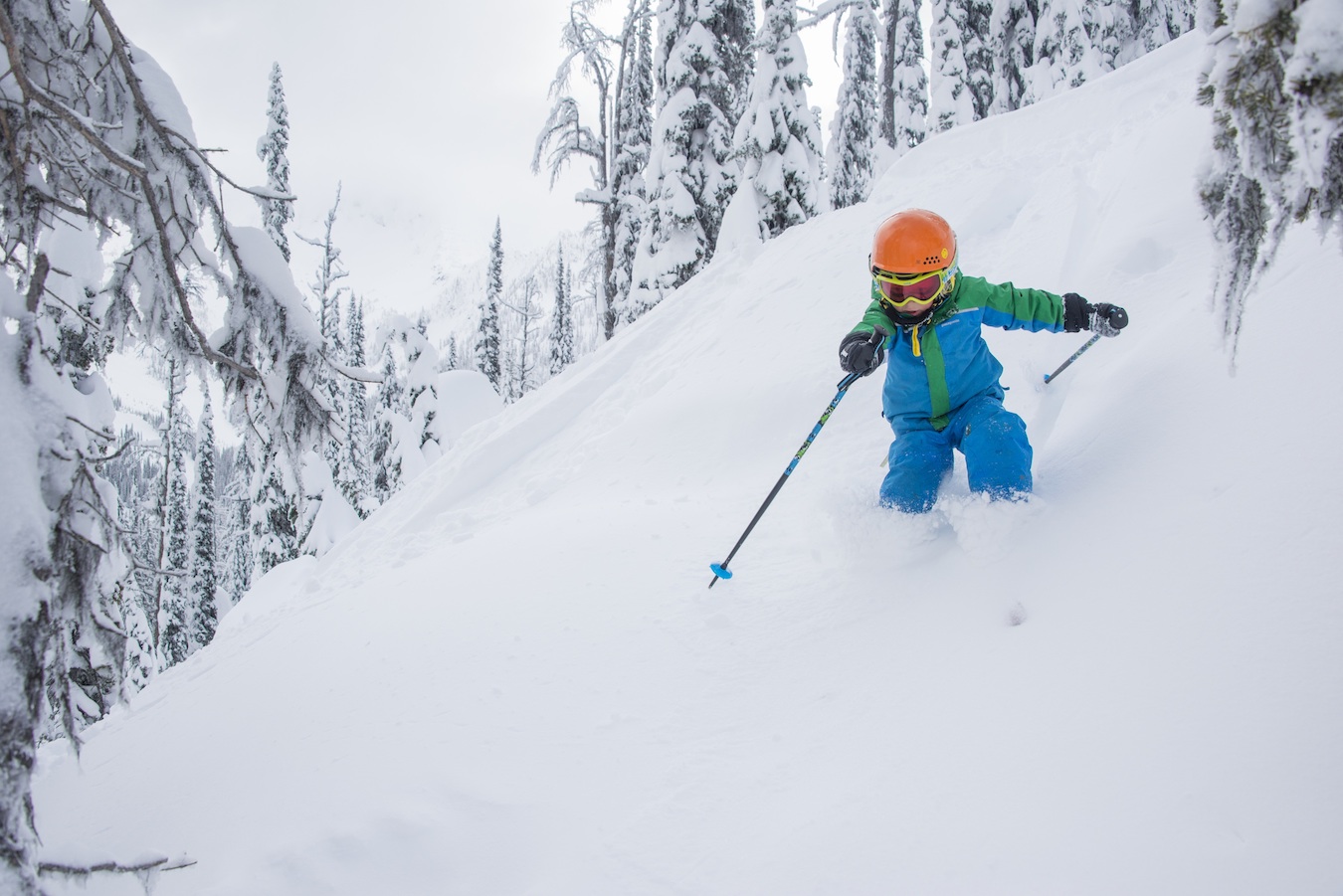 This little ripper is conquering the powder Whitewater Ski Resort, photo by Steve Ogle
Yum
For dinner check out the Main Street Diner for greek or Marzano for Italian cuisine… mmm kids menus and amazing dishes for the parents! More options.
Know Before You Go – Plan ahead so you can travel safely and responsibly. Familiarize yourself with weather, road conditions, general alerts for travellers and provincial health orders & recommendations.
Related Stories
~ 5 Things to Do with the White Stuff in the Kootenays
~ 72 Hours in the Columbia Valley this Winter
~ 72 Hours in Fernie this Winter
~ 72 Hours in Golden this Winter
~ 72 Hours in Kimberley this Winter
~ 72 Hours in Nelson this Winter
~ 72 Hours at Panorama Mountain Resort his Winter
~ 72 Hours in Revelstoke this Winter
~ 72 Hours in Rossland this Winter
~ EV Powered Turns on the Powder Highway
~ Funky Finds on the Powder Highway
~ Getting into Hot Water: Kootenay Hot Springs
~ Keeping it 'Old School': Community Mountains on the Powder Highway
~ Kootenay Winters: Why We Love Them
~ Learn to Ski or Snowboard on the Powder Highway
~ Powder Highway 101
~ What's NEW on the Powder Highway?
Cover/top photo by Steve Ogle.
Please tag your images with @PowderHighway and @KootRocks on Instagram to be featured in a future social post.  For travel deals and specials – sign up for our Consumer Travellers Newsletter.