The rest of the world may tuck itself indoors as temperatures fall, but not the people of the Kootenays.
This mountain playground in British Columbia, also known as The Powder Highway embraces winter weather. The mountains powder themselves in crystalline white while inhabitants — both people and wildlife, bundle up with thicker coats.
But unlike the mammals that burrow as daylight hours wane, Kootenay folks find ways to maximize shorter days and light up the longer nights.
In the towns across the Kootenays, you'll find hardy outdoorsmen and women (and their children) stepping willingly into chilled air with their neighbours. Check red, hands mittened, the season is welcomed with winter carnivals, festivals and the general shenanigans the Kootenay culture is known for.
Holiday Winter Lights Celebration: December 4, 2021 to January 1, 2022
Wander around the mountain lodge decorated with twinkling holiday lights and melt into the spirit of the season. Enjoy the outdoor light displays, a (physically distance) visit with Santa, tons of fun activities for all ages and special food & beverage meals during this festive time, your new family winter tradition!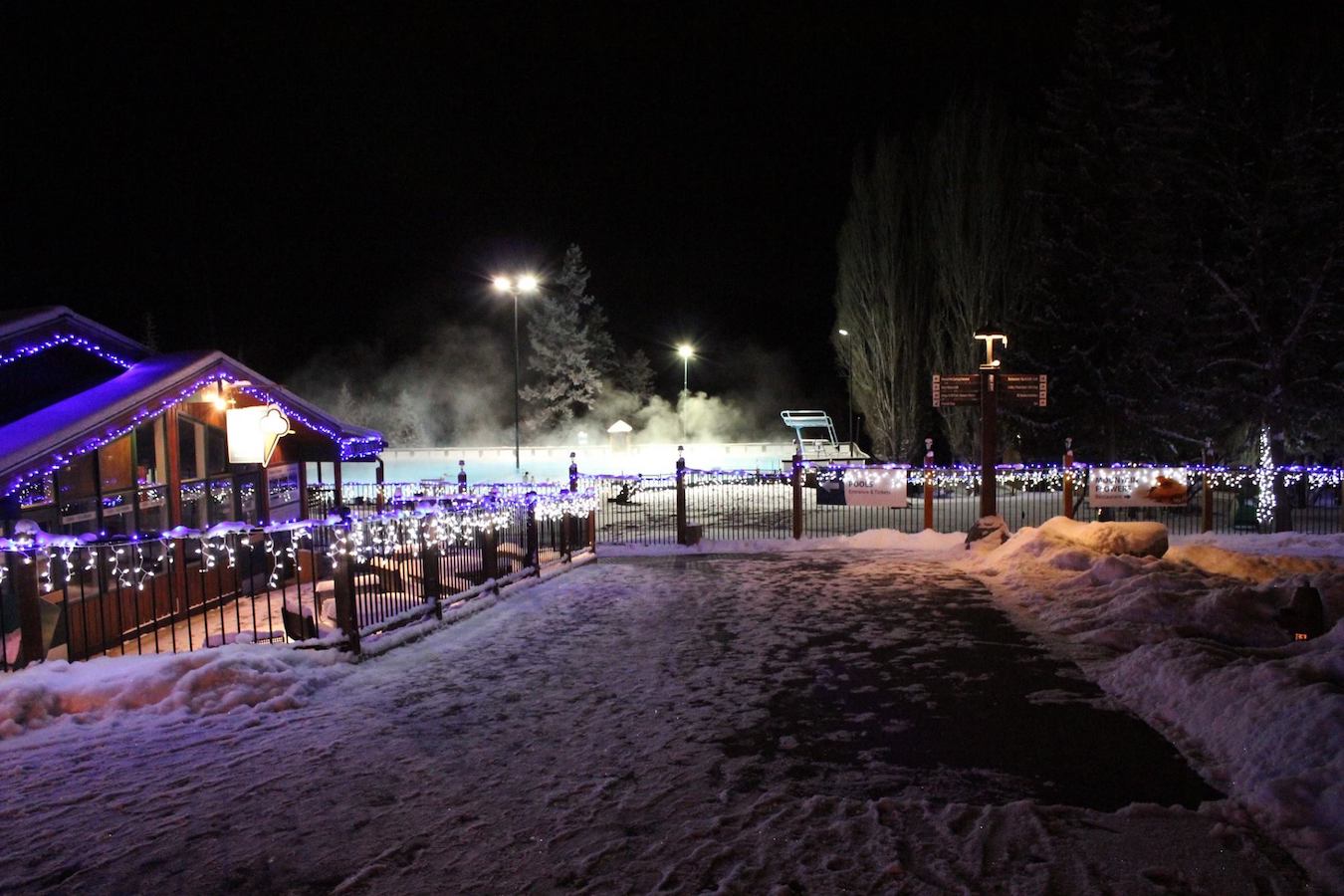 The mineral hot pools, all lit up for the holidays; photo courtesy of Fairmont Hot Springs Resort
45th Annual Griz Days Winter Festival – March 4-6, 2022
Celebrating 45 years in 2022, the event has mixed things up.  Some of the events planned for March includes, is the movie premiere of 'The History of Griz Days', hitting the slopes of the Fernie Alpine Resort and a historic story walk with the Fernie Museum (located downtown).  Check back to the link above for more scheduled events.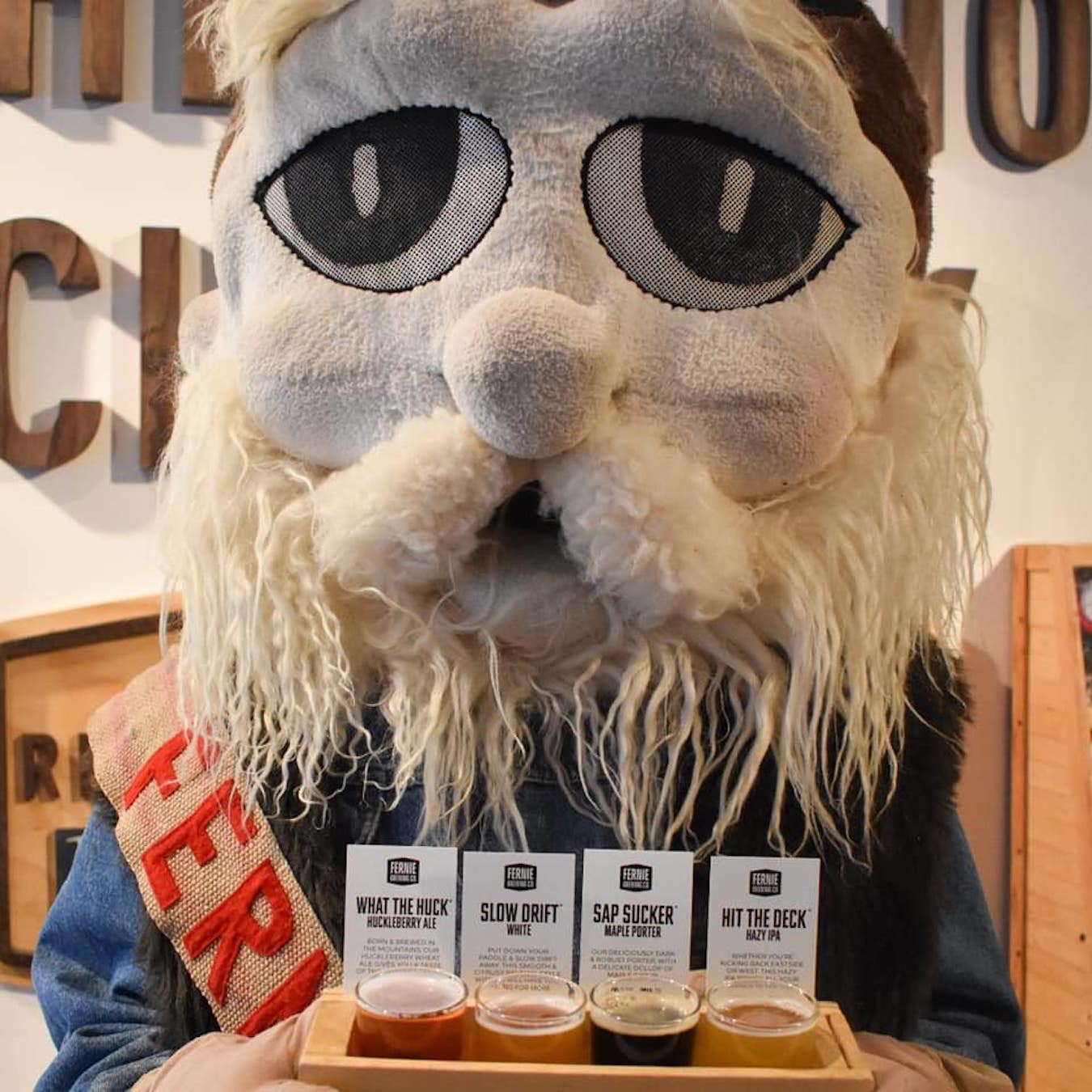 Meet "the Griz", sample some of Fernie's locally brewed craft beer
Freeride World Tour – February 12-17, 2022
After a 1 year absence, due to the pandemic, the Freeride World Tour will be back in 2022, at Kicking Horse Mountain Resort. With a packed lineup of the best female and male freeriders from around the world!  Stay tuned for more details (link above).
Flannel Fest – February 12, 2022
In 2021, the event was virtual due to COVID.  This family-friendly event offered attendees to build snow sculptures in their backyard, decorate their front window, upload your video (or photos) to compete in the couple Flannel Dance Party.  Stay tuned for more details about the 2022 event updates. 
The previous year (2019 & 2020), attendees dress up Kootenay-style in your favourite flannel, as the best dressed "in-show" will be crowned the Queen and King of Flannel Fest.  Other activities include a lazer light show with various DJs, Snow Bocce, Platzl hockey, an Artisan Market and Snow Sculptures – all taking place in Kimberley's downtown Platzl.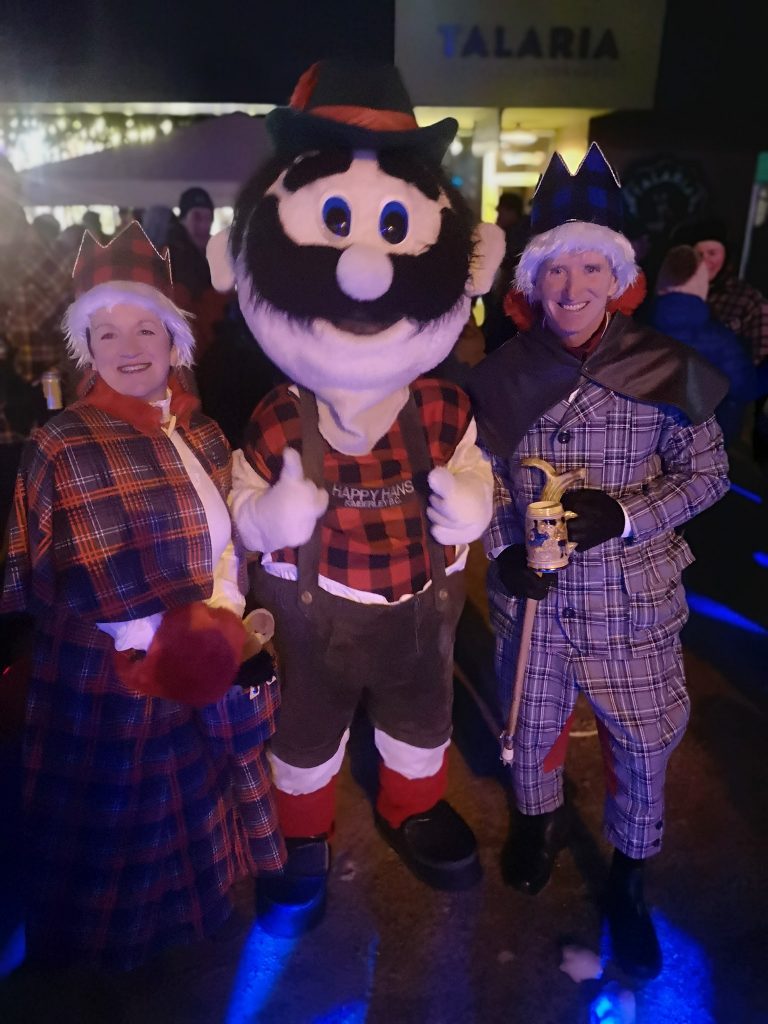 Rossland's Winter Carnival – January 26-30, 2022
Started in 1898, this is Canada's longest-running winter celebration – and, according to the carnival's present-day organizers,  how skiing got its start in Canada. 
"For over 120 years, Rossland's citizens have gathered with the purpose of going downhill, says local Deanne Steven, "as fast as we can and in as many ways as we can."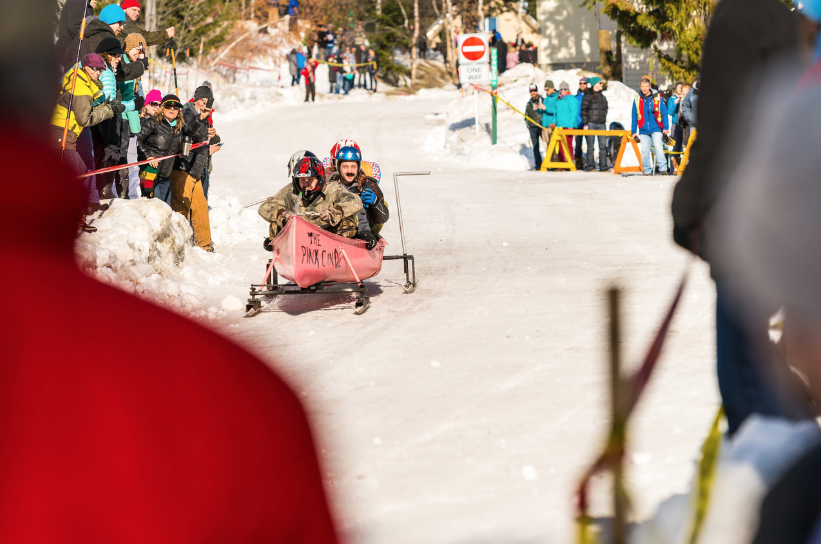 Photo Credit: Photographer – Tourism Rossland/Ryan Flett in Rossland
It's a flurry of frozen H2O: There's the homemade bobsled comp on a purposely iced-down (and steep) Spokane Street, dump trucks dropping loads of snow onto a second street for snow sliders and rail jams, and beverage bars made of solid ice for those who feel their participation is best lent as an onlooker.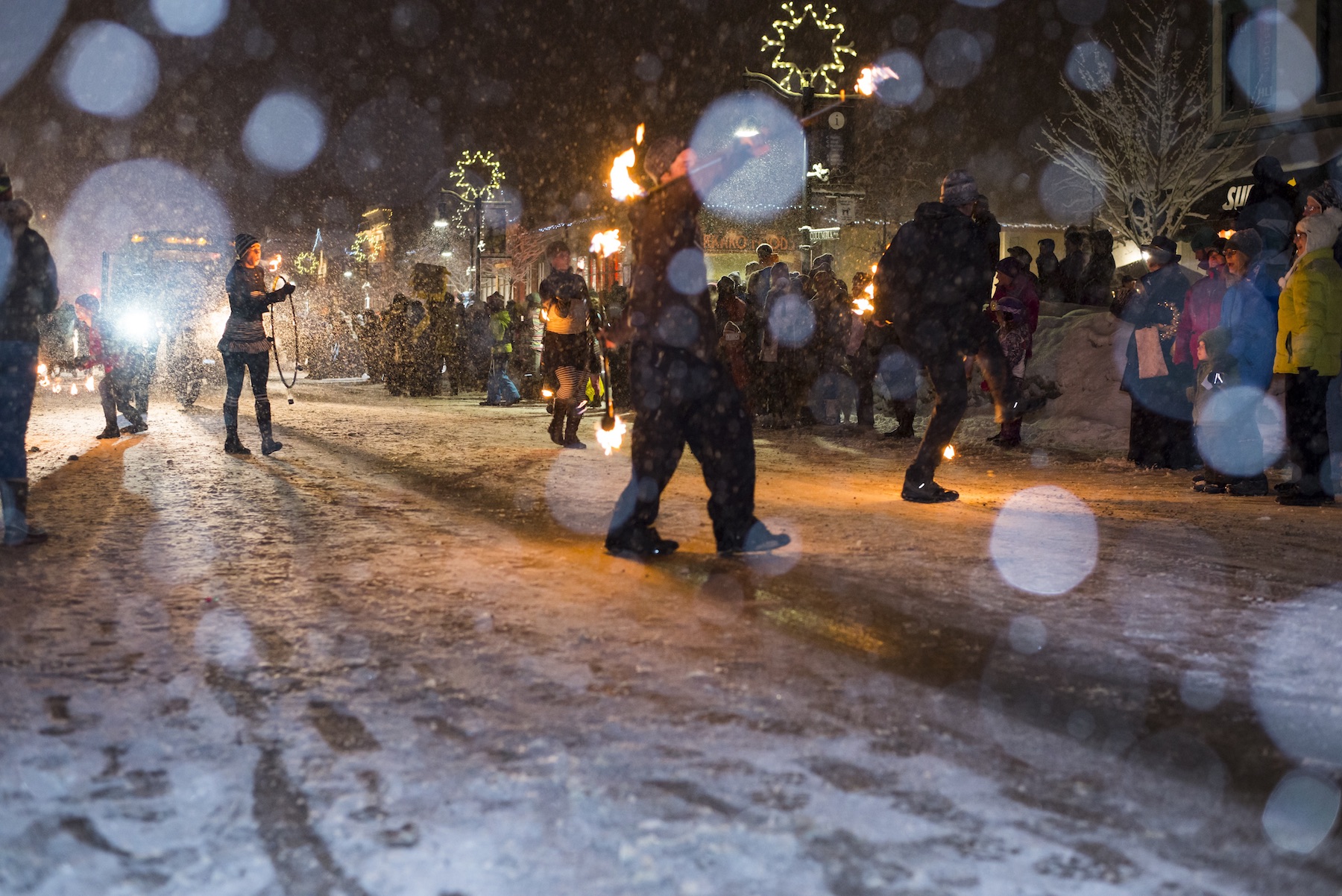 Rossland's Winter Carnival parade; photo by Steve Ogle
"The vibe is a funky, 'anything goes' party to celebrate any and all ways to have fun on snow," says Rossland's Kristi Calder. "Visitors who experience it get pulled right into the full Canadian Ski Town winter experience."

Know Before You Go – Plan ahead so you can travel safely and responsibly. Familiarize yourself with weather, road conditions, general alerts for travellers and provincial health orders & recommendations.
Related Stories
~ 5 Things to Do with the White Stuff in the Kootenays
~ 72 Hours in Fernie this Winter
~ 72 Hours in Golden this Winter
~ 72 Hours in Kimberley this Winter
~ 72 Hours in Nelson this Winter
~ 72 Hours in Revelstoke this Winter 
~ Family Fun on the Powder Highway
~ Funky Finds on the Powder Highway
~ Invermere's Whiteway: All Things Winter
~ Kootenay Winters: Why We Love Them
~ Powder Highway 101
~ Toques & Plaid: Its Unique Vibe on BC's Powder Highway
~ What's NEW on the Powder Highway
~ Winter Biking in Rossland Never Looked Better
Words by Gina Begin.  Cover/top shot by Steve Ogle at Rossland's Winter Carnival. 

Words by Gina Begin – Although she's a Florida girl, exploration called her away after the final bell of her high school career. On a quest to reach the distant adventures of North America, she lived in her car, traveling to ski the backcountry of Alaska, sleep under the northern lights in the Yukon Territory, ice climb Colorado's frozen canyons, photograph Nova Scotia's coves, backpack in southern US wildernesses and munch on sugared tamarindo in the jungles of Mexico. But after three years living on the road and seeing the many wonders this continent had to offer, she chose the place she knew would fit an explorer looking for a lifetime of wild wonder: British Columbia. Dual citizenship in hand, she settled along the Powder Highway in the Selkirks and is making her homebetween four walls and deeply wooded mountains.
Please tag your images with #KootRocks and #PowderHighway on Instagram and Facebook to be featured in future stories.