The rest of the world may tuck itself indoors as temperatures fall, but not the people of the Kootenays.
This mountain playground in British Columbia, also known as The Powder Highway embraces winter weather. The mountains powder themselves in crystalline white while inhabitants — both people and wildlife, bundle up with thicker coats.
But unlike the mammals that burrow as daylight hours wane, Kootenay folks find ways to maximize shorter days and light up the longer nights.
In the towns across the Kootenays, you'll find hardy outdoorsmen and women (and their children) stepping willingly into chilled air with their neighbours. Check red, hands mittened, the season is welcomed with winter carnivals, festivals and the general shenanigans the Kootenay culture is known for.
Christmas Celebrations – December 24-25, 2020
Nearly a thousand people gather in the night to see Santa don his skis and with dozens of others, carry his torch down a winter slope for the torchlight parade on Christmas Eve.  This event has been taking place for over 30 years – it was started by their ski area manager in 1985.  Followed by a colourful display of fireworks – perfect for families.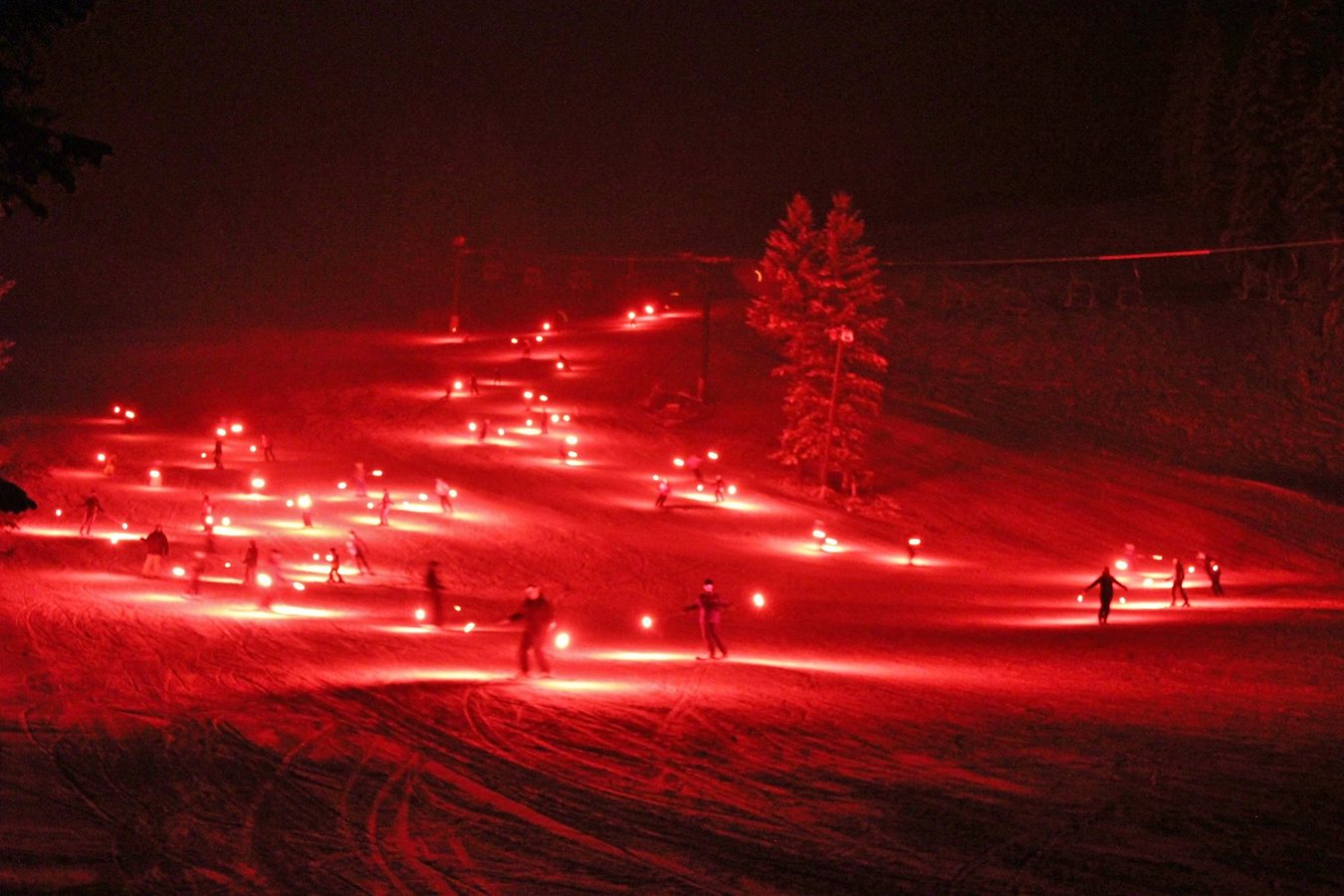 Torchlight parade at the mountain; photo courtesy of Fairmont Hot Springs Resort
Those who celebrated through the winter night on Christmas Eve can take the chill off on Christmas day in the town's hot spring waters; all that's on the "good" Christmas list  the entrance to the public pools that day is buy donation to the local food bank (between 10am – 6pm).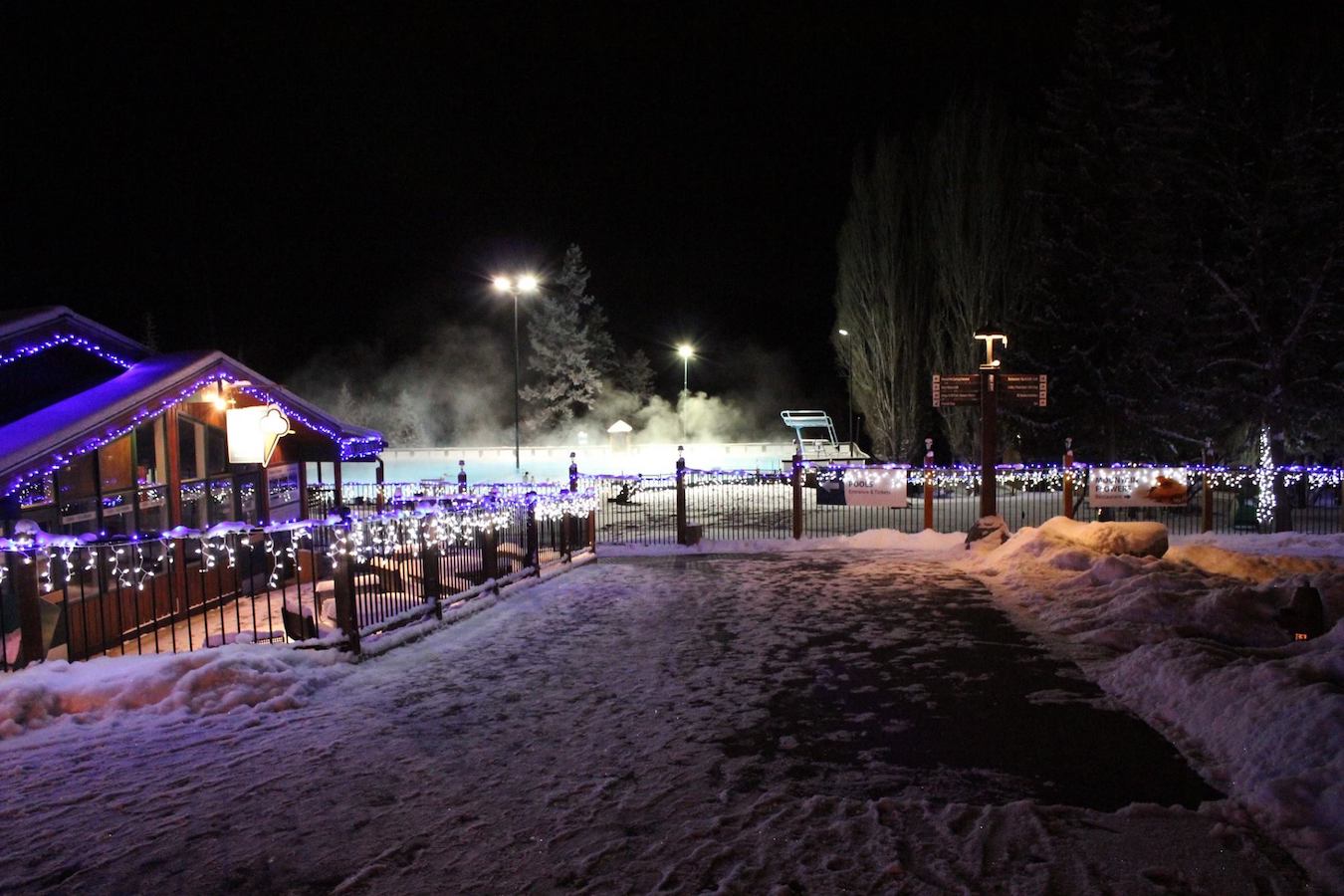 The mineral hot pools, all lit up for the holidays; photo courtesy of Fairmont Hot Springs Resort
Griz Days Winter Festival – March 6-8, 2019
At this festival, you might end up in jail–but that's a good thing. Each winter, Fernie celebrates mountain town culture, legendary Powder Highway snow, and The Griz – who locals say is responsible for their share of snow in the Elk Valley. 
"It is a great celebration because it's very community oriented", says Jikke Gyorki, executive officer for Tourism Fernie. "Just be sure to pick up a 'Griz Days' pin before the Sheriff finds you!"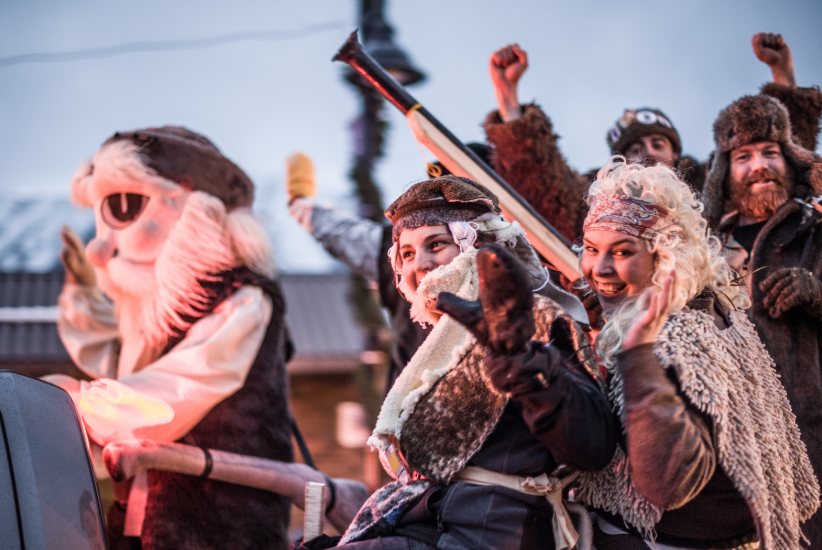 Photo Credit: Photographer – Jeff Topham/Tourism Fernie at Fernie's Griz Days
The pins — and the bail set to get pin-less attendees out of jail, raises money for a local charity each year. Those obediently displaying 'The Griz pin' will find diverse activities to give a try: there's mountain man-style competitions including sawing, shooting, axe throwing, fire starting, leg wrestling, hockey shoot out, and a pancake eating contest, along with fireworks, rail jams, and plenty more.
"The whole town comes out to celebrate … it's a great way for visitors to get to know Fernie mountain culture," says Gyorki. "And the kids love it too!"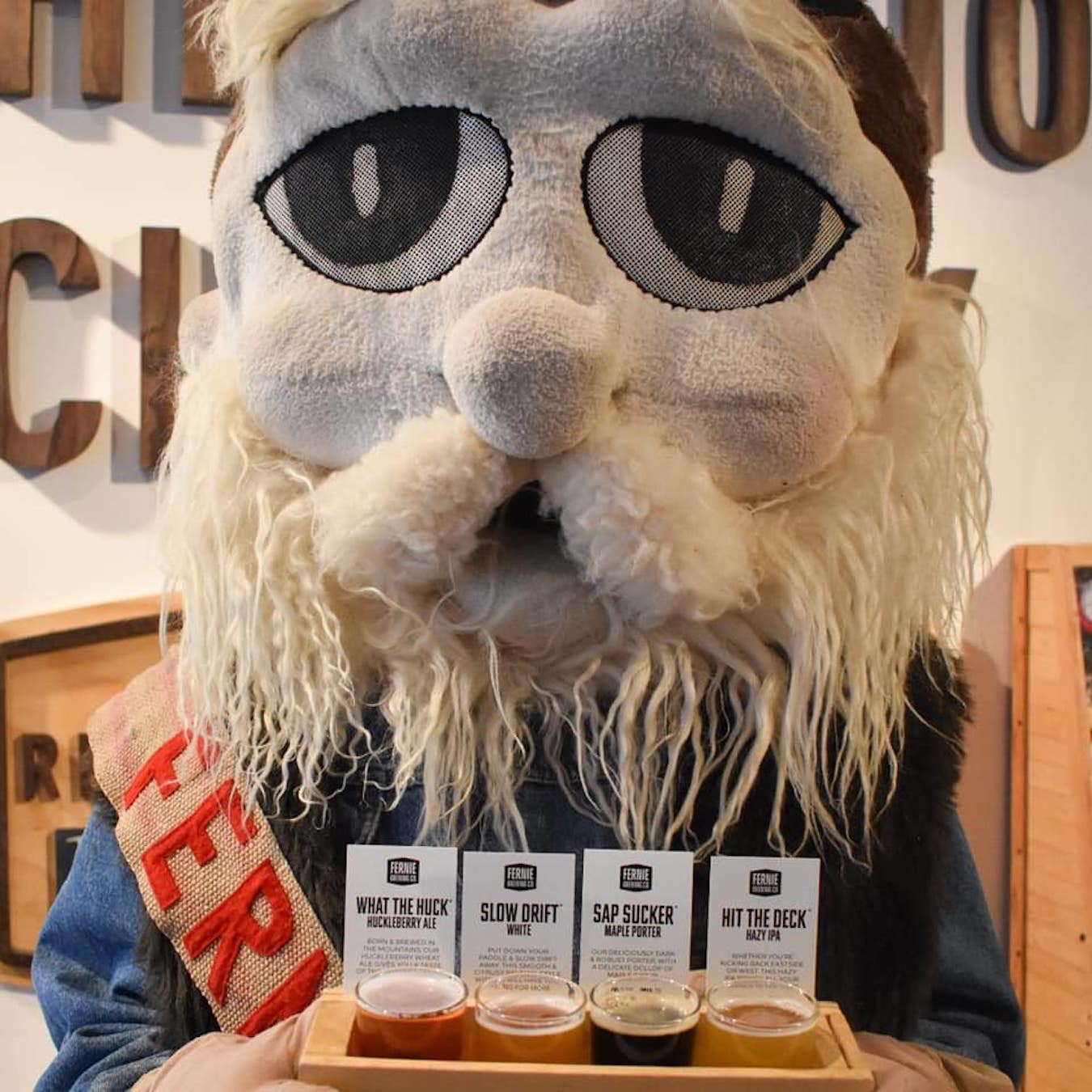 Meet "the Griz", sample some of Fernie's locally brewed craft beer
Snow King's MasqueParade – February 15, 2020
Fire moves from ground to sky in this celebration of local creativity and winter. A bonfire is lit as the Snow King and Lady Spring–both giant-sized puppets come to life, move into the town's 'Spirit Square'. Fire dancers perform along with other larger-than-life characters who perform skits for the townspeople surrounding the hub. Drumming and music fuels dancing for both performers and spectators, building momentum until a finale of fireworks litters the sky.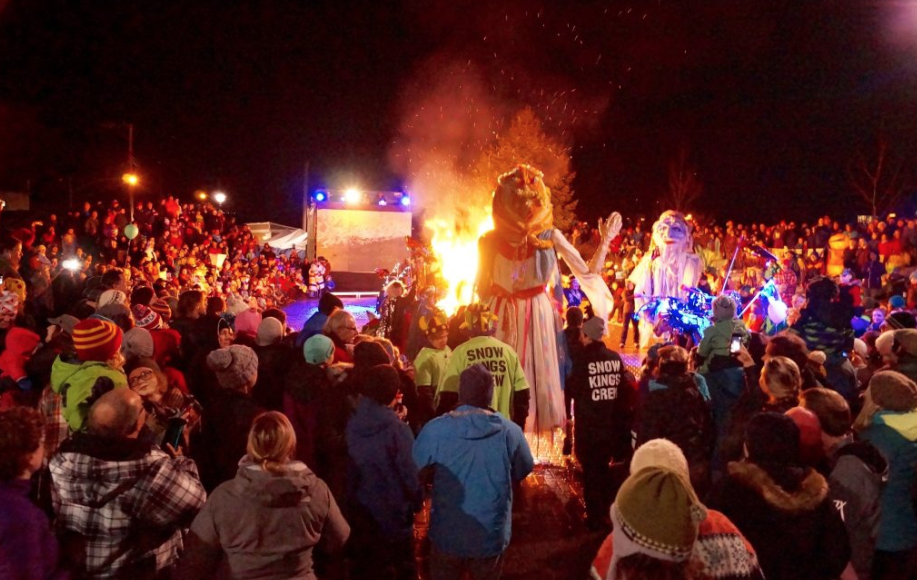 Photo courtesy of Kicking Horse Culture.
If you're looking for the essence of Golden's locals, this event is where to find it. 
The Snow King's MasqueParade isn't an event that was put together for visitors," says Andy Brown, part of the tourism team for Golden. "It's put together by people who know what it is like to live in a mountain town and love the lifestyle … this is Golden's way of celebrating our piece of the mountains and the culture that comes with it."
Snowflake Fest and Taste of the Valley – January 16, 2021
Need some inspiration to get into the cold? Perhaps ice-skating or cross-country skiing on their Guinness World Record trail "The Whiteway" on Lake Windermere during Invermere's winter festivals will get you motivated. (The Whiteway is closed for the 2019/20 season.)
"Our 34-km groomed trail around Windermere Lake, is the Guinness World Records as the longest skating trail," says town spokesperson Ken Wilder, "and many of the events during the Snowflake Festival are centred around this trail and the lake."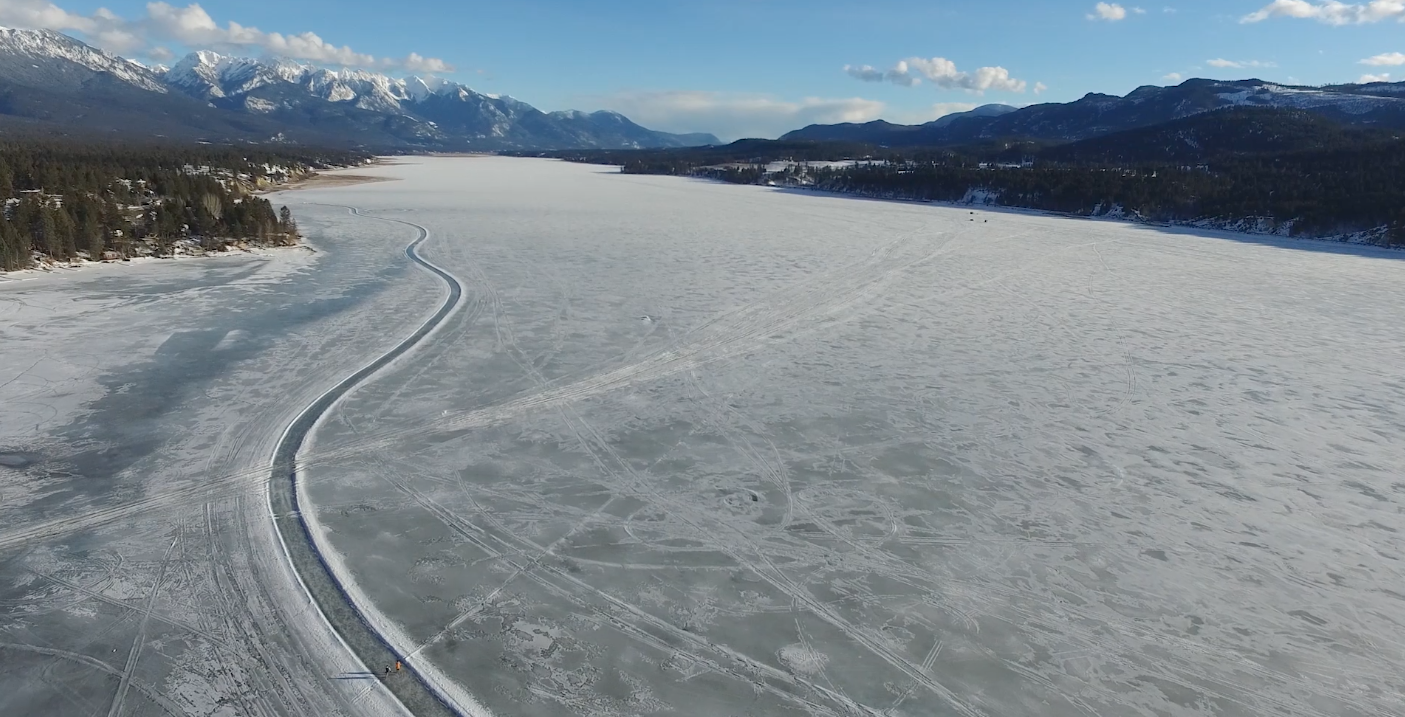 The Whiteway on Lake Windermere; photo by RipTide Studios
If you're needing more than skiing, we suggest jumping in a game of snow golf, or taking part in the Pond Hockey Championships (Jan 22-24, 2021), or trying out Bonspiel-on the-Lake (Jan 15-11, 2021).
After all that action, festival-goers will need refuelling. Lucky for them, the 'Taste of the Valley' culinary showcase is also a key part of the day's festivities.
Flannel Fest – February 14, 2020
Dress up Kootenay-style in your favourite flannel, as the best dressed "in-show" will be crowned the Queen and King of Flannel Fest.  Other activities include a lazer light show with various DJs, Snow Bocce, Platzl hockey, an Artisan Market and Snow Sculptures – all taking place in Kimberley's downtown Platzl. 
Winter Kick-off Festival – November 20 to December 6, 2020
Nelson's Winter Kick-off Festival is back for another year to get you stoked for winter – in true Kootenay-style. Find out why the Nelson Kootenay Lake area loves winter. From live music performances to workshops and tours, come stay, play and find awesome!  

Immerse yourself with winter, while celebrating over the 10 days with the Winter Carnival, food & beverage activities, film screenings, food tours, craft fairs, culinary attractions, brewery crawls, arts & culture, mural tours, live music & more!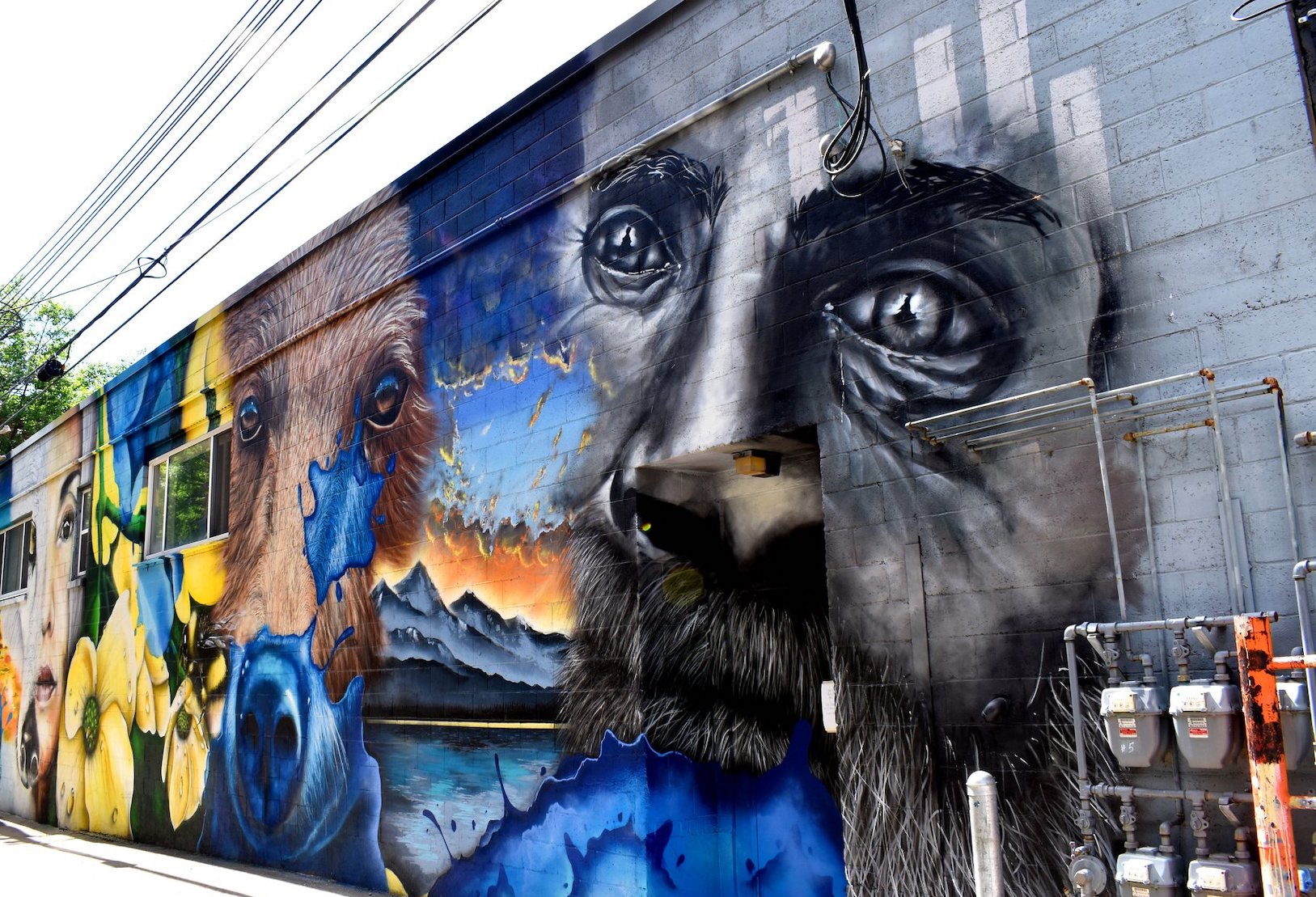 Nelson's mural (by Jerome Davenport); photo courtesy of Nelson Kootenay Lake Tourism
Rossland's Winter Carnival – January 21-24, 2021
Started in 1898, this is Canada's longest-running winter celebration – and, according to the carnival's present-day organizers,  how skiing got its start in Canada. 
"For over 120 years, Rossland's citizens have gathered with the purpose of going downhill, says local Deanne Steven, "as fast as we can and in as many ways as we can."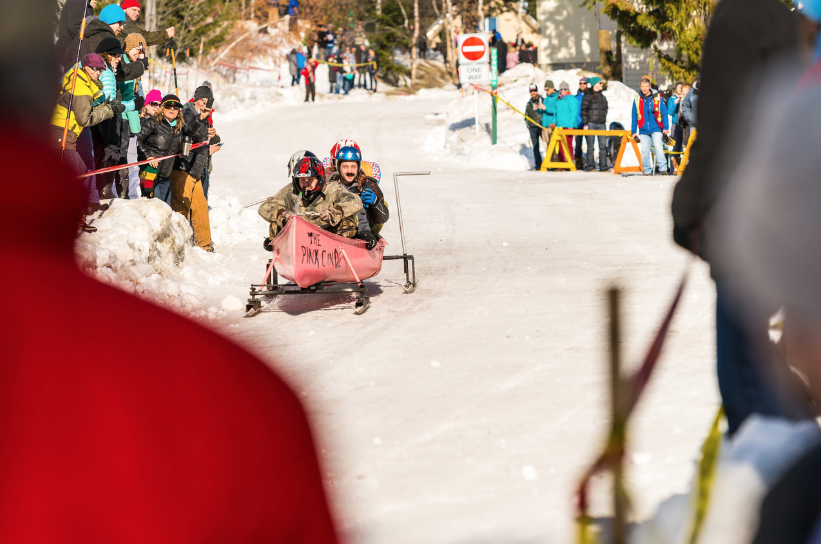 Photo Credit: Photographer – Tourism Rossland/Ryan Flett in Rossland
It's a flurry of frozen H2O: There's the homemade bobsled comp on a purposely iced-down (and steep) Spokane Street, dump trucks dropping loads of snow onto a second street for snow sliders and rail jams, and beverage bars made of solid ice for those who feel their participation is best lent as an onlooker.
"The vibe is a funky, 'anything goes' party to celebrate any and all ways to have fun on snow," says Rossland's Kristi Calder. "Visitors who experience it get pulled right into the full Canadian Ski Town winter experience."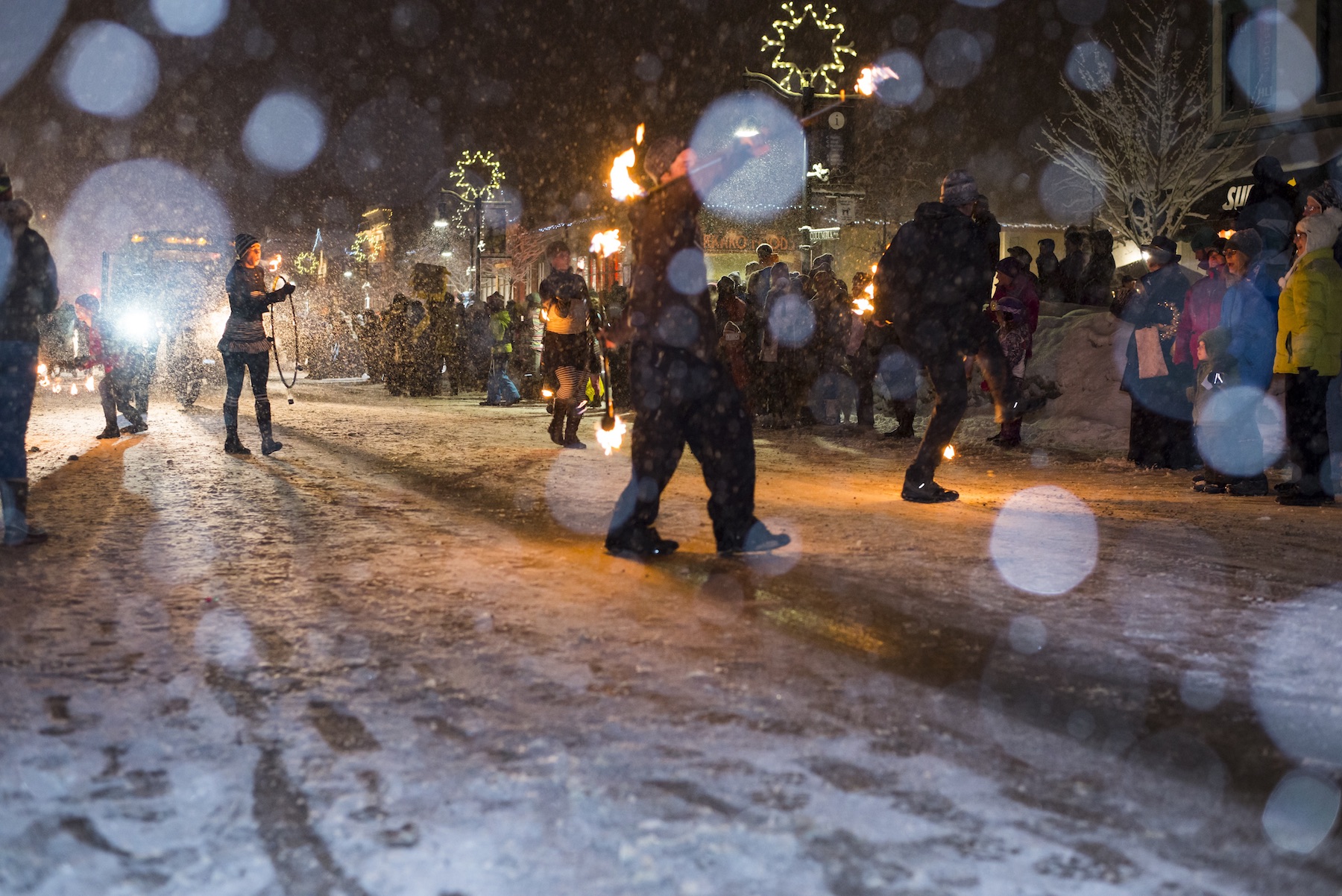 Rossland's Winter Carnival parade; photo by Steve Ogle.
Know Before You Go – Road tripping in the Kootenays comes with high levels of snow and winter driving conditions in effect. Because of this, it is very important to check highway conditions and travel advisories while traveling throughout the region. Winter tires are needed on your vehicle from October to April and Road Safety at Works has some great ideas for items to pack in your car such as windshield scraper & snow brush, shovel, warm blankets, snacks/beverages. DriveBC is a great resource with real-time webcams and road statuses.
Related Stories
~ 4 Quirky Communities Along Kootenay Lake
~ 6 Things to Do with the White Stuff in the Kootenays
~ Funky Finds on the Powder Highway
~ Invermere's Whiteway: All Things Winter
~ Kootenay Craft Brew Winter Road Trip
~ Kootenay Music Festivals: Where the Mountains Set the Stage
~ Powder Highway 101

Words by Gina Begin.  Cover/top shot by Steve Ogle at Rossland's Winter Carnival. 

Gina Begin – Although she's a Florida girl, exploration called her away after the final bell of her high school career. On a quest to reach the distant adventures of North America, she lived in her car, traveling to ski the backcountry of Alaska, sleep under the northern lights in the Yukon Territory, ice climb Colorado's frozen canyons, photograph Nova Scotia's coves, backpack in southern US wildernesses and munch on sugared tamarindo in the jungles of Mexico. But after three years living on the road and seeing the many wonders this continent had to offer, she chose the place she knew would fit an explorer looking for a lifetime of wild wonder: British Columbia. Dual citizenship in hand, she settled along the Powder Highway in the Selkirks and is making her home between four walls and deeply wooded mountains.
Please tag your images with #KootRocks on Instagram to be featured in future stories.