The road less travelled highlights many of the area's finest attractions and activities in the Kootenays as we follow Highway 23/6 from Revelstoke to Nelson, BC.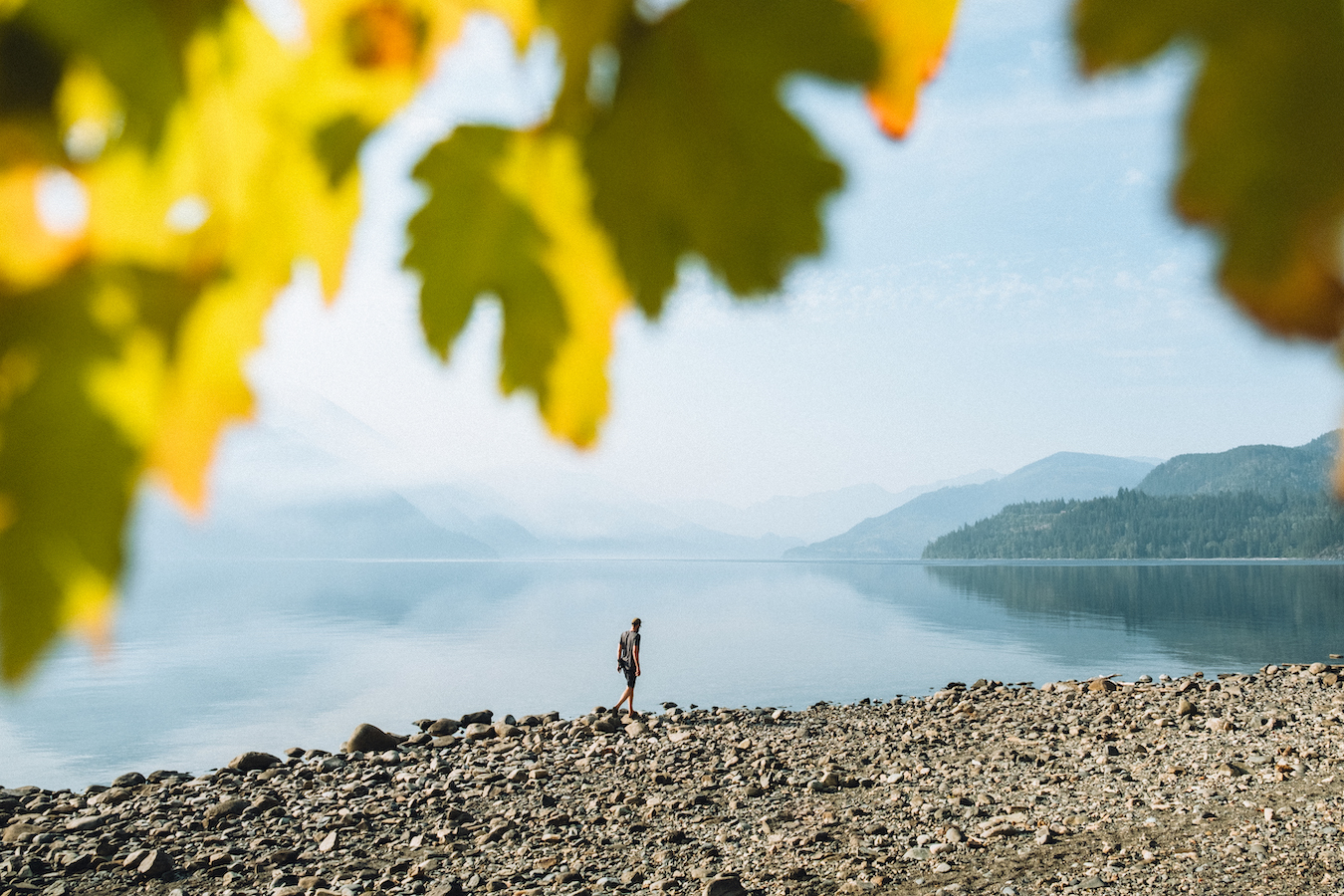 Exploring the shoreline on Slocan Lake (near New Denver); photo by Megan McLellan with Field and Forest
This scenic route is also a favourite for motorcycle touring and road-cyclists. This spring, an 'adaptive sports' route is being established which can be explored by trike and paddle. Wander off the beaten path — here are four 'must-see and dos' along this route:
#1 — Hot Springs
There are three natural hot springs (with a couple hidden ones too -ask a local where to find them), including Halcyon Hot Springs Resort (a 90-min drive south of Revelstoke), Nakusp Hot Springs (a 15-minute drive from the community of Nakusp) and Ainsworth Hot Springs (via Highway 31A, along Kootenay Lake).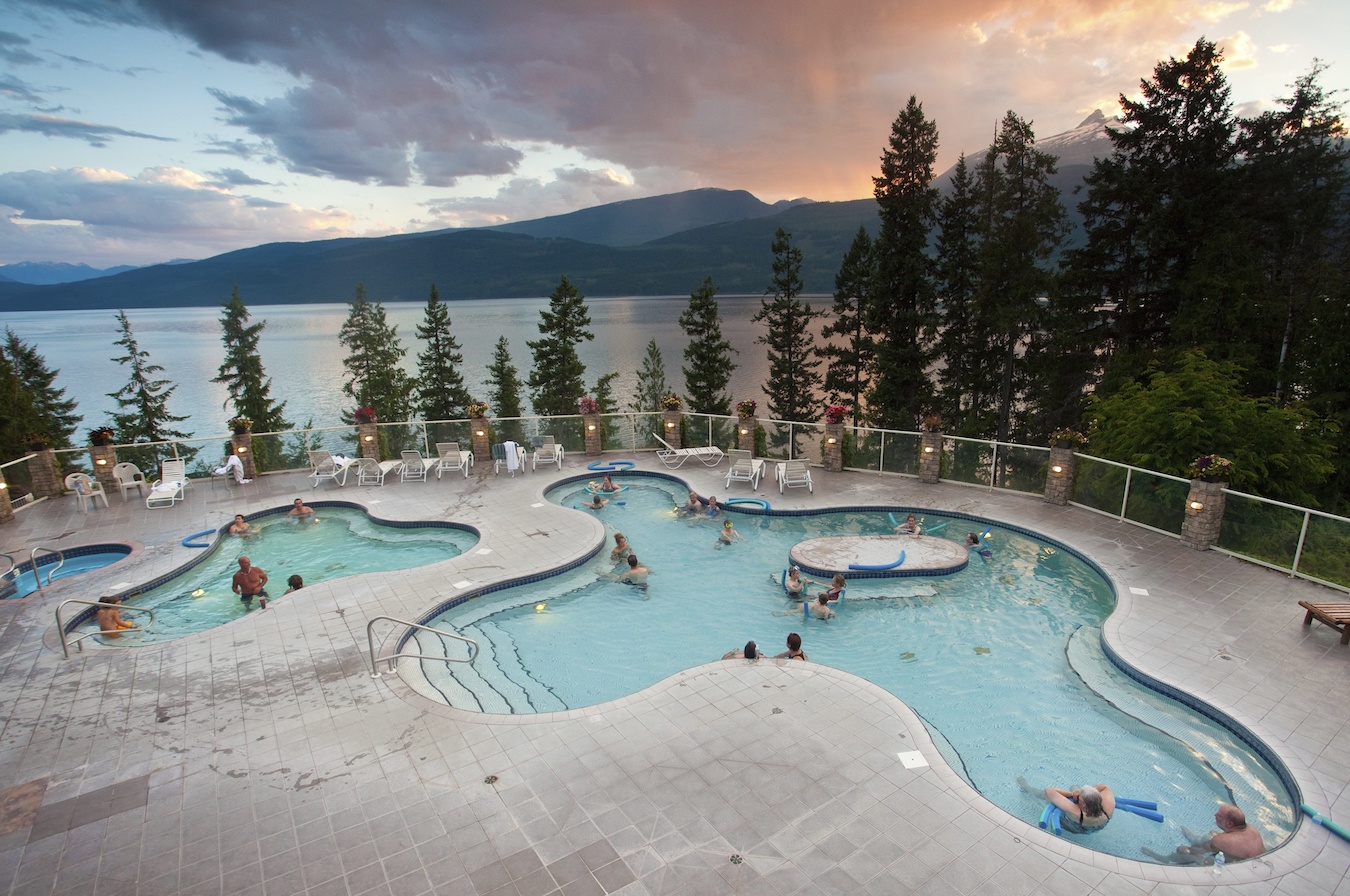 Halcyon Hot Springs Resort; photo by Andrew Penner
#2 — The Water
Throughout your travels you will follow the Columbia River as it flows through the Arrow Lakes (Upper and Lower) and Slocan Lake.  And if you choose to take the alternate (Hwy 31A) route, then you'll travel alongside Kootenay Lake to Nelson.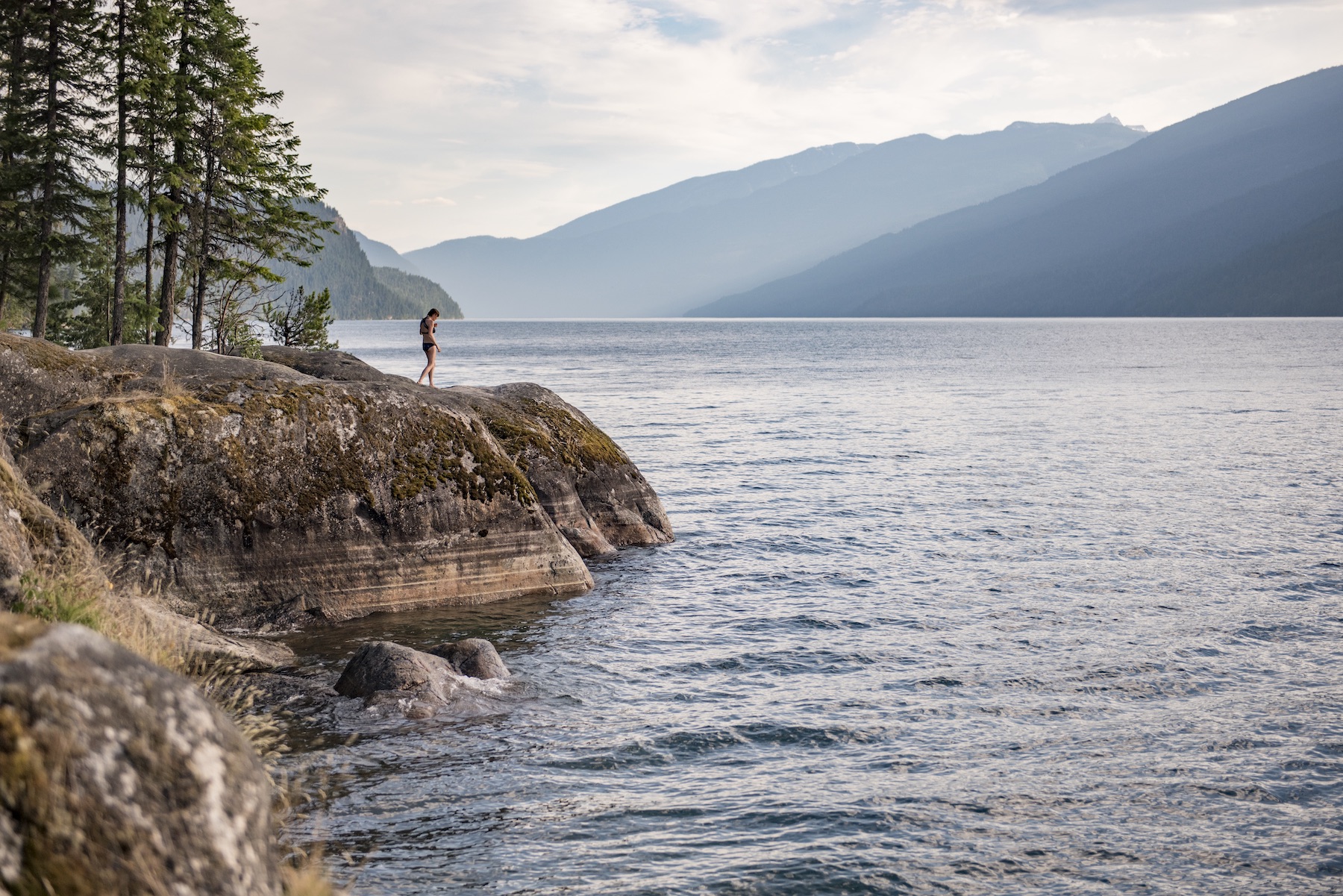 Bannock Point Rec Site on Slocan Lake; photo by Kari Medig
There are note-worthy stops along this stretch of highway for paddling and swimming.  And fun opportunities if you enjoy 'chasing waterfalls', as there are many to find, including Evan's Beach Creek, Nemo Creek, Fletcher, Ione, Powder Creek, Springer Creek, Sutherland and Wilson Creek.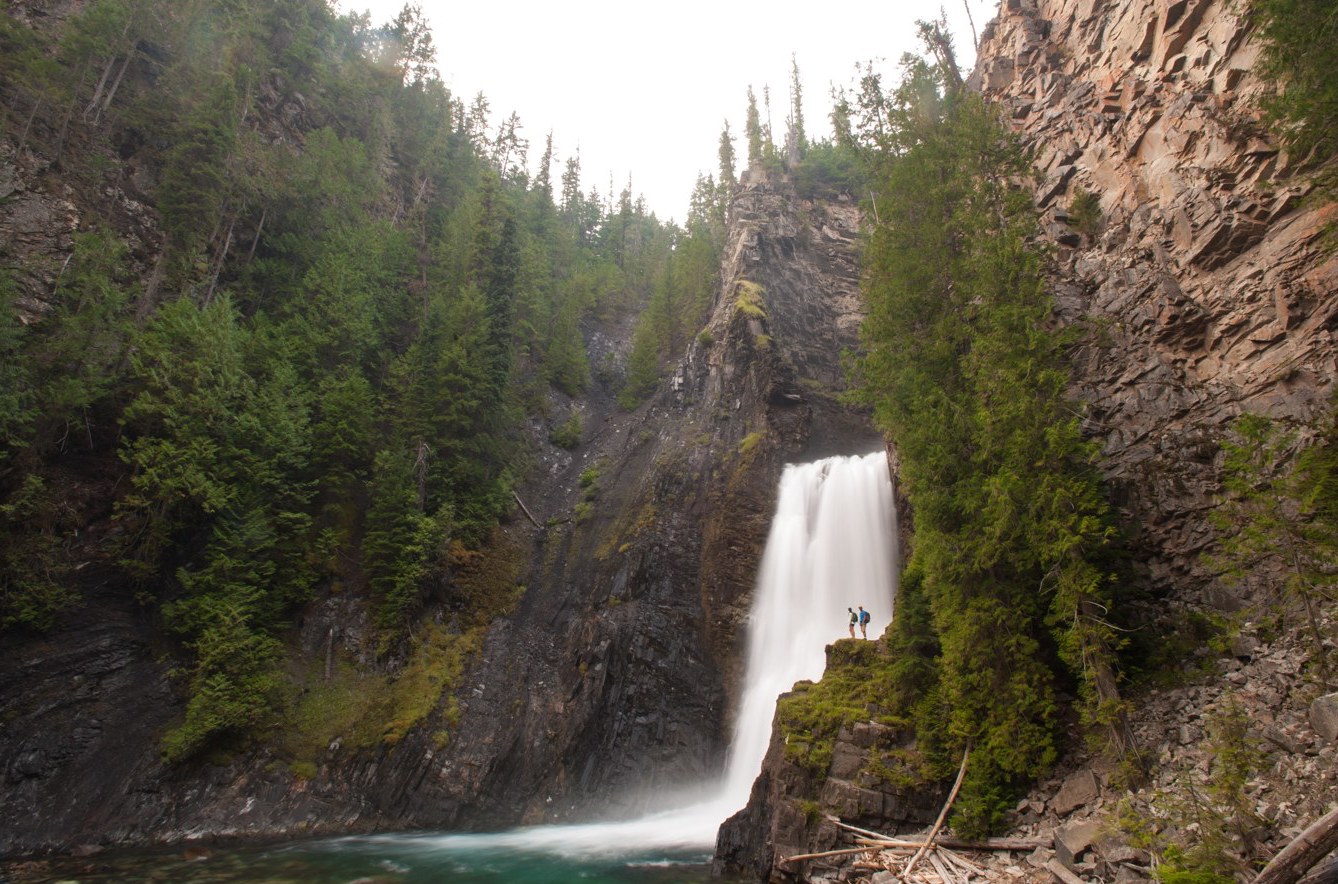 Wilson Creek Waterfalls near New Denver; photo by Dave Heath
#3 — Heritage/Culture
This little valley has experienced its own extraordinary history over the years, from the once bustling town of Sandon — which in its heyday had a population of over 5,000 people during the silver mine rush.  Or, the first Halcyon Hot Springs Hotel which opened in 1894 and was accessed by steamboat or sternwheeler. Or, the Japanese Canadian Internment camp in New Denver during WWII, now a Memorial museum with a Japanese garden.  Or, the SS Moyie set on the shore of Kootenay Lake in Kaslo; it is the world's oldest intact sternwheeler and a museum and National Historical site.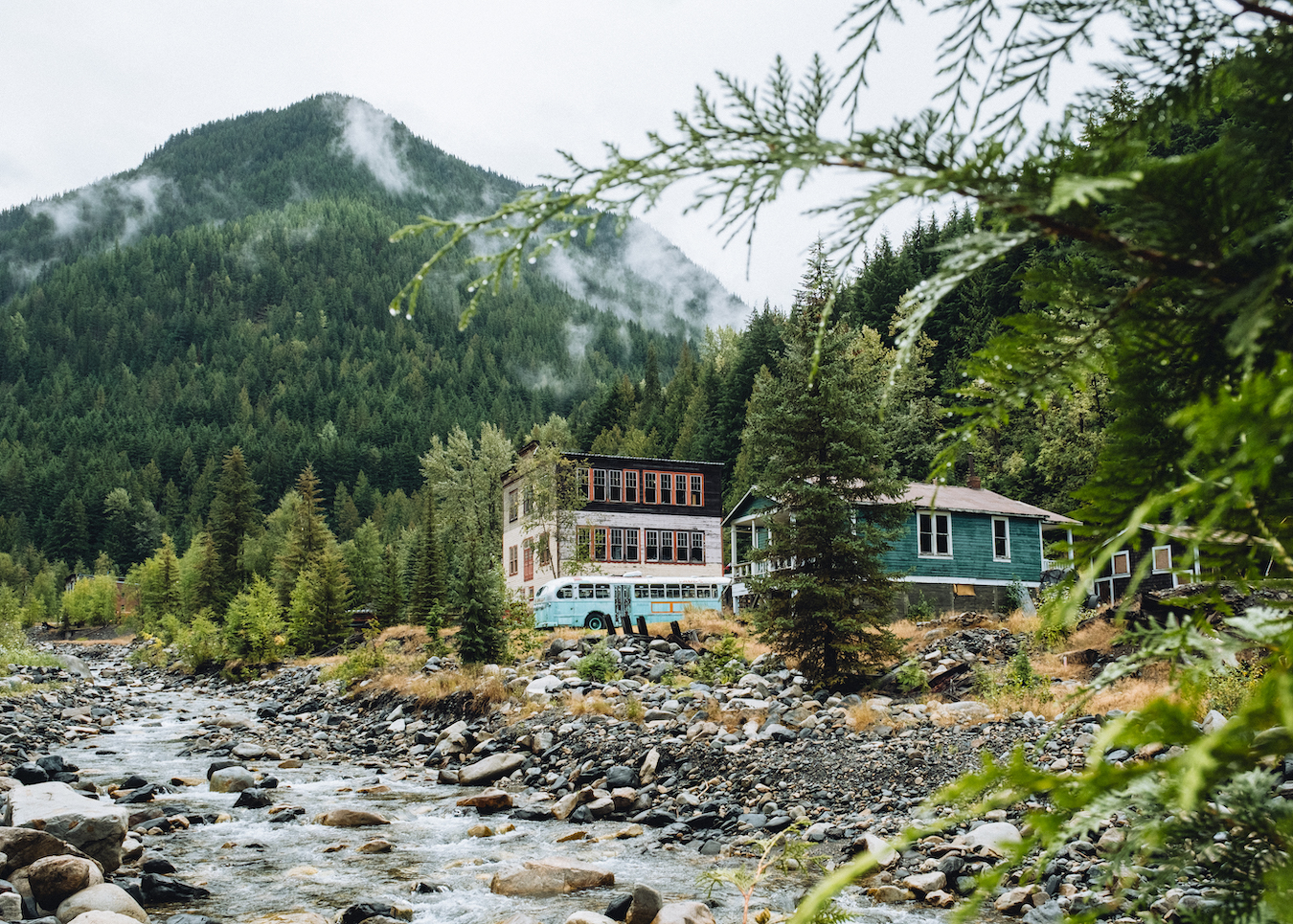 The ghost town of Sandon; photo by Megan McLellan with Field and Forest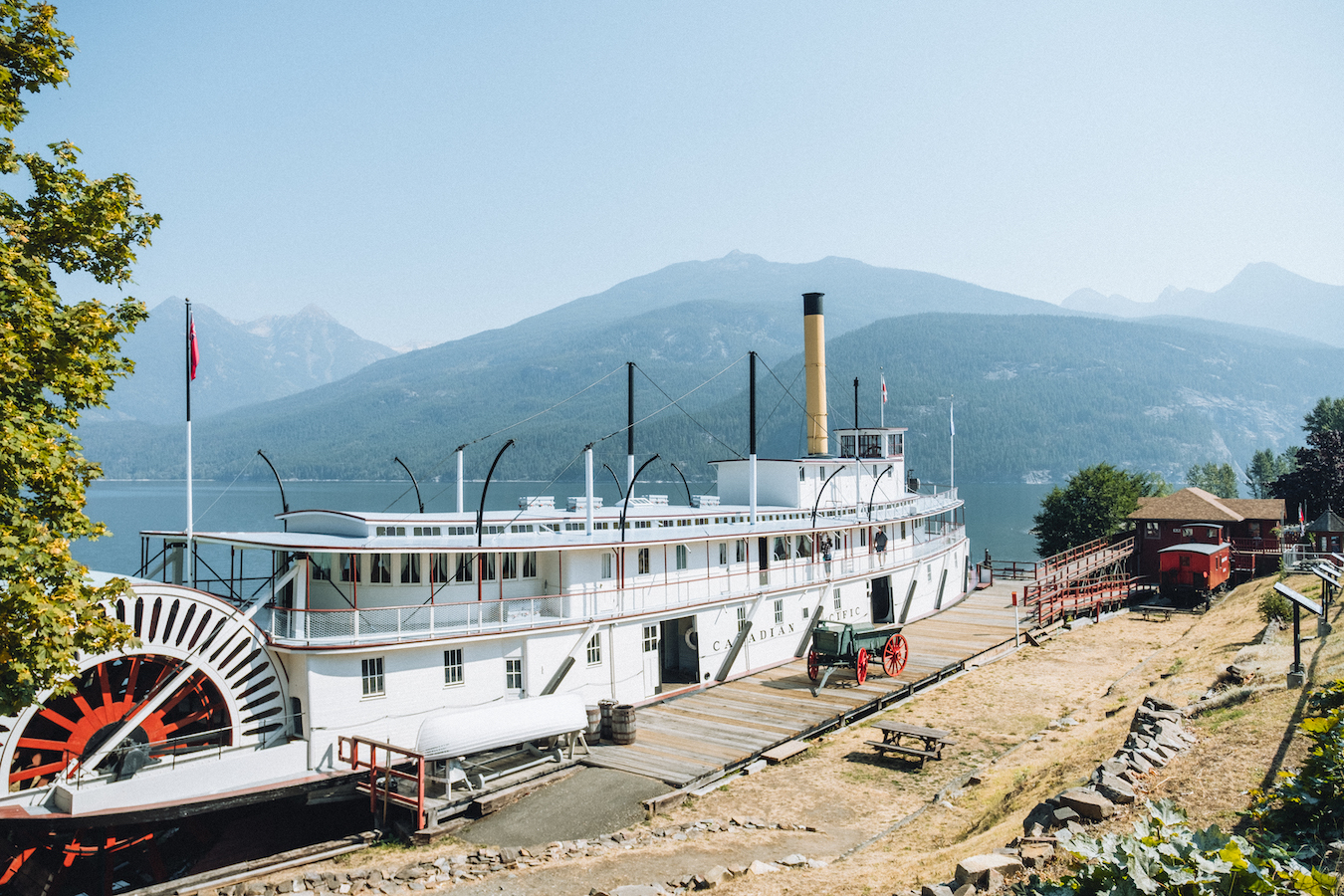 The SS Moyie in Kaslo, photo by Megan McLellan with Field and Forest
#4 — Communities & Events
With a population of 1,605, Nakusp is the largest community along this hidden route.  Set on the shores of the Upper Arrow Lake alongside the Monashee Mountains, Nakusp is halfway between Revelstoke and Nelson, BC.  Along the route you'll find other secluded communities, and some of the most unique and interesting events (2020), such as:
Mid-May to Mid-Oct – Saturday Farmers' Market (Nakusp)
Jun to Sep – Saturday Farmers' Market (Kaslo)
Jun TBA – Burton Amazing Race & Relay (Burton)
Jul 3-5  –  Whatshan Jam (Whatshan Lake)
Jul TBA – Summer Breeze Music & Art Party (Winlaw)
Jul TBA –  North Kootenay Lake Edible Garden Tour (Kaslo)
Jul 2021 – GuitarFest (Kaslo)
Jul TBA  – Idaho Peak Ultra Trail Marathon (New Denver)
Jul 31 to Aug 2 – Kaslo Jazz Etc. Summer Music Festival (Kaslo)
Sep 13 – Hills Garlic Festival (Hills)
And lastly, this area is known for its incredible hiking… shhh it's one of our best kept secrets.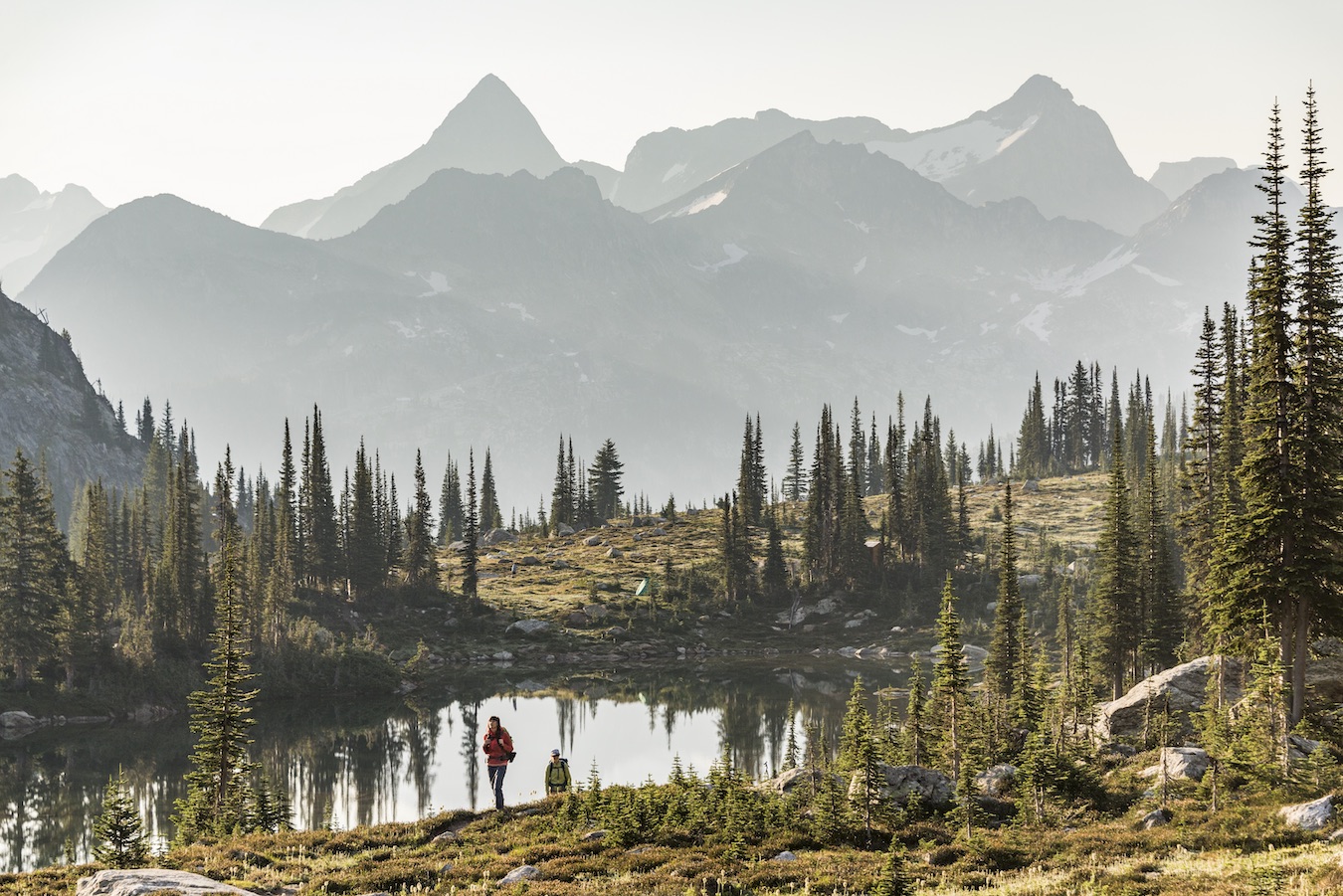 Backcountry hiking in the Monashees; photo by Kari Medig
Know Before You Go – If you're traveling in the spring, summer or fall just remember that traveling in the mountains can come with unexpected changes in weather patterns. Even in the warmer months, it is very important to check highway conditions and travel advisories. DriveBC is a great resource with real-time webcams and road statuses. During winter months, winter driving conditions are in effect. It is very important to check highway conditions and travel advisories while traveling throughout the Kootenay region. Winter tires are needed on your vehicle from October to April and Road Safety at Work has some great ideas for items to pack in your car such as windshield scraper & snow brush, shovel, warm blankets, snacks/beverages.  
Story by KootRocks Staffer (Shannon Harrison).  Cover/top cover photo by Kari Medig of Slocan Lake.