Many thanks to all of the dedicated trail builders and volunteers, the Kootenays are full of world class trails for all abilities – adventures for all!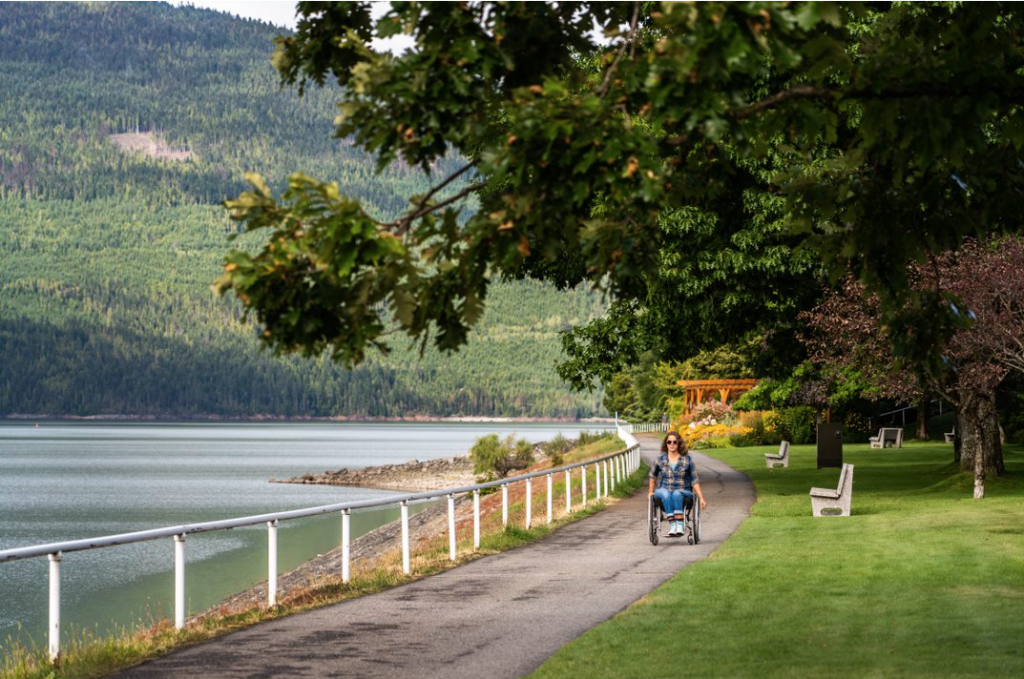 Spearheading a movement to ensure adaptive bikes (often with three or four wheels), and wheelchairs can use these trails is the Kootenay Adaptive Sport Association (KASA), a non-profit organization in Nakusp, BC.
"We were starting at almost a zero point (back in 2018) and then things got out of control – in a good way," says Mike Riediger, KASA's Executive Director.
A few of those initiatives include the following:
Creating adaptive trail guidelines. Some trails are naturally accessible, but in many cases, they require widening and leveling to accommodate adaptive bikes and/or hiking wheelchairs.

Adaptive mountain bike rentals available throughout British Columbia.

Creating a certification program where riders of adaptive bikes can become instructors.

Working with Cycling BC, the region is holding a UCI sanctioned adaptive downhill mountain bike event. The BC Cup race circuit will also include more adaptive race categories.

Looking ahead, soon the regional association will create the first ever national adaptive trail organization.

To make your local trails more adaptable
ACCESSIBLE TRAILS
Below is a list of some of the accessible trails in the Kootenays:
The Chief Isadore Trail from Cranbrook to Mayook (34-km, round-trip | 21-mi) offers breathtaking views of the Rocky Mountains. It has a packed gravel surface, which is half on old Rail Grade and half new trail.
(At the 17 km 'Mayook Trail' section is the new trail with an enhanced single track to the end of the trail at Wardner; an additional 26.5-km, one-way.)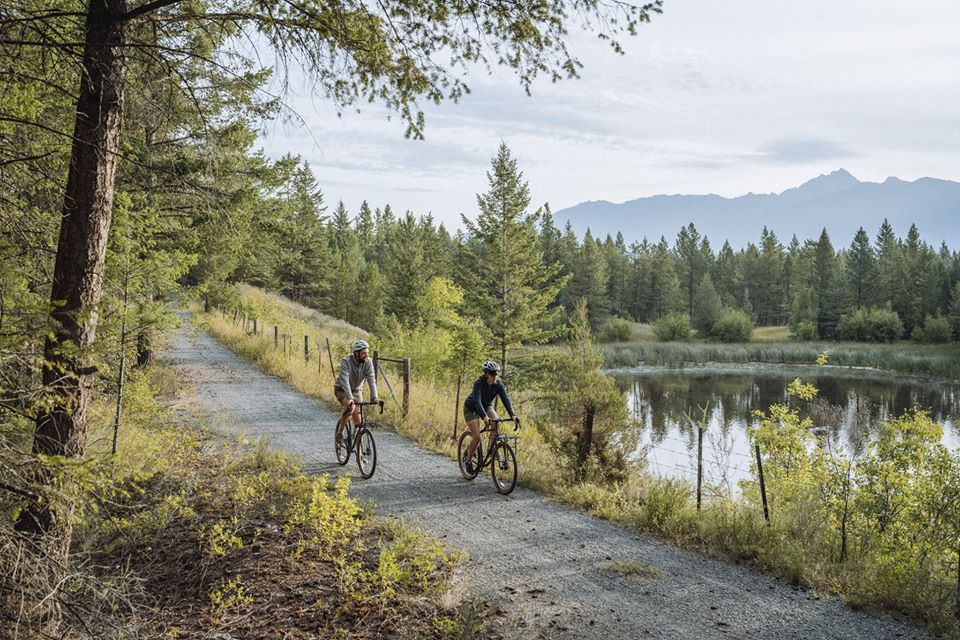 Part of the Trans Canada Trail, the Columbia & Western Rail Trail is an impressive 162-km, one-way (100-mi) ride from Castlegar to Midway. In the Castlegar to Christina Lake portion (88-km, one-way | 55-mi) of the ride, you'll experience several massive steel trestles span deep ravines, & substantial stone walls secure the rail bed to the terrain. There is a sequence of short tunnels that culminate at the entrance to the impressive 912-metre Bull Dog Tunnel, where the railway abruptly turns away from the lovely Arrow Lake Valley.
The Galena Trail, former CPR rail line built in 1895 is a 13-km, one-way (8-mi) ride from Rosebery (near New Denver) to Three Forks (near Sandon) railway line.
(The Upper portion of the Galena Trail is closed from Three Forks to, and including, the Cable Car, due to a land slide).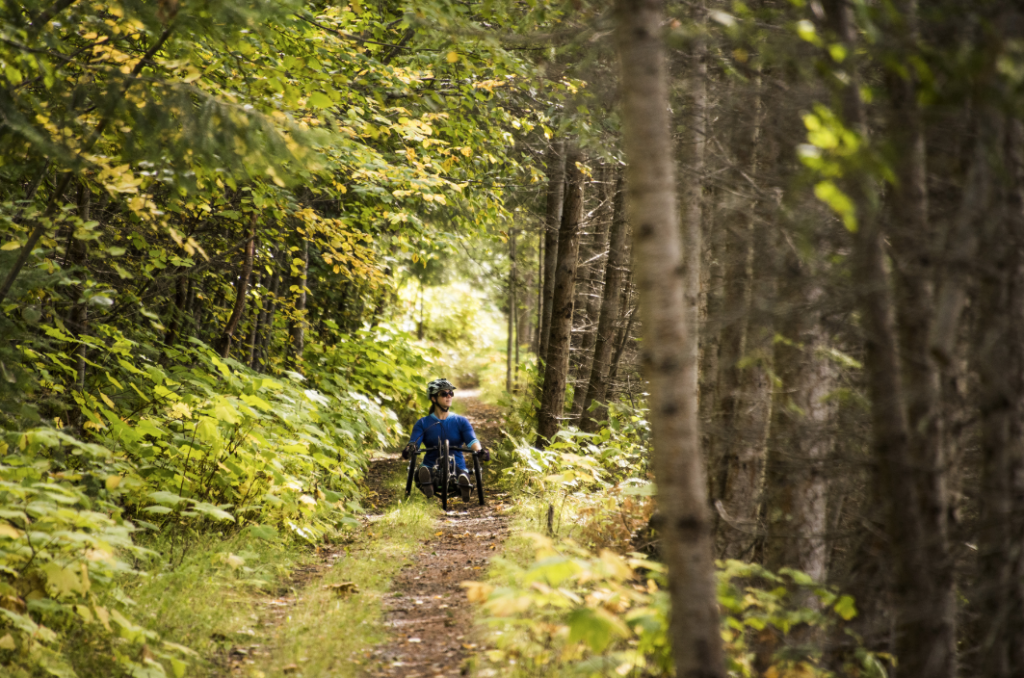 The Great Northern Rail Trail (48-km, one-way | 30-mi) runs between the village of Salmo in the south and the city of Nelson in the north. The railway was operated by Burlington Northern Santa Fe and in 1999, the final removal of the rails and ties was completed. It is a multi-use trail (gravel surface) which forms a section of the TransCanada Trail.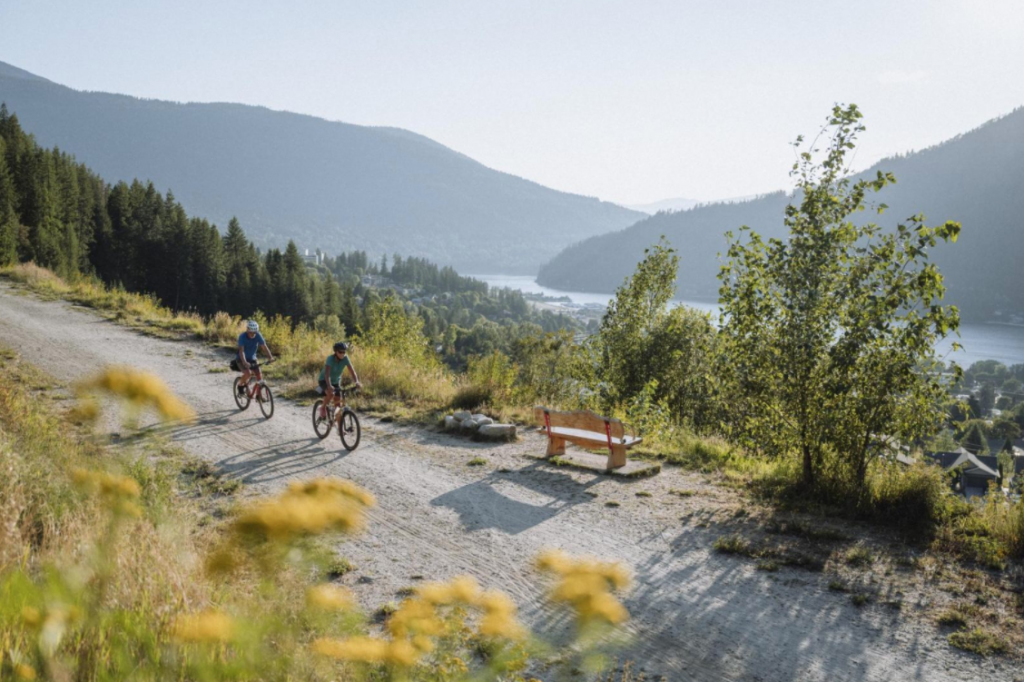 The Hemlock Grove Boardwalk and Picnic Area in Glacier National Park has been designed to barrier free standards. The Hemlock Grove Boardwalk trail was developed as a legacy of the Man in Motion World Tour visit. This short 400-metre barrier-free boardwalk offers a rainforest experience to people with mobility disabilities, people with visual impairments and people with other limitations on movement, such as seniors and even visitors with baby strollers.
(An all terrain wheelchair is available for loan at the Illecillewaet Campground welcome station.)
Miller Time on Mount MacPherson in Revelstoke is a sweet short loop full of swoops and fun (1.1-km, return | 0.6-mi).
Mt. Abriel Mountain Biking Trails is a booming mountain bike destination near Nakusp, complete with multiple trails, a campground, bike park, and shelters. The creators of the trail network have a goal of breaking barriers between able-bodied riders, adaptive riders, experts, beginners, and children.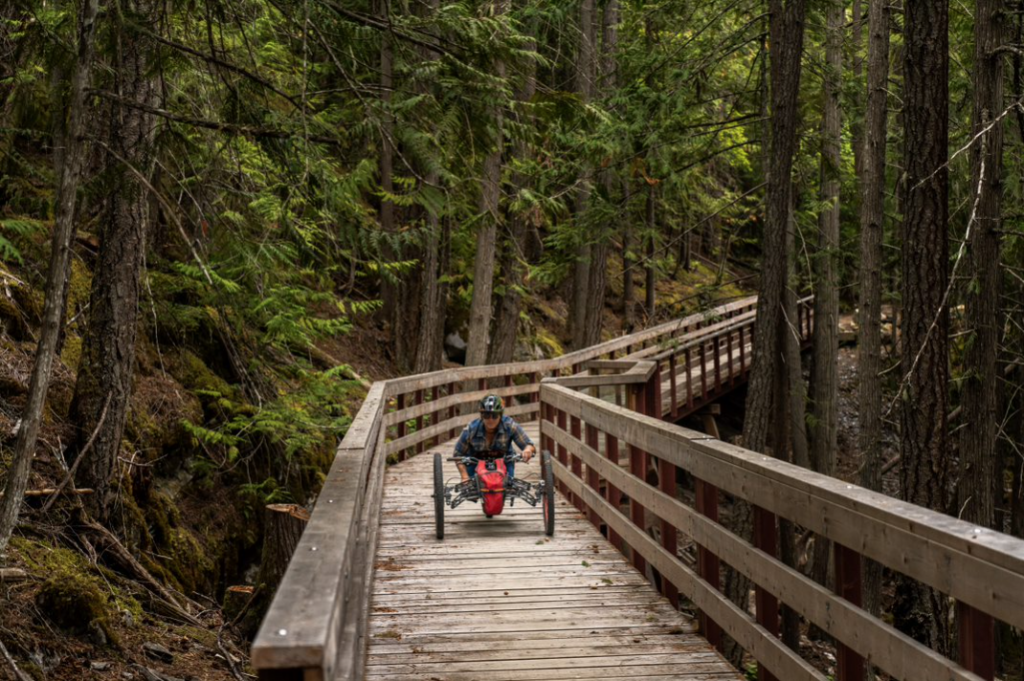 The Northstar Rails to Trails stretches over 28-km, one-way (17-mi) and links the cities of Kimberley and Cranbrook. The trail is nestled between the Purcell Mountains and the Rocky Mountain Trench in southeastern British Columbia. The area is naturally beautiful surrounded by mountains dotted with forests and grasslands, broken up by lakes and rivers.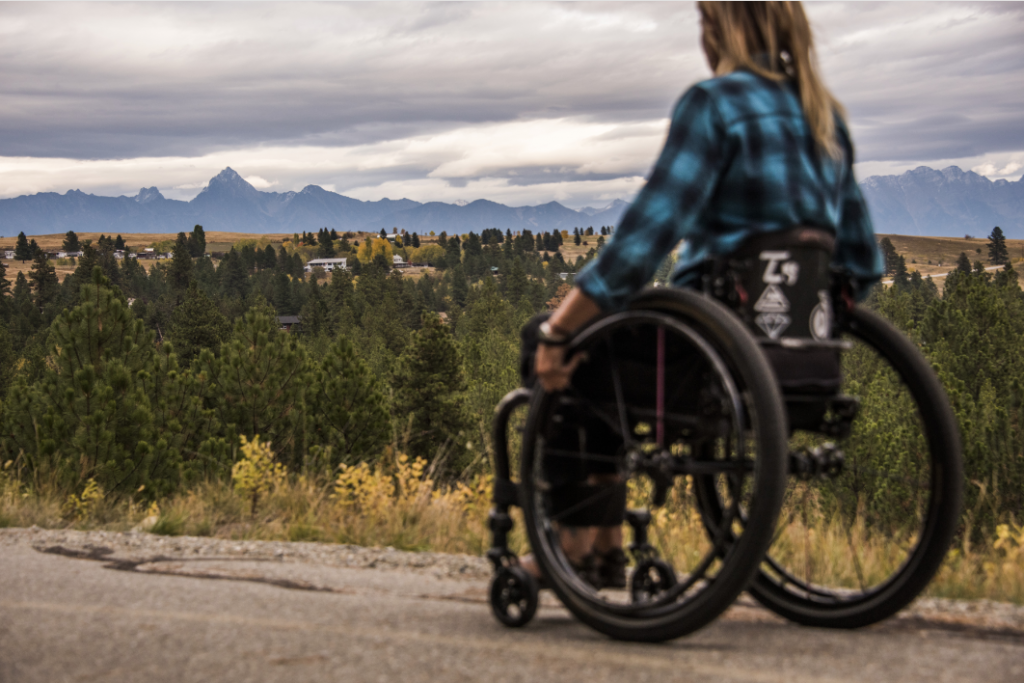 The Slocan Valley Rail Trail, between Slocan and Crescent Valley, offers easy access to 50-km, one-way (31-mi) of breathtaking scenery. The trail follows the contours of the Slocan River, between Slocan Lake in the north to the Kootenay River in the south.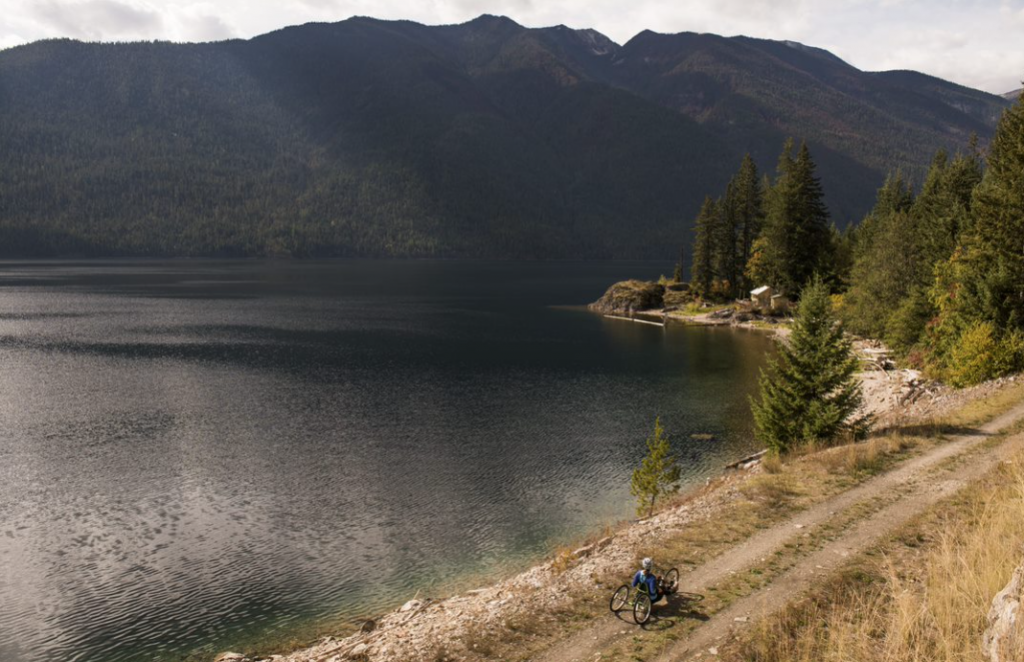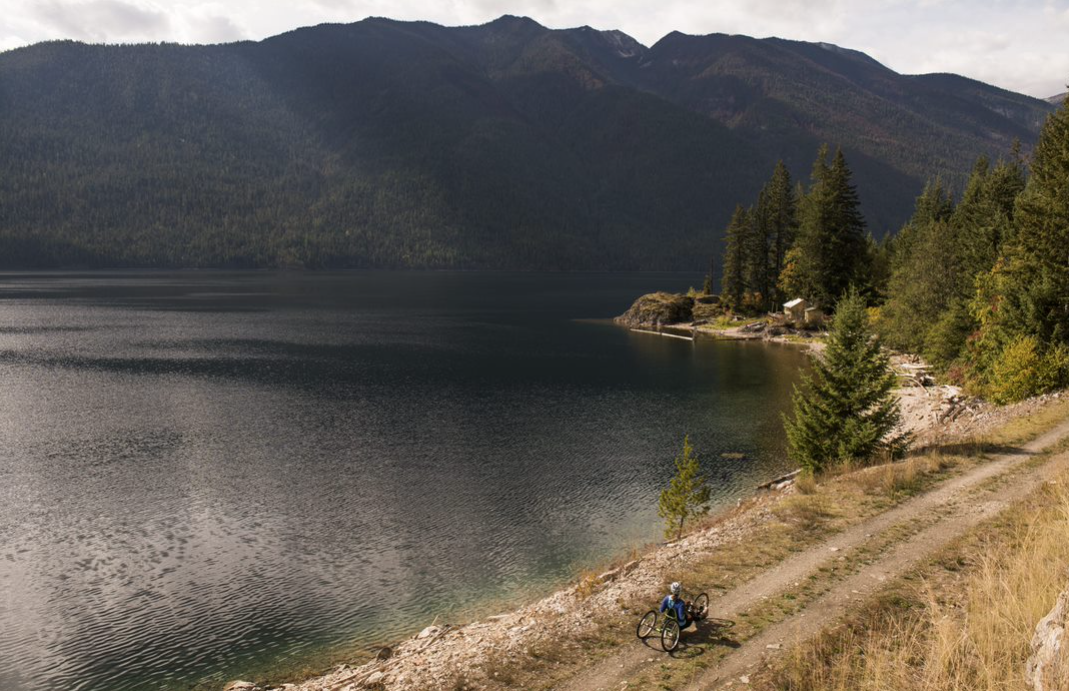 The Spine Trail, in New Denver, is a beautiful swoopy downhill, about 3-km, return (1.8-mi), for adaptive mountain bikes and was created by the North Slocan Trail Association.
The Westside Legacy Trail, between Fairmont Hot Springs and Invermere, is another paved-route (25-km, one-way | 15.5-mi). This wonderful paved path with scenic picnic opportunities along the way. Seventeen benches, or rest areas dot the trail on particularly beautiful sections, some overlooking Windermere Lake. Pause your outing at one of these spots and enjoy some nature – the trail also meets four small creeks and a large beaver pond.
This circle route includes the entire region. It showcases the Kootenay Rockies' communities and the accessible attractions and activities they offer. You can start touring along this route anywhere you like or simply check out the community or national park of your choice. Along your journey, you will discover rare, scenic vistas and meet warm friendly people.
Click on the above mini digital story for photos and video clips highlighting a Kootenay Rockies experience.