Most people are familiar with the annual show put on by the maples of Eastern Canada, but the Kootenays have their own, equally stunning autumn colour riot, as the larch trees paint the mountains brilliant gold in late September/early October into mid-November.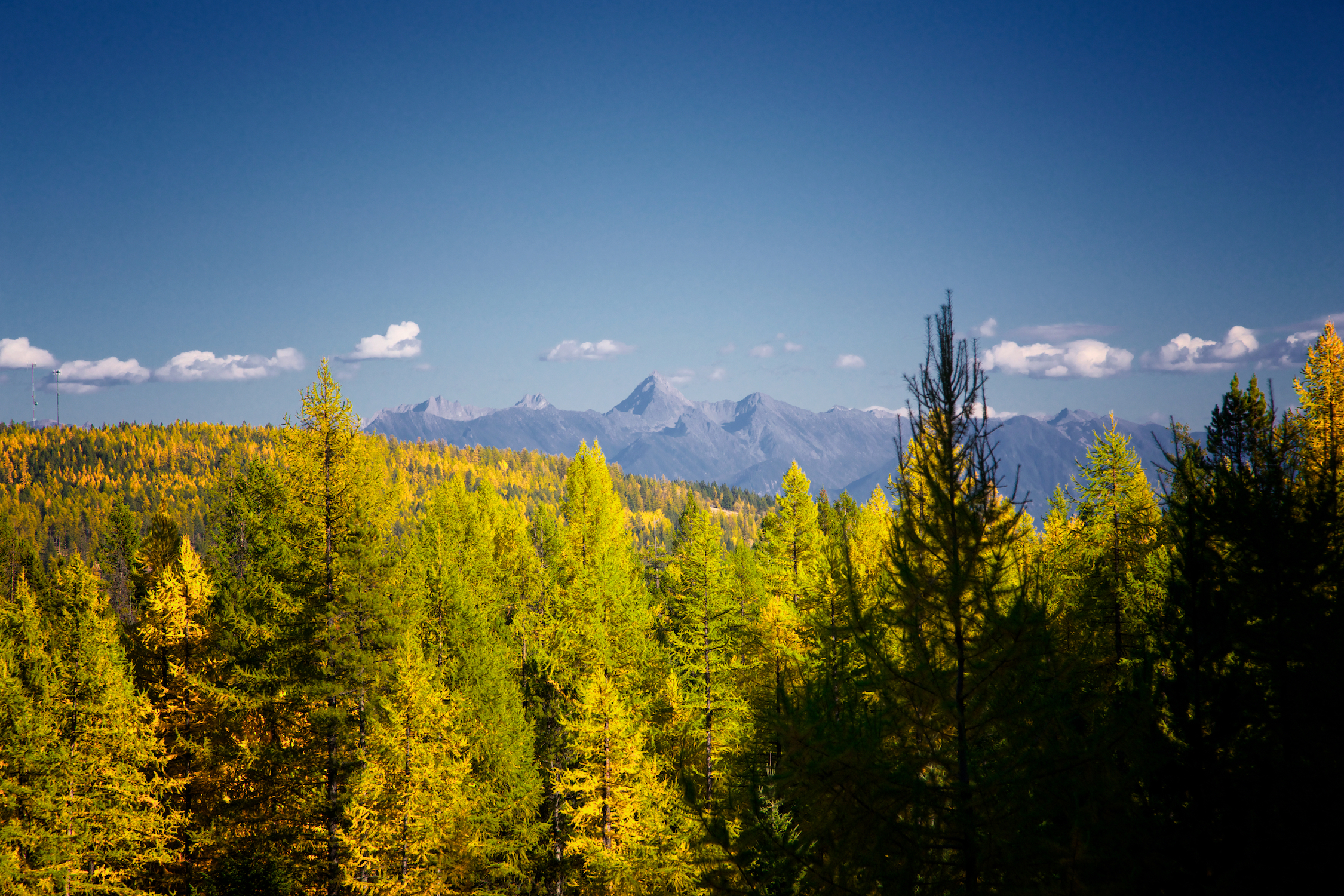 Near Kimberley, BC (looking out towards the Canadian Rockies and Fisher Peak); photo by Ryan Mckenzie
Often mistaken for their Eastern relative, Tamarack, the Kootenays boast some of the highest concentrations of both Western and Alpine Larch. All three are members of the Larix genus. A confused family of trees, Larix are both coniferous trees (trees with needles and cones) and deciduous (they recycle pigments and drop their foliage each fall), recycling their valuable green chlorophyll molecules by storing them inside the tree itself when the days shorten and the temperature drops, leaving only the yellow and golden-hued carotenoid and xanthophyll pigments in the needles to brighten up the world.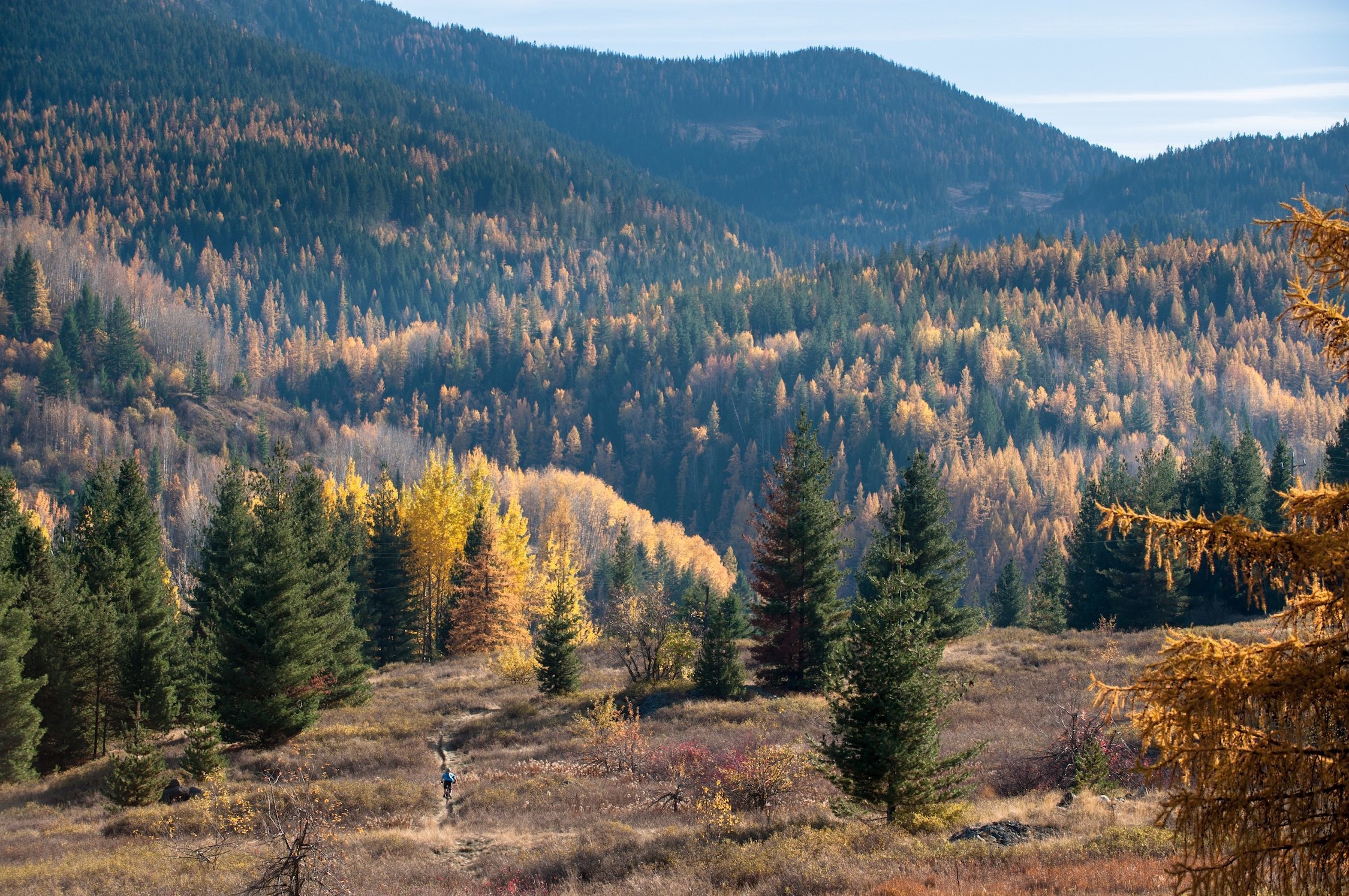 Out riding the trails near Rossland, BC; photo by Dave Heath
Western Larch 
The Larix Occidentalis is a tall, straight tree found at lower elevations, prized for both lumber and firewood. With up to 30-cm of bark, it can survive repeated forest fires, and can grow to monstrous proportions. The world record Western Larch boasts a 6.7-metre diameter, and they can reach 80 meters in height.
Few of these giants survived the early forestry boom of the Kootenays, but the next generation of larch carpets our low-elevation slopes, and these younger trees still put on an incredible autumn show. Dewar Creek near Kimberley and the Yahk Valley boast extra high densities of Western Larch (you may see these trees on your trek to Monica Meadows and hiking in Kokanee Glacier Park).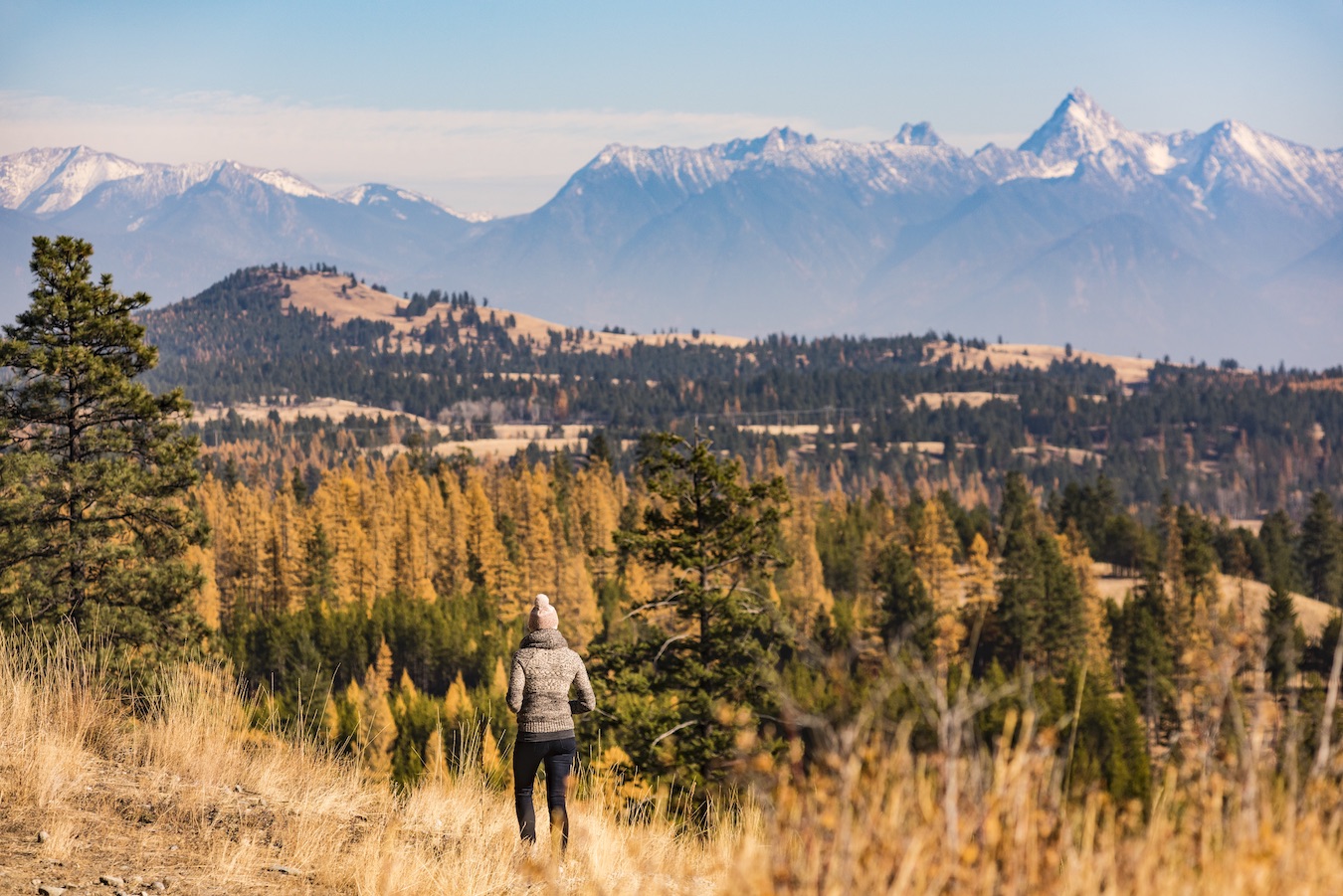 Atop of Sunflower Hill in Kimberley, BC; photo by Kari Medig
Alpine Larch
The Larix Lyallii are the wind-gnarled and frost-sculpted cousins of the Western Larch and can be found on rocky slopes and alpine meadows at high elevation. Destinations like Brewer Creek, Kokanee Glacier Park, Jumbo Pass, Rockwall Trail (in Kootenay National Park), St. Mary's Alpine Park, Monica Meadows and Welsh Lake, offer great Alpine Larch viewing, and the annual show begins to light up in mid-late September.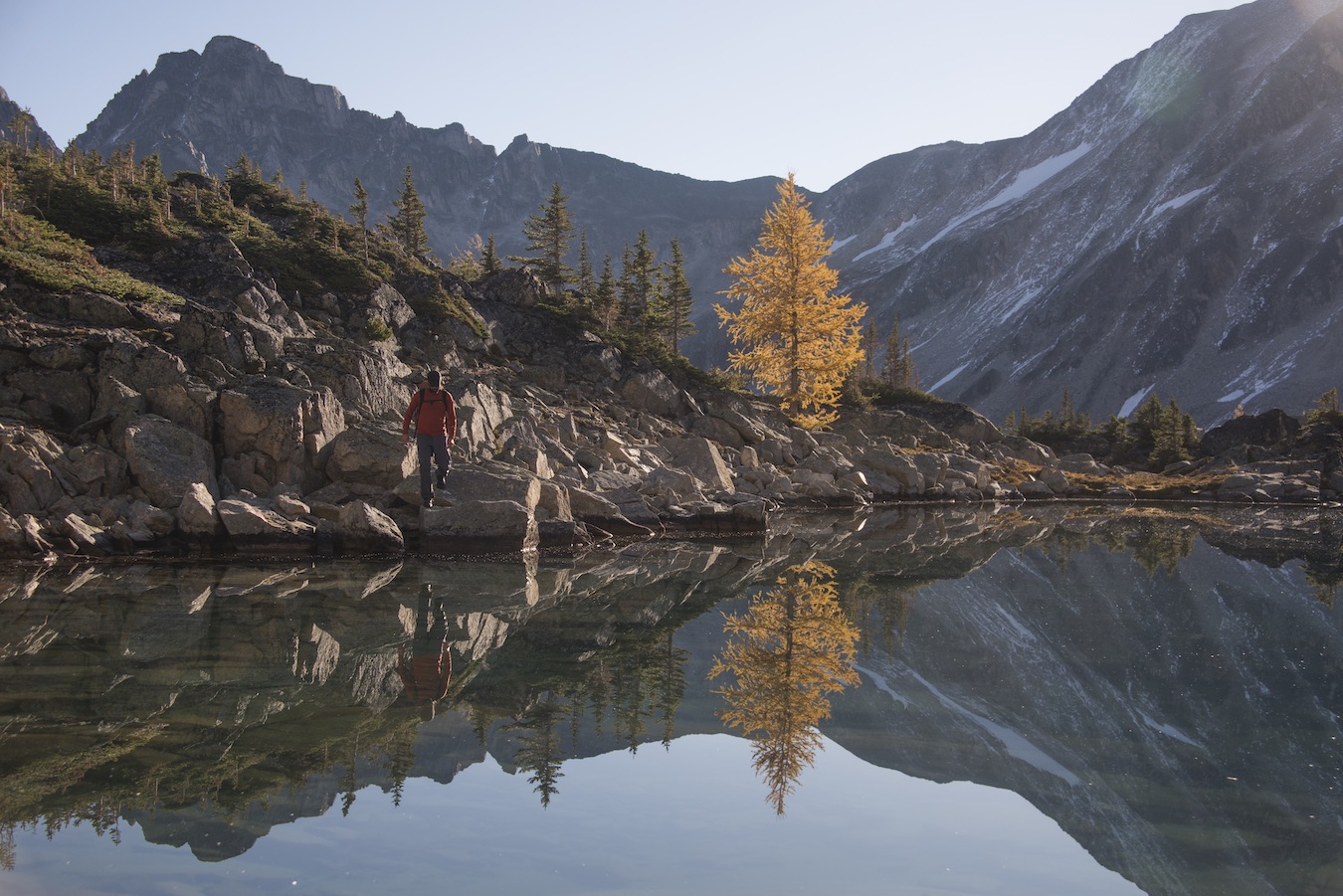 Welsh Lake in the Purcells (near Radium Hot Springs, BC); photo by Kari Medig
These bonsai-like golden forms against a backdrop of an early snowfall and crystal blue Kootenay skies is well worth a hike. Some ancient Grandmother alpine larches have been leaning into the mountain winds for close to 2,000 years.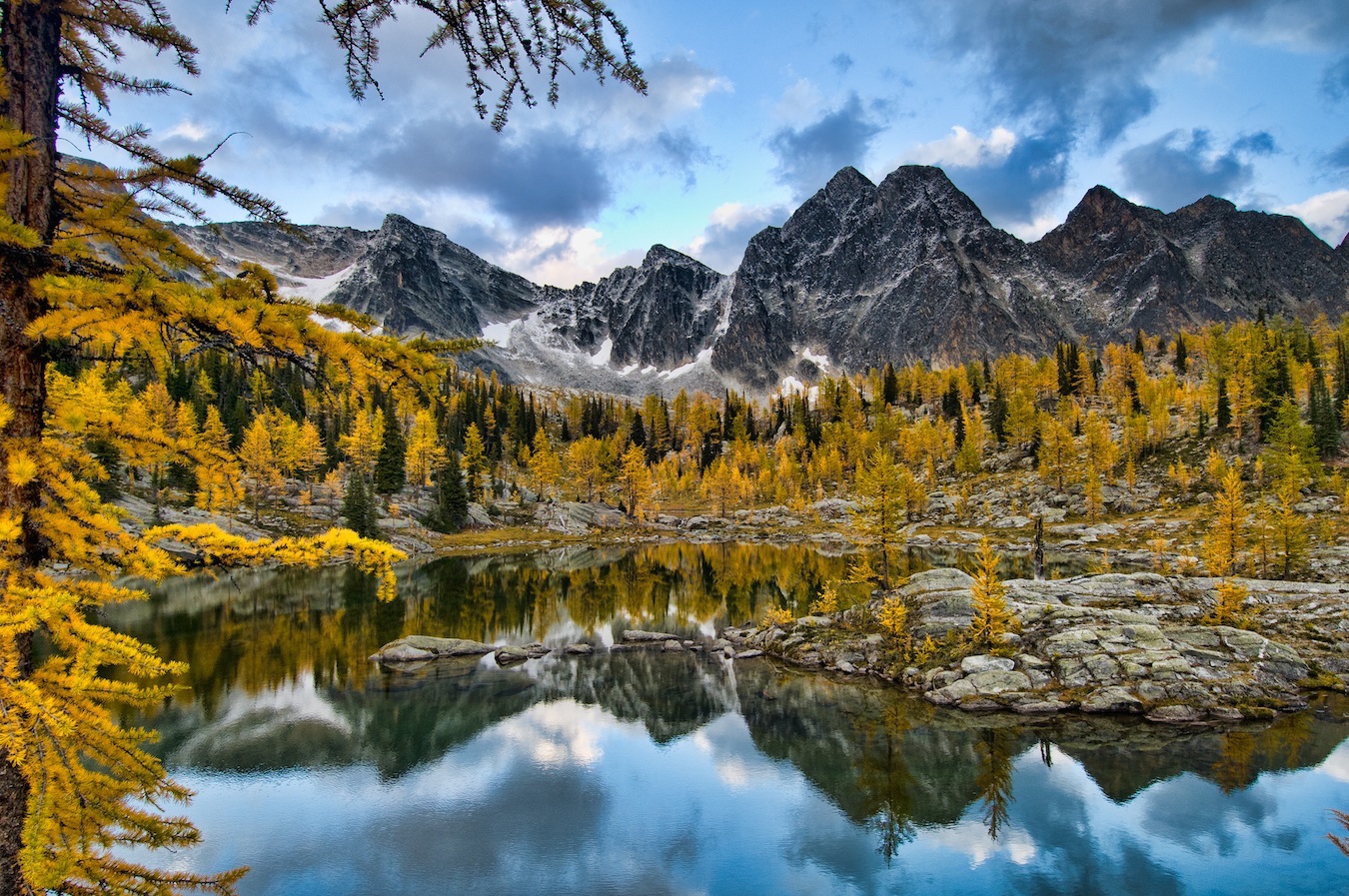 Monica Meadows in the Purcell Mountains; photo by David Gluns
~ Take extra time to research and plan your trip in advance. Many of our tourism businesses and services have adopted new COVID-19 protocols and changes to their schedules or policies to ensure your safety. You'll want to become familiar with them ahead of time.
~ If you normally travel with extended family or with several friends, consider travelling in a smaller group this summer. Travelling with fewer people makes it easier for you to practise physical distancing in public, and may have less of an impact on the destination.
~ Consider a slower travel pace this summer to help curb the spread. Instead of checking in and out of multiple destinations during one trip, choose one or two destinations and one/two accommodation properties for your entire trip (and explore all the things to do & see nearby).
Related Stories
~ 3 Legendary Hikes You May Of Never Heard Of 
~ Best Summit Hikes in the Kootenays
~ Easy Kootenay Hikes: To 360 Degree Vista Views
~ Hike, Pedal, Roll & Ski: Our Kootenay Rails to Trails
~ Human Powered: The Westside Legacy Trail
~ Out Your Back Door: Kootenay Community Treks
~ Rewarding Play: Golfing the Kootenay Rockies
~ What's Open in the Kootenay Rockies (2020 Summer/Fall)
Top/cover photo by David Gluns at Monica Meadows (across Kootenay Lake from Kaslo, BC).
Words by Dave Quinn. Born in Cranbrook, BC; Dave is a wildlife biologist, educator, wilderness guide, writer and photographer whose work is driven by his passion for wilderness and wild spaces. His work with endangered mountain caribou and badgers, threatened fisher and grizzly, as well as lynx and other species has helped shape his understanding of the Kootenay backcountry and its wildlife.
Please tag your images with #KootRocks on Instagram or Facebook to be featured in future stories.