The term loppet (pronounced luu-pit) is a Scandinavian term that means either: a long distance nordic ski race or event, or a bunch of people having fun nordic skiing together. Either way, it sums up the range of reasons people love nordic skiing for its unique mix of winter fun and fitness, both of which can be found at any of the world-class alpine ski resorts along the Powder Highway.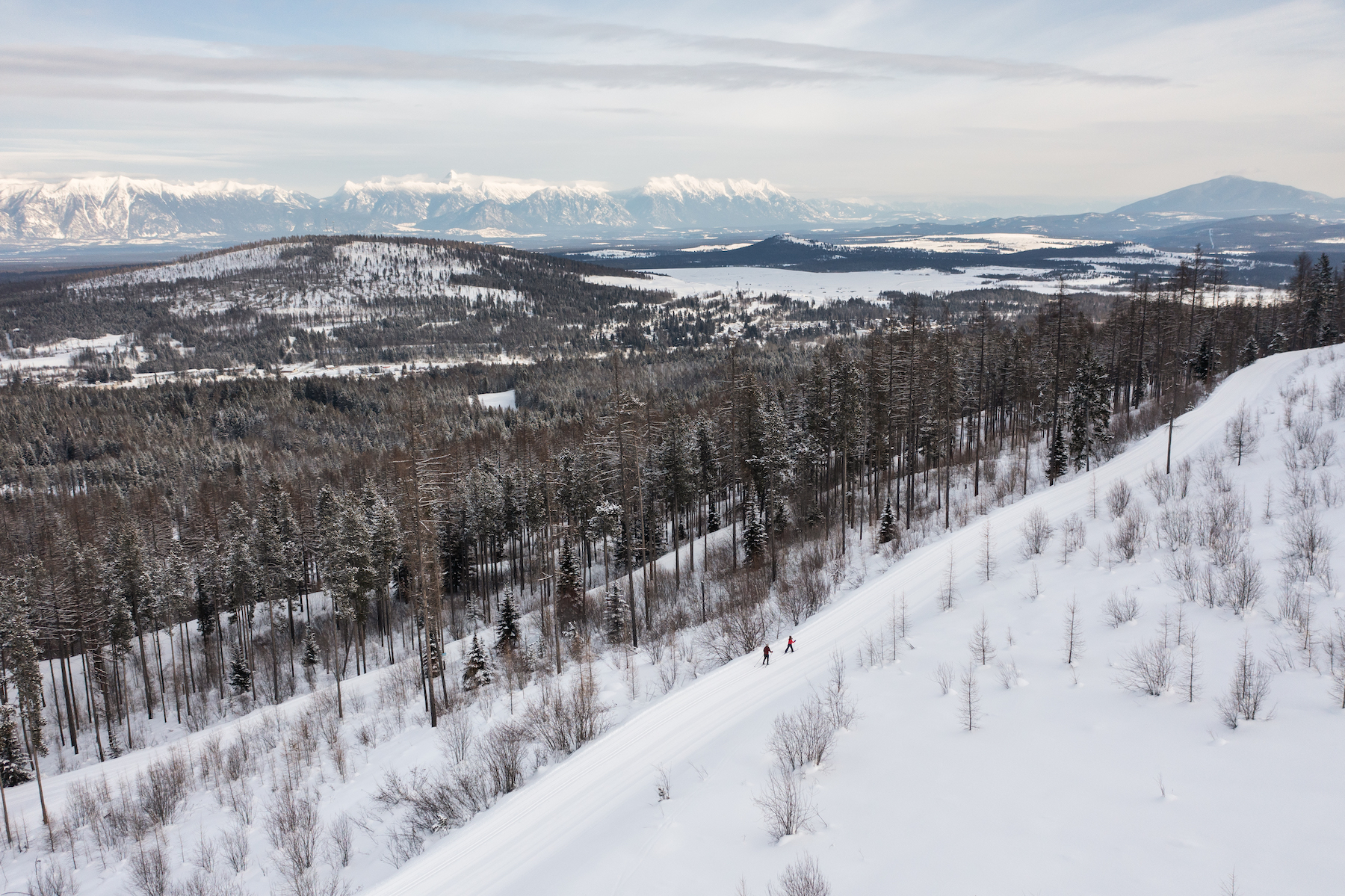 Black Jack Cross Country Club (near RED Mountain Resort) ranks as one of the premier cross-country ski facilities in western Canada because of its variety of trails, excellent grooming, abundant and reliable snowfall and proximity to the mountain community of Rossland.
~ Jan 13-14, 2023: Kootenay Cup Race Series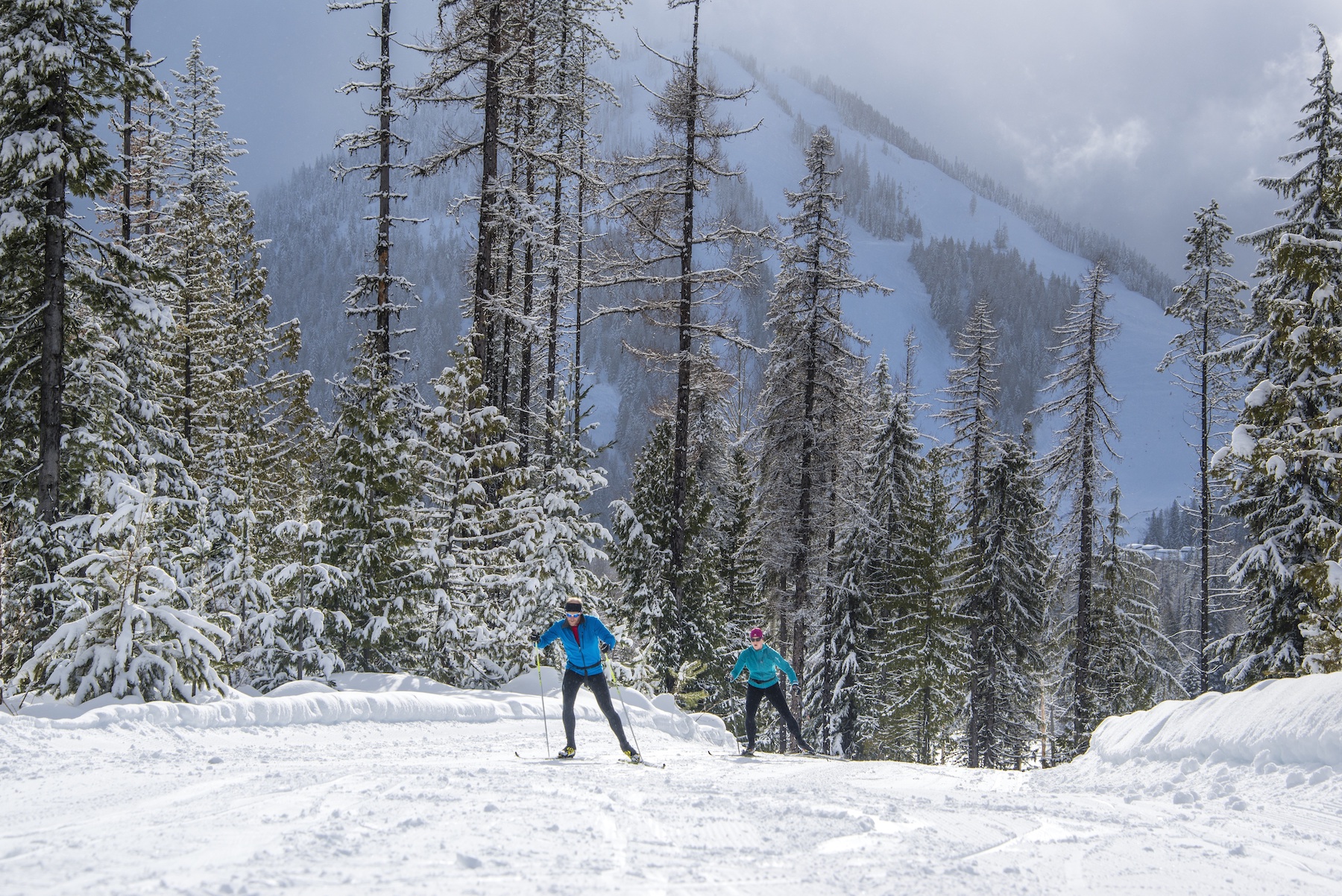 Fernie's nordic options range from groomed, in-town loops on the Fernie Golf Club course and skier-designed trails at the Elk Valley Nordic Center, to the mixed use Montane Trails.
~ Jan 28, 2023: Community Fun Race
Kimberley Nordic Club has boomed in recent years to become one of the largest Nordic Clubs in BC. Recent trail and stadium expansions and a planned EV charging station ensure a great experience, and accessibility for modern travellers visiting Kimberley. The newer Larch Loops visit some of the last, and tallest old-growth western larch trees in BC, while original trails like Snowbird and Roller Coaster continue to be family favourites.
~ Feb 2-5, 2023: Western Canadian Championships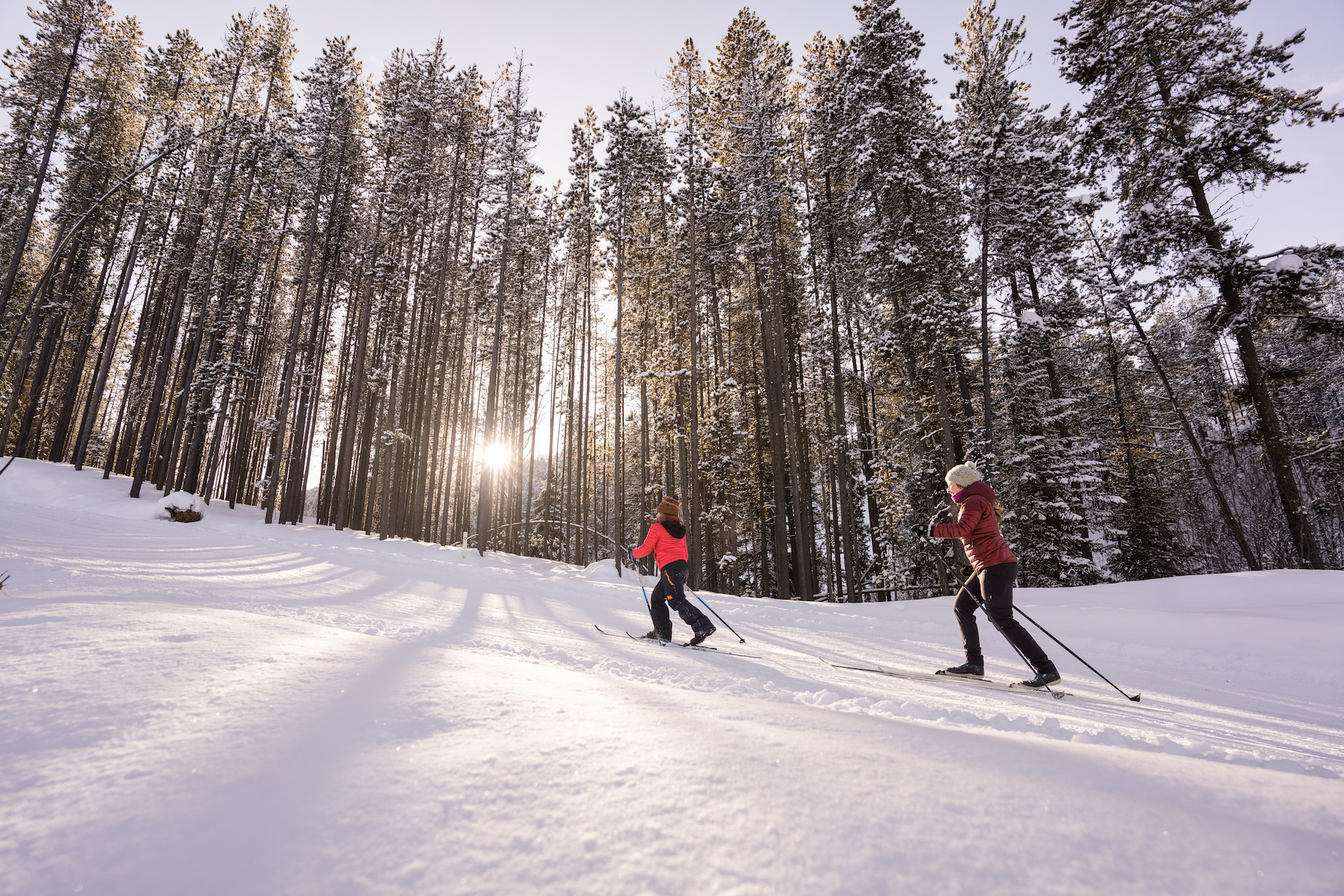 A Powder Highway nordic tour wouldn't be complete without a stop at Windermere Lake's The Whiteway, near Fairmont Hot Springs Ski Resort and Panorama Ski Resort), is a 30+ km groomed loop paired with the world's longest ice-skating trail (that connects Invermere & Windermere).
Farther up Toby Creek, a smaller, 3-km groomed nordic trail can be found at the Lake Lillian Whiteway. Bring your hot chocolate and picnic lunch to the Hale Hut, located 5-km out on the Panorama Nordic Centre at Greywolf trails.
~ Jan 1-Feb 28, 2023: The Whiteway Winter Challenge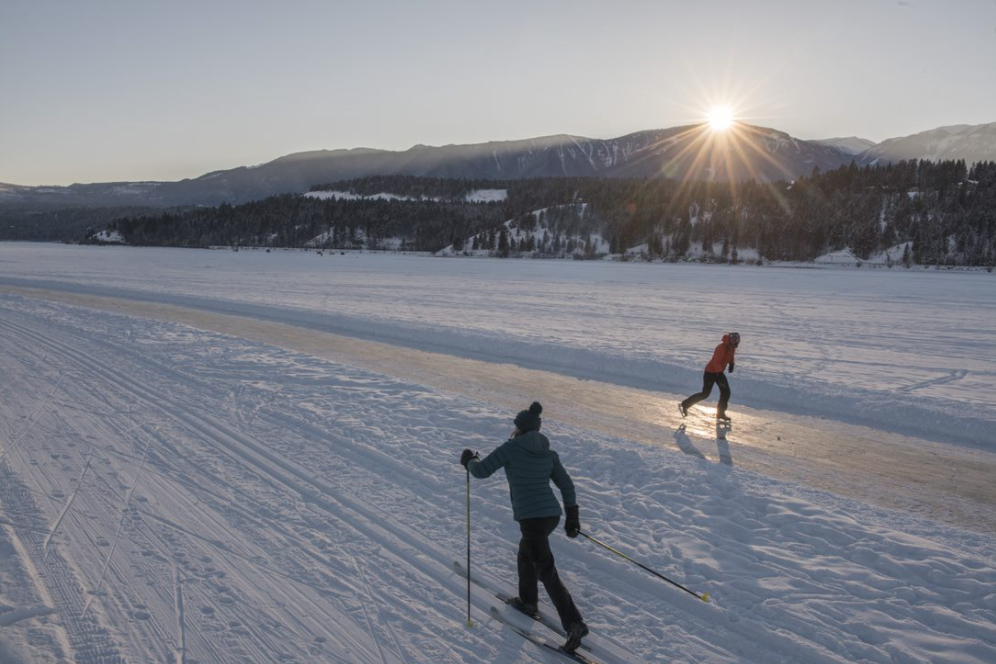 Dawn Mountain Nordic Centre offers 33-km (21-mi) of world-class cross-country skiing track set for both classic and skate skiing, groomed with snowmobiles and a Bombardier 400 Snow Cat. The high elevation of the Dawn Mountain Nordic Centre, located next to Kicking Horse Mountain Resort, guarantees excellent snow conditions, from early to late in the season.
~ Feb 11-12, 2023: Huckleberry Loppet
Deep in the Rockies just off Highway 93 through Kootenay National Park (a short drive from Panorama Mountain Resort) you'll find Nipika Mountain Resort, which grooms over 50-km of trails at the Cross River Canyon Recreation Site. The natural stone bridge over the Cross River Canyon is a natural wonder of the Rockies, and an unforgettable nordic ski destination.
~ Jan 28, 2023: Nipika Panorama Loppet Weekend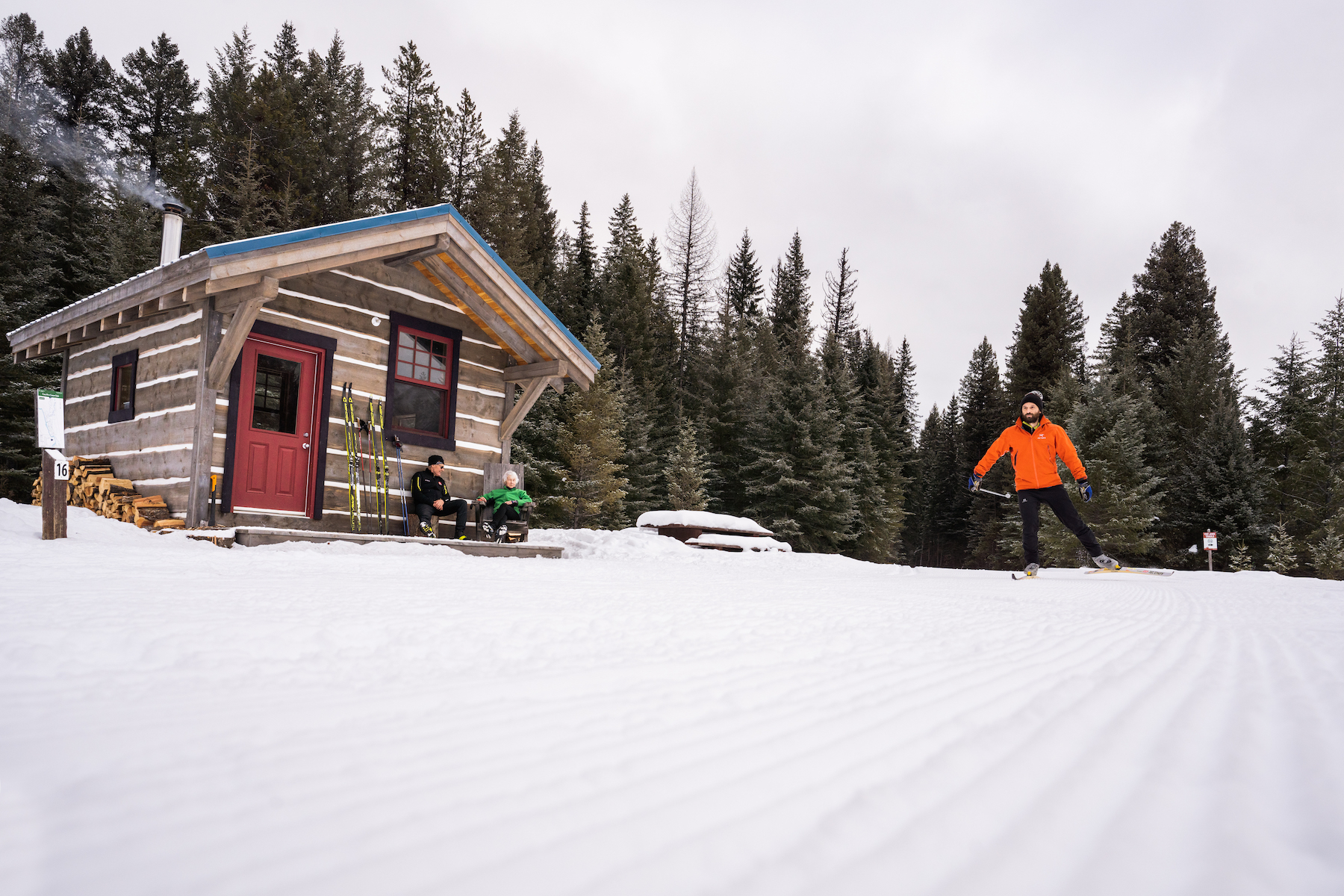 The Nelson Nordic Ski Club grooms a diverse network of nordic trails at the Apex-Busk area at the base of the Whitewater Ski Resort road. The club has a great warming lodge, and the trails wind through magical remnant cedars of the interior temperature snowforest.
~ Feb 25-26, 2023: Kootenay Cup Race Series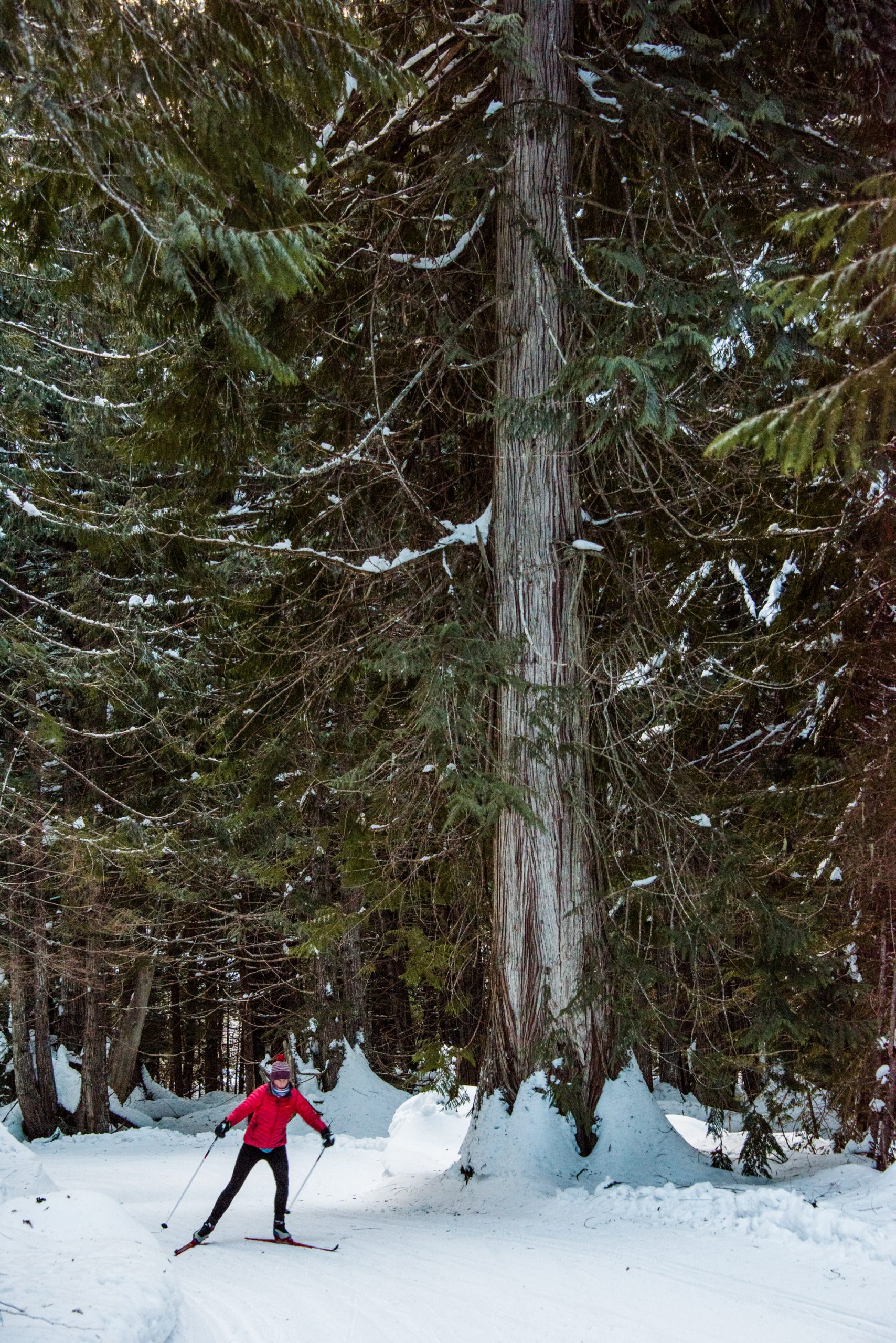 The Revelstoke Nordic Ski Club, Revelstoke Mountain Resort, hasbeen offering nordic skiing since 1891. The club maintains a system of ski trails in the Mount Macpherson Recreation Area. The trailhead is 7-km (4-mi) south of Revelstoke on Highway 23, at an elevation of about 640 metres. There are 30-km (19-mi) of groomed trail of which are lit for night skiing.
~ Jan 1, 2023: Lantern Ski 
Whether you are skiing for views, hot chocolate, and kids' rosy cheeks, or you are part of the Strava tribe, shaving off seconds training for the next nordic race, you'll find something to drop your jaw and light up your winter smile in the hundreds of kilometers of world-class nordic trails along the Powder Highway.

Know Before You Go – Plan ahead so you can travel safely and responsibly. Familiarize yourself with weather, road conditions, general alerts for travellers and provincial health orders & recommendations.
Related Stories
~ 4 Reasons to Ski-Ride the Powder Highway this Winter
~ 72 Hours in the Columbia Valley this Winter 
~ 72 Hours in Fernie this Winter
~ 72 Hours in Golden this Winter
~ 72 Hours in Kimberley this Winter
~ 72 Hours in Nelson this Winter
– 72 Hours in Revelstoke this Winter
– 72 Hours in Rossland this Winter
~ Kootenay Winters: Why We LOVE Them
~ Our Kootenay Mountain Culture
~ Our Kootenay Winter Celebrations: Along the Powder Highway
~ Planning your Powder Highway Trip: Local Tips
~ Powder Highway 101
~ Powder Towns on the Powder Highway
~ What's New on the Powder Highway?
Top/cover photo by Steve Ogle at Black Jack Cross-Country Ski Club.
Please tag your images with @PowderHighway and @KootRocks on Instagram to be featured in a future social post.  For travel deals and specials – sign up for our Consumer Travellers Newsletter.