From canoeing to whitewater kayaking to stand-up paddle boarding, water has a natural pull on us humans — probably owing to it having that whole crucial-to-human-survival quality going for it.
But water also holds mystery. Since it's not a terrain feature humans can easily explore and being that humans are curious by nature, we want to get closer and understand it. But unless you're a long-distance swimmer or enjoy getting sucked into rapids, to get into the midst of this element and navigate it for any extended period of time, you need a vessel.
Luckily, our ancestors paved the way for us. We've turned their utilitarian need for paddling into a modern-day recreational passion. Here in the Kootenays, we've got plenty of places to satisfy – or spark – that passion.
Chosen for ease of access from the paved road to put in, the following are just a handful of the region's many lakes and rivers that whitewater and flatwater fanatics can explore. If you need more after exploring these, level up your paddling game by checking out the lakes and rivers accessible via our backroads.
THE RIVERS
Columbia River
The Columbia might be one of North America's biggest rivers, but in the East Kootenay, it's a family-friendly paddle trip. This gentle giant can be paddled by nearly any age and ability and enjoyed as a quick outing or a multi-day trip.
Running 180-kms between the Purcells and the Rocky Mountains, it's also part of North America's longest wetland ecosystems, giving younger and older family members a chance to experience its biodiversity first-hand.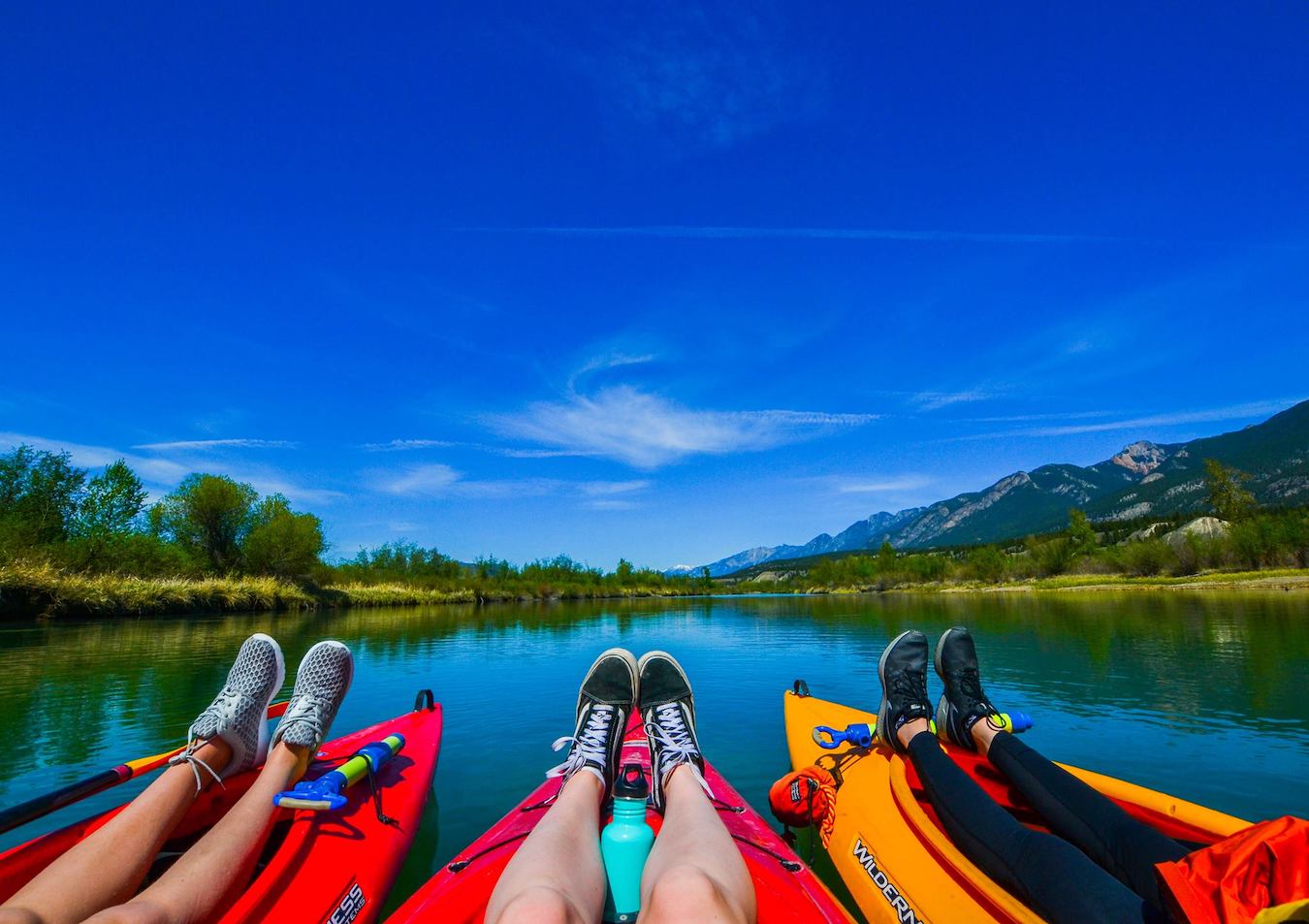 Easy paddling on the Columbia River near Invermere; photo courtesy of Columbia River Paddle
Elk River
Flowing through Sparwood and Fernie, the Elk River gets its start in the Canadian Rockies before flowing joining the Kootenay River in Koocanusa Lake. This river courses through classic Kootenay scenery: thick forests, icy blue water and our infamous Kootenay Rockies' peaks. With several waterfalls you can drop, the Elk runs up to Class V.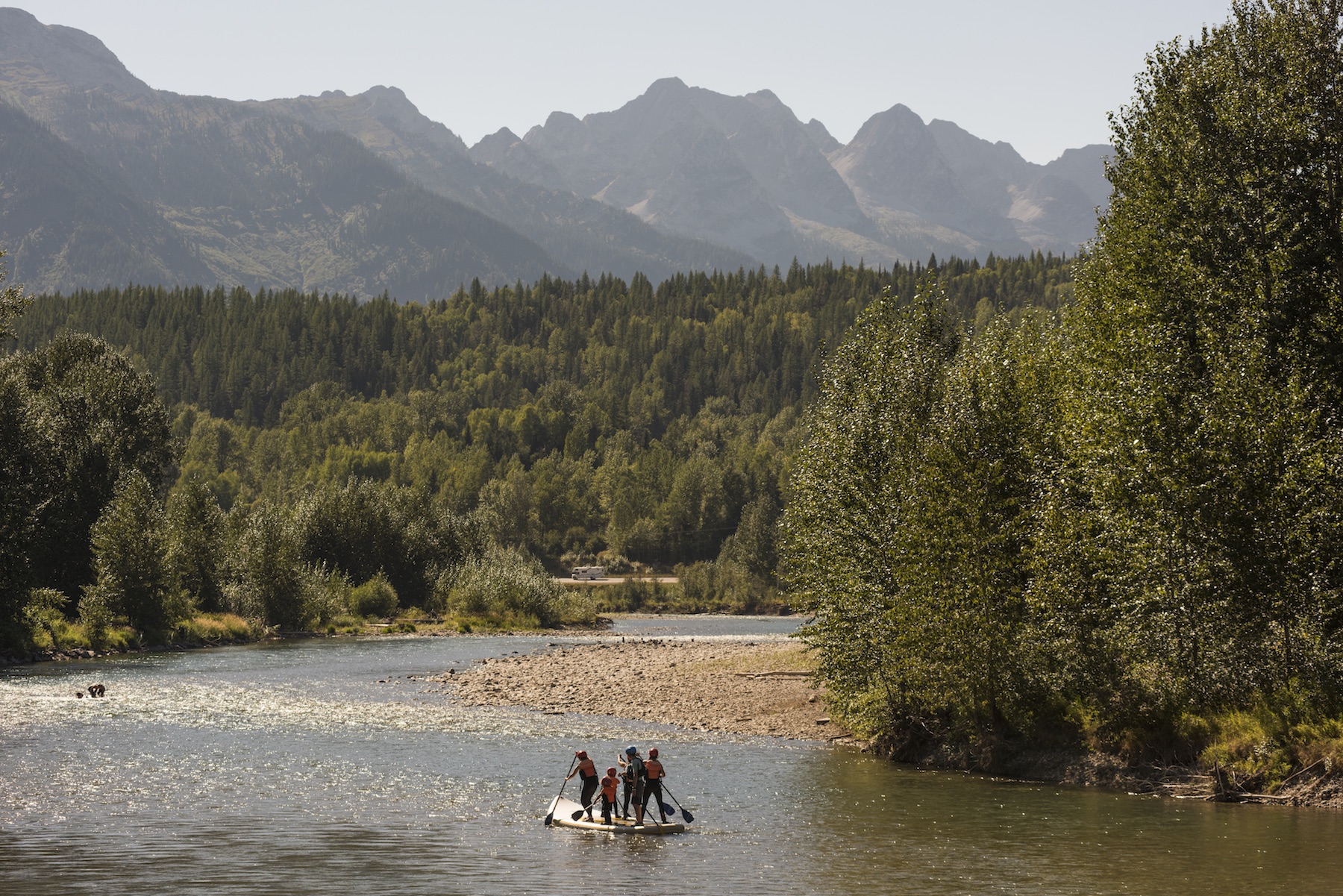 Illecillewaet River
This is one of two Revelstoke local favourites, the other being Jordan River. The cool aspect of the Illecillewaet — and why it was chosen for this particular round up of rivers — is that it's not just that it's easy to access from the Trans-Canada Highway, nor that it runs through a spectacular box canyon, but running this final stretch of this river will take you straight into Revelstoke. During its highest flows, the Illecillewaet runs in sections at a Class V, but paddlers can find grades as low as Class II on different sections and lower flow days.
Kicking Horse River
If you're big into whitewater, you already have the Kicking Horse River on your map. Rapids on this river reach up to Class V with several sections offering steady Class III runs. With headwaters in Yoho National Park, this rowdy river runs through three sections of tight canyons before mellowing out and joining with the Columbia River. And like the Illecillewaet, above, paddle the last section of the Kicking Horse and end up right in Golden in time for dinner.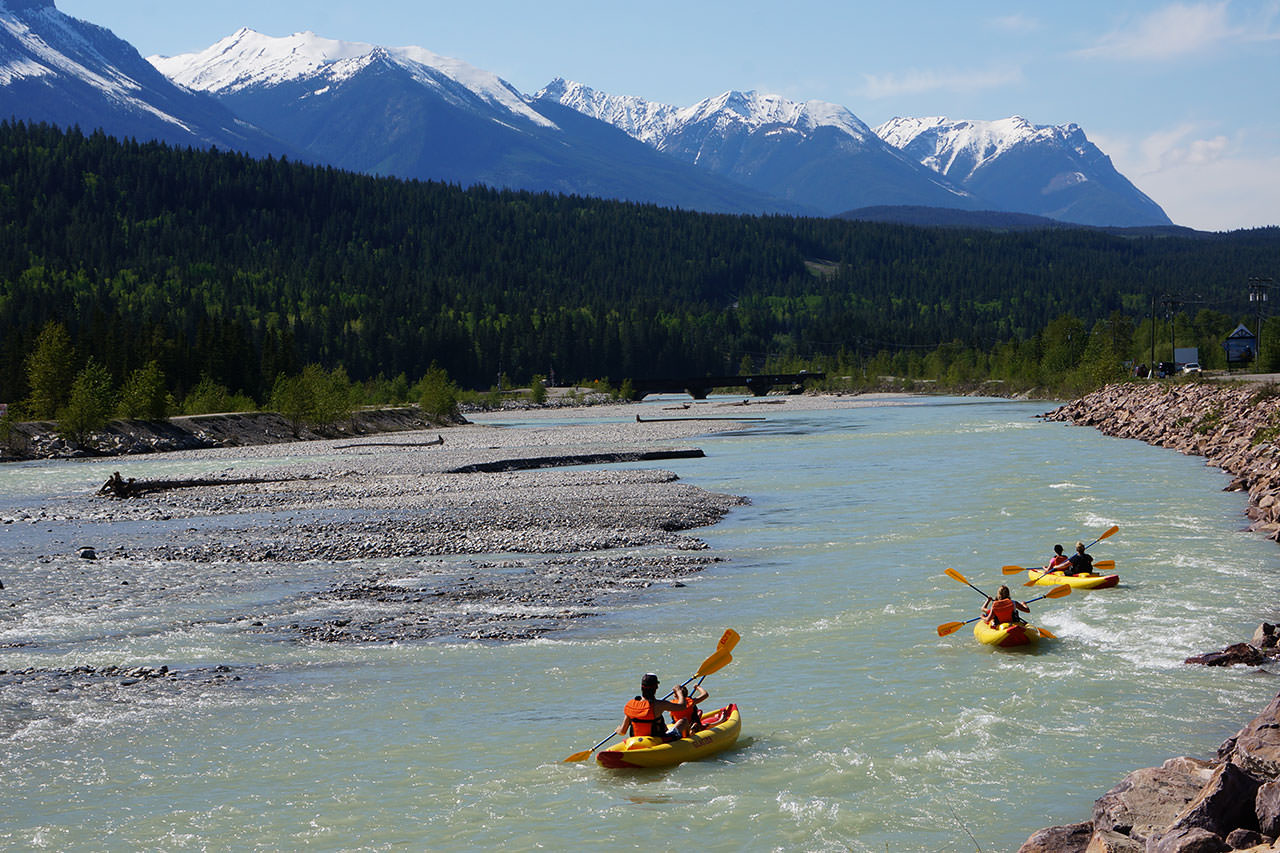 Kayaking the Kicking Horse River with Glacier Rafting Co. in Golden, BC
Kootenay River
Like the Columbia, you can paddle this in both East and West Kootenay sections. The difference is flow: BC sections of this river tend to have more rapids — averaging Class II and III depending on the section and time of year — than the Columbia, thanks to the Kootenay's steeper gradient.
In East Kootenay, try a multi-day trip starting near the river's headwaters in Kootenay National Park, heading south through forested canyons, until you reach the Rocky Mountain Trench at Canal Flats.
In West Kootenay, paddle the calmer side of the Kootenay within the Kootenay-Columbia Discovery Centre; the slower pace will give you a chance to check out the nearly 400 species of animals this area is home to.
Lardeau River
If you want a sure bet of spotting wildlife, this is your river. Sightings of grizzlies feasting on spawning Kokanee and bald eagles might even be more common than seeing another human on this stretch of river about a half hour from Kaslo.
It's also the … "only river in the world in which the Gerrard trout spawn, the world's largest subspecies of rainbow trout". Paddlers should be ready for at least Class II runs, depending on water levels.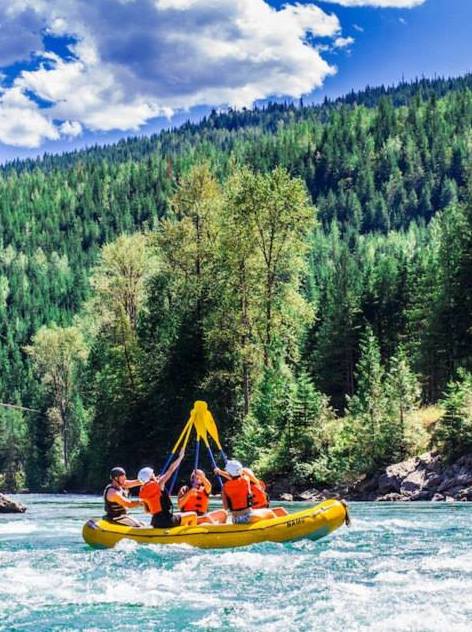 Whitewater rafting the Lardeau River; photo courtesy of Lardeau River Adventures
Slocan River
With or without rapids? It's your choice, depending on the section of river you choose — or get both by stringing sections together into a longer trip. Ranging from gently flowing to Class III in higher run-off periods, there's everything from technical maneuvering to easy floats through this part of the Kootenays. The scenery may be the biggest payoff: utopian-like family farms line the base of the rugged Selkirk Mountains, including Valhalla Provincial Park's peaks.
THE LAKES
Arrow Lakes (Upper and Lower)
Technically still the Columbia River, both Upper and Lower Arrow Lake are places where the river widens enough to become lake-like in appearance. History says the name for these two bodies of water came from the many arrows found here by Europeans in the mid-1800s, left by the Sinixt First Nation who used the waterway as a transportation route. Paddlers who also feel like doing some exploring on land will be rewarded by a at-access only hidden gem: Renata Natural Arch, found across from Syringa Provincial Park (near Castlegar).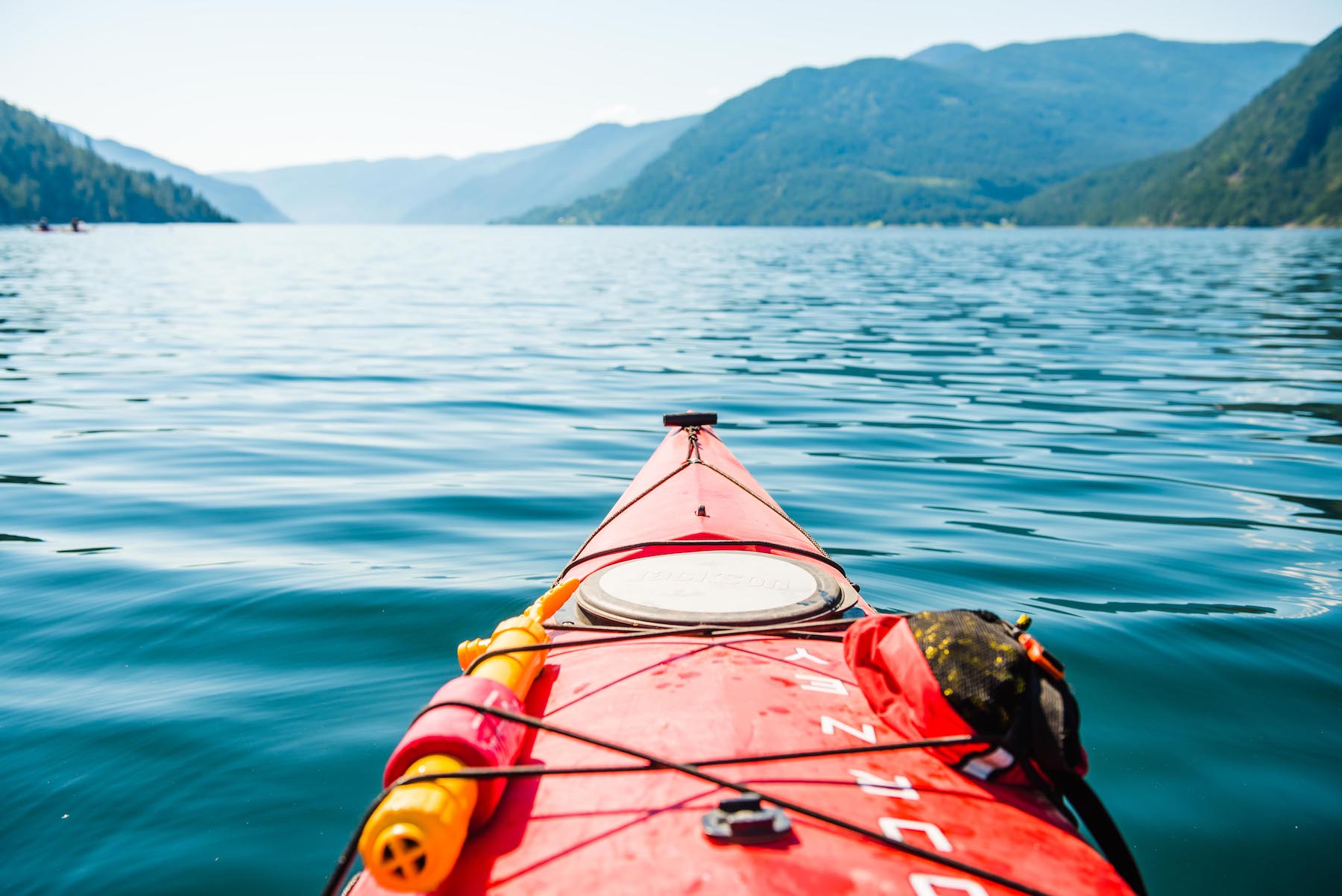 Kayaking on the Lower Arrow Lake with Endless Adventures; photo by Ashley Voykin
Columbia Lake
If you want a lake that's a warmer on the skin, this is the place to paddle. Columbia Lake is the largest warm-water lake in East Kootenay. But there's another reason to paddle here: bragging rights. Since the lake is also at the head of the Columbia River, those who paddle can claim they skimmed the headwaters of the fourth largest river in North America.
Kootenay Lake
With the Purcell Mountains on one side and the Selkirks on the other, both ranges dropping straight into its waters, Kootenay Lake provides 104-kilometres of fjord-like views. Between long stretches of wilderness, small towns and villages dot its shoreline. For paddlers who want a multi-day trip, there are several boat-accessed provincial parks along the lake that allow camping and plenty of trailheads around the circumference of the lake to stretch your legs on.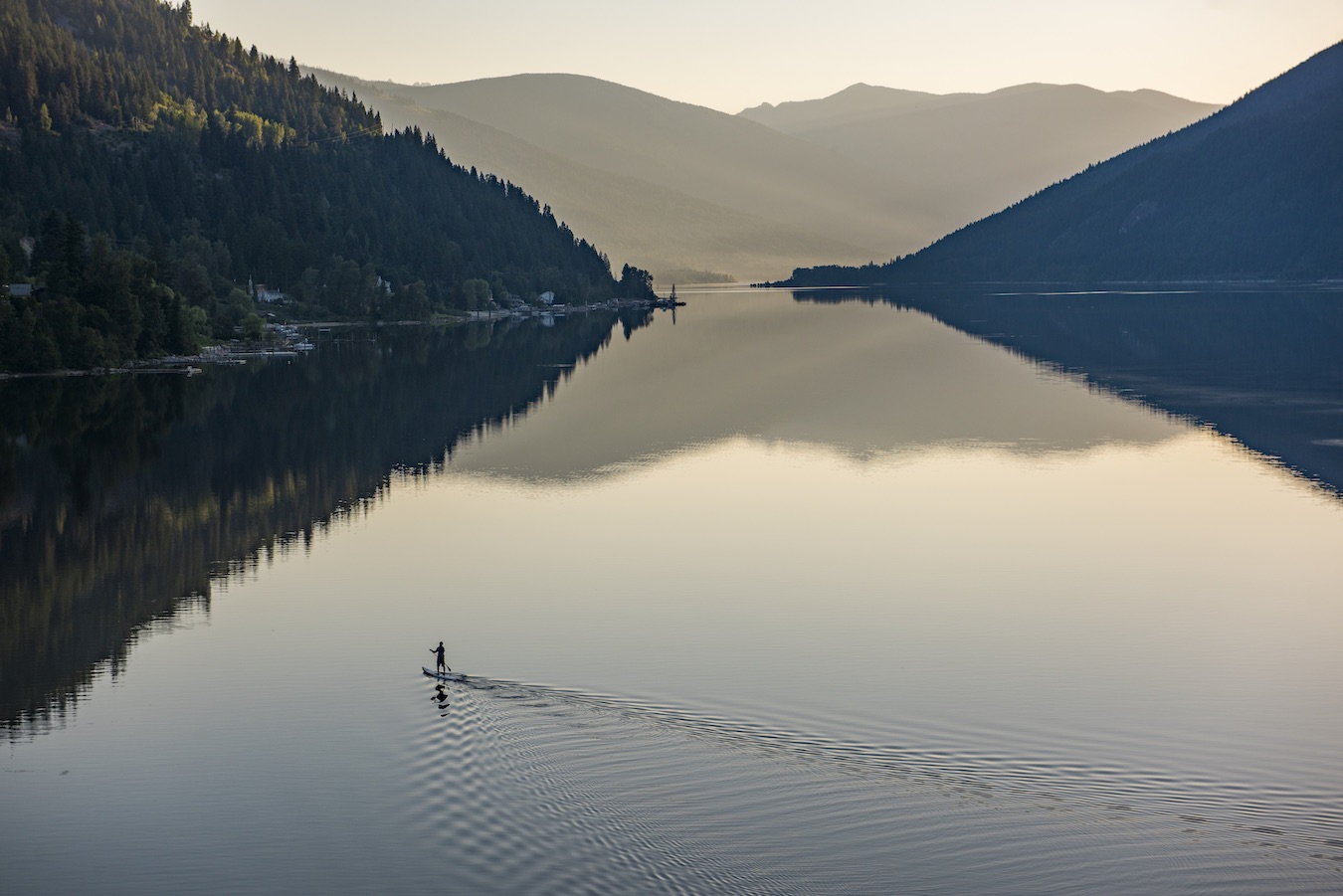 SUP on Kootenay Lake near Nelson; photo by Kari Medig
Lake Koocanusa
If you're alert, you'll catch how the name for this lake came about. Part of the Kootenay River system and spanning the Canada and United States border — did you catch it? — this lake moves from mountain views in the north to grasslands in the south. Nearly 80% of the 145-kilometre lake is on public land so multi-day paddlers will find plenty of spots to take out and camp.
Lake Revelstoke
Lake Revelstoke might just be one of Revelstoke's best kept secrets. Above the impressive Revelstoke Dame on Highway 23 north, the lake is a favourite hang out in the summer heat. Surrounded by stunning 360 degree mountain views, it is an ideal spot for watersports, camping and other outdoor activities.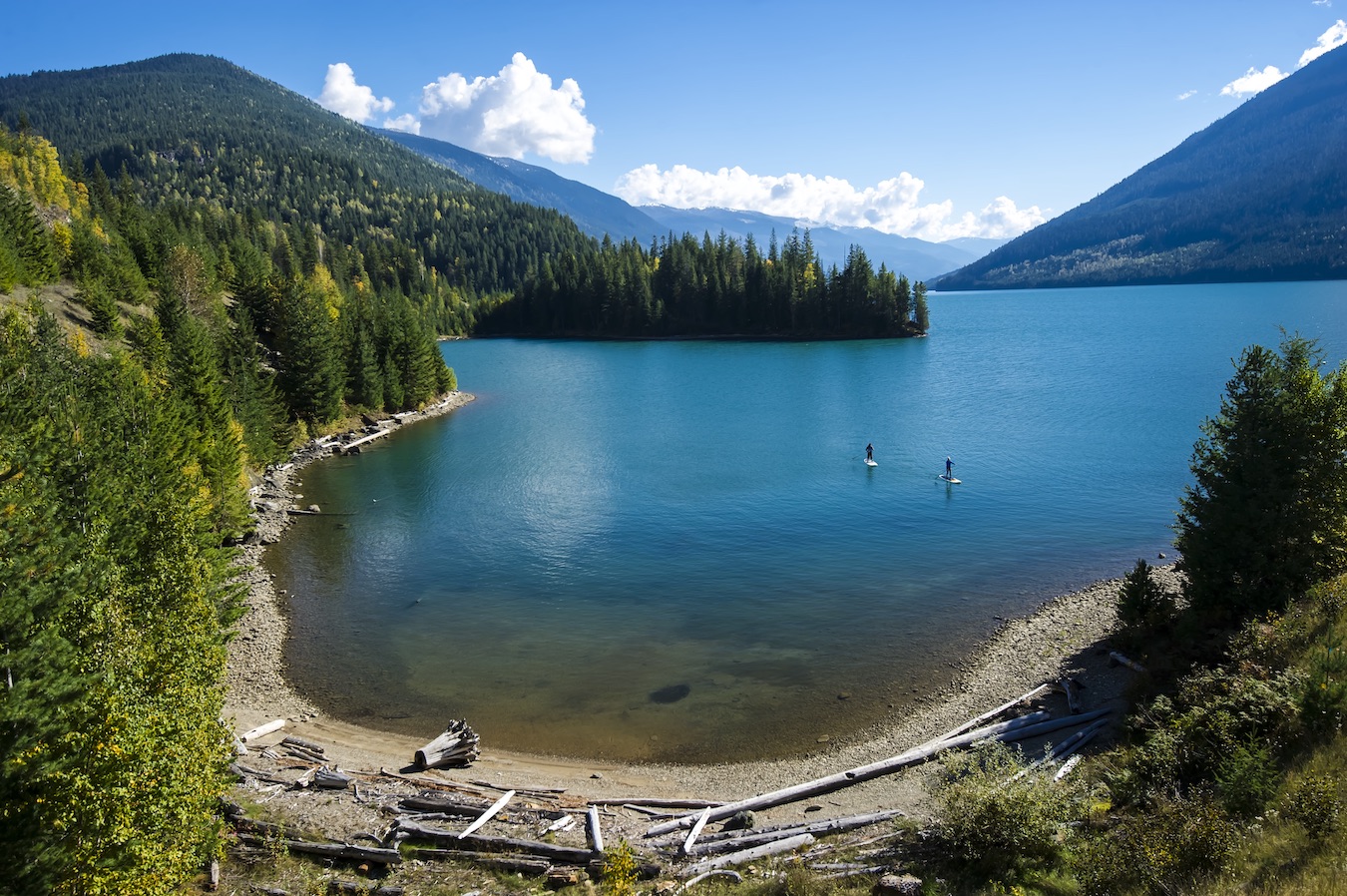 SUP on Lake Revelstoke; photo by Bruno Long
If you're traveling near Rossland and want a pretty spectacular roadside picnic, take it on the water. Nancy Greene Provincial Park is small, but its picture-perfect little lake with the southern tail of the Monashee Mountain scenery is worth pulling over for.
Slocan Lake
A few days spent touring the western shoreline will immerse paddlers in wilderness – Valhalla Provincial Park dominates the western side of Slocan Lake. Sand beach alcoves, a 7.5-kilometre shoreline hiking trail, and even trails into the interior of the park can be incorporated into a multi-day trip. From the east, paddlers will get better views of the park's interior peaks as they pop up behind passes in the mountain range.
Windermere Lake
Like Upper and Lower Arrow Lakes, Windermere Lake is actually a widening of the Columbia River. Its shallow waters, the average depth is only 4.5-metres deep, are a favourite with swimmers and boaters alike. The western side, bordered by the Purcell Mountains, is largely uninhabited while the east, with its views of the Rocky Mountains, provides lots of opportunities to climb ashore and check out the local culture.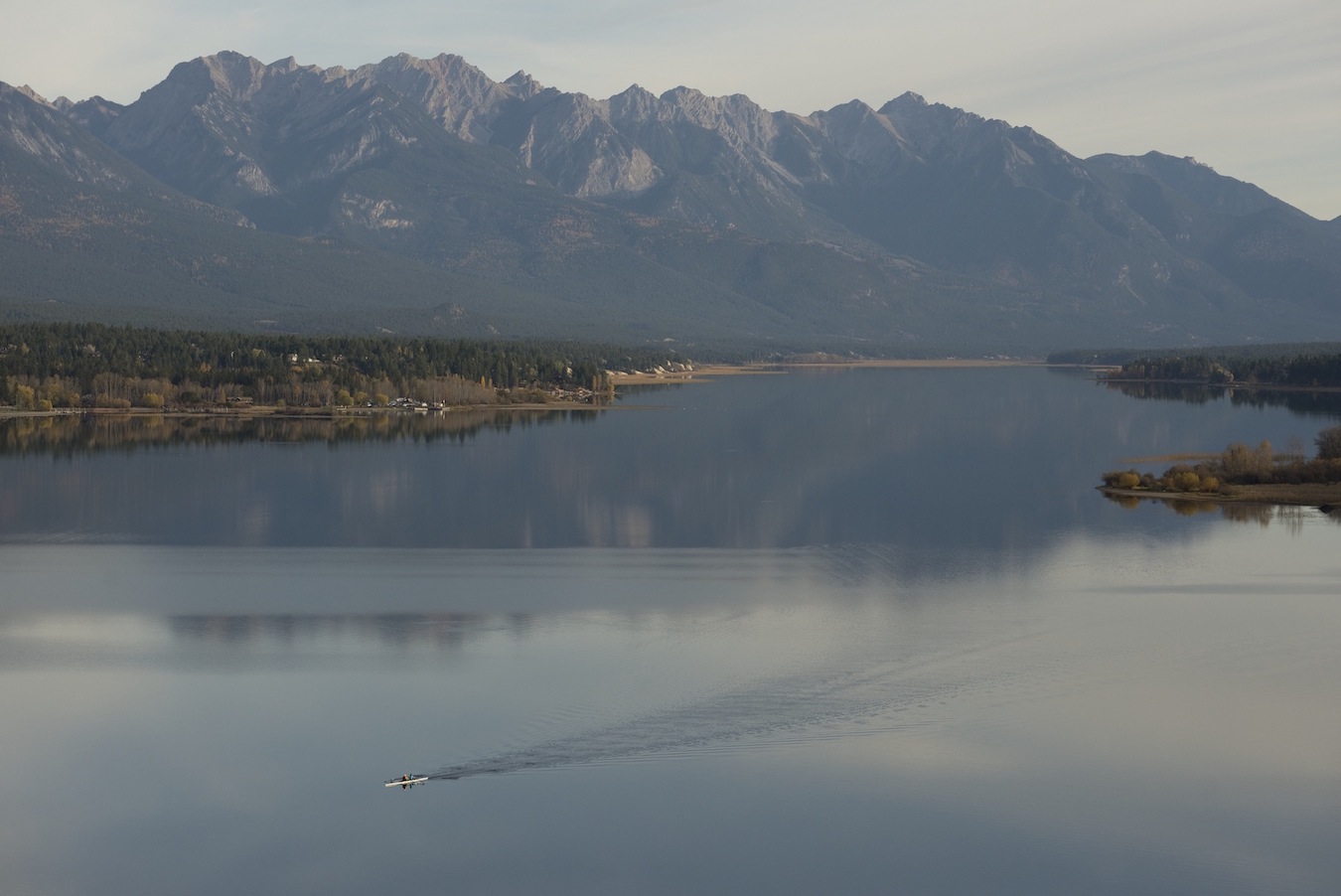 Kayaking on Lake Windermere in Invermere; photo by Kari Medig

Know Before You Go – Plan ahead so you can travel safely and responsibly. Familiarize yourself with weather, road conditions, general alerts for travellers and provincial health orders & recommendations.
Related Stories
~ 4 Quirky Communities Along Kootenay Lake
~ 4 Reasons to Drive BC's Hidden Route: The Slocan Valley
~ Beach Vacations in the Kootenay Rockies
~ Camping & Glamping in the Kootenay Rockies
~ Everything is Local
~ Keeping the Kootenays Natural
~ Multi-generational Family Hiking in the Kootenays
~ Outdoor Adventures: Unique to the Kootenays
~ Stewards of the Land: Positive Effects
~ Sunshine Houseboats & Marina: Waterpark

Cover/top photo by Gina Begin, of the Columbia River.
Please tag your images with @KootRocks on Instagram to be featured in a future social post.  For travel deals and specials – sign up for our Consumer Travellers Newsletter.