When the summer temperatures skyrocket and you find yourself drawn to wide-open lakes and the flow of the rivers, the Kootenay Rockies are here waiting for you.  Our rivers offer everything from calm, relaxing paddles through intact wetlands to wild runs down swift currents and rapids.  Our pristine lakes are perfect for that sunset cruise or a sunrise paddleboard session.  And all around you, the breathtaking landscapes of our narrow valleys and staggering peaks await.
Whether you need to rent some equipment or want a fully guided experience, our watersport specialists are ready to help you out on your next paddling adventure in the Kootenays!
Arrow Lake Adventures (Nakusp)
Bring the extended family along for an afternoon, evening, or full-day cruise on the Wildflower, a 26′ long pontoon boat.  Explore the shoreline of Arrow Lakes as you pass stunning mountain vistas and spectacular waterfalls. Book your lake & sunset cruise online!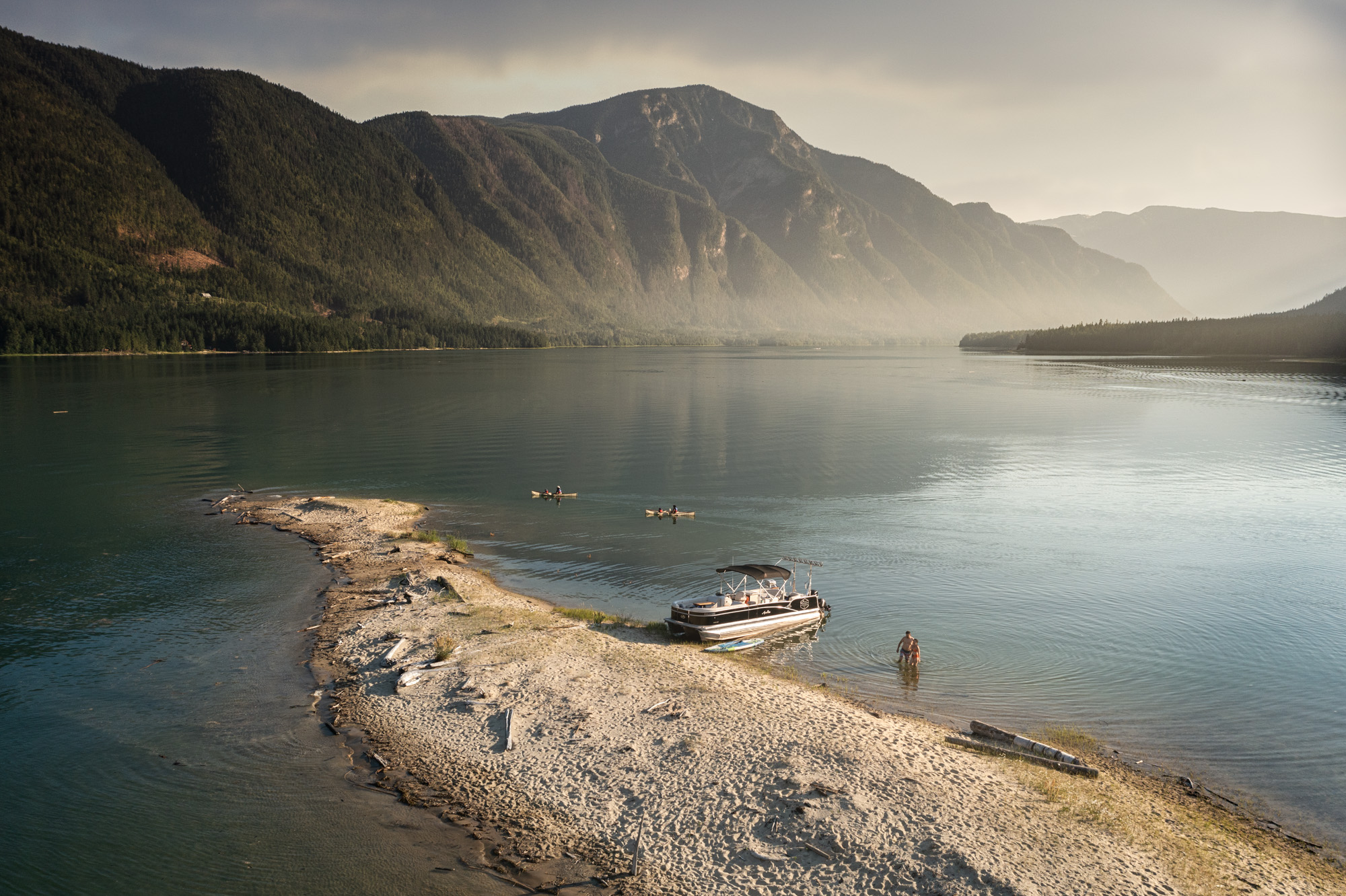 Bring the extended family along for an afternoon, evening, or full-day cruise on the Wildflower, a 26′ long pontoon boat.  Explore the shoreline of Arrow Lakes as you pass stunning mountain vistas and spectacular waterfalls. Book your lake & sunset cruise online!

Columbia River Paddle (Invermere)
Watch for more than 250 species of birds as you paddle the flat waters of the Columbia River between Invermere and Radium. Rent a canoe, kayak or paddleboard for a DIY trip or join a guide for a tour of the wetlands. Paddle with their knowledgable, highly-skilled guides.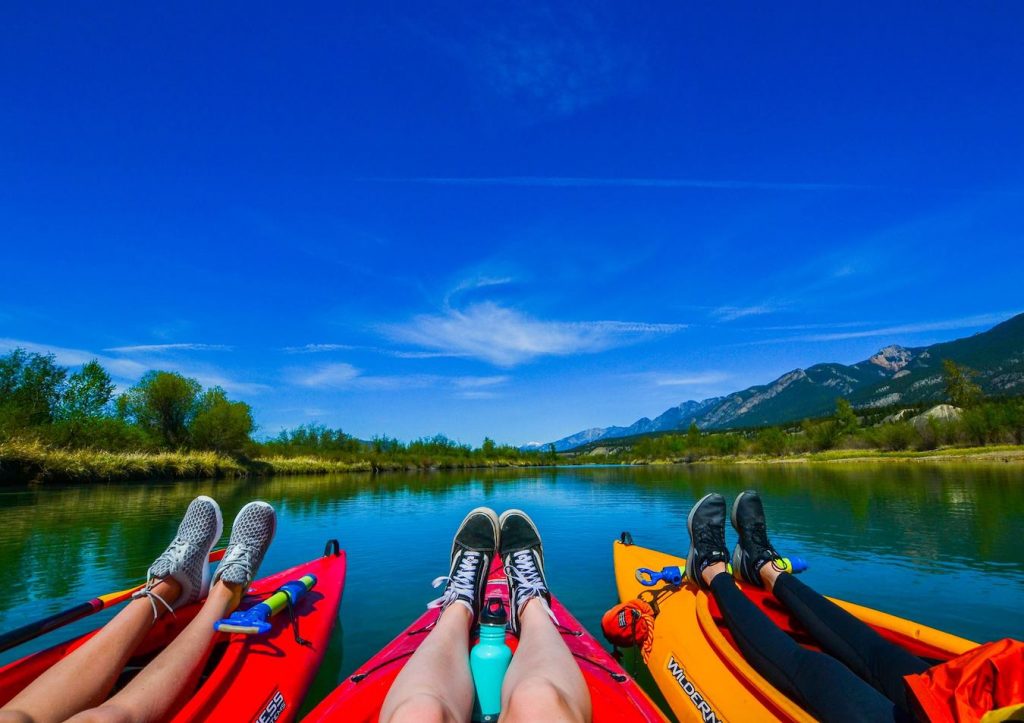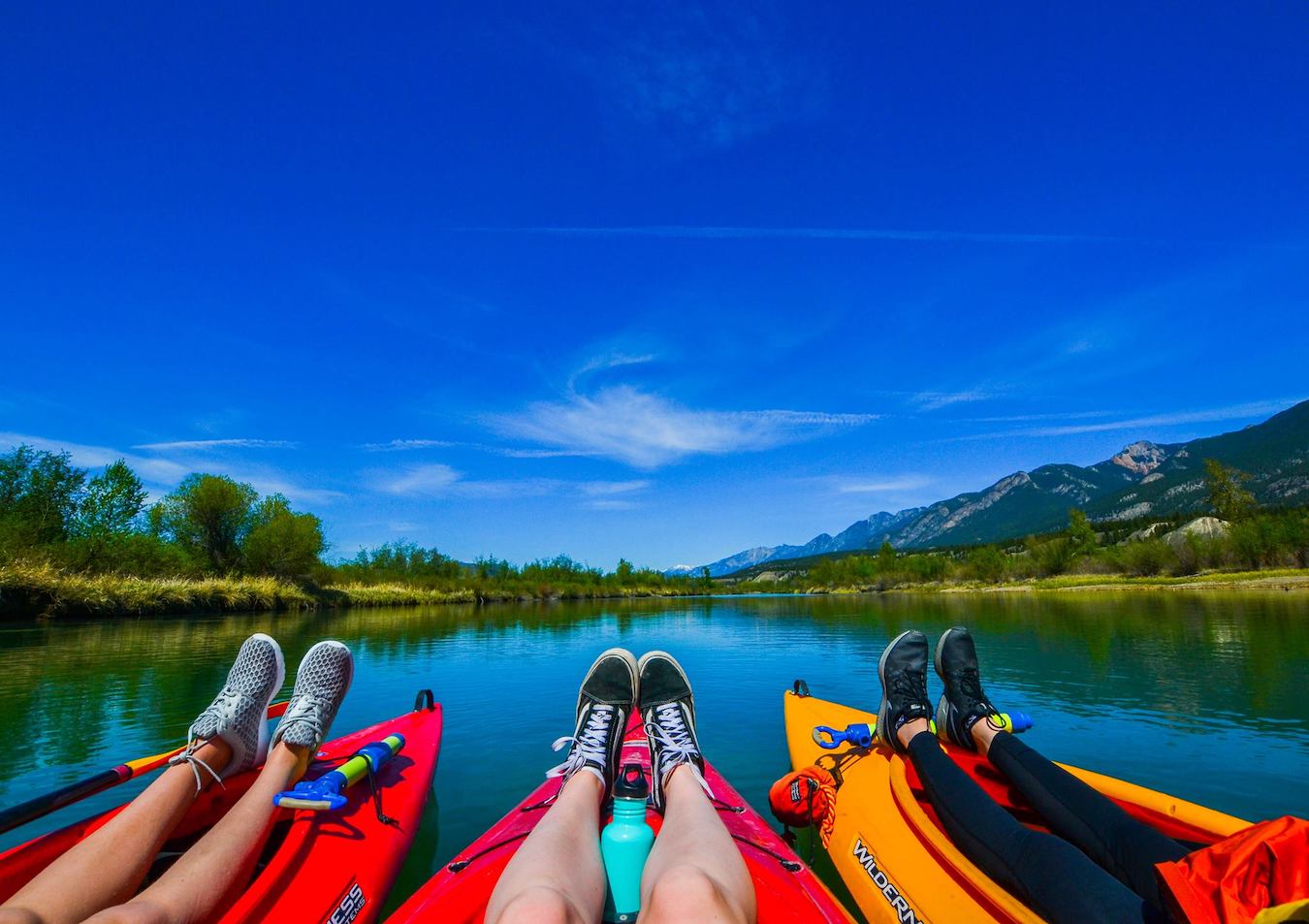 Endless Adventures (Crescent Valley)
Take on the class III rapids of the lower Slocan River by raft or inflatable Kayak with Endless Adventures. If you prefer a gentle river cruise, opt for the Upper Slocan River paddle, where you can learn the basics of paddling or just play around in the calm waters.  Book your guided raft & float tours.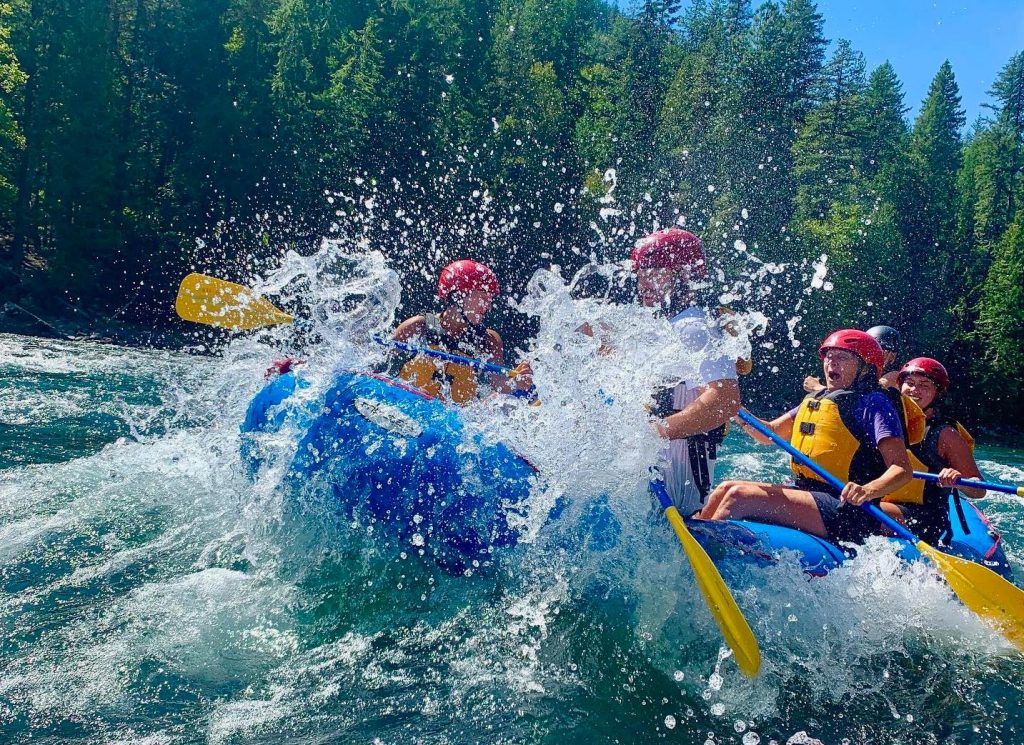 Far Out Adventures (Radium)
For that perfect half-day paddling adventure for all ages, join Far Out Adventures for a trip through the Columbia River Valley from Invermere to Radium.  Bring a fishing rod or swimming trunks to enjoy the waters during your paddle.  Experience the Columbia River with a guided paddle. 
Fine Line SUP & Fly (Revelstoke)
Take a guided paddleboarding trip on Lake Revelstoke and explore the hidden waterfalls and steep cliffs that line the shore of the lake.  Lasting around 2 hours, this tour is a quick way to experience the remoteness of Lake Revelstoke.  Book your SUP guided adventure. 
Glacier Rafting Co. (Golden)
Hop on a rafting trip to the lower canyon of the Kicking Horse River, which features a 4-km stretch of Class IV whitewater rapids and massive vertical rock walls.  Book your half or full-day family rafting adventure.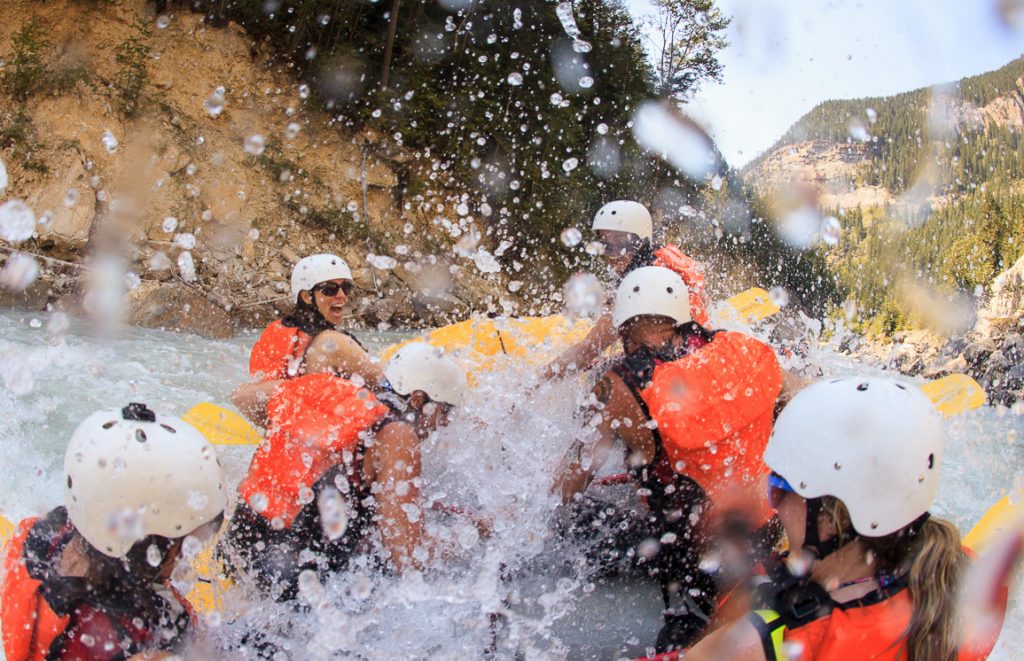 Kaslo Kayaking offers half-day, full-day and sunset paddles along the western shore of Kootenay Lake. Stop for short hikes to remote waterfalls, dips in the lake, and visits to ancient petroglyphs along the shoreline.  Book a half/full day, sunset paddle or multi-day adventure.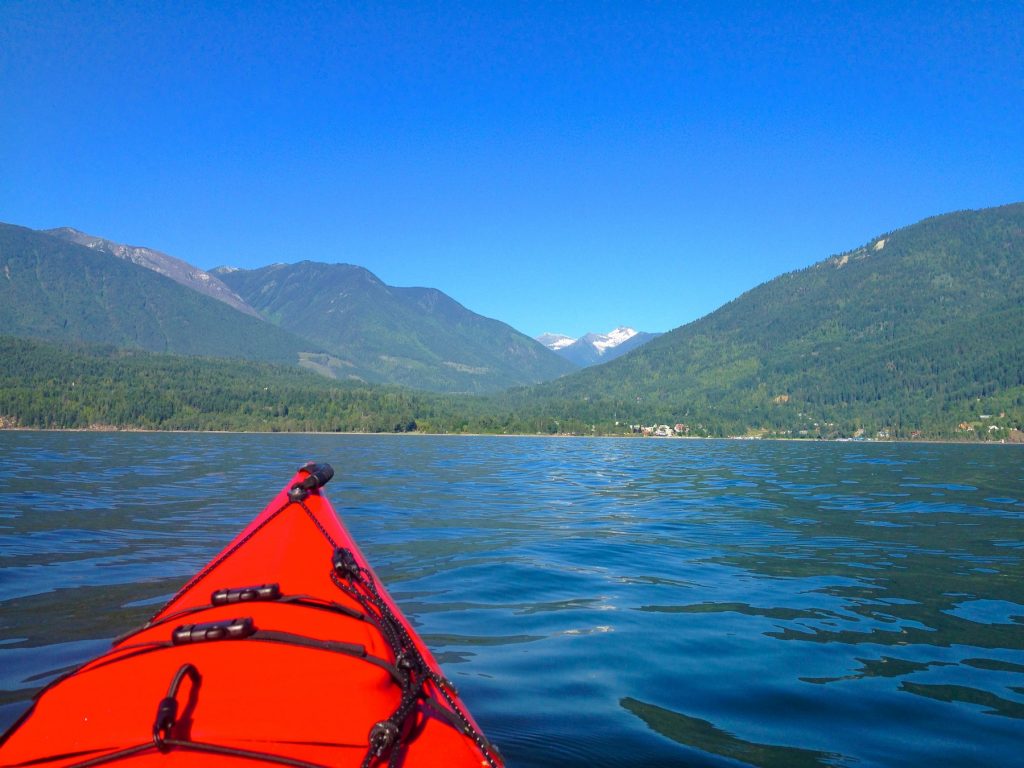 Kootenay Rafting Co. (Kimberley)
Ride the waves of the St. Mary's River or Elk River by raft or kayak with Kootenay Rafting Co.  The St. Mary's Express could be your gateway into the world of whitewater rafting, with a part-float part-whitewater adventure lasting around 4 hours.  Kimberley's #1 choice for 20 years, book now.
Natural Escapes Kayaking (Revelstoke)
Join Natural Escapes for a wonderful kayaking or canoe tour or lesson. Canoe and kayak rentals also available.Equipment and guide is provided. Packages include kayak (handcrafted wooden kayaks or stable recreational sea kayaks) safety gear, footwear, snack and free photo. A variety of tours and lessons are designed for beginners to advanced paddlers. Why only look at nature? Experience it with one of the following offered tours: Panoramic Lake & Mountain Views Tour, Waterfall Tour and Cascadia Tour.
Tunnel 49 (formerly Mountain High Adventures) (Fernie)
Get 8 of your friends or family together for a journey on the SUPSquatch, a 17-foot inflatable stand-up paddleboard that's one-of-a-kind.  Also offering whitewater rafting and kayaking trips, scenic floats and more out of their home base in Fernie.  Book the only guided SupSquatch River tour in Canada.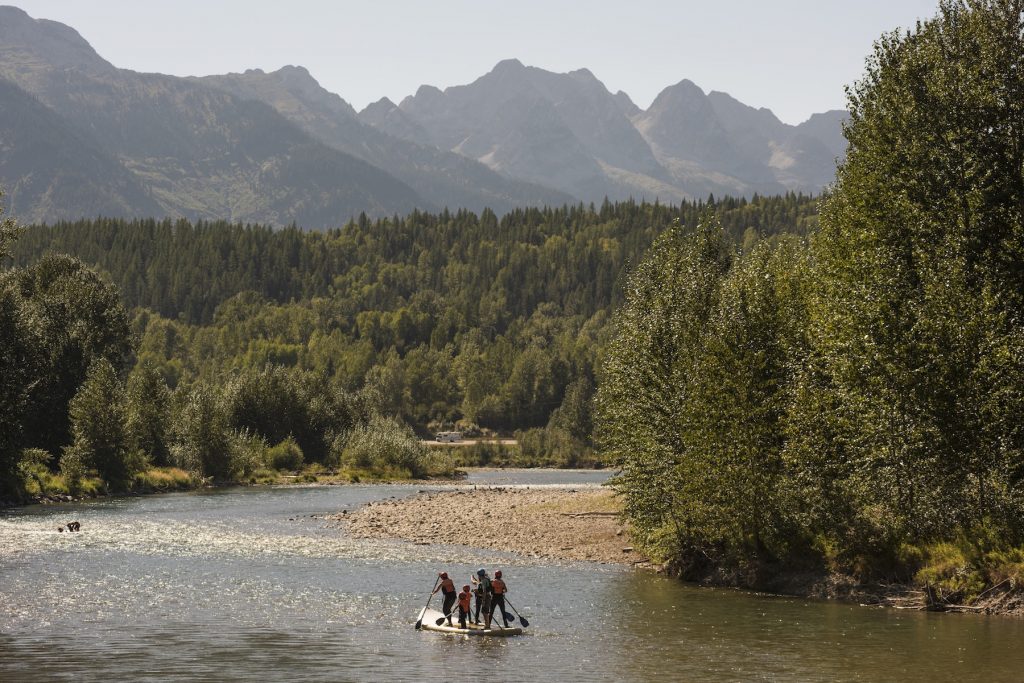 Wild Blue Yonder Rafting (Revelstoke)
Whitewater rafting and unique themed float trips near Revelstoke. With over 20 years of safe operation and exceptional service, guests are greeted like family and treated with care. The Revelstoke Rapids is a perfect half day exciting ride on the rapids through Mount Revelstoke National Park. For the very young, the themed River Pirates adventure on calm water is offered. In the evening, enjoy a scenic float paired with other Revelstoke experiences for a one-of-a-kind adventure. Sustainability Initiatives – Their initiatives include using energy / fuel efficient equipment and technologies, carbon footprint reduction: building, vehicle or equipment retrofits and waste reduction initiatives to divert waste from the landfill.
From rafting and floats to SUP trips and canoeing, a hot summer's day spent on the rivers and lakes of the Kootenays is the perfect way to beat the heat and cool down!
To assist you with other paddling adventures that are available to you in the region – check out our community partners: Arrow Lakes/Slocan Valley, Castlegar, Cranbrook, Columbia Valley, Creston Valley, Elkford, Fernie, Golden, Invermere/Panorama, Kimberley, Nakusp, Nelson Kootenay Lake, Radium Hot Springs, Revelstoke, Rossland, Sparwood and Trail.
Know Before You Go – Plan ahead so you can travel safely and responsibly. Familiarize yourself with weather, road conditions, general alerts for travellers and provincial health orders & recommendations.
Related Stories
~ A Road Trip of a Lifetime: Kootenay Rockies Hot Springs
~ Beach Vacations in the Kootenay Rockies
~ Big Adventures in Our Mountains
~ Camping & Glamping in the Kootenay Rockies
~ Cast a Line in one of the Kootenay's Rivers & Lakes
~ Cruise Down an Open Highway: Planning Your Kootenay Road Trip
~ Fly Fishing the Elk River
~ Hidden Waterfalls in the Kootenays
~ Kootenay Ambassadors: Mindful Explorers
~ Laid-Back Kootenays: Wellness Getaways
~ Legendary Kootenay Attractions: Not to be Missed this Summer
~ Outdoor Adventures: Unique to the Kootenays
~ Paddling Adventures in the Kootenays
~ Sleep Under our Starry Skies in the Kootenays
~ Stewards of the Land: Positive Effects
~ Sunshine Houseboats & Marina: Waterpark

Top/cover photo by Best Impression with Glacier Rafting Co. in Golden, BC. 
Words by Mark Locki. Mark is a photographer and writer based in Kimberley, BC. An avid traveller throughout the Kootenays and abroad, he enjoys exploring the natural world, camera in hand, seeking out compelling stories. He's often found deep in the backcountry, running, climbing or on skis, challenging himself to discover new scenes and viewpoints. 
Please tag your images with @KootRocks on Instagram to be featured in a future social post.  For travel deals and specials – sign up for our Consumer Travellers Newsletter.