Longing for a little TLC with your Kootenay Rockies road trip? Your trip is incomplete without a visit to at least one of the Kootenay hot springs along your route!  There are six to discover in the southeast corner of British Columbia, Canada. 
By divine providence, you round a bend in the highway and spot a sign. It's directing you to warm waters bubbling up from the earth and held captive by pools, allowing locals and visitors to enjoy. This, my friend, is just one of the many Kootenay hot springs. 

"The caves are the main feature that makes us unique from the other hot springs," starts Jake Murfitt, assistant general manager of Ainsworth Hot Springs, referencing the water-filled tunnels that dive into the mountainside.
Situated in the oldest surviving community on Kootenay Lake and surrounded by views of both the lake and the Purcell Mountains, the history of these springs goes back hundreds of years. It includes visits from the Sinixt and Ktunaxa peoples, who gathered here to ease their muscles after hunting trips and battles.
That was long before the commercial opening in 1930. "Like many natural attractions in BC, non-indigenous peoples moved in to establish [mining] communities," says Murfitt.
In April 2015, the Lower Kootenay Band regained these healing waters, thus returning the Ktunaxa people to the site. In doing so, the band added a second unique aspect to the pools: that of being the only commercially-owned and operated Indigenous hot springs in the region (and beyond).
At least a few things will stay the same: The waters average between 35-42ºC year-round, the rate of water flow naturally changes the water in the pools and caves six times a day, and the views are just as healing as the waters themselves.
"People from around the world share treasured memories of their first visit to Ainsworth," says Murfitt. "We strive to keep that feeling of 'aahhh' as we upgrade the property and amenities throughout."
(The pools are now open to the public by "reservation only", Wed to Sun (10am to 5:30pm). Note, the resort is closed on Mondays & Tuesdays. Recommendation: Book your overnight stay in advance too.)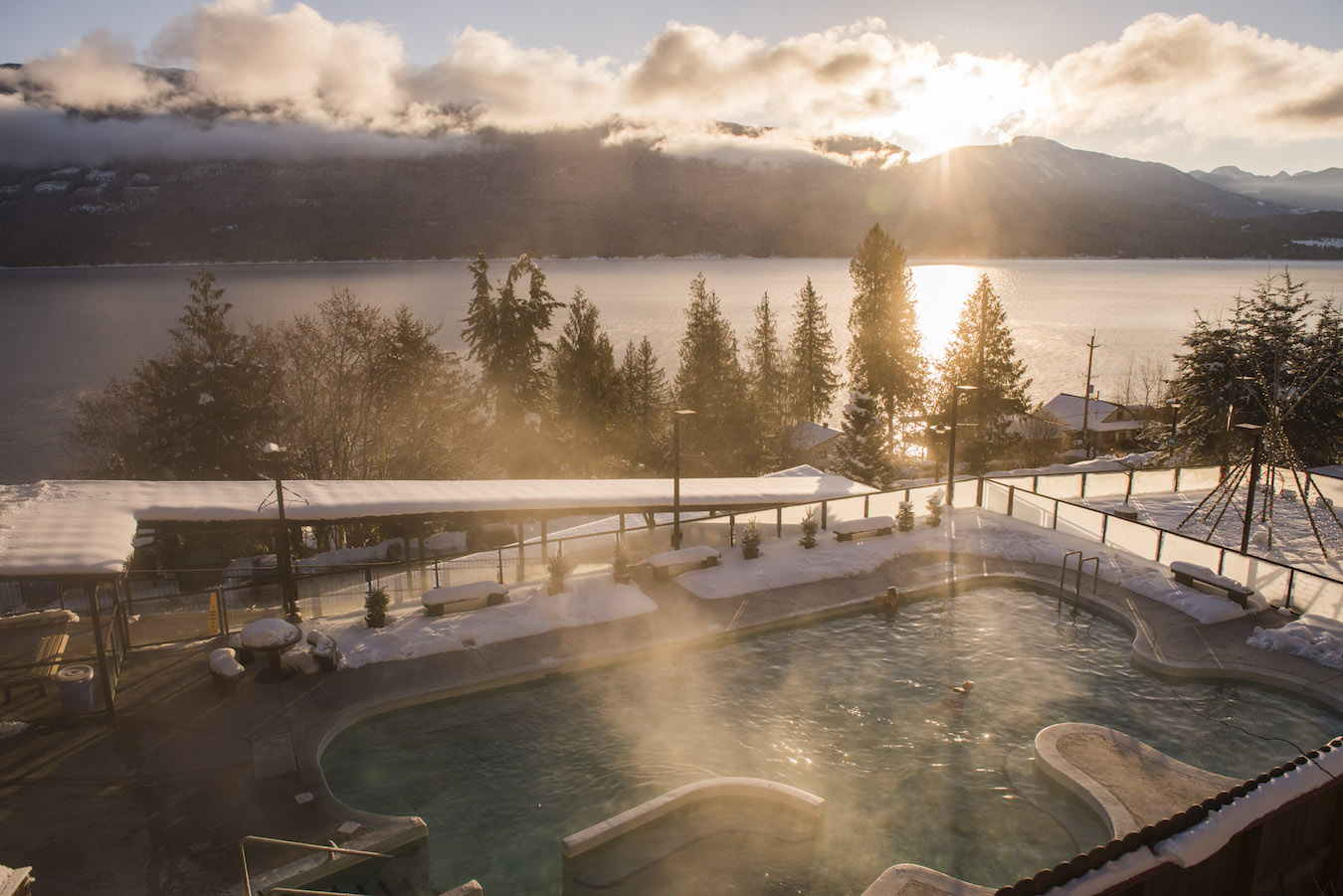 Ainsworth Hot Springs, photo by Kari Medig
Canyon Hot Springs 
Glacier/Mt. Revelstoke National Parks

Set on 200 acres in the spectacular Selkirk Mountains of BC, an area of great natural beauty between Glacier and Mt. Revelstoke National Parks. With log cabins and over 200 campground sights situated in a natural forest setting, there is something to suit everyone's lodging needs. Located along side the Trans Canada Highway, at Albert Canyon, the resort offers two natural mineral hot springs.
(Recommendation: Book your overnight stay in advance. Open from May to September.) 
Fairmont Hot Springs Resort
Columbia Valley

Like having your soaking temps "just so"? With three pools, each held at a different temperature (39ºC, 32ºC, and 30ºC), it's a safe bet that Fairmont Hot Springs has your comfort level.
The history of Fairmont Hot Springs traces itself back to early 20th century ranching days when John Hankey took over the property and offered both accommodation and access to the springs for two dollars a day. Over the decades since, the property's various owners built upon the visions of their
Predecessors. A bathhouse, swimming pool, restaurant, bungalows and various other improvements and expansions followed, turning the resort into what visitors find today: the largest natural hot springs in Canada and a mecca for those who believe in the health and wellness aspects of the naturally-heated waters.
"We flow over 1.2 million gallons of fresh mineral water through our pools daily allowing us to use minimal levels of chlorine", explains the Marketing Coordinator at Fairmont Hot Springs Resort. And unlike some hot springs that sometimes has a touch of sulphuric smell, Fairmont's are odourless.
All that's needed to complete this sweet sensory experience is something to feast your eyes on; good thing the views of the Columbia Valley and Purcell Mountains beyond stand ready to serve this exact need. 
(Recommendation: Book your overnight stay in advance.)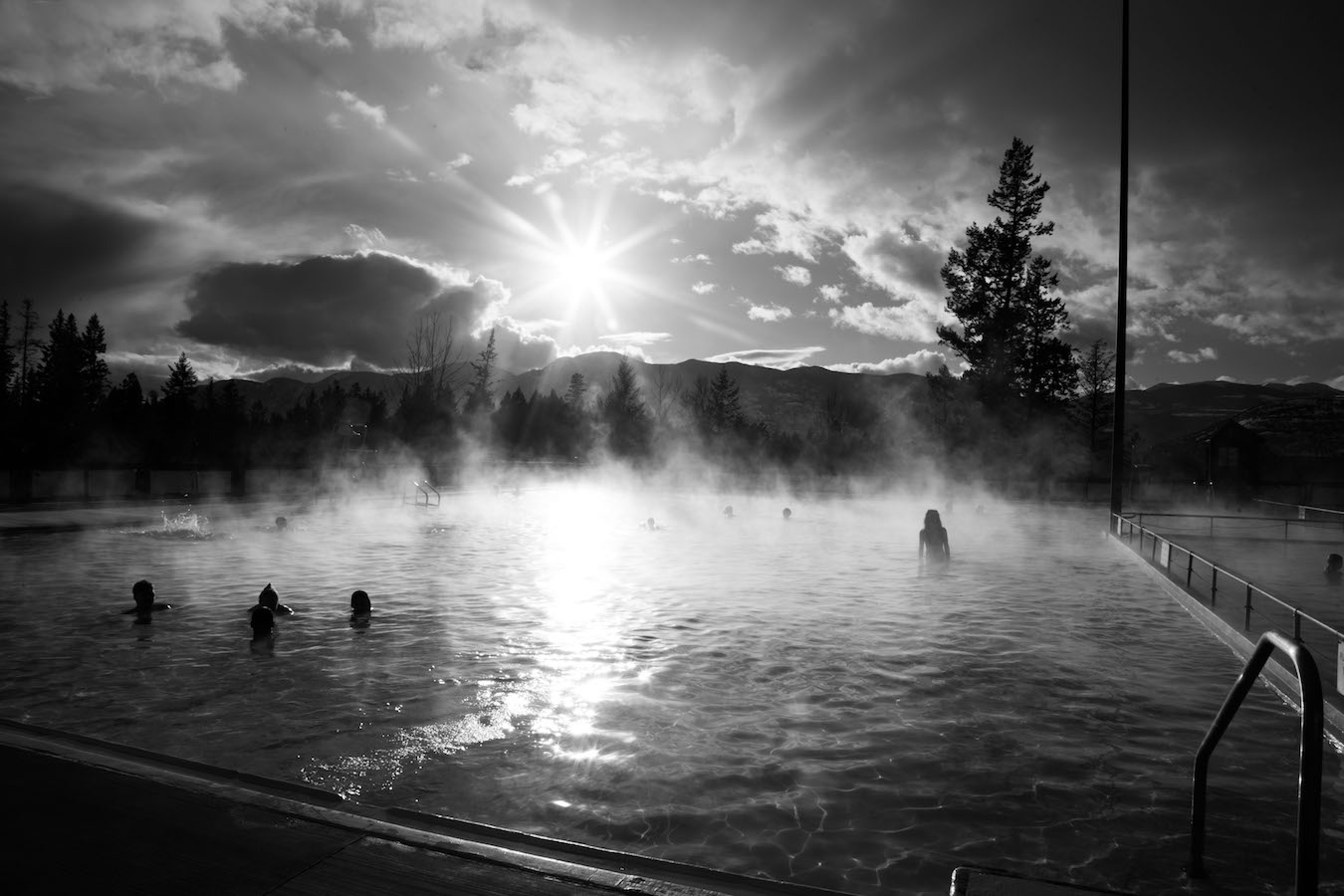 Fairmont Hot Springs offers three separate pools, photo by Zoya Lynch
Halcyon Hot Springs Resort
Arrow Lake/Nakusp
1890: the Indigenous people in this area of the Monashee Range help Captain Robert Sanderson locate the source of the hot springs. He purchases 400 acres of surrounding land, constructs a hotel equipped with plunge pools for its guests, and opens the doors to visitors.
And thus the legacy of Halcyon Hot Springs waters, and their ability to rejuvenate and restore health was born.
Like Fairmont Hot Springs, Halcyon customizes the temperatures of its terraced pools to suit different degrees of comfort. Depending on the pool, the warm waters move from 32-38-42ºC. The resort's managers strive to suit even the discerning tastes of pint-sized bathers by tempting them with a spray park located on the lower level of the resort's decks.
But it's the water itself — or more specifically, what's in it  — that gives credence to the years of claims that the springs have restorative virtues for visitors.
For centuries, the First Nations people used the name "Great Medicine Water" to describe Halcyon Hot Springs. More recently, studies show some proof that the name isn't far off: minerals such as sodium, magnesium, calcium, strontium are found in the water. But it is especially the appearance of lithium that is said to aid in a variety of medical conditions including depression, Alzheimer's, Parkinson's, and even in helping to regenerate pathways in the brain.
And, in keeping with our skiing road trip readers, one traveller to the resort says, "If you are sore from a long road trip or big day of adventures, go and unwind in Halcyon Hot Springs! Let the warm water of the natural mineral springs heal your achy bones and invigorate your spirit!"
(Recommendation: Book your overnight stay in advance.)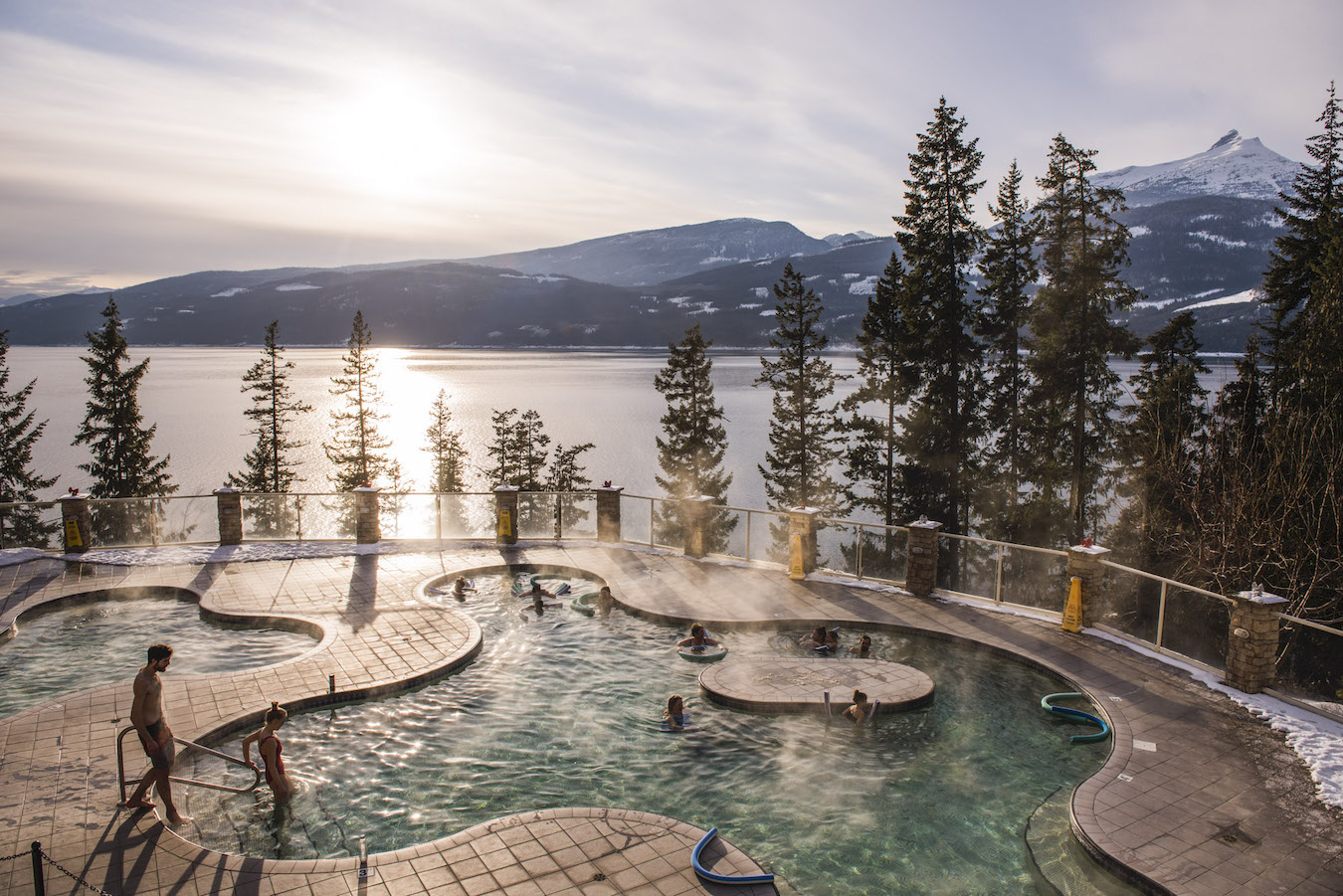 Halcyon Hot Springs, photo by Kari Medig
When I contact Terry Welsh, director of Recreation & Parks for the Village of Nakusp, I get a reply that first dives into the history of the area's hot springs.
After following up with my own research, I see why he started with there: the springs took over 80 years to develop, with lot of citizen pushback against private developers who tried to stake claim over the years.
"Explorers originally accessed the hot springs by foot or horseback, taking the 12 km journey from the town of Nakusp, winding their way up the mountain trail through old growth forests," says Welsh. That same trail exists to this day, now used by outdoor recreation enthusiasts year-round for mountain  ing, horseback riding, and cross-country skiing.
And with a reward like hot springs at the end of a 12 km outing, who wouldn't be up for some trail time? But the hot springs aren't only accessible by trail these days; travellers can arrive by car and stay in one of the chalets or, in summer, pitch your tent in the campground. With these and other upgrades, the hot springs have evolved into what Welsh calls "the perfect blend of seclusion, comfort, and accessibility".
"It is one of the only places I know of where you can see rare wildlife, forage through the forest, and enjoy the comforts of modern day life," says Welsh. "It truly is a hidden gem amongst the majesty of the Selkirk Mountains."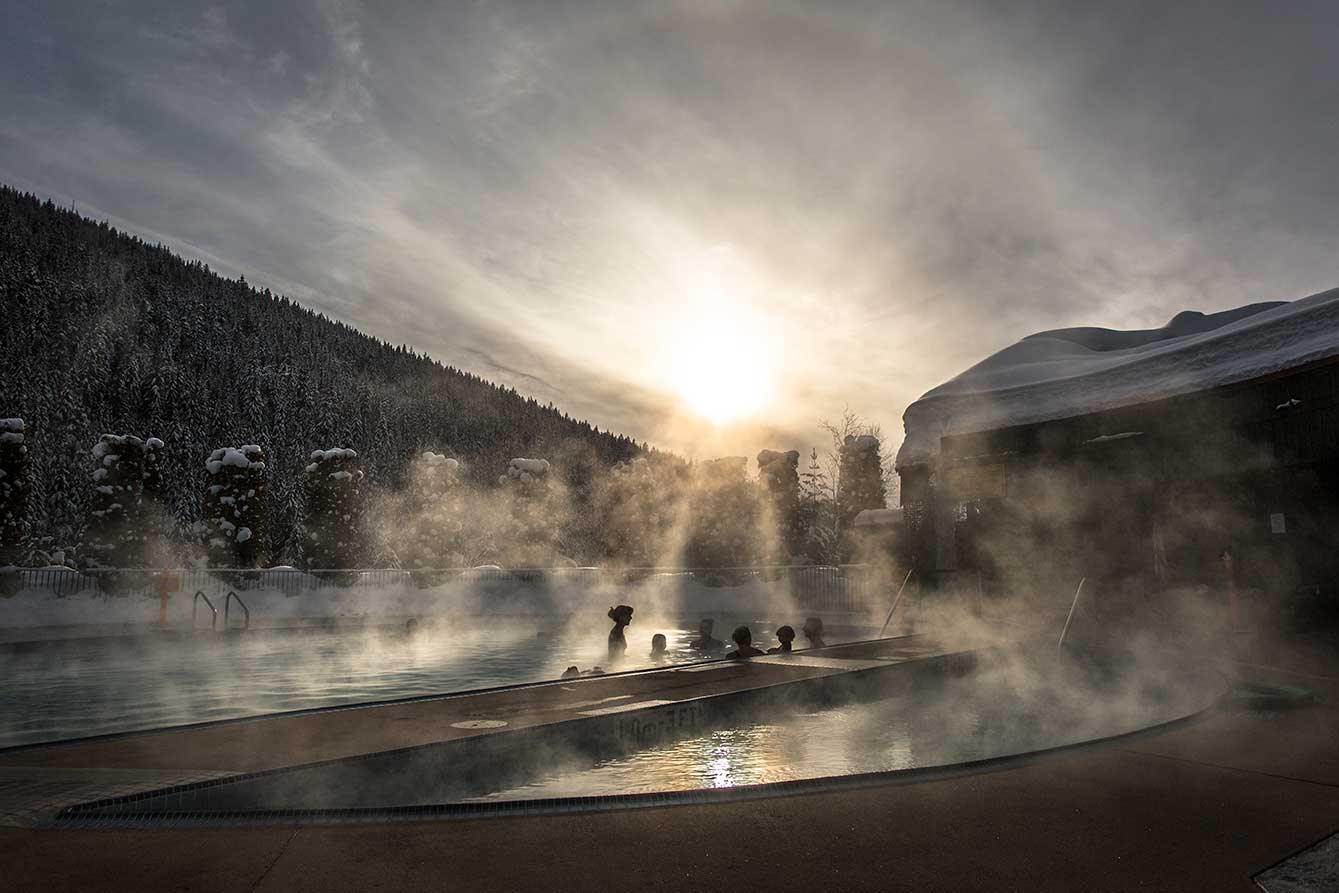 Nakusp Hot Springs, photo by Lee Orr
Canadian Rockies Hot Springs
Kootenay National Park — Radium Hot Springs

If you're looking for a place to hold a post-ski day soak with 550 of your closest friends, Radium Hot Springs is your answer. Located just inside Kootenay National Park in Sinclair Canyon, Radium holds the record as the single largest hot spring pool in Canada.
And though staring up at two solid rock canyon walls while you're hanging out in the 39ºC pool is pretty spectacular anytime of year, Karin Smith, Parks Canada's marketing coordinator for the Canadian Rockies Hot Springs, says the winter is when the views get magical.
"During the winter, heavy frosted trees and rocks surround the hot springs facility making the hot pool a magical place to relax and soak," says Karin Smith.
And, she notes, "the red rock [of the canyon] is absolutely gorgeous."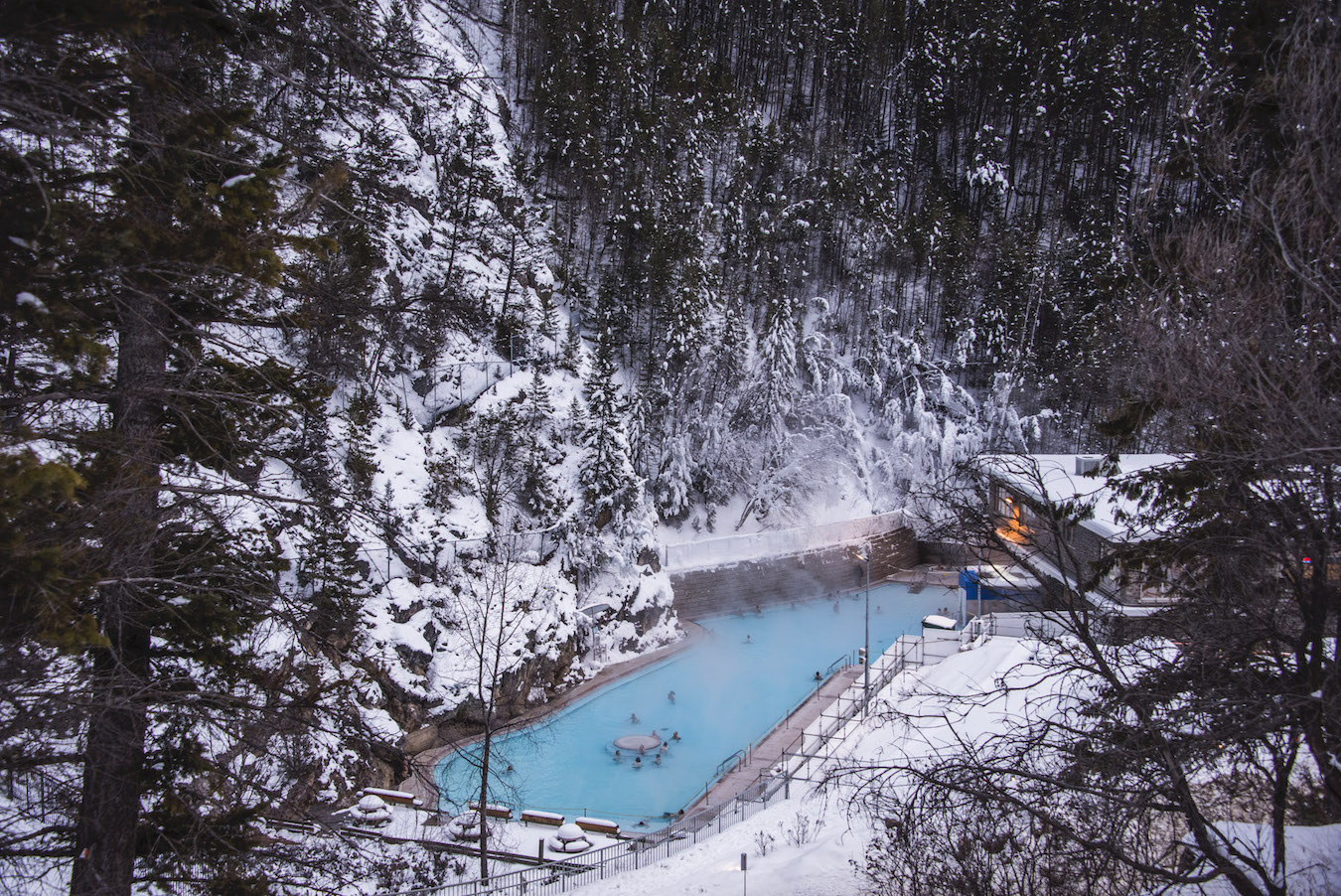 Radium Hot Springs, photo by Kari Medig
The hot springs, considered a spiritual place for Indigenous people for centuries, were purchased for $160 in 1890, after which the waters were held captive through the construction of a concrete pool. Once Kootenay National Park was established, the current-day facilities were added: a cool pool, onsite spa, and aqua-court building — which is, itself, undergoing a major upgrade.
~ Take extra time to research and plan your trip in advance. Many of our tourism businesses and services have adopted new COVID-19 protocols and changes to their schedules or policies to ensure your safety. You'll want to become familiar with them ahead of time.
~ If you normally travel with extended family or with several friends, consider travelling in a smaller group. Travelling with fewer people makes it easier for you to practise physical distancing in public, and may have less of an impact on the destination.
~ Consider a slower travel pace to help curb the spread. Instead of checking in and out of multiple destinations during one trip, choose one or two destinations and one/two accommodation properties for your entire trip (and explore all the things to do & see nearby).
Related Stories
~ A Road Trip of a Lifetime: Kootenay Rockies Hot Springs
~ Connect with the Indigenous Culture in the Kootenay Rockies
~ The Indigenous Connection to our Natural Hot Springs
~ Tips: How to be a Safe & Responsible Traveller
~ Unique Local & Spooky Haunts in the Kootenays
~ Waters of Wellness: Kootenay Hot Springs

Words by Gina Begin.  Cover/top shot by Zoya Lynch at Fairmont Hot Springs Resort.
Gina Begin – Although she's a Florida girl, exploration called her away after the final bell of her high school career. On a quest to reach the distant adventures of North America, she lived in her car, traveling to ski the backcountry of Alaska, sleep under the northern lights in the Yukon Territory, ice climb Colorado's frozen canyons, photograph Nova Scotia's coves, backpack in southern US wildernesses and munch on sugared tamarindo in the jungles of Mexico. But after three years living on the road and seeing the many wonders this continent had to offer, she chose the place she knew would fit an explorer looking for a lifetime of wild wonder: British Columbia. Dual citizenship in hand, she settled along the Powder Highway in the Selkirks and is making her home between four walls and deeply wooded mountains.
Please tag your images with #KootRocks on Instagram or Facebook to be featured on our social channels.
(Original story published in October 2017.)