Longing for a little TLC with your Kootenay Rockies road trip? Your trip is incomplete without a visit to at least one of the Kootenay hot springs along your route!  There are six to discover in the southeast corner of British Columbia, Canada. 
By divine providence, you round a bend in the highway and spot a sign. It's directing you to warm waters bubbling up from the earth and held captive by pools, allowing locals and visitors to enjoy. This, my friend, is just one of the many Kootenay hot springs. 

"The caves are the main feature that makes us unique from the other hot springs," states Jake Murfitt, assistant general manager of Ainsworth Hot Springs.
Situated in the oldest surviving community on Kootenay Lake and surrounded by views of both the lake and the Purcell Mountains, the history of these springs goes back hundreds of years. It includes visits from the Sinixt and Ktunaxa peoples, who gathered here to ease their muscles after hunting trips and battles.
Today, Ainsworth Hot Springs Resort offers you a four season escape.  The resort amenities include accommodation, Ktunaxa Grill Dining Room and Spirit Water Spa. The hot springs waters average between 35-42 degrees Celsius year-round an the rate of water flow naturally changes the water in the pools and caves six times a day.  
"People from around the world share treasured memories of their first visit to Ainsworth," says Murfitt. "We strive to keep that feeling of 'ahhh' throughout the Resort."
(The pools are now open to the public by reservation only. The Resort is open from Wed to Sun – 10am to 5:30pm. It is recommended to book your accommodation in advance.)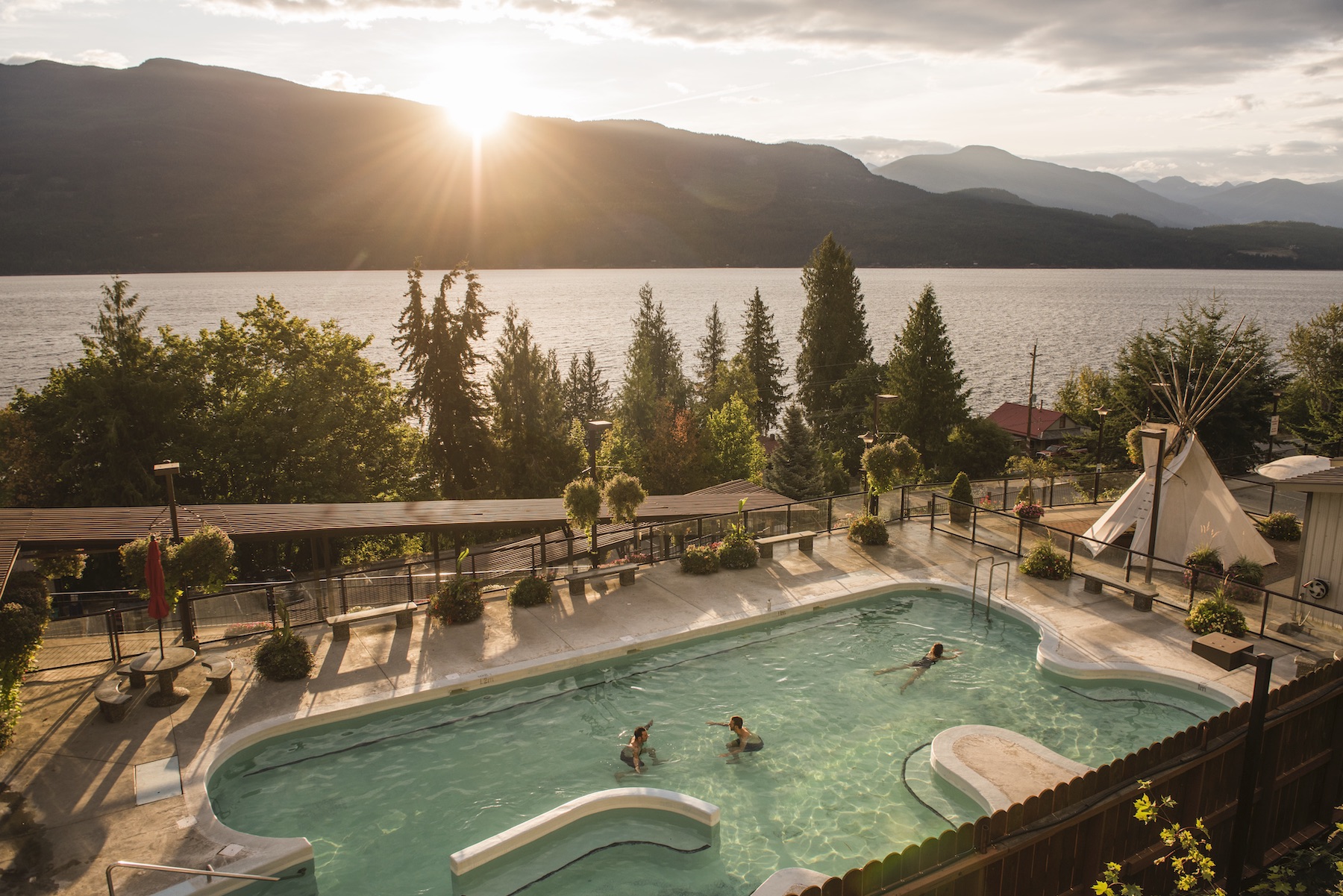 Canyon Hot Springs 
Glacier/Mt. Revelstoke National Parks

Set on 81 hectares (200 acres) in the spectacular Selkirk Mountains – this area offers natural beauty between Glacier and Mt. Revelstoke National Parks. With log cabins and over 200 campground sites situated in a natural forest setting, there is something to suit everyone's lodging needs. Located alongside the Trans-Canada Highway, at Albert Canyon, the resort offers two natural mineral hot springs.
(It is best to book your accommodation in advance. Open from May to September.)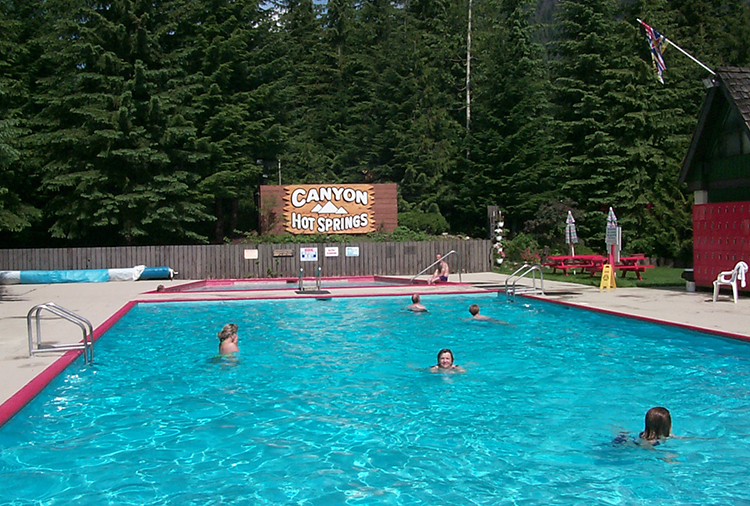 Fairmont Hot Springs Resort
Columbia Valley

Like having your soaking temps "just so"? With three pools, each held at a different temperature (39ºC, 32ºC, and 30ºC), it's a safe bet that Fairmont Hot Springs has your comfort level.
The history of Fairmont Hot Springs traces itself back to early 20th century ranching days when John Hankey took over the property and offered both accommodation and access to the springs for two dollars a day. Over the decades since, the property's various owners built upon the visions of their
Predecessors. A bathhouse, swimming pool, restaurant, bungalows and various other improvements and expansions followed, turning the resort into what visitors find today: the largest natural hot springs in Canada and a mecca for those who believe in the health and wellness aspects of the naturally-heated waters.
"We flow over 1.2 million gallons of fresh mineral water through our pools daily allowing us to use minimal levels of chlorine", explains the Marketing Coordinator at Fairmont Hot Springs Resort. And unlike some hot springs that sometimes has a touch of sulphuric smell, Fairmont's are odourless.
All that's needed to complete this sweet sensory experience is something to feast your eyes on; good thing the views of the Columbia Valley and Purcell Mountains beyond stand ready to serve this exact need. 
(Access to the hot springs is free to overnight guests only. It is best to book your accommodation in advance.)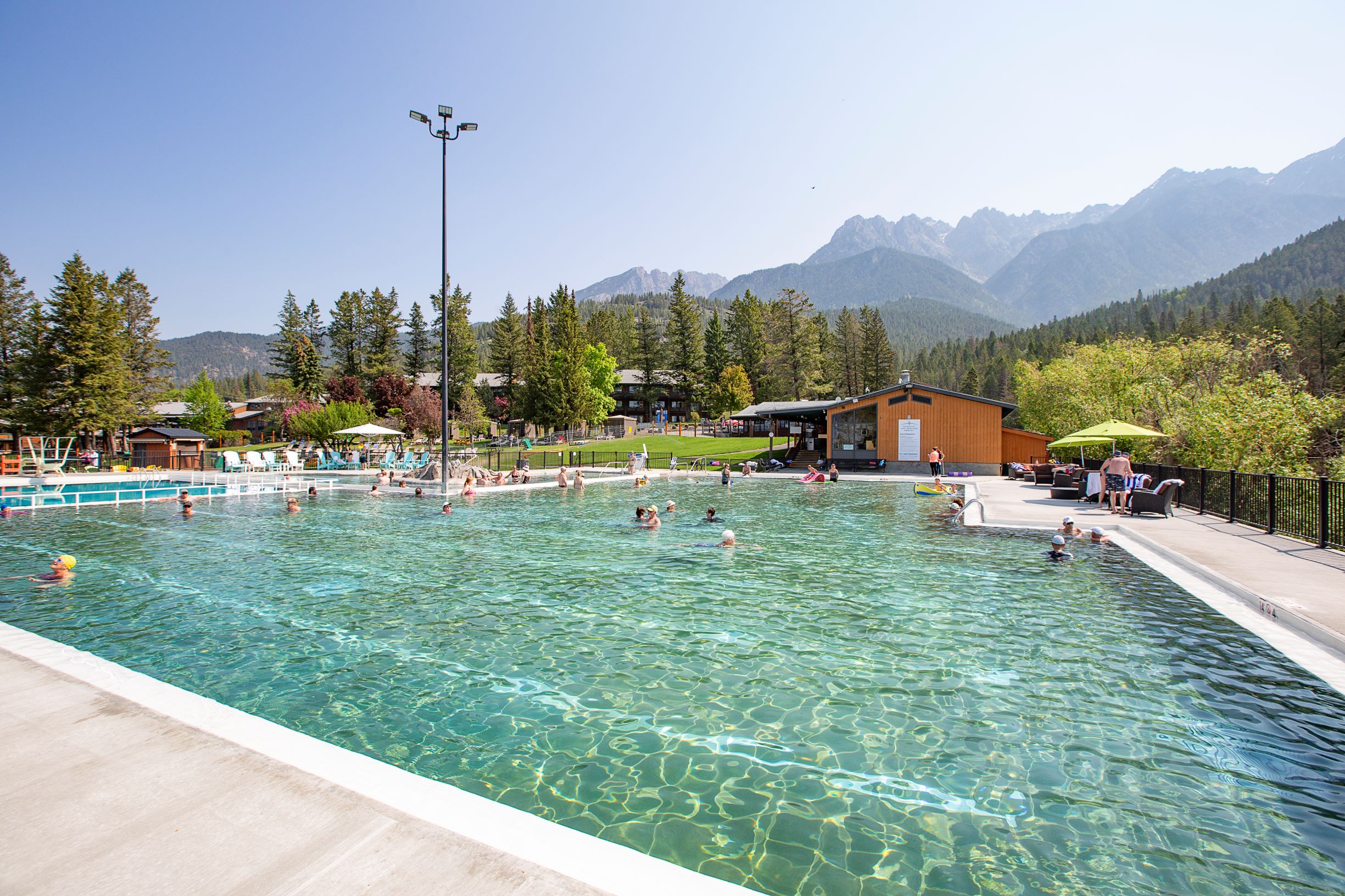 Halcyon Hot Springs Resort
Arrow Lake/Nakusp
1890: the Indigenous people in this area of the Monashee Range help Captain Robert Sanderson locate the source of the hot springs. He purchases 162 hectares (400 acres) of surrounding land, built a hotel equipped with plunge pools for its guests, and opened their doors to visitors. And thus the legacy of Halcyon Hot Springs waters, and the ability to rejuvenate and restore health was born.
Like Fairmont Hot Springs, Halcyon customizes the temperatures of its terraced pools to suit different degrees of comfort. Depending on the pool, the warm waters move from 32-38-42ºC. The resort's managers strive to suit even the discerning tastes of pint-sized bathers by tempting them with a spray park located on the lower level of the resort's decks.
But it's the water itself — or more specifically, what's in it  — that gives credence to the years of claims that the springs have restorative virtues for visitors.
For centuries, the Indigenous people used the name "Great Medicine Water" to describe Halcyon Hot Springs. More recently, studies show some proof that the name isn't far off: minerals such as sodium, magnesium, calcium, strontium are found in the water. But it is especially the appearance of lithium that is said to aid in a variety of medical conditions including depression, Alzheimer's, Parkinson's, and even in helping to regenerate pathways in the brain.
(Access to the hot springs is available to hotel and spa guests. It is best to book your accommodation in advance.)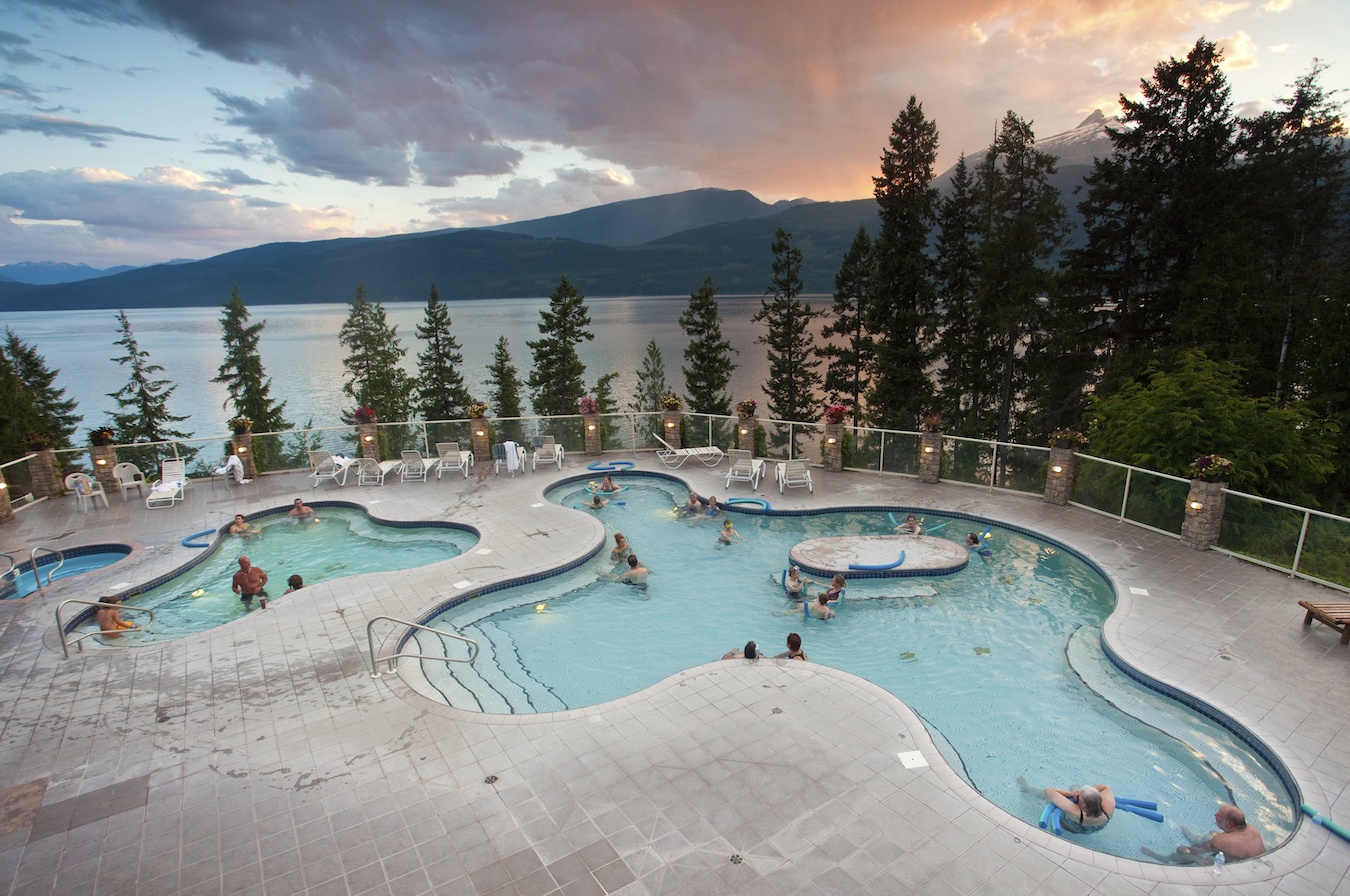 "Explorers originally accessed the hot springs by foot or horseback, taking the 12-km journey from the town of Nakusp, winding their way up the mountain trail through old growth forests," says a rep from the hot springs. That same trail exists to this day, now used by outdoor recreation enthusiasts year-round for hiking, mountain biking, horseback riding, Nordic skiing and snow-shoeing. 
And with a reward like hot springs at the end of a 12-km outing, who wouldn't be up for some trail time? But the hot springs aren't only accessible by trail these days; travellers can arrive by vehicle and stay in one of the chalets or, in summer, pitch your tent in the campground. With these and other upgrades, the hot springs have evolved into 'the perfect blend of seclusion, comfort, and accessibility'.
Nakusp Hot Springs, is truly is a hidden gem along the Kootenay Hot Springs route.
(Access to the hot springs is available to all travellers & residents.)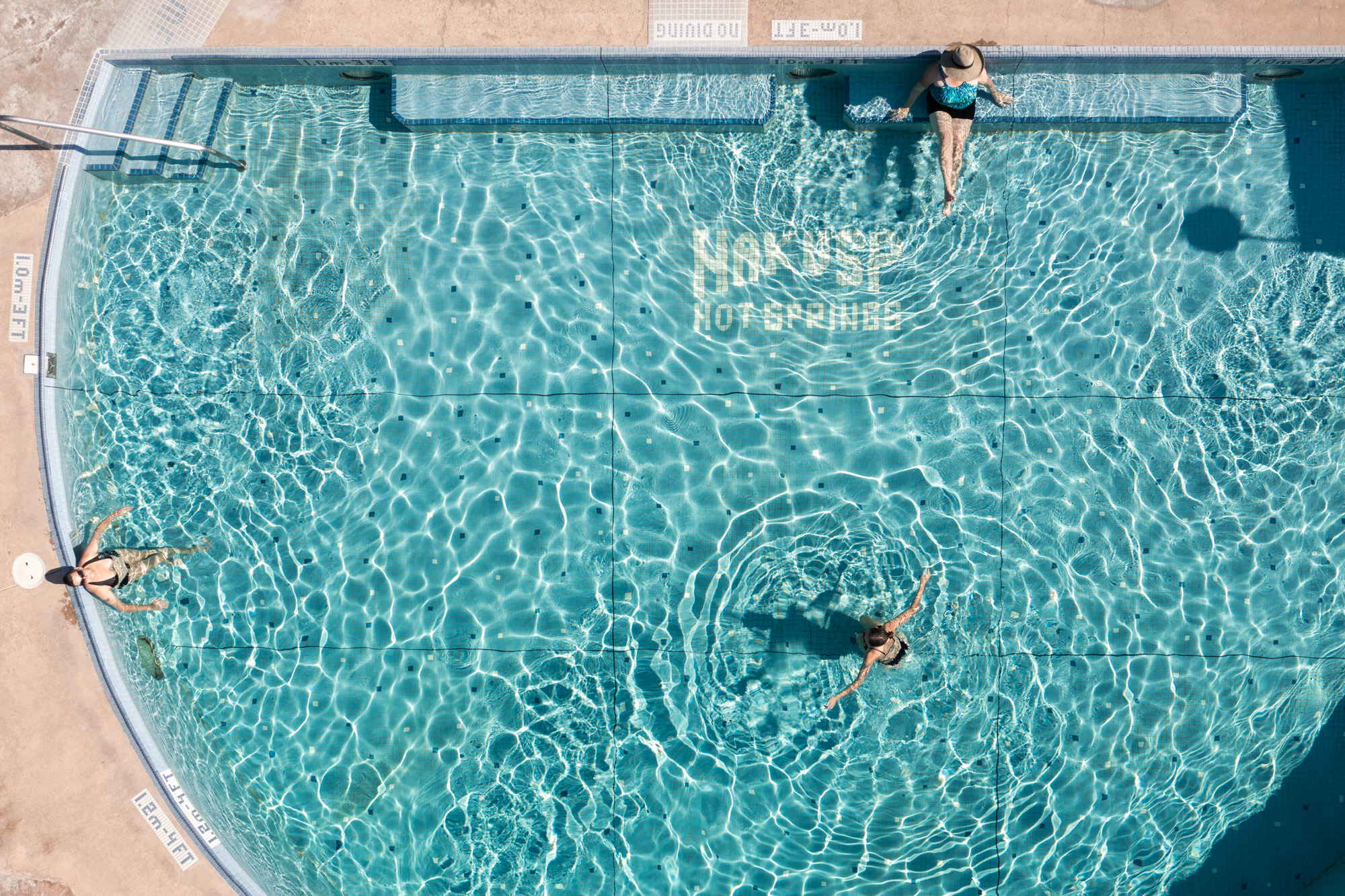 Canadian Rockies Hot Springs
Kootenay National Park — Radium Hot Springs

Located in the UNESCO Canadian Rocky Mountain Parks World Heritage Site and open year-round, the spacious family-friendly facility welcomes visitors from around the world. 
Used by humans for centuries, this odourless hot spring is renowned for its rejuvenating mineral waters and dramatic setting in Sinclair Canyon. Two large outdoor pools are found here; one hot for soaking and one cooler pool for swimming.
And though staring up at two solid rock canyon walls while you're hanging out in the 39ºC pool is pretty spectacular anytime of year, Karin Smith, Parks Canada's marketing coordinator for the Canadian Rockies Hot Springs, says the winter is when the views get magical.
"During the winter, heavy frosted trees and rocks surround the hot springs facility making the hot pool a magical place to relax and soak," says Karin Smith. And, Karin notes, "the red rock [of the canyon] is absolutely gorgeous."
(Access to the hot springs is available to all travellers & residents.)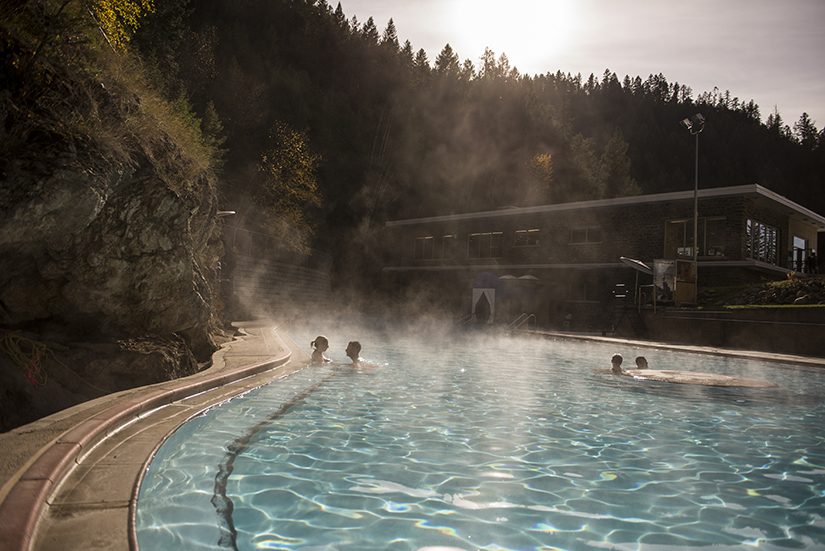 The First Nations peoples found the hot and odourless mineral water issuing from the rocks at the base of Redstreak Mountain. The springs were used to soothe and heal their aches and pains.  In 1841, the Governor of the Hudson's Bay Company visited the site and in 1890, an Englishman named Roland Stuart purchased the springs for the bargain price of $160. The property was expropriated in 1920 and the springs became part of the Kootenay National Park. Today, people come from all over the world to experience the warm, soothing waters of the hot springs pools.
Know Before You Go – Plan ahead so you can travel safely and responsibly. Familiarize yourself with weather, road conditions, general alerts for travellers and provincial health orders & recommendations.

Related Stories
~ Adventures for All: Accessible & Adaptive Sports Road Trip
~ A Road Trip of a Lifetime: Kootenay Rockies Hot Springs
~ Connect with the Indigenous Culture in the Kootenay Rockies
~ Cruising Down an Open Highway: Planning your Kootenay Rockies Road Trip
~ Everything is Local
~ Forest Therapy: Replenish Your Spirits & Reawaken Your Soul
~ Glamping in the Kootenays
~ The Indigenous Connection to our Natural Hot Springs
~ Kootenay Ambassadors: Mindful Explorers
~ Laid-back Kootenays: Wellness Getaways
~ Unique Stays on a Kootenay Hot Springs Road Trip
~ Waters of Wellness: Kootenay Hot Springs
~ We are All Connected
Words by Gina Begin.  Cover/top shot by Zoya Lynch at Fairmont Hot Springs Resort.
Gina Begin – Although she's a Florida girl, exploration called her away after the final bell of her high school career. On a quest to reach the distant adventures of North America, she lived in her car, traveling to ski the backcountry of Alaska, sleep under the northern lights in the Yukon Territory, ice climb Colorado's frozen canyons, photograph Nova Scotia's coves, backpack in southern US wildernesses and munch on sugared tamarindo in the jungles of Mexico. But after three years living on the road and seeing the many wonders this continent had to offer, she chose the place she knew would fit an explorer looking for a lifetime of wild wonder: British Columbia. Dual citizenship in hand, she settled along the Powder Highway in the Selkirks and is making her home between four walls and deeply wooded mountains.
Please tag your images with @KootRocks on Instagram to be featured in a future social post.  For travel deals and specials – sign up to our Consumer Travellers Newsletter.